TRINITY BROADCASTING NETWORK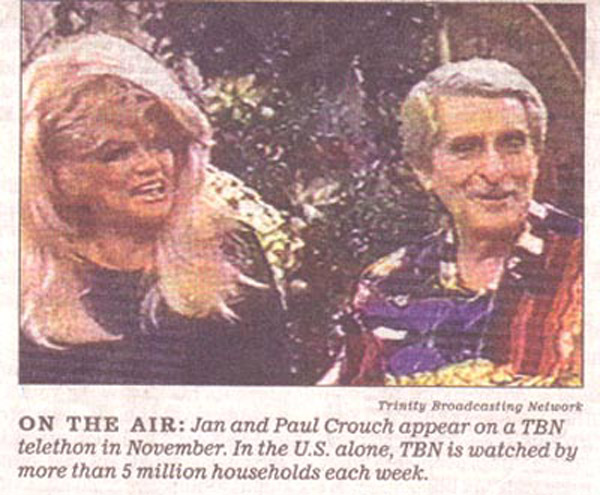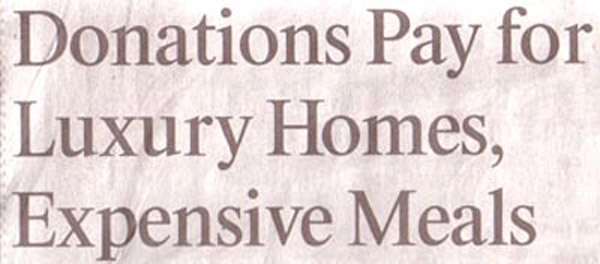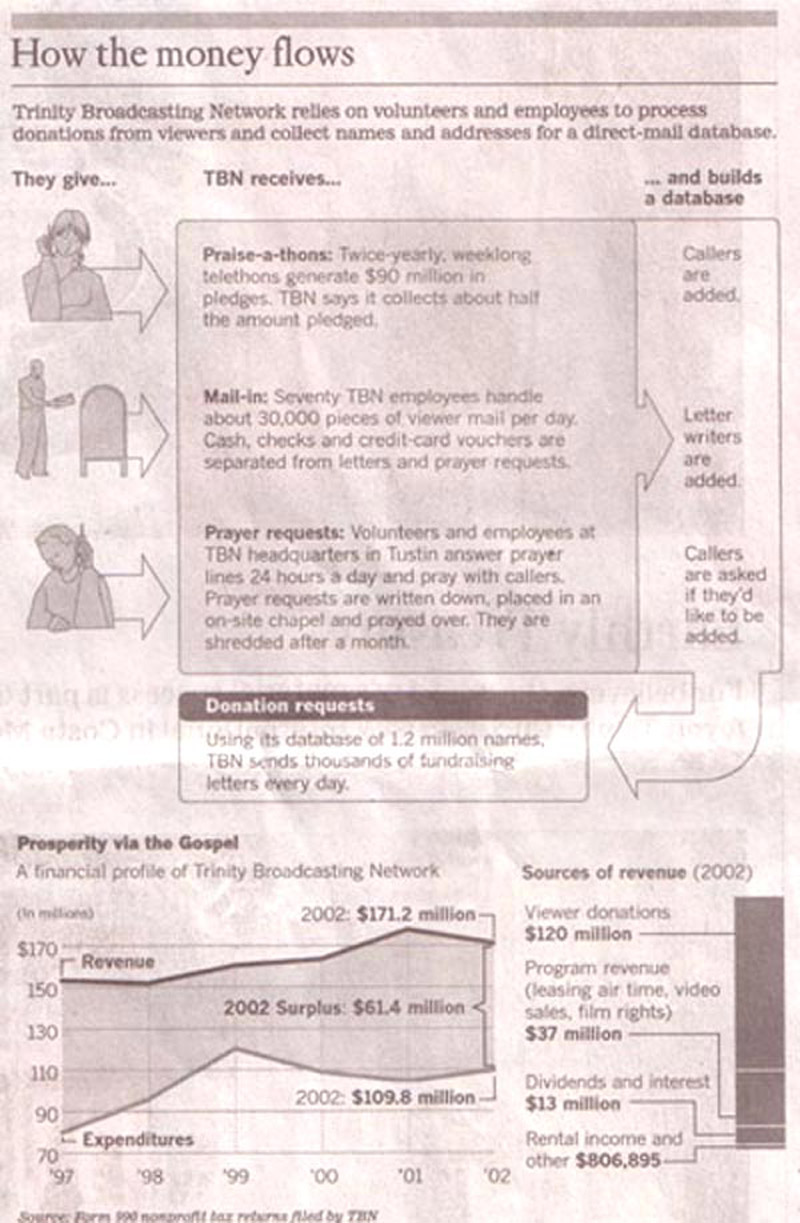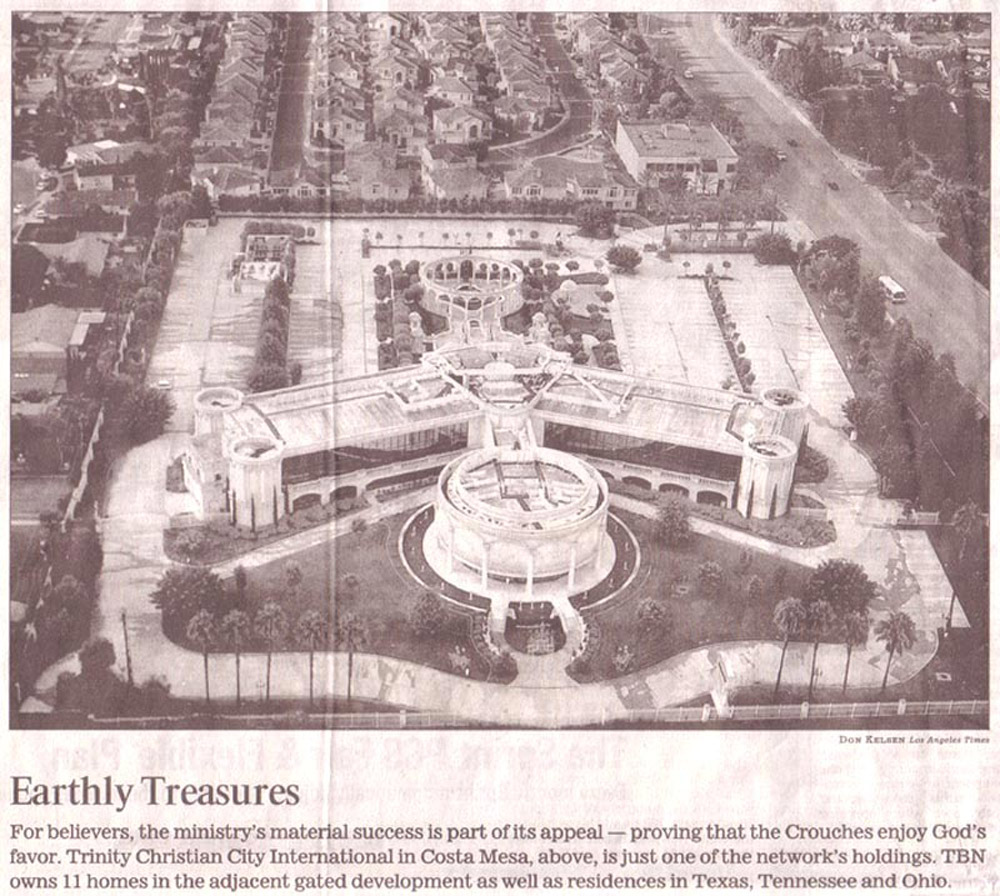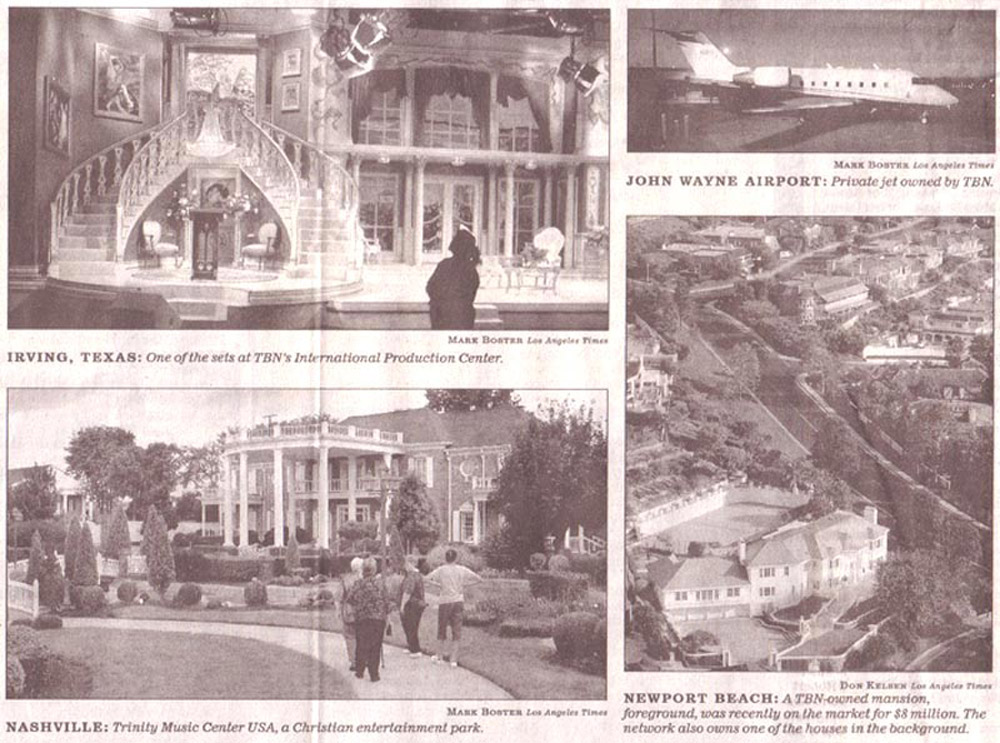 Relatives threatened to 'destroy' Crouch granddaughter

May 22nd, 2012
Orange County Register

We've been detailing charges of "extravagant" spending at the world's largest Christian broadcaster – allegations leveled by a granddaughter against her grandfather, grandmother, uncle and aunt.

We've been detailing IRS codes and compliance reviews and internal memos, but the drama over money at Trinity Broadcasting Network is at heart a family drama, with all the attendant emotions of betrayal, anger and, presumably, heartache.

Paul and Jan Crouch founded TBN back in 1973 — God spoke to Paul as he was driving on MacArthur Boulevard, he has said on air — and he promised to put up his last dollars to make it work. As soon as he made that sacrifice, the donations poured in, he said — and the prosperity gospel TBN preaches has become more wildly successful than he ever imagined. Trinity brings in nearly $200 million a year and has amassed net assets of nearly $1 billion, according to its latest tax returns. It is "Jesus's only network," Jan Crouch has said, and has employed extended members of the Crouch family clan.
Until recently.

Brittany Koper, the granddaughter at the root of the current ruckus, is the daughter of Paul Crouch Jr. — the founder's namesake. After becoming Trinity's finance director last summer, she tried to correct what she saw as financial excesses, she said in a 180-page declaration filed in Orange County Superior Court — objecting to, among many other things, the free-spending ways of her uncle Matthew Crouch and his wife, Laurie.

Her attempts were not well-received by others in her family, by her account. Soon, her grandfather told her "that Janice and Matthew Crouch 'want your heads,' referring to the biblical account of John the Baptist's beheading by King Herod after John reproved Herod for certain transgressions," Koper's declaration reads.

Grandmother Jan Crouch accused her of "biting the hand that feeds you," and told her that she was a "naive little girl," the declaration says. Her grandmother told her "that I must either do as I was told without asking questions or find myself 'out on your ass,' director Matthew Crouch likewise confronted Michael Koper (Koper's husband) and I and said he would 'destroy' us in response to the specific financial improprieties concerning Matthew Crouch's compensation that had been reported by me."

Koper was fired shortly thereafter, and those closest to her went down with her, according to her account. "Each of the primary individuals who had supported my short-lived efforts as director of finance to reform TBN's unlawful financial practices was subsequently terminated by TBN in retaliation for our stand and objection, including my father Paul Crouch, Jr, my husband Michael Koper, my number two in personnel, and myself," her declaration says.

The uncle with whom she apparently had the greatest conflict is now essentially in charge of the station: Matthew Crouch.

An email from Koper to her Uncle Matt Crouch in August took him gently to task for failing to file receipts for purchases he made. "Hi Matthew," it reads. "I finished putting together the forms for missing receipts that I spoke to you about yesterday. According to IRS guidelines, every purchase that TBN makes must have a ministry purpose. If you see the attached, I've listed the date of the purchase, name and location of the vendor as well as the amount. Please fill in the box next to the purchase explaining the ministry purpose in as much detail as possible and then sign the bottom. If there are some that you're not really sure about or you may need help with let me know and I can give you a few IRS 'buzz words' to throw in there (but basically, use the words 'church' and 'ministry' as much as possible). ::SMILE::

"In the future I'll have one of these prepared for each of your credit card statements so that our records are complete and the auditors don't ask any questions."

Uncle Matt did not return the smile. The forms she wanted him to fill out were pages and pages long. "There isn't a chance in you know where, that I didn't turn in that many receipts," he responded. "I suggest someone start looking for them there in accounting or contact the vendors for duplicates. The ministry purpose will be written on them!"

Koper's declaration says, "It is an understatement to say that I encountered tremendous resistance, particularly by TBN directors — and most particularly by my uncle, director Matthew Crouch, who I believed was guilty of the most glaring and dangerous violations of law concerning excess benefit transactions, kickbacks, self-dealing, and outright fraudulent conduct."

She particularly objected to $50 million transferred from TBN to Matthew Crouch's Gener8Xion film company over a decade, she continued. She pointed to invoices for $1.2 million to Gener8Xion
"related to the non-existed 3D Jesus movie," as well as invoices for $19,527 sought by Matthew Crouch and his wife "to renovate one of their many company provided homes."

But it wasn't just her uncle and aunt. The Aug. 30 memo she and her husband wrote to grandfather Paul Crouch Sr. — detailing their concerns upon taking the jobs of finance director and secretary –objected to "the ownership and personal use of TBN's luxury jets, TBN directors setting their own interest rates on money they were personally investing with TBN, wrongfully reporting nonexistent donations for corporations, excessive daily 'business' meals, the fact that TBN was not reporting director Matthew Crouch's income on its tax returns to avoid disclosure of his affiliation with TBN while Matthew Crouch was receiving money from a film company through TBN, the free 'parsonages' that TBN provided to all of its directors and other officers without proper reporting…fictitious 'rent' that TBN paid to TBN directors for the non-existent use of their house, and several other matters," the declaration says.

"I was specifically instructed by John Casoria at TBN (attorney and family member) that one of my primary functions as TBN's new head of finance was to invent 'business purposes' for every expenditure submitted for reimbursement or payment by TBN's directors, or for personal expenses run through company credit cards by the director."

Attorneys for Trinity have said that Koper and her husband are guilty of the true financial misdeeds, and accuse them of embezzling hundreds of thousands of dollars from Trinity by granting themselves and others company loans. Trinity has called her assertions in this declaration nonsense and an attempt to divert attention from her own bad behavior — but it was Trinity who tried to keep Koper's declaration under wraps.

The documents we're quoting from were stolen and may have been altered, Trinity says.

Among them is a text message from Koper's dad, Paul Crouch Jr., in March, which says: "Johnny (Casoria, the TBN attorney) told me that TBN would drop everything if you'll fire your attorney. Just say'n."

As the family and financial drama grinds on, the Kopers have left the West Coast for New York. Koper's father told the New York Times that getting caught in the crossfire between his daughter and his parents and brother is one of the hardest things he has ever had to endure.

Some have likened what's happening at TBN to the recent breakdown of the Schuller empire, its bankruptcy and loss of the Crystal Cathedral. One might see similarities in the conflict between family members, who are in positions of power throughout the ministry; but, financially, Trinity appears to be in no danger. Its net assets are $827.6 million — which is the number after total liabilities are deducted.

Any problems for Trinity would likely come from the government side, if from anywhere. Koper made documents available to the Internal Revenue Service; the IRS has no comment on what, if anything, it is doing with them.

Paper: Los Angeles Times (CA)
Title: Televangelist Paul Crouch Attempts to Keep Accuser Quiet
A former worker at TBN threatened to disclose an alleged 1996 homosexual encounter.
Date: September 12, 2004
Televangelist Paul Crouch, founder of the world's largest Christian broadcasting network, has waged a fierce legal battle to prevent a former employee from publicizing allegations that he and Crouch had a sexual encounter eight years ago.
Crouch, 70, is the president of Trinity Broadcasting Network, based in Orange County, whose Christian programming reaches millions of viewers around the world via satellite, cable and broadcast stations.
The source of the allegations against him is Enoch Lonnie Ford, who met Crouch at a TBN-affiliated drug treatment center in 1991 and later went to work for the ministry.
After Ford threatened to sue TBN in 1998, claiming that he had been unjustly fired, Crouch reached a $425,000 settlement with him. In return, Ford agreed, among other things, not to discuss his claim about a sexual encounter with the TV preacher.
But in the last year, Ford has threatened to go public with his story, prompting a flurry of legal maneuvers -- conducted in closed court hearings, sealed pleadings and private arbitration.
In court papers, Crouch has denied the allegations, and ministry officials have described Ford -- who has a history of drug problems and has served time for a sex offense -- as a liar and an extortionist.
At stake are the public image of one of the world's most successful televangelists and, potentially, the fortunes of the broadcasting empire that Crouch and his wife, Jan, built over the last 31 years.
TBN and Crouch went on the legal offensive after they learned that Ford had written a book manuscript that included an account of the alleged sexual encounter.
In a dramatic flourish, Ford had appeared at a TBN broadcast studio in Costa Mesa, minutes before the start of a "Praise-a-thon" fundraiser, and, without comment, handed Crouch a copy of the manuscript
Ford's lawyer later told ministry officials that they could keep the work out of public view by buying the rights. After some discussion, he suggested that $10 million might be a reasonable price.
While negotiations continued, Crouch sued to enforce the 1998 secrecy agreement and obtained a restraining order barring Ford from seeking a publisher for his book.
Orange County Superior Court Judge John M. Watson also granted Crouch's request to conduct the case in secret, sealing all documents and expunging any mention of the suit from public court records.
Both sides eventually agreed to let a private arbitrator decide the matter. In June, the arbitrator ruled that Ford could not publish the manuscript without violating the 1998 settlement -- an act that could subject him to monetary damages.
This account of the controversy is drawn from interviews with friends of Ford's, unsealed court records, correspondence among TBN lawyers and a copy of the arbitrator's confidential ruling. The arbitrator's decision contains details about the 1998 settlement and Ford's manuscript -- both of which are under seal.
Records and interviews show that even as they battled to keep Ford's story from leaking, TBN lawyers worried that details would eventually come out.
"I am absolutely amazed that Lonnie hasn't gone to Penthouse or Dianne [sic] Sawyer with his manuscript, notwithstanding the [judge's] injunction," TBN attorney Dennis G. Brewer Sr. wrote in a March letter to the network's other lawyers.
In a subsequent letter, in May, Brewer mentioned the anguish that Ford's accusations had caused Crouch's youngest son, Matt, when he learned of them in 1998.
Brewer wrote that the younger Crouch had told his then-law partner, David Middlebrook: "I am devastated; I am confronted with having to face the fact that my father is a homosexual."
Middlebrook and Matt Crouch have denied that there was such a conversation.
Paul and Jan Crouch started TBN in 1973, using a rented studio in Santa Ana. Over the next three decades, they built a worldwide broadcasting network by buying TV stations and negotiating deals with cable systems and satellite companies.
Today, TBN's 24-hour-a-day menu of sermons, faith healing, inspirational movies and other Christian fare reaches millions of viewers from Spain to the Solomon Islands.
Paul Crouch is the driving entrepreneurial force behind the network and one of its most popular on-air personalities. He and Jan, his wife of 46 years, have cultivated a folksy on-screen image as a devoted couple.
TBN officials have long been concerned about how Ford's allegations could affect the network, which relies heavily on donations from viewers. Officials said they were particularly worried about possible comparisons to the scandal that brought down televangelist Jim Bakker in 1987.
Bakker resigned from his PTL Ministries in 1987 after admitting to paying a secretary $265,000 in ministry funds to be silent about an earlier affair. Bakker later went to prison for bilking donors.
TBN officials said they were careful not to pay Ford with ministry funds in 1998. They declined to say whether the money came from an insurer, Crouch personally or some other source.
Ford, 41, said he could not discuss his manuscript or his allegations against Crouch but he did provide basic facts about his background and his time at TBN.
Ford, whose father and grandfather were ministers, grew up in Fairfax County, Va., moved to California in 1989 and worked in a string of jobs that included jewelry salesman, produce clerk and gas station attendant. For years, he struggled to kick a cocaine habit.
In 1991, he checked into a Christian drug treatment program in Colleyville, Texas, on a TBN-owned ranch. It was there that Ford met Crouch. In 1992 the network hired him to work on a phone bank in Orange County. Ford said he also ran errands for the Crouches and drove Paul Crouch to appointments.
Ford repeatedly ran into trouble with the law, but TBN stood behind him. In 1994, he pleaded no contest in San Bernardino County to having sex with a 17-year-old boy and served six months in jail, according to court records. TBN took him back after his release.
In 1995, he pleaded guilty in Orange County to possession of cocaine and served about 30 days in County Jail. Again, TBN took him back.
The alleged sexual encounter between Ford and Crouch occurred in the fall of 1996, according to Sandi Mahlow, a Tustin housewife who met Ford in a Fullerton church 10 years ago and became a close friend.
Mahlow, 50, who helped Ford write his manuscript, said he broke down in tears after returning from a weekend spent alone with Crouch at a TBN-owned cabin near Lake Arrowhead. Mahlow said Ford told her that he and Crouch had engaged in sexual acts.
"Lonnie had a lot of bad traits; one thing he isn't, and that's a liar," Mahlow said. She said she helped Ford with his manuscript for no pay, as a favor to a friend, and has no financial interest in the book.
After the alleged encounter, Ford continued to work at TBN. For a time, he lived rent-free in an apartment at the network's Tustin headquarters, according to Mahlow and another friend of Ford's, Diane Benson, who met him at an Anaheim church 14 years ago.
A third friend of Ford's said that in October 1996, about the time of the alleged Arrowhead encounter, ministry officials gave her a $12,000 check to pay back money Ford owed her. The woman spoke on condition that she not be named, saying she feared retaliation.
TBN officials acknowledged that the ministry paid some of Ford's debts. They said the network commonly extends such generosity to employees in financial trouble.
Within weeks of the Arrowhead trip, Ford tested positive for drug use and was arrested for violating terms of his probation. While Ford awaited sentencing, the ministry again came to his support, urging the judge not to impose more prison time.
Ford "has continuously shown a very positive attitude regarding whatever we have asked him to do," wrote Ruth M. Brown, Paul Crouch's sister and TBN's director of personnel. "He carried out his duties cheerfully and always tries to do more than asked."
The judge sent Ford to the California Rehabilitation Center in Norco, a drug treatment facility in the state prison system.
In August 1997, Jay Jones, TBN's director of telephone ministry, wrote prison officials that Ford would have a job with the network after he got out, despite his "extended leave of absence."
But Ford said that after he was released in February 1998, he was told he no longer had a position at TBN.
"There comes a point in time when you have to say, 'Enough is enough,' " said John Casoria, a TBN lawyer who is a nephew of the Crouches.
Ford responded with his threat to sue. The settlement followed.
Despite TBN's efforts to keep Ford's charges secret, they surfaced in an unrelated 1998 lawsuit. A former bodyguard for TBN personality Benny Hinn testified in a deposition that during a European bus tour that year, Hinn had told a group of associates about "a sexual relationship that Paul Crouch had with his chauffeur."
The witness, Mario C. Licciardello, quoted Hinn as saying: "Paul's defense was that he was drunk."
Hinn and six others mentioned by Licciardello, who died in 2000, told The Times that Hinn never made such remarks. However, Rick Jones, a retired police officer and ordained minister who worked for Hinn, said he heard Hinn talk about Crouch's alleged homosexual relationship on that bus.
Jones said he was disgusted by the talk and "got up and walked away. I didn't want to hear gossip."
Meanwhile, Ford began to have second thoughts about keeping silent. Last year, with Mahlow's help, he wrote his manuscript, titled "Arrowhead."
Friends said Ford wanted to expose what he viewed as Crouch's hypocrisy. They said he also needed money and hoped to earn some by selling the manuscript. It's unclear how Ford spent his 1998 settlement, but today he leads a modest existence, living in a room of a Lake Forest home and working as a mortgage salesman.
Ministry officials learned of the book in April 2003, when Ford walked onto the set of TBN's Costa Mesa broadcast studio and handed a copy of the manuscript to Crouch.
Ford's attorney, Eugene Zech, said that Brewer, the TBN lawyer, called him the next business day. In court papers, Zech said that Brewer asked "if Ford might be willing to accept $1 million in exchange for the manuscript."
Zech said in the court filing that he suggested $10 million.
When the parties went to arbitration, Crouch's lawyers argued that publication would violate the 1998 settlement and cause irreparable damage to Crouch's reputation. Ford's lawyers argued that the secrecy agreement was overly broad and violated his free-speech rights.
Arbitrator Robert J. Neill ruled that Ford's right to make his allegations public "was sold to [Crouch] for $425,000." Ford "bargained away his right to speak on certain matters and now suggests that his right to free speech trumps that bargain.... [His] right to discuss these matters was bought and paid for. He relinquished that right."
Paul Crouch Jr., a TBN executive and the televangelist's oldest son, said that despite the favorable ruling, he wished his father had never entered into the settlement with Ford.
Crouch said advisors persuaded his father that it would be cheaper to settle than to litigate. He said TBN was particularly anxious to avoid negative publicity because the ministry was celebrating its 25th anniversary that year.
"In hindsight, we should have fought Lonnie tooth and nail," the son said in an interview. "We should have drawn the battle lines right there."
Author: William Lobdell
Paper: Los Angeles Times (CA)
Title: THE PROSPERITY GOSPEL
TBN's Promise: Send Money and See Riches
Date: September 20, 2004
Pastor Paul Crouch calls it "God's economy of giving," and here is how it works:
People who donate to Crouch's Trinity Broadcasting Network will reap financial blessings from a grateful God. The more they give TBN, the more he will give them.
Being broke or in debt is no excuse not to write a check. In fact, it's an ideal opportunity. For God is especially generous to those who give when they can least afford it.
"He'll give you thousands, hundreds of thousands," Crouch told his viewers during a telethon last November. "He'll give millions and billions of dollars."
Preachers who pass the hat while praising the Lord have long been the stuff of ridicule in film and fiction. But for Crouch and his Orange County-based television ministry, God's economy of giving is no laughing matter. It brings a rich bounty, year after year.
Crouch has used a doctrine called the "prosperity gospel" to underwrite a worldwide broadcasting network and a life of luxury for himself and his family.
For at least a century, preachers have plied the notion that dropping money in the collection plate will bring blessings from God -- material as well as spiritual. But Crouch, through inspired salesmanship and advanced telecommunications technology, has converted this timeworn creed into a potent financial engine.
TBN collects more than $120 million a year from viewers of its Christian programming -- more than any other TV ministry. Those donations have fueled its rise from a rented studio in Santa Ana to a global broadcasting system whose programs appear on thousands of channels -- via satellite, cable and over-the-air broadcasts -- in a dozen languages.
The network's donors also help fund generous salaries for Crouch ($403,700 a year) and his wife, Jan ($361,000), and an array of perks, including a TBN-owned jet and 30 homes across the country, among them a pair of Newport Beach mansions and a ranch in Texas.
The prosperity gospel is rooted in the idea that God wants Christians to prosper and that believers have the right to ask him for financial gifts. TBN has woven this notion into its round-the-clock programming as well as the thousands of fund-raising letters it mails every day.
During one telethon, Crouch, 70, told viewers that if they did their part to advance the Kingdom of God -- such as by donating money to TBN -- they should not be shy about asking God for a reward.
"If my heart really, honestly desires a nice Cadillac ... would there be something terribly wrong with me saying, 'Lord, it is the desire of my heart to have a nice car ... and I'll use it for your glory?' " Crouch asked. "I think I could do that and in time, as I walked in obedience with God, I believe I'd have it."
Other preachers who appear on the network offer variations on the theme that God appreciates wealth and likes to share it. One of them, John Avanzini, once told viewers that Jesus, despite his humble image, was a man of means.
"John 19 tells us that Jesus wore designer clothes," Avanzini said, referring to the purple robe that Christ's tormentors wrapped around him before the Crucifixion. "I mean, you didn't get the stuff he wore off the rack.... No, this was custom stuff. It was the kind of garment that kings and rich merchants wore."
TBN viewers are told that if they don't reap a windfall despite their donations, they must be doing something to "block God's blessing" -- most likely, not giving enough.
Crouch has particularly stern words for those who are not giving at all.
"If you have been healed or saved or blessed through TBN and have not contributed ... you are robbing God and will lose your reward in heaven," he said during a 1997 telecast.
A central element of the prosperity gospel is that no one is too poor or too indebted to donate. Bishop Clarence McClendon, a preacher whose show "Take It By Force" appears on TBN, told viewers in March that God had asked him to deliver a message to those in financial difficulty:
They should "sow a seed" by using their credit cards to make donations. In return, the Lord would see to it that the balances would be paid off within 30 days.
"Get Jesus on that credit card!" McClendon said.
Ask and Receive
Proponents of the prosperity gospel -- also known as the "name it and claim it" gospel and the "health and wealth" gospel -- point to a verse in the Hebrew Scriptures in which the Lord warns the faithful not to "rob" him by withholding their tithes:
" 'Test me in this,' says the Lord Almighty, 'and see if I will not throw open the floodgates of heaven and pour out so much blessing that you will not have room enough for it.' "
E.W. Kenyon, an evangelical pastor in the first half of the 20th century, was an early and influential advocate of the idea that God would grant material wishes.
Kenyon wrote about the "power of faith" to bring health and wealth. He depicted an Almighty who not only protected his followers and forgave their sins, but handed out gifts if asked. The important thing was to ask.
Kenyon's ideas inspired what came to be known as the Word of Faith movement. Many of the phrases Kenyon coined -- such as "What I confess, I possess" -- are still used by evangelists.
After Kenyon's death in 1948, other pastors used aspects of his teachings to draw an even more emphatic connection between piety and prosperity. Pentecostalists such as Oral Roberts were particularly ardent in espousing this doctrine.
In the 1960s, Pastor Kenneth Hagin, often described as the father of the Word of Faith movement, raised the profile of the prosperity gospel still further, promoting it on television and in books with titles such as "Godliness Is Profitable" and "How to Write Your Own Ticket with God."
Hagin preached a four-part formula that he said he received in a vision from Jesus: Say it. Do it. Receive it. Tell it.
First, believers must ask God for what they want. Next, they must demonstrate their faith through donations. Then they will tap into the "powerhouse of heaven" and receive their gifts. Finally, they must spread the news.
Most of today's leading televangelists preach some version of this creed.
Paul and Jan Crouch were brought up in the Assemblies of God, a Pentecostal denomination where the prosperity gospel flourishes. After working in ministries in South Dakota and Michigan, the couple moved to Southern California in 1961 to run an Assemblies of God TV production facility in Burbank.
They launched their own network in 1973. After two nights on the air on KBSA-TV Channel 46 in Santa Ana, they were broke. So the next night, they staged a telethon.
The phones hardly rang. Then Paul Crouch hit on an idea, he recalled in his autobiography, "Hello World!" He told Jan to announce on the air that an anonymous donor had promised to give $20,000 -- on condition that viewers pledge the same amount that night.
The anonymous donor was Crouch, and the $20,000 was money the couple had already lent the network. If viewers came through with $20,000, they would forgo repayment of the loan.
By evening's end, viewers had phoned in $30,000 in pledges, enough to keep TBN on the air.
"Without really realizing it at the time, I had put into motion one of God's most powerful laws -- the law of giving and receiving, sowing and reaping," Crouch wrote. "Thirty-, 60- and 100-fold blessing is, indeed, a glorious truth and blessing for those who will simply obey the word of the Lord!"
The prosperity gospel became the foundation of TBN fundraising. The Crouches and TBN personalities such as faith healer Benny Hinn present the doctrine with passion and a flair for the dramatic.
During fundraising "Praise-a-thons," the Crouches read testimonials from donors whose debts supposedly were miraculously forgiven -- or who inexplicably received checks in the mail. They pray over donors' pledge cards.
In 2000, TBN televangelists told viewers that those who promised $2,000 would get the money back before the end of the year -- and would find that their debts had been canceled. Later, donors were invited to send in loan statements and other debt paperwork. The documents were burned on a stone altar.
During another pitch, Crouch read on camera a letter he said was from a financially strapped viewer who had pledged $4,000.
According to Crouch, the donor wrote: "Within 15 minutes of that time, I received a check in the U.S. mail in the amount of $5,496.70. No explanation.... I know it's not an income tax return. I don't make enough money to file returns."
That year, in a fundraising letter to the network's "prayer partners," Crouch wrote: "Praise the Lord, the reports of awesome miracles of debts canceled and God's people coming out of debt continue to come in. God's economy of giving really works!"
What Windfall?
Most mainstream theologians and pastors say the prosperity gospel is at best a doctrinal error and at worst a con game. They point out that Jesus and his disciples abandoned their possessions in order to live a spiritually rich life.
"It is difficult to fathom how anyone familiar with the abundance of biblical teaching about the 'deceitfulness of riches' could have devised the prosperity gospel," said William Martin, a sociology professor at Rice University and author of a biography of Billy Graham.
"While the Bible does not condemn all wealth, it surely points to its dangers in numerous passages."
Critics of TBN say that the promise of financial miracles -- besides being a distraction from the core principles of Christianity -- can cause real harm.
Ole E. Anthony, founder of the Trinity Foundation in Dallas, a televangelist watchdog, said he knew people who had given the last of their savings to TV preachers, hoping for a windfall that never came.
"The people on TBN are living the lifestyle of fabulous wealth on the backs of the poorest and most desperate people in our society," Anthony said. "People have lost their faith in God because they believe they weren't worthy after not receiving their financial blessing."
Thomas D. Horne, of Williford, Ark., a disabled Vietnam-era veteran, said that in 1994 he was swept away by the rhetoric of TBN pastors and donated about $6,000 in disability benefits.
Time went by and he did not receive the promised surfeit of money. Last year, he found out that TBN had purchased a Newport Beach mansion overlooking the Pacific. He wrote to the network, asking for his money back.
"I want to recoup my hard-earned disability money I sent to these despicable people," said Horne. He said he has received no reply.
Philip McPeake is another donor for whom God's economy of giving did not deliver. Out of work and out of luck in November 1998, McPeake heard the Rev. R.W. Schambach make an impassioned plea for donations on TBN's Kansas City television station, KTAJ.
Schambach promised that if viewers sent $200 as a down payment on a $2,000 pledge, God would give them the rest within 90 days -- with a bonus to follow.
McPeake sent in his money and waited for his luck to change. When it didn't, he complained to the Missouri state attorney general's office and the Federal Communications Commission. TBN refunded his donation.
Carl Geisendorfer, who runs a low-power Christian television station in Quincy, Ill., offered TBN programming for 19 years -- until, he said, he grew disgusted by the televangelists' financial appeals.
He said he pulled TBN off the air in 2002 after watching a preacher tell viewers that they should pledge $2,000 -- even if they didn't have it -- in order to receive a financial miracle from God.
"I should have canceled TBN several years earlier, but I thought Paul Crouch would finally see the light on how foolish and prideful that false gospel is," said Geisendorfer, president of Believer's Broadcasting Corp., a small media group. "I'm sorry I waited as long as I did."
Geisendorfer said donations to his station dropped 25% after he dropped TBN's programs. He said Paul Crouch called him and, during a 90-minute conversation, admitted to struggling over how far to go in promising financial rewards to donors.
"He said, 'What's the difference if some believe it or not. It works for many people. Why not?' " Geisendorfer wrote in a newsletter sent to station supporters last year. He quoted Crouch as saying: "The money comes in and the world is being reached by the Gospel."
Crouch declined to be interviewed for this article. His son, Paul Crouch Jr., a TBN executive, said critics of the prosperity gospel overlook the fact that the network has used viewers' contributions to bring God's word to millions of people.
He said it was unfortunate that "the prosperity gospel is a lightning rod for the Body of Christ. It's not what drives TBN."
If TBN was interested only in money, the younger Crouch said, it would sell advertisements instead of funding its operations primarily with viewers' contributions.
"We could double our money tomorrow," he said.
He added that appeals for money make up a small part of TBN programming and are prominent mainly during TBN's twice-yearly, weeklong "Praise-a-thons."
Those are the times when Rick Johnston, a retired pastor who lives near Flagstaff, Ariz., swings into action.
Johnston, 56, organizes groups of like-minded Christians to try to jam TBN's phone lines during "Praise-a-thons." The strategy is to stay on the line as long as possible offering phony pledges.
"I feel like a little fly trying to knock down Goliath," Johnston said. "But if I can stop somebody from being robbed of $100, I'm going to do it. There are worse things in life I could be guilty of doing."
Not all TBN donors are looking for a financial payback. Many say they are more interested in the promise of salvation and in helping spread the message of Jesus.
Jeanne Fish, 87, a widow who lives in a Tustin apartment, said she took solace from TBN when her husband died nearly 20 years ago and has been a loyal viewer ever since.
"I get so much out of it," she said. "It's almost like getting a theology degree. It's kind of hard to turn off, in fact."
Loyal viewers are dumbfounded that TBN generates controversy within the evangelical community.
"I'm just so amazed and shocked that so many people don't like [TBN] in the Christian world," said Arthur Robbins, an artist who lives near Santa Cruz. "It's a huge undertaking to promote the Gospel worldwide, and they're doing it."
On the air, Paul Crouch responds to criticism of the prosperity gospel by invoking Satan.
"If the devil can keep all of us Christians poor, we won't have any disposable income to build Christian television stations," Crouch said once.
Michael Giuliano, an expert in televangelism at Westmont College in Santa Barbara, said this is an effective strategy.
"It's very, very powerful," he said. "In a world of uncertainty, you know who the good guys in the white hats are and who the guys in the black hats are. And giving money to TBN is a tangible way to join the fight for the good guys."
`Get Jesus on that credit card!'
Pastor Paul Crouch and other evangelists appearing on Trinity Broadcasting Network tell viewers that God will reward them many times over for their donations. Examples:
Paul Crouch
'God spoke to me clearly and said, "Did I give my son Jesus on the cross expecting nothing in return?" God bankrupted heaven and gave the best gift he could give.... You can bring God a gift fully expecting something in return. Get to the phone!'
'Have you got something that you have been praying about 10, 15, 20 years? You have been praying for it and haven't gotten it.... It could be that you haven't gotten it because you are a tightwad and you haven't given your 10%.'
'People ask me sometimes, "I have been asking from God and not receiving anything." I have to ask them some hard questions: Are you giving anything?'
Pastor Rod Parsley
'You're on the brink of a miracle. Go to the phone and give $1,000, $5,000, $10,000 and $1 million. Go to the phone.... God has a miracle waiting on your response.'
'God gave his best at Calvary. He told me, "Don't you dare come before me if you don't give your best!" '
'To reap a perpetual harvest you need to sow a perpetual seed. I got a need for seed.'
Bishop Clarence McClendon
'God spoke to me that there are 1,000 people that will give no less than $100, I got this word! Get up! Get up! Get up! Go to the phone....The spirit of God promised me that he would bless your seed! Go to the phone right now! If you're sowing $1,000, do it now! If you're sowing $100, do it now!'
'Some of you are wrestling with debt that you cannot pay off. God told me this morning to tell you to ... sow a seed on the credit card that you want God to pay off.... Get Jesus on that credit card! Make a pledge on that credit card!'
Times staff writer Scott Martelle contributed to this report.
Author: William Lobdell
Paper: Los Angeles Times (CA)
Title: Ex-Worker Accusing TBN Pastor Says He Had Sex to Keep His Job
Ford believes a 1998 confidentiality deal has been broken. TBN officials deny claims.
Date: September 22, 2004
A former Trinity Broadcasting Network employee who was paid $425,000 to keep quiet about his claims of a homosexual tryst with televangelist Paul Crouch has disclosed details of his complaint, saying that he had felt forced to engage in the alleged sexual acts to keep his job.
Enoch Lonnie Ford, 41, said he was going public with his story because he believes TBN officials breached a confidentiality agreement that was part of a 1998 settlement that provided the payment to him. Network officials broke the agreement, he contends, by issuing a statement last week responding to a news account of the ministry's legal effort to silence him. TBN's statement described the circumstances of the settlement and highlighted Ford's criminal background.
Crouch, 70, is president and popular on-air personality of Orange County-based TBN, the world's largest religious broadcaster.
Ministry officials have flatly denied Ford's allegations, which are detailed in an unpublished memoir that is now sealed in court files by a judge's order.
"I'll take a lie-detector test on national TV," Ford said in a telephone interview Monday. "Paul Crouch needs to be exposed, and the truth needs to get out."
Ministry attorneys went to Orange County Superior Court on Tuesday in an unsuccessful attempt to stop publication of this story, claiming that a Times reporter "aided and abetted" Ford in violating an April 2003 court order that barred him from discussing his allegations. Judge John M. Watson declined to issue a restraining order against The Times but suggested Ford could later face a contempt-of-court hearing.
TBN issued the news release that angered Ford after a Sept. 12 article in The Times reported that the nonprofit organization has waged a legal battle to keep the alleged 1996 sexual encounter secret. TBN said the statement didn't break the confidentiality agreement because it only responded to issues raised by the article.
In their statement, ministry officials said Ford was reviving his allegations, despite the 1998 settlement, to extract more money from Crouch. They also detailed Ford's felony convictions in the 1990s for drug possession and engaging in sex with a 17-year-old boy.
Ford responded angrily to the ministry's statement. "There were times that I didn't make the right decisions," he said. "This is all true. But this man is using my mistakes to get away with this."
Ford, a mortgage salesman who lives in Lake Forest, was hired in 1992 to work in TBN's telephone bank in Orange County. Crouch took an interest in him and within four years, Ford said, he was doing special assignments for the pastor.
One such job, he said, was to drive Crouch to Hollywood and take publicity photos for TBN at a Christian nightclub. Ford said he and others in the ministry were surprised at the assignment because he wasn't a photographer.
"They had to show me -- and I'm not kidding -- how to work a camera," Ford said, adding that Crouch told him not to worry about it.
After visiting the nightclub, Ford said Crouch took him to dinner at the Regent Beverly Wilshire Hotel in Beverly Hills.
Shortly after that, in October 1996, Ford said he and Crouch spent two nights at the same hotel in separate rooms. During that time, Ford said they worked out together at the hotel gym and ate expensive meals with bottles of wine and after-dinner drinks. "I knew what he was doing," Ford said. "He was seducing me."
After checking out of the hotel, Ford said, Crouch took him to a TBN-owned cabin near Lake Arrowhead. It was there, Ford said, that Crouch first had sex with him. "I did it because I didn't know if this man is going to throw me straight out of that cabin," Ford said. "And I didn't want to lose my job. I was going to be in trouble if I said no."
The next morning, Ford said, Crouch read a Bible passage to him in an attempt to reassure him about the night before. The passage, Proverbs 6:16-19, details seven "detestable" attitudes and acts in God's eyes.
Ford said Crouch told him that because homosexuality wasn't listed, the Lord wasn't worried about what they had done. Still, Ford said, Crouch warned him to keep the encounter quiet "because people wouldn't understand."
Ford said Crouch told him the ministry would pay his debts -- about $17,000 -- and offered a rent-free apartment at TBN's Tustin studios.
Ford said he believed Crouch was trying to pay him off.
Ford, an openly gay man, said he was sickened by the sexual relationship he alleges occurred with his boss. "But at the same time, I still looked up to him," Ford said. "He's a very powerful man of the largest Christian network in the world. I just put my blinders on."
Ministry officials confirmed that TBN paid at least some of Ford's debts around that time. They said it was an act of Christian charity that TBN performs regularly for employees.
Within weeks of the alleged Arrowhead encounter, Ford -- on probation for his previous offenses -- tested positive for cocaine and marijuana and was sent to jail. After he was released in early 1998, TBN officials refused to rehire him.
Ford threatened to file a lawsuit alleging wrongful termination and sexual harassment but settled for $425,000. In exchange he also promised not to reveal what a later arbitrator's ruling described as "salacious" allegations.
TBN officials said Crouch reluctantly agreed to the settlement after advisors urged him to avoid a costly and sensational legal battle.
Despite the agreement, Ford threatened last year to publish a memoir that included the allegations, prompting a flurry of legal maneuvers conducted in closed court hearings that resulted in the judge's order barring Ford from disclosing his allegations and private arbitration that ended in a victory for TBN. In court filings, TBN depicted Ford as a penniless drug addict and sexual predator who was trying to extort $10 million from Crouch.
Ford and his attorney, Eugene V. Zech of Newport Beach, deny the extortion claims.
In June, a private arbitrator ruled that Ford could not publish the manuscript without violating the 1998 settlement agreement.
On Tuesday, TBN attorneys asked Judge Watson to keep The Times from publishing this story. Ministry lawyer John Casoria said it could cause "irreparable harm."
Watson agreed with The Times' attorney, Kelli L. Sager, that the 1st Amendment prevents the court from barring publication of an article.
After the hearing, Casoria said TBN may ask the judge to hold Ford in contempt of court for speaking publicly about the case.
Times staff writer Claire Luna contributed to this report.
Author: William Lobdell
Paper: Los Angeles Times (CA)
Title: Orange County
Watchdog Group Wants TBN Leaders to Step Aside
Televangelists reject the request. Wall Watchers seeks reforms and an inquiry into finances.
Date: September 29, 2004
A church watchdog group recommended Tuesday that Jan and Paul Crouch step aside as leaders of Orange County-based Trinity Broadcasting Network while a panel of Christian leaders investigates its finances.
An executive for TBN, the world's largest Christian network, rejected the idea but said he would meet with critics and review audited financial statements and other related documents with them. "We will turn over to them whatever we need to turn over," said Paul Crouch Jr., a network executive.
Wall Watchers, a North Carolina group that monitors the finances of more than 500 Christian nonprofits, proposed the series of reforms in response to recent stories in The Times that detailed the Crouches' luxury lifestyle.
The stories have reported that the network takes in far more money than it spends and provided a $425,000 settlement to a former employee who said he had had a homosexual encounter with Paul Crouch. The televangelist has denied the accuser's claim.
Wall Watchers, a nonprofit organization founded in 1998, provides donors with independent financial analyses of ministries. In addition to ranking ministries for financial stability and openness, Wall Watchers officials warn donors about some Christian nonprofits.
Last year, for instance, Wall Watchers and news reports raised concerns about the finances of Joyce Meyer Ministries, which then released its 2002 audited financial statement.
Wall Watchers officials recommended that TBN revamp its board of directors, which consists of Jan and Paul Crouch and his sister, Ruth Brown, to be independent of the Crouch family. The group also proposed that the network stop relying on the "prosperity gospel" -- a religious principle that donors will receive financial rewards from God by giving money to TBN -- for fundraising.
"The new board should ... complete a thorough overhaul of the ministry to put it on a path to teaching authentic Christian theology and operating in a manner that rejects self-serving financial transactions and embraces sound management practices," the organization said in a statement scheduled to be released today.
Crouch, who has run the network for 31 years, has maintained tight control over TBN since the 1970s, when he survived a series of attempted board takeovers.
TBN officials said the ministry already had extensive independent oversight. Its tax records and executive salaries are public record. And TBN's finances are audited annually by accounting firms and available to the public, officials said.
"Trinity has more accountability and oversight than virtually any other organization, regardless of size," according to a TBN statement.
Howard "Rusty" Leonard, chief executive of Wall Watchers, praised TBN for offering to share financial information with his group.
"We've called TBN many times asking for information" without success, he said. "It's a wonderful turn of events."
But Wall Watcher officials said that if TBN didn't adequately address their concerns involving donor money, they would ask the IRS and relevant state attorneys general to investigate whether "the ministry's charitable purpose, rather than the Crouches' reported lavish lifestyle, is being diligently pursued."
Author: William Lobdell
Paper: Los Angeles Times (CA)
Title: Orange County
Jail or Fine Is Sought for TBN Accuser
Network says a former employee 'has to stop talking' about an alleged sexual encounter with its leader in 1996, as he had promised to do.
Date: October 21, 2004
Trinity Broadcasting Network officials say they want a former employee jailed or fined because he violated a court order against talking about a homosexual tryst he says he had with the ministry's leader, televangelist Paul Crouch.
A temporary restraining order issued by Orange County Superior Court Judge John M. Watson in 2003 at the network's request barred Enoch Lonnie Ford from talking about the alleged encounter -- or anything else involving Crouch and TBN, the world's largest religious broadcaster.
Ford, 41, provided general facts about his employment at TBN for an article published last month in The Times that detailed a $425,000 confidential settlement he received from Crouch in 1998 in exchange for a promise to keep quiet about the allegations.
Crouch, the 70-year-old president of TBN and on-air personality, has denied Ford's allegations and said he agreed to the settlement only to avoid a scandalous and costly trial.
Ten days later, in another interview with The Times, Ford went public with details of the relationship he says he had with Crouch.
He said he did so only because TBN officials issued a statement, in response to the first article, calling him an extortionist, a drug felon and molester. In the 1990s Ford was twice convicted of drug possession and once for having sex with a 17-year-old boy.
On Sept. 24, TBN filed a request with Watson asking him to hold Ford in contempt of court. A hearing is scheduled for Monday.
"We've turned our cheek enough times," said Ronn Torossian, a spokesman for TBN. "He has to be held responsible ... and we demand he has to stop talking."
TBN officials say they are not necessarily asking Watson to put Ford behind bars -- but have noted that their adversary is indigent and only the threat of jail time may stop him from talking.
Legal experts say it is possible Watson may agree, though the chances of jail are small.
The proceedings Monday may be delayed because Ford hadn't yet been served with court papers. Crouch's attorney said a process server and a private investigator had been unable to find Ford.
Reached by phone in Lake Forest, where he lives, Ford said he wasn't in hiding and said he suspected that Crouch, despite public statements to the contrary, did not want to find him. "They're afraid that the truth will come out if this goes to a contempt-of-court hearing," Ford said.
Ford has alleged that Crouch pressured him to have sex during a weekend trip to a TBN-owned cabin near Lake Arrowhead in 1996. After the alleged encounter, TBN officials paid some of his debts; Ford says he moved the next day into an apartment at the ministry's Tustin headquarters.
The legal skirmish is part of a long-running and mostly secret court battle by TBN attorneys to keep those allegations out of the public eye.
The legal maneuvering intensified last year when Ford threatened to publish a memoir that included the allegations -- despite the 1998 settlement and confidentiality agreement he had signed.
At the request of TBN, Watson issued a temporary restraining order against Ford.
Both parties agreed to send the case to private mediation, and this summer, an arbitrator ruled that Ford couldn't publish the manuscript without violating his confidentiality agreement. The arbitrator also ordered Ford to pay Crouch more than $134,000 in legal fees.
Author: William Lobdell and Stuart Pfeifer
Paper: Los Angeles Times (CA)
Title: Region & State
TBN Axes Live Fund Drive
Orange County-based religious broadcaster will use reruns for its TV 'Praise-a-thon' after a sex allegation settlement was revealed last month.
Date: October 27, 2004
Trinity Broadcasting Network, a Christian television ministry shaken last month by allegations that its founder had engaged in a homosexual tryst, has dropped plans for its annual live fall telethon next week and instead will show 40 hours of reruns of previous "Praise-a-thons."
The twice-annual "Praise-a-thons" have been a fundraising mainstay of the Orange County-based network since its birth 31 years ago and now bring in more than $90 million in pledges each fall and spring.
TBN officials said the decision was made weeks ago and was prompted largely by concerns about the health of network co-founder Paul Crouch, 70, and his wife Jan, 66, who remain the most popular on-air personalities for the world's largest religious broadcaster.
But observers were quick to suggest that TBN was reacting to news reports last month that Paul Crouch secretly paid an accuser $425,000 in 1998 to keep quiet about claims of a homosexual encounter with the televangelist. Crouch has denied the allegations.
"To take the live broadcasting off -- I can't imagine" that, said R. Marie Griffith, a scholar at Princeton University who studies evangelical Christians and the media. "It suggests a very strong sense of the chaos they are undergoing there."
Griffith and others also said it would be unseemly for the Crouches to ask for money after articles in The Times detailed the robust financial health of TBN, which averages annual surpluses of $60 million, and the luxurious lifestyle enjoyed by the Crouches.
Paul Crouch Jr., a network executive and son of its founding couple, acknowledged that TBN's decision to go with reruns would take pressure off the guest pastors scheduled to appear on the "Praise-a-thon."
"It seems that when TBN is persecuted, so goes the whole body of Christ," Crouch said. "Other ministries get concerned that they are going to be next on the hit list."
But other factors were more important in deciding to cancel the live telethon, he said. Among them: Jan Crouch had been slow to recover from recent gallbladder surgery.
And a "best of" format, with segments from past shows edited down to small chunks, will allow for a faster-paced telethon, he said.
Perhaps more important, he said, Paul and Jan Crouch may no longer be up to appearing on fundraisers twice a year.
During a weeklong "Praise-a-thon," pastors plead with viewers to make a pledge. They also preach heavily on the "prosperity gospel," a controversial doctrine that says a donation -- in this case, specifically to TBN -- will result in blessings from God, material as well as spiritual.
Author: William Lobdell and Stuart Pfeifer
Paper: Los Angeles Times (CA)
Title: TBN Accuser Has Charge Dismissed
Man who alleged sex with the O.C. network's leader 'likely'violated an order not to discuss it, but evidence was inadequate,judge rules.
Date: March 1, 2005
An Orange County judge dismissed a contempt charge Monday against a man accused of violating a court order when he talked to the Los Angeles Times about his alleged sexual encounter with televangelist Paul Crouch.
Before the defense presented any evidence, Superior Court Judge Robert J. Moss ruled that Crouch's lawyers did not have enough proof to support their case against former Trinity Broadcasting Network employee Enoch Lonnie Ford.
"While it is likely that Mr. Ford did violate this order," Moss said, "there has been inadequate evidence."
Another judge had barred Ford in April 2003 from talking to the media about his allegation that Crouch seduced him seven years earlier at a network-owned cabin near Lake Arrowhead.
Reporter William Lobdell cited Ford's friends and court documents in a Sept. 12 article that first revealed the allegations. A story that ran 10 days later included statements from Ford and photographs of the 41-year-old Lake Forest man taken by a Times photographer.
Crouch has repeatedly denied the allegations.
Lawyers for Costa Mesa-based Trinity Broadcasting, the world's largest Christian network, said Ford violated Superior Court Judge John M. Watson's April 2003 injunction.
"[The order] was simple: Don't talk," said attorney Anna Mendiola. "From the beginning of this case, before this injunction was ever filed ... the defendant threatened to violate the court's order. He planned it all along."
But lawyers for Ford countered that just producing the articles in court did not prove that Ford had spoken to the media.
"Crouch's lawyers failed quite miserably to establish certain facts," attorney Robert Hartmann said.
The judge dismissed the case at Ford's lawyers' request after the network presented its witnesses, who included a lawyer from each side and a longtime friend of Ford's that the Times interviewed for the Sept. 12 article.
Moss ruled in an earlier hearing Monday morning that neither the photographer for the Sept. 22 article nor the reporters who worked on the stories would have to testify. In asking the judge to throw out the subpoenas for the Times journalists, lawyer Kelli Sager cited California's shield law protecting reporters from disclosing sources and materials used in assembling an article.
Trinity Broadcasting lawyers said after the contempt hearing that the reporters' testimony would have helped their case.
"Had they been here to testify, there would have been a lot of information that came out," said David Loe. "We're disappointed that the judge didn't seem to take enough time to consider either of these matters fully. There's ample evidence that Mr. Ford spoke in clear violation of [the 2003] injunction."
He said he would consult Crouch about appealing the ruling.
TBN first became aware of Ford's allegations in 1998, when he threatened to sue the network because he said he had been unjustly fired. Crouch settled with Ford for $425,000. Among the terms was a secrecy clause preventing Ford from discussing his allegations.
In April 2003, Ford handed a copy of a manuscript titled "Arrowhead" to Crouch after walking onto the set of TBN's Costa Mesa studio during a "Praise-a-thon" fundraiser. Later that month, Watson prohibited Ford from discussing the manuscript publicly, saying it violated the 1998 agreement.
Author: Claire Luna