JESUS CHRIST THE GOOD SHEPHERD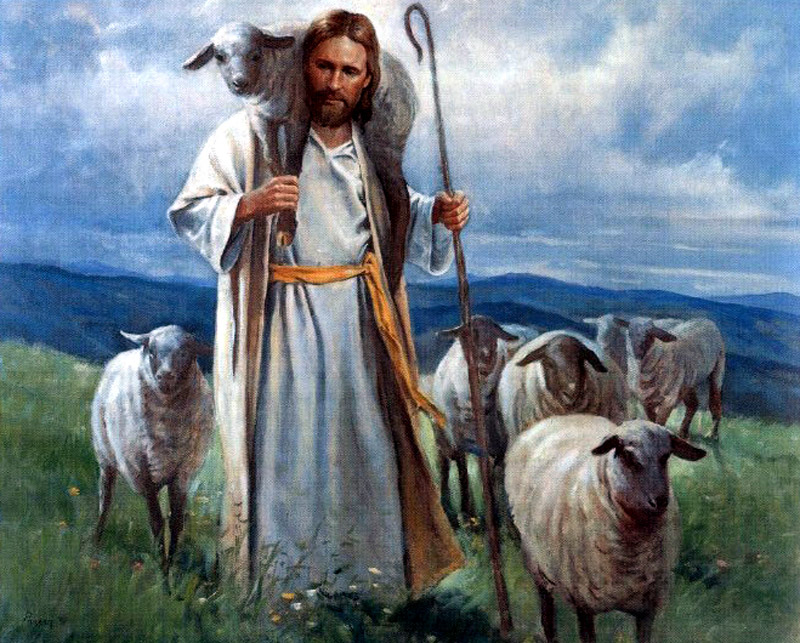 "I am the good shepherd; and I know My sheep, and am known by My own." John 10:14
Psalm 23:1 The LORD is my shepherd; I shall not want.
Note: Is Jesus Christ your shepherd?
John 10:11 "I am the good shepherd. The good shepherd gives His life for the sheep."
Psalm 23:2a He makes me to lie down in green pastures;
Note: Do you want eternal salvation and spiritual substance in your life now?
John 10:9 "I am the door. If anyone enters by Me, he will be saved, and will go in and out and find pasture."

Psalm 23:2b He leads me beside the still waters.
Note: Are you following Jesus Christ?
Revelation 7:16-17 "They shall neither hunger anymore nor thirst anymore; the sun shall not strike them, nor any heat; for the Lamb who is in the midst of the throne will shepherd them and lead them to living fountains of waters. And God will wipe away every tear from their eyes."
Psalm 23:3a He restores my soul;
Note: Have you found rest for your soul in Jesus Christ?
Matthew 11:28-29 "Come to Me, all you who labor and are heavy laden, and I will give you rest. Take My yoke upon you and learn from Me, for I am gentle and lowly in heart, and you will find rest for your souls."
Psalm 23:3b He leads me in the paths of righteousness For His name's sake.
Note: Are you walking in Jesus Christ? Are you suffering for His name's sake?
John 14:6 Jesus said to him, "I am the way, the truth, and the life. No one comes to the Father except through Me."
Psalm 23:4a Yea, though I walk through the valley of the shadow of death, I will fear no evil;
Note: Are you fearless in Jesus Christ despite dangers? Do you have His peace?
John 16:33 "These things I have spoken to you, that in Me you may have peace. In the world you will have tribulation; but be of good cheer, I have overcome the world."
Psalm 23:4b For You are with me; Your rod and Your staff, they comfort me.
Note: Do you have the assurance of Jesus Christ being with you despite dangers?
Matthew 28:19-20 "Go therefore and make disciples of all the nations, baptizing them in the name of the Father and of the Son and of the Holy Spirit, teaching them to observe all things that I have commanded you; and lo, I am with you always, even to the end of the age." Amen.
Psalm 23:5 You prepare a table before me in the presence of my enemies; You anoint my head with oil; My cup runs over.
Note: Have you been established in Jesus Christ by God the Father?
2 Corinthians 1:21-22 Now He who establishes us with you in Christ and has anointed us is God, who also has sealed us and given us the Spirit in our hearts as a guarantee.
Psalm 23:6a Surely goodness and mercy shall follow me all the days of my life;
Note: Do you have the assurance of eternal life?
Jude 1:20-21 But you, beloved, building yourselves up on your most holy faith, praying in the Holy Spirit, keep yourselves in the love of God, looking for the mercy of our Lord Jesus Christ unto eternal life.
Psalm 23:6b And I will dwell in the house of the LORD forever.
Note: Do you have the assurance of being with God eternally?
Revelation 21:3 And I heard a loud voice from heaven saying, "Behold, the tabernacle of God is with men, and He will dwell with them, and they shall be His people. God Himself will be with them and be their God."