MUSLIM HATE OF WOMEN ATHLETES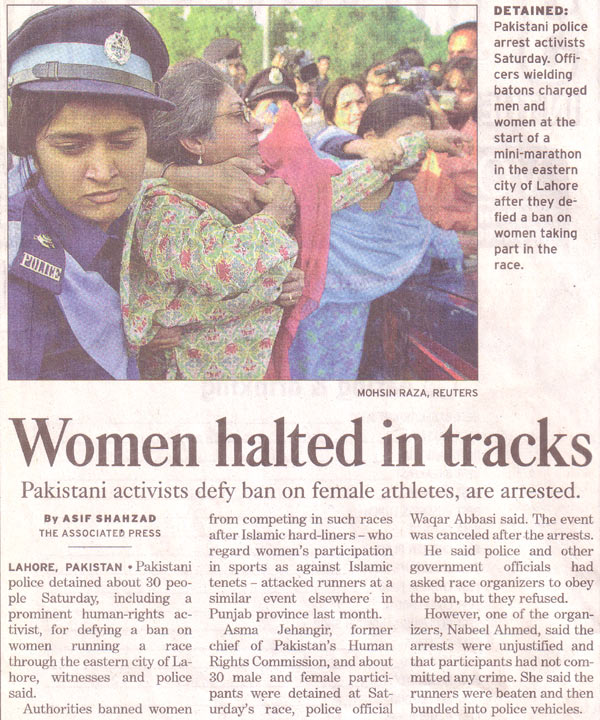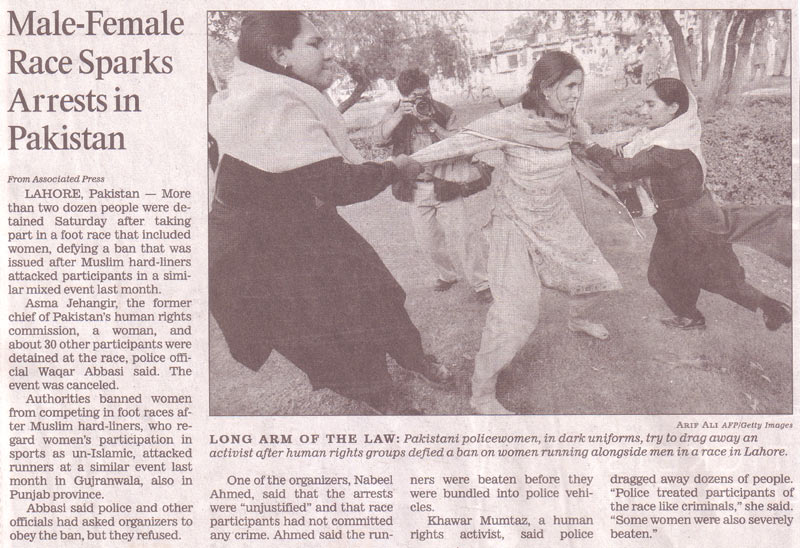 Ethiopian Woman Using Soccer to Challenge Girls' Cultural Roles
By PAUL MEYER, The Dallas Morning News
PLANO - Anisa Adem's daughters asked a simple question with no easy answer. It hung in the air, searching for the place where culture, gender and religion meet. "Why can't girls play soccer here?" they asked. "Is it the Ethiopian culture or Muslim culture?"
The family was in Maryland, watching the 2002 Ethiopian national soccer tournament. And for Ms. Adem, a first-generation immigrant and Muslim mother of two, her daughters' question became a woman's mission. She wanted girls to play at the 2003 tournament in Houston. And she wanted more.
Returning home to Plano, Ms. Adem set to work. By September, she had incorporated the Roba Ethiopian-American Girls Association, a nonprofit group encouraging Ethiopian-American girls to participate in sports, science and leadership activities. The association is named after Fatuma Roba, Africa's first woman to win an Olympic marathon.
Ms. Adem said her daughters' original question shocked her. "They were observing the cultural difference," she said. "In Ethiopia, many girls barely finish high school. I want to teach the ones who are here that your nationality or religion shouldn't limit you."
The community response, she says, has been mostly positive, including offers to help with a web site and calendar to sell as a fund-raiser. Both were launched last week.
"When they see a moderate [Muslim] woman, some are against it," she said. "It's always the man who can do everything. But why did you come to America then if you think that?"
Roba isn't Ms. Adem's first foray into community affairs. Four years ago, she founded the Ewket Ethiopian School, an organization for children that meets every Sunday at Plano's Douglass Community Center to study the Ethiopian language and traditions.
She's also active among local multicultural civic groups. "If she brings the same enthusiasm to the school as she does to other things, she'll get the job done," said Plano Mayor Pat Evans.
Ample audience
About 4,700 people of Ethiopian descent live in the Dallas metro area, according to the most recent Census data. Statewide, there are about 6,400. As in Ethiopia, the group is divided between Orthodox Christians and Muslims.
Minassie Beyene, a leader in Garland's St. Michael Ethiopian Orthodox Church, was one of the first to come here in the 1970s. "I do see a need for women, especially for girls, to have something to look up to," Mr. Beyene said of Ms. Adem's efforts. "Women are kind of left behind in most things in Ethiopia, although here they're equals."
Mr. Beyene's son, a graduate student at Stanford University, is president of the Ethiopian Student Association of Texas. Soon, he plans to work with Ms. Adem to provide scholarships to Ethiopian girls and boys.
"In the culture, women are expected to take care of home first. Since we're still in the early generations of the community here, those thoughts and expectations still reside," Nahom Minassie Beyene said. Ms. Adem "can provide the resources to this community and provide an example for other communities."
Houston exhibition
As for soccer, the girls got their chance this summer in Houston. At the national tournament that draws tens of thousands of Ethiopians from America and beyond, the Fatuma Roba girls soccer team traveled from Dallas to play a one-game exhibition in July.
A team of Houston boys opposed them. They tied. But even the sentimental victory was tempered by a dose of reality. About half the team dropped out just days before the tournament, not wanting to wear shorts at a public event, a prohibition for conservative Muslims.
"If you're Muslim, it's very tough," Ms. Adem said. "I want to motivate girls to realize that anything is possible. I want to encourage them to go to college in the sciences, the arts and sports. And I want them to network with other Ethiopians back home."
Next year in Seattle, she plans to try to field another girls team to compete. "Soccer isn't meant for girls back home," Minassie Beyene said . "It's like American football. You don't see girls' teams. But we were for it. If they want to, they deserve to play."
Women, sport and culture
Basil Ince
Friday, September 30th 2005
There she was, scurrying around the court, now unleashing a terrific backhand, then a running forehand hitting the sidelines. The point completed, she tucked the ball in her pocket and headed for the baseline to serve. Pleasant but all business, she was going about her job just as other professional players do on the big-time tennis circuit. I blinked. She was Indian. "So what,'' a friend would say, "haven't you ever seen an Indian woman play tennis yet?'' He was correct yet missing the point. There are thousands of Indian women around the world who play tennis but this was the fourth round of the US Open, one of the prestigious grand slams on the tennis circuit.
She was Sania Mirza, a 5' 7" 18-year old Muslim, born in Mumbai, India, now living in Hyderabad. What's special about her is that she was not only the first Indian woman to reach the fourth round of a grand slam but also the first to be ranked that high in tennis, 35th in the world. The highest before was 134th. That's nothing to scoff at in the world of top class tennis. No player from this country, man or woman, has ever appeared on the radar of world ranked tennis players much less to be ranked 35th. Should any top ten player be off on a given day, number 35 could score an upset. She has become a celebrity in India. Not as big as Sachin Tendulkar of whom she is a fan but big enough to be mentioned in the same breath as the cricketing giant. She is humbled by this.
But guess what happened on her return home in addition to the pride and adulation she received from Indian sports lovers? A Muslim cleric in Hyderabad issued a fatwa against her, and another Islamic group warned that it will prevent her from playing in an upcoming tournament. Her sin, in their eyes, is that she does not wear the "proper clothes''. They view her short skirts, shorts, and sleeveless shirts as "un-Islamic''. That outfit was a no-no as far as that group was concerned. The group was worried that Mirza would become a role model for younger generations of Muslim girls. Opined its leader, "She will undoubtedly be a corrupting influence on these young women, which we want to prevent.'' Now mind you, Mirza dresses just as the other players do. In fact, Adidas provides her clothing.
However, the tide was with Mirza. On the very next day, top Muslim clerics, who arbitrate over religion-related issues for the more than 160 million Muslims living in India, came to Mirza's defence. Their view: "What Sania wears in (the) tennis court is the demand of the game.'' They derided the fatwa-dispensing group as trying to gain "cheap publicity''.
Let's face it, women have been disadvantaged from the outset in big- time sporting competition. In earlier times it was the gender issue which debarred them from participating in the ancient Olympic Games. They were not allowed to compete and could enter the stadium only to applaud the competitors politely.
They were absent at the first modern Olympics in 1896 and when they participated at the next Games, they were limited to games such as croquet and tennis. In fact, four years later, the American Olympic Committee came out against women taking part in any activity in which they could not wear long skirts. The manners and mores of the Victorian times precluded and limited female participation.
Fast forward to 1984, 56 years after women were allowed to compete in track events for the first time. Nawal El Moutawakel, of Morocco, became the first woman from the Third World to win gold at the Olympics. Her victory came 56 years after women from the industrialised world had raked in gold medals. She won the premier edition of the 400m hurdles. On her heels in years to come were women from Algeria, Ethiopia, and Kenya grabbing Olympic gold. After El Moutawakel's triumph, she dedicated her victory " to the women of my country and all of Africa''. She knew what she had endured in a conservative country where the Muslim religion frowns on women not wearing the purdah, much less running around a track in shorts.
The continents of Africa, Asia, and South America have given the women from industrialised countries a huge distance from which recovery is all but impossible. While religion and custom restrained the women of North Africa, custom acted as a virtual brake on African women south of the Sahara. The culture there dictated that a woman should have a husband and when this was done she "had children, did the housework (and) collected water and firewood''. Asia was not much different.
The traditional way of life has been a strong deterrent to the success of Asian women in sport. Machismo has no doubt been a debilitating factor for Latin American women. It is only in the Castro era that Cuban women have emerged.
And where do we in the English-speaking Caribbean, with transplants predominantly from Asia and Africa, stand in sporting events? Not bad at all. Jamaican women were finalists at the Olympic Games as early as 1948.
In all major sporting events in the world, gender has had a braking effect on women's progress. In the Third World, culture provided an additional barrier. Culture, however, is dynamic as evidenced by the number of Third World women winning Olympic gold and earning a handsome living from professional sport.
Play on, Sania!
Sania Mirza
By Jason Cowley
Monday 17th October 2005


Jason Cowley on the tennis sensation who is drawing scorn from india's muslim clerics

It is difficult to believe that a slender, 18-year-old Muslim tennis player from India has the potential to change the world, but it is equally difficult to overestimate the effect Sania Mirza is having on millions of young men and women, and especially women, in the world's second most populous country. She is the first female Indian tennis player to be ranked in the world's top 40; indeed, she is the first significant female athlete of any kind, in a country where women have been typically discouraged from taking up sport. Mirza has the discipline, the tenacity, the flamboyance and, above all, the talent to go much higher in the rankings and, in so doing, inspire a whole new generation of Indian girls to express their hopes and ambitions through sport.

At home, in India, Mirza is a role model and an icon, her fame locating her somewhere between Bollywood and the mass adulation that surrounds the Indian cricket team. She is celebrated as much for her attitude and fashion sense (she wears a nose-ring and "librarian" glasses) as she is for her talent. She evidently enjoys the attention and delights in confounding expectations of exactly how a young Muslim woman from the subcontinent should behave. At Wimbledon, she wore a T-shirt bearing the slogan: "Well-behaved women rarely make history"; at the US Open in September, where she lost in the quarter-final to the Russian sensation Maria Sharapova, her T-shirt read: "You can either agree with me, or be wrong".

All this means that Mirza is in ceaseless demand - for interviews, billboard advertising, endorsements (her fee is reported to be second only to the great batsman Sachin Tendulkar's) and television appearances. But already she is becoming something of a prisoner of her own celebrity in a rapidly modernising country of more than a billion people. She can no longer even leave the Hyderabad home she shares with her parents without the obligatory bodyguards.

There are other threats, too. Some Muslim groups have begun to omplain about the "indecent" short skirts and skimpy tops that she wears on court. One Muslim cleric, Hasheeb-ul-Hassan Siddiqui, of the Sunni Ulema Board, has even issued a fatwa against Mirza, stipulating that she be prevented from playing in sleeveless tops and short skirts. Her tennis clothes, he said, as well as those she wears for advertisements, "leave nothing to the imagination". For an entire generation of young Muslim girls, she "would be undoubtedly a corrupting influence".

The cleric is correct in identifying the world-transforming potential of a young, attractive, articulate and media-smart teenage Muslim tennis star, but wrong in his assessment of that influence. He understands how sport has become a common language for the global tribe, as well as an engine of change, an aggressive symbol of meritocracy and the mirror in which we see reflected back at us the competitive, style-driven, money- and celebrity-fixated world in which we live. Tennis is one of the few sports in which women enjoy parity with men; female tennis players are among the wealthiest and most celebrated of all sports personalities.

Though sport is increasingly an expression of capitalist hegemony, it can also be subversive, destabilising hierarchies and helping to liberate many in the developing world from a life of penury and subordination. Muhammad Ali, Pele, the Aboriginal tennis player Evonne Goolagong, the West Indian cricketer Viv Richards, the so-called ghetto Cinderellas Venus and Serena Williams and the Chinese basketball star Yao Ming - these sporting icons, because of their fame, achievement and corporate power, have helped to transform the way mainstream sporting audiences think about race, gender and the old political structures that once controlled the games we play.

Can Mirza have a similarly transformative effect, not only in India but also throughout the world? She may not have won a major tournament, yet already she occupies a role through which flow many of the most significant intellectual and cultural currents of our times: the clash between secularism and political Islam, the emancipation of women in the Muslim world, the dominance of celebrity, the tyranny of the image, the emergence of India as a world power.

"Every word I speak, every skirt I wear, is discussed and analysed," she complained, on a recent return to India from the United States. If she continues to improve as rapidly as she has over the past six months, Sania Mirza will simply have to get used to such obsessive scrutiny. There is no turning back now.