ISLAMIC LAW CALLS FOR DEATH BY STONING OF ADULTERY.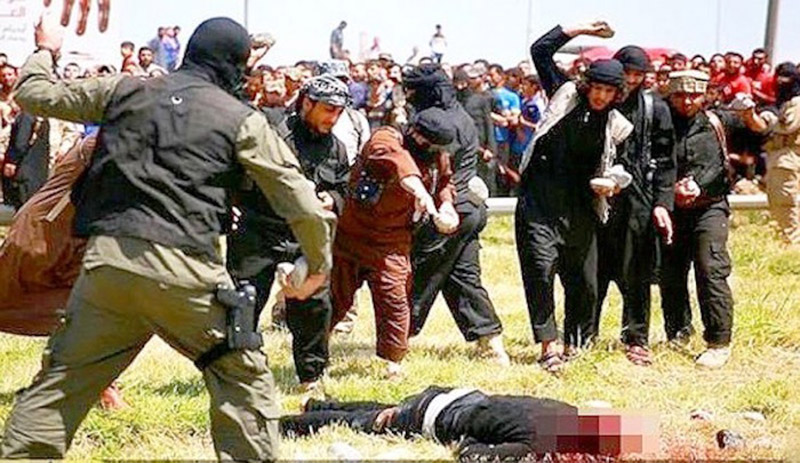 ISIS extremists stone two civilians to death on charges of 'committing adultery'

ARA News
April 1, 2016

ALEPPO ــ Militants of the radical group of Islamic State (ISIS) stoned two Syrian civilians to death in Manbij city of Aleppo province on charges of 'committing adultery', local sources reported on Thursday.

A man and a woman were arrested on Wednesday under the pretext that they have committed adultery. The two victims were referred to the Sharia Court, which has ordered their immediate execution by publicly stoning them to death.

Speaking to ARA News in Manbij, media activist Nasser Taljbini said that after reciting the conviction, ISIS militants publicly stoned a man and a woman to death near the bridge of Manbij.

"Hundreds of people were watching the chilling scene silently," an eyewitness told ARA News, speaking on condition of anonymity.

"Following the execution, some locals started chanting supportive slogans to the Daesh-led brutal act," the source said, using an acronym for ISIS.

Also, the group on Monday beheaded a young woman in the city of Manbij on charges of communicating with the Kurdish forces of the People's Protection Units (YPG)–that are engaged in deadly battles with ISIS across Syria's north and northeast.

ISIS militants beheaded the young girl near the roundabout of Dalla on the highway to Aleppo. The victim was accused of spying for the Kurdish YPG forces, local activists told ARA News.

Over the past few weeks, the pace of ISIS-led executions against civilians has increased dramatically in the city of Manbij for no clear reasons.

The militant group is currently on alert in a bid to impose its hegemony on civilians, especially with the western-backed Syrian Democratic Forces (SDF) making remarkable gains in northern Syria, coinciding with continued U.S. and Russian airstrikes on ISIS positions.

Reporting by: Helin Saeed

Catholic movie review - The Stoning of Soraya M.

By Harry Forbes and John Mulderig - Catholic News Service
Thursday, 25 June 2009

Just last year, a Pakistani couple was stoned for adultery, a Somali woman met a similar fate on the same charge, and two Iranian men were executed in this excruciating manner. Five of the world's predominantly Muslim countries, as well as about one-third of Nigeria's 36 states, still include stoning among the penalties in their criminal codes.

This barbaric practice is depicted unflinchingly in "The Stoning of Soraya M." (Roadside/Mpower), a compelling, often moving film version of Freidoune Sahebjam's 1994 best-seller, based on an actual incident in 1986. Set in a remote Iranian village, the narrative charts a harrowing chronicle of oppression and community corruption.

The 1979 Iranian revolution made Shariah -- the ancient collection of laws derived from the Quran -- the template for the nation's civil legislation. As a result, adultery, which under the shah was merely punished with fines or community service, became a capital offense.

The film shows how, seven years after the monarch's ouster, philandering husband Ali (Navid Negahban) was anxious to be rid of his devoted wife, Soraya (Mozhan Marno), so he would be free to marry a 14-year-old girl. But, as we see, Soraya resists a divorce, fearing it will mean economic ruin for her and her four children. (The real-life Soraya was the mother of seven.)

So Ali falsely accuses Soraya of breaking her wedding vows, knowing full well that, if convicted, she will be stoned. Soraya's unlikely lover, Ali claims, is mild-mannered widower Hashem (Parviz Sayyad), for whom, at Ali's own suggestion, Soraya has been working as a housekeeper, while helping to care for his mentally impaired son.

Weak-willed Ebrahim (David Diaan), the mayor of their village, is troubled by the flimsiness of the case. But the revolution has left real power in the hands of the local mullah (Ali Pourtash), a former con man whose shady past Ali threatens to uncover. (In reality, the mullah's pre-revolutionary crime was child molestation.)

Zahra (Shohreh Aghdashloo), Soraya's courageous aunt -- who openly yearns for what she believes were the more civilized days of the shah -- passionately resists the mounting conspiracy, boldly confronting Soraya's accusers.

But Soraya ignores Zahra's warnings. She's committed to her family, including her two sons, even though one, under his father's macho tutelage, treats her with gross disrespect, while even the other, more sensitive boy finds himself tested by his mother's ordeal, with dismaying results.

The story is told in flashback as Zahra recounts these events to French-Iranian journalist Sahebjam (Jim Caviezel, who was Jesus in Mel Gibson's "The Passion of the Christ"). At the film's opening, Sahebjam's car breaks down near the village.

Soraya's fate at the hands of the self-righteously frenzied community is presented in such a way that some -- including producer Stephen McEveety, who also co-produced Gibson's film -- might glean parallels to Christ's final hours.

Betrayed, falsely condemned and abandoned by all except the faithful Zahra, Soraya -- Farsi for "peace be with you" -- is handed over to the bloodthirsty mob, in the midst of which ragamuffin youngsters rhythmically beat stones together as they anticipate her death. Soraya is immobilized -- buried up to the waist with her hands bound behind her -- and exposed, not only to the hurled rocks, but to the insults and denunciations of her murderers.

The ugly episode certainly brings to mind Jesus' iconic words about casting the first stone (John 8:7).

Aghdashloo is majestic as the outraged matriarch, her sincere and peaceable religious convictions standing in sharp contrast to the fanaticism of the townsfolk, which steadily mounts into a mass hysteria reminiscent of the Salem witch trials. Zahra comforts Soraya with the promise that "God and paradise are waiting for you." Marno, for her part, evokes deep pathos, bewildered yet stoic.

Director Cyrus Nowrasteh's script, co-written with wife Betsy Giffen Nowrasteh, takes an admirable stand against injustice while promoting women's equality and respect for life and human dignity.

Nearly all the men in the town, though, are seen as either malicious or weak. Ali and the mullah are outright villains. Ebrahim tries at least to ensure a fair trial and Hashem initially denies Ali's lie. Yet Ebrahim yields to the mullah and the pressure of the rabble, while Hashem knuckles under when threatened with the loss of his son's custody. Even Soraya's own father eventually joins those calling for her death.

The disturbing violence and torturous suffering that attend the climax are conveyed extremely graphically, though one can easily imagine the reality would be far worse. While this approach effectively conveys the horror of Soraya's death, it precludes recommendation for many viewers -- including teens -- who might otherwise have benefited from an opportunity to explore themes of justice, faith and moral tenacity.

Some viewers at a special Catholic pre-screening -- while recognizing the significance of the subject matter -- found it difficult to watch, much like Gibson's film, a majestic work made uncomfortable for some by what the Office for Film & Broadcasting described as its "visual grisliness." Others felt this movie would have been enhanced by a nonfiction postscript of Iranian women bearing witness that Soraya's experience was not, alas, unique.

In sum, a hauntingly powerful tale whose dramatically justified depiction of violence may restrict its appeal, even as its treatment of a serious contemporary issue makes all too vivid a pressing global concern.

In Farsi, with subtitles, the film contains a sequence of intense violence, torture, sexual references and one rough and a few crude and crass terms. The USCCB Office for Film & Broadcasting classification is L -- limited adult audience, films whose problematic content many adults would find troubling. The Motion Picture Association of America rating is R -- restricted. Under 17 requires accompanying parent or adult guardian.

Forbes is director and Mulderig is on the staff of the Office for Film & Broadcasting of the U.S. Conference of Catholic Bishops.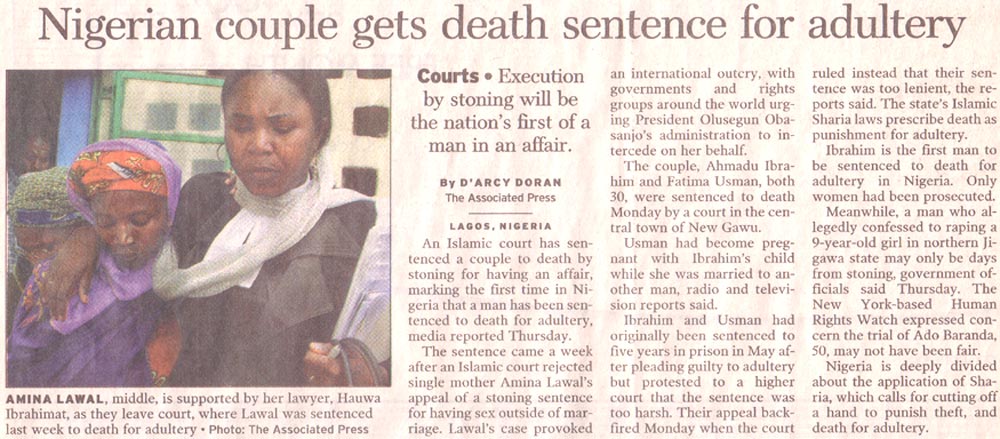 Jesus Christ said: "He who is without sin among you, let him throw a stone at her first." John 8:7