MESSAGE FROM PASTOR RUSSELL
But the teachings of THE GREAT PYRAMID are quite different. We have great respect for it, though we do not build our faith upon it. It has well been called "A Miracle in Stone," and it commends itself to us as a work of God, and not planned by men, for it seems in every respect to be in perfect accord with God's plan as we are finding it written in His Word; and this it is, that causes our respect for it. It has an entrance passage downward to a pit representing the "broad road to destruction." From this a passage starts upward-- representing the Law dispensation. This in due time enlarges and becomes a "grand gallery," seven times as high, still leading upward, representing the Gospel Age. Thirty-three inches from the beginning of the grand gallery is a well, representing the death and resurrection of Jesus. From this well there is another downward passage-way which connects with the entrance passage near the pit, and seems to teach the restoration of all men from the "horrible pit" of death, through and on account of Jesus' death. The "grand gallery" measures 1874 inches long at the top, 1878 inches long at a groove cut in its sides about midway between bottom and top and 1881 inches, at the bottom. (The upper end wall impends or slants forward). Now notice how aptly these three distinct dates (1874, 1878, 1881,) are marked by the pyramid, in ending the grand gallery, and see how ably it supports the teaching of the Bible, viz: that the gospel favors and privileges have been ending during these seven years--and will entirely cease this year. Two other ways, in which the Pyramid corroborates scripture, are these: At the top of the "grand gallery"-- just where it measures 1874 inches, there is an opening or passage-way which seems to say, something might go out or come in here. For some time we thought this might represent the "change," or catching away of the church as spiritual beings; but it would have been due in 1874 and no translation took place; then it must mean something else. It seems very plain and clear to us now that that opening can mean nothing else than what the Prophets have taught us, viz: that there the Bridegroom came a spiritual being. It fits, as all the other parts of that wonderful structure fit and harmonize with the Word. Watchtower, May 1881.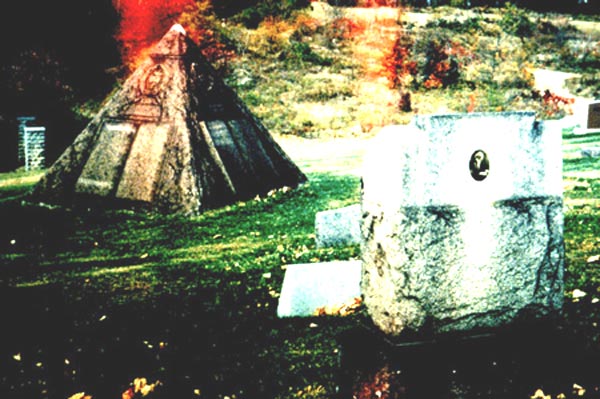 The pyramid grave site of Charles T. Russell the founder of the Watchtower.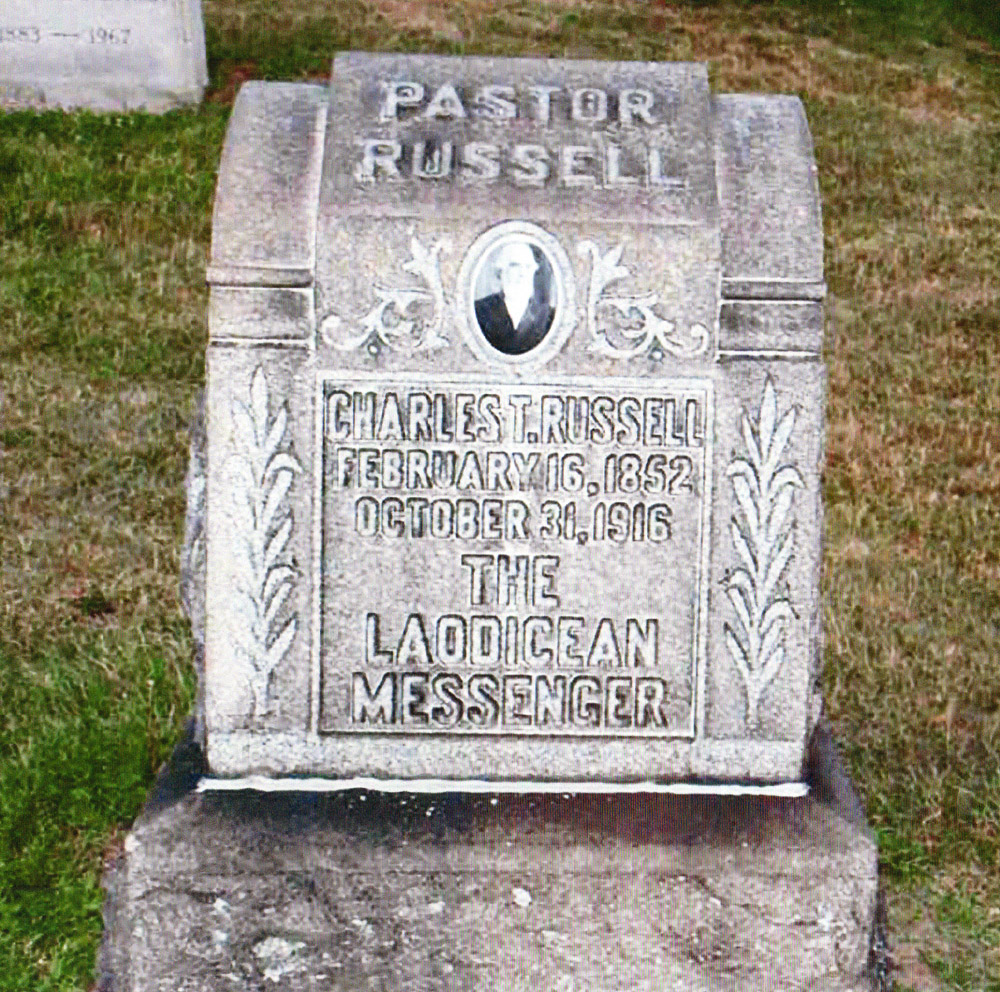 The pyramid grave site of Charles T. Russell the founder of the Watchtower.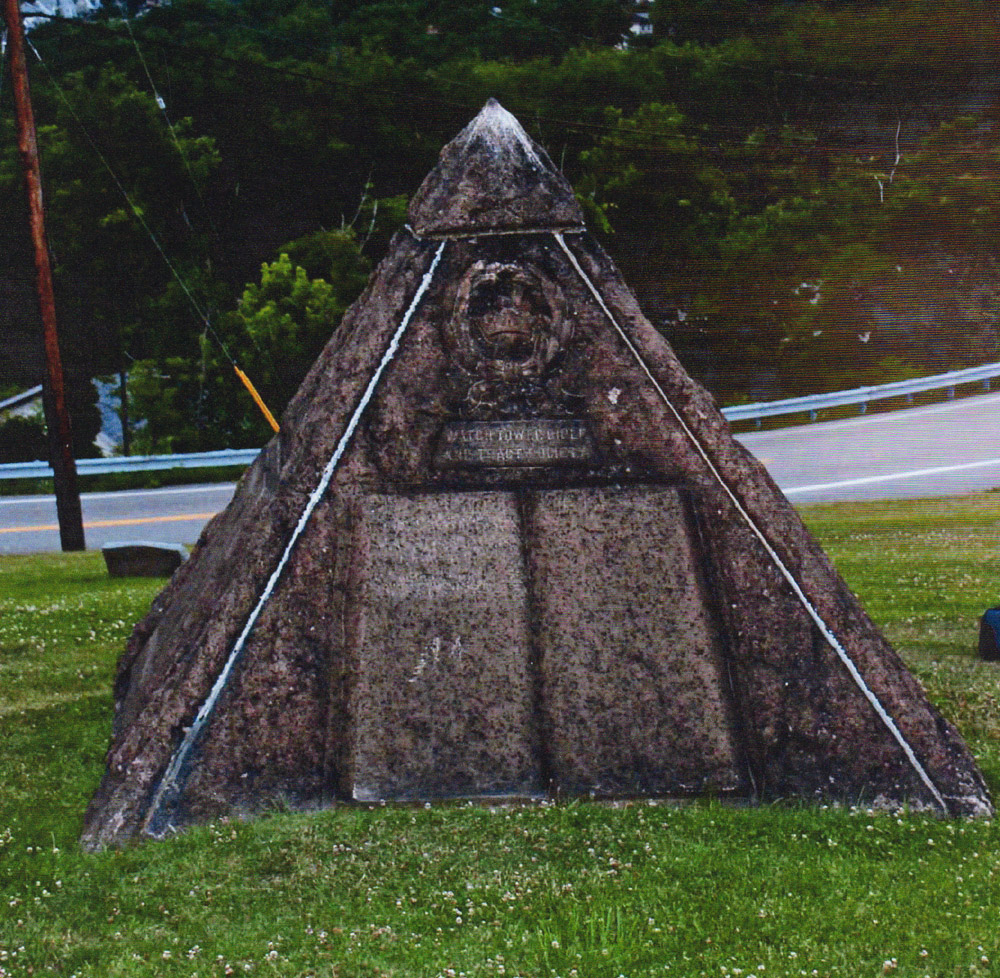 The pyramid grave site of Charles T. Russell the founder of the Watchtower.
If the six volumes of SCRIPTURE STUDIES are practically the Bible topically arranged, with Bible proof-texts given, we might not improperly name the volumes - the Bible in an arranged form. That is to say, they are not merely comments on the Bible, but they are practically the Bible itself since there is no desire to build any doctrine or thought on any individual preference or on any individual wisdom, but to present the entire matter on the lines of the Word of God. We therefore think it safe to follow this kind of reading, this kind of instruction, this kind of Bible study. Furthermore, not only do we find that people cannot see the divine plan in studying the Bible by itself, but we see, also, that if anyone lays the SCRIPTURE STUDIES aside, even after he has used them, after he has become familiar with them, after he has read them for ten years - if he then lays them aside and ignores them and goes to the Bible alone, though he has understood his Bible for ten years, our experience shows that within two years he goes into darkness. On the other hand, if he had merely read the SCRIPTURE STUDIES with their references, and had not read a page of the Bible, as such, he would be in the light at the end of the two years, because he would have the light of the Scriptures. Watchtower: September 15, 1910, page 298