AFRICAN CHRISTIANS ARE SUFFERING BUT BLESSED BY GOD!
Bishop: Western politicians damage African Christianity by 'pandering' to Islam

by Catholic News Service
posted Friday, 13 Oct 2017

Bishop Matthew Kukah accused Western leaders of 'turning their backs' in Christianity

A Nigerian bishop said the Catholic Church in his country is beginning to lose its public influence partly because of the decline of religious faith in the West.

Bishop Matthew Kukah of Sokoto accused European and American politicians and diplomats of publicly "pandering" to Islam at the expense of Christianity.

The result, he said, was the ascendancy of Islam and evangelical Christianity in Nigeria and the decline of Catholicism.

He told Catholic News Service in an interview in Liverpool that the widespread loss of Christian faith in the West was "absolutely" among the causes of the diminishing influence of the Catholic Church in his own country.

"From my own experience, I find that the British high commissioner, the ambassadors from European countries, the American ambassador — they are pandering more to Islam than to Christianity, because most of them have turned their backs on Christianity," Bishop Kukah said.

"The Arab world is pouring money into Nigeria and the Pentecostal pastors in America are doing the same, and the Catholic Church is now becoming the weakest in terms of access to resources," he said.

"For me, as a bishop of the Catholic Church, I can see very clearly that our influence in the public space is gradually reducing, and that is largely because of our capacity to mobilize resources," he said.

It had become no longer possible, he said, for the bishops to appeal to historically Catholic nations for financial help with church projects.

"We can't go to the Irish ambassador or the Spanish ambassador and say, 'This is (needed) for the Catholic Church,'" Bishop Kukah said. "People are not interested."

"In Ramadan, the ambassadors of Islamic countries are very keen to come to the Muslim celebrations in a way and manner that the Irish or any of these ambassadors are not likely to do for (Christmas) midnight Mass or the Easter celebrations."

He said that, in his experience, most Catholic ambassadors would prefer to be seen publicly at a Muslim celebration than attending a Christian ceremony.

"Before our election, John Kerry came to Nigeria," he said. "John Kerry, when he was secretary of state, left the U.S. and came straight to see the sultan of Sokoto. It was a visit that nobody could explain.

"John Kerry claims to be a Catholic. This is the perfect example. He landed in Abuja. The American Embassy is in Abuja. There is a cardinal in Abuja, and a very visible cardinal for that matter, but it doesn't cross the mind of John Kerry to even see out of courtesy the cardinal. He takes another plane to Sokoto and goes to the palace of the sultan, the head of the Muslims," he said.

"The reaction of the Nigerian Christian community was very interesting. They thought Kerry was pushing the Islamic agenda," Bishop Kukah said. "This was ahead of the elections, and they thought he was giving the Muslim candidate a leg up."

"In a country like Nigeria, influence is peddled, and we are not there at the table," the bishop continued, adding: "We have not trained our people for roles in public life … we are still very shy of the public space, and we are not aware of how much things have moved on."

Bishop Kukah, chairman of the interfaith dialogue committees of both the Nigerian bishops' conference and the regional conference of West African bishops, was in England on a speaking tour.

On the same day, two bishops in Nigeria encouraged the Association of Diocesan/Religious Directors of Social Communication to strive to better publicize the good works of the church in the public domain.

Bishop Albert Ayinde Fasina of Ijebu Ode said enhanced training of Catholics for work in the media would help to maintain a presence for the church in the public square.

"In the spirit of the new evangelization, you are required to put your creativity to work … by engaging the media tools for catechesis," he said in a speech on the first day of a three-day meeting. "The church needs to be concerned for, and be present in the world of communications, in order to dialogue with people today and help them encounter Christ."

Bishop Godfrey Igwebuike Onah of Nsukka said that Catholic professionals must also be ready to correct inaccurate reports about the church.

"'If we do not blow our trumpet, no one will blow it for us," he said. "'We need a kind of media that can serve as a watchdog of the society as well as be the gadfly that can bring us to our toes when we go wrong."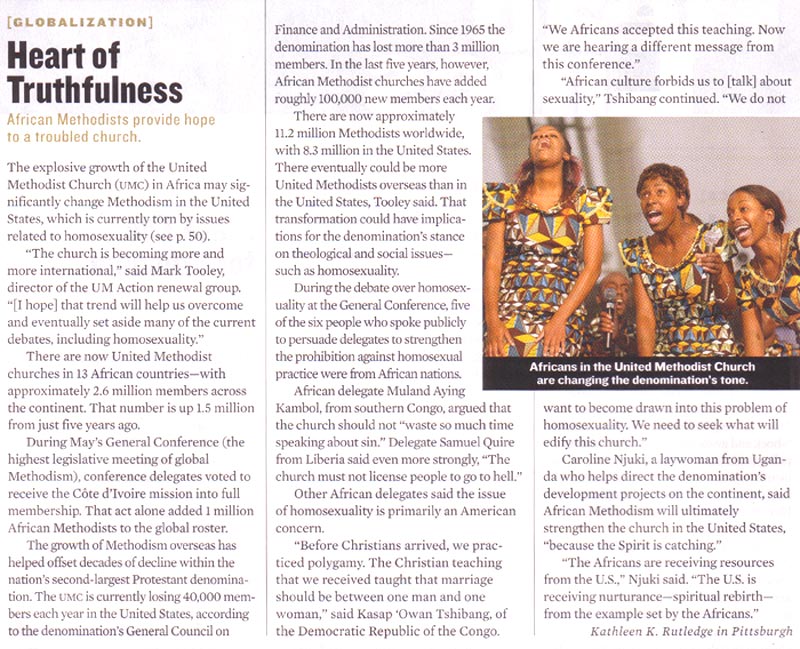 GOD BLESS THE AFRICAN METHODISTS!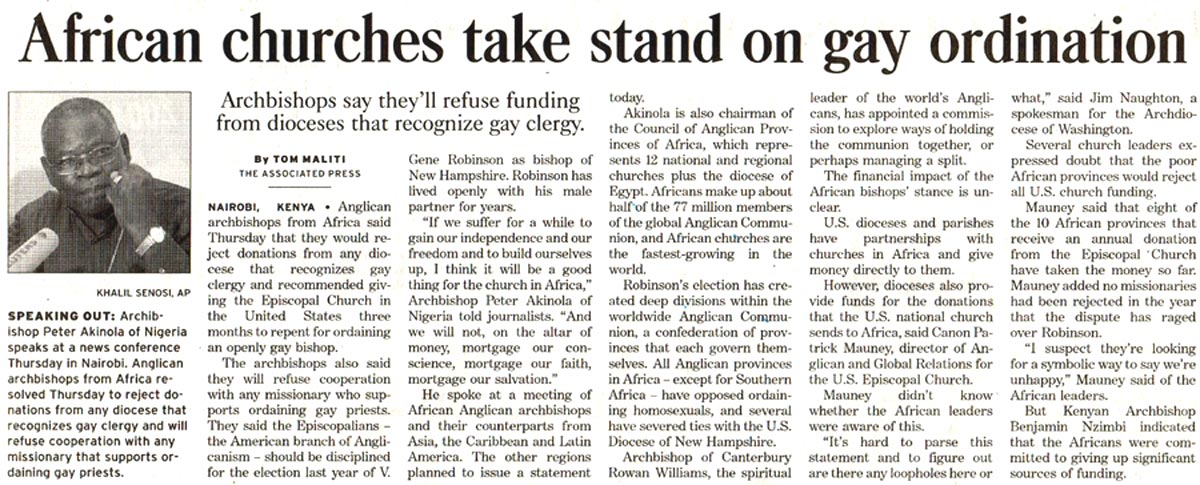 GOD BLESS THE AFRICAN ANGLICANS!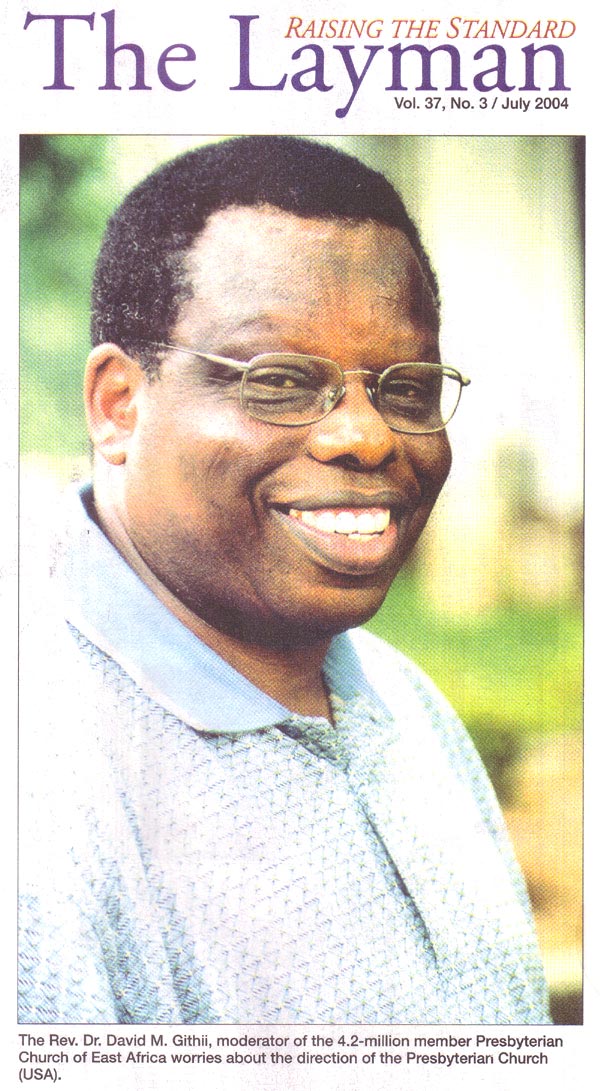 GOD BLESS THE AFRICAN PRESBYTERIANS!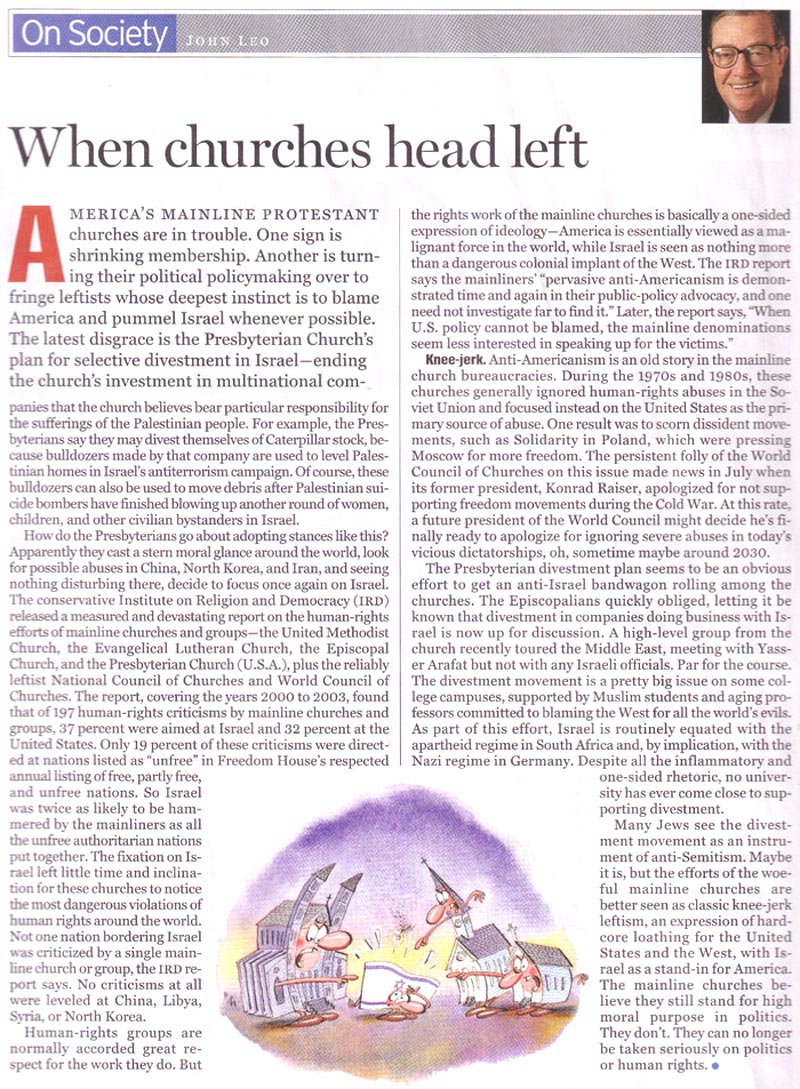 MAY GOD HAVE MERCY ON AMERICAN DENOMINATIONS!
Canada's churches suffering serious decline
Researcher says membership losses pushing Canadian churches to brink of 'extinction'
Tuesday, December 06, 2005
Ferdy Baglo
Canada's churches are suffering such a serious decline in membership that some denominations could disappear, according to a report to the House of Bishops of the Anglican Church of Canada (ACC), released recently by Can West News Service.
Keith McKerracher, a retired marketing expert who advises the church, published data showing that, between 1961 and 2001, Anglican membership plunged from 1.36 million to 642,000 - a decline of 53 per cent. McKerracher said the ACC is losing 13,000 members a year and "is facing extinction by the middle of this century."
McKerracher also reported that membership in the United Church of Canada (UCC) fell from 1.04 million to 638,000 over the same period, a loss of 39 per cent. And membership in the Presbyterian Church of Canada declined by 35 per cent, the Baptist church 7 per cent, and the Lutheran church, 4 per cent. Roman Catholic membership figures were not available, he said.
The Rev. Harry Oussoren, executive minister of the UCC Support to Local Ministries, told Ecumenical News International: "Generally, not only across Canada but the entire Western world, we're aware of a trend that says that institutionalized religion is not central to peoples' lives, as is individualized religion."
A group that calls itself Ontario Consultants on Religious Tolerance says on its Web site - www.religioustolerance.org/can_rel.htm - that "small non-Christian faith groups are increasing in number and popularity." It says percentages of self-professed atheists, agnostics, humanists, secularists and people of no religious adherence are increasing rapidly, and many Canadians "identify themselves as adherents of a specific religion, religious group or denomination, but no longer attend services."
Others have pointed to a decline in birth rates among the Anglicans' traditional constituency - white Anglo-Americans and Anglo-Canadians - as a root cause of the membership drop.
According to Oussoren, the drop in support of institutions is also marked among the more traditional, conservative religious groups: "For example, in the 2001 census the Jehovah's Witnesses are showing a loss of 8.1 percent, the Mennonites 7.9 percent, Pentecostals 15.3 percent," he said.
Source: Ecumenical News International
Presbyterians and the Holy Trinity: Let Us Phrase
Delegates to the U.S. church's policy-making body endorse other wordings to describe a 'triune God.'
By K. Connie Kang, Times Staff Writer
June 30, 2006
When referring to the Trinity, most Christians are likely to say "Father, Son and the Holy Spirit."

But leaders of the Presbyterian Church (USA) are suggesting some additional designations: "Compassionate Mother, Beloved Child and Life-giving Womb," or perhaps "Overflowing Font, Living Water, Flowing River."
Then there's "Rock, Cornerstone and Temple" and "Rainbow of Promise, Ark of Salvation and Dove of Peace."

The phrases are among 12 suggested but not mandatory wordings essentially endorsed this month by delegates to the church's policy-making body to describe a "triune God," the Christian doctrine of God in three persons.

The Rev. Mark Brewer, senior pastor of Bel Air Presbyterian Church, is among those in the 2.3-million-member denomination unhappy with the additions.

"You might as well put in Huey, Dewey and Louie," he said.

"Any time you get together representatives of 2 1/2 million people, you get some really solid people and some really wacky people," he said, referring to the delegates who attended the 217th General Assembly in Birmingham, Ala. Other assembly actions attracted larger notice, such as endorsing medical marijuana and giving local authorities the ability to ordain gays and lesbians living openly with same-sex partners.

But now, through blogs and discussions during and after services, word is spreading about the additions to the traditional Trinity.

Others include "Sun, Light and Burning Ray" and "Speaker, Word and Breath." The wordings are meant to reflect particular aspects of worship, so a prayer noting God's "wrath in the face of evil" might use "Fire That Consumes, Sword That Divides and Storm That Melts Mountains." Some of the suggestions are familiar ones, such as "Creator, Savior, Sanctifier" and "Rock, Redeemer, Friend," which other denominations already use.

Although the delegates did not officially adopt a report recommending the new designations, after extensive debate they voted 282 to 212 to "receive" the document. By not rejecting the report, the delegates essentially allowed individual churches to decide how to use the new phraseology.

Written by a diverse panel of working pastors and theologians, the report noted that the traditional language of the Trinity portrays God as male and implies men are superior to women.

"For this and other distortions of Trinitarian doctrine we repent," the report said.

Daniel L. Migliore, a member of the committee that spent five years crafting the report, said critics miss the point.

"What we are speaking of is supplementary ways of referring to the triune God — not replacements, not substitutes," said Migliore, professor of systematic theology at Princeton Theological Seminary.

And the Rev. Rebecca Button Prichard, pastor of Tustin Presbyterian Church, who headed the panel that wrote "The Trinity: God's Love Overflowing," strongly defended it as theologically sound.

"What people are afraid is that they think we are taking 'Father, Son and Holy Spirit' away from them," she said. "We're not. What we want to say is that no words can fully describe God. And so we want people to seek a variety of expression, so we can do justice to the greatness of God."

The concept that the omniscience of God is beyond comprehension — and, hence, human language — dates to antiquity. In ancient Israel, Jews did not dare to invoke the name of God — Yahweh — who declared in the Decalogue, "You shall have no other gods before me."

But critics of the new designations say the wordings are confusing and reflect a concession to touchy modern sensibilities.

"They're attempting to be politically correct, and unnecessarily so," said Hank Hanegraaff, president of the Christian Research Institute in Charlotte, N.C.

Hanegraaff contends that the report is based on a false premise that Christianity is patriarchal, an assumption he called "an urban legend" being circulated with increasing frequency.

"Jesus Christ comes into a culture in which women are considered to be on the lowest rung of the socioeconomic ladder … and makes women his disciples," he said.

"Women are the first to bear witness to the empty tomb, which is central in Christianity. The Bible says in Christ there is neither male nor female. We are one in Christ."

Like many longtime Presbyterians, Sherie Zander, a Brentwood psychotherapist, has followed the General Assembly's actions. She worries that the report on the Trinity will further divide her denomination, already polarized over issues such as the ordination of gays.

"It's very odd and bizarre," she said. When she first heard about the report last week from a friend who called her from Birmingham with "You've got to hear this," she burst out laughing.

"It's very clear that God refers to himself as the father," she said. "Jesus, when he walked on the Earth, referred to himself as the son. All through Scripture, the Holy Spirit is referred to as the spirit. What would give any of us the right to change that?"

This is the 300th anniversary of American Presbyterianism. Presbyterians tend to be well-educated and middle- or upper-middle-class, and they place an emphasis on studying Scripture.

The Presbyterian Church (USA), the largest of the three Presbyterian groups, has traditionally been part of mainstream Protestantism, though it has tended to take liberal stands in recent years.

The church, which like other mainline denominations is losing thousands of members a year, is encouraging its 11,000 congregations to employ the Trinity designations except in baptism, which will continue to use "Father, Son and the Holy Spirit."

The report will be made widely available "for study and reflection," and study materials will be prepared for dissemination in congregations.

The Rev. Jonathan Lovelady, senior pastor of Westminster Presbyterian Church in Waynesboro, Va., said the panel made a noncontroversial matter into a controversy, adding that decisions like this encourage some churches to consider leaving the denomination.

"The report creates confusion for the name of God, by making a name equal with analogies and/or metaphors for God," said Lovelady, a member of the General Assembly's committee on theological issues. He sought to file a minority report against the recommendations, but it was rejected.

"Is Father, Son and Holy Spirit interchangeable with Rainbow, Ark and Dove, or Compassionate Mother, Beloved Child and Life-giving Womb?" Lovelady asked.

Bishop Steven Charleston, president and dean of Episcopal Divinity School in Cambridge, Mass., where inclusive language has been used for three decades, said he respects what the Presbyterian Church is trying to do.

"When I saw the language that is being suggested here, I really understood it as a search that many Christian communities are undergoing now, to find more inclusive ways of referring to God," he said.

The Rev. David M. Scholer, a professor of the New Testament at Fuller Theological Seminary in Pasadena, said this is a difficult task.

"We don't want to do things that perpetuate patriarchy," said Scholer, an ordained American Baptist minister who supports inclusive language. "On the other hand, we don't want to use terms that take away from awe and transcendence of God and what was accomplished in the life, death and resurrection of Christ."

Bel Air's Brewer also warned against over-familiar language.

A child calling parents "Father" and "Mother," he said, is far different from calling them "Billy and Betty."

*

(INFOBOX BELOW)

The ideas come in threes

The Presbyterian Church (USA) is encouraging its members to use new wordings to reflect the Trinity, in addition to "Father, Son and the Holy Spirit." A church report suggests how to phrase prayers, such as "The triune God is known to us as 'Speaker, Word, and Breath.' "

The specific references to the Trinity in the report:

Sun, Light and Burning Ray

• Compassionate Mother, Beloved Child and Life-giving Womb

• Giver, Gift and Giving

• Rainbow of Promise, Ark of Salvation and Dove of Peace.

• Lover, Beloved and the Love, and Binds Together Lover and Beloved

• Overflowing Font, Living Water, Flowing River

• One From Whom, the One Through Whom, and the One in Whom We Offer Our Praise

• Rock, Cornerstone and Temple

• Fire That Consumes, Sword That Divides, and Storm That Melts Mountains

• Creator, Savior, Sanctifier

• Rock, Redeemer, Friend

• King of Glory, Prince of Peace, Spirit of Love

• One Who Was, the One Who Is and the One Who Is to Come

Source: "The Trinity: God's Love Overflowing," a report by a committee of the Presbyterian Church (USA)

Los Angeles Times
Note: Heretics are replacing nouns with adjectives thereby eliminating the Persons of the Trinity.
Official Presbyterian Publisher Issues 9/11 Conspiracy Book
Process theologian David Ray Griffin is among the most prominent proponents of theory that Bush administration, not Al Qaeda, was behind attacks.
by Jason Bailey
07/31/2006
The September 11, 2001, terrorist attacks were orchestrated by the U.S. government, according to a book to be released later this month by Westminster John Knox Press—a division of the denominational publisher for the Presbyterian Church (U.S.A.).
Christian Faith and the Truth Behind 9/11: A Call to Reflection and Action is the third book on the subject by David Ray Griffin, a professor emeritus of theology at Claremont School of Theology who is also a well-published and prominent process theologian.
His previous work has influenced Kevin Barrett, a Muslim lecturer for the University of Wisconsin-Madison, who has received recent national attention for espousing the theory. Of the 133 members in Wisconsin's legislature, 61 signed a letter to university officials and Gov. James Doyle demanding that Barrett be fired before the fall term begins. He is scheduled to teach about some of the conspiracy theories surrounding September 11 during his 15-week fall course, "Islam: Religion and Culture."
"Without David, I would not just lose my faith in Christianity," Barrett said in an interview with CT. "I would almost lose my faith in the humanity of Christians."
Barrett, who co-founded the Muslim-Jewish-Christian Alliance for 9/11 Truth, and Griffin are both members of Scholars for 9/11 Truth—a non-partisan organization that is "dedicated to exposing falsehoods and to revealing truths behind 9/11."
In his book, Griffin argues the Bush administration planned the events of September 11 so they could provide justification for going to war with Afghanistan and Iraq. He writes that although Christianity began as a specifically anti-empire gospel, the church has been silent about an imperialistic America—which he compares to the Roman Empire.
"I became more convinced that if the truth about 9/11 was going to be exposed, the churches were probably going to have to be involved," Griffin told CT. "If we become convinced that the so-called war on terror is simply a pretext for enlarging the American empire, we have every reason as Christians to try and expose the truth behind 9/11."
Westminster John Knox (WJK) officials said they published Griffin because of the questions that he raised in his previous books, The New Pearl Harbor: Disturbing Questions About the Bush Administration and 9/11, and The 9/11 Commission Report: Omissions And Distortions.
"We have a long tradition of being a publisher of somewhat progressive stances on theological and social issues, so it is not out of character for us to do this," said Jack Keller, vice president of publishing at WJK. "Whether or not people were fully persuaded by the arguments, he was certainly raising some interesting issues."
WJK, which has been publishing books by Griffin on theology and philosophy of religion since the 1970s, is part of the Presbyterian Publishing Corporation, but publishes books that "cover the spectrum of modern religious thought," according to its website.
Griffin said he has not had antagonistic relations with other Christians over his work and wants the church to understand that the mainstream press is presenting a distorted truth.
"My hope is—and my anticipation is—that people across the religious spectrum of Christianity will respond with outrage," Griffin said. "Not outrage against me, but outrage against what has been done in the name of democracy and the name of a Christian nation."
Some Christians, however, think it is foolish for Westminster to give Griffin a platform.
Earl Tilford, a professor of history at Grove City College who specializes in the military and war, said it is dangerous for people who study religion to comment about national security and that Griffin "obviously knows very little about conspiracy theories."
"It does not surprise me that the PC(USA) press would publish his work," said Tilford, the former director of research at the U.S. Army's Strategic Studies Institute. "They are very anti-Israeli and very much inclined to anything that speaks ill of the administration."
James Berkley, the director of Presbyterian Action for Faith and Freedom, said that Westminster's decision to publish Griffin's book "is both laughable and pathetic" and that the publishing company is not ideologically in line with most Presbyterians.
"Their choice to print this seems to be pretty idiosyncratic and kooky," Berkeley said. "What a waste of pages and ink that could have been promoting the Christian gospel and contributing to the health and vitality of the Presbyterian church."
Griffin's next book, 9/11 and American Empire: Intellectuals Speaking Out, will not be published by Westminster but by Olive Branch Press, which published his first two books about September 11. It is scheduled for a late August release.
Note: Process theologians are in the process of destroying the Church in America.