Brigham Young University (BYU) Football Hypocrisy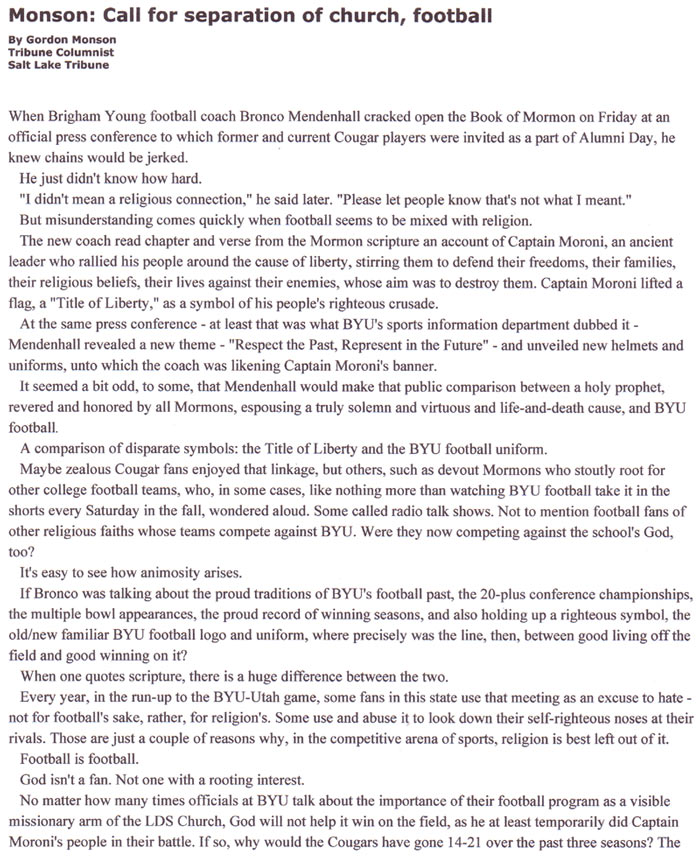 DUI charge will keep recruit Van Noy from joining Cougars until January
By Jay Drew
The Salt Lake Tribune
2/04/2009
Provo » The most surprising news coming out of BYU coach Bronco Mendenhall's football signing day press conference on Wednesday was about a signee who won't be joining the Cougars this fall.
Mendenhall said that Kyle Van Noy, a highly recruited linebacker and tight end from McQueen High in Reno, Nev., was charged last weekend with driving under the influence of alcohol and will not join the team until January 2010.
Van Noy was one of BYU's 21 signees on Wednesday. After unveiling the list of signees at a Cougar Club luncheon, Mendenhall met in another room with the media and read a statement from Van Noy regarding the DUI and his future plans.
Mendenhall said he learned of Van Noy's legal problems on Monday and gave Van Noy the chance to withdraw the commitment and sign with another school. But Van Noy said he still wants to play for BYU.
"He most likely could have helped us but I hate to predict," Mendenhall acknowledged.
Also Wednesday, the coach said two recruits have yet to qualify academically, but are within striking distance. The two are Hunter High lineman Ryan Mulitalo and Brad Wilcox, a lineman from Oklahoma.
Wilcox will go on a LDS Church mission before enrolling at BYU.
The only other recruit who will go on a mission before enrolling is Adam Hine, the running back from St. George's Snow Canyon High who was formerly known as Adam Timo.
The senior legally changed his name.
Happy to be alive after rivalry game
By Jeff Call
Deseret News
Published: Saturday, Nov. 22, 2008
Thirty years ago — on Nov. 18, 1978, to be precise — I sat in the end zone bleachers of Rice Stadium with my dad and Uncle Ben for my first-ever BYU-Utah football game.
Back then, Jimmy Carter was President; Eccles wasn't yet part of the stadium name; and current Ute coach Kyle Whittingham was a freshman linebacker for the Cougars.
Even though I really had no comprehension of what BYU vs. Utah meant — I was just a kid — I was excited to watch the showdown between the two rivals.
And yet, at the time, I didn't realize how fortunate I was to be able to watch it at all.
Just a couple of days before the game, my mom had given birth to her first daughter after five sons (though not all on the same day). That should have tipped me off that it was going to be a week of the unexpected. The Utes had not beaten the Cougars since 1971 and LaVell Edwards had never lost to Utah as a head coach. Of course, I had no clue about things like that.
My dad and I picked up my uncle and we headed to the game. On the way, we stopped by an old warehouse where my dad owned a printing business, a new investment he had on the side.
Dad opened the door of the warehouse and the three of us were greeted by a portly, bald man sporting tattoos and an earring. A few other scraggly men, who ran the day-to-day operations of the business, emerged from some of the outer rooms to greet us. They looked like thugs to me, like nefarious characters off an episode of "Hawaii Five-O."
They seemed surprised by our visit, but they were very friendly.
"Hey, can you give my son a tour and show him what you do here?" My dad asked one of them. I was a little nervous, but I figured my dad would never allow me to go with a stranger if it wasn't OK.
The bald guy smiled and obliged. He led me to a dark room that had a table with pans of water on top and there were damp papers hanging on a clothesline. The man amiably showed me the printing process, which was interesting and all, and if I had known at the time that I would someday be a journalist, maybe I would have paid closer attention.
But I was preoccupied about The Game.
After a while, we arrived at Rice Stadium and found our seats. I remember it was a dramatic game. I remember hearing a lot of anti-BYU and anti-Utah sentiments for the first time in my life (these days, it seems most fans reserve their name-calling for the Deseret News comment board). I remember I lost a lot of my innocence that day.
BYU platooned junior Marc Wilson and sophomore Jim McMahon at quarterback while Utah had a diminutive QB named Randy Gomez. Though Wilson and McMahon would go on to shatter a slew of NCAA records, lead the Cougars to national prominence and go on to long NFL careers, it was Gomez, who would go on to play minor league baseball for seven years, including a brief stint in the Major Leagues, that emerged victorious that day.
Gomez scrambled around and made some amazing plays, helping the Utes rally from a 16-0 halftime deficit. The biggest play of all happened on fourth-and-15. That's right, long before last year's fourth-and-18 heroics by Cougar quarterback Max Hall and wide receiver Austin Collie, magic happened for Utah as Gomez hit Frank Henry with a touchdown pass on fourth-and-15 to lift the Utes to a 23-22 lead with less than three minutes remaining.
In the waning seconds, as it became apparent that the Cougars were going to fall to the Utes for the first time in seven seasons, a couple of fresh-faced, college-aged BYU fans sitting several rows in front of us got into a shouting match with a couple of middle-aged Ute fans.
"BYU sucks!" screamed someone in red.
"Oh yeah?" a blue-clad fan shot back. "At least we're going to the Holiday Bowl!"
Yes, despite the loss, the Cougars had already clinched the WAC title and were on their way to the inaugural Holiday Bowl in San Diego to play Navy.
"Well, you and BYU &%*$#!"
Like I said, I lost a lot of my innocence that day.
Then things got really ugly. There was some pushing and shoving and more yelling. At about the time the situation was about to erupt into full-scale fisticuffs, my uncle rushed toward the nearest portal in search of security personnel. He returned with some police officers, who broke up the brawl and escorted several BYU and Utah fans from the premises.
That afternoon, I began to understand the intensity, and passion, of BYU vs. Utah. Of course, I didn't know at the time that I would attend 23 of the next 30 rivalry games, which has only cemented those initial impressions.
Now, as Paul Harvey (or is that Paul James?) used to say, here's the rest of the story.
Not long after that BYU-Utah game, my dad started getting very suspicious of those guys running his printing business. The bank pointed out to him that huge checks were being written for thousands of dollars more than what was in the company account.
One morning, my dad, determined to get answers, showed up at the warehouse, pounding on the door. A hulking FBI agent answered the door. My dad got his answers.
Turned out, those guys were using the printing press my dad bought to create counterfeit money. They were traveling all over the world to acquire the special kind of ink and paper to make money. A couple of them tried to pass off phony $20 and $100 bills out of state and got caught. Just as I had suspected, those guys didn't just look like crooks. They were crooks — with lengthy rap sheets and prior convictions.
Even before my dad knew anything was afoul, the FBI had been doing undercover surveillance for months. Federal agents had investigated my dad, tapping his phone lines and tailing him wherever he went. They had determined that he had no knowledge of the counterfeiting scheme. Before some of the perpetrators were apprehended, my dad was strongly advised by the FBI to get his family out of town since they were ex-cons with a history of violence.
Eventually, all of the counterfeiters were arrested and they ended up serving relatively brief prison sentences. During a deposition, one of them testified that on Nov. 18, 1978, the owner of the business, his son and his brother-in-law stopped by the warehouse unexpectedly. He confessed that he and his cohorts were printing fake money at the time and they hastily decided that if any of the three of us were to stumble upon any evidence of their crime, they would shoot us with a gun they stored at the warehouse, throw us in a trunk and dump our bodies somewhere in the in the west desert.
Sounds like the plot of some John Grisham novel. But this wasn't fiction. That part of the story my dad never told me until until a little more than a decade later.
Now, every time I cover a BYU-Utah football game, especially at Rice-Eccles Stadium, I have flashbacks of that day I discovered The Rivalry. With the 30th anniversary of my first BYU-Utah game approaching, I can't help but think — isn't it great just to be alive to watch it?
1942 BYU-Utah game a real 'slug'fest
Thursday, 20 November 2008
Daily Herald
A pair of pants hanging from the goal posts, a fire engine on the field and a two-hour free-for-all after the game.
Rulon Myers, 87, of Provo swears it all happened after the 1942 BYU-Utah football game.
Myers -- dressed in his '44 BYU freshman sweater -- had driven up to Salt Lake City with a group of friends in his parent's '29 Ford to see the game. The Cougars had never never beaten the Utes in 20 previous tries, but when the final whistle sounded that Saturday, BYU had won, 12-7.
That's when things got a little crazy.
"The students from both sides came down on the field and there was a fight that lasted two hours," Myers recalled. "They brought in a fire engine and threatened to soak us down. We told them if they did we'd cut up their hoses."
During the melee', BYU's student body president lost his pants, which were eventually thrown onto the goal posts on one end.
"Took them two hours until they got them down," Myers said.
Myers, the instructor for the BYU boxing team, was battling a group of unruly Ute fans in the middle of the field.
"I had so many fights," he said. "There were four or five guys that picked me up and took me clear to the east stands. I got so tired I said, 'Line up so I can take you on one at a time.' I picked out one guy and said, 'You look big enough, let's go for it.' I threw a left hook and that was it.'"
After things died down, Myers said he was no worse for the wear, just a couple of knots on his forehead and some bruised knuckles.
"Something like that would never happen today," he mused.
BYU and Utah didn't play again until 1946.
It's no wonder why.
-- Darnell Dickson, Daily Herald
Jim McMahon, punky QB, punk'd by BYU
It's Monday, and I have all the answers ...
I don't know what's true and what's not in this next item, but it doesn't matter when you're talking about BYU sports and the Mormons and Jim McMahon's angry father.
Nate Carlisle, a reporter with the Salt Lake City Tribune, sent along this link in which McMahon's father wrote an open letter to the Brigham Young athletic director that before he dies (he's 72) he wants his son to be enshrined in the BYU Hall of Fame.
Sounds simple enough, right? The future Bears quarterback set all kinds of records, won bowl games and gave the school a national profile. But, happily for those of us who like to watch other families fight, it's not that simple.
In his letter, the senior McMahon paints a conspiracy that involves rules set up specifically to keep his son out of the BYU Hall of Fame. Think Mormon conspiracy.
Then, like any good reality series, there is a following episode. In this story, it's this link about the response prompted by the letter from McMahon's pop.
The respondents make many good points, most notably writing that BYU was happy to prop up McMahon on the field, but forget about it when the school can't benefit anymore.
Think hypocrisy.
McMahon should be in BYU Hall
The Salt Lake Tribune
Article Last Updated: 10/19/2008

Editor's note: What follows is an actual letter provided to The Tribune by Jim McMahon Sr. The letter is written to BYU athletic director Tom Holmoe.

Mr. Tom Holmoe,

I am writing this letter to you because it has been bugging me for over 25 years that my son Jim is not in the BYU Hall of Fame and that his jersey has not been retired. I am now 72 years old and I do not have much time left, so I am putting in writing what has been in my heart for the last 27 years.

If Jim had gone to any other university in the United States, his jersey would have been retired and he would have been in their Hall of Fame in 1982. Jim was without a doubt the greatest quarterback ever to wear a BYU jersey. In fact, he was the best quarterback in the history of college football. He set 57 NCAA records, the most records ever set by anyone who ever played the game. This is a feat that was never done before or after him. He has the best winning percentage of any quarterback in the history of BYU. He led BYU to its first bowl win and also its second bowl win. He is the only quarterback with two bowl wins to this day.

Jim was a consensus All-American for two years. Jim was the recipient of the Davey O'Brien award, given to the most outstanding quarterback in the country. Jim was first-team All-WAC for three years. Jim was the most valuable player in the WAC for three years. Jim was named first-team quarterback for the WAC's 25th anniversary team.

Jim was also inducted into the College Football Hall of Fame the first year he was eligible.

But! He is not in the BYU Hall?

How can you explain that? Oh! I know, he did not graduate, and that is one of your requirements. In that case, you will need to take out about 60 percent of the people in your Hall, as they did not all graduate.

If you will take the time to take a poll of all Division I schools and ask them if graduation is a requirement to get into their hall of fame, you would find out that 99.9 percent of them would say it is not. After all, the Hall should be based on their athletic ability, not scholastic ability.

If you go back to see when this rule was put in place, you will find it was put in 1980 or 1981 and is known secretly as the Jim McMahon rule. It was put in as the only way to keep him out of the Hall. To make sure he did not graduate and mess you up, he was suspended from school right after his last game with only nine credits left to graduate.

When he was recruited, the coaching staff assured me and my family that even though he was not a Mormon, he would be treated fairly. Obviously, that was a lie. The university and the Mormon church should be ashamed of themselves for allowing this miscarriage of justice to my son Jim. I can only hope that before I die this miscarriage of justice is corrected and Jim's jersey is retired and he is inducted into your Hall and his name is placed on the ring of honor on your stadium. If this is not done, then you should rename your Hall of Fame the Hall of Shame.

Very Truly Yours,
James F. McMahon
Reader response: BYU's McMahon ban hypocritical
The Salt Lake Tribune
Article Last Updated: 10/26/2008
Last week, James F. McMahon, father of former BYU quarterback Jim McMahon, shared with The Tribune his letter to BYU athletic director Tom Holmoe, making his case that his son should be enshrined in the BYU Hall of Fame. We asked for your feedback, and Page 2 was besieged with mail from throughout the nation. Here are excerpts from some:

Honestly, I can't believe this is even an issue. Jim McMahon deserves to be in the BYU Hall. McMahon's performance as a BYU quarterback is legendary and, in many ways, unequalled.

McMahon really helped the BYU program ascend to national championship prominence. The records that he set, and his nearly unbeatable history gave BYU the attention of the national media and put the university in the same breath as Nebraska, USC, Notre Dame, Oklahoma and all of the other top programs of the '80s era.

It actually angers me when I see a BYU player wearing a No. 9 jersey.

Jim McMahon is not a perfect human being. He has made some mistakes in his personal life. However, "to err is human" for the best of us.

He is one of the truly great BYU football players of all time. That cannot be disputed.

Put Jim McMahon in the BYU Hall of Fame.

DEL WILLIAMS Pacific Palisades, Calif.

Jim should definitely be in the BYU Hall of Fame and BYU should be embarrassed that he isn't. You don't have to be baptized to be a world-class athlete who brings great credit to his school.

JOE CRONIN Salt Lake City


I was privileged to be a student at BYU from 1980 to 1984, and thus enjoyed most of Jim McMahon's career. I cheered Jim at every home game from the stands and yelled along with my radio or TV till I was hoarse. I even became a Bears fan for a few years.

I have always been troubled by the dichotomy established in the handling of the McMahon situation. Behavior seems to have been overlooked while he was a star on the team, but then quickly and quietly used as a means to show him the door as soon as the gun sounded at the end of his last bowl game.

I cringed every time I heard McMahon deride the Y. in interviews during his pro career, but I understand his feelings especially as more information has come to light.

What he did for BYU football was incredible. He sure made my Saturdays memorable.

It just becomes problematic when an institution starts making exceptions to rules to accommodate one person. Then again, isn't that how we held onto Jim in the first place?

JIM BOWLES Boring, Ore.


BYU disgraces itself by not retiring McMahon's jersey and putting him in the BYU Hall of Fame. He was the Cougars' best QB - ever - and certainly earned the recognition.

Jim McMahon brought the first real national attention to BYU's football program and literally launched LaVell Edwards' career there. And this is the thanks he gets? It takes great players to make athletic programs and coaches great, and these players should be honored appropriately - regardless of their personal lives.

Shame on you, BYU, for not honoring those who honored you.

BONNIE WOLFF Park City


There is no doubt in my mind that Jim McMahon should be in the BYU Hall of Fame. If what is keeping him out is his legendary feistiness, then I would have to suggest that if he was sufficiently mellow to have avoided Honor Code issues to the extent that he was never suspended, then he should be fine with that issue.

Jim's career began the era when I had the privilege of traveling to nearly all BYU games. I particularly recall the difficulty BYU always had playing in Hawaii. [Once], BYU was deep in its own territory and it was fourth and long - Jim was also the punter.

The snap was too high, as I recall, and he had to chase it down. After retrieving the football, he ran to his left and kicked it with his left foot and, in the confusion, no one was back to receive the punt and it rolled inside Hawaii's 10-yard line. The game was very close at the time, and this play was every bit as crucial to BYU's win as any touchdown pass.

This guy could play football!

LOWELL FITT Cameron Park, Calif.


It is a downright crime that Jim McMahon is not in the BYU Hall Of Fame.

BYU football would not be what is is today if it was not for Jim McMahon!

The quarterbacks who went to BYU after Jim McMahon probably would not have gone to BYU if it was not for Jim McMahon.

LaVell Edwards Stadium might not have been named that if it was not for Jim McMahon.

In my opinion, Jim McMahon is the greatest football player I was honored to watch. Ask LaVell Edwards what he would do about Jim McMahon and the BYU Hall Of Fame.

BYU needs to make this right.

RANDY HOBBS Salt Lake City


I was in the stands watching as Gary Sheide appeared in his first game as a Cougar QB against New Mexico, and I have watched in person or on television every BYU QB since then.

Jim McMahon was and remains the best college QB I have ever seen play the game. If BYU allowed him on the field of play and benefited from his athletic talent - which it certainly did (he was never prohibited from playing football because of disciplinary action or Honor Code violations and the positive national attention for BYU that came from - and still does to this day - his play on the field cannot be denied), the school cannot now turn its back on him.

By all accounts, he is a good and decent father and a dedicated husband. He has earned, over time, the appellation "a good man." But, more importantly, he was the best QB to ever play at the "QB factory." The Y. should do the right thing and give the man his due.

CHRIS FULLER Arlington, Va.


I sincerely believe that Jim McMahon is more than worthy to be in the BYU Hall of Fame. Tom Holmoe needs to get off his high horse and make a move. I would bet that a poll of BYU fans would result in overwhelming approval for such a move.

TOM HOLLINGSWORTH Cedar Hills


I am a longtime fan of BYU and a graduate of 1969. I read with interest and some heartache the letter from Jim's father. I sense his frustration and hurt, and his pride in his son.

I fully support inducting Jim McMahon into the BYU Hall of Fame. To me, he is as deserving a candidate as there is.

I have heard the rumors that Jim McMahon was no choir boy while he was a student at BYU. I knew many students who were not exactly lead singers in the choir themselves, male and female, but who never would be known for their antics simply because they were just another of the 22,000 students on campus.

But when you are in the public eye, word gets around, I guess. I never heard these rumors until years after Jim played for BYU. I don't know to this day if they are true, and I really don't care.

I believe we are about giving all people respect and admiration. To do otherwise casts a poor light on ourselves as Christlike people. Who wants a Hall of Fame with maybe the best quarterback to ever play for BYU not a part of it? Certainly I don't. We should be proud that Jim McMahon is a part of our history. We don't need to sanitize this.

DR. MICHAEL L. STEVENS Salt Lake City


Based on athletic achievement alone, there is no former BYU player more worthy to have his number retired and to obtain admission to the BYU football hall of fame than Jim McMahon. Obviously, he has been blatantly excluded from these honors due to perceived lifestyle and academic issues - so as to make an example of him.

BYU football is attempting to demonstrate in its typical image-conscious way that the program is about substance beyond what happens on the football field. A lofty ideal, indeed. Yet, actions speak louder than words.

Everyone knows that McMahon's lifestyle issues were present very early in his tenure as a star BYU QB. If McMahon was a backup QB or a non-athlete, do you think he would have lasted to the end of his senior season? No way.

BYU looked the other direction for Jim McMahon because he was a great player, and then dropped him once he no longer had a role to play on the football field. Hardly a moral statement. His football accomplishments are still second to none and it is wrong to treat him as a used up object now that he is no longer in uniform. The current stance toward Jim McMahon reveals deep hypocrisy and suggests that bending rules is only OK when BYU is the benefactor.

MICHAEL GLUTH, M.D. Fayetteville, Ark.


Given Jim McMahon's feats and other honors, I find it outrageous that he is not in the BYU Hall of Fame. If not Jim McMahon, then who would qualify more? I think even Mike Ditka would agree with this.

DEE NORTON-MICHELSEN Salt Lake City


Absolutely, Jim McMahon should be in the BYU Hall of Fame! It's unconscionable that he's not.

I agree with Jim's father that McMahon was at least among the top five quarterbacks to ever play college football.

He helped give BYU credibility, mostly because of his incredible QB skills but also because he was non-Mormon. BYU should be celebrating the fact that a non-Mormon of such football ability and leadership skills would be willing to attend and play for a Mormon institution.

RICK CRANKSHAW Salt Lake City