SHIITE MUSLIM CLERIC HATE!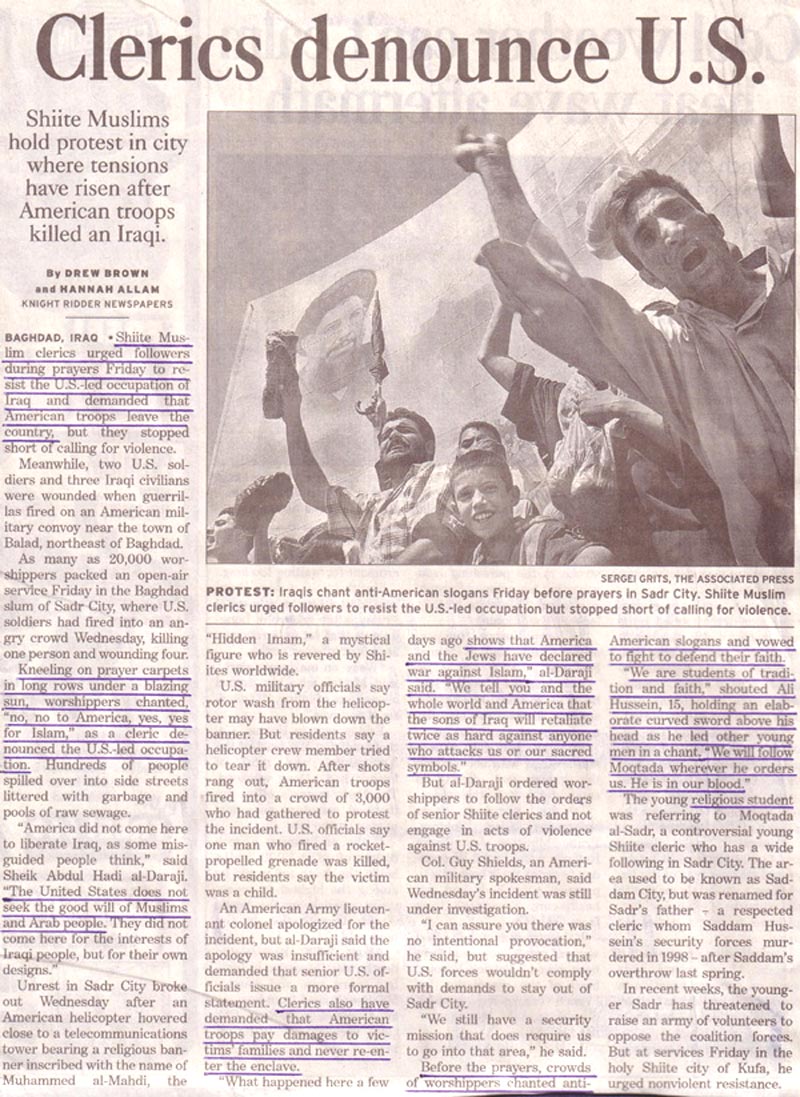 Shiite sermons show souring ties with U.S.
Los Angeles Times
Published April 1, 2006


BAGHDAD -- Shiite Muslim religious leaders ratcheted up their rhetoric against the United States during Friday prayers amid sectarian violence.

The occasionally vitriolic anti-American sermons, often delivered by clerics close to the young cleric Moqtada Sadr, were the latest sign of souring relations between U.S. political and military leaders and the country's majority sect.

One leading Shiite cleric, Ayatollah Muhammad Yacoubi, called for the removal of U.S. Ambassador Zalmay Khalilzad, who is perceived by some Shiites as biased in favor of Kurds, Sunni Arabs and secular Iraqis.

Shiite religious leaders also condemned a U.S.-Iraqi raid on March 26 at a Shiite mosque in northern Baghdad. The clash left at least 16 militiamen dead.

"This grisly crime was committed by the occupier and its mercenaries," prayer leader Mohammad Tabatabai told worshipers in the Shiite neighborhood of Sadr City in Baghdad. "America is taking on the role of Pharaoh to the world. America came to kill the believers."

In violence Friday, a mortar shell exploded on a street in northern Baghdad, killing three women in their homes. Elsewhere, soldiers discovered the bullet-riddled bodies of six men wearing handcuffs, apparently the latest victims of sectarian death squads, The Associated Press reported.

While March was a bloody month for Iraqi civilians, the death toll for American military personnel was at least 29, the lowest monthly total since February 2004, according to the Web site icasualties.org.