IRAQ Muqtada al-Sadr MUSLIM CLERIC HATE!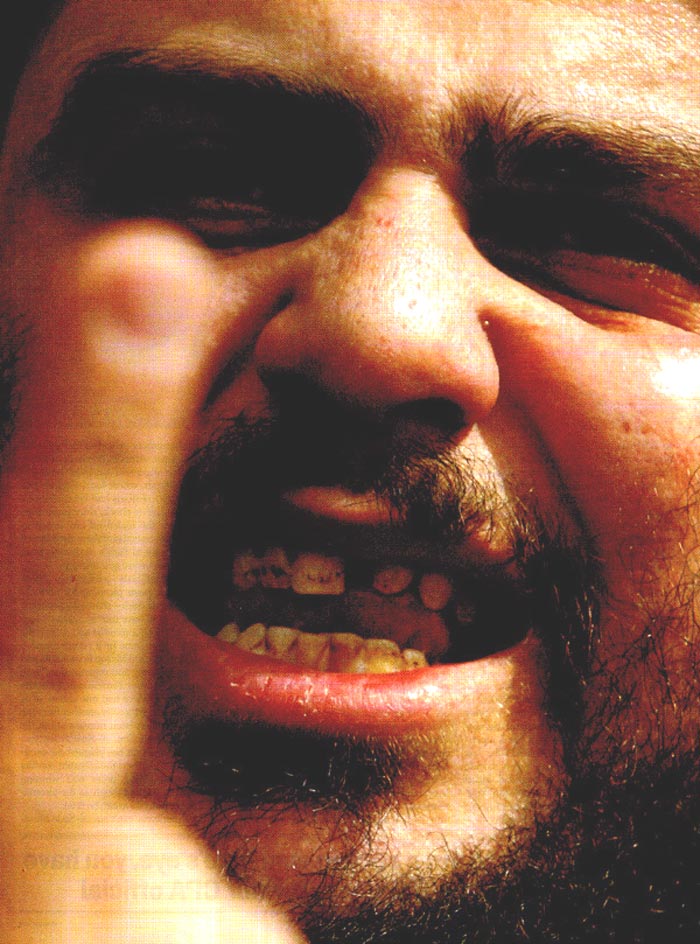 This barbarian does not know anything about toothbrushes!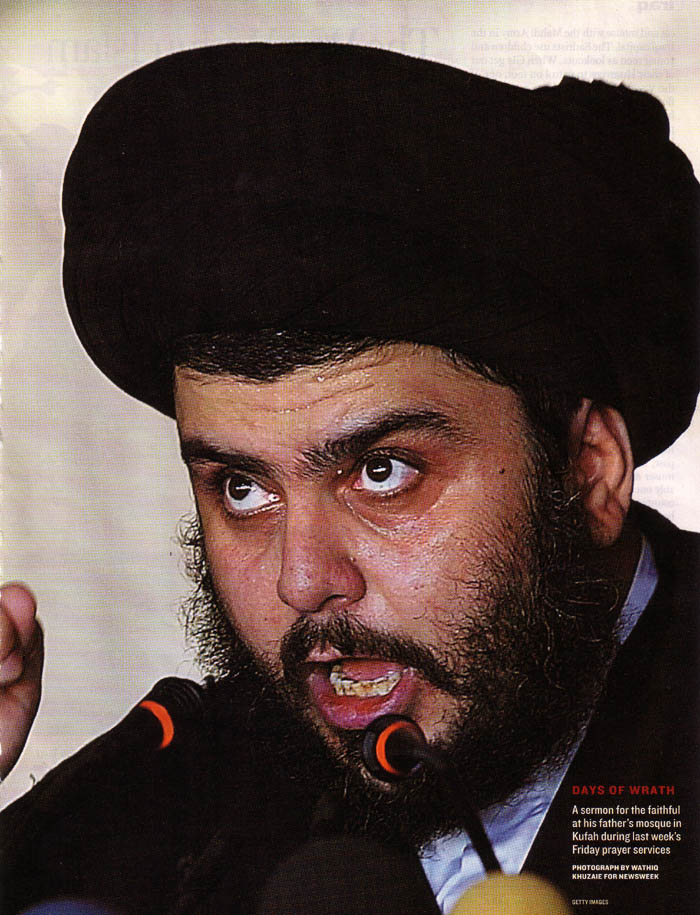 Shiite cleric emerging as a highly influential political leader

BY NANCY A. YOUSSEF
Knight Ridder Newspapers Posted on Thu, Dec. 29, 2005
BAGHDAD, Iraq - Muqtada al-Sadr, the firebrand Shiite Muslim cleric who just a year ago encouraged his followers to kill U.S. soldiers, has successfully transformed his ragtag followers into a political force that could dramatically reshape the next parliament.
Preliminary results show al-Sadr supporters holding as many as 31 seats in the 275-seat parliament, a number, if it holds, that would make Sadrists the single-largest group in Iraq's first democratically elected permanent parliament. The Independent Electoral Commission of Iraq will release official election results as early as next week.
Al-Sadr's emergence as a potent political figure has prompted worries that the capricious leader could bring a hard-line Islamic slant to Iraq's new parliament, thwarting any remaining hopes that Iraqis can form a centrist, stabilizing government.
"He is a real spoiler," said Judith Yaphe, a former CIA analyst and Iraq specialist at the National Defense University in Washington.
Some fear that al-Sadr will employ both violence and the political process, keeping his Mahdi Army militia while other supporters participate in parliament. Others hope that his supporters' rise to parliament will wean him off violence as he gains clout over the government.
Some even think that he could provide a bridge to the disaffected Sunni minority, with whom he shares a strong anti-American sentiment. Many Sunnis, however, think of Shiites such as al-Sadr as apostates.
Al-Sadr sent his supporters to run for parliament, but did not run himself.
"The Sadrists used to hold weapons and fight their now future parliament members," said Ali Abdul Jaleel, a 42-year-old Shiite Muslim from Baghdad. "I think they will be the opposition leaders in the new parliament. They are going to make a lot of noise."
The Sadrists' put together their winning bloc in the Dec. 15 election by joining the Shiite-dominated United Iraqi Alliance slate for the election and also running on a separate slate, the Messengers. Through the United Iraqi Alliance, they won 30 seats. The separate Messengers slate won an additional one, according to various political parties tracking those numbers.
On the strength of those numbers, Sadrists are demanding a say in who should be prime minister and leadership positions in a number of ministries. They're also demanding that their militia, which fought U.S. and Iraqi forces last year, should become part of the government's security forces.
Already, they are suggesting that if they don't get what they want, they'd be willing to break with the United Iraqi Alliance, which would eliminate any hope of a unified government.
"We don't have a permanent alliance. We have a permanent goal, which is to serve Iraq," said Salam al Maliki, the Minister of Transport and a high-ranking Sadrist in the current government.
Al-Sadr has presented himself as a voice for downtrodden, Shiite Iraqis who suffered some of the worst oppression during the Saddam Hussein's regime. In the Baghdad slum of Sadr City, he has a following of nearly 2.5 million people, nearly half the capital's population. In addition, he has millions of supporters in mostly Shiite southern Iraq.
Last year, he rejected the political process and encouraged his followers to take up arms against U.S. soldiers. The Mahdi Army fought against the U.S. military for control of four Iraqi cities, killing scores of American soldiers. Some have accused him of encouraging his followers to assassinate those who support coalition forces.
Sadrists are now saying that they're keen for the military and police to employ members of their Mahdi Army, pointing out that members of other militias, such as the Kurdish Peshmerga and the Shiite Badr Brigade, have already joined the security forces. They said that their followers need jobs to walk away from violence. Other parties in the United Iraqi Alliance slate said they support that idea.
"The Peshmerga and the Badr are there now. Why not Mahdi?" asked al Maliki.
But others say there're important differences between the Badr and Peshmerga militias and the Mahdi Army. The Peshmerga and Badr forces haven't fought U.S. forces. The Mahdi Army is also less well organized and volatile than those militias.
"Perhaps it will be difficult to control them," said Mahmoud al Mashadani, a member of the Iraqi Accord, a top Sunni slate.
Although al-Sadr didn't support the process in January, when Iraqis elected a temporary National Assembly, Sadrists won 17 seats and lead two ministries, Transport and Health.
This year, Sadrist candidates promised to improve Iraq's infrastructure, and many Sadrists said they are vying to lead ministries that provide services to keep that campaign promise. Because of their strong showing, they could lead up to six ministries.
"That's how you pay out money to your supporters," Yaphe said.
Sadrist officials say they hope their followers will get jobs in those ministries.
"We want the Mahdi Army to be a part of civil affairs so that they can take care of themselves, do something and avoid unemployment, " said Sheik Salah al Obeidi, a Sadrist spokesman.
In addition, Sadrists are pushing for Prime Minister Ibrahim al Jaafari to remain in his post. He and Adil Abdel Mahdi, one of the country's two vice presidents, are the top two candidates. Both are members of the United Iraqi Alliance.
Sadrists said they feel Jaafari is more of an Islamist than Mahdi. Their vote could break the tie within the alliance, members of the slate said. U.S. officials had hoped that a more secular government would emerge, one that could bridge the country's pervasive sectarian divisions.
Despite fears of radicalism and instability, Sadrists could be a force for unity. They appeal to Sunni Muslims because, like them, they oppose U.S. forces. Both support a more Islamic slate, although their interpretations of Islam are very different and there's a long history of hostility between them.
Those shared interests could allow Sadrists to build a bridge between Sunnis and other Shiites in the parliament.
"They are the original Iraqi Arab movement. They are against the American presence so they can open the door for cooperation with the Sunnis more than any other faction," said al Mashadani.
Hassan Bazzaz, a professor of political science and international affairs at Baghdad University, said that al-Sadr can't straddle the line between supporting the militia and accepting the U.S.-backed political process much longer.
"I think he will reach a point when he will have to choose his position on all these things. He will have to come up with his own way," Bazzaz said.
Iraqi cleric Sadr vows revenge over shrine blast
22 Feb 2006 12:47:46 GMT
Source: Reuters
BAGHDAD, Feb 22 (Reuters) - Shi'ite Muslim cleric Moqtada al-Sadr blamed the bombing of a Shi'ite shrine in the Iraqi town of Samarra on Wednesday on Sunni Arab militants and vowed to take revenge, a spokesman for Sadr said.
"We will not only condemn and protest but we will act against those militants. If the Iraqi government does not do its job to defend the Iraqi people we are ready to do so," said Abdel Hadi al-Darajee of Sadr's position.
Members of Sadr's Mehdi Army militia have already clashed with Sunnis in Diwaniya and Basra.
Sunni Arab militants loyal to al Qaeda have claimed responsibility for many of the bombing attacks that have killed thousands of Shi'ites.
Sadr, who led two uprisings against U.S. and Iraqi troops, has become a kingmaker in Iraqi politics after joining a Shi'ite alliance that will have the biggest bloc in parliament after Dec. 15 elections.
Witnesses said scores of his militiamen armed with AK-47 assault rifles and rocket-propelled grenades took over streets in his Baghdad stronghold of Sadr City after the Samarra attack. (Reporting by Omar al-Ibadi)
Iraqi Shiite Cleric Pledges to Defend Iran

Sadr, With Powerful Militia, Vows to Respond to Attack by West on Neighbor
By Ellen Knickmeyer and Omar Fekeiki
Washington Post Foreign Service
Tuesday, January 24, 2006; A13
BAGHDAD, Jan. 23 -- An Iraqi Muslim cleric who leads a major Shiite militia pledged to come to the defense of neighboring Iran if it were attacked, aides to the cleric, Moqtada Sadr, said Monday.
The commitment, made Sunday in Tehran during a visit by Sadr, came in response to a senior Iranian official's query about what the cleric would do in the event of an attack on Iran. It marked the first open indication that Iraq's Shiite neighbor is preparing for a military response if attacked in a showdown with the West over its nuclear program.
The pledge was also one of the strongest signs yet that Iraq could become a battleground in any Western conflict with Iran, raising the specter of Iraqi Shiite militias -- or perhaps even the U.S.-trained Shiite-dominated military -- taking on American troops here in sympathy with Iran.
Sadr is a top leader of the Shiite coalition that leads Iraq and dominates its security forces. His pledge might be seen as an indicator of how the Iraqi government may respond to a potential attack on its neighbor.
"If there was an attack on Iran, even a limited military strike, this would provoke anger through the entire Muslim world. It would certainly jeopardize the already fragile position of the United States in Iraq," said Joseph Cirincione, an Iraq and nuclear weapons expert with the Carnegie Endowment for International Peace in Washington.
"Whether that would mean an uprising, direct military clashes or simply demands that the United States would leave Iraq, we don't know," Cirincione said in a telephone interview. "But it won't be good."
Iraq is led by a coalition of Shiite religious parties. They include Sadr's bloc, which won 29 parliament seats in Dec. 15 elections. Sadr and the Supreme Council for the Islamic Revolution in Iraq, which is allied with Iran, each maintain militias of thousands of men.
Fighters in Sadr's Mahdi Army appear to be highly disciplined and loyal. They often march in step through Baghdad in parades that are a mix of martial pride and religious mourning. At times they have mounted rapid, lethal strikes on rivals and enemies. Together, the two militias control much of Iraq's Shiite-dominated south, which borders Iran.
Sadr remained in Tehran on Monday. The Shiite cleric, about 30, has been slowly making his way home from a religious pilgrimage to Mecca, stopping to meet with regional leaders along the way.
Sadr is influential as the scion of a religious family revered by millions of Iraq's Shiites. He has been a steadfast opponent of the U.S. occupation. His fighters battled U.S. forces in Najaf, laying down arms only after a brokered resolution.
Ali Yasiri, the head of Sadr's political office in Baghdad, said the request to Sadr came from the secretary of Iran's Supreme National Security Council, Ali Larijani.
"They asked him a question: 'What would be the Mahdi Army's role if any neighboring country were attacked?' " Yasiri said. "And Moqtada Sadr said, 'If any Arab country, or neighboring country, were attacked, Iraq will help.'
"That doesn't mean that he meant the Mahdi Army," Yasiri said. "He meant Iraq as a country will help, and not necessarily militarily."
Yasiri said his account came from Sadr officials accompanying the Iraqi cleric in Tehran.
However, a Sadr spokesman in Najaf, the Shiite holy city in southern Iraq that is Sadr's base, gave a different account of the agreement between Sadr and Iran, as did Iran's official Islamic Republic News Agency.
"Moqtada Sadr said, 'If any Islamic state, especially the Islamic Republic of Iran, is attacked, the Mahdi Army would fight inside and outside Iraq,' " said the spokesman, Sahib Amiri.
"Iran is an Islamic country that has strong relations with the Shiites in Iraq. We do not forget these relations," Amiri said.
Amiri said Sadr was visiting Iran "to support the Iranian people and government against any possible attack against the Islamic republic."
In Tehran, the state news agency also reported that Sadr had committed his Iraqi militia to fight on Iran's behalf.
"If neighboring Islamic countries, including Iran, become the target of attacks, we will support them," IRNA quoted Sadr as saying. "The Mahdi Army is beyond the Iraqi army," Sadr said, according to IRNA. "It was established to defend Islam."
Iran revived its atomic research program earlier this month, ending a two-year moratorium. While Iran says it intends to develop nuclear energy solely for electricity, Western countries fear the Shiite theocracy is in pursuit of its own atomic bomb.
Israel, a reported atomic power, which destroyed an Iraqi nuclear facility in an airstrike in 1981, has issued what some have seen as threats of similar preemptive strikes in Iran.
French President Jacques Chirac said Thursday that France was prepared to launch a nuclear strike against any country that sponsors a terrorist attack against French interests. He said his country's nuclear arsenal had been reconfigured to include the ability to make a tactical strike in retaliation for terrorism.
Iran has responded unflinchingly, with its Foreign Ministry saying Sunday that Israel would be making a "fatal mistake" if it resorted to military action.
Iraq's Shiite-led government, which came to power after the 2003 toppling of Saddam Hussein, has affirmed close ties with Iran. Prospective candidates for Iraq's prime minister post have first gone to Tehran for approval. Iran has poured aid into Iraq, and trade agreements have blossomed.
U.S. and British diplomats and commanders accuse Iran of allowing -- or encouraging -- transport of arms and fighters into Iraq to stage attacks.
On Monday, a senior U.S. military intelligence official said the British government had issued a formal protest to Tehran after sophisticated bombs began appearing in southeastern Iraq. The devices used the same kind of electronic triggers found in bombs made by the militant group Hezbollah in Lebanon, the official said.
"Our belief is that the machining is done somewhere in Iran," said the official, speaking on condition of anonymity.
Aides to Sadr said the cleric also visited Saudi Arabia, where he asked King Abdullah to press the United States for a deadline for a U.S. withdrawal from Iraq. The aides said Sadr also visited Lebanon, where he had an appointment with Hasan Nasr Allah, a Hezbollah leader.
Ridha Jawad Taqi, a spokesman for the Supreme Council, Iraq's dominant party, would not comment Monday on whether Iran had asked for similar help from the party or its militia, the Badr Organization, in the event of attack, or on what the Supreme Council's response might be if Iran did make such a request.
Staff writer Thomas E. Ricks and special correspondent Bassam Sebti in Baghdad, and special correspondent Saad Sarhan in Najaf contributed to this report.
Muslim cleric urges Iraqis to attack Americans


April 8, 2007
Associated Press
BAGHDAD – The powerful Shiite cleric Muqtada al-Sadr ordered his militiamen on Sunday to redouble their battle to oust American forces and argued that Iraq's army and police should join him in defeating "your archenemy." The U.S. military announced the weekend deaths of 10 American soldiers, including six killed on Sunday.
Security remained so tenuous in the capital on the eve of the fourth anniversary of the U.S. capture of Baghdad that Iraq's military declared a 24-hour ban on all vehicles in the capital from 5 a.m. Monday. The government quickly reinstated Monday as a holiday, just a day after it had decreed that April 9 no longer would be a day off.
Among the 10 U.S. deaths announced Sunday were three soldiers killed by a roadside bomb while patrolling south of Baghdad; one killed in an attack south of the capital; and two who died of combat wounds sustained north of the capital, in Diyala and Salahuddin provinces. On Saturday, the military said, four U.S. soldiers were killed in an explosion near their vehicle in Diyala.
At least 3,280 members of the U.S. military have died since the beginning of the Iraq war in March 2003, according to an Associated Press count. The figure includes seven military civilians.
South of Baghdad, a truck bomb exploded near the Mahmoudiyah General Hospital, killing at least 18 people and wounding 23. The pickup truck loaded with artillery shells blew apart several buildings in a warren of auto repair shops.
Violence in Iraq remained as relentless as the deepening debate in the United States about the way forward in the war four years after Marines and the Army's 3rd Infantry Division swept into the Iraqi capital 20 days into the American invasion.
At least 47 people were killed or found dead in violence Sunday, including 17 execution victims dumped in the capital.
Al-Sadr commands an enormous following among Iraq's majority Shiites and has close allies in the Shiite-dominated government. The statement Sunday carried his seal and was distributed in the Shiite holy city of Najaf, where the cleric called for an enormous demonstration to mark the fourth anniversary of Baghdad's fall.
"You, the Iraqi army and police forces, don't walk alongside the occupiers, because they are your archenemy," the al-Sadr statement said.
He urged his followers not to attack fellow Iraqis but to turn all their efforts on American forces.
"God has ordered you to be patient in front of your enemy, and unify your efforts against them – not against the sons of Iraq," the statement said.
Al-Sadr apparently issued the statement in response to three days of clashes between his Mahdi Army militiamen and U.S.-backed Iraqi troops in Diwaniyah, south of Baghdad.
In Washington, Sen. Joseph Lieberman, an independent of Connecticut, said al-Sadr's words showed the American troop surge was working.
"He is not calling for a resurgence of sectarian conflict. He's striking a nationalist chord. We're going to have to watch him closely. He's not our friend. ... He's acknowledging that the surge is working," the senator, a strong backer of the war, said on CNN's "Late Edition with Wolf Blitzer."
In Najaf, police spokesman Col. Ali Jiryo said cars were banned from entering the city for 24 hours starting 8 p.m. Sunday. Buses were to be at all entrances of the city to transport arriving demonstrators or other visitors to the city center. Najaf residents would be allowed to drive, he said.
Hours after the Mahmoudiyah bombing, five charred bodies littered a courtyard. Most of the dead were mechanics in the repair shops, officials said. The hospital was slightly damaged by shrapnel. Many of the victims were in their homes at the time of the blast, 20 miles south of Baghdad.
While religious-based killings are lower in Baghdad in the eighth week of the security crackdown, Sunni insurgents – including al-Qaida in Iraq – and Shiite militia fighters have shifted their battleground to regions like Baqouba, the Diyala province capital northeast of Baghdad.
At least 62 bodies – execution victims who were tortured – were found in or near Baqouba last week alone.
In a rural area just east of Baghdad, three mortar rounds crashed into houses and six people were taken to a hospital in Sadr City with breathing troubles from a possible chemical agent, police said.
Doctors said the victims' faces turned yellow and they were unable to open their eyes. One hospital official said the chemical was chlorine, although such an effect was unlikely given the small amount of the chemical that could be fitted into the shells.
U.S. forces captured a senior al-Qaida leader and two others in a raid Sunday morning in Baghdad, the U.S. military said.
The al-Qaida figure was identified as "the gatekeeper to the al-Qaida emir of Baghdad" and was linked to several car bomb attacks in the Iraqi capital, the military said in a statement, without naming the captive.
Iraqis streamed toward Najaf for Monday's 4th anniversary demonstration. Witnesses said thousands of residents in Baghdad's largest Shiite slum, Sadr City, boarded buses and minivans Sunday for Najaf.
"The faithful should participate in a demonstration in Najaf on April 9, demanding that the occupiers withdraw from our lands. They should carry or wear Iraqi flags," al-Sadr's office said.
On Sunday, Iraqi flags flew from most houses and shops in Sadr City. Drivers and motorcyclists affixed them to their vehicles. Police escorted convoys of pickup trucks overflowing with young boys waving Iraqi flags, en route to Najaf.
An Iraqi flag was hoisted over a military base in Basra, Iraq's second-largest city, as Iraqi troops took control of the facility Sunday from British forces. The Shatt al-Arab base is the second to be transferred to Iraqi control in Basra over the past month.