FRENCH MUSLIM CLERIC HATE!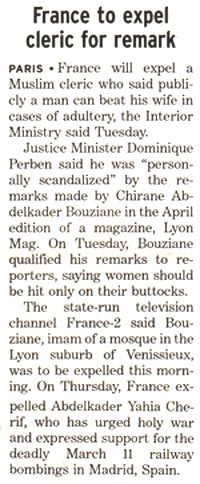 French Muslim Cleric Calls Pope's Comments "hateful"

September 15th 2006
The rector of a mosque in the northern French city of Lille on Friday criticized as "hateful" recent controversial comments by Pope Benedict XVI about Islam.

"I just don't understand this statement. It's a kind of declaration of war for Islam and the Muslim world," Amar Lasfar said. "Muslims will take it as an offence, as a hateful provocation."

On Tuesday, during a speech in Regensburg, the pope quoted comments from a 14th-century Christian emperor which said the Prophet Mohammed had brought only "evil and inhuman" things to the world, and that Islam was spread "by the sword."

"With Pope John Paul II, there was respect," Lasfar said. "Benedict XVI is showing a different face."

His comments came one day after the head of France's largest Muslim organization, Dalil Boubakeur, demanded a "clarification" from the Vatican of the pope's comments.

"We wish the Church will give us its opinion and clarify its position as soon as possible, so that it will not confuse Islam, which is a religion, and Islamism, which is no longer a religion but a political ideology," said Boubakeur, who heads the French Council of the Muslim Religion (CFCM), an umbrella organization representing many of France's estimated 5 million Muslims.

"We want friendly relations with Christianity," Boubakeur said. "The pontificate of Benedict XVI should reap the fruits of the efforts of John Paul II in inter-religious dialogue and friendship against the dangers that threaten all believers, particularly extremism, radicalism, intolerance and violence."