MORMON BAPTISM FOR THE DEAD
1) Joseph Smith taught that baptism for the dead was necessary for perfection.
Doctrines & Covenants 128:15-16 And now my dearly beloved brethren and sisters, let me assure you that these are principles in relation to the dead and the living that cannot be lightly passed over, as pertaining to our salvation. For their salvation is necessary and essential to our salvation, as Paul says concerning the fathers--that they without us cannot be made perfect -- neither can we without our dead be made perfect. And now, in relation to the baptism for the dead, I will give you another quotation of Paul, 1 Corinthians 15:29: Else what shall they do which are baptized for the dead, if the dead rise not at all? Why are they then baptized for the dead?
Correction: Baptism for the dead was a pagan practice in ancient Corinth.
1 Corinthians 15:29-30 Otherwise, what will they (pagans in Corinth) do who are baptized for the dead, if the dead do not rise at all? Why then are they (pagans in Corinth) baptized for the dead? And we (Christians in Corinth) stand in jeopardy every hour?


2) Joseph Smith taught that baptism for the dead was the final mystery.
Doctrines & Covenants 128:18 I might have rendered a plainer translation to this, but it is sufficiently plain to suit my purpose as it stands. It is sufficient to know, in this case, that the earth will be smitten with a curse unless there is a welding link of some kind or other between the fathers and the children, upon some subject or other--and behold what is that subject? It is the baptism for the dead. For we without them cannot be made perfect; neither can they without us be made perfect. Neither can they nor we be made perfect without those who have died in the gospel also; for it is necessary in the ushering in of the dispensation of the fulness of times, which dispensation is now beginning to usher in, that a whole and complete and perfect union, and welding together of dispensations, and keys, and powers, and glories should take place, and be revealed from the days of Adam even to the present time. And not only this, but those things which never have been revealed from the foundation of the world, but have been kept hid from the wise and prudent, shall be revealed unto babes and sucklings in this, the dispensation of the fulness of times.
Correction: The final mystery is that Gentiles can be saved through the grace of God.
Ephesians 3:1-7 For this reason I, Paul, the prisoner of Christ Jesus for you Gentiles; if indeed you have heard of the dispensation of the grace of God which was given to me for you, how that by revelation He made known to me the mystery (as I have briefly written already, by which, when you read, you may understand my knowledge in the mystery of Christ), which in other ages was not made known to the sons of men, as it has now been revealed by the Spirit to His holy apostles and prophets: that the Gentiles should be fellow heirs, of the same body, and partakers of His promise in Christ through the gospel, of which I became a minister according to the gift of the grace of God given to me by the effective working of His power.
1 Peter 1:20-21 He indeed was foreordained before the foundation of the world, but was manifest in these last times for you who through Him believe in God, who raised Him from the dead and gave Him glory, so that your faith and hope are in God.

3) Mormons believe that their ancestors can gain salvation through a proxy baptism .
All ordinances for the dead had to wait until after Jesus Christ had gained the victory over death, and then to Peter and his brethren the authority to officiate in behalf of the dead was revealed. Unfortunately, there is little written in the New Testament giving the history of such ordinances having been performed. Paul has given us the clearest insight in his first epistle to the Corinthian saints wherein he spoke of baptism for the dead, implying that this principle was very well understood. Answers to Gospel Questions, Volume 2, Joseph Fielding Smith.
Correction: There is no salvation after death.
Hebrews 9:27-28 And as it is appointed for men to die once, but after this the judgment, so Christ was offered once to bear the sins of many. To those who eagerly wait for Him He will appear a second time, apart from sin, for salvation.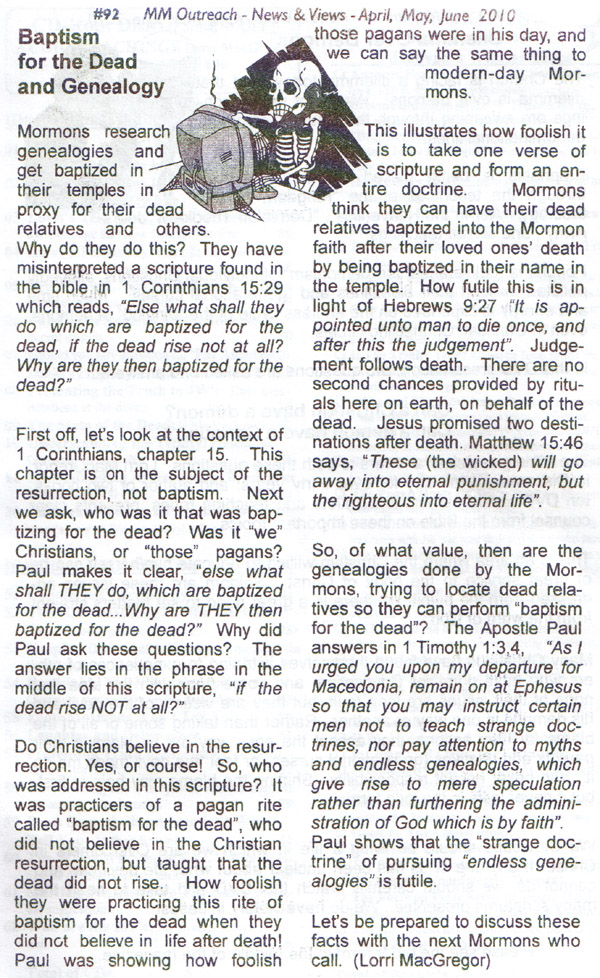 MM Outreach Newsletter - Spring 2010
Mormon leader encourages more baptisms for the dead

Published April 01, 2017
Associated Press

SALT LAKE CITY – A top Mormon leader reminded church members Saturday about the importance of performing ceremonial baptisms on dead ancestors who didn't receive the ordinance while alive.

Henry Eyring told a worldwide audience during a twice-yearly Mormon conference that God wants all his children to come "home again." He encouraged listeners to use the religion's massive genealogical database to trace their roots.

Ceremonial baptisms occur when a member brings an ancestor's name to a temple. Mormons believe the ritual allows deceased people a way to the afterlife if they choose to accept it. The belief that families are sealed for eternity is one of the faith's core tenets.

The practice is becoming more common than ever because of young church members who embrace it.

"They have learned that this work saves not just the dead; it saves all of us," said Eyring, a member of a top governing body of The Church of Jesus Christ of Latter-day Saints called the Quorum of the Twelve Apostles. "There are now many people who have accepted baptism in the spirit world. ... This is the work of our generation."

But ceremonial baptisms offend members of some other religions, especially Jews, who became upset years ago when they discovered attempts by Mormons to alter the religion of Holocaust victims. They included Anne Frank, a Jewish teenager forced into hiding in Amsterdam during the Holocaust and killed in a concentration camp.

In the 1990s, after negotiations with Jewish leaders, the church agreed to end the ceremonial baptism of Holocaust victims. After it was revealed that they continued, Mormon leaders put up a virtual firewall in the database to block anyone who attempted to access the names of people who died in the Holocaust.

Erying gave the opening speech of a two-day conference in which leaders speak about a range of topics aimed at providing guidance and inspiration to the faith's more than 15 million members worldwide.

Nearly 100,000 church members are expected to attend five sessions on Saturday and Sunday.

Thousands more around the world will listen to the conference or watch it on television, radio, satellite and internet broadcasts in 90 different languages.

Estonian Lutheran Church protests Mormon use of deceased records
TALLINN — Baltic Reports
Monday, September 6, 2010

The Estonian Evangelical Lutheran Church is lambasting the Ministry of the Interior for allowing the Mormon Church access to records that may be being used to re-baptize deceased Estonians.
Estonian Lutherans are not happy with the state's cooperation agreement with the U.S.-based Church of Jesus Christ of Latter-day Saints that allows the copying of Estonian state archives to Mormon databases, the Baltic Reports website reported last week.
The arrangement has been in place since the early 1990s, with the ministry receiving millions of Estonian krooni from the Mormon Church in exchange for the access. The ministry, Tallinn City Archive and Estonian Historical Archives signed a contract with the Genealogical Society of Utah, a nonprofit run by the Mormon Church that is dedicated to preserving the records of the families to help people connect with their ancestors by facilitating easy access to historical records.
Money was not the only benefit to Estonia, as the Mormon Church did all the legwork to digitalize the data and make it available for Estonians to trace their ancestry and find out about their family's past.
State archivist Priit Pirsko told the Postimees newspaper that the state had started an online archive but concluded that "the Mormons' technological capability is tens of times greater, so we made them a proposal to exchange digital copies."
Erki Koiv, director of Estonian branch of the Church of Jesus Christ of Latter-day Saints told the Postimees newspaper that his church is doing "services for those who are dead."
"We believe that all people should be baptized and one opportunity is to do it on Earth," Koiv said, adding that baptism services are done for the dead as well as the living.
The prospect of re-baptizing deceased Estonian Lutherans has the Estonian Evangelical Lutheran Church in uproar.
Arho Tuhkru, a spokesman for the Estonian Evangelical Lutheran Church said on Wednesday that the motive of the Mormons in keeping the records is dubious.
"The reason that they committed their activities for the dead as well is not justified," Tuhkru told Baltic Reports. "Their theological justification and appeal to free will is clumsy."
Tuhkru explained that as church records belonged to their congregations previously before being archived by the state under the Soviet regime, it would have been natural for the government to ask permission from the Evangelical Lutheran Church as well as Roman Catholic Church.
"Who would want that our grandmothers and grandfathers would be re-baptized or used in other unclear methods?" Tuhkru said.
The Mormon practice of baptizing deceased people of other religions is controversial internationally and has been decried by Jewish groups, among others.
Ow-lellujah! Mormon Youth Leader Learns Saving Souls is Painful

By Madison Gray
August 27, 2010
Time.com

As many of the faithful may attest, it can never be said that saving souls isn't heavy lifting and strenuous work. But a Las Vegas man understands that in a painfully literal way.

Daniel Dastrup, acting as his own attorney, is suing the LDS Church because of injuries he incurred while performing baptisms for the dead. No, he wasn't dunking zombies into holy water hoping to win salvation for them. Instead he was performing a ritual in which the living serve as proxies for the unsaved deceased.

He was serving as a volunteer youth leader with the Mormons in North Carolina, his suit claims, when he suffered a herniated disk in his spine while performing the baptisms on some of the members of his group. But some of the young avatars he was using weighed more than 250 pounds, his lawsuit claims. He says he did about 200 devil-proofings, but an official at the church would never give him a break, the Salt Lake City Deseret News reported..

The following day, Dastrup woke up in blessed pain and later learned of the severity of his injury. His suit claims "the repetitive motion required for performing baptisms for the dead could cause serious damage to a person's back..."

He is suing for medical expenses and loss of employment in Salt Lake City's 3rd District Court.

Nazi hunter off Mormon's heavenly list
December 20, 2006
Reuters
In life, Nazi hunter Simon Wiesenthal was among the most famous Jews of the 20th century.
In death, he wound up on a list of people eligible to be posthumously baptised as Mormons so they could enter heaven.
Bowing to protests from Jewish groups, The Church of Latter Day Saints has removed Wiesenthal's name from its International Genealogical Index, a database of names of people who be could be baptised after death.
A church spokesman said the Nazi hunter's name was taken off the list after receiving a complaint from the Simon Wiesenthal Centre, a Jewish human rights group named in his honour.
Rabbi Marvin Heir, the dean and founder of the group, said, "From their point of view they thought they were doing him a favour by making sure he can get into heaven.
"For us, it is very offensive. Simon Wiesenthal dedicated his whole life to Jews. I don't think he needs help getting into heaven."
In 1995, after the Wiesenthal Centre learned that the church was baptising Holocaust victims posthumously, the church agreed to stop the practice and removed 400,000 names from the index.
Mormon church spokesman Bruce Olsen said Wiesenthal was off the list. He also said it is policy "that members submit only names of their own ancestors for vicarious baptisms" and that the 1995 agreement was still in force.
Will Pope Benedict become a Mormon after he dies?

Mon Feb 5, 2007
By Tom Heneghan, Religion Editor

PARIS (Reuters) - Pope Benedict was baptised at birth and will most likely be baptised again one year after his death, not by his Roman Catholic Church but by a Mormon he never met.

The Mormons, a U.S.-based denomination officially named the Church of Jesus Christ of Latter-Day Saints (LDS), encourage members to baptise the dead by proxy in the belief they are helping the deceased attain full access to heaven.

Church members are told to focus on their ancestors, a rite understandable in a relatively new denomination founded in 1830. But so many now perform the rituals for celebrities, heroes and perfect strangers that the practice has spun out of control.

Adolf Hitler, Joseph Stalin, Genghis Khan, Mao Zedong, King Herod, Al Capone and Mickey Mouse have all appeared for a short time in the International Genealogical Index for proxy baptisms, said Helen Radkey, a researcher specialised in the IGI.

"It seems that any kind of name at all may be submitted," said Radkey from Salt Lake City, where the Church is based. The IGI also accepts names for rites that "seal" spouses in eternal marriage or parents and children in eternal families.

This has outraged Jews and baffled Christians who see it as usurping the memory of their departed relatives. The Church says it cannot stem the tide of dead baptised in its own temples.

"The only way we could prevent it would be to undertake independent genealogical research on every name that came in, an utterly impossible task with the many tens of thousands of names that are submitted each year," Church spokeswoman Kim Farah said in an email responding to questions from Reuters.

So Benedict looks set to join his predecessor John Paul and a centuries-long list of popes Mormons have baptised -- despite the fact that he, back when he was the Vatican's top doctrinal authority, ruled that Mormon baptisms were not even Christian.

"There is no reason theologically why a former Pope or any other church leader shouldn't be offered the same opportunity given to the rest of mankind," Farah said.

JEWS, CATHOLICS, PROTESTANTS, MUSLIMS

The Catholics are not the only non-Mormons on the Church's International Genealogical Index (IGI), a list of those baptised or cleared for the rite in which a Mormon undergoes a full immersion baptism at a temple in the name of the dead person.

Jewish Holocaust victims, Protestant reformers Martin Luther and John Calvin and Mohammed ibn Abdel-Wahhab, founder of Saudi Arabia's stern version of Islam, have all popped up on the list.

A purged version of the IGI is on the Internet, at http://www.familysearch.org, a Web site run by the LDS church, but does not show which rites have been performed.

That data is reserved only for Mormons, who can consult it at one of the 3,400 Family History Centres worldwide where they go to enter names for these rites using special software. The rites are then performed at temples off-limits to non-Mormons.

Radkey, who has exposed non-Mormon entries on the IGI for over a decade, alerted U.S. Jewish groups last December that the famous Jewish Nazi-hinter Simon Wiesenthal had turned up on the IGI as a departed soul cleared for Mormon baptism.

Rabbi Marvin Heir, head of a Jewish human rights group in Los Angeles named after the deceased Austrian, called this "very offensive. Simon Wiesenthal dedicated his whole life to Jews. I don't think he needs help getting into heaven."

The Church pledged in 1995 not to list Holocaust victims and other Jews after many names were found on the IGI. It took Wiesenthal's name off its online list but critics like Radkey say internal lists still have large numbers of Jewish names.

POPES AND FICTIONAL WIVES

Pope John Paul II was baptised not once but four times in April 2006, in line with Mormon practice of waiting a year before starting these rites. He died on April 2, 2005.

His name was purged from the online IGI, so a normal search will not find them. But his four now-anonymous files are still in the database and three still show his parents' names.

Pope Pius XII was baptised three times and also "sealed" in eternal marriage to a fictional Mrs Eugenio Pacelli. Saint Ignatius Loyola, founder of the Jesuit order of priests, was also "sealed" to a bogus wife. Catholic clergy do not marry.

Names are purged from the public IGI after being found and publicised. Pope John Paul I and Pope Paul VI were both baptised and were listed on the online IGI in December but removed after Reuters asked about them, Farah confirmed.

But earlier popes, going back at least to the Crusader Pope Urban II (1088-1099), are mostly still there. "They remove any names that could potentially cause criticism," Radkey said.

Father Thomas Weinandy, head of the Secretariat for Doctrine and Pastoral Practices of the United States Conference of Catholic Bishops, described proxy baptism as inappropriate.

"We don't know whether the person would want this or not," he told Reuters from Washington. "Catholics and other Christians feel they are already properly baptised. But it's harmless.

"As for the popes, I think most Catholics would find that somewhat inappropriate but also rather humorous. They're already in heaven! So it's redundant, even if it did work."

BAFFLING NOTION

Mormons believe the early Christians strayed from the true faith and only the LDS Church returned to the right path. All those who lived before 1830 were thus unable to join the Church and have full access to all the glory of heaven.

To trace and baptise these people, it has built up the largest genealogical library in the world, the Family History Library at its headquarters in Salt Lake City, Utah. This includes public lists of names collected around the world.

Clearly sensitive to questions about the practice, the LDS Church defends it as a central tenet of its faith. It argues the proxy baptism does no harm because the dead can reject it in the next life, a notion baffling to most Christians.

Farah said Mormons were "always deeply saddened to hear" that non-Mormons might be offended to find their ancestors' names had been harvested from public lists and baptised into a faith they did not follow during their lives.

Church rules say deceased who were born in the past 95 years should not be submitted for baptism without permission from their living relatives, but the IGI shows this is often ignored.

Farah said the LDS Church has tried to discourage abuse of the system. "We continue to look for ways to improve," she said.


Jewish group wants Mormons to stop proxy baptisms
By DEEPTI HAJELA and JENNIFER DOBNER
November 10, 2008
NEW YORK (AP) — Holocaust survivors said Monday they are through trying to negotiate with the Mormon church over posthumous baptisms of Jews killed in Nazi concentration camps, saying the church has repeatedly violated a 13-year-old agreement barring the practice.
Ernest Michel, honorary chairman of the American Gathering of Holocaust Survivors, said talks with leaders of The Church of Jesus Christ of Latter-day Saints, which were held as recently as last week, are over.
"We do not ask for, or want your love," Michel, whose parents died at Auschwitz, said in a statement released ahead of a news conference Monday, the 70th anniversary of Kristallnacht, the Nazi-incited riots against Jews.
"We ask you to respect us and our Judaism just as we respect your religion," he said. "We ask you to leave our six million Jews, all victims of the Holocaust, alone, they suffered enough."
The church denied the charge. The 1995 agreement says the church will not perform baptisms or other rites for Holocaust victims, except in the very rare instances when they have living descendants who are Mormon.
Church spokesman Mike Otterson said Michel's decision to publicly denounce the church seems like a unilateral termination of the discussion.
"Those steps by Mr. Michel on behalf of the American Gathering were both unnecessary and unfortunate and belie the long and valued mutual respect that we have had in past years," Otterson said in an e-mail.
Posthumous baptism by proxy is a sacred rite that has been a common Mormon practice for more than a century. The practice allows faithful Mormons to have their ancestors baptized into the 178-year-old church, which they believe reunites families in the afterlife.
Using genealogy records, the church also baptizes people who have died from all over the world and from different religions. Mormons stand in as proxies for the person being baptized and immerse themselves in a baptismal pool.
Only the Jews have an agreement with the church limiting who can be baptized, though the agreement covers only Holocaust victims, not all Jewish people. Jews are particularly offended by baptisms of Holocaust victims because they were murdered specifically because of their religion.
In May, the Vatican ordered Catholic dioceses worldwide to withhold member registries from Mormons so that Catholics could not be baptized.
Under the agreement with the Holocaust group, Mormons could enter the names of only those Holocaust victims to whom they were directly related. The church also agreed to remove the names of Holocaust victims already entered into its massive genealogical database.
Otterson said the church has kept its part of the agreement by removing more than 200,000 names from the genealogical index.
But since 2005, ongoing monitoring of the database by a Salt Lake City-based researcher shows both resubmissions and new entries of names of Dutch, Greek, Polish and Italian Jews.
The researcher, Helen Radkey, who works for the Holocaust group, said her research suggests that lists of Holocaust victims obtained from camp and government records are being dumped into the database.
She said she has seen and recorded a sampling of several thousand entries that indicate Mormon religious rites, including baptisms, had been conducted for these Holocaust victims, some as recently as July.
"I've seen a steady procession of Jewish Holocaust names, especially names with camps linked to them, going to the International Genealogical Index," said Radkey, who acknowledges that she has limited access to the records. "There's no possible way of knowing exactly how many names, but it's substantial."
Associated Press Writer Jennifer Dobner reported from Salt Lake City
MORMONS BELIEVE THAT HITLER & STALIN HAVE BEEN SAVED!