ESCAPE FROM IGNORANT ISLAM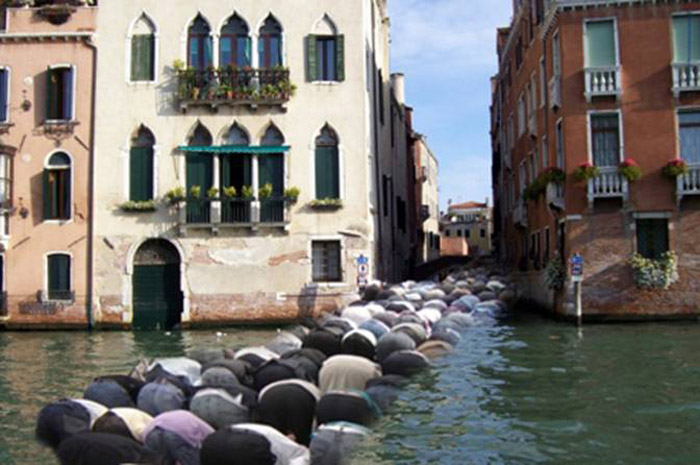 Ignorant Muslims Praying in Venice, Italy
Boko Haram, Gaddafi's fall boost Christian population- Bishop Okah
on DECEMBER 17, 2011
BY FESTUS AHON
Vanguardngr.com
As Nigeria battles to stem activities of the dreaded Islamic sect, Boko Haram, Warri based Reverend (Dr) Simeon Okah, Bishop of the Flock of Christ Mission, says the sect's activities are inadvertently helping to convert more people to Christianity as Nigerians and elsewhere do not like to be associated with violence. He also speaks on insecurity and other issues of national interest. Excerpts:
It is reported that you believe that Boko Haram is working in favour of the expansion of the gospel. Can you throw more light on this?
I know, for the interest of those who understand the power of the gospel and how the gospel itself moves. I know that the gospel itself is a gospel of peace. When there is peace, then we can have more effect in terms of Boko Haram, knowing well it is extremism on the part of Islam. Right now, the youths in Europe are scared of Islam, because you know they are more civilized.
They are also more economically opportune. A religious body where the extremists are always killing human beings without thinking twice; it is difficult to get a younger person into Islam in Europe and I believe that the same thing is already happening here in the Northern part of Nigeria.
A lot of youths who are Muslims are turning to Christ; turning en mass to Christ. A young person will be looking for a place where you can give him hope; where you can give him job and so on and so forth. That is why I feel that this violence will make Muslims lose. In the time past, they were losing members, not to talk of now when there is all kind of violence and wickedness.
Look at this whole thing about Boko Haram; it is an offshoot of wickedness. How do you kill a fellow human being? Every Nigerian that loves this country should be able to know that Boko Haram does not mean well for this country. Look at the bombing of the United Nation's building in Abuja.
If not for the way the government handled it, that would have given us a very bad image in the international world. So that is one of the reasons I said if the church continues to preach the word and be kind to fellow human beings, there is no way the Boko Haram issue is not going to give the church more members and increase the number of Christians in the country.
What do you recommend Government should do for churches that were burnt in the North and Christians who were killed since Boko Haram started?
The government should think of how to compensate those who Boko Haram have killed their people. Do you know there was a week I was unable to sleep because of those Boko Haram killed. All Boko Haram killed, government should compensate.
When government does that, it makes them sit up, because this lousy attitude which has made nation building very expensive will not happen again. Bring these people to book. Boko Haram members are not spirits, they are human beings. It took the federal government too long a time to bring these people to book. General Useni (Rtd) made some confession.
The government should rise up to its responsibility to follow that confession that was made by the retired General. Government should see how it can raise the standard of security, because you read everyday in the newspapers that the president is travelling here and there to showcase the image of the country to attract investors; it is good but who wants to invest where there is violence?
Governors from the North should not forget that these boys, according to history, it was they who used them for elections. They set them up, financed them. Let them rise to solve this problem, if not, watch the Northern states, the unemployment is going to rise because nobody want to go where there is no peace. Who will invest money in a place where there is no peace?
I also feel that the police in this country; we always talk of the negative part; that they are corrupt. We should agree that the army too is corrupt. Nigerians should be made to realize that army reduced the police to nothing during the military era.
So let the police be equipped. With the little knowledge I have, we have good Nigerian police. Are you aware that most of these police officers you see are graduates? And they sleep on bare floors and these people have wives, children. To me, as much as we have said they are weak, we should also see to how the police will be equipped. For example, in this country, every little thing, they call the soldiers. You only bring in soldiers when the worst is taking place.
The police should be trained. Because they are not trained they don't know how to handle riots. During riots you see Nigerian police using live ammunition. You can remember about two months ago, it was that young man that the police in England short that resulted to that violence that shook the government of the country. So, for police, something just happened at Uzere, soldiers came and killed three Uzere boys which made the rest boys say if it is death, let all of us die. The police should be equipped and given the necessary support. Let us see to it that if we see our policemen, we should respect them. By so doing it will help us.
I want to also add that the judiciary, any country that does not have good police and good judicial system cannot go far. So the judiciary should also be reformed. I am happy that Judges are now better paid compared to the past which is good. But go to some courts today; they are just like juju houses. No fan let alone air-conditioners. The judiciary should be given the needed attention.
Is the church is doing enough to address the issue of Boko Haram, given the loss of lives and property of Christians particularly in the Northern part of the country?
I think the church has been trying but we Nigerians have never taken nationhood as a priority. Europeans built Europe, Chinese built China and Americans built America. Nigerians should try and build Nigeria. When you talk of the church, you are talking of a very large body, because the information we are getting now is that Christianity has out numbered in Islam in terms of population.
We are doing all that we can. You know how painful it is to hear that a pastor who is in the church is killed. They killed one, killed two, some cases 15 were killed. We have been doing the little we can; we contribute money, we also send food. Sometimes ago, we loaded trailers through PFN and through CAN to our affected members in the North.
We have tried, but if the church can wake up to the reality of number one, brotherhood; number two, building of the nation only then I think we can do much better.
How will you rate the population of Christians to Muslims in the country today? Is it in anyway affected by the violence in the North?
Before the violence, the Christian percentage has been higher. Even before the emergence of Boko Haram, the percentage of Christians were over 50 against about 40 percent of Muslims. There is a valid document that stated so, even before the existing of Boko Haram sect. With this Boko Haram, it is obvious that the percentage of Christianity is going to rise to between 60 to 65percent. I think, right now, it is close to 60 percent.
Then another thing that is going to give the growth of the church in the world is the death of Gadhafi. Because Gadhafi, you know when he came into this country, he came like a god. He disregarded all our security arrangements; came with his own security, came with his own vehicles and all that. And not only that, the man boasted that he would spread Islam across Africa. You know, when you are talking of Africa, Nigeria is more than 50 percent. So now that he has fallen, it is also going to affect the population of Islam negatively.
How will you describe the performance of the National Inter-Religious Council, NAREC?
NAREC is even worse than even a political party or political organization. It is now that Pastor Ayo Oritsejafor as CAN President is bringing some sense of morality into NAREC. Otherwise before now, it was just collecting money from the federal government and doing nothing.
But now with Pastor Ayo, we have seen some changes and I wish all members of NAREC to key into the philosophy that Pastor Ayo is trying to introduce. Not only will it help NAREC, not only will it help the Christian and Muslim bodies of the country, it will help a great deal in the building of the country because when the religious leaders live together in peace, respect one another - like we who are the church leaders in PFN, we don't force anybody to join Christianity.
Preach your message and I preach my message. Bring your philosophy and I bring my philosophy. But where one religion says that whether you like it or not, it is by force, is bad.
Even God doesn't force people to worship him. Go and preach, that is why He raised Pastors; that is why He raised Apostles, that is why He raised Prophets that will preach and project the message and then when you are willing, then you serve Him. That is where NAREC has failed.
It failed. It naturally failed politically and failed morally. But thank God for Pastor Ayo. He has served now for about one year. He still has more years. We all should pray for him, because it is not easy. But with God all things are possible.
You will recall that the security challenge facing the country escalated after the 2011 presidential election. Have the churches in Nigeria made any strong recommendations for better elections in the country?
We are all Nigerians. There are very few of us in the church who believe that before you tell people about heaven, they have a life to live. And the person who doesn't live his life well here will not go to heaven.
We are doing all we can, we are already listing out the flaws, the mistakes then we are also trying to shortlist some politicians who are looking for power but has no ideology. You have heard what I said about the police, some of us, especially myself has put in so much tofight for the police. Then we are also trying to see that the judiciary is reformed.
Because for example now you see that the tribunal for the political cases, this time is quicker than what happened last time. It is better, but it can still be better than this. Then INEC, the church is also trying to see that we give INEC all the needed backing because the Chairman of INEC, Prof. Attahiru Jega, to me has a right heart, but you know one finger cannot get lice from the hair.
So he need that backing. We the churches are trying to do all we can to give him that backing, because a true child of God don't care whether the person is a Muslim or if a he is serving juju, provided he has the moral character to help to build a nation. Some of us who sit in the church, what we are looking for are people with moral capability to hold these positions.
For example look at the Governor of Lagos State, I support his programmes. I am a Minister of the gospel, he is not a Christian. Oshiomole I was in Benin. I mobilized the major part of the church for the little thing he did when he was in NLC, we knew had something to offer. Now when they maneuvered the election, I came out openly in the pulpit to say Oshiomole should be given the chance to rule, he won.
Then through the work of God the court came in and ruled in his favour. So we are working. And also I want to tell people that this country is changing; though gradually, things are becoming better. We all should put hands together or the church to be able to build a very sound country.
Do you foresee an end to the Boko Haram crisis? How and when? And what is your view on Islamic banking?
The issue of Boko Haram should be addressed once and for all if not it is going to destroy the Islamic religion because no youth want to die. No youth who has food to eat will want to die. Boko Haram activity will affect the religion, it will affect the economy of the North and if care is not taken it can affect this whole country.
On Islamic Banking, sometimes we Nigerians are full of sentiments and that thing has not helped on national issues. We should be bold enough to address issues the way they should be addressed. I am not against people having their own bank, but using the central Bank, using the Federal Government money and government to influence Islamic Banking is evil. If the federal government thinks it is taking the church for granted, taking Nigeria for granted, leave them. If the Christians want to have their own bank, let them share principle, guide all banking; because you can't put money in one bank and say it is for this set of religion, so that is my position.
Finally Sir, what is your counsel to Christians in the North presently going through hard times over the crisis?
Number one let them stand firm for their faith. They should not be intimidated let them defend their faith. Number two let them be united; let them co-ordinate information; let the network with facts and let them be united. Number three, if the federal government remain negligent, they should defend themselves. They should use anything they have to defend themselves. The Bible itself tells us that we should defend ourselves, kill the killer before he kills us. If you have a father who can't protect you, you better protect yourself. If the state and federal government want to pay lip service to the lives of the people they better defend themselves: That is my suggestion.
Islam Was Not For Me
Amil Imani
13 Nov 2011
My breach with Islam started as far back as I could discern things. More to the point, I never embraced Islam in the first place, although I was born and raised in a Muslim family.
For one thing, I had a very difficult time following a so-called religion whose founder and followers had butchered my ancestors, raped and sold our women, burned our libraries, and destroyed our magnificent culture. Islam was forced down the throats of Iranians with the sword of Allah. In my heart, I never considered myself a Muslim. However, I didn't reveal this until later in life for fear of retribution by radical Muslims.
Sharia law stipulates that any Muslim who turns his back on Islam should be given a chance to revert to the faith. For an unrepentant male apostate, death is the proscribed punishment and life imprisonment for the female apostate.
"Kill whoever changes his religion." __Sahih al-Bukhari 9:84:57
Islam considers an apostate as a person who unilaterally breaks the covenant he has made with the faith. An apostate is condemned as guilty of turning his back on Allah's immutable eternal religion.
I came to the realization that the root cause of my peoples' degradation and suffering was Islam. It was a creed imposed on an enlightened, tolerant and free people at the point of the sword by savages hailing from the Arabian Peninsula during the seventh century with promises of booty and women in this world and glorious eternal sensual rewards in the promised paradise of Allah in the next. With each passing day, I rejoice more and more in my good fortune; in my ability to avoid the yoke of Islamic slavery and its blinders that imprisons a billion and half people by walls of superstition, hatred of others, and a celebration of death.
Things Islamic not only did not resonate with me, they often clashed head on with what I valued and loved. What appealed to me and even enchanted me were more often than not, taboo in Islam or anathema to the creed. I loved life, beauty in all its forms, poetry, ancient Iranian culture and traditions. I loved laughter, celebrations of joy such as birthdays; our yearly festivities of Nowruz, my favorite, lasts for thirteen days. Nowruz, this ancient festival, has been celebrated for thousands of years by my people; it ushers in the spring, welcomes renewal of life, and expresses optimism for the year ahead to bless us with good health, abundant food, family, and friends in the land of a civilized and free people.
I have always believed one cannot possibly be a Persian and hold to the lofty tenets of the ancient Iranian Zoroastrian triad of good thoughts, good words, good deeds, and remain a Muslim. In the same fashion, one cannot cherish American values, the Bill of Rights and the United States Constitution and be a true Muslim. They are comprehensively incompatible with Sharia Law.
Iranian Muslims are victims of the Islamic virus that has destroyed in them their traditional respect for diversity. It is the Iranian ancient fundamental belief in the validity and value of diversity that is enshrined in the Cyrus the Great Cylinder, the unconditional respect for the complete rights of all the people of the world (an anathema to the Islamists' credo) that has held the nation together over the millennia. Although Islam was imposed on Iran some 1,400 years ago, Iranians deeply value their own ancient non-Arab identity and have never fully surrendered to the Arab culture.
Currently, a large number of Iranians are completely fed up with Islam and they want to leave this dogma of hate and violence. In fact, many already have, but they simply aren't able to come forward and announce it, for obvious reasons.
Such duplicity exists within the Iranian culture. Originally, Iranians were forced to accept Islam to save their lives from Arab invaders, but deep within the heart of every single Iranian alive today, exists a burning resentment of the Arab-Islamic invasion of their homeland and culture. It is ironic that many Iranians may actually confess to being Muslims; yet, an overwhelming number of Iranians have never read the Quran or understand its language. The events in history have toughened present day Iranians. They have become great pretenders. But the totality of 1400 years of Islamic barbarity and savagery must end. We no longer need to pretend that we are practicing Muslims; when in fact, we are not.
Realistically speaking, there is perhaps 10-15 percent of the population that continues to support the clerical system in varying degrees. Many in this group are government employees, Mullahs, and hired thugs such as the Basiji. Also, the regime has some backers among the poor, the less educated, and the deeply religious. Yet, the alienation from the regime and Islam spans the entire spectrum of the Iranian society with the intelligentsia and the university students leading the determined opposition to end Islamic rule.
Masses of Iranians are irreparably alienated from a corrupt and oppressive Islamic rule. The rule of the Islamic Republic of Iran (IRI) is crumbling. The previously solid edifice, or at least the appurtenance of it, is finally showing many cracks that continue to grow. There are just too many fault lines to list here.
My fellow secularist Iranians and I have indeed done, and continue to do, what we can to help our compatriots in Iran, who are on the front line fighting Islam and the Islamic Regime.
The 2009 protests were just as much against the Islamic Republic as they were about Shi'a Islam. In fact, much of it was against Islam itself. People have experienced what a primitive and defective system of belief Islam is and aim to abandon it for good. Many will still hang on to it to some extent for some time. Yet, a great many would simply leave Islam and even actively oppose it.
There are still those who foolishly claim that Muhammad was a messenger from God and the Quran is a divinely revealed book. My suggestion is that they use their intellect and read the Quran fully for themselves without the assumption that the book is the literal word of God and that Muhammad was their messenger. Without this assumption as their starting point, they will find better than 90% of the book is about violence, threats of hell, exclusion of people, and the like. What kind of God would dictate things like what you find in the Quran? It took Muhammad 20 years to reveal this hodge-podge book that reads more like expressions of a delusional individual with multiple personality disorder.
I bemoan the plight of my native land and the people who have suffered and continue to suffer under Islam. Without Islam there wouldn't be any Muslims to hoist the banner of hate and violence against non-Muslims. A few claim that Islam has done some good in the past. Well, that's debatable. There are those who are equally convinced that Islam has inflicted a great deal of suffering on others from its inception to the present. What we all must agree on is that Islam and its sharia laws, at the very least, do not fit in today's world.
Islam is a creed of an ignorant people in a primitive and barbaric age. It is fixated in time and place; it harbors the ambition of taking the 21st century world back 14 centuries and ruling it by its dogma of violence, intolerance, injustice and death. Yet, Islam is not only an obsolete vestige of a defunct era, but itself is an infinitely fractured belief that can hardly put its own home in order. The numerous Islamic sects are at each other's throats; sub-sects and schools despise one another as much as they hate non-Muslims. Hatred, not love, drives Islam.
I am not against Muslims. I condemn Islam with all its derivatives and those who support and promote it. Muslims are patients and Islam is a disease. You want to help the patients to rid themselves of the affliction. You want to eradicate a horrifically communicable disease. Although many prefer to tackle the militant version of Islam "Islamism," for all intents and purposes, there is no sharp demarcation between, Islamists, Jihadists and Islamism. One and all are progeny of Islam itself. Any differences among the three are of degree and not kind. When one addresses Islamism and jihadism, their source is also addressed.
Regrettably, Islam cannot be reformed. Keep in mind that Islam claims it is the perfect eternal faith for mankind. Splits have occurred and will continue to occur in Islam. Yet, reformation has not happened in nearly 1400 years and is not going to happen. Islam is carved in granite, just the way it is. No change. Allah's book is sealed.
In the monumental task of dealing with Islam and its variations, every individual, group and government must combine their resources and energies to prevail. We must urge all people to resist Islam's encroachment and not be deceived by its sanitized version presented in non-Islamic lands. The destiny of civilized life hangs in the balance. Shirking of this responsibility would be an unpardonable act of every enlightened human being and organization that values human liberty and dignity.
Amil Imani is the author of a new book "Operation Persian Gulf."
They Need to Be Liberated From Their God
The 'Son of Hamas' author on his conversion to Christianity, spying for Israel, and shaming his family.
By MATTHEW KAMINSKI
The Wall Street Journal
MARCH 5, 2010
'I absolutely know that in anybody's eyes I was a traitor," says Mosab Hassan Yousef. "To my family, to my nation, to my God. I crossed all the red lines in my society. I didn't leave one that I didn't cross."
Now 32, Mosab is the son of Sheikh Hassan Yousef, a founder and leader of the Palestinian terrorist group Hamas. Throughout the last decade, from the second Intifada to the current stalemate, he worked alongside his father in the West Bank. During that time the younger Mr. Yousef also secretly embraced Christianity. And as he reveals in his book "Son of Hamas," out this week, he became one of the top spies for Israel's internal security arm, the Shin Bet.
The news of this double conversion has sent ripples through the Middle East. One of Mr. Yousef's handlers at the Shin Bet confirmed his account to the Israeli daily Haaretz. Hamas—already reeling from the assassination of a senior military chief in Dubai in January—calls his claims Zionist propaganda. From the Israeli prison he has occupied since 2005, Sheikh Yousef on Monday issued a statement that he and his family "have completely disowned the man who was our oldest son and who is called Mosab."
For the past two years, Mosab Yousef has lived near San Diego, where he's kept a low profile out of concern for his security. The U.S. is currently weighing his application for political asylum, and until his confession to espionage and the publicity blitz that accompanied it this week, only knew him as the son of a terrorist who sometimes attends evangelical churches in California. The book is intended to launch a new life in America.
Mr. Yousef, whose large, engaging eyes sit prominently on an oval face, says he was confused for many years himself, and realizes many people will be as well. His family has been shamed and old friends refuse to believe him. The book, a Le Carréesque thriller wrapped in a spiritual coming-of-age story, is an attempt to answer what he says "is impossible to imagine"—"how I ended up working for my enemies who hurt me, who hurt my dad, who hurt my people."
"There is a logical explanation," he continues in fairly fluent English. "Simply my enemies of yesterday became my friends. And the friends of yesterday became really my enemies."
The first half of his memoir describes a childhood in Ramallah marked by close familial ties and the Israeli occupation. He describes a kind and unusual Muslim father who cooks dinner, treats his mother well, and cares for his neighbors. An imam trained in Jordan, Sheikh Hassan Yousef rises to prominence in their hometown, and in 1986—along with six other men including the wheelchair-bound cleric from Gaza, Sheikh Ahmed Yassin—forms Hamas at a secret meeting in Hebron. The first Palestinian Intifada—or uprising—breaks out the following year. Mosab did his part, throwing stones at Israeli settlers and army vehicles.
"Most people heard about Hamas after Hamas started carrying out terrorist attacks," he says now, speaking near his agent's home here in Nashville. "Hamas started out as an idea. Let's say a noble idea—resisting occupation." Those early clashes with the Israelis begat worse violence, and the cemetery near his house began to fill up with cadavers. Palestinians also turned on each other. A corrupt and authoritarian Palestinian Liberation Organization (PLO) sparred with the rising Hamas and other groups. All of them used accusations of "collaboration" as an excuse to torture and kill rivals or the weak.
Mr. Yousef traces his awakening to his first sustained exposure to Hamas cruelty. In 1996, he was arrested by the Israelis for buying weapons. He says he was beaten and tortured badly in custody. It was then that the Shin Bet approached him. He says he thought about becoming a double agent. "I wanted revenge on Israel," he writes. But when he was sent to serve his term at the Megiddo prison in northern Israel, he says he was more shocked by the way the maj'd, Hamas's security wing, dealt with other prisoners.
"Every day, there was screaming; every night, torture. Hamas was torturing its own people!" he writes. The Muslims he met in jail "bore no resemblance to my father" and "were mean and petty . . . bigots and hypocrites."
By agreeing to work with the Shin Bet, he got out of prison early. He says he was curious about the Israelis and fast abandoned his idea to become a double agent. Though he took money from Shin Bet and stayed on their payroll for a decade, his handlers in the early years didn't ask much of him. They encouraged him to study and be a model son. His code name was the Green Prince: green as in the color of the Islamist Hamas flag, and prince as the offspring to Hamas royalty.
During those quiet years he met a British cabbie in Jerusalem who gave him an English-Arabic copy of the New Testament and invited him to attend a bible study session at their hotel. "I found that I was really drawn to the grace, love and humility that Jesus talked about," he says in "Son of Hamas."
As a spy, Mr. Yousef wasn't fully activated until the outbreak of the second Intifada in September 2000. A few months before at Camp David, the late PLO chief Yasser Arafat had turned down the Israeli offer of statehood on 90% of the West Bank with East Jerusalem as the capital. According to Mr. Yousef, Arafat decided he needed another uprising to win back international attention. So he sought out Hamas's support through Sheikh Yousef, writes his son, who accompanied him to Arafat's compound. Those meetings took place before the Palestinian authorities found a pretext for the second Intifada. It came when future Prime Minister Ariel Sharon visited the Temple Mount in Jerusalem, site of the Al-Aqsa Mosque and the Dome of the Rock. Mr. Yousef's account helps to set straight the historical record that the uprising was premeditated by Arafat.
Mr. Yousef tells me that he was horrified by the pointless violence unleashed by politicians willing to climb "on the shoulders of poor, religious people." He says Palestinians who heeded the call "were going like a cow to the slaughterhouse, and they thought they were going to heaven." So, as he writes in the book, "At the age of twenty-two, I became the Shin Bet's only Hamas insider who could infiltrate Hamas's military and political wings, as well as other Palestinian factions."
Mr. Yousef claims some significant intelligence coups for himself, and he says he isn't telling the world everything. Early on, he was first to discover that the Al-Aqsa Martyrs Brigades, a terrorist group born during the second Intifada, was made up of Arafat's guards, who were directly funded by international donors. He says he found the most lethal Palestinian bomb maker and foiled assassination plots against President Shimon Peres, then foreign minister, as well as a prominent rabbi. He says he broke up cells of suicide bombers about to attack Israel. And he helped convince his father to be the first prominent Hamas leader to offer a truce with Israel.
His handler—a "Captain Loai," now retired from the Shin Bet—corroborated many of these stories to Haaretz. The paper said the Shin Bet considered Mr. Yousef "the most reliable and most senior agent."
Mr. Yousef strains to justify himself, but ultimately "the question is whether I was a traitor or a hero in my own eyes."
So we're back to why?
The motivation, he says, was to save lives.
"I'd seen enough killing. I was a witness to lots of death . . . Saving a human life was something really, really beautiful . . . no matter who they are. Not only Israeli people owe me their lives. I guarantee many terrorists, many Palestinian leaders, owe me their lives—or in other words they owe my Lord their lives."
He says he used his influence at Shin Bet to get the Israelis to try to arrest Hamas and other Palestinian figures rather than blow them up with missile strikes. He says he saved his father from the fate of Sheikh Yassin and other Hamas leaders whom the Israelis killed by secretly arranging to have him arrested. "I know for sure that my father is alive today, he still breathes, because I was involved in this thing," he says.
Mr. Yousef has some of the evangelist in him, even as he insists he is not a particularly devoted Christian and is still learning about his new religion. He wants Palestinians and Israelis to learn what he did from the Christian God.
"I converted to Christianity because I was convinced by Jesus Christ as a character, as a personality. I loved him, his wisdom, his love, his unconditional love. I didn't leave [the Islamic] religion to put myself in another box of religion. At the same time it's a beautiful thing to see my God exist in my life and see the change in my life. I see that when he does exist in other Middle Easterners there will be a change.
"I'm not trying to convert the entire nation of Israel and the entire nation of Palestine to Christianity. But at least if you can educate them about the ideology of love, the ideology of forgiveness, the ideology of grace. Those principles are great regardless, but we can't deny they came from Christianity as well."
Mr. Yousef says he felt burned out and decided to stop working for the Shin Bet in 2006, against their wishes. He made his way to friends in southern California whom he'd met through bible study.
As the son of a Muslim cleric, he says he had reached the conclusion that terrorism can't be defeated without a new understanding of Islam. Here he echoes other defectors from Islam such as the former Dutch parliamentarian and writer Ayaan Hirsi Ali.
Do you consider your father a fanatic? "He's not a fanatic," says Mr. Yousef. "He's a very moderate, logical person. What matters is not whether my father is a fanatic or not, he's doing the will of a fanatic God. It doesn't matter if he's a terrorist or a traditional Muslim. At the end of the day a traditional Muslim is doing the will of a fanatic, fundamentalist, terrorist God. I know this is harsh to say. Most governments avoid this subject. They don't want to admit this is an ideological war.
"The problem is not in Muslims," he continues. "The problem is with their God. They need to be liberated from their God. He is their biggest enemy. It has been 1,400 years they have been lied to."
These are all dangerous words. Of the threats issued to his life by Islamists, he says, "That's not the worst thing that can happen to you. I'm OK with it, I'm not afraid. . . . Palestinians have reason to kill me. Some Israelis may want to kill me. My goal is not to defeat my enemy. It is to win over my enemy."
Mr. Kaminski is a member of the Journal's editorial board.
Islam Professor Converts from "Believer" to "Non-Believer"
By Dr. Sami Alrabaa
October 05 2008
Passages that incite to violence, hatred, and discrimination against women in the Koran and Sunnah must be removed, or viewed in their historic context if Islam and Muslims want to be accepted by the world community.
The German media reported early September 2008 that the German Professor Sven (Muhammad) Kalisch, a Muslim convert, who teaches Islam theology at Münster University, Germany, doubts it very much that Muhammad, the Prophet of Muslims "has ever existed."
In a public lecture at Bielefeld University, Germany, (27.7.2008), Kalisch laid out his latest position about Islam and the Koran. He said that either Muhammad was a fictitious figure that never existed, or someone like him had existed and later was declared a prophet after his death.
It is good that an Islam expert has dared say that at a time when everybody is intimidated to criticize Islam and its symbols. Almost two years ago though, Kalisch thought and lectured differently. In another public lecture also at Bielefeld University (16.3.2006) he defended Al Shri'a as the law of God. As I confronted him with atrocious passages from the Koran inciting to violence, hatred, and discrimination against women, (check Islam is a violent Faith) he started stuttering and did not know what to say.
Obviously, Kalisch has drastically changed over the past two years, from a dogmatic (convert) Muslim to a "liberal" one. What happened? We do not know. But one thing is clear. Now for many fanatic Muslims, Kalisch is a heretic and apostate. And most certainly one of those grand muftis in the Muslim world will issue a fatwa urging "pious" Muslims to kill Kalisch.
In an interview with the German daily Taz (29.12.2004) Kalisch was asked why he converted to Islam. He answered, "because rationality prevails in Islam". "Rationality"!? This is laughable. The Koran and the Sunnah are replete with threats, fear, hatred, violence, and discrimination against non-Muslims and women. The word "Islam" means "submission".
Kalisch's students are also stunned how the man has changed. On condition of anonymity, one of those students told me, "I don't know what happened to Professor Kalisch. He used to defend every word in the Koran, even archaic and obsolete things. Now he is rejecting them, and demanding that Islam be reformed. He even said, Islam needs a Martin Luther."
Kalisch's students, who in one year will be released to teach Islam at schools, are split between those who follow a moderate course of Islam and those who follow a dogmatic one. Lamya Kaddor, Kalisch's assistant is still teaching a dogmatic course of Islam.
Ms. Kaddor is indeed popular among her Muslim students (the majority of which are native Turks or Arabs) at the University of Münster and at the Glückauf Pubic School in Western German city of Dinslacken-Lohberg near Essen, as Speigel Online claims on March 14, 2008, and that is so for one simple reason, which Der Spiegel did not mention.
Kaddor repeats ad nauseam in front of her students that the whole world is afraid of Islam because it has the stronger arguments, and sooner or later the Muslim Caliphate, the Muslim empire is coming and will prevail all over the world. Therefore, rejoice!
According to the Turkish Daily Zaman, Kalisch rejected Kaddor's doctorate dissertation because it was full of plagiarism. Kalisch also accuses his assistant of having peculated huge amounts of research money.
A moderate student of Kalisch told me that the majority of his colleagues would teach a dogmatic variety of Islam.
The Ministry of Education in NRW, the German federal state which commissioned Kalisch to train Islam teachers for schools has been presented a general outline of an Islam course at the NRW schools. The details were left out.
Ayub Axel Köhler, the Chairman of the Central Council of Muslims in Germany and some of Kalisch students insist that Islam teachers at German schools must teach the Koran and the Sunnah as they are: "They are word of Allah."
Wolfgang Borgfeld, who after converting to Islam changed his name to Muhammad Siddiq, established an association he called "The House of Islam" in the south of Frankfurt. The "House", which used to be a hotel and harbours several halls for seminars and conferences, is financed by the Saudis and Kuwaitis. It is, however, largely a Koran school without any official control.
Recently I visited "The House of Islam" and Mr. Siddiq was delighted to show me his school and meet his students. I was curious and wanted to know what the students (8 – 18 years old) have learned. I asked a 16 year old girl why she was wearing a headscarf . She said she was proud of it because with it she is fulfilling the commandment of Allah. I asked a 15 year old student what Jihad meant. His answer: "It is fighting for Islam to prevail." I asked further, also with weapons? "If need be, yes." He heftily replied.
Siddiq's House has around 60 students. One third of them are converts. And they are quite zealous about Islam. Uta Rasche wrote in the Frankfurter Allgemeine (September 1, 2004), "The number of those who converted to Islam (in Germany) is between 13,000 and 60,000, according to estimates. In any case, they make up only a small share of Germany's more than 3 million Muslims.
But many converts have a very special story. Often they are extremely attached to their religion—and sometimes, they are particularly dangerous. They want to prove to themselves and their new fellow worshipers that they take their conversion seriously and therefore have a strong desire to demonstrate their religious commitment."
Rasche also says, "Certainly, not every visit to an Islamic school produces an extremist, and naturally, not every convert becomes a terrorist. But when Islamic fundamentalists are looking for people in Germany whom they can use for their purposes, young converts have proven to be an ideal target group: They are enthusiastic, want to prove themselves, have severed all their ties and left their western circle of friends behind for the sake of the Muslim community. And there are decisive practical advantages: They have a German passport, can travel without restrictions within Europe, often speak good English and do not look suspicious at all."
Gudrun Krämer, an Islam Professor at Berlin University (FU) rushed all of a sudden to support Professor Kalisch that the Muslim leader, Muhammad "maybe never existed". She claimed that she had thought of that and came to the same conclusion. If that were the case, why did she then defend the fictitious Koran in most of her published articles and books?
For instance, she tries to justify the Koran discriminating against women as witnesses. She argues that the testimony of a woman is half as valid as that of a man, according to the Koran, because when women get their menstruation they do not think and remember clearly. Besides, she added, women were illiterate. The truth of the matter is the vast majority of men were also illiterate during the rise of Islam.
In fact, Krämer is not the only relativist among Islam experts in the West. So far, none of these experts has had the courage to criticize the Koran and the Sunnah which preach violence, hatred, and discrimination against women and followers of other faiths.
George Stauth, another Islam relativist, defends Islamism as a reaction to Western colonialism and modern consumerism. Stauth adds, Islamism is a "protest movement" against corruption and despotism in the Muslim world.
This might be the case, but the Islamists, who are inciting to violence, hatred, and discrimination against women inspired by the Koran and Sunnah, are the least qualified to change the status quo situation. If Islamists took over, they would replace the evil by a worse one. They simply reject political and religious pluralism. They reject the others completely.
In any case, we Muslims have the right to practice our religion like followers of other faiths do. But at same time we must skip all those passages in the Koran and Sunnah which preach commandments against human rights, freeze them, or discuss them in their own historic context. Followers of other religions have already done that; the Christians, the Jews, and the others.
Whether the Prophet Muhammad existed or not is insignificant. Islam, however, is a fact of life. But if we, Muslims want to be accepted by the world community, then we must renounce violence, hatred and discrimination against women. We must accept the other faiths as they accept us.
The way up to all that seems to be quite long and thorny. Both peace-loving Westerners and Muslims must work on reaching that aim. Preaching relativism and being fearful to spell out the bitter truth would only strengthen the Islamists and their destructive ideology. There must the fight against extremism and fanaticism begin.
Ex-Muslim calls on her people to reject hatred By Lisa Friedman
Washington Bureau - Los Angeles Daily News
Sunday, June 05, 2005 - WASHINGTON -- Nonie Darwish was 8 years old and living in Gaza when her father, an Egyptian military officer who led Arab attacks inside Israel, was killed by assassins.
"Which one of you will avenge your father's death and kill Jews?" Darwish recalls friends, family and neighbors asking her and her siblings.
Her life could not have taken a more different path. Today Darwish, 56, makes her home in the San Fernando Valley and runs an "Arabs for Israel" Web site.
A Muslim who converted to Christianity, Darwish also is making a national name for herself as an outspoken critic of radical Islam, as well as of moderate Muslims whom she believes don't do enough to fight what she calls the "culture of hatred" in Arab countries.
"I might sound a little harsh talking and judging my culture of origin, but it is time for Arabs and Muslims to start doing some soul-searching," she said recently in Washington, D.C., where she was speaking to the Israel Project, a pro-Israel public relations group.
"The silent Muslim majority has to rise and end this insanity -- teach children peace instead of war, teach them respect for other religions," she said. "We need to promote that in the Arab world."
Darwish's newfound role as an editorialist and public speaker has come at a price.
She writes under a pseudonym: "Nonie" is a family nickname, and "Darwish" is her grandfather's last name. She asked that the community where she lives not be printed because she receives periodic death threats.
Jennifer Laslo Mizrahi, president of The Israel Project, called Darwish "courageous" and asked her to kick off the group's newest initiative, Teach Kids Peace.
"If you do searches of courageous Muslim leaders willing to speak out, there aren't very many of them," Mizrahi said.
But Ibrahim Hooper, director for the Council on American-Islamic Relations, a Muslim civil rights group in Washington, said he thinks Darwish is "a notorious Muslim-basher."
Referring to the story Darwish tells of growing up indoctrinated against Jews and other non-Muslims, Hooper said, "If that was her experience, it's not the experience of the majority of Muslims worldwide."
Born in Egypt and raised during the 1950s in Gaza -- then under Egyptian control -- Darwish spent her school days memorizing and reciting daily poetry about the pride of martyrdom. The lyrics of her playground songs referred to Jews as "dogs."
Her father was a high-ranking officer in the Egyptian military, and his job, Darwish said, was to lead undercover attacks inside Israel "and cause as much damage and destruction and death inside Israel as possible."
Even so, Darwish said, both anti-Semitism and strict Islamic followings were absent from her home life. Her father, she said, treated his job as an unwanted duty.
When her father was assassinated in 1956, Darwish said, he was hailed as a national hero and a square in Gaza was renamed in his honor. But her mother, Darwish said, saw no glory in the husband dying a "martyr" and struggled as a single parent.
A government pension afforded Darwish the ability to attend Catholic school, an education that led her on a path to the American University in Cairo and later to a position as an editor for the Middle East News Agency. Along the way, Darwish met and married a Christian, converted to Christianity herself and moved to Southern California in 1978.
The 9-11 terrorist attacks triggered something inside her, she said. Listening to Islamic leaders claim the terrorists were not truly Muslim, Darwish found herself furious that no one was taking responsibility for the glorification of cultural violence on Arab television and in schoolbooks.
Darwish began writing opinion pieces for newspapers, as well as for the conservative online journal FrontPage Magazine, criticizing what she saw as a dearth of Muslim outrage at Islamic fundamentalists.
"They just want to divorce themselves from being responsible for producing people like that," she said.
Rep. Brad Sherman, D-Sherman Oaks, who is pushing to divert at least $150 million of U.S. foreign aid to the Palestinian territories into creating new textbooks and school curricula that don't glorify suicide bombing, called Darwish's perspective valuable.
"We can't lie to ourselves and believe what she describes isn't happening," he said. "A whole hate industry is operating in the Middle East."
Kamal Nawash, a Palestinian native who was raised in the U.S. and who now runs a group in Washington called Free Muslims Against Terrorism, praised Darwish's work, but said her decision to leave Islam dilutes her message.
"She left the religion and now she's trying to reform it," Nawash said. "We support her as much as possible, but the only people she can really speak to are the choir."
Still, he said, Darwish's voice is an important one no matter who listens to it.
"The Muslim community needs the controversy," he said. "For too long there has been a monopoly on who spoke for us."
For her part, Darwish said, she has made peace with her role. And she believes her father's spirit is guiding her.
"Really inside me, I think he's directing me in what I'm doing," she said. "I think my dad would be proud."
Christian enclave ties future to life outside Iraq Mon Aug 15, 2005 Reuters
By Luke Baker
ANKAWA, Iraq (Reuters) - It looks much like any other Iraqi town, until you notice the number of shops selling alcohol, the young women walking the streets at night in jeans and tight T-shirts, and the church spires.
Ankawa, a town of about 15,000 people just outside the capital of the northern Kurdish region, is almost entirely populated by Christians and has become a bastion of that declining -- some say dying -- community in mainly Muslim Iraq.
Legend says Ankawa was founded in the 2nd century by Saint Thomas the Apostle. It is one of the oldest Christian settlements in Iraq, a land that has deep roots for several Christian denominations, including Chaldeans and Assyrians.
In the early 1990s, Iraq's Christian community was estimated at more than 1 million with large populations in Baghdad, Basra and the northern city of Mosul.
But since 1991, and particularly over the past 2 1/2 years, the community has fallen into disarray. Christians are fearful religious violence after churches were bombed and Muslim militants targeted Christian-owned alcohol shops.
Many Christians have sought refuge abroad.
Father Youssef Sabri, a priest at St Joseph's Chaldean church, maintains broad connections across the Christian community in Iraq and says the numbers may now have dwindled to 600,000 or less out of a total population of around 27 million.
Far away from most of the bombs that plague the country, Ankawa has emerged as a refuge for Christians seeking to escape violence. It has also become a jumping off point for those looking to flee Iraq.
SWEDISH HONEYMOON
Around 250 families have come to Ankawa from Baghdad, Mosul, Samarra and other towns in the past year, according to Sabri, while hundreds more have left, moving to Sweden, Australia, Canada, Britain and the United States.
"People here say, 'Rather Ankawa than Baghdad'," said Father Tariq Choucha, another Chaldean priest in the town. "But what they really want is a visa to go abroad and stay there."
In Ankawa, Iraqis who have fled the violence of Baghdad can relax and plan the next stage of their journey, knowing that at least they will not have to take the dangerous road to Baghdad's airport.
As well as alcohol stores, Ankawa has several restaurants, an ice-cream parlor, an Internet cafe and antiques shops. There are two churches and three chapels.
Foreign security companies in the area have set up bases in the town, finding the lifestyle more relaxed than conservative Arbil, the region's capital. Young men and women can walk the streets together, and their dress is as relaxed as in Europe.
Because of the possibility of attack, and the presence of foreigners, security is tight but there have been no problems.
"It is a good community. We even get Arabs coming to visit," said Paulus Danha, 52, who owns an alcohol shop. Business is strong thanks to demand from the security companies and international non-governmental organizations, he said.
The town has also become richer thanks to remittances from abroad. There are 3,000 people from Ankawa living in Sweden, more than 2,000 in Australia and a similar number in Canada, according to Sabri.
Most of those who have left are young men, leaving behind a disproportionate number of young women. But rather than weakening the community, Sabri says it has worked out well.
"Now we see the young men coming back to find wives," he said, introducing a 26-year-old Iraqi now living in Stockholm and his bride-to-be, a trainee doctor from Ankawa.
While anxious about Iraq's wider Christian community, Sabri, who lived in the United States for 13 years and returned to Iraq after the war in 2003, sees some reason to hope.
"It's good for the young people for now if they are abroad and secure, but eventually I think they will come back," he said. "The community is strong and Ankawa is where their hearts are."
Despite threats, ex-Muslim speaks out
Because she has dared to speak publicly against the Islamist violence that has alarmed millions, but against which millions of others have kept silent, Wafa Sultan has suffered threats against her life.
But threats like darkly worded e-mails and phone messages might not shake Sultan. She has seen the blood, up close.
While still studying medicine in her native Syria in 1979, she and fellow students watched in horror as gunmen of the Muslim Brotherhood, an extremist group that at the time sought to undermine the secularist President Hafez al-Assad, burst into their classroom and brutally killed their professor.
"They shot hundreds of bullets into him, shouting, 'God is great!' " she told the New York Times.
The effect led her and her husband and family to leave the Middle East for America and, eventually, to lead a comfortable middle-class life as a doctor now living outside Los Angeles. But although she had repudiated her Muslim upbringing and would declare herself a "secular human being," the terror of that day at the University of Aleppo had left her with a burden to express her anger.
The Internet gave Sultan her first outlet - a Web site called Annaqed, or The Critic, run by a Syrian who now lives in Arizona. It also features posts by experts on the Middle East, such as Daniel Pipes.
That led to an invitation by the Arab news network al-Jazeera, which asked Sultan to appear Feb. 21 opposite Ibrahim al-Khouli, an Egyptian professor of religious studies, for a debate on "the clash of civilizations."
But Sultan insisted the confrontation had nothing to do with contemporary civilizations.
"It is a clash between two opposites, between two eras," she told al-Jazeera. "It is a clash between a mentality that belongs to the Middle Ages and another mentality that belongs to the 21st century. It is a clash between civilization and backwardness, between the civilized and the primitive, between barbarity and rationality."
By available accounts, al-Khouli seemed more or less outgunned. "If you are a heretic, there is no point in rebuking you, since you have blasphemed against Islam, the prophet and the Quran," he countered clumsily.
"These are personal matters that do not concern you," Sultan shot back. "Brother, you can believe in stones, as long as you don't throw them at me. You are free to worship whoever you want, but other people's beliefs are not your concern."
That was enough to boil the blood of many Islamic hardliners, but she was hardly finished.
"We have not seen a single Jew blow himself up in a German restaurant. We have not seen a single Jew destroy a church," she said. "Only the Muslims defend their beliefs by burning down churches, killing people and destroying embassies. . . . The Muslims must ask themselves what they can do for humankind, before they demand that humankind respect them.
"The Jews have come from the (Holocaust) and forced the world to respect them, with their knowledge, not with their terror," she told al-Jazeera.
It was not the first time Sultan had appeared on al-Jazeera to denounce violence in the name of Islam. She had been a guest in July for a debate against Algerian religious politics professor Ahmad Bin Muhammad about suicide bombers.
To her pointed questions about the cynicism of sending young men to kill themselves that others might die, Bin Muhammad responded feebly with hyperbolic questions about the misdeeds of other nations. He clearly was unwilling to approach the matters of his own religion's responsibilities; he never addressed them.
But it was the February appearance and her remarks about the example provided by the Jews that escalated Sultan's name on Islamic militants' hate lists.
Among non-Muslims, the response to Sultan's statements has been as mixed as it has been muted. A humanities professor from the University of California-Irvine fretted in a letter to the Times that hers is a "secularist viewpoint rather than one of an engaged, thoughtful and practicing Muslim. This makes her views suspect or worse in the Muslim world."
That is bona-fide hair-splitting. Because she is Arab, was brought up Muslim and said the Jews came off better than Muslims, and did so before one of the largest Arab audiences to be found in the world, her current religious standing instantly became irrelevant, especially where practicing Muslims are concerned.
Those who think otherwise should spend time clearing the death threats from Sultan's e-mail and voice mail boxes.
But the news may not all be dark. The transcript or video of her appearance on al-Jazeera has been viewed more than 1 million times on the Web site of the Middle East Media Research Institute, and a recent profile about her has been one of the New York Times' most e-mailed stories.
Of course, many of these accesses may have kept the pot of resentment and hatred at a boil among hard-liners. But many Muslims who take the difficult path of seeking reform in their religion also might be adding her clear-eyed and unapologetic criticism to their arguments in favor of change.
In either case, Sultan continues undeterred. She told the Times she is working on a book, which she has tentatively titled "The Escaped Prisoner: When God Is a Monster."
"It's going to turn the Islamic world upside-down," she predicts.
Stay tuned.
Ex-Muslim terrorist turns away from hate
Thursday, April 6, 2006
BY CHARITA M. GOSHAY REPOSITORY STAFF WRITER
NORTH CANTON - Only in America could a former Muslim terrorist speak at a Catholic university for a program sponsored by Jewish organizations.
On Wednesday, Ibrahim Abdullah visited Walsh University, where he shared his journey from harboring a visceral hatred of Jews to his conversion to Christianity.
Abdullah was born in Dearborn, Mich., home of the nation's largest Muslim population.
"I grew up as a cultural Muslim, but an avid Palestinian," he told the audience of more than 200. "I was born and raised to hate the Jews ... . Unfortunately, many Muslims around the world, regardless of where they live, hate the Jews."
At his parents' urging, Abdullah said he immigrated to Israel at age 18, where he joined Fatah, the main, radical arm of the Palestine Liberation Organization.
Palestinians, he noted, specifically hate America for its support of Israel and because America is seen as a stumbling block to the spread of Islam.
Abdullah said he was prized by Fatah for his American passport and his fluent English.
"I was recruited the second day I was there," he said. "I was excited. I hated the Jews. I was taught to believe they were responsible for every evil in the world. I had the same mind-set as a suicide bomber."
Abdullah was arrested by the Israeli Army, but released two weeks later on the condition that he never return.
Upon coming home, Abdullah embarked upon an intense study of Islam.
"I was captivated by it," he said, adding that he also began a four-year study of the Bible.
"I was determined to find proof the Bible was wrong."
Instead, he said he found God. Abdullah said that in contrast to the Koran, the Bible has scientific and archeological proof and eyewitness accounts.
"The more I was amazed, the more depressed I became," he said. "It took a year to go from my head to my heart. There was an 'ice block' there because I hated the Jews."
Knowing the dangers of converting to another faith, Abdullah said he initially hid his conversion from his wife, but she later converted to Christianity after her own study.
"I came to love the Jews," Abdullah said. "I love them as much as I love my own people. I came to the conclusion that we're all the same in God's eyes."
Asked whether the Palestinians' anger is justified, Abdullah replied that the Palestinians have been repeatedly used as "frontline fodder" for the Arabs' desire to destroy Israel.
"Arabs have been the Palestinians' worst enemy," he said.
Abdullah's appearance was sponsored by the Arlene Knell Education Fund of the Canton Jewish Community Federation and the university's Ed & Ruth Wilkof Jewish Studies Project.
Former Muslim: Islam causes Middle East violence By DOMINIC ADAMS
LimaOhio.com
07/20/2006

LIMA — Daniel Shayesteh knows firsthand of the fighting in the Middle East.
And he said he knows why Hezbollah militia is fighting Israel from Lebanon.
"Islam is not a peaceful religion," Shayesteh said. "We see that Islam is fighting all nations. They blame America. No, look at the Quran. Quran is saying this."
Shayesteh, 50, was born in Iran and was a self-proclaimed militant Muslim. He helped Ayatollah Khomeini rise to power and force the Shah of Iran into exile in 1979.
Israel and Lebanon have been fighting since July 12. Two Israeli soldiers were captured by Hezbollah guerillas and prompted an aggressive offensive response from the Jewish state.
"The current situation really is not the fighting of two groups of people. It's the holy war of Islam against the Jews, and it stems from the pages of the Quran," Shayesteh said. "The Quran is clearly written that Jews should be demolished, and tradition says there should not be a single Jew in Israel."
Shayesteh has been in Ohio since Monday speaking about his interdenominational organization, "Exodus from Darkness."
A converted Christian, he will speak at 9 a.m. Sunday at Shawnee Alliance Church, 4455 Shawnee Road. He also spoke in Wapakoneta and in Lima on Wednesday.
"Unless we read the chapters of each others' lives, a good relationship will not be possible in our society," said Shayesteh, who became an Australian citizen in 1991. "Let us search for the truths together. Come out from your personal zone and research other religions. You pick the best one, and I guarantee you'll come to Christ."
Ralph and Beth Miller invited Shayesteh to stay in their Lima home for two days.
The three of them discussed Shayesteh's life in Iran late Tuesday night.
"He's got a passion and his first love is the Lord, and he wants that for everyone," Beth Miller said. "I don't think we can understand what he's been through."
If Shayesteh returns to Iran, he will be executed. His mother and brothers are still in Iran.
"It makes us realize our freedoms," Ralph Miller said.

A violent ideology
The people in Iran cannot stand President Mahmoud Ahmadinejad, Shayesteh said. He said more than 95 percent of Iranians hate their government.
Iran fuels the fighting in Lebanon, and Shayesteh said Iran funds Hezbollah.
"This Iranian president is a suicide bomber," Shayesteh said. "He is just ready to die for Islam and demolish Israel."
Muslim ideology is cloaked in violence because of the status of its creator, Muhammad, Shayesteh said. He said because the prophet fought in ancient wars, the Muslim holy book seeps with violence.
Following the terrorist attacks on the World Trade Center on Sept. 11, 2001, the U.S. government vowed to eliminate terrorism and any factions that harbored the individuals responsible.
President George W. Bush focused his sites on capturing Osama bin Laden. Laden is not the problem, Shayesteh said.
"Osama bin Laden is the servant of Islam. Islam is the enemy of this country," he said. "Osama bin Laden can be changed, but Islam cannot. Osama bin Laden is just a tool in the hand of Islam."
Shayesteh was heavily involved in the Iranian Fundamentalist Revolution and taught Islamic and religious philosophy in Iran.
After Khomeini was in power, Shayesteh helped spread propaganda and gain support from other militant Muslims near his hometown of Talesh in northern Iran.
His candidacy for the Islamic parliament forced Shayesteh to be on the run for the rest of his life.
Ruling with fear
When Shayesteh attended university in Iran, he deepened his militant Muslim ideologies. Iran was in political turmoil when Shayesteh aligned himself with Khomeini.
"Anyone who followed Ayatollah Khomeini must be a radical Muslim," Shayesteh said. "We were eager to overthrow the kingdom in Iran, and to do that you have to be a militant and radical Muslim."
Khomeini put Shayesteh in charge of a revolutionary army that had a primary goal of killing all Jews in Israel and recapturing the Holy Land for Arabs.
Shayesteh then began spreading propaganda and training young Muslims.
"That was our main goal to mobilize all the boys and girls of the country and to teach them the terrorist actions," Shayesteh said. "You have to terrorize Christians and Jews by frightening them. By killing them, you can take Islam to the countries and to the rest of the world.
"Islam is a harsh religion. There is no peace in Islam."
However, when questions crept into his mind, Shayesteh wanted to discuss them in parliament.
He was silenced, sentenced to death and thrown in jail for six months.
A friend released him and he fled to Turkey in exile.
"Islam does not believe in freedom and democracy. You have to blindly follow the leader," Shayesteh said. "If you criticize Islam and Muhammad, your fingers should be chopped first and then your head."

Reluctant convert

Once in Turkey, Shayesteh began visiting a Christian church that was harboring Iranian refugees.
He only went there because there were people there in his situation. He was not interested in Christianity.
"We as Muslims were always taught, 'Do not touch Christians. They were impure,'" Shayesteh said.
He returned to the church week after week and grew interested in its message. Christians preaching respect of their enemies amazed Shayesteh.
One night he had a dream and Jesus spoke to him, he said.
He was in his father's house. There were people dying around him, and he was scared to leave the house.
The next week's sermon spoke of what Shayesteh dreamed.
"He said, 'Come out of your father's house, which is the house of killing, of revenge and of pain and live in the house that Jesus has built for you,'" he said. "It is a house of absolute joy, of freedom and peace."
Shayesteh has been spreading the word ever since.
The Journey From Hate to Love:
A Former Terrorist Speaks Out
By Yitta Halberstam
Jewish Action
March 20, 2007
People would rather believe that Walid Shoebat is an undercover operative working for (choose one): A. the Arabs, B. the Israelis, C. the Americans, than what he is in reality—a former PLO terrorist who repented, converted to Christianity and now travels throughout the United States, Canada and England, advocating for Israel and the Jewish people, on his own initiative and at his own expense.

Tragically, we can more readily believe in people's capacity for evil than in their capacity for goodness and change. A Charles Manson we can accept as flesh-and-blood reality, but a Walid Shoebat makes us wonder if he's genuine.

I first learned about Shoebat from—where else?—the Internet. An online magazine published a report on Shoebat's successful forays onto troubled college campuses where turbulent clashes among Arab and Jewish students had taken place. In September 2002, Binyamin Netanyahu, former prime minister of Israel, had been forcibly blocked from delivering a scheduled speech at Concordia University in Montreal by Muslim students, but Shoebat's pro-Israel speech on the same campus in March 2004 went off without a hitch. Perhaps the Arab students were seized by the same insatiable curiosity as everyone else, with the oddity of a reformed PLO terrorist piquing more interest and astonishment than ire. Certainly, those were my reactions.

I tracked down Shoebat and learned that by chance he would be in the New York area, where I live, within the week. We made arrangements for me to sit in on two different speeches he would be delivering to Jewish audiences—at the Hebrew Academy of Nassau County high school on Long Island and at Lincoln Square Synagogue in Manhattan.

Shoebat is short and wiry, dark haired and olive skinned, intense, edgy, with flashing brown eyes that alternately narrow in scrutiny, grow soft in sorrow, or blaze in anger. It's hard not to feel the tug of his personality pull you into his orbit.

He opens his talk at HANC with a dramatic flourish. "I come here today to confess to you —like an alcoholic confesses in AA. AA states that confession is the beginning of healing. I come here today to confess to you that I once was a PLO terrorist. One day, I hope that I, too, will be completely healed."

Shoebat was born in Beit Sahour (a village just outside Bethlehem), the grandson of its Muslim mukhtar (chieftain). Shoebat's wealthy grandfather was an intimate of Haj Amin al-Husseini, the grand mufti of Jerusalem, who was notorious for forging alliances with Adolf Hitler. His family members—at least from his father's side—had been prominent landowners in the area for generations, and were securely ensconced in the life of their community. But the DNA that Shoebat inherited from his mother was altogether different, and perhaps ultimately accounts for the dramatic U-turn his life has taken in the last ten years.

"My mother's saga eerily resembles the storyline of the Sally Field movie Not Without My Daughter," Shoebat tells both audiences. "She was an American and a Christian, the daughter of the mayor of Eureka, California. She met my handsome, irresistible father in the mid-1950s at Humboldt State University where both were students. She fell prey to his charm and became pregnant with my sister. Abortion wasn't legal then, but it also wasn't an option she would have considered anyway. She was utterly infatuated with my father, and so she married him. Her first mistake," Shoebat adds wryly.

"My mother didn't know anything about my father's religion, but willingly agreed to convert to Islam. She gave birth to my sister and brother here in the United States, and was pregnant with me in 1960 when my Palestinian grandmother fell ill. She accompanied my father on what she believed would be a short trip to Bethlehem to visit his ailing mother. That was her second mistake. She remained trapped there for forty years. You know the song 'Hotel California'? The lyrics say 'You can check out … but you can never leave'? That's the way it was with my mother. My father took away her American passport, and his family conspired with him to keep her a virtual prisoner inside their ancestral home. My mother made repeated attempts to escape, but each time they were foiled."
Shoebat's mother was consigned to the kitchen, together with the other women of the household (the entire extended family of aunts, uncles and cousins lived under one roof), and Shoebat's father took charge of his sons' education. Shoebat was enrolled in a Jordanian-run kindergarten, where, at the tender age of five, he learned his first nursery song: "Arabs are Beloved, Jews are Dogs."

Shoebat begins crooning in a soft, sweet voice the Arabic nursery songs he was taught at school. These are gentle melodies—the lulling notes of the universal nursery song. But when Shoebat translates the lyrics into English, chills run down my spine.

"Sharpen my bones and make them swords.
I come in the name of death. Kill all the Jews;
Your blood is kosher to us."

"My people don't know that your nursery songs are only about peace and love," Shoebat tells the audience. "Our songs and our days, are filled with hatred. You Jews have been painted as monsters; your rabbis portrayed as people who dip matzah into our blood."

Shoebat's mother tried on occasion to enlighten her son about "the outside world," but she was rarely given an opportunity to spend time alone with him. Her rights, both as a female in an intensely patriarchal society, and as a mother, were severely restricted. In a traumatic episode that Shoebat still recalls with a shudder, his mother finally gave vent to her frustration at being ignored.

Shoebat's mother rarely saw or interacted with her husband; by day he worked as a principal of a Muslim school, and in the evenings he incessantly played backgammon with the other men of the household, oblivious to her needs and lack of company. One evening, she angrily approached the group of men huddled over the table intent on their game, grabbed the backgammon set and hurled it to the floor, where it broke into a hundred little pieces. Shoebat's father beat her with a hammer until blood gushed from her head. Shoebat, then eight, grabbed his mother's arm and ran outside with her, looking for help, but local residents refused to get involved in a marital dispute. Finally, the two fled to a church, where the nuns stitched her up and sent her back home.

When Shoebat was ten, his mother made her first serious attempt to escape. Over the years, she had concealed a growing cache of money in the hollowed portion of a towel rack. Flight was perpetually on her mind, but opportunities were limited: She was constantly being watched by the other females of the household and, as the only American woman in her village, was regarded with suspicion and hostility by the neighbors. There was no one to whom she could turn for help.

But one fateful day when circumstances augured well for a safe passage to West Jerusalem, she fled with her children to the King David Hotel, where she stayed overnight. In the morning, she headed to the American consulate, where she knew she could find sanctuary. Her heart expanded with thanksgiving and joy as the building came into view, haven only a few feet away. Giddy with relief, she advanced quickly, and then she saw them. Lined up in front of the consulate gate was a platoon of her husband's family members, waiting grimly. Before she could dart into the refuge the consulate would have provided, the men snatched her and dragged her away. There would be many subsequent attempts to escape after this one, but it would be another thirty years before Shoebat's mother would finally be free.

"And so I rarely had access to my mother," Shoebat says. "My education was mapped out for me by my father, and the hatred of the society in which I lived was my reality. Because of that education—the same education that all Palestinian children are given today—I was brainwashed with tremendous hatred for the Jew. Not the Israeli, the Jew. As a result, I refused to believe that the Holocaust had really taken place; I was sure it was a fabrication. I used to watch the Holocaust shows on Israeli television and roar with laugher. I wondered where they found those skinny actors to portray the victims."

By the time he was fourteen, Shoebat was already the successful product of this indoctrination, well on his way to becoming a martyr for the cause. He threw Molotov cocktails at Israeli soldiers, hurled stones at Jewish worshipers at the Wailing Wall, joined in anti-Israel riots and demonstrations and participated in the near-lynching of an Israeli soldier in Bethlehem. The gratuitous violence was propelled by the teachings of Islamic eschatology, Shoebat explains—the concept that the "end times" could not be ushered in until all the Jews were killed. "Among the phrases drummed into our heads was the prophecy: 'The day of judgment shall not come to pass until the tribes of Islam defeat the tribes of Israel. And it was asked of the prophet where will this be, and he said Jerusalem and its neighbors.'"

At fifteen, Shoebat was already serving time in a Jerusalem prison. Ironically, it was there that he was inducted into the PLO, and immediately upon his release, he began working with Fatah bomb makers. He was given his first mission when he turned sixteen: Destroy the Israeli Bank Leumi in Bethlehem. He was instructed to take a loaf of bread filled with explosives, smuggle it past the Israeli checkpoint and place it in a garbage can outside the bank. "But when I got to the bank, I saw Arab children playing nearby, and I was afraid to hurt them. So instead I hurled the bomb onto the roof of the bank, where it exploded with a deafening noise. When I saw black smoke pouring out of the bank, I fled."

Later Shoebat would learn that no one had been seriously hurt in the incident, and much, much later he would rejoice in the fact that there was no real blood on his hands—neither Arab nor Jewish. But still the episode left him shaken and depressed. "It was my first major terrorist attempt, and also the first time I encountered the possible consequences of my deeds," he recalls. "Up until then, I didn't really think about what it means to kill. I didn't enjoy what I did, but I felt compelled to do it because it was my duty. How else was I going to go to heaven and bring salvation to my family?"

Shoebat's initial twinges of disillusionment with the PLO came after a second unsettling episode. In this instance, he was told to place a bomb in a certain spot at precisely noon. The time was emphasized repeatedly by his superiors. Shoebat wondered why the exact time was so important, and, following a hunch, he flouted orders and placed the bomb at the assigned target a few minutes earlier. Then he hid nearby to watch. The bomb exploded—at precisely noon. He had not volunteered, nor had he been told, but had he followed the instructions he had been given, he would have become a suicide bomber.

Alarmed at the violent path his son was treading, Shoebat's father, who deeply valued education, shipped him off to America, where at the age of eighteen he was enrolled at Loop College in Chicago. There, he continued his activism, albeit in a somewhat different form. He recruited for the PLO on campus, raised funds, organized rallies and served as the college representative of thousands of Palestinian students in the Chicago area.

In an eerie echo of his father's youthful experiences, Shoebat proved irresistible to his female classmates, and began a relationship with an American student. Shoebat assumed that she, like his own mother, was a Christian with no real ties to her faith. The woman was so smitten with Shoebat that she constantly prevaricated about her background. Her religion was meaningless to her, but she knew it would be of tremendous significance to him. She didn't want to lose him—so how could she tell Shoebat that she was Jewish?

Six months after the couple married, Shoebat's new wife took him to visit her aunt, who lived in Chicago. Shoebat was stunned to see a mezuzah affixed to the doorpost. His wife's elusive family history—her secretive manner, her constant equivocations, her clearly contrived vagueness—suddenly made sense. "You're Jewish, aren't you?" he spat out at her. Hoping that their six months together had cemented their relationship, she admitted the truth. To Shoebat, however, her "sin" was unforgivable. At home, he beat her, and the next day, he filed for divorce.

Despite his residency in the United States for the next fifteen years, his exposure to American values and a pluralistic society, and despite his own unwitting marriage to a Jewish woman, Shoebat's hatred for the Jewish people continued to run deep. Aside from his first wife, Shoebat actually had no experience with either Jews or Israelis; he had never interacted or even talked briefly with them. But hatred isn't rational. Still, the keen intelligence that had saved him from becoming a suicide bomber also led to a natural curiosity that was hard to contain. When in 1991, Shoebat found himself seated next to a religious-looking Jewish woman on an Air France flight from Paris to Israel, he decided to seize the opportunity and engage in discourse with the "enemy."

"Hi, my name is Bill, and I'm from Dallas," he dissembled, mimicking a Texas drawl. "This is my first trip to Israel. Where are you from?"

"Oh, I'm an Israeli," the woman answered politely.

"Really?" he leaned forward eagerly. "What's it like living in Israel? I hear you guys like to oppress Arabs; is that true?

"Oh, no!" the woman protested. "That is not true at all." And then she began to cry.

"Why are you crying?" Shoebat asked.

"My daughter is in the army," she said.

"So how would you feel if your daughter killed Arabs?" he asked.

"I would hate it if my daughter had to kill anybody," she answered. And then she cried some more. "But I'm so worried that they will kill her."

What kind of Jew are you? Shoebat remembers thinking during the dialogue. You're not the Jew I learned about.

Shoebat never told the woman that he was in fact a Palestinian and that this was his first conversation with an Israeli. He doesn't remember her name, and he is sure that she in turn attributed little significance to their talk. But for Shoebat, communicating with and connecting to an Israeli humanized the enemy. "This discussion affected me tremendously, and softened my heart," Shoebat recalls. "It conflicted with the notion of the Jew as monster that I had been taught all along." A seemingly inconsequential conversation that reverberated with profound aftereffects helped shape the beginning of Walid Shoebat's transformation.

The first stirrings began almost as soon as he deplaned and was met at the airport by his uncle. During the car ride home, Shoebat suddenly became aware of the fact that anti-Israeli and anti-Semitic graffiti was splashed on every single building, sign and wall that they passed.

When my family learned of my conversion I was denounced as a traitor and immediately disowned."Uncle!" Shoebat exclaimed in dawning recognition. "Do you realize that there is not one square mile here that isn't plastered with hatred? Why is there so much graffiti everywhere?"

And then, abruptly, he stopped himself. "Why am I asking you this? I'm the one who used to write it!"

Later that week, the crack in his armor of hatred would widen, as he witnessed an incident that was commonplace in Hebron—an incident that he previously would have been oblivious to, or simply dismissed. "I watched an armored bus of Jewish passengers drive through the streets of Hebron on its way to the settlement of Kiryat Arba. There was wire mesh around the outside of the bus, and the passengers looked like they were inside a cage. When the bus stalled for a minute, Arab women on the street starting throwing large rocks at it. For the first time in my life, I felt anguished by our treatment of the Jews. This is not right, I thought. Jews have to travel like caged animals to their homes and we travel freely about and without fear. How can the Jews live like this? People shouldn't have to travel and live like this! Who's treating whom badly? For the first time, I watched with different eyes. This incident affected me a lot."

But the real breakthrough for Shoebat occurred in 1993 when he was back in the United States, living in California: He met his second wife.

Maria wanted to marry Shoebat, but she wasn't pliable or easily influenced when it came to changing faiths. Shoebat asked that Maria convert to Islam, but she was from a Catholic family and reluctant to abandon her religion. Instead of complying with Shoebat's dictates, she challenged him theologically. What made him so sure that Islam was the true religion? Had he ever actually read the Bible? No? Just the Koran? So how could he eschew the teachings of the Bible when he didn't even know what they were?

"I set out to convert her," Shoebat says with a laugh. "But what happened was that she converted me instead. Maria challenged me to read the Bible and find mistakes and inconsistencies. I claimed that the Jews had corrupted the Bible and were prophet-killers. 'Prove those claims,' Maria said. So I purchased my first Bible [the King James Edition] to show her the contradictions and corruptions introduced to it by the Jews. I did not begin my Bible study for pure reasons. It was pure selfishness that motivated me: I wanted to convince my wife to become a Muslim. But as I read the Koran and the Bible side by side, I was struck by the discrepancies between them. The Koran was a holy work, the foundation of our religion, but it was filled with hatred. The Bible, on the other hand, overflowed with kindness and compassion. I also began to understand the spiritual link between the Jewish people and their land. I was surprised to see their deep connections to Israel mentioned throughout and at the very beginning of the Bible. As a Palestinian, I had always been taught that Israel was ours—that the Jews had expropriated it from us. But after reading the Bible, I saw this was patently false. I had also been taught in school that Abraham, Jacob and Moses were all Palestinian Arabs.

"After I finished poring over the Bible, I began to study the Prophets and was startled to read thousands of ancient predictions that I knew had already come true—many of them had come true in my own lifetime. And I asked myself: How could it be that Allah is the true God if the Six-Day War in 1967 resulted in the greatest victory for the Jews since Joshua's encirclement of Jericho? And how do I explain to myself that Muslim conquests have always been filled with rape, pillaging and massacres, but in contrast, Israel's victories have only brought freedom for all people and religions?"

A few months later, Shoebat was baptized and became a Christian. The reverberations—at least within his own family—were irrevocable and profound.

"Converting to a different faith from Islam is considered an act of apostasy punishable by death," Shoebat says. "When my family learned of my conversion I was denounced as a traitor and immediately disowned. The land in Bethlehem I rightfully stood to inherit was taken away from me. My brother made death threats, and I was warned never to set foot in Beit Sahour again. Islam allows no rights [whatsoever] to born Muslims who leave the faith—including the right to life.

"To compound matters," Shoebat says, "I didn't merely become a Christian. I became an evangelical Christian, a Christian Zionist."

Upon his conversion, Shoebat embarked on a path of reconciliation, experiencing deep regret for his past actions as well as anger toward those who had indoctrinated him to carry them out. He remains haunted by the memory of the young Israeli soldier he almost lynched, and wishes he could find him and beg his forgiveness. His only clue to his identity is the name "Amnon," which he heard another soldier call him. "If I could find Amnon, I would beg him to understand that I underwent an educational occupation of hatred, which brainwashed my mind to hate Jews. I would say: 'We were crazy and blinded with frenzy. Please forgive me and become my brother.' I truly want to do teshuvah [repentance]."

Meanwhile, although he hasn't yet found Amnon, Shoebat is busy making amends in myriad other ways. "When I finally realized the lies and myths I was taught, I felt strongly that I must speak out. The Jews don't speak up as much as they should, so I try to do it for them. I want to fight for Israel both from theological and political perspectives. Israel is a small state, and the Muslim world is a giant. My personal goal is to give strength to the Jewish people, to give them encouragement. I had a change of heart, and this is the way I atone."
Shoebat has become a one-man pro-Israel campaign, traveling across North America and England, delivering passionate speeches to Christian and Jewish audiences. His aim, he says, is to build a "grass-roots movement like Martin Luther King." He is particularly interested in going to universities and facing down the Palestinian students. At Concordia University in Montreal, Shoebat confronted his own cousin in the audience—Samer El Tarash, the Palestinian student leader who had successfully instigated the riots that blocked Netanyahu from delivering his speech there in 2002.

"My cousins remain passionate Palestinian activists," he says. "One cousin ran his taxi into a Chicago synagogue several years ago. Another cousin was on his way to Ben Yehuda Street with a bomb when he was intercepted by Israeli soldiers and killed. That night, my aunt—according to the dictates of our society—distributed candies to the other women in her town, in celebration of her son's martyrdom. But at night, alone, she wept.

"I, too, thought I would die as a martyr. But now it may be for an entirely different cause that I will die…. There is a ten-million-dollar bounty on my head. I don't know how long I will last. Yes, I am afraid. But I feel it is my duty and my mission to seek justice for Israel and the Jewish people. Eventually, I hope to go back to Israel and to live there, and to establish a program for the Palestinians, to un-brainwash them. This is essential if there is ever to be peace in the region.

"The occupation is not that of Israel occupying the land," Shoebat says. "The true occupation is of the minds of the Palestinians, who are taught hatred.

"I am still a terrorist," Shoebat says with a laugh, "but now I terrorize intellectually instead of physically.

"Don't ever think that you can't make a difference," Shoebat tells the HANC students gently, as he winds up his speech. "That you're only one person, that you're not gifted enough. Moses was a stutterer who couldn't even speak. I didn't know how to speak either, when I first started on my crusade. What's important is to believe in what you're doing, even if the whole world tells you you're wrong. Noah warned his society of the impending flood, but they laughed at him.

"He lived. They drowned."

"Yes, I've lost my entire family," Shoebat states sadly. "But," he says bravely, pointing to the members of the audience, "look how much family I've gained instead."
Committee for Ex-Muslims to be launched in the Netherlands on Tuesday
By The Associated Press
9-10-07
A Dutch organization for Muslims who renounce their religion will be launched on Tuesday, joining similar groups that have sprung up around Europe.

The groups hope to add a new voice to the debate about - and within - Europe's Muslim communities, presenting themselves as diametrically different to the disenchanted and sometimes violent youth who grab headlines, or to immigrants who live cloistered among their own.

Instead, they seek recognition from the Muslim mainstream for freethinkers, empowered Muslim women, homosexuals and those who want to renounce their religion without fear.
Under some fundamentalist interpretations of Islam, apostasy is forbidden, or is a heresy punishable by death.

"We want to support people who want to change their religion, but their parents, their society have them clasped in it and won't let them out," Ehsan Jami, 22, said in an interview with The Associated Press on Monday. "They would realize that they are not standing alone."

Jami knew he was making himself a target for radical Islamists when he decided to launch the Committee for Ex-Muslims. Five months and three physical assaults later, his organization is officially being launched,

The latest attack on Jami last month, when he was struck and pushed to the ground at a shopping center by three youths, was widely publicized in the Netherlands. The assailants were arrested, but Jami was forced into hiding, and receives police protection.

He said an earlier attack was even more dangerous, when he was surrounded by a large group of youths at night and had a knife held to his throat.

He had anticipated death threats, he said, but had not fully appreciated what they meant.

"It's like the death of family," Jami said. "You know it will come, but you don't know how much pain it will bring."

Leaders of ex-Muslim groups from Germany and England plan to attend Tuesday's launch, before meeting the European Commission in Brussels on Wednesday.

"Very clearly our intent is to break the taboo within Islam against renouncing religion," said Maryam Namazie, who in June founded The British Council of Ex-Muslims.

"The first step is making it easier to do that. You could compare it to when the first gays came out of the closet," she said.

Other groups have formed in the Scandinavian countries. Altogether, the European groups have total membership of no more than several hundred.

"But the ex-Muslims say they are determined to show that not all people from Muslim countries are religious," said Arzu Toker, vice president of Germany's Council of Ex Muslims, the first and largest of the organizations.

"If we don't show it, many people (in the West) will think 'all these people are just the same,' and that's simply not true," she said.

Toker, a Turkish-born journalist, says membership in Germany has grown to more than 100 from 18 founders in January. "Hundreds more have written to show their support, but are unwilling, unable or afraid to join."

Akbar Ahmed, who chairs the Islamic Studies department at American University in Washington, said the advent of such groups is not surprising.

"Expatriates may be intellectually questioning, given the freedom they have from being abroad," he said. "A few may decide they are fed up with Islam - others become much more vigorously Islamic"

He gave the example of Muslim girls living in the West who wear veils, but never would have done so in the country they immigrated from.

"It is wrong to say Islam endorses killing apostates, though some of the Hadith, or sayings attributed to Mohammed, appear to endorse it - when taken out of context," he said.

Salima Belhaj, who is not a member of Jami's group, says she has been branded as an apostate because of her modern lifestyle. "It's others who decide that I'm an ex-Muslim, because I wear short skirts or don't go the mosque and drink a glass of wine now and then," she told the newspaper Trouw.

She said she still considers herself a Muslim, but "I don't think that others should decide how I live my life. As I see it, Islam is something between you and God."

Ayaan Hirsi Ali, a Somali-born Dutch lawmaker who abandoned Islam and lived under threat for years for her provocative criticism of fundamentalism, said she was shocked by the attack on Jami.

"The rule of law, the basis of a state with civil liberties, is hollow if it becomes dangerous to do your shopping," Hirsi Ali said in a statement from the United States, where she took up residence last year after quitting the parliament.
Mosab Hassan Yousef, son of Hamas leader, becomes a Christian
The son of one of the most revered leaders of the Palestinian Islamist group Hamas has renounced his religion to move to America and become an evangelical Christian.
By Catherine Elsworth in Los Angeles and Carolynne Wheeler in Ramallah
24 Aug 2008
Telegraph.co.uk
Mosab Hassan Yousef, 30, said that his decision to abandon his Muslim faith and denounce his father's organisation had exposed his family to persecution in his home town of Ramallah and endangered his own life.
But despite the cost, Mr Yousef told The Daily Telegraph that he is convinced that speaking out about the problems of Islam and the "evil" he witnessed back home would help to address the "messed-up situation" in the Middle East and one day bring about peace and enable him to return.
"I'm not afraid of them, especially as I know that I'm doing the right thing, and I don't see them as my enemies," he said. "I do think about this a lot. But what are they going to do? Are they going to kill me?
"If they want to kill me, let them do it. I'm not going to stop anyone. It's going to be my freedom.
"My soul's going to be free of my body, not flesh any more."
Mr Yousef, who is known as Joseph by friends at the Barabbas Road church in San Diego, California, arrived in America 18 months ago but only recently made "the biggest decision of my life" to go public with his conversion to draw attention to how the Palestinian leadership is "misleading" and exploiting its people.
"Palestinians look really ugly in front of everybody in the world and they are very, very good people ... they are misled, and their picture is very dark because of this leadership.
"They need some help, they need people to stop lying to them, and lying to the world."
Mr Yousef was raised as a Muslim by his politically powerful family. His father, Hassan Yousef, a highly respected sheikh born in the West Bank town of al-Ghaniya near Ramallah, is a founding member of Hamas, whose military wing has instigated dozens of suicide bombings and other attacks against Israel since it was formed in 1987.
Hamas now governs the Gaza strip after ousting the more moderate Palestinian Authority led by Mahmoud Abbas, whose administration now only controls the West Bank.
Mr Yousef said that the decision to leave the home he loves and his family including five brothers and two sisters had made life hard for them.
"They are definitely suffering because of what I've done," he said. "They are not a regular family, they are a very famous family, and Muslims around the world praise my family, praise my father. So when I came with a step like this, it was impossible to think about, it was crazy.
"I knew from the beginning my family would face an impossible situation. It wasn't their choice but they have had to carry it with me. It's difficult for my mother, she's crying all day long. Every time I talk to her, she's crying."
His mother, Salsabin, told The Daily Telegraph that she and her children were "in daily contact with Mosab" but she declined to comment further on his new life.
Mr Yousef said that his father, who has spent more than a decade in Israeli jails for his involvement with Hamas, was in prison when he "got the worst news in his life" - that his son had become a Christian and left Ramallah. "But at the same time he sent me a message of love.
"Everybody is asking him to disown me. You understand if he disowns me he will give terrorists a chance to kill me. "He loves me as a son and he believes that what I've done was something I believed in, but at the same time it's very difficult for him to understand and he won't be able to understand."
Many saw him as heir apparent to his father, who retains great influence both within Hamas and in Palestinian society, winning election to the Palestinian Legislative Council in January 2006 from his prison cell.
But Mr Yousef said that his questioning of Islam and Hamas began early. His father, a pragmatist who has even suggested Hamas would be willing to talk to Israel under certain conditions, would often accept his concerns, such as the targeting of civilians.
Mr Yousef said that his doubts about Islam and Hamas crystallised when he realised not all Hamas leaders were like his father, a moderate who he describes as "open-minded, very humble and honest".
Mr Yousef said that he was appalled by the brutality of the movement, including the suicide bombers seeking glory through jihad.
"Hamas, they are using civilians' lives, they are using children, they are using the suffering of people every day to achieve their goals. And this is what I hate," he said.
It was after a chance encounter nine years ago with a British missionary that Mr Yousef began exploring Christianity.
He found it "exciting", he said, and began secretly studying the Bible, struck by the central tenet "love your enemies".
Nevertheless he does not advocate the "collapse of Islam", but rather for people to acknowledge that after 1,400 years "it's not working any more".
He said: "It's not taking them anywhere. It's making them look ugly."
He hopes that Muslims will begin to question their religion and "fix it" by rejecting the parts that call for "killing others, cutting hands, cutting legs, torturing people and asking for destruction of entire civilisations".
He said that after he converted to Christianity, he decided he had to escape and "live my life away from violence because I couldn't coexist with that situation as a Christian."
"I was thinking, what is my responsibility now? To see people dying every day or to stand up and say, this is wrong, this is right and be strong about this? So I had to make this move."
He plans to write a memoir about his "transformation" that he hopes will inspire others and to found an international organisation to educate young people about Islam and preach a message of "forgiveness", the only way he thinks "the endless circle of violence" between Israelis and Palestinians can be broken.
"I know this take a longer time, but this is the right way to do it, to build a new generation, a new generation who understand how to forgive, how to love."
It is a vision his new church shares. In a posting on the Barabbas Road website entitled "Joseph's story", the most unlikely member of the congregation is described as "a miracle" who left a society steeped in "brutal and bloody warfare" and instead "turned to Jesus".
"He is most certainly the face of things to come; an Ambassador to those oppressed by Islam. He is passionate about liberating his brothers and sisters from the darkness of a false religion, and living the truth that Jesus is the Way, the Truth, and the Light."
Back in the West Bank, however, many are distressed about his move.
"It is upsetting not only to his community and to his family but to all Muslims," said Abdel-Jaber Fuqaha, an Islamist parliamentarian and friend of the family who described Mr Yousef as "a straightforward, observant Muslim".
"But the worst impact is on his family, and his father. This is a thing that is more unique to our Middle Eastern culture. It is the most difficult thing, to convert from one religion to another."
He suggested that Mr Yousef may have been pressured into conversion in exchange for financial help or permission to stay in the US, given his background - allegations Mr Yousef rejects.
"I didn't come to Christianity for money, I came to Christianity because this is the way we can live a better life," he said.
"I love my people. They have the right to live like any other nation on Earth. But at the same time, I want to help them [get] on the right track."