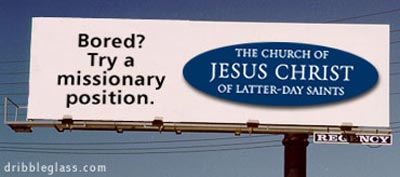 LDS PUBLIC RELATIONS ADVERTISEMENT GONE BAD!
Calendar pokes fun at Mormon mom stereotype
By JENNIFER DOBNER (AP)
October 28, 2009
SALT LAKE CITY — The latest installment of a calendar series that pokes fun at Mormon stereotypes is putting a twist on motherhood.
The "Hot Mormon Muffins: A Taste of Motherhood" calendar features 12 mothers who claim membership in The Church of Jesus Christ of Latter- day Saints in vintage pinup picture poses. Each month also has a muffin recipe.
It's a companion piece to "Men on a Mission," the three-year series of calendars that featured 12 male church missionaries who doffed their signature white shirts.
Last year, a dustup over the calendar ultimately cost its creator, Las Vegas entrepreneur Chad Hardy, his membership in the church and his diploma from the church-owned Brigham Young University.
Hardy said the projects are designed to shake up stereotypes that paint Mormons in general as stuffy or hyper-conservative and mothers in particular as homemakers from another era.
"For Mormons, the most holy calling next to missionary work is motherhood," said Hardy. "But they're not all the subservient housewives that people think they are."
Church spokeswoman Kim Farah declined to comment on the calendar Monday.
On paper, Miss May and cover model Tami Roberts seems like she might fit the stereotype.
A lifetime Mormon, the 35-year-old woman from Idaho Falls, Idaho, has been married 17 years to a Mormon man and has three daughters, ages 11, 9 and 4. The family attends church, and Roberts said she's raising her kids with Mormon values.
"I also want them to be open, accepting of other people, know that everybody is not the same and that it's OK to make your own choices," said Roberts, who works as a restaurant server and confessed to having a few tattoos, generally considered taboo among Mormons.
Roberts said her turn as a calendar model was an accident. Last year, she read news reports about Hardy and his disciplinary problems with the church and BYU.
"That made me mad, I did not agree with that," said Roberts, who applied for the job on a whim after she heard a women's version of the calendar was in the works.
She said the $15.95 calendar's pinup poses and slightly revealing outfits aren't in keeping with the message of modesty promoted by the church, but she's not ashamed of the pictures.
"The pictures are tasteful, and it's fun. I don't see why people can't have a sense of humor," she said. "I just don't think it's a big deal."
The women featured in the calendar range in age from 26 to 53. Some have as many as four children. Several are stay-at-home moms, while others are students, real estate agents, cosmetologists and dance instructors. One is a former Miss Utah and another is a breast cancer survivor, according to biographies on the calendar Web site.
Hardy and a business partner created the first "Men on a Mission" calendar for 2008. The 2009 version drew the attention of the church, and Hardy was excommunicated in July 2008 after a church court.
Hardy participated in graduation ceremonies at BYU in Provo a month later, but his diploma was withheld. He lost an appeal of the decision in March.
Leaders in Las Vegas and a dean of students at BYU said the calendar was not in keeping with the values espoused by the Mormon church.
Utah struggles to combat its dull image
Staff and agencies
23 July, 2006
By BROCK VERGAKIS, Associated Press Writer 39 minutes ago
SALT LAKE CITY - Tourists love Utah's ski resorts, red rock formations and fine restaurants. It's finding something to do once the sun sets that's giving the state an image problem.
Tourism is a growing $5.45 billion industry in Utah, but its domestic market share has steadily shrunk in the past decade, even following the 2002 Winter Olympics .
Leigh Von Der Esch, the office's executive director, knows it can take years to change perceptions. The tourism office has started an $11 million advertising campaign, focusing on attracting affluent outdoor adventure-travelers and educating them about local nightlife once they're here.
"We're the first to say Salt Lake has excellent bars and restaurants throughout the city. They are just not in a densely populated area," he said. "We feel that is definitely a drawback to the Salt Lake experience."
Salt Lake City Mayor Rocky Anderson wants the restriction in Utah's most-visited city lifted. He said the perception is that tourists have to go to Park City — about 25 miles away — to have fun.
During the day, downtown bustles with people. By 6 p.m., its wide sidewalks are often empty and many businesses are closed.
"We do have lots of bars and nightlife, but you have to look a little bit for it. It's a challenging condition," said Councilman Soren Simonson. "If we're truly going to welcome the world, we have to let people make their own choices about alcohol consumption."
The Utah Office of Tourism commissioned the image survey to understand how the state compares with others. The results weren't good.
Utah scored poorly on cultural activities and nightlife.
Faithful church members don't drink, smoke, or consume coffee or tea.
A report last year by The Salt Lake Tribune showed about 62 percent of the state's population is Mormon, although the church contends the number is closer to 70 percent. Most of the state's leaders, including Gov. Jon Huntsman, are Mormon.
The state Legislature passed a law this year to ban smoking in bars beginning in 2009. There was discussion at the time of revisiting the state's liquor laws, which include a tax on full-strength beer and a requirement that bar visitors must be a member or a member's guest. Becoming a member involves a fee and a few minutes of paperwork.
"It's a slap in the face to tourists when they walk into a club and the first thing they're hit with is the question of whether they're a member and requiring they provide all this personal information and pay a fee to even get in the door," Anderson said.
The liquor law issue didn't make the cut for items legislators would study leading up to the legislative session that begins in January.
For all the debate, some, like Councilman Dave Buhler, see no problem in Salt Lake City.
"Compared to everywhere else in Utah," he said, "we certainly have a lot more going on in our downtown."