Mormon Football Hypocrisy
Cougar fan swindles elderly woman, says BYU Police

Fox News
May 3, 2010

PROVO, Utah - Brigham Young University Police say Donald Savage, 52, charmed his way into an elderly woman's life after first meeting her at a LDS church singles dance. Savage was allegedly using her credit cards for his own personal enjoyment, one of his purchases being a $3,600 payment to become a member of the Cougar Club at BYU.

"We determined that Mr. Savage had met this lady at a singles dance, a Mormon singles dance befriended her, and kind of groomed her and gave her some excuses that he needed some money," says BYU Police Lt. Arnold Lemmon.

Police say Savage took advantage of her and the victim had no idea he was using her until she looked at her credit card statement.

The 74-year-old woman told detectives she allowed Savage to use her credit car to make small purchases like groceries and car repairs.

Police say it started with small purchases at first, but the expenses crept up and the size of the purchases ballooned. Savage was said to have bought blocks of BYU football tickets. It was nearly a year later that the woman sought help.

"In this particular case he was very very smooth, used the LDS culture kind of thing, they would read scripture, things like that...it's one of those where before she knew it, she was a victim," says Lemmon.

Lt. Lemmon says the victim is an intelligent and prominent Mormon woman in the community.

Savage was initially arrested for fraud, but prosecutors decided that it was too lenient, given the victim's age. They increased the charge to a second-degree felony of elderly abuse.

Nice Guys (Don't) Finish Last
Religion, football, and being generally awesome.
The Harvard Independent
February 18, 2010
By COLLEEN BERRYESSA

It should come as no surprise to anyone that I'm about to again proclaim my love of the San Francisco 49ers. How do I love them? Let me count the ways.
I love the Niners like peanut butter loves jelly, like a monkey loves bananas, like Kanye West loves the spotlight, like Britney loves a good comeback — yes, it runs that deep. As a diehard Niner fan, apart from crying myself to sleep over the last handful of seasons, I worship our classic players and the turf they walk on, fake or not.
One of these players is the great Steve Young, who has a very special relationship with my family. My mom sat next to him at a Warrior's basketball game in the '90s — she still talks about it to this day, and who can blame her? And as I said in my last article, my dad dressed me up as Steve Young for Halloween when I was six (yes, I have pictures). Yes, we're obviously very tight with the Youngs. And aside from being generally awesome as well as a hall-of-fame quarterback who won '95 Super Bowl, and having the highest QB career passer rating of all time (96.8 — those were the days), Steve Young is also known for his dedication and fervor off the field— to his religion. And he's just generally a really good guy. You look at the league now, and it seems to be filled with players like Michael Vick and Ray Lewis (shudder). And O.J. Don't even get me started on O.J. It's not that often that you find a professional athlete that is so connected and dedicated to his religion, while at the same time remaining a man with his own convictions.
Steve Young is the great-great-great-grandson of the early Mormon prophet Brigham Young, and he attended Brigham Young University, where he was an all-American quarterback. He was raised to work hard and overcome obstacles. His work ethic comes from his father, "Grit" — if your father was nicknamed "Grit," you'd be tough too. This work ethic in addition to his natural talent enabled him to succeed at Brigham Young and with the Niners, after several years of being with the lowly (at the time) Bucs.
He exhibited exemplary behavior in the league, being labeled, for a lack of a better phrase, a "goody-two-shoes," and he was constantly teased by other players. For instance, strict Mormons wear special underwear, and Steve Young wore them even when he played football. Young was also very vocal during his football career that he would only marry a Mormon, and in fact, the woman he did marry in 2000 converted to the Church of Later Day Saints. Steve Young played on Sundays, even though he recognized he was playing on the Sabbath, as the church recognizes it.
Yes, Young was, because of whom he is, a very high profile Mormon during his time in the league, and he got a lot of press for it. But he was generally quiet about his personal life. And did his religion affect his ability to play football whatsoever? No, it did not. Steve Young has always been a clean-cut and an all-around good guy (sorry, ladies, he's taken ladies), and he is one the greatest players ever. Why, then, did the media constantly discuss his strong religious beliefs during his time in the league? How did it affect the league at all?
I think it's because Steve Young is neither a Michael Vick nor a Ray Lewis — and thank God for that. The way superstars in professional sports act today is so skewed that when a nice, normal guy does well, and doesn't have skeletons hanging in his closet (just special underwear), we ask what's wrong with him. We're too used to professional athletes, especially football and basketball players, acting like complete scumbags. To the media and the outside world, Steve Young was something of an oddity: he loved the game and he loved his religion, and that was it. There were no drunken bar fights, or dozen mistresses, or guns in the locker room (thanks for that, Arenas). He just played the game he was good at and lived a relatively normal life.
Recently, the media has jumped on Steve Young again because of his high profile Mormon status. They have said that he defied his church on the gay marriage issue. In 2008, Steve Young and his wife Barbara posted yard signs in front of their Palo Alto home to vote no on Proposition 8, the California state ballot measure that banned same-sex marriage. The Young family donated $50,000 to defeat the measure, and he said in a statement that the family did not believe in prejudice, and "therefore our family will vote against Prop. 8."
It was a personal decision, for which the San Francisco media jumped on Young and portrayed the matter as a complete about-face from his religion. Why was it such a big deal that Young didn't support Prop. 8? In fact, it should not have been. Young supported what he believed, and the mere fact that he is football legend Steve Young and he is Mormon put him in the media spotlight. If there was a problem with the Mormon position on gay marriage, it should have been directed at the church, not by using Young's personal position as a catalyst. That's what the media does — they love to take sports stars, movie stars, and other famous people and build them up, and then knock them right back down again. Some celebrities do a good job at knocking themselves down (Lindsay Lohan, for starters), but the media does a thorough job of scrutinizing even the greatest of guys, like Steve Young, about personal issues like religion.
I guess what I'm saying is that nothing is sacred anymore in the world of sports — you can be a Michael Vick or you can be a Steve Young, but either way, you're going to be dissected by the media for what you've done (or who you may have killed, in Lewis' and O.J.'s cases) or for your religious beliefs, and how you act. And with that, go Niners! They've been saying that 2011 may be our year…. to at least make the post-season. Hey, I say, you've got to take minor victories where you can get them.
The Holy War goes way beyond football

By Paul Rolly
The Salt Lake Tribune
Updated: 12/04/2009

The ugliness that spewed forth after the Utah-BYU football game, and the vitriolic reaction and counterreaction to Cougar quarterback Max Hall's "I hate Utah" comments, underscore the cultural divide in Utah that affects politics, governance and even quality-of-life issues.

After my tongue-in-cheek silly little poem Wednesday poking fun at Hall's diatribe, the electronic message board went crazy. Predictably, BYU fans thought I was the scum of the Earth, unfairly attacking this innocent young man who rightly was defending the honor of his family against the barbarian Ute fans.

Equally predictably, Ute fans thought the column was hilarious and accurately portrayed the paranoia afflicting those folks south of the Point of the Mountain.

The Ute supporters were pretty much united in their disgust with Hall and his sweeping indictment of their university. The BYU supporters cried "hypocrites" because of similarly spurious comments that former Ute player and now assistant coach Morgan Scalley once made about their school.

The one uniformity was that both sides believed their guy was justified and the other guy was not. And both sides seemed oblivious to their own hypocrisy in making those claims.

But that's just football. This chasm runs much deeper. Provo arguably is one of the most conservative cities in the country. Salt Lake City is one of the most liberal cities in the West, its voters consistently on the opposite pole of their Provo counterparts on most controversial social issues.

Democrat Barack Obama captured two-thirds of the vote in Salt Lake City. Provo not only backed Republican John McCain with 70 percent of its vote, but Utah County was in the forefront of the effort to keep Obama's speech to students out of public schools.

The liberal base of Salt Lake City has been known to shun Democratic candidates suspected of being too Mormon. I know several active Mormons who grew up as Democrats and eventually left the party because they felt unwelcome.

I also have several friends in Utah County who are afraid to utter some of their political beliefs for fear of being shunned as liberals.

The division is deep at the Legislature, where every senator and representative from Salt Lake City is a Democrat, while Republicans hold 70 percent majorities in both houses. Salt Lake City has tried to pass gun control ordinances and the Legislature has shot them down. The same has been true when the city and the Legislature have clashed over gay rights, zoning and environmental issues.

And the conservative wing of the Legislature, represented strongly by Utah County's delegation, has frequently turned its ire on the "liberal" University of Utah.

When former U. President Bernie Machen tried to enforce a gun ban on campus, legislators threatened to cut his salary. When Utah County legislators felt the U. medical school discriminated against Mormons, they initiated an audit. Arthur Smith, another former U. president, once was summoned to Utah County to explain to lawmakers why there weren't more Mormon professors on campus.

But here is the irony. If the hard-right sentiment in the Utah Legislature ever softens, it very well could be helped along by BYU. For example, 18 science professors there recently challenged the Legislature's majority resistance to global warming theory, stating that climate change indeed does exist and is human-caused.

Those professors aren't vulnerable to legislative backlash because BYU is a private school.

And BYU's owner, the LDS Church, has lit a fire in the Legislature by endorsing Salt Lake City's anti-discrimination ordinance to protect the gay community.

Suddenly, some of the most reactionary legislators on that issue are giving it a second look.

But on the gridiron, well, it'll always be us and them. If you have any doubts on that score, just ask Max Hall.



How Mormons view Sundays during football season:

*Quarterback Sneak - Church members quietly leaving during meeting.

*Draw Play - What the kids do with the program during Sacrament.

*Half-time - Sunday School

*Bench warmer - Those members who do not sing, pray, participate, or apparently do anything but just sit and warm the bench.

*Backfield-in-Motion - People in the back of the Chapel going to the rest-room or water fountain during the meeting.

*Staying in the Pocket - What happens to a lot of tithing that should have been paid three weeks ago.

*Two-minute Warning - The point at which the concluding speaker says, "In conclusion, I would like bear my testimony" and you start to gather up your children and belongings.

*Instant Replay - The speaker loses his notes and falls back on repeating what he just said.

*Sudden Death - What happens to the attention span of the congregation if the meeting goes into "overtime".

*Trap - You're called on to pray while you're dozing.

*End Run - Getting out of church quick, before you have to speak to that long winded gossip.

*Halfback Option - The decision of 50% of the congregation to skip Sunday School.

*Sacked - Being asked to speak in Sacrament meeting before you can escape.

*Blitz - The rush for the parking lot following the closing prayer on Fast Sunday.
THOU SHALT NOT PLAY FOOTBALL ON SUNDAYS...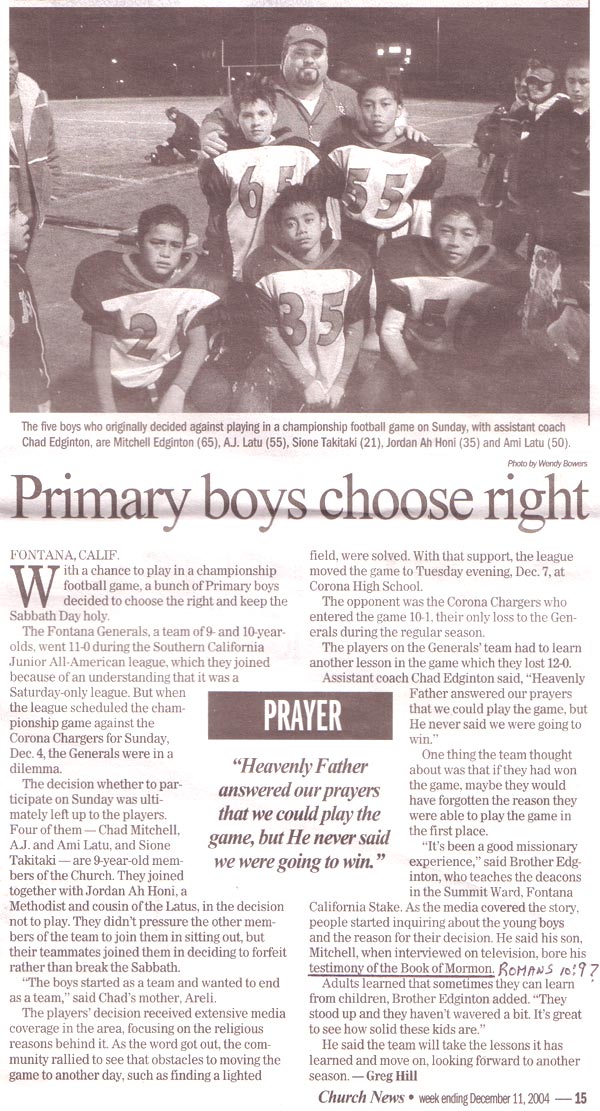 ...BUT STEVE YOUNG DID!

WHEN MONEY TALKS THE SABBATH WALKS!
Tait takes switch in stride
By NICK HUT
From The Northwest Herald
BOURBONNAIS – If a sub-culture of coarse language and raucous locker-room humor are the norm, John Tait stands out as a notable exception.
As a member of the Mormon church, which forbids swearing and other lewd behavior, Tait sometimes shakes his head at various NFL players' antics.
"It doesn't bother me, though," Tait said. "I know the way I was raised doesn't apply to everyone else."
Tait commands respect from his offensive linemates because of his serious yet serene approach to his sport, and because of the cerebral skills he brings to the game.
Teammates say Tait, who jokes about having a big, round head, has a big brain to go with his sizable cranium.
"He goes about his business in a very serious, focused way," center Olin Kreutz said. "Some of the stuff the rest of us do [off the field], he maybe doesn't get involved in because he's more low-key. That serves him well, and his performances speak for themselves."
The first outing of Tait's second season with the Bears certainly spoke volumes, even though he played only a quarter.
In his first game as a left tackle in three years, Tait never allowed the Miami Dolphins' pass-rushers to threaten quarterback Rex Grossman.
Tait, who volunteered during the off-season to move from right to left tackle, was encouraged by the outing.
"It's not like we saw crazy blitzing," Tait said. "They were pretty vanilla [defensive] looks, but it was good work and it felt good to be out there."
As befits his intellectual approach to the game, Tait sat back and analyzed the situation before going to coach Lovie Smith and offering to switch sides.
Tait evaluated the offensive line's performance last season and scoured the free-agent list to see what sort of linemen might be available. He realized the Bears would have a better chance of signing a right tackle, who turned out to be Fred Miller, than a left tackle.
Tait also engaged in a bit of self-analysis. He figured the coaches might ask him to make the move and realized he would be more enthusiastic about it if he initiated it.
"It was almost like a pre-emptive strike," Tait said. "I'd much rather do it on my terms. It's like a psychological trick I played on myself."
Tait knew he could play left tackle, having performed well there in college at Brigham Young and during his first three NFL seasons with Kansas City. The Chiefs moved him to right tackle after signing free agent Willie Roaf in 2002.
Tait originally was not thrilled with the move, but he mostly enjoyed his time in western Missouri before signing with the Bears in March 2004.
A notable exception was in 1999 during negotiations on his rookie contract, which did not culminate until early September.
Chiefs general manager Carl Peterson lit into Tait and his representatives during talks in late August, using a string of profanity that caused Tait to get up and leave.
"That bothered me, when it's a sign of disrespect or someone thinking they can intimidate me," Tait said. "The stuff you hear in the locker room, that doesn't bother me. That's just life."
October 17, 2006
Herald Sun
A CHURCH-going footballer wants Sunday Grand Finals scrapped because of his religion.
Strict Mormon Campbell Walshe is taking legal action against his league, claiming discrimination after missing a premiership play-off last month.
The midfielder and two teammates, ruckman Jeremy Jose and fellow midfielder Stephen Hoare, abstained because their religion forbids sport on Sundays.
"Sunday is the Lord's day," Walshe said. "It is a day devoted to worship, attending church and spending time with family and friends."
Football authorities are monitoring Walshe's bid in what is shaping as a test case.
Walshe complained to the Equal Opportunity Commission earlier this year. He has now taken his grievance to the Victorian Civil and Administrative Tribunal.
Riddell District Football League is resisting any changes to the grand final schedule.
RDFL general manager Neill Sharpe said the discrimination allegations would be defended. The league's last three seniors premierships have been held on Sundays.
The Mormons, or members of the Church of Jesus Christ of Latter-day Saints, frown upon sport and other distractions, such as shopping, on Sundays.
Walshe spent time worshipping during his Diggers Rest team's 69-point Grand Final loss to Riddell on September 24.
"I could not even go to the match as a spectator," he said after a preliminary VCAT hearing yesterday. Walshe, 22, Jose, 24, and Hoare, 22, are among their club's top players.
Teammates supported their decision.
"Who knows what would have happened if we were all able to play?" Walshe said.
Walshe played for 20 other games, including two finals, this season.
Senior coach Glenn Hopkins and club president Peter Gulliver are backing the legal action.
"We respect these guys because their faith is so strong," Hopkins said.
"We understand they've got to stick by their beliefs."
Football Victoria is closely watching the case, which will proceed to a full hearing if mediation talks fail.
Chief executive Ken Gannon said although Saturday was most common, Sunday finals were timed to avoid clashes with nearby leagues.
Latter-day Saints spokeswoman Dorothy Petkoff urged sports officials to give Sunday sport the boot.
08Sep07
THE co-president of a Gold Coast Mormon church says he is proud of the Helensvale rugby union players who have refused to play in Sunday's local semifinals because of religious beliefs.
The Gold Coast Bulletin yesterday revealed that up to 13 Helensvale Hogs players -- eight first grade and five from the second grade -- would not play in tomorrow's semi-finals because their religion forbids sport on Sunday.
While all games during the Gold Coast Rugby home-and-away season are played on Saturdays, the minor semi-final clash has traditionally always taken place on a Sunday.
The club tried to have the first and second grade semi-finals moved, but Rugby Gold Coast was unable to do so after spending three days trying to resolve the issue.
Yesterday, the 13 Mormon players, who told the club they would not take the field, received support from the Isle of Capri-based Church of Jesus Christ of Latter-day Saints.
One of the church's co-presidents, Riki Horomona, said the Sabbath was very significant for people of the Mormon faith.
"What happens is we teach the young people the principles of keeping the Sabbath day sacred and attending church on Sunday," he said.
When asked if he was proud of the players for their defiant stance, Mr Horomona said: "Absolutely. Yes, I absolutely am.
"Because we are a Christian church we believe in the Ten Commandments and the observance of the Sabbath day."
Despite the unavailable players, the club will still meet Palm Beach-Currumbin and is set to rely on its under-19s Colts side to make up the numbers.
It will be a big weekend for the club's youth brigade as they will play in their own Colts semi-final today before backing up for tomorrow's senior matches.
Colts skipper Hayden Draper said the players would be ready to stand up for the club.
"We have to focus on our game first but the boys are stoked and we just want to do it for the Hogs," he said.
"It is pretty upsetting though in a way when religion interferes with rugby, but hopefully we can do it for the first graders and second graders."
There are some Mormons who do play sport on Sunday, including Gold Coast-based Brisbane Broncos prop Ben Hannant.
Mr Horomona said playing sport on a Sunday was an individual choice.
"There is definitely a difference between a career and playing sport as a hobby," he said.
"But we basically teach them the same and they all have the choice whether they want to play or not. Everyone makes their own decision on that."
For Hannant it was a tough decision when he made the call to play.
"I never played any sport on Sunday until I had a good talk to Mum and Dad and people at the church about how I wanted to play rugby league seriously," said Hannant recently.
"That's when we made the decision that it was going to be my job and my livelihood, so you have to do that, play on Sundays.
"Through rugby league I can be a good example for the kids and do the right things.
"Part of the package is I have to play on Sunday. I'd prefer not to if I didn't have to, but I've got to support my family."
Hannant is not the only player who has struggled to balance his playing career and his religious beliefs.
It was reported earlier this year that Melbourne Storm young gun Israel Folau and Parramatta fullback Krisnan Inu -- who are good mates and both Mormons -- are considering leaving the NRL to complete a two-year overseas religious mission.
Rugby Gold Coast CEO Tim Rowlands yesterday said it was likely this year would be the last that semi-finals were scheduled on a Sunday.
"As a total supporter of the Super 14 finals format -- which is first versus fourth and second versus third with the winners going straight to the grand final -- I will be moving that we adopt this format going forward," he said.
"This would also mean Rugby Gold Coast will not be playing any senior finals football on a Sunday again."
Mr Rowlands said the decision by Rugby Gold Coast was not made lightly.
"Rugby Gold Coast is totally sympathetic to the Helensvale players' plight, which is why our staff spent three days this week trying to resolve the issue to give those players the opportunity to play in the finals," he said.
He reiterated it would have been too difficult to make the switch.
"This Saturday Rugby Gold Coast also has eight other semi-finals being played on the Coast," he said.
"The fact is we don't have enough officials."
- The Weekend Bulletin
Never on a Sunday

Sunday Herald Sun
Dave Donaghy
October 05, 2008

FAITH prevents Israel Folau's family seeing him on his big day, but they will be praying for him.

Israel Folau is set to star in the biggest game of his life today, but his family will have to wait for his phone call after the full-time siren to find out how he went.

Just as they did last year, Folau's devout Mormon parents, Eni and Amelia, will not watch today's NRL grand final between Melbourne Storm and Manly.

They are effectively restricted from doing anything on Sundays that does not involve earning a living.

So Folau's family faces an anxious two-hour wait to discover whether their son has claimed a second successive premiership.

Last year the young giant called his parents from the dressing room to deliver the good news about Storm's 34-8 triumph over Manly, the club's second premiership.

"It doesn't suprise me at all (that they can't watch),'' Folau said.

"It happened last year and it's been happening my whole life. It doesn't really affect my game. I understand.''

Folau said his younger brothers had found it toughest not being able to watch the grand final last year.

He expected it to be the same this time around, with the teenagers forced to wait until Monday to see how their big brother went.

"I rang them up after the game (last year) and told them we won,'' Folau said.

"They were pretty happy.

"They watched the game the next day on replay.

"None of my brothers will be watching the game either. It will be pretty hard on them.''

Folau's youngest brother, John, said it was one of the most exciting moments of his life when the call came to tell them Storm had won last year.

He said the family would again gather around to pray for Folau at a morning church session and again at kick-off time.

"We pray for him to play well and to get through the game without injury,'' John said. "It's an exciting time.''

The youngest Folau, however, said there were no thoughts of sneaking out to watch the game.

The grand final marks the end of the Folau era in Melbourne.

The prodigiously talented 19-year-old, already with two Tests under his belt, will head to Brisbane next year after signing a four-season deal worth $1.6 million.

Storm officials were devastated to lose Folau given he is still years away from hitting his peak.

But Folau said he had no regrets because family always came first.

"I made my decision - no second thoughts. I'll just try and finish on a good note before I leave,'' he said.

Folau also revealed he has struggled to carry the extra load this season – both his growing bulk and the weight of expectation.

He's shot up 4cm, packed on 5kg of muscle and will tonight be wearing boots a size bigger than when the season started.

In just two years in the NRL, Folau has won a premiership with Melbourne, gets the chance for another today, has been part of a successful Queensland Origin campaign and represented Australia.

While his stature in the game continues to rise, Storm staff are also stunned by Folau's physical gains. He now stands 198cm and 105kg ... and there's no end in sight.

His boot size has gone from a 12 to 13 this year.

But sizing up his 2008 season, Folau wasn't completely content.

"I'm still happy with my year, but probably not as much as what people expected from me,'' he said.

"I think teams have been targetting me (in defence) this year ... but I'm still pretty happy how the year's turned out. Rookies usually have that second-year syndrome, but I haven't really thought about that.''

But in a warning to other centres, Folau said he was learning how to throw his massive weight around.

"I struggled a little bit to carry that extra weight, in a short time,'' Folau said. "But I'm getting used to it now.

"At the start of the year, even though I was 100kg I felt a bit light and wanted to put on a bit more weight. Now I feel a bit stronger and more confident.''

Melbourne physiotherapist Mary Toomey said Folau had been forced to manage growing pains in his back and calves this season.

"I think Izzy's got another year or two (of growth) left in him. He's going to end up being a 110kg centre,'' she said.

After a whirlwind 2007 season, Folau said he would savour a second title even more today if Storm were successful.

"Winning a premiership in my first year was unreal, but I couldn't soak it all in. Now I've got the opportunity to do it all again,'' he said.

"I was pretty nervous during the week (in 2007).

"I knew what to expect this year. We've got to come out firing.''

Ghosts in the coach Reid story
Posted by dpulliam
November 13, 2007
Getreligion.com
The troubles in the family of Philadelphia Eagles head coach Andy Reid is a difficult story for reporters to cover. In many ways, one would wish for the story to just go away. Coach Reid's family life is in public disarray. A judge has publicly castigated him about his abilities as a parent and his two oldest sons are in prison because of their long-standing drug addictions.
A headline from The New York Times is particularly appropriate: "There Are No Easy Answers for Reid and His Family."
Much of this story appropriately has to do with drug addiction and whether it should be considered a disease. But there is another aspect of this highly personal story that has not received much attention, particularly by the Times. The Philadelphia Inquirer, perhaps because it is closer to the story than anyone else, touched on it on Sunday:
The boys were expected to become Eagle Scouts — and Garrett and Britt did so, Tammy Reid said. Piano lessons were required through age 18. Other rules were bent to accommodate the crazy hours of a coach. If her husband "got home at 9 o'clock, you'll bet the kids are up to see him," she said.
And when that wasn't enough, she let him know. "We've got our roles down pat," she said in that earlier interview. "I'm the one who tells him when he really needs to be home. There's just times you can read the kids' coverage - that's what I call it. You just know one of your kids needs their dad. I say, 'You really need to get to this.'"
As Mormons, the Reids did not allow even alcohol in their home. And Tammy Reid has described her husband's determined efforts to carve out time with Garrett, Britt, and the three younger children — to be present at their sporting events, to take them to movies, to cut down a tree and sing together on Christmas.
There's obviously only so much that a reporter can do when reporting on a person's personal faith. If a public person doesn't acknowledge that faith publicly, then it is probably out of bounds in stories like this.
But it would be difficult to say that Reid's Mormon faith is not part of his public character. Check out this story from earlier this year by the sports director at Philadelphia television station NBC 10:
For all of us, there are times when the lines that separate our personal and professional lives are sometimes blurred. This is one of those times for me.
You see, I've known Garrett and Britt Reid since they were in their early teens. Their parents, Andy and Tammy, were classmates at BYU in the early '80s and Andy and I were college teammates. More importantly, we share a common faith, as members of the Church of Jesus Christ of Latter-day Saints. We're Mormons — which is still a relatively small community here in the East. . . .
Most Mormon young men apply for and serve a two-year church mission following their freshman year of college. Neither Garrett or Britt did that. A church mission in the Mormon faith is almost a rite of passage from boyhood to manhood — almost like being bar mitzvahed if you're a Jewish boy. . . .
The Reids are very private and, as reported in newspaper accounts, very religious.
It's moments like this that their faith really matters.
To be perfectly clear, the Mormon angle to the Coach Reid story should not be raised to castigate or criticize Reid or Mormonism. Reporters should treat this highly difficult subject with care and resist any urge to cast stones. But ignoring the Mormon angle of the story gives readers an incomplete picture.
Variations of this situation can happen in any family. Faith will often play an important, if not key, role in a family's efforts to adjust and cope. To the extent that figures in the family are public and the situation becomes public, the faith aspect should not be tucked away or ignored.
27 Mormons on NFL Rosters (ON ANY SUNDAY)
By Aaron Shill and Robert Walsh
Mormon Times
Published: Sunday, Sep. 7, 2008

Week 1 of the regular-season schedule is under way, and Mormon Times counts 27 Latter-day Saints on NFL team rosters.

Among the most notable names are Baltimore tight end Todd Heap and nose tackle Haloti Ngata, San Diego safety Eric Weddle and linebacker Derek Smith, Philadelphia receiver Kevin Curtis, Pittsburgh defensive end Brett Keisel, Green Bay linebacker Brady Poppinga and Chicago offensive lineman John Tait.

Heap, who played college ball at Arizona State, is in his eighth season with the Ravens. He has started in 82 of the 88 professional games he has played and is a two-time Pro Bowl selection. His teammate, Ngata, has started every game the past two seasons since being a first-round draft pick out of Oregon.

Weddle, a versatile second-year pro from the University of Utah, will start at free safety for the Chargers this season, while Smith, who attended Snow College and Arizona State, gets the starting nod at inside linebacker in his 12th season. Former Nebraska defensive lineman Ryon Bingham is the Chargers' primary backup on the defensive line.
Curtis, a former walk-on at Utah State, is coming off a 1,000-yard receiving season with the Eagles. The South Jordan, Utah, native and returned missionary, however, is currently sidelined with a hernia.

Two former Cougars, Keisel and Poppinga, return as defensive starters for their respective teams. Keisel had 39 tackles and two sacks last year, while Poppinga had 50 tackles and an interception in 2007. Another BYU alumnus, Tait, is entering his 10th season in the league and has started every game he's played in since 2000.

Former BYU defensive lineman John Denney is the starting long-snapper in Miami, while seven-year pro Eric Heitmann of the 49ers starts at center. Edwin Mulitalo, in his 10th year out of Arizona, starts for Detroit at left guard.

Bingham, Buffalo offensive lineman Kirk Chambers, Bills defensive end Ryan Denney, Dolphins offensive lineman Shawn Murphy, Cardinals safety Aaron Francisco, Chargers tight end Brandon Manumaleuna, Steelers nose tackle Chris Hoke, Giants rookie linebacker Bryan Kehl and Jets nose tackle Sione Pouha are listed as primary backups on their teams' respective depth charts.

Former BYU offensive lineman Scott Jackson is on the Texans' injured reserve list.

Name, position, team, college

John Beck, QB, Dolphins, BYU
Ryon Bingham, DL, Chargers, Nebraska
Kirk Chambers, OL, Bills, Stanford
*Kevin Curtis, WR, Eagles, Utah State
John Denney, LS, Dolphins, BYU
Ryan Denney, DE, Bills, BYU
Aaron Francisco, DB, Cardinals, BYU
David Hale, OL, Ravens, Weber State
*Todd Heap, TE, Ravens, Arizona State
*Eric Heitmann, OL, 49ers, Stanford
Chris Hoke, DL, Steelers, BYU
Scott Jackson, OL, Texans, BYU
Bryan Kehl, LB, Giants, BYU
Brett Keisel, DL, Steelers, BYU
Spencer Larsen, LB, Broncos, Arizona
Brandon Manumaleuna, TE, Chargers, Arizona
*Edwin Mulitalo, OL, Lions, Arizona
Shawn Murphy, OL, Dolphins, Utah State
*Haloti Ngata, DL, Ravens, Oregon
Marvin Philip, OL, Browns, California
*Brady Poppinga, LB, Packers, BYU
Sione Pouha, DT, Jets, Utah
*Derek Smith, LB, Chargers, Arizona State
Naufahu Tahi, FB, Vikings, BYU
*John Tait, OL, Bears, BYU
*Eric Weddle, DB, Chargers, Utah
Scott Young, OL, Browns, BYU

*Starters