Mormon President?
Did you vote for a secret society cult member?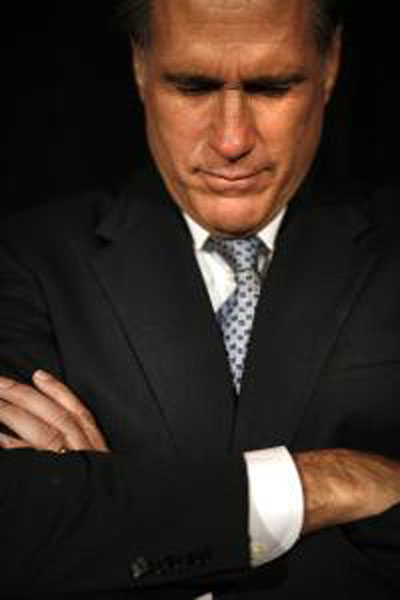 Mitt Romney praying to his false god of this world.
Romney would have to overcome religious bias to get nomination
By Paul Rolly
The Salt Lake Tribune
The lack of formal or informal announcements aside, Mitt Romney clearly is running for the Republican presidential nomination in 2008.
Romney, Utah's adopted son credited with saving the 2002 Winter Olympics, provides the best opportunity for a Mormon to become president of the United States since Romney's late father, former Michigan Gov. George Romney, was the Republican front-runner in 1968 before an ill-advised public comment derailed his campaign.
While the general electorate probably is more receptive than in the past to a believer of a faith still relatively unknown and misunderstood throughout much of America, the current political climate has erected new hurdles to Romney's chances of getting the Republican nomination. These are hurdles that his father did not face nearly 40 years ago.
The party has been taken over by the evangelical Christian movement like never before. George W. Bush can give much of the credit for his two presidential victories to the support of that large and growing Republican base.
When the senior Romney ran for president, the Christian right held very little sway in the GOP. One of the party's most popular leaders at the time was New York Gov. Nelson Rockefeller, not exactly known for his Bible-thumping. Barry Goldwater, feared as a right-wing radical in the 1960s, would be considered too liberal to get the Republican presidential nomination today because he was pro-choice.
Observers of the Republican infrastructure say that as many as 40 percent of the delegates to the National Republican Convention in 2004 were from the evangelical Christian movement. Anyone wishing to gain the Republican nomination in three years will need to win the blessing of that group.
And that's the problem for Romney. Evangelical Christians seem to have an obsessive distrust of The Church of Jesus Christ of Latter-day Saints, denouncing its members as non-Christians.
Romney might need to do some explaining to "the moral majority" on past stands. He had to negotiate the political tar pits for a Republican in liberal Massachusetts, first running for the Senate against Ted Kennedy, then winning the governor's seat in 2002. He tiptoed through the abortion issue and made some comments during the Senate campaign that he was pro-choice on abortion - the popular stand to take in Massachusetts.
But when he was in Utah running the Salt Lake Olympic Committee and rumors swirled that he might seek office in the conservative Beehive State, he bristled at suggestions he was pro-choice. Back in Massachusetts, he was careful with his statements, but since winning the governorship, he has taken a sharp turn to the right on moral issues, an indication he is moving onto the national Republican stage.
Mormonism may sour Romney for some in Christian right
By Nina J. Easton, Globe Staff
August 30, 2005
WASHINGTON -- The Southern Baptist Convention website categorizes the Church of Jesus Christ of Latter-day Saints as a ''cult" that is ''radically" different from historic, biblical Christianity.
A faith guide issued by the influential Christian right group Focus on the Family declares that ''God cannot be identified . . . with the Mormon religion's notion of god." And each year, evangelical organizers behind the National Day of Prayer bar Mormons from speaking at their proceedings.
As Governor Mitt Romney mulls a race for president in 2008, his strategists expect their ''family values" candidate -- who opposes gay marriage, abortion, and some forms of embryonic stem cell research -- to find a natural base of support among religious conservatives. ''As Mitt's traveled the country and tested the waters, he's gotten very strong responses, including from religious conservatives," said Michael Murphy, a political consultant who advises Romney.
But an examination of the views of powerful Christian right groups suggests that, even as some of these voters might appreciate Romney's lifelong commitment to his church, the governor's Mormon faith could become an obstacle for others among this same group, who make up a large and vocal segment of Republican primary voters.
''It would be extraordinarily hard for mainline denomination people in the South to openly and strongly politick or be involved in a Mormon's run for office," said Bobby Welch, president of the Southern Baptist Convention, the nation's largest non-Catholic denomination and a fixture of the Christian right.
A Romney run for president would test the unity of a Christian right voting bloc that for the past five years has demonstrated remarkable solidarity on issues ranging from sexuality and family life to President Bush's first choice as Supreme Court justice. An estimated 40 percent of Republican primary voters are conservative Christians.
Romney strategists are reluctant to speak about a potential presidential run until the governor has made up his mind, but they remain attuned to how Romney's faith plays with these voters. Last March, the governor invited Southern California evangelical pastor Rick Warren to breakfast in Cambridge after reading his bestseller, ''The Purpose Driven Life."
Romney has also appeared on syndicated radio host Hugh Hewitt's show, a megaphone to religious conservatives, three times in the past three months.
Protestant evangelicals commonly overlook vast theological differences to form political alliances with people of other faiths, particularly conservative Catholics and Jews. But the Mormon Church, in particular, faces an activist opposition from a faction of conservative Protestants.
Most anti-Mormon activists come from ''the right wing of the evangelical community," said Robert L. Millet, professor of religion at Brigham Young University. The Southern Baptists are a key piece of the right wing, which also contains a range of Christian fundamentalists.
The early Mormons faced violence and persecution for their religious beliefs and practice of polygamy, which the church has long since outlawed and now vigorously condemns. Today, expressions of anti-Mormonism manifest themselves on websites, in books and documentaries, and through invective sometimes hurled by Christian fundamentalists at temple-goers in Salt Lake City.
That's not to say Romney can't attract votes from evangelical Protestants by advertising his success running the 2002 Winter Olympics in Salt Lake City, his experience running a major state, and his increasingly conservative views on social issues such as abortion -- the three building blocks of his potential candidacy, according to advisers and other political leaders.
''There are key doctrinal differences between Mormons and Baptists -- and most other evangelicals," said David S. Dockery, board chairman of the Council for Christian Colleges and Universities. ''But I don't see that that would be an issue [in a presidential bid] because he would share many of the same views on political and cultural issues, especially related to life and family, the economy and the environment."
Dockery, president of the Baptist-affiliated Union University in Tennessee, called Romney an ''outstanding governor and a wise leader who has an opportunity for a larger platform beyond Massachusetts."
And Murphy, whose national track record includes Senator John McCain's 2000 presidential bid, said religious conservatives ''tell me that they're impressed that Romney has stood up on values. They admire his courage, on stem cells and gay marriage and other issues. They think he's shown more courage than a lot of other Republicans."
But for some Protestant evangelicals, casting a vote for Romney will be a hurdle, particularly if they like his stands on social issues but have concerns about his church's teachings.
''Evangelicals are going to have a conundrum on their hands with that one," said the Rev. Greg Johnson, a Utah pastor who co-chairs Standing Together Ministries, a national effort to improve relations between the faiths.
Eric Fehrnstrom, the governor's spokesman, said Romney will make a decision this fall whether to run for reelection in Massachusetts. If he declines, he is widely expected to throw his hat into the presidential ring. Until those decisions are made, Fehrnstrom said, the governor is focused on his job in Massachusetts and ''this type of chess game" over presidential politics ''is not something we want to participate in."
Romney, who oversaw the Boston area's Mormon congregations for nine years, is not the first church member to seriously consider a run for president. Others include his own father, George Romney, the popular governor of Michigan who dropped out shortly before the 1968 primaries; former representative Morris K. Udall of Arizona, who lost his bid for the Democratic nomination in 1976; and Utah Senator Orrin Hatch, who dropped out of the 2000 Republican primary race after a poor showing in the Iowa caucuses.
Even Joseph Smith Jr., the self-proclaimed prophet who founded the church in 1830, made a bid for the Oval Office. His campaign in 1844, the year James K. Polk beat Henry Clay, ended with his murder in June at the hands of an anti-Mormon mob.
The Mormon church boasts a range of high-level political figures; its 17 members of Congress are mostly Republican, but also include Senate Democratic leader Harry Reid, Democrat of Nevada. The church is known for a strong network that Romney can draw on for fund-raising and support.
But political power doesn't guarantee an open door to Washington's religious social world of Bible meetings and prayer groups, said John M. Haddow, a member of the Mormon Church and a Washington attorney who once served as Hatch's legislative director and remains close to a number of leading Mormon political figures.
Last year, Haddow protested with calls to friends on Capitol Hill after reading news reports that Mormons weren't permitted to speak at National Prayer Day events organized by evangelicals associated with the wife of Rev. James Dobson, the politically influential Christian psychologist and leader of the activist group Focus on the Family. ''I said, 'It's National Prayer Day [and] you decide who can pray and who can't?' " Haddow recalled asking.
Each year in May, Congress, the president, and most state governors proclaim a National Day of Prayer, inviting Americans of all faiths to pray. But Dobson's wife, Shirley, heads a National Day of Prayer Task Force that mounts its own events nationally -- including at the Capitol -- which are ''specifically limited to the Judeo-Christian heritage."
Michael R. Otterson, media relations director for the Church of Jesus Christ of Latter-day Saints, said that despite an outpouring of angry e-mails from members, ''We don't consider it an issue." Mormons, he noted, can sponsor their own events.
Comparisons are often made between acceptance levels of Mormons and of Catholics in political life; Protestant political foes of Catholics once branded the papacy ''the mark of the beast." Last March, President James E. Faust, whose title is second counselor in the First Presidency, compared doubts about a Mormon's chances of capturing the Oval Office to the election of the first Catholic in 1960. ''That day came," he told local reporters. ''I expect that day will come for a Mormon."
But scholars say Protestant evangelicals who form the base of the Republican Party have more profound theological conflicts with the Mormon Church. (Despite his efforts to improve the dialogue between Mormons and Protestant evangelicals, Johnson said he doesn't believe Mormon beliefs are a ''Christian doctrine.")
Chief among those is the Mormon Church's assertion that early Christian leaders fell away from God's truth (a waywardness called the ''Apostasy") and that it took Smith's discovery of the Book of Mormon -- a historical account that asserts ancient Hebrew tribes landed here and became the ancestors of Native Americans -- to ''restore" true Christianity. The Book of Mormon refers to two churches: the Mormon Church is ''the church of the Lamb of God" and the other is ''the church of the devil."
''One of the first things that puts off traditional Christians is the idea of a restoration [of Christianity] being required," said Millet. ''Catholics and Protestants would believe in a continuation of Christianity without a break."
Mormons believe that ''although there were wonderful truths and people" during that nearly 2,000-year period between the death of Christ's apostles and Smith's revelations in 19th-century America, ''that divine authority was lost," Millet added. ''That belief places people in a defensive position."
While Mormons rely on the Old and New Testaments, they also consider the Book of Mormon -- the revelations of prophets that came to Smith -- to be the word of God.
Another distinction is the Mormon conception of God, including a belief that in the afterlife humans can become divine -- in Smith's words, ''what God is."
''This is the kind of belief that can be very much made fun of," said Jan Shipps, a leading historian of the Mormon Church and professor emerita at Indiana University-Purdue University Indianapolis. ''The Southern Baptists and others in the religious right have done a lot with this."
Dobson's Focus on the Family website features a guide for teaching Christianity to children that lumps Mormons in with pagan worship. ''God cannot be identified with an object, such as a metal or wooden idol, or with some aspect of nature, such as a star or tree, or with a person, such as Japan's Emperor Hirohito in World War II or the Mormon religion's notion of god," the guide declares.
There have been recent efforts to bridge the divide between evangelicals and Mormons. Millet notes he and other Mormons are invited to join scholarly sessions. ''There's a new breed of evangelical who is at least willing to put Mormonism on the table," he says.
Millet and Johnson speak together at sessions around the country in an effort to create better understanding on both sides. Last year their group, Standing Together Ministries, helped organize an event in which evangelical philosopher Ravi Zacharias was invited to speak at the Mormon Tabernacle in Salt Lake City -- the first appearance by someone of another faith in more than a century.
In a Romney race for president, where Christian evangelicals see in the Massachusetts governor a like-minded leader on moral questions, some evangelical leaders say the issue may come down to a basic political question: Who's the competition? ''If he were running against Bill Frist or George Allen -- if [evangelical voters] have a choice between a social conservative who is an evangelical or a social conservative who is a Mormon -- most are going to choose a social conservative who is an evangelical," said Richard Land, who runs public affairs for the Southern Baptist Convention.
''But if Mitt Romney were running against Rudy Giuliani," Land added, referring to the socially liberal former mayor of New York, ''he'd probably get a lot more votes than Rudy."
Romney says he's religious, but won't discuss Mormon doctrine
(NO QUESTIONS ABOUT MY UNDERWEAR!)
The Associated Press
June 6,2006
BOSTON (AP) - Governor Romney says he would be willing to talk about his Mormon faith in broad terms should he run for president but would shy away from debating specific beliefs.

Romney made his comments yesterday during an appearance on P-B-S's "The Charlie Rose Show."

Romney also reiterated on the show that he believes the question of whether to outlaw abortion should be left up to individual states.

It was a nuanced view that allows him to maintain his anti-abortion views while leaving intact Roe versus Wade.

The Republican is weighing a 2008 campaign for president.

Romney says he considers Arizona Senator John McCain, former New York Mayor Rudolph Giuliani and Virginia Senator George Allen among the top contenders for the Republican nomination.

A Mormon has never been elected president.
Mormon Faith Seen as Guide for Mitt Romney
Published Saturday, July 15, 2006
By KIMBERLY WINSTON
Religion News Service
When John F. Kennedy ran for president in 1960, he was the first Catholic to seek the Oval Office. To win, he had to convince non-Catholic voters that he wouldn't take orders from the pope.

Now, another Massachusetts politician with an eye on the White House -- Republican Gov. Mitt Romney, a Mormon -- faces a similar problem as he confronts suspicions among his party's base that his church is at best a non-Christian sect and, at worst, a cult.

A recent Bloomberg/Los Angeles Times poll shows what Romney may be up against. A full 37 percent of Americans said they would not vote for a Mormon candidate; only Muslim candidates, at 53 percent, had higher negative ratings.

In order to mute questions about Mormon theology and practice, Romney, like Kennedy, will have to declare his independence from his church -- but with a twist: Where voters once needed to know that a candidate's faith would remain private, many voters today, especially Christian conservatives, need to be assured that a candidate's faith will guide his decisions -even if, as in Romney's case, they don't agree with its doctrine.

"It can't be a repeat," said Charles Haynes, a First Amendment scholar at the Freedom Forum in Arlington, Va., and an expert on American religious and political history. "His Kennedy moment has to be much more nuanced. He has to speak the language of faith without being too particular" because of the differences between his faith and traditional Christianity.

"And he has to assure the rest of the country that he can reach across these religious divisions and party lines and be president of all the people."

The Rev. Richard John Neuhaus, editor of First Things, a magazine of orthodox Christian thought and opinion, also thinks Romney will have to make a Kennedyesque speech. But, he cautions, there are risks. "He runs the very great risk of alienating his Mormon supporters if he distances himself too far from the (Mormon) Church," he said. "And it could also alienate a lot of evangelicals who may see it as a waffling about religious convictions."

Mormons and traditional Christians do have their differences. Both take the Bible as Scripture, but Mormons have additional sacred texts, including "The Book of Mormon," which they believe was divinely revealed to their prophet, Joseph Smith, in 1830.

Mormons believe theirs is "the one true church," something that riles more traditional Christians. Mormons also believe God had a physical body and literally fathered all human souls and have their own view of the Trinity. Both groups believe salvation comes through Christ, but Mormons do not believe in original sin. Currently, mainline Protestants and Catholics do not recognize Mormon baptism.

"Do Mormons have differences with evangelicals? Sure we do," said Scott Gordon, president of the Foundation for Apologetic Information and Research (FAIR), an organization that defends Mormon theology. "Otherwise there would not be a Mormon church."

But those differences need not be insurmountable with voters, Gordon said.

"He's got to say his faith will have an impact, but his denominational beliefs will not. If he can do that, he can win over evangelicals because they would have a person of faith in the White House who would not be following what they would see as the whims of the Mormon church."

Romney graduated from Brigham Young University and did a missionary stint in France. Prior to his election as governor, the father of five and grandfather on nine served as a regional stake president overseeing Mormon congregations and led his church as a bishop.

Robert Millet is a professor of ancient scriptures at Brigham Young University and a veteran of Mormon-evangelical dialogue. He says Romney must address his religious beliefs before someone else tries to exploit the Mormons' history with polygamy (outlawed in 1890) and racism (African-Americans were denied full membership until 1978).

"He will have to make the point that if you want to understand me, look at 21st century Mormonism and not at its anomalies," Millet said. "He will have to say if you want to know what I believe, ask me, don't tell me."

Romney may not be willing to do that. His office declined requests for an interview, and in a June interview on "The Charlie Rose Show," Romney deflected specific questions about his religion.

"(I)f you have doctrines you want to talk about, go talk to the church," he told interviewer Judy Woodruff when she asked about specific Mormon beliefs. "Because that's not my job."

Still, Romney hails from a church that shares conservative positions on abortion, gay marriage and stem cell research, to name a few. The shared positions on social issues, political observers say, may be the ultimate key to winning over Christian voters who may be leery about his church affiliation.

What's more, Romney easily won two terms in heavily Catholic -- and Democratic -- Massachusetts, and has proven his ability to transcend the "Mormon candidate" label.

"I am guessing that my kind of people are going to come down on the side of culture wars and would be willing to go for a Mormon," said Richard Mouw, president of Fuller Theological Seminary, and a participant in Mormon-evangelical dialogue. "My guess is that just as evangelicals have toned down the rhetoric against Catholics in recent years because of similarities on social agenda questions, in this case they are going to side with Romney if he comes across as champion of the evangelical social agenda."

Some believe Romney's Mormonism may actually help him with voters.

Sen. Bob Bennett of Utah, who also is a Mormon, says "People who say well, `Y'all believe in Jesus Christ,' is an indication that that group of people is more than willing to put it aside."
WHOOPS!
Utah governor throws support to McCain for president
By Thomas Burr
The Salt Lake Tribune
WASHINGTON -- Utah Gov. Jon Huntsman Jr. has thrown his support behind Sen. John McCain's likely presidential bid, skipping over a fellow Mormon, Massachusetts Gov. Mitt Romney, who also is gearing up for 2008.
Huntsman will serve as one of many co-chairpersons for McCain's political action committee, Straight Talk America, a prime position for helping McCain garner support in the western states as the Arizona Republican heads into a possible battle for the White House.
Huntsman was unavailable for an interview Wednesday, but spokesman Mike Mower said that the governor and McCain "share common viewpoints on many important issues, such as those impacting the western states and have similar viewpoints on international issues." Mower said the decision to back McCain is not a slight to Romney and the governor "thinks he's doing a great job," but Huntsman and McCain share more common viewpoints.
"We're honored to have his support," McCain's PAC executive director, Craig Goldman, said Wednesday.
Huntsman and McCain have "developed a friendship in a short amount of time," Goldman added, one that was heightened when both took a trip to Iraq recently to visit the troops. Huntsman's will advise the McCain campaign and help identify candidates in the West that McCain should back.
McCain, a political maverick that many pundits have ranked as having the best shot at the White House following President Bush's second term, says he will decide after November's mid-term elections whether he will vie for the GOP nomination.
Huntsman's decision may come as a shock to conventional wisdom that would point to a Mormon governor automatically backing another Mormon governor who wants to run for president. Huntsman had acknowledged previously he was advising Romney on foreign policy issues.
The governor's choice to back McCain also shows a potential divide in his family. Huntsman's brothers and his father, Jon Huntsman St., have given thousands of dollars to Romney's political action committees. Huntsman Sr., who built a business empire with petrochemicals, gave Romney's Iowa PAC $50,000 in March along with a $5,000 donation to Romney's Michigan PAC.
The governor's mother, Karen Huntsman, gave $1,000 to McCain's PAC in October 2005.
Mower said there has been divergent support in the past in the Huntsman family, pointing to the early 2000 presidential race when the Huntsman Jr. backed then-Gov. George W. Bush and Huntsman Sr.
supported Liddy Dole.
"They've backed different candidates in the past and they're doing so in this instance, but there's still mutual respect for the viewpoints of all family members," Mower said.
The elder Huntsman was unavailable for comment early Wednesday afternoon.
Could ancestors haunt Romney?

Polygamous family tree: Political pros say the past won't dim the ascendant candidate's future
By Thomas Burr
The Salt Lake Tribune
WASHINGTON - Mitt Romney took a hard line against polygamy when asked about it in a television interview earlier this year. Like his church, the Mormon politician is against it.

"My church has long ago given up that practice in the 1800s, but putting that aside for a moment, it's real clear that Americans, myself included, believe that marriage is a relationship between a man and a woman and not more than that, and also not same sex couples," Romney told MSNBC's "Hardball" host Chris Matthews.

Romney, of course, didn't mention that about the time The Church of Jesus Christ of Latter-day Saints renounced polygamy in 1890, his great-grandfather was among those Mormons who fled to Mexico to start their own community where plural marriage continued to be practiced.

As the Massachusetts Republican governor ascends into the elite ranks bidding for the presidency in 2008, the public interest in every aspect of his life - including his family history - will undoubtedly become more intense. Everyone will want to know what's in the Romney closet. Many Americans still associate Mormons with multiple wives. That stereotype has long been battled by the faith that now claims more than 12 million members worldwide. But it has been reinforced of late with the HBO show "Big Love," about a Salt Lake Valley man with three wives, and with the elevation of fundamentalist Utah polygamist Warren Jeffs to the FBI's Top 10 Most Wanted list.

Romney is a confirmed monogamist of nearly four decades and polygamy has been absent from his family going back two generations. But, like many Mormons whose pioneer ancestors trekked the Midwest to settle in Utah, Romney's family tree is rife with polygamists on the paternal side. Two great-great grandfathers, for example, had more than 10 wives each.

There is no indication of polygamy on the maternal side of the family.

Several newspapers have already mentioned that Romney's great-grandfather had five wives.

Political scientists and conservative observers say that despite an ancestry exotic - or stigmatized - to most Americans, the polygamy factor won't play in the election.

"I don't think any American would hold someone's ancestors against them," says Grover Norquist, president of Americans for Tax Reform and a well-connected Republican operative. "They can hardly blame you for something they did. It certainly isn't your responsibility what your granddad did."

Polygamous past: Mormon Church-founder Joseph Smith said he had received a revelation from God that men were encouraged to have multiple wives.

The doctrine was a return to a practice predating Jesus Christ. Not all Mormon men took multiple brides, but many did. Smith is thought to have had as many as 29 wives at one point.

Mitt Romney's ancestors converted to Mormonism as the church was starting to spread in the 1830s and 40s. His great-great grandfather, Miles Romney, eventually took on 13 wives, including the niece with the same name of his first wife, Elizabeth Gaskell.

In all, Romney's family tree harbors six polygamous men with 41 wives, according to research by The Salt Lake Tribune. Having several polygamous ancestors is common for multigeneration Mormons, says Kathleen Hinckley, executive director of the Colorado-based Association of Professional Genealogists, who verified The Tribune's research.

Romney's great-great grandfather on his paternal grandmother's side is a famous Mormon from the settling of the western realm of Deseret (part of which later became Utah), where followers fled in the 1800s to escape anti-Mormon persecution fueled, in part, by opposition to polygamy.

Parley P. Pratt was one of the influential LDS Church leaders during the early years. He married 12 times, though his first wife died before he took a second. A former husband of one of his plural wives eventually killed Pratt.

When Congress started cracking down on polygamy, Miles Park Romney (Mitt Romney's great-grandfather) and many other families moved to Mexico and began their own settlement.

"Harassed, hunted and persecuted because of their practice of plural marriage, a band of faithful Saints left the United States with mixed emotions on 5 March 1885 and crossed the border into Mexico, seeking refuge and the right to live their religion in peace," according to the Encyclopedia of Latter-day Saint History.

Miles Park Romney took five brides, though one left him and the church. According to an American Heritage magazine story in 1964, he married one woman, Millie Eyring Snow, after the LDS Church's 1890 "manifesto" renouncing polygamy. The two never had any children.

Mitt Romney's paternal grandfather did not practice polygamy, and neither did the governor's father, George Wilcken Romney, who was born in 1907 in the Mexican colony but moved to the United States when he was 5 years old during the Mexican Revolution.

George W. Romney eventually became president of American Motors, then governor of Michigan and for a short time was a top-tier Republican candidate for president. Though the Constitution bans those who are not natural U.S. citizens to run for president, George W. Romney was able to seek the office because he was born to two U.S. citizens.

In George W. Romney's case, polygamy wasn't a factor in the campaign, and his Mormon religion wasn't raised much either, according to Bill Ballenger, a longtime observer of Michigan politics who runs a political newsletter called Inside Michigan.

Likewise, Ballenger doubts Mitt Romney's polygamous heritage will register.

"Within the Republican primary, when you get into South Carolina, God knows if polygamist roots will hurt him," Ballenger says. "Maybe something like that would cost him enough votes. [But] maybe I'm being too reasonable, I find it hard to believe that will be much of an issue."

Ballenger's belief is echoed by Brookings Institute senior fellow Stephen Hess, who wrote a book called The Republican Establishment during the time George W. Romney was bidding for the presidency. Polygamy wasn't an issue because there were more pressing concerns then, such as the Vietnam War, he says.

"It didn't come up for the same reason I don't think it will come up if Mitt Romney runs: it's just ancient history," Hess says.

Polygamy and politics: Most politicians from Utah come from polygamous stock, including former Utah Gov. Mike Leavitt, who is now secretary of the U.S. Health and Human Services Department. So, too does Gov. Jon Huntsman Jr., a former U.S. ambassador; Sen. Orrin Hatch; and rumored-to-be-aspiring politician Steve Young, the former San Francisco 49ers quarterback and descendant of Brigham Young, the Mormon church president after Joseph Smith who led the church to Utah.

The only time polygamous ancestry caused a problem for these notables was when Leavitt, as Utah governor, suggested plural marriage was constitutionally protected, making national headlines. He fairly quickly backpedaled and the gaffe was all but forgotten by the time he was drafted into the Bush administration.

Asked to respond about Mitt Romney's position on polygamy, Romney's spokesman Eric Fehrnstrom issued a two-line response: "Governor Romney has been married to the same woman for 37 years, and they've raised five children and 10 grandchildren. As far as the history of the Mormon church goes, I would refer you to the historians."

In testimony before the Senate Judiciary Committee in June 2004 pushing for a Constitutional definition of marriage, Romney also publicly went on record objecting to polygamy.

"I would note that it's not unprecedented for the federal government to have a say in what happens in states as it relates to marriage," Romney said. "There was a long time ago a state that considered the practice of polygamy. And as I recall, the federal government correctly stepped in and said that is not something the states should decide."

Those kind of statements have a two-prong result: establishing Romney's position against polygamy and polishing his conservative credentials.

Romney still faces an uphill battle to attract evangelicals to support him, especially given the anti-Mormon sentiment in parts of the South. The Southern Baptist Convention, for example, has Mormons on the top of its list of "major cults and sects in North America."

But Kenyn M. Cureton, vice president for convention relations, doubts polygamy will be a factor in whether evangelicals vote for Romney.

"I would say that most Southern Baptists will look at his own practice and not evaluate him based on what his ancestors did or did not do," Cureton said.

Ted G. Jelen, a professor of political science at the University of Nevada-Las Vegas who authored Religion and Political Behavior in the United States, says polygamy may be written about in the blogosphere of cyberspace or mentioned in some circles, but that other concerns about Mormons will trump the issue.

"My best guess, it won't matter as much as the general anti-Mormon fervor that exists out there," Jelen said.

Several polls have shown that a segment of voters have an aversion to voting for Mormons, including a recent Bloomberg/Los Angeles Times poll showing 37 percent of voters wouldn't cast a ballot for a Mormon candidate. A Zogby International poll in 1999 found that 17 percent of Americans wouldn't vote for a Mormon.

But pollster John Zogby says Mitt Romney has proven himself to be quick on his feet and has used humor to distance himself from polygamous LDS Church history.

In a St. Patrick's Day speech in Boston last year, Romney told the audience that "I believe marriage should be between a man and a woman and a woman and a woman."

"What he has shown to be is someone with a sense of humor," Zogby says of Romney. "In that sense, it's that cross between self-deprecation and taking what ought to be a not-so-serious issue and turning it into some ridicule that determines whether a candidate wins a bond with voters."

Mitt Romney's ancestors won't determine his political destiny, Zogby adds.

"He's not a polygamist," he says. "This is not your grandfather's Church of Jesus Christ of Latter-day Saints."
(SO MUCH FOR THE SAME YESTERDAY, TODAY, AND TOMORROW!)
Romney defends plan to form network of Mormon supporters
BOSTON --Political operatives for Gov. Mitt Romney have consulted with leaders of the Mormon church about building a nationwide network of supporters, should the Massachusetts Republican move ahead with plans to run for president in 2008.
Among the ideas under consideration was tapping alumni chapters across the country from Brigham Young University's business school, The Boston Globe reported. The drive has been dubbed "MVP," for "Mutual Values and Priorities," since Romney himself is a Mormon.
On Tuesday, one of Romney's top aides, Spencer Zwick, told the Globe that the national network program had been abandoned.
Romney on Thursday defended the efforts, telling The Boston Globe that it's only natural that he would reach out to as many donors as possible as he eyes a run for president.
"Clearly, I'm going to raise money from people I know, and that includes (Mormon-run Brigham Young University) alums, people of my church, people of other churches, Harvard Business School graduates," Romney said during a visit to Daytona Beach, Fla., where Romney and Gov. Jeb Bush campaigned for a Republican candidate for Florida's chief financial officer.
Asked if he thought the use of church and university resources for political purposes raised a possible conflict with federal law on tax-exempt institutions, Romney said, "That's for them to describe. I don't have anything to add from what they have already said on that."
Donald C. Alexander a tax attorney who headed the Internal Revenue Service from 1973 to 1977, told the Globe that the collaboration among Romney's political team and leaders of the church and school could run afoul of the law.
But Milton Cerny, a retired lawyer who formerly oversaw tax-exempt groups for the IRS, said the actions of BYU and the church did not appear to violate federal law, because Romney is not officially running for president.
Peggy Riley, a spokeswoman for the Internal Revenue Service in Boston, said she could not comment.
The president and prophet of the Church of Jesus Christ of Latter-day Saints, Gordon B. Hinckley, was informed of Romney's effort, and expressed no opposition, the Globe reported.
Thursday, the Mormon Church released a statement on its Web site that read, "In light of articles appearing in the media, we reaffirm the position of neutrality taken by the church, and affirm the long-standing policy that no member occupying an official position in any organization of the church is authorized to speak in behalf of the church concerning the church's stand on political issues."
Many voters say they would never vote for Mormon president
By Thomas Burr
The Salt Lake Tribune
11/20/2006
WASHINGTON - Some 43 percent of Americans wouldn't even consider voting for a Mormon for president, according to a new poll that shows an increase from previous surveys in the number of voters unwilling to support an LDS candidate for the White House.

The latest poll, released Monday, is bad news for Massachusetts Gov. Mitt Romney, a Mormon Republican who is expected to make a 2008 presidential bid. Previous polls have shown a smaller share of Americans saying they would not vote for a Mormon presidential candidate.

The Los Angeles Times and Bloomberg in June found 37 percent of those surveyed wouldn't vote for a Mormon while other surveys from the late 1990s showed about 20 percent were opposed to a candidate from that faith.

Some 38 percent in the Rasmussen poll said they would consider voting for a Mormon, while 19 percent were unsure. Of those who identified themselves as evangelicals, 53 percent said they wouldn't consider voting for a Mormon candidate.

Scott Rasmussen, president of Rasmussen Reports, which conducted the survey on its own, said Romney already faces difficulty if he decides to run because he's been governor of liberal Massachusetts and is not very well known.

"I think that any time you have a number as high as 43% saying they won't vote for somebody it's a surprise," Rasmussen said. "It is one more hurdle for someone who already has a big hill to climb." The poll of 1,000 likely voters was conducted Nov. 16-17 and has a margin of error of plus or minus 3 percentage points.

Romney's political action committee, the Commonwealth PAC, declined to comment on the poll.

"The governor has yet to make a decision whether or not he will run," said PAC spokesman Jared Young, noting Romney will announce his decision after the first of the year.

In other poll results, Romney had a 29 percent approval rating from those who knew of him, while 30 percent disapproved of him. In a head-to-head matchup against Sen. Barack Obama, an Illinois Democrat, Romney trailed 39 percent to 33 percent, according to Rasmussen.

Of course, only 19 percent of those surveyed could name Romney as the Mormon candidate from a list of six potential presidential contenders, Rasmussen reported.

Rick Beltram, an evangelical and chairman of the South Carolina's Spartanburg County Republican Party, says he believes the poll is probably accurate, but also noted that a generic poll does not indicate how people feel about Romney after hearing him talk about his religion.

"That's obviously his biggest obstacle," Beltram says of Romney's faith in the Church of Jesus Christ of Latter-day Saints. "But I've also found that the more time that he or someone with him explains his beliefs, that's not the case." If Romney can dissuade voters from believing his faith is a cult, as some evangelicals view it, his support is likely to grow, Beltram says.

"His job is going to be communicate, communicate and communicate," Beltram says.

A potential Mormon presidential candidate fared better than one who is Muslim or an atheist running for the White House, the Rasmussen poll also found.

Some 61 percent of likely voters would not even consider voting for a Muslim presidential contender while 60 percent wouldn't vote for an atheist, the poll found.
Former Mormon warns fellow Christians not to support Romney
AgapePress
February 7, 2007
A woman whose father was a bishop in the Church of Jesus Christ of Latter-day Saints (LDS) and who is a former Mormon herself says Christians considering Mormon candidate Mitt Romney's bid for the U.S. presidency need to be reminded about the differences between Mormonism and biblical Christianity.
Writer, consultant, and business woman Tricia Erickson spent her childhood growing up in a Mormon home and knows a great deal about that religion, which she considers a cult. Now a born-again Christian, she wants to remind fellow believers that Mormons view Jesus differently than they do.
According to the LDS understanding of Jesus Christ, Erickson notes, "He was born as a mere man, and he worked his way through good works into godship." Furthermore, she says Mormons believe they are potential gods, capable of becoming divine by following the example of Christ.
So, according to the Mormons' beliefs about Christ, the Christian woman explains, "as he is now, they can and will be." They believe "that if they just do enough good works and are perfect, even as he is perfect, they will become gods themselves," she says.
Up until recently, Erickson contends, Mormons would never even describe themselves as born-again Christians. She believes many do so now because they want to gain access to mainstream Christianity, especially now that their church is facing difficulties.
"Their missionaries are not doing as well out in the field," the former Mormon woman notes, and "their numbers are going down as far as new recruits." For that reason, she says, LDS members "want to infiltrate regular Christian religions so they can bring those Christians into Mormonism under the [impression] that they're Christian, too. They're anything but."
Mitt Romney has said his Mormon faith will not be an issue as he campaigns to become president of the United States. But Erickson believes the former Massachusetts governor's presidential bid would help raise the profile of Mormonism and enhance its chances for winning new converts, so she says there is no way she can support him.
Romney's Mormon Faith Proves Divisive

By RUSSELL BERMAN
Staff Reporter of the Sun
June 1, 2007

WASHINGTON — As Mitt Romney campaigned in a restaurant in New Hampshire on Monday, he approached a man seated at a table and said hello. The man, later identified as Al Michaud, replied: "I'm one person who will not vote for a Mormon."

If Mr. Michaud is alone, Mr. Romney has nothing to worry about. But what if he isn't?

As the former Massachusetts governor, who is seeking the Republican presidential nomination, gains ground in his bid for the White House, a key question of his campaign will be how he addresses the tenets of his Mormon faith, some of which differ starkly from other religions common in America. Those include a history of racial (until 1978) and gender stratification, as well as the belief that God appeared in human form to the prophet Joseph Smith in the 19th century and that Jesus Christ will eventually return to rule in Independence, Mo.

The Founders of America were exceptionally emphatic in prohibiting the imposition of a religious test in government appointments, issuing, in Article VI of the Constitution, the prohibition that "no religious test shall ever be required as a qualification to any office or public trust under the United States." Yet the mere question of Mr. Romney's faith has divided scholars and political commentators. Some argue that he will have to confront the issue directly, while others say it is plainly unfair, and even un-American, to scrutinize the religious beliefs of a presidential candidate.

More than it has for either of his top rivals for the Republican nomination, Mayor Giuliani and Senator McCain of Arizona, Mr. Romney's faith has played a central role in his life. Before enrolling at Brigham Young University, he spent 2 1/2 years in France as a missionary for the Church of Jesus Christ of Latter-day Saints, as the church is officially called. He later held a leadership position in the church, serving as president of a stake — similar to a diocese in the Catholic Church — in Massachusetts, during which he oversaw about 3,000 members.

Mr. Romney, 60, is not shy about his faith, nor does he advertise his membership in the church.

While he has said he "absolutely" believes in his faith and is proud of it, he discusses specifics only selectively. Of the well-known practice of polygamy, which the church repudiated in 1890, he said recently on "60 Minutes": "I can't think of anything more awful than polygamy."


Religion, flip-flop character mar the Romney candidacy
By JOHN HERBERT
Aug 14, 2007
Presidential hopeful Mitt Romney is not electable. He's a Mormon. So what? Religion has no place in politics. Even JFK was elected president in 1960 although many voters cast doubt on a Catholic ever winning the nation's highest office.
But the Kennedy White House was not run from the Vatican, as many feared. JFK's administration was influenced by Harvard preppies, which gave other critics the willies. Nevertheless, Gov. Romney emerged the recent and overwhelming winner in America's first Republican presidential test, the non-binding Iowa straw poll. That should give him a giant political head of steam.
Romney's challenge is that one out of three Americans gives Mormonism unfavorable marks, that's worse than any other religion. Only atheism rates lower. Romney should be smelling like fresh roses right now. In accordance with Mormon rules, he doesn't drink or smoke. Unlike many other candidates, he's had only one wife, to whom he's been hitched for 38 years. The attributes are far from unusual.

As a businessman, Romney was more successful than most. He's filthy rich, you might say. He also rescued the Salt Lake City Olympics from financial and organizational disaster a few years ago. Romney has also had, by most accounts, a solid term as Republican governor of heavily Democratic Massachusetts. As one of his last acts, he signed legislation mandating that all residents of the state have affordable health insurance.
That's quite an impressive resume. Until you hear that he's stuck Massachusetts taxpayers with health insurance costs twice as high as Romney originally said. Romney has had to face opposition charges that he's a convenient "flip-flopper" like 2004's John Kerry. Long a supporter of abortion-rights as a faithful Mormon, Romney now says he's "pro-life."
Christian fundamentalists, who control much of Florida's conservative politics, may buy into a pro-life Romney. But they remain queasy, if not about the flip-flopping, putting our nation in the hands of someone they see as a heretic. Mormonism rejects the pro-life stance that life begins at conception. The religion maintains that the spirit is alive long before; when the spirit actually enters the womb is a question of timing that's not readily clear -- at least to me.

Mormonism may get a bad rap, too, as a bloodthirsty fundamentalist sect actively promoting polygamy. "Fundamentalism" means "back to basics," and not the image mainstream Mormons like Romney want to project. But they're stuck with it. If you've read Jon Krakauer's unnerving narrative, "Under the Banner of Heaven," you could easily believe that murder and polygamy are firmly ingrained in Mormon history.

Other incidents leave me uneasy about Mormonism. A California taxpayer, a Mormon, lost a verdict over his refusal to pay Social Security taxes. His reasoning: "The Social Security system violates the teachings of my church. Mormons take care of their own."

There are only about 14 million Mormons worldwide. Yet they seem to be coming out of the woodwork everywhere. My room in a five-star Buenos Aires, Argentina, hotel recently was only furnished with a condensed Spanish-language version of the New Testament but with a complete Book of Mormon in English.

The landmark hotel, heavily patronized by the Argentine government when it was a fascist dictatorship, is now in the Marriott chain. Its one-time CEO, Bill Marriott, is a well-known Mormon.
Romney pays magazine to e-mail LDS readers

The message was designed to look as though it came from the candidate's campaign

By Thomas Burr
The Salt Lake Tribune
09/12/2007

WASHINGTON - Mitt Romney's presidential campaign is targeting fellow Mormons for financial support, as evidenced by a fundraising appeal last week e-mailed to subscribers of LDS Living magazine.


The campaign paid the privately owned Mormon-themed magazine to send out an e-mail to its subscribers designed to appear as though it came from the campaign itself. The message invited recipients to a rally in Salt Lake City later this month. It included a line at the end saying that "You are currently subscribed to [the] Romney for President" e-mail list.


LDS Living has a cross promotional deal with LDS Church-owned Deseret Book but is not owned by The Church of Jesus Christ of Latter-day Saints. While Romney has held fundraisers in heavily Mormon areas, the LDS Living e-mail may mark the most overt attempt by Romney to seek financial support from members of his religion.


"This signals, if this is what he's done, that he's willing to be more aggressive and appealing to this kind of natural group for him," says Julian Zelizer, a professor of history and public affairs at Princeton University.


Most candidates reach out to their bases - be it social, religious, political or business, Zelizer says. Romney's Mormon faith may be a hindrance to his campaign - mainly because many evangelicals do not consider Mormons true Christians - but the sheer number of Mormons across the nation also can be a powerful base for raising funds.


"I'm sure there are efforts to target other groups" as well, Zelizer notes.


Utah was Romney's second-biggest fundraising state in the first half of the year, raking in $3.8 million, behind only California's $5.3 million. Campaign aides have said that's because of Romney's leadership of the 2002 Winter Olympics, not religious ties.


"Utah would naturally be a base of support for Governor Romney, since it was the location for one of his greatest accomplishments, having turned the Salt Lake City Olympic Games of 2002 into a magnificent success for the state of Utah and the nation as a whole," Romney's spokesman Kevin Madden said after the first campaign report was filed.


Tuesday, Romney spokeswoman Gail Gitcho said that political campaigns routinely buy or use e-mail lists to introduce a candidate or solicit support. The Romney campaign recently used a series of lists - including through LDS Living - to promote events in more than 20 states near the end of the month.


"The campaign rented a list from LDS Living magazine at fair market value to promote the Rally for Romney event on September 28 in Salt Lake City," Gitcho said. "This was an effort to reach out to Utah voters."




Dallas minister urges vote for a Christian, not Romney
Mormon candidate is winning over many religious conservatives
October 18, 2007
By GROMER JEFFERS Jr.
The Dallas Morning News
A prominent Dallas minister told his congregation that if they wanted to elect a Christian to the White House, Republican Mitt Romney wasn't qualified.
Robert Jeffress, pastor of First Baptist Church of Dallas, encouraged his congregation to elect a Christian. 'Mitt Romney is a Mormon, and don't let anybody tell you otherwise,' he said.
Dr. Robert Jeffress, pastor of First Baptist Church of Dallas, said that Mormonism is a false religion and that Mr. Romney was not a Christian.
"Mitt Romney is a Mormon, and don't let anybody tell you otherwise," Dr. Jeffress said in a sermon Sept. 30. "Even though he talks about Jesus as his Lord and savior, he is not a Christian. Mormonism is not Christianity. Mormonism is a cult."
Some in the large crowd began to applaud as Dr. Jeffress continued with his remarks.
"What really distresses me is some of my ministerial friends and even leaders in our convention are saying, 'Oh, well, he talks about Jesus, we talk about Jesus. What's the big deal?' " he said. "It is a big deal if anybody names another way to be saved except through Jesus Christ."
Mr. Romney's campaign said Wednesday that despite such attitudes by Christian conservatives, the former Massachusetts governor has won the support of many conservatives and that his religion is not a political liability.
"Despite the differences in theology, voters across the country are more concerned with whether or not Governor Romney has the same values that they do," said Romney campaign spokeswoman Gail Gitcho. "We've found as we campaign throughout the country, voters don't care what kind of church Governor Romney goes to, but they care that he has faith and that his values are as American as anybody's."
Christian conservatives across the country are grappling over how they feel about Mr. Romney and his religion. He would be the first Mormon elected president.
Mr. Romney won over some conservatives by taking a stand against abortion and has been endorsed by conservative leader Bob Jones III.
Tuesday night on CNN's Larry King Live, popular Houston minister Joel Osteen said Mr. Romney's Mormon faith wouldn't affect whether he supported him or not.
"I don't think that that would affect me," Mr. Osteen said. "I've heard him say that he believes Jesus is his savior, just like I do. I've studied it deeply, and maybe people don't agree with me, but I like to look at a person's value and what they stand for."
But Dr. Jeffress said colleagues who support Mr. Romney should not confuse morality with Christianity.
"I have conservative friends who are saying, well, he believes in Jesus, we believe in Jesus, let's just hold hands and sing kumbaya," he said. "It doesn't work that way. If a person is supporting Romney, that's fine. But don't confuse him with being a Christian."
Dr. Jeffress also said Christian conservatives were compromising the values used to back presidential candidates over the past decade.
"It's a little hypocritical for the last eight years to be talking about how important it is for us to elect a Christian president and then turn around and endorse a non-Christian," he said. "Christian conservatives are going to have to decide whether having a Christian president is really important or not."
Mr. Romney and other Republican presidential contenders will make their pitches to Christian conservatives this weekend at the Values Voter Summit in Washington.
Tony Perkins, head of the conservative Family Research Council, acknowledged recently that Mr. Romney was making inroads with evangelicals.
"He stresses his policy positions which, in my opinion, have been the strongest on the core social issues," he said.
Mr. Perkins said all the GOP candidates had positives.
"If you look across the field of candidates, there's a lot to like, a little bit with each one of them," he said. "If we could do a mix and match, it would be great."
Mitt's Mormonism matters
Sunday, November 25th 2007
New York Daily News
Errol Louis
Let's quit tiptoeing around the question of whether Republican Mitt Romney's Mormon religion will be an issue in his bid to become President of the United States.
Of course it will matter. And it should.
Voters have every right to be curious and concerned about a candidate's beliefs - especially a candidate like Romney, who keeps talking about the importance of faith in his life.
Romney's not a run-of-the-mill believer. Before entering politics, he served as a Mormon bishop, presiding over several congregations in Massachusetts.
There's little chance that a devout follower of Rastafarianism, the Unification Church or the Nation of Islam - not just a believer, but a leader - could expect to run for high political office and not get a couple of questions about what they believe and what public actions they took as a church leader.
Romney has gotten a few. He told CBS News he is a "true-blue through-and-through" believer, but also said, "My church wouldn't endeavor to tell me what to do on an issue, and I wouldn't listen to them on an issue that related to our nation."
Those contradictory statements won't cut it. And they don't sidestep the plain fact that Mormonism, like the other faiths I mentioned, is not a Christian religion.
This is a sore point with Romney and other Mormons, who emphasize their reverence for Jesus, belief in His divinity, and the fact that the religion's official name is the Church of Jesus Christ of Latter-day Saints.
Those protests hold little water with leaders of most Christian denominations. In 2001, the Catholic doctrinal office (then headed by Joseph Cardinal Ratzinger, who is now the Pope) decreedMormons must be re-baptized to join the Catholic Church.Methodists, Presbyterians and Baptists have similar official disclaimers.
The reasons are clear to anyone who stayed awake through Sunday School and takes a look at the Mormon holy books, including the Book of Mormon, the Doctrine and Covenants and the Pearl of Great Price.
Mormons, it turns out, believe human souls have existed for all eternity, temporarily inhabit physical bodies and can eventually evolve into gods. They also believe the Garden of Eden was in Missouri and that tribes from Israel traveled to what is now America, built ancient cities and fought epic battles.
Needless to say, there's no physical evidence of the cities or the thousands killed in the ancient wars of the Mormon holy books, and DNA evidence rules out American Indians as descendants of ancient Israel. It will take time for Mormon supernatural claims to attain the respect given those of older religions.
But forget the historical and theological disputes. I have no quarrel with the nearly 6 million Americans who practice this religion - but I do have questions for the one among them who wants me to vote him into the White House.
In particular, I want to know more about Bishop Romney's beliefs and actions related to the Mormon religion's odious and longstanding practices of racial segregation.
Brigham Young, an early father of the Mormon Church, preached, "If the White man who belongs to the chosen seed mixes his blood with the seed of Cain [those with dark skin], the penalty, under the law of God, is death on the spot. This will always be so."
In addition to this death penalty for race-mixing, Mormons barred blacks from becoming priests or taking part in the religion's holiest rituals. This went on until 1978.Romney, who was 31 when Mormon elders officially scrapped the church's racist doctrines, says he broke down and cried when the change was announced.
I really hope he did more than wait till the end and weep: I'd like to know what Bishop Romney grew up believing on this subject, exactly what he taught to others - and what steps, if any, he took to battle discrimination when doing so was at odds with his religion.
A clear explanation is the least we should expect from a candidate who wears his faith on his sleeve.
Mormons and the Bible, Every Word

By MICHAEL LUO
The New York Times
Published: December 1, 2007

One moment that drew particular attention at Wednesday night's Republican presidential debate was a video questioner's asking whether the candidates believed every word of the Bible.

Mitt Romney, a Mormon, hesitated a bit in answering, then was drawn into a thicket of theology underscoring just how complicated the issue of his faith remains as he courts evangelical Christian voters, a crucial constituency in the Republican base.

Mr. Romney replied, "I believe the Bible is the word of God, absolutely."

Then, when asked again — this time by the moderator, Anderson Cooper of CNN — whether he believed every word of it, Mr. Romney added: "Yeah, I believe it's the word of God. The Bible is the word of God. I mean, I might interpret the word differently than you interpret the word, but I read the Bible and I believe the Bible is the word of God. I don't disagree with the Bible. I try to live by it."

While that may have appealed to those evangelicals who believe that the Bible is "inerrant," Mr. Romney may have tripped himself up among Mormons, who believe categorically that it includes errors.

LDS.org, an official Web site of the Church of Jesus Christ of Latter-day Saints, notes: "Latter-day Saints revere the Bible. They study it and believe it to be the word of God. However, they do not believe the Bible, as it is currently available, is without error."

"As the Bible was compiled, organized, translated and transcribed, many errors entered the text," the site says, adding at another point: "In addition to the Bible, Latter-day Saints reverence and study the Book of Mormon, the Doctrine and Covenants, the Pearl of Great Price and the words of modern prophets and apostles. All these sources of eternal truth work together to establish, clarify and testify of the plan of our Heavenly Father and to bring people unto Jesus Christ."


Evangelicals Against Mitt
The American Spectator - Special Report
By Carrie Sheffield
Published 1/3/2008
Mitt Romney is facing an unexpected challenge in Iowa from rival Mike Huckabee, who has enjoyed a groundswell of support from religious voters, particularly evangelical Christians wary of the clean-cut former Massachusetts governor because of his Mormon religion.

The common worry among evangelicals is that if Romney were to capture the White House, his presidency would give legitimacy to a religion they believe is a cult. Since the LDS church places heavy emphasis on proselytizing -- there are 53,000 LDS missionaries worldwide -- many mainstream Christians are afraid that Mormon recruiting efforts would increase and that LDS membership rolls would swell.

One such concerned evangelical, Tricia Erickson, was raised in the Mormon faith but left as an adult. She has attended the McLean Bible Church in northern Virginia. Erickson adamantly opposes the LDS church, which she considers a brainwashing cult. She has launched a media blitz designed to discredit Romney based on his religion.

In an interview, Erickson told me that Romney has "got the image. He's a good business man. He has the coiffed hair with every hair in place. ... He has a pretty, blonde Mormon wife; he has a chiseled face. He is very polished. He has that image which Mormons develop through the Mormon Church to present to the public to give credibility to the religion."

Or take Bill Keller, evangelical host of the Florida-based "Live Prayer TV." Last year he told his reported 2.4 million e-mail subscribers that a vote for Romney would mean a vote for Satan.

"The presidency is the most powerful position in the world," Keller explained to me. "If Romney was elected president, it would give mainstream credibility and acceptance to the Mormon cult and lead millions of people into that cult."

THE ONLY PROBLEM with those fears is that they don't add up. Evangelicals may be surprised to learn that the growth of church membership in Massachusetts slowed substantially during Romney's tenure as governor. In fact, one could make the absurdly simplistic argument that Romney was bad for Mormonism.

Consider: From 1997 to 2002, the six years prior to Romney's governorship, LDS church membership in Massachusetts grew by a rate of nearly 40 percent. During the four years Romney was in office, membership growth slowed to a snail's pace -- a mere 1.7 percent, according to membership statistics kept by the church and published in the LDS Church Almanac. The national growth rate during that same period was about three times the Massachusetts number: 5.1 percent.

During the Romney years, the number of Mormon wards and branches, congregations that are created and dissolved based on geography and population, in the Bay State rose by one and fell by one, indicating that congregational growth was static. Nationwide, the number of congregations grew by 7.3 percent.

When I put these growth rates to both Erickson and Keller, they didn't dispute the numbers. However, they argued that a Romney presidency would be something else entirely.

Erickson said the Massachusetts stagnancy can be attributed to the liberal nature of the state, where Christianity is declining. However, if Romney won the White House, she argued that Mormons would have an easier time winning converts in the more religious parts of the nation, particularly the South, where church attendance is high.

Keller believes the slowed Massachusetts growth rate is explained by the fact that Massachusetts is a stronghold for Catholics. He claimed these Catholics have grown less willing to listen to Mormon proselytizing but, like Erickson, he fears a Romney presidency will open the floodgates elsewhere.

SUPERFICIALLY, Erickson and Keller's worries are not crazy. The LDS church has undergone phenomenal growth in the past.

David O. McKay was the ninth prophet and president of the Church, who served from 1951 to 1970. McKay implemented the "every member a missionary" program in 1961 in hopes of spreading the LDS Gospel worldwide, to great effect. Under his tenure, the number of LDS "stakes" -- congregational units similar to a Catholic diocese -- more than doubled, and total church membership well more than doubled.

Since McKay's death, subsequent church prophets, apostles, and lay leaders have continued to stress missionary work, particularly singling out lay members of the church as not doing enough to advance the cause. During a 1999 address beamed from Salt Lake City to chapels throughout the world, the current Mormon prophet Gordon B. Hinckley urged members to double the number of people baptized into the Church each year, from 300,000 to 600,000.

However, since Hinckley issued his challenge, the number of church members serving full-time missions has actually decreased, thanks to stricter moral standards church leaders recently created for those seeking to serve missions. True, Church membership has increased, but not to the extent Hinckley had hoped for.

Since Hinckley took over in 1995, membership has grown by about 38 percent, from 9.3 million then to 12.8 million today. The rate is impressive when compared to other religious groups in the United States. However, it has slowed significantly when compared with earlier years of LDS growth. In some places, such as Massachusetts, it has essentially gone flat.

"I don't know that [the slowed growth rate] has anything to do with [Romney] as much as the conversion rate in America is not moving at the same pace as it was 20 years ago," said M. Russell Ballard, an LDS apostle who is one of the top-ranking leaders of the church.

Ballard explained that he thought that the problem was much larger: "In a lot of ways, America is drifting a little bit towards religious indifference, similar to what you see in many parts of Europe ... [O]ur biggest challenge, to be candid with you, is apathy, is just plain indifference. ... [People are] far more interested and worried about the NFL and the NBA than they are about God and their personal purpose in life."

And while it's true that many Mormons support Mitt Romney, his candidacy is essentially irrelevant to the larger Mormon project. When I asked one of Ballard's colleagues, Apostle Quentin L. Cook, whether the church has noticed a Romney "bump," he said he hasn't noticed one, and that the question was not one that preoccupied him.

"The missionaries are fully engaged and they're doing great work. We haven't done a survey to find out whether there's been an increase," Cook said.

ONE WAY TO GAUGE what might happen under a President Romney would be to look at what happened during the period of the 2002 Olympic Winter Games. Held in Salt Lake City, they were dubbed the "Mormon Olympics."

During this period, majority-Mormon Utah garnered vast international attention as more than 8,700 members of the media converged in the Beehive State to cover the games. Despite a rocky, scandal-ridden start (which was cleaned up largely due to the efforts of one Mitt Romney, who was brought in as president and CEO of the Games), the Games finished with a budget surplus, no major security breaches, and warm feelings all around.

Leaders of the LDS church urged members to avoid overt proselytizing in connection with the Games. They did, however, welcome a vast influx of visitors to Temple Square, where the Mormon Tabernacle Choir sang, talented Brigham Young University dancers performed in its Conference Center, and leaders presented numerous religious and patriotic services.

Despite all the increased attention, worldwide the Church grew only slightly, and in fact in the year leading up to the games the total number of congregations fell. Overall, from 2000 to 2004, there was a 10.9 percent increase in memberships and a 3.6 percent increase in congregations.

These modest growth figures include children of LDS parents, who are traditionally baptized at age 8, as well as converts from other faiths. The numbers suggest that while the public has had increased exposure to Mormons and the Mormon faith, that doesn't necessarily translate to a large spike in membership.

The LDS church is likely to continue its current modest-but-impressive growth whether or not Romney wins the White House. Perhaps the only real worry for evangelicals is that, if elected, the former Massachusetts governor will demonstrate to Americans that Mormons don't have horns (just strange underwear).

Mitt Romney -- Be Afraid Be Very Afraid

Carrie Sheffield, a member of the LDS Church, is a writer living in Washington, D.C.
Contact: Rev. CJ Conner, 651-373-9137
MEDIA ADVISORY, Jan. 11 /Christian Newswire/ -- On December 12th, 2007, the very same day that Romney indicated his support of the Federal ENDA legislation, news of his investment company's buyout of Clear Channel Communications surfaced. Clear Channel owns Rush Limbaugh's and Sean Hannity's contracts, and is the largest conservative radio conglomerate in the country. It may be no small coincidence that conservative talk show hosts lambasted Christian Mike Huckabee as a liberal just mere hours before he took the Iowa Caucus.

Romney is no media novice. For years he has supported the Mormon media blitz of television and radio spots that have slowly brainwashed so many of us into believing that Mormons are Christians too. Today in the national political debate, to ask questions about the Mormon "jesus" is labeled religious bigotry- hate speech that must be silenced.

Romney is said to be worth at least a quarter of a billion dollars, and has given every indication that he intends to buy the presidency, sparing no expense. If voted into office, it would be the first time ever in American history that a president would control so much wealth, as well as so much of the media.

Christians in America need to begin asking questions.

Is it really the right thing for America to make a man as powerful and rich as Romney president?

Is America in the position to take such a risk at such a crucial moment in our history?

Are we really ready to turn our nation over to an untested man that has served only one term as governor of liberal Massachusetts?

Can Romney really be trusted when he says he is opposed to abortion, does not support gay marriage or civil unions, and is ready to solve our illegal immigration crisis, even as he's waffled on all these issues?

Are we really so naïve to think that a man of such vast wealth did not build his portfolio standing on the back of the working man?

Is it really wise to vote for a man when in our gut we know for certain that something just isn't right about him?

Rev. C.J. Conner is the author of Jesus and the Culture Wars: Reclaiming the Lord's Prayer.
Romney's Remark Conflicts With Mormon Religion
December 21, 2007
Kutv.com – Channel 2 Salt Lake City
BOSTON - A remark made by presidential candidate Mitt Romney has again been scrutinized and has led to questions of his beliefs, the Salt Lake Tribune reported Friday.

During an interview with a Boston TV reporter earlier this month, Romney was asked if as president he would be influenced by communication from God or divine communication relayed through the LDS prophet.

"Should God speak to you... how would you handle that?" asked reporter Natalie Jacobsen.

According to the Tribune, Romney laughed and replied, "I don't recall God speaking to anyone since the time of Moses and the burning bush."

The Church of Jesus Christ of Latter-Day Saints -- which Romney is a practicing member of -- believes that God has spoken to many who followed Moses. For example, the church believes God spoke to LDS founder Joseph Smith which allowed him to find the brass plates -- which became the Book of Mormon.

Also, it is believed that God speaks to the LDS Church president, through who he reveals modern day revelations. Under this belief, it can be assumed that God has spoken to numerous people who lived in the time after Moses.

Romney has previously said that he will not let his religion influence his decision-making if he were elected president.
Mitt's bid for White House took the pulse of nation on Mormonism
By Peggy Fletcher Stack
The Salt Lake Tribune
02/08/2008
Mitt Romney dragged fellow Mormons into the presidential race, whether they liked it or not.

Most thought publicity for The Church of Jesus Christ of Latter-day Saints, whether positive or negative, would be a good thing. With optimistic naiveté, many believed the more people knew of Mormonism, the more Latter-day Saints would be accepted into mainstream America, legitimate players on the national stage.

That didn't happen. Instead, some said, Romney's failed campaign revealed what many Americans really think about Mormons. It forced Latter-day Saints to acknowledge that they don't just belong to another American denomination.

"We have to live with the fact that a lot of people think our beliefs are strange," said LDS historian Richard Bushman, the professor emeritus at Columbia University who helped explain Mormonism to a skeptical public. "Mormons have never had so much exposure as we have in the last year, so much genuine curiosity on the part of high-level media. I don't think we'll ever be the same."

If it has been tough for many Latter-day Saints to see themselves as others do, it has been equally hard to face the country's continued bigotry, said others.

Romney's candidacy "exposed a real intolerance for Mormonism in parts of this country, something this country should be embarrassed about," ABC News senior political analyst Jake Tripper wrote on his blog Thursday. "And I'm not just talking about Evangelicals, I'm talking about supposedly tolerant liberal-types, too."

National news Web sites posted photos of LDS undergarments, reporters asked Romney questions about where Jesus would touch down at his Second Coming and Republican candidate Mike Huckabee "innocently" wondered whether Mormons believe that Jesus and Lucifer were brothers.

Authors in liberal publications such as The New Republic and Slate suggested that anyone who believed the seemingly outlandish story of Mormon origins was not fit to be president, while at least one conservative Christian declared that a vote for Romney was a vote for Satan. Career anti-Mormons had a field day on the Internet and in mailings to potential voters, accusing Latter-day Saints of being racist, misogynist and polygamist.

An August 2007 poll by the Pew Research Center found that 25 percent of Americans would be less likely to vote for a Mormon and just 53 percent of the public had a favorable opinion of Mormons.

The tone of the questions and comments is what upset Nancy Dredge, editor of Exponent II, a Mormon women's magazine published in Boston.

"It's OK to challenge our beliefs but no one wants to be treated like they're weird," she said. "When commentators asked 'Who would vote for someone who believes the Garden of Eden is in Missouri?' and other mocking things about our beliefs, I felt very attacked and hurt."

The anti-Mormon whispering campaigns in the Bible Belt may also have permanently derailed the growing political alliance between Mormons and evangelicals.

"As long as the Republican Party is primarily a party with an evangelical base, I don't see how any Mormon could do any better than Romney," said Alan Wolfe, director of the Boisi Center for Religion and American Public Life at Boston College. "You can't explain how a relatively competent, successful businessman and governor could do so badly in the Southern primaries without pointing to his Mormonism."

Still, Bushman hopes this new awareness will usher in "a new age of conversation where we don't preach or debate, but learn to converse candidly in a straightforward way with curious outsiders and contribute to mutual understanding (about weird underwear?)."
Yes, Romney, there's a Sanity Clause
By Spengler
Mitt Romney's presidential candidacy has put the Mormon issue back on the public agenda. The former Massachusetts governor reminded voters on December 6 that America's constitution prohibits a religious test, and asked to be judged independently of his Mormon faith. But as Groucho told Chico in A Night At the Opera, there nonetheless is a Sanity Clause. Voters may reject a candidate whose religious views are crazy, for example, someone who thinks he talks to God. Does Romney believe that he himself will become God, as Mormon doctrine teaches?
Americans express disquiet about Romney's religion; 27% of respondents to the 2007 Pew Center poll held an unfavorable view of Mormons, about the same as of American Muslims (29%), against only 9% for Jews and 14% for Catholics. These numbers suggest that Americans are not as dumb as they look.
Just what is the Church of Jesus Christ of Latter Day Saints, commonly called the Mormons? Joseph Smith Jr, the forger, treasure-hunter, magician, polygamist and self-styled priest-king of the American continent, invented an American version of Europe's ethnically-founded idolatry. Each European tribe that rebelled against Christianity styled itself the Chosen People. Smith concocted a tale in which Americans actually were the Chosen People, and America was the Promised Land of the ancient Hebrews and Jesus Christ. In short, Smith took to the extremes of fantasy and forgery an impulse towards national self-worship that always lurks somewhere in American Christianity.
Smith was the Sorcerer's Apprentice of American religion. The New England Puritans had set out to become a New Chosen People in a New Promised Land, and instead had become complacent and prosperous Unitarians. In the then frontier provinces of northern New York, where poor farmers came to try their luck after leaving the thin soil of New England, the notion of American Chosenness continued to resonate. In Smith's purloined account, America actually was the New Israel, the home of emigrating Hebrew tribes, and the site of Jesus' return to Earth.
American popular culture makes a running joke of Smith's 1827 claim to have discovered golden tablets containing the history of an Israelite migration to North America including a cameo appearance by Jesus Christ. Thanks to the animated satire "South Park", Americans know that Smith "translated" golden tablets that no-one else could see by looking at "seer stones" inside his hat. That is the power of mass media; one half-hour cartoon can undo the work of a million missionaries.
Belief in the Book of Mormon is one of the strangest collective delusions in history. The circumstances of its forgery are transparent and exhaustively documented. After supposedly finding golden tablets composed by the aptly-named Angel Moroni, Smith "translated" 16 pages of them using his treasure-hunting stones. A friend showed the manuscript to his suspicious wife, who hid or destroyed it. Smith could not exactly reproduce the "translation" which he had dictated free-style, and stood in danger of exposure were he to produce a different version. Instead he received a new revelation to translate not those golden tablets, but yet another set of tablets that no one else could see.
Historians have demonstrated that a sizable chunk of the supposed Book of Mormon was copied from a novel by a certain Reverend Solomon Spalding, who concocted the notion of an ancient Hebrew migration to North America as an entertainment. Most of the remainder was lifted from a 1769 edition of the King James Bible, with printer's errors intact. A history of the patriarch Abraham that Smith later "translated" from ancient Egyptian papyri was shown to be an ordinary Egyptian funerary document. A useful summary of the facts has been published online by Father Brian Harrison of the Pontifical University of Puerto Rico. [1] An exhaustive report is found in the book Mormon America, by Richard and Joan Ostling (Harper 2007).
From the hard-luck farmers of upstate New York and assorted frontier ragtag, Smith formed a synthetic nation that worshipped itself with the same fervor that the half-Christianized European barbarians devoted to their own ethnicity. It was a remarkable achievement, and it is hard to quarrel with American professor Harold Bloom's praise of Smith as "an extraordinary religious genius".
What distinguished the Latter Day Saints from the quasi-pagans of European Christendom, though, is a characteristically American frankness that had no inhibitions about idolatry. Everyone could become God, Smith preached in 1844:
I am going to tell you how God came to be God. God himself was once as we are now, and is an exalted Man ... If you were to see him today, you would see him like a man in form - like yourselves, in all the person, image and very form as a man ... We have imagined and supposed that God was God from all eternity. I will refute that idea, and will take away and do away with the vail, so that you may see ... The mind or the intelligence which man possesses is coequal with God himself.
Convinced of his own divinity, Smith took his do-it-yourself Chosen People on a parodic Exodus, to a new settlement in Illinois. There he organized military forces and in 1844 was proclaimed by the church council "King, Priest and Ruler over Israel on earth", explaining, "I am above the kingdoms of this world, for I have no laws." It was also revealed to him that he was entitled to multiple wives. Smith's imperial ambitions provoked a confrontation with local authorities and his eventual murder. His disciple, Brigham Young, continued the mock-Exodus to Utah, which remains the Mormon center.
According to a recent survey, 99% of the students at the church's Brigham Young University believe that Smith was a prophet, despite overwhelming and authoritative evidence that he was a con man. To understand the Mormons we must look below the surface of belief. Why we believe something cannot be separated from what we believe.
How do we distinguish revealed religion from an idolatrous cult? The first question to ask is, what is revealed? Judaism and Christianity are founded on an event - the Exodus of the Hebrews from Egypt, and the spiritual Exodus, namely Christ's Resurrection. Jews are persuaded of the love of the Creator God because they left slavery in Egypt for redemption in Canaan under circumstances that they understood to be miraculous. We cannot prove they were miraculous, but we know that they were improbable. Nowhere else in all the myths of all the peoples does a despised slave-people emerge to freedom, and nowhere else is the national salvation of a specific people understood as the intervention of the God of all humankind, for the eventual redemption of all of humankind. Christianity makes the Exodus spiritual and offers it to all who believe in the resurrection of Jesus Christ.
The existential truth of Jewish belief stems from the singular event that created the Jewish nation, according to its historic memory. Christians believe that the Resurrection of Jesus Christ makes the Exodus universal; Jesus Christ becomes the Passover lamb whose sacrifice redeems all humankind from death; its existential truth lies in victory over death.
Mormonism offers quite a different sort of revelation: a book purportedly translated through Smith's top hat. In that respect, Mormonism resembles Islam more than Christianity. As Franz Rosenzweig said of Islam and the Koran, "The book sent down from Heaven - can there be a more complete renunciation of the concept that God Himself descends, and gives Himself to humankind, to reveal Himself? He sits enthroned in His highest heaven and sends humankind - a book."
What attracts people to the cult of the book? The answer is that we covet the Kingdom of God. Christianity requires each Gentile to abandon the nation of his birth, and as an individual to join a new nation, the People of God, the Israel of the Spirit. But the barbarians who invaded the territory of the Roman Empire during the 1,000 years from AD 200 to 1200 came to the cross not as individuals but as tribes. From the half-Christianization of the barbarians came the desire of each nationality to be chosen in place of the universal church, the spiritual Israel, and to be immortal not in the Kingdom of Heaven but in its own skin. (See Why Europe chooses extinction Asia Times Online, April 8, 2003.)
As Christoph Cardinal Schoenborn said in a 2005 lecture at Hebrew University,
Identification of one's own people as the chosen, and hence one's own country as the Promised Land, is one of the sources of European nationalism ... it was only in the 19th century that nationalism assumed that threatening perverted form of an ideology of power which idolized one's own people, one's own nation, and which led to the great catastrophes of the 20th century.
In contrast to the ethnic idolaters of Europe, the Puritan founders of New England set out to be a new Chosen People in a new Promised Land, famously expressed in John Winthrop's "city on a hill" sermon of 1631. Like Cardinal Richelieu's Francophile Catholic Church, or Henry XIII's Church of England, the Puritans desired to be a Chosen People of the flesh, not only of the spirit. But unlike the Europeans, they sought to build the city on a hill from a green field, with none of the ethnic attachments that dragged down the Old World.
American Christianity often fails to understand its inner tension between the earthly and heavenly kingdoms. Abraham Lincoln's famous epigram said it best: Americans are an "almost chosen people". Mormonism helps clarify the issue, for it is a freakish variant of the "Judaizing heresy" that underlay the founding of America: the conceit that America was a new chosen people in a new promised land. This worldliness ultimately led the Puritans to Unitarianism, a sort of pseudo-Judaizing that ends up in agnosticism - for example, Ralph Waldo Emerson and the Transcendentalists.
The trouble is that people don't want to be an "almost chosen people", pilgrims on this Earth hoping for the Kingdom of Heaven. They want the kingdom in a suburban subdivision with a shopping mall, and they want to be chosen, by which they mean they want these comforts as an eternal grant. They want to build Jerusalem in England's green and pleasant land, or in a pinch, in Utah's barren and forbidding one.
That is why Americans fall away from Christianity, to indifference, or occasionally to cults such as the Latter Day Saints. Americans keep returning to the Christian message, roughly once every couple of generations, in awakenings that later become ossified. Today's bland mainline Protestants, whose members are leaving in droves for the newer evangelical denominations, arose in large part out of the great awakenings of the 19th century.
There is nothing at all "American" about "American religion", contrary to the assertions of Bloom and Yale Professor David Gelernter. What distinguishes America is the absence of ethnicity: America is a state without a nation. But human mortality is everywhere the same, and humankind responds to it within a delimited range of choices.
American must endure the same tension between Christian salvation in the Kingdom of Heaven and the emulation of Jewish salvation in this world. The trouble is that Christians cannot imitate Jews, not at least, for very long. The "Judaizing heresy" of the Puritans was inherently unstable. The Puritans lapsed into Unitarianism by the time of the American Revolution. It was left to the Calvinists like Jonathan Edwards to lead the great awakening of the 1730s century, and Methodists and Baptists to lead the great awakening of the 1820s. Smith offered an alternative to re-awakened Christianity in the form of a frontier parody of Judaism, complete with priests, temples, an Exodus and a raft of silly rituals taken from Freemasonry.
The Puritans saw themselves as a new Chosen People in metaphor only. It was a metaphor they failed to sustain. No more than its European forebears was American Christianity able to overcome the desire of half-converted Christians to be a Chosen People in this world. The difference between America and Europe is that in the absence of ethnic idolatry, American Christianity has been able to regenerate itself every second generation, in the form of a new great awakening, while the Europeans lapsed into an ethnic morass from which they have not emerged.
If the Austro-Hungarian Empire was a tyranny tempered by incompetence, as the old joke goes, the Mormon Church is a megalomania atrophied by age. Although the Latter Day Saints claim 13 million members, less than one-third are active. Unlike American Christian denominations, the Mormons have had small success in Africa and Asia, the centers of Christian evangelization. As punishment for their sins, the Mormons must live in their promised land in the Rockies. One can see their present-day concerns in the selection at Utah video stores, for example, local-market movies about the forbidden love between a Mormon boy and a Methodist girl.
Mitt Romney should be judged on his own merits, not on the dubious history of his church. Perhaps he believes not a syllable of Smith's ravings, but remains a Latter Day Saint out of deference to his family. Contrary to his December 6 appeal, however, the voters have every right to ask.
Note 1. See The Wacky World of Joseph Smith



Gnashing their teeth


Feb 21st 2008 | WASHINGTON, DC
From The Economist print edition

The latter-day saints are angry with the Republicans

"POLYGAMY", the comedian Stephen Colbert quipped, "comes from the Greek 'poly' meaning multiple and 'gamy', meaning reasons not to vote for Mitt Romney." Now that the Mormon former governor of Massachusetts has abandoned the race and endorsed John McCain, will the Church of Jesus Christ of Latter Day Saints—an important voting-group in several states—follow his lead?

Utah, the centre of the Mormon universe, preferred George Bush to John Kerry by 46 points in 2004. But Mormons took a beating during Mr Romney's run. In a Pew poll from December, a quarter of Americans and 36% of white evangelicals expressed reservations about voting for one. A study from Vanderbilt University concluded that conservative Christians cited unrelated concerns about Mr Romney to mask their discomfort with his faith.

Mormons naturally invested in Mr Romney, donating to his campaign and voting for him in droves: 90% of Utah Republicans plumped for him. Half of Mr Romney's supporters in the Nevada caucuses, which he won convincingly, were from his church.

Mike Huckabee took Iowa and the South, however, areas filled with evangelicals whom Mr Romney needed to win. "In Utah you could almost hear the wailing and gnashing of teeth," says Kirk Jowers, head of the University of Utah's Hinckley Institute of Politics. In a poll taken just after Mr Romney left the race, only 30% of Utahns said they would vote for Mr McCain; 25% said they would choose Barack Obama.

Utah's political pundits agree that the conservative state will prefer Mr McCain. But the margin may be smaller as some Romneyites switch sides or stay at home. In other Mormon-rich states, particularly Nevada, which is a swing state, depressed Mormon turnout could hurt Mr McCain a lot more.

Much depends on the Democratic nominee. Hillary Clinton is reviled; Mr Obama is not. Much also depends on Mr McCain's eventual running-mate. Many Mormons believe Mr Huckabee used Mr Romney's faith against him, as when the former Baptist minister asked a reporter "Don't Mormons believe that Jesus and the devil are brothers?" If Mr Huckabee is on the Republican ticket, there could be a latter-day revolt.