MUSLIM DIPLOMATS
British Lord Puts Bounty on American Presidents
IPT News

April 16, 2012

The first Muslim nobleman in England has been suspended from his political party following reports that he put a bounty on Presidents Obama and Bush during a speech Sunday in Pakistan. It is not the first time that Lord Nazir Ahmed has advocated on behalf of the worldwide Islamist causes.
It's also a damning indictment of how the British political system empowered and supported a radical Islamist, despite indications that his misuse of the position would convey legitimacy to extremist causes.
"If the U.S. can announce a reward of $10 million for the [capture] of Hafiz Saeed, I can announce a bounty of £10 million [for the capture of] President Obama and his predecessor, George Bush," Ahmed was quoted as saying by Pakistan's Express Tribune. The threat came during a seminar at Punjab University entitled "International Scenario, Pakistan and Our Responsibilities." It was a sharp response to an American reward for Hafiz Muhammad Saeed, the founder of Pakistani terrorist group Lashkar-e-Tayyiba, and an alleged planner of the Mumbai massacre in November 2008.
Ahmed was appointed the Lord of Rotherdam for life in 1998, during Tony Blair's reign as prime minister. He functions as a Labour Party representative for Britain's noble upper branch of Parliament, the House of Lords.
Ahmed indicated "that he would arrange the bounty at any cost, even if he was left with the option of selling all his personal assets, including his house," according to a report by Middle East Media Research Institute (MEMRI).
An article on the Punjab University's webpage independently confirms the threat and adds more details. It said that Ahmed told a "charged" university audience that former President Bush and Prime Minister Tony Blair must be indicted for war crimes, and he predicted that "Iran was likely to be attacked by the U.S. or Israel in order to get votes." If either nation did attack the Islamic Republic, "the Muslim nation [Ummah] should unite against these powers."
Britain's Labour Party immediately distanced itself from the comments and Ahmed. "We have suspended Lord Ahmed pending investigation. If these comments are accurate we utterly condemn these remarks which are totally unacceptable," a party spokesman told British news outlets.
The comments may be grounds for more than just suspension from his party. Former federal prosecutor Nathan Garrett told the Investigative Project on Terrorism that he "suspect[s] the authority exists for the British government to institute legal action against Mr. Ahmed, notwithstanding the fact that the comments were made in Pakistan."
The quotes could also cause the United States to declare Ahmed a 'persona non grata,' or enter the gray area of American prosecution if the threat matures into a plot. The danger of Ahmed's quotes may "creep its way into U.S. jurisdiction if some furtherance of the threat touches U.S. soil or otherwise involves (on the perpetrator side) U.S. persons," Garrett said.
Although multiple news sources have reported the quotes as accurate, Ahmed responded with surprise to news of his suspension. He claimed to not have offered any bounty, but merely suggested Britain and America had committed war crimes in "illegal wars" in Afghanistan and Pakistan. For those crimes, former leaders George Bush and Tony Blair "should be brought to justice," he said.
He also demanded that the British government prove he had made the quotes and told the BBC he was "shocked and horrified" at the accusations.
This isn't Ahmed's first brush with controversy. He has long promoted extremist causes to British and American audiences, including defending terrorists and lauding Islamists in both countries.
In February 2009, he sent a letter to President Obama questioning America's treatment of terrorist Aafia Siddiqui, an MIT-educated scientist who recently was convicted of trying to kill U.S. troops and federal agents in Afghanistan. Ahmed called for her to be repatriated to Pakistan.
In recently posted comments at the headquarters of the Islamic Circle of North America, an American organization known for radicalizing its membership, Ahmed denounced the prosecution of a recently convicted Pakistani lobbyist.
He called the prosecution of Ghulam Nabi Fai, who pleaded guilty to taking $3.5 million from Pakistan's terrorism-tainted intelligence forces, a "politically motivated" act. "The arrest and charges on Dr. Fai Sahib [the respected one] by American authorities was to apply political and moral pressure on Pakistan intelligence services," he said in an Urdu-language interview.
"People within America society, who support American nationalism, believe that Pakistan is not cooperating with America as before. The problem with America is that Americans think by giving dollars they can buy someone's faith," he said. "They think that by giving dollars they can murder a person or rape a person. They've made a habit of murdering and raping whether it is the case of Raymond Davis, or it is attacking Pakistani forces at checkpoints for 2 to 6 hours and making them martyrs."
In addition, he lauded pro-Hamas MP George Galloway as a "very big hero" and a "legend," referring to his outspoken colleague's actions as a "success of Muslims."
Ahmed expressed support for extremist South Asian organization Jamaat-e-Islami (JeI) Bangladesh during a 2012 ICNA meet-and-greet event. The Bangladeshi group's activities have been curtailed in its home country, its primary literature has been banned, and the national government has indicted JeI Bangladesh leaders for their roles in massacring civilians during the 1971 War of Independence. One of ICNA's current regional leaders, Ashrafuz Zaman Khan, reportedly will face charges as an executioner for the organization.
Ahmed called Jamaat-e-Islami "our Muslim brothers" and accused Bangladesh's leader of pursuing a politically motivated campaign influenced by India as an attack against Pakistan and its intelligence sources.
In England, he has rallied for Islamist causes. He came out in support of radical Israeli-Arab cleric Raed Salah [Mahajna], whom the British government tried to ban from entering the country for his Hamas fundraising activities and blatant anti-Semitism. Ahmed had tried to book a room in parliament for Salah to give a speech.
He advocated on behalf of al-Qaeda leader Mahmoud Abu Rideh, who was arrested after receiving refugee status in Britain, personally meeting with him and escorting him on a visit to the British Parliament. Rideh was later killed while fighting foreign forces in Afghanistan.
In 2010, Ahmed was booked as a speaker for a British tour of senior Jamaat-e-Islami Pakistan leaders. Qazi Hussain Ahmed, the chief presenter and former head of JeI Pakistan, was quickly banned from entering the U.K. for pro-terrorist and anti-Semitic quotes.
Ahmed has given other virulent bigots a stage in Britain's governmental buildings or defended their controversial remarks.
For example, he hosted a 2005 book launch in the House of Lords for anti-Semite Israel Shamir, who claims blood libels and supposed Jewish designs to conquer the world are real.
The series of controversies follows on the heels of Ahmed's conviction for "dangerous driving," after he was caught texting while driving before a fatal car crash with another driver. Although the Labour Party kicked him out at the time, Ahmed was let back in after serving 16 days of a 12-week sentence.
Ahmed's outrageous statement about two American presidents should come as no surprise to anyone who has tracked his career in the House of Lords. A brief suspension, or anything less than his removal from parliament, should draw vehement protest by the United States.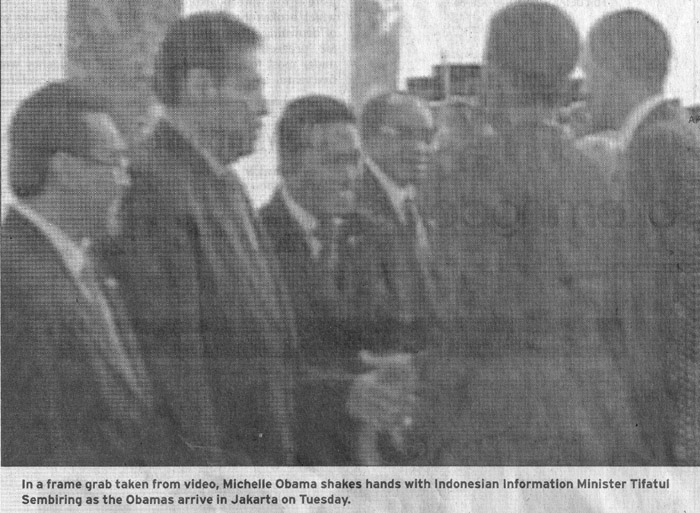 Indonesian minister all a-Twitter over Michelle Obama

(AFP) October 10, 2010

JAKARTA — The Indonesian media and blogosphere lit up Thursday with condemnation of a conservative Muslim minister who expressed embarrassment about shaking hands with US First Lady Michelle Obama.

Critics accused the minister of lying about the "hand-shaking incident" and bringing shame to the mainly Muslim country, which President Barack Obama held up as a model of tolerance and diversity during his brief visit this week.

The First Lady became the unwitting focus of an online debate over religious tolerance and women's rights when Communications Minister Tifatul Sembiring messaged his thousands of Twitter followers that he had reluctantly shaken hands with her at a formal reception on Tuesday.

Sembiring is a conservative Muslim who refuses to touch women he is not related to, and has previously outraged liberal society by suggesting AIDS funding is a waste of public money and linking natural disasters to immorality.

"I tried to prevent (touching First Lady Obama) with my two hands but Mrs Michelle moved her hands too close to me, then we touched," he Tweeted on Tuesday, sparking a firestorm on the hyperactive Indonesian blogosphere.

Video footage of the meeting suggested otherwise, showing Sembiring reaching out to shake Michelle's hand, like the other dignitaries had done.

Rather than call a press conference to face the media in person, Sembiring defended his beliefs by posting comments on Twitter and Facebook on Thursday.

"I still stand by the position that I will not shake hands with women who are not related to me," he wrote in a series of 14 numbered Tweets to his 110,000 followers.

He added that "some situations happen suddenly, or I meet people who don't have any idea about my beliefs".

"Usually in state-related events, or sometimes after praying, there are ladies who scramble to shake hands."

He claimed that his encounter with Michelle Obama was such a moment, even though they met as she followed her husband down a long line of assembled officials, shaking hands with each in turn.

"I offered my two hands in a Sundanese-style greeting (held together as if in prayer)... And then the hand-shaking incident occurred," he explained.

Most Twitter users were scathing in their condemnation of the minister.

"Of course, the communications minister is stupid, naive and inconsistent," wrote one.

"It wasn't about shaking hands. It's the lying!!!!" wrote another.

One user wrote: "He's just embarrassing".



Diplomat was headed to meet jailed terrorist

By MATTHEW LEE and P. SOLOMON BANDA, Associated Press Writer Matthew Lee And P. Solomon Banda, Associated Press Writer – Thu Apr 8, 6:32 pm ET

WASHINGTON – A Qatari diplomat was on his way to an official visit with an imprisoned al-Qaida sleeper agent when he touched off a bomb scare by slipping into an airline bathroom for a smoke, officials said Thursday as the diplomat prepared to leave the U.S.

The diplomat, Mohammed Al-Madadi, was going to pay a consular visit to the prisoner, said Alison Bradley, a public relations executive hired to speak for the Qatari Embassy, and a State Department official.

The prisoner, Ali Al-Marri, a citizen of Qatar, is serving eight years after pleading guilty last year to conspiring to support terrorism. Al-Marri was arrested after the Sept. 11, 2001, terrorist attacks, accused of being a sleeper agent researching poisonous gasses and plotting a cyberattack.

Consular officials frequently visit foreigners held in the United States to make sure they are being treated well.

Bradley said Qatari diplomats have made multiple visits to Al-Marri in prison since he pleaded guilty. The right to such visits is guaranteed by international agreements, and the U.S. Bureau of Prisons had approved this visit by Al-Madadi in advance, Bradley added.

Questions remained about why a diplomat on an official trip, like Al-Madadi, would apparently flout airline security rules. Law enforcement officials said Al-Madadi later joked that he had been trying to light his shoe — an apparent reference to the 2001 so-called shoe bomber, Richard Reid.

The U.S. officials who discussed the case did so on condition of anonymity because they were not authorized to discuss the matter.

No explosives were found on the plane and authorities said they don't think Al-Madadi was trying to hurt anyone during Wednesday's scare. He enjoys diplomatic immunity from U.S. prosecution and will not be criminally charged, authorities said.

The State Department official said Qatar had not yet informed the administration how it will handle the case but has assured the U.S. that Al-Madadi will leave the country. U.S. officials expect that to happen later Thursday or Friday.

"We fully expect this will be resolved very quickly," State Department spokesman P.J. Crowley told reporters.

Crowley said the U.S. government is satisfied that the Qatari government is taking the matter seriously.

Wednesday's scare came three months after the attempted terror attack on Christmas when a Nigerian man allegedly tried to blow up a Detroit-bound airliner. Umar Farouk Abdulmutallab went to the bathroom just before he allegedly tried to ignite a bomb in his seat. Since then, law enforcement, flight crews and passengers have been on high alert for suspicious activity on airplanes. That scare exposed major holes in the country's national security and prompted immediate changes in terror-screening policies.

Some air travelers at Denver International Airport Thursday were amazed that Al-Madadi would not be charged with anything.

"I think it's wrong. I'd get busted. I don't think that (immunity) should be a factor," said one of them, Hank DePetro, a retired psychologist from Greeley, Colo.

Under international protocol — the 1961 Vienna Conventions on Diplomatic Relations — diplomats in foreign countries enjoy broad immunity from prosecution. That immunity can only be waived by a diplomat's home government, something that is rarely requested and even more rarely granted.

But even without charges being pressed against him and without such a waiver, the U.S. could have moved to declare Al-Madadi "persona non grata" and expel him from the country. However, officials said they would not pursue this, given the close nature of U.S.-Qatari ties and the importance the country plays in the Middle East.

Qatar, about the size of Connecticut and Rhode Island combined and with a population of about 1.4 million people, is an oil-rich Middle East nation and key U.S. ally. It is situated on the Arabian peninsula, surrounded on three sides by the Persian Gulf and to the south by Saudi Arabia. The country hosts the forward headquarters of the U.S. Central Command, which runs the wars in both Afghanistan and Iraq, and is a major supporter of operations deemed critical to both campaigns.

Qatar's ambassador to the United States, Ali Bin Fahad Al-Hajri, cautioned against a rush to judgment.

"This diplomat was traveling to Denver on official embassy business on my instructions, and he was certainly not engaged in any threatening activity," he said in a statement. "The facts will reveal that this was a mistake."

Al-Madadi is the embassy's third secretary, a relatively junior position, although diplomatic assignments in Washington are considered plum posts in most countries' diplomatic corps.

An online biography on the business networking site LinkedIn shows that a Mohammed Al-Madadi has been in Washington since at least 2007, when he began studying at George Washington University's business school. The job title listed on the site is database administrator at Qatar's Ministry of Foreign Affairs.

The Boeing 757 was carrying 157 passengers and six crew members, United Airlines spokesman Michael Trevino said. It left Reagan National Airport at 5:19 p.m. EDT and landed at Denver International Airport at 7 p.m. MDT.