THE MUSLIM PILGRIMAGE OR HAJJ
Become a Muslim and learn to grow ugly beards!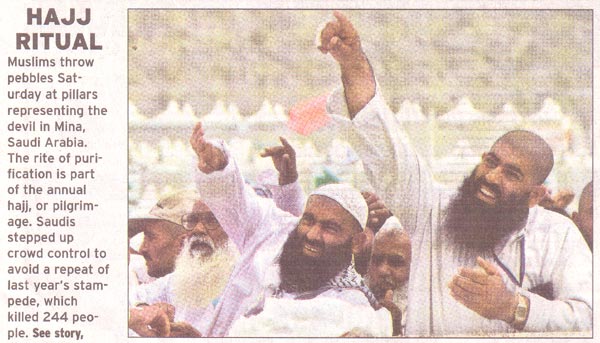 Become a Muslim and learn to throw rocks!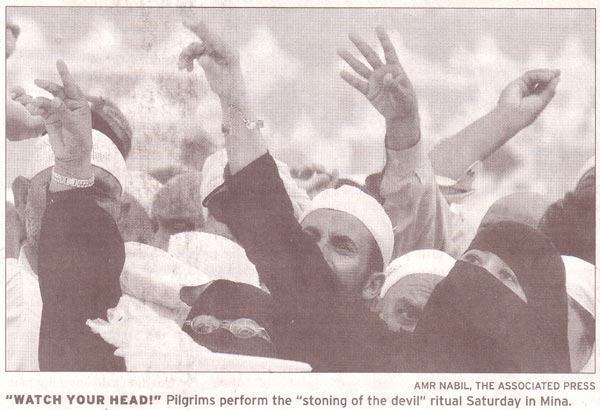 Become a Muslim and learn to be ignorant !
Stampede kills more than 700 at Hajj pilgrimage near Mecca

By Faith Karimi and Schams Elwazer, CNN
September 24, 2015

(CNN)A stampede during one of the last rituals of the Hajj season -- the annual Islamic pilgrimage to Mecca -- has killed more than 700 people and injured 800 others in Saudi Arabia.

The stampede occurred Thursday morning during the ritual known as "stoning the devil" in the tent city of Mina, about 2 miles from Mecca, Islam's holiest city.

Hundreds have been killed in past years during the same ceremony, and it comes only 13 days after a crane collapse killed more than 100 people at another major Islamic holy site, the Grand Mosque in Mecca.

"We have a stampede accident in Mina, and civil defense is dealing with it," said Brig. Gen. Mansour al-Turki, an Interior Ministry spokesman.

The incident is the deadliest disaster at Mina since 1990, when 1,426 people died.

Civil defense authorities said the latest death toll is 717, but the numbers have been climbing steadily. Officials deployed 4,000 workers, along with 220 ambulances and other vehicles, to Mina in response to the disaster.

In the ritual, crowds of pilgrims throw stones at three pillars in a re-enactment of when the Prophet Abraham stoned the devil and rejected his temptations, according to Muslim traditions.

In Thursday's stampede, pilgrims were walking toward the largest of the pillars when there was a sudden surge in the crowd about 9 a.m., causing a large number of people to fall, the state-run Saudi Press Agency said, citing civil defense officials.

Information on what led to the surge wasn't immediately available.

A risky pilgrimage

Ethar El-Katatney, a pilgrim who was near the stampede site about five hours after the surge happened, said she walked past ambulances that were taking bodies of victims. She said she saw numerous police officers and medical personnel in the area.

"I saw the ambulances, I saw bodies. ... At least 20, 30 ambulances passed me by," she told CNN by phone as she tried to reach the pillars herself.

The ceremony was the scene of stampedes and hundreds of deaths in the 1980s and 1990s as pilgrims passed a crowded bottleneck area leading to the small pillars on the ground.

In 2006, a stampede there killed at least 363 people.

After that, the Saudi government erected three massive pillars and completed a $1.2 billion, five-story bridge nearby where pilgrims can toss stones. It was meant to be a roomier atmosphere and a more efficient way to accommodate the faithful.

The ritual

The stoning ritual is done over at least two days, where pilgrims stone the three pillars at Mina -- believed to be where the devil was stoned when he tried to dissuade Abraham from obeying God's orders to slaughter his son. According to tradition, the event was a test from God, who gave Abraham a ram to slaughter instead.

Thursday was the third day of the Hajj.

On September 11, just days before this year's Hajj started, a construction crane crashed through the roof of another eminent Hajj destination, the Grand Mosque in Mecca, killing 107 people. At least 238 others suffered injuries when a powerful storm toppled the crane.

Losing one's life during the Hajj season is considered by many devout Muslims as an entry to heaven.

A spiritual climax

More than 2 million Muslims from around the world are attending the annual Hajj pilgrimage this year.

Known as the fifth pillar of Islam, the Hajj is an obligation upon every Muslim who has the financial means and the physical ability to perform it. For most, it is the spiritual climax of their lives, with many saving for decades to make the journey.

The pilgrimage, conducted over five days, includes detailed rituals such as wearing a special white garment that symbolizes human equality and unity before God; a circular procession around the Kaaba, Islam's holiest shrine, surrounded by Mecca's Grand Mosque; and the symbolic stoning.

It was also a tragic day for Muslims in Yemen on Thursday, where at least 29 people attending Eid prayers died when a bomb went off inside a crowded mosque in Sanaa.

Saudi-Iran tensions overshadow hajj pilgrimage

Nov 01, 2011 by Omar Sacirbey

(RNS) Reports last month that Iran plotted to assassinate Saudi Arabia's ambassador to the U.S. have enflamed animosity between the two Muslim powers, and raised concerns that violence could mar this year's hajj pilgrimage that starts on Friday (Nov. 4).

More than 1.7 million pilgrims have already arrived in Mecca, the Saudi city where Islam was founded 1,400 years ago. A record 2.8 million pilgrims performed the hajj last year, including more than 14,000 Americans and almost 100,000 Iranians. Saudi authorities expect similar numbers this year.

"If people want to create havoc, this is the place to do it," said Nail Al-Jubeir, a spokesman for the Saudi Embassy in Washington, D.C. "We're always on heightened alert during hajj."

Iran is primarily Shiite Muslim, a branch of Islam that claims about 15 percent of the world's Muslims. Saudi Arabia is predominantly Sunni Muslim and home to the Wahhabi sect, some of whose members consider Shiites to be heretics.

The ancient Sunni-Shia split over who would be the Prophet Muhammad's successor has fueled a battle for regional supremacy between the two neighbors.

Security for the hajj starts beyond Saudi Arabia's borders. To be able to keep track of pilgrims and control their numbers, Saudi Arabia's Hajj Ministry issues a fixed number of "hajj visas" to individual countries every year.

Saudi Arabia also created a special police unit this year to prevent people without hajj visas from entering pilgrimage areas. Yet visa recipients are hard to vet.

"It is next to impossible to determine the true identity of an Iraqi, Palestinian, Somalian or Afghan tribesman, yet thousands of pilgrims have been granted visas to travel to Saudi Arabia from these locations," noted a 2007 report from Stratfor, an Austin, Texas-based intelligence and analysis company.

The Saudi government has also set up special police and military units trained to respond to attacks by extremists, according to local news reports. In recent months, these forces have staged training exercises at Mecca's Grand Mosque and other sites along the pilgrimage route.

In accordance with Islamic tradition, pilgrims are forbidden from any displays of temper or argument, and are prohibited from killing animals or bugs, let alone committing violence. Nevertheless, violence has sometimes blemished the hajj.

In 1979, militants from an Islamic sect seized control of the Grand Mosque before Saudi security forces defeated them two weeks later. More than 300 pilgrims, militants, and Saudi security officers were killed.

In 1987, after years of letting Iranian pilgrims stage anti-American and anti-Israeli demonstrations during the hajj, Saudi security forces killed dozens Iranian pilgrims, causing a stampede that killed dozens more. More than 400 people were killed altogether.

Two years later, a bomb blamed on Shiite pilgrims from Kuwait killed one pilgrim.

Mecca pilgrimage ripe for sectarian clash
By DAVID ROSENBERG / THE MEDIA LINE
10/26/2011

Growing tensions between Saudi Arabia and Iran threaten to peak in Sunni-Shite cold war, analysts say; Saudi takes security precautions.

The Hajj – The annual pilgrimage in which some three million Muslims converge on the holy city of Mecca in Saudi Arabia – is threatening to become the next flashpoint in the Sunni-Shiite cold war.

Pilgrims have already begun arriving for the event, whose observance according to the Muslim calendar is expected to peak in the first or second week of November. Saudi Arabia is taking security precautions as the Hajj gets underway and officials have warned that they will not countenance disturbances of any kind.

While the Hajj has not been marred by violence since 1987, this year's pilgrimage comes amid heightened tensions between Shiite Iran and Sunni Saudi Arabia, each of which regards itself as the leader of its wing of Islam. That could prompt an outbreak of violence, whether planned or not, at the most sensitive time of the Muslim calendar and at its most holy place, analysts say.

"They [the Iranians] have done that in the past. It tends to reflect the state of Saudi-Iranian relations," Ali Ansari, a researcher on Iran at London's Chatham House think tank, told The Media Line. "With the Turks and the Saudis, they try to keep things calm. But the relationship with the Saudis has become really bad."

Traditional rivals occupying opposite sides of the Gulf, both countries have grown anxious as the Arab Spring shakes up the status quo across the Middle East. Meanwhile, the scheduled US troop withdrawal from Iraq, a country with a mixed Shiite-Sunni population, will create a power vacuum that both Iran and Saudi Arabia are concerned with filling.

In March, Saudi Arabia dispatched security forces to put down a largely Shiite rebellion in Sunni-ruled Bahrain, angering Iran. Earlier this month, Shiites in Saudi Arabia's eastern province rioted, prompting the government to blame a "foreign country," a code word for Iran. Riyadh reacted with intense anger after the US revealed a plot laid by a secret Iranian military unit, the Quds force, to assassinate the Saudi ambassador to Washington.

While neither country is prepared to risk an open military conflict, analysts say they have shown no hesitation to engage in diplomatic assaults and quietly back their co-religionists in local sectarian conflicts. In that context, the Hajj is a potential hotspot.

"Given the tensions, they seem to be ramping up toward another clash. I'm not saying there will be one, but if there is one, I won't be surprised," Joshua Teitelbaum, a senior lecturer in Middle East at Israel's Bar-Ilan University, told The Media Line.

Fuad Bin Abdulsalam Al-Farsi, the Saudi minister of Hajj, told The Saudi Gazette that some 1.8 million foreign pilgrims are expected to arrive this year, outnumbering Saudis. He didn't cite figures for the number of Iranians, but in past years they have numbered in the tens of thousands.

Last week, Saudi security forces staged a mock drill at Mecca's Haram Mosque, during which they broke up a sit-in between the Black Stone and the area for circumambulation. "During the exercise, emergency forces were asked to use machine guns and fire live ammunition at certain targets, which they achieved with accuracy," The Gulf News reported.

All Hajj pilgrims will be fingerprinted on their arrival in the Kingdom, ostensibly to keep out unauthorized visitors but also as a means of keeping tabs on them. Some 500 women have been hired to form a special unit dealing with female pilgrims, a necessity in a country that maintains strict separation between the sexes.

"We will not allow anything that would disrupt the peace of the Hajj pilgrimage and disturb the pilgrims. That is why we shall not tolerate any damage, riots or chaos during the season of Hajj or out of it," Prince Khaled Al-Faisal, governor of Mecca province, told reporters earlier this month.

Publicly, Iran is not threatening problems at the pilgrimage even as it threatens the Saudis in other ways. The Hajj should be a "symbol of unity," Ali Ghazi-Asgar, Iran's top Hajj official, said on October 9. "I call on all Friday prayer leaders and media in the two countries not to stir up tensions and differences," he told pilgrims, according to Iran's semi-official Fars news agency.

But the Saudis have reasons to be nervous. Saudi security forces clashed with Iranian pilgrims holding anti-US and anti-Israeli protests, most notably in 1987, when police efforts to stifle a demonstration ended in clashes that left 402 people dead, including 275 Iranians. Tehran routinely complains about discrimination against Shiites and their unique rites during the Mecca pilgrimage, adding a potential source for clashes.

In recent years, Iranian pilgrims have staged smaller, quieter rallies with speeches and chants calling for Muslim unity and attacking the "enemies" of the faith. The rallies, which they call "distancing from infidels," take place outside an encampment on the Plain of Mina outside of Mecca during a key part of the Hajj rites.

In 2007, when bilateral relations were better, Iranian President Mahmoud Ahmadinejad made the Hajj himself. But he stayed away from the rally held nearby by several hundred Iranian pilgrims.

In fact, the speeches and chants are not a traditional part of the Hajj, rather an invention of Iranians since the 1979 revolution that overthrew the shah. The Saudis have tried to ban this ceremony. Moreover, while Iranians are free to make their own Hajj travel arrangements, most travel in government-sponsored groups, giving officials greater control over who attends and their actions.

Despite Ahmadinejad's forbearance four years ago, the regime in Tehran looks at the annual pilgrimage through a very different prism than the hosting Saudis, said Bar-Ilan's Teitelbaum.

"The Saudis see it as great responsibility and a pillar of Islamic and they want to give the best service possible to perform their obligation," he said. "The Iranians, since the revolution, have looked at this as a big opportunity to propagandize for the revolution and against the people they don't like, which are the Saudis, the Americans and Israel."


Report Warns of Terrorists' 'Great Ramadan Offensive' By Sherrie Gossett

CNSNews.com Staff Writer
September 08, 2005


(CNSNews.com) - Al Qaeda's plans for a series of spectacular terrorist strikes in October, targeting American interests as well as U.S. allies in Europe and the Middle East and said to be coordinated by Osama bin Laden and his top lieutenant in Iraq - Abu Musab al-Zarqawi -- are the subject of a non-public report issued by terrorism experts this week.

The attacks, planned to coincide with the Muslim observance of Ramadan and dubbed the "Great Ramadan Offensive," are designed to create a "fateful confrontation" with the U.S. and Israeli forces in the Middle East, according to a May 30 letter from Zarqawi to bin Laden. The contents of the letter are referenced in the report written by Yossef Bodansky, the former director of the U.S. Congressional Task Force on Terrorism and Unconventional Warfare.

The Sept. 2 report is accessible only to government officials on the Global Information System (GIS) database. Cybercast News Service obtained the report on the same day as its release. It warns of planned attacks in Western Europe, Russia and perhaps the continental U.S. The specific targets are believed to include airports at Schiphol in the Netherlands and Fiumicino in Italy.

Italy remains on high alert and barricades have been placed around Rome's Colosseum. "Terrorism is coming home," the GIS report quotes one unnamed German senior official. "And it's coming home to those countries whose governments may have believed they were immune from terror because for years they have provided safe haven to notorious Islamic extremists."

An associate of Zarqawi named Abu Abdul Rahman al-Jazaeri, was said to be in Italy, but could not be located by authorities, according to Bodansky, who added that Jazeiri was believed to have recently received from a Zarqawi messenger "the definitive mandate to plan and carry out a major terrorist operation in Italy."

In late August Italy announced that it was at an elevated risk for a terrorist attack. The country expelled 700 suspected militants and arrested 141 others. News organizations reported that locks to the entrances of 49 subway stations had been changed and metal barricades erected around the 2,000-year old Colosseum in Rome.

Piecing it all together
Details of the planned attacks were pieced together from intercepted communications between top al Qaeda leaders in the latter part of August, analysis of what counter- terrorism experts described as a dramatic increase in the volume of communication among jihad forces and the observation of an unprecedented movement of jihadists and messengers around the world apparently delivering instructions.

Zarqawi, linked to numerous bombings and the beheadings of several Western hostages in Iraq, reportedly titled his letter to bin Laden, "A Message from a Soldier to His Commander." According to the GIS report, Zarqawi's letter to bin Laden alluded to "the forthcoming grand offensive comprised of escalation in the Middle East and a series of spectacular terrorist strikes" meant to overshadow the impact of the Sept. 11, 2001 terrorist strikes in New York City and Washington, D.C.

The letter also indicated Zarqawi was expecting bin Laden to approve and authorize the escalation: "I think that the plan for the next stage that was drawn up has reached you or is on its way to you. O God. Make the expedition of Osama proceed toward its goal ... We await your orders as to the next stage of the plan," Zarqawi wrote.

An Aug. 8 televised message from bin Laden's overall second-in-command -- Ayman al-Zawahiri - is now viewed as the approval Zarqawi was anticipating. "What you have seen, O Americans, in New York and Washington and the losses you are having in Afghanistan and Iraq, in spite of all the media blackout, are only the losses of the initial clashes ... You will see the horror that will make you forget what you had seen in Vietnam," Zawahiri said.

The al Qaeda official's threat, according to the report, wasn't delivered until the jihad forces were organized and ready to strike.

The GIS report also cites an Aug. 21 message recorded by Zarqawi, which references the next phase of the terrorist jihad. "The [mujahedeen] in Iraq, have, praise be to God, moved the battle from the ground (in Iraq) to the land of the cross."

Zarqawi's message claimed that "[J]ihadist units have been founded in all of Western Europe, to defend the powerless within the nation. For the crimes the Crusaders have committed against the Muslims, they will reap in their own homes, God willing."

A few days later, according to GIS, a doctrinal statement from Zarqawi emerged, which stressed the priority of al Qaeda in Iraq establishing "another base that will export jihad to all parts of the world the same way the mother al Qaeda in Afghanistan was."

'The heart and lair of the Great Satan'
Bodansky's report states that "concrete preparations for the consolidation of Islamist-jihadist springboards against the heart and lair of the Great Satan are being completed -- for Western Europe in the Balkans, for Russian and Eastern Europe in Chechnya, and for the United States in the tri-border area in Latin America."

Widespread anticipation throughout the Muslim world of the Great Ramadan Offensive was being picked up by intelligence analysts in August and then was reinforced by a slew of theological statements -- all buttressing what the GIS report calls "a forthcoming, well-coordinated global onslaught."

The marked increase in the volume of communication, both encrypted and open, exceeded that of the months prior to September 2001, the report states.

Bodansky said there is a growing awareness among Western European intelligence services of the "chatter" and activation of jihadist units, led by veterans of Iraq and Chechnya. In early August 2005 Pakistanis arrested a senior operative called Osama bin Yussaf who had detailed maps of Italian, German and British cities stored in his computer.

Germany faces the challenge of second and third generation immigrants inspired by the idea of a global jihad, the GIS report notes. Such young jihadists often hold down a regular job, have European passports and are valued assets due to their low profile, and easy mobility.

Bodansky also points to the Aug. 23 decree by Islamist rebels in Chechnya establishing an "emergency government." Details of the decree, not previously reported, inidcate that a "war leadership council" was established and would likely "implement the next cycle of terrorist strikes against Russia" as part of the coordinated global attacks.

Hurricane Katrina's message
Terrorist leaders may also have taken the devastation wrought by hurricane Katrina as a symbol that God is pleased with their plans to launch the "Great Ramadan Offensive," according to the GIS report.

"Allah has punished America with winds and water," said one imam quoted in the report. America is under "the curse of the Jews," said another.

"It's clear the jihadists regarded Katrina as a sign from God they're doing the right thing," said Gregory R. Copley, president of The International Strategic Studies Association in Washington, D.C.

In a separate analysis, Christopher Brown, research associate with the Hudson Institute's Transitions to Democracy project, warned of the strategic opening that the hurricane aftermath offers jihadists.

"If this attack is launched soon, the devastation to the American economy alone could easily far exceed that of the September 11th attacks and could be equivalent in terms of economic impact to the detonation of a small nuclear device on American soil," Brown said.

He also suggested that the timing of Zawahiri's past video messages indicates a terrorist attack may be imminent.

His first messages, on Sept. 9 and Nov. 9 of 2004, preceded the Dec. 6, 2004 attack on the U.S. consulate in Jeddah, Saudi Arabia. Feb. 20 and June 17, 2005 video messages by Zawahiri preceded the July 7 series of bombings in London. A third set of messages - on Aug. 4 and Sept. 1 - also creates cause for concern, Brown contends.

"If the pattern that has been outlined holds true," says Brown, "then al Qaeda is very likely about to launch a new major or series of major attacks within the next month."

Copley agreed, telling Cybercast News Service that, "I think Europe is going to be a prime target, but I think there's no question the U.S. is very much on the schedule.

"There will be big things happening over the next few months," he added.

Ramadan, a religious observance which includes a period of fasting, is scheduled according to the Islamic calendar. This year it is scheduled from Oct. 4 to Nov. 2. Muslim soldiers on the battlefield are exempt from Ramadan.
Crowds, fervour spell Haj disaster
Mecca, reuters:
Huge crowds and religious fervour set the stage for frequent disasters in the Haj, a sacred ritual performed each year by 2.5 million Muslim pilgrims who throng to Mecca.
Huge crowds and religious fervour set the stage for frequent disasters in the Haj, a sacred ritual performed each year by 2.5 million Muslim pilgrims who throng to Mecca.

Six times in the last decade the Haj has been marred by stampedes or fire. In the latest tragedy, at least 345 people were crushed to death on Thursday at the site of several previous incidents.

Saudi officials say the kingdom, custodian of Islam's holiest sites in Mecca and Medina, has spent billions of dollars ensuring security for pilgrims from around the world. But they say many pilgrims insist on following a rigid timetable for the ritual, ignoring crucial advice on staggering the event to avoid deadly over-crowding.

"Events like this show that pilgrims should know the rules and practices of Haj," senior cleric Sheikh Saud al-Shuraim told thousands of pilgrims gathered in Mecca for Friday prayers.

Instructions to leave behind heavy belongings — which can quickly block busy paths of pilgrims — are also frequently ignored, Saudi officials say.

Thursday's crush took place during a stoning ritual at the Jamarat Bridge in Mena, a narrow valley near the holy city of Mecca which has been the scene of most recent disasters.

"I was on the bridge and it was really tight up there and then all of a sudden I felt myself being shoved from behind and then I was walking over people," said an injured Jordanian pilgrim from his hospital bed in Mena. "It was uncontrollable."

Stoning the devil

Jamarat Bridge is the site of three walls which mark the spot where Islam says the devil appeared to biblical patriarch Abraham. Muslims stone these walls over three days in a symbolic casting out of Satan and rejection of temptation.

Many insist on following Prophet Mohammad's example of stoning after noon prayers — a practice previously endorsed by the Saudi clerics who follow the strict Wahhabi branch of Sunni Islam — instead of staggering the ritual through the day as some other clerics recommend.

"There is a lot of contradiction on when it is permissible to stone and Saudis have to clarify this. Many people here believe they can only stone after noon prayers," said Mona, a 32-year-old British pilgrim.

"I think the culture of the people is to blame, followed by the lack of organisation of the Saudi security forces."

The huge numbers, which are swelled every year by hundreds of thousands of people who sneak illegally into the sacred areas, make controlling the immense crowd made up of many different nationalities an extremely difficult feat. Authorities rule out a significant reduction in the number of pilgrims they accept each year, a duty which is seen as key to the monarchy's legitimacy.
Journey to Mecca offers chance to see mosaic of Islam
By Mr. Aziz Junejo
Special to The Seattle Times
At around 6:30 a.m. at Sea-Tac Airport earlier this month, I found hundreds of Muslims of every ethnicity, hugging, kissing and saying goodbye to loved ones leaving for the annual hajj.
Note: Satan has duped people of every ethnicity into performing hajj.
I hugged my Uncle Manzoor as he prepared to join some 3 million Muslims who would in a few days descend upon Mecca, Saudi Arabia, for the annual Muslim pilgrimage.
Hajj is the fifth "pillar" of Islam. The Five Pillars, the foundation of Muslim life, are, briefly: believing in the oneness of God and the prophethood of Muhammad; daily prayers; concern for and giving to the needy; self-purification through fasting; and hajj, for those who are able.
Note: Hajj is a carry over from pagan rituals into Islam.
This spiritual renewal starts in Mecca and takes pilgrims on a grueling trek across the desert to various cities and landmarks where rituals more than 1,400 years old are performed. Hajj culminates with the celebration of Eid ul-Adha (feast of sacrifice), the second Muslim holiday, the first being Ramadan.
Note: Islam is a grueling religion that results in premature death.
Taking place two months after Ramadan, hajj celebrates an important event in Islamic history: when God tested the prophet Abraham. God asked Abraham in three consecutive dreams to sacrifice his son Ishmael. When Abraham finally consented and took Ishmael to a mountaintop to kill him, God sent a ram to sacrifice instead. Abraham had passed the test.
Note: God made his covenant with Abraham through Isaac not Ishmael. Genesis 17:20-22.
Hajj starts at the Ka'bah in Mecca, a building built by Adam and rebuilt by Abraham and Ishmael for the purpose of worshipping God.
Note: Islam is a religion built upon ignorance and lies.
Twelve years ago, I made my first visit to Mecca, for "a hajj-out-of-season" called Umrah. I was there during the holy month of Ramadan, so I had to fast through the required rituals. Along with 1.5 million other pilgrims, I wore the required simple white cloth, underscoring the equality of humanity, and I performed a series of rituals in the blazing heat of the Arabian Desert.
Note: Islam is a grueling religion that results in premature death.
Reaching the doors of the Great Mosque in Mecca and seeing for the first time the black square holy place, the Ka'bah, at its center, I was overwhelmed with emotion.
The Ka'bah is the focal point toward which I and every other Muslim around the world turn five times a day in prayer.
Note: The Ka'bah is an idol to every Muslim. The Christian's focal point is Jesus Christ. Colossians 1:18.
I found a space and began to pray, weeping with humility and joy. Over the next few hours I circled the Ka'bah seven times, then quickly walked between the mountains of al-Safa and al-Marwah seven times, re-enacting the story of Hagar, Abraham's Arab wife as she desperately searched for water for her baby, Ishmael. Finally, the Angel Gabriel touched his wing to the ground, starting the flow of sacred water.
The water still flows abundantly, now enclosed in a chamber under the Ka'bah. Each day after sunset, I drank the water with passion, savoring its mineral taste as it quenched my harsh desert thirst.
Note: Islam is a religion built upon ignorance and lies.
Many evenings just after sunset, I found myself with multiple invitations to break fast and share food with the countless Muslims sitting outside the huge walls of the holy Ka'bah.
The scene reflected for me the mosaic that is Islam: congregations of Africans, Arabs, Europeans and Asian Muslims sitting on the cool white marble floor in small circles sharing their dinner. We shared fresh dates, basmati rice and roasted lamb.
Note: Most Muslims eat with their hands and not with eating utensils.
The pilgrims' spontaneous friendship and warm hospitality exemplify true Islam to me. We were one brotherhood, here in Mecca, equal in Islam, worshipping the one God, known from Adam to Muhammad to the present day.
Note: Satan has been worshipped by millions of non-Christians throughout history.
Hajj equalizes humanity making race, color, gender and culture unimportant. United in faith, pilgrims act with unconditional kindness, generosity, restraint and brotherhood.
When my uncle returns home, he will enjoy a higher standing in Islam having the name "Haji" added before his first name.
I look forward to greeting him with his new name, "Haji Uncle Manzoor" — an honor worthy only of one who has endured this journey of a lifetime and the spiritual renewal it brings.
Note: Islam is a grueling religion that results in premature death.
Pilgrims' hostel collapse toll reaches 53
The death toll in the collapse of a Muslim pilgrims' hostel in Mecca, Saudi Arabia, is now at least 53.
An Interior Minister official says the number of dead could rise as rescue teams clear the rubble of the building.
The official puts the number of people injured in the incident, which took place during the mid-day bustle of a narrow market street, at 62.
The building was at least six storeys high and 30-years-old.
The tragedy occurred days before Sunday's start of the five-day hajj, when 2.5 million Muslims cram into the mountain city where Islam was born.
Deadly stampedes, attacks by Islamist militants or the possibility that a dangerous virus could spread through the crowds like wildfire are three eventualities worrying the Saudi organisers of this year's pilgrimage.
But pilgrims gathering at the Grand Mosque in Mecca say they are elated to be able to do hajj, a duty for every able-bodied Muslim at least once in a lifetime.
"If anything is going to happen to us, it is God's will - whether it's bird flu, a building collapsing or anything else. I didn't even know about the hostel," Abdel-Hakim, a 23-year-old Nigerian, said.
The hajj has been marred by deaths in recent years.
Some 250 pilgrims died in a stampede in 2004 during the stoning of three stone pillars which symbolise the devil.
Health experts warn the huge crowds could create the conditions in which a pandemic strain of bird flu emerges.
Many pilgrims come from Asian countries, where the H5N1 form of bird flu has killed more than 70 people since 2003.
Two children in Turkey, which has a large hajj contingent, have died from the virus in recent days.
Saudi Arabia says it has spent millions on Tamiflu, a drug that can reduce the flu's severity if taken within days of symptoms showing.
The authorities, also wary of any militant attacks, have deployed a record 60,000 security men.
Saudi supporters of Al Qaeda have waged a two-year campaign to end the rule of the US-allied Saudi royal family, though the violence lost steam over the last year.
- Reuters
The Violent History of the Hajj
By Andrew L. Jaffee, netwmd.com
What's up with the violence that seems to occur almost yearly at the Muslim Hajj in Mecca? And one has to wonder how a ritual stoning can be an integral part of a major religion's most holy event. The Muslim community has tough questions that it can only address itself. Today, the BBC reported:
More than 100 Muslim pilgrims have been killed in a crush in the stone-throwing ritual during the Hajj pilgrimage in Saudi Arabia, officials say.
A BBC correspondent at the scene in Mina saw dozens of bodies lined up on the ground. Doctors warned that the death toll could reach 300.
Last week, a hotel hosting Muslim pilgrims in Mecca collapsed. 23 people died and 60 were injured.
According to the AP:
The hajj has suffered numerous tragedies in recent years. The worst occurred in 1990 when 1,426 pilgrims were killed in a stampede in an overcrowded pedestrian tunnel leading to holy sites in Mecca.
In 2004, on the final day of the ceremonies, 251 people were trampled to death when the crowd panicked during the ritual stoning of the devil. Three years earlier, 35 hajj pilgrims were killed during a stampede at the same ceremony.
In 1998, about 180 pilgrims were trampled to death in the panic after several of them fell off an overpass during the ritual. Four years earlier, in 1994, some 270 pilgrims were killed in a stampede during the stoning ritual.
During an anti-U.S. demonstration staged by Iranians in 1987, some 402 people, mostly pilgrims from Iran, were killed and 649 were wounded in the crash of a Pakistani jetliner carrying hajj pilgrims Jiddah to Riyadh, the Saudi capital.
As one of netWMD's contributors put it in 2003:
A Muslim asked for an association conjured by the phrase "throwing stones" will think not of David and Goliath, but of the rituals of the haj, which require the pilgrim to throw stones on each of three successive days at first the small, then the middle and, finally, at the grand pillar erected upon the spot where the Devil stood and tried to persuade Abraham not to obey God. In Islam, the flung stone is not the weapon of the weak against the mighty; it is the weapon of the righteous in the fight against evil.
Too much righteousness; too little humility.
To paraphrase another great religion, Hinduism, "you create your own reality." The Hindu concept of karma seems also to apply to the current state of Islam -- negative karma, that is. Homicide bombings, beheadings, slavery, and ethnic cleansing are all now endemic in Muslim regions of the world. It is time for Muslims to take a hard look at the direction in which their religion is heading.
Muslim pilgrims head to Mena on first day of haj
28 Dec 2006
By Souhail Karam
MECCA, Saudi Arabia, Dec 28 (Reuters) - Some 2 million Muslims began streaming out of Mecca on Thursday, the first day of a haj pilgrimage where Saudi authorities are on alert to prevent deadly overcrowding as well as sectarian violence.
Moving in cars, vans and on foot, a mass of white-robed pilgrims poured into a tented city in the valley of Mena at the start of the gruelling five-day ritual, a duty for every able-bodied Muslim who can afford to make the trip.
In one of the world's biggest displays of mass religious devotion, pilgrims converge on the Grand Mosque in Mecca and follow a route around the rocky mountains of the ancient city in line with a tradition established by the Prophet Mohammad.
With such large crowds, Saudi Arabia normally deploys more than 50,000 security men to try to avoid deadly stampedes and attacks by Islamists fighting the U.S.-allied Saudi royals.
The authorities say they will crack down hard on Muslims who try to sneak into Mecca without official permits -- a phenomenon that can swell numbers by some 500,000 to more than 2.5 million.
In January, 362 pilgrims were crushed to death due to overcrowding at the Jamarat Bridge during the last haj season. The toll was the worst on the bridge for 16 years and followed the death of 76 people in a hotel collapse in Mecca.
Saudi Interior Minister Prince Nayef has said improvements introduced this year would prevent overcrowding at the bridge, which from Saturday will witness the symbolic stoning of the devil, the most incident-prone of the haj's rituals.
"We hope that this year's haj will not witness any incidents," Prince Nayef said this week.
Saudi Arabia has allocated $1.1 billion to expand the Jamarat Bridge into a multi-storey structure. The first phase, completed in time for this week's haj, allows up to 250,000 pilgrims to move across the bridge each hour.
Saturday, Sunday and Monday -- the last three days of the haj -- will be the key days when the new arrangements will be put to the test. Eid al-Adha, or Feast of Sacrifice, falls on Saturday.
Grand Mufti Sheikh Abdulaziz Al al-Sheikh, the top Saudi religious official, issued a plea on Thursday for pilgrims to avoid heading to the Jamarat Bridge at the same time.
The haj takes place in the shadow of violence between Sunnis and Shi'ites that has taken Iraq to the brink of civil war this year. Sunni-Shi'ite tension is also high in Lebanon, where Shi'ites are leading efforts to bring down a Sunni-led cabinet.
Iranian and other pilgrims have used the haj for political protests in the past. Shi'ite Iran is at loggerheads with the West over its nuclear programme and its backing Shi'ite groups in Arab countries, raising the potential for haj trouble.
Muslims Mark Hajj's Spiritual High Point
MOUNT ARAFAT, Saudi Arabia (AP) — Millions of Muslims marked the zenith of the annual hajj Tuesday, praying for God's forgiveness on a rocky desert hill here where in Muslim tradition Adam and Eve were reunited after leaving Eden.
The ritual of standing at Mount Rahma is the most spiritual moment of the pilgrimage, when Muslims believe God will grant whatever prayers they make.
Among the faithful this year is Iranian President Mahmoud Ahmadinejad, who on Tuesday stopped by the vast tent city where pilgrims are housed on the plateau called Mount Arafat to visit with Iranians there, Tehran's state broadcasting company.
However, Ahmadinejad stayed away from a brief rally held by several hundred Iranian pilgrims, calling on Muslims to unite against the U.S. and Israel, which they said "dominate the Muslim world."
The rally is an annual occurrence at hajj, arranged by the Iranian government. An envoy read a statement from Iran's supreme leader Ayatollah Ali Khamenei to the faithful, telling them that hajj requires them to show love for God and to "expel, fight and stand up to Satan" — lessons Muslims "have to learn all over the world."
"They are hatching plots in Palestine, Lebanon, Iraq and Afghanistan and pitting one section of Muslims against the other," Ayatollah Mohammadi Reyshahri said, reading the statement.
A few at the gathering shouted "Death to America!" and "Death to Israel!" and called the two nations the enemies of God. But there was none of the fist shaking that marks such chants at rallies back home in Iran — a nod to the hajj's traditional lack of aggressiveness, arguments and disputes.
The protest, directed by Iranian security officers, stayed strictly inside the encampment, following Saudi rules. In the fervent early years after Iran's 1979 Islamic revolution, Iranian pilgrims held public protests outside their camps during hajj rituals, leading to friction with Saudi authorities that climaxed in 1987 when a protest in Mecca turned into a clash with Saudi police that killed several hundred Iranians, Saudi and others. In recent years, Iran has put less effort into the small yearly rally inside the camp.
On Tuesday, most of the Iranians paid little attention to the envoy's speech.
Azam Rahimi, 44, a teacher, said she didn't listen.
"We've heard these slogans for so many years that we know them by heart," she said. But she added, "Of course we don't want America to impose its culture on us. It's the duty of all Muslims to stop this from happening."
Saudi pilgrim Ali Saadi and his friends sat on a plastic mat on a sidewalk nearby.
"This is not the place for politics," said Saadi, a 58-year-old businessman. "Hajj is when you get close to God. I guess they have their own justification. As their hosts, we can't stop them."
Mainly Sunni Muslim Saudi Arabia and mainly Shiite Iran are regional rivals, with Saudis concerned over the increasing influence of Iran in the Middle East. The two countries back opposing camps in the crises in Iraq and Lebanon.
Around 3 million Muslims from around the world are attending this year's hajj. They flooded into Arafat late Monday and early Tuesday. Lines of buses with pilgrims on the roofs packed highways leading into the site, while others on foot swarmed between the vehicles.
They climbed Mount Rahma, the rocky hill on Arafat where it's believed Adam and Eve were reunited after leaving Eden, and sought God's forgiveness of their sins. They performed noon prayers at the Namira Mosque, where the Prophet Muhammad gave his last sermon.
Young children and old women begged for money as the crush of people pressed ahead on their way to Mount Rahma. Some spread out prayer beads, bags, umbrellas, and cookies on the pavement for sale.
Most pilgrims stay in the sprawling tent city, which is divided by country. But thousands of others slept in the open on blankets, in small makeshift plastic tents.
The Arafat rituals end at sunset Tuesday, after which the faithful move to the nearby Muzdalifah and spend the night there. They collect stones that they will take with them to Mina the next day with which to pelt the devil. This ritual commemorates Abraham's stoning of Satan when he tried to tempt him to disobey God.