MUSLIM HATE OF BUDDHISTS!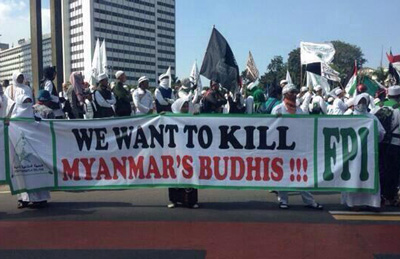 Buddhist woman imprisoned for complaining about mosque's speaker

Apriadi Gunawan
The Jakarta Post 

Jakarta | Tue, August 21, 2018

A Chinese-Indonesian woman of the Buddhist faith has been sentenced to 1.5 years in prison for complaining about the volume of the azan (Islamic call to prayer) that was blasted from a speaker of a mosque near her house.

Meiliana, 44, a resident of Tanjung Balai, North Sumatra, was found guilty of blasphemy as stipulated under articles 156 and 156A of the Criminal Code on blasphemy, the Medan District Court said on Tuesday.

"[We] declare that the defendant is legally and compellingly proven guilty of […] committing blasphemy against a certain religion that is professed in Indonesia," presiding judge Wahyu Prasetyo Wibowo said.

"[We] sentenced the defendant to one and a half years in prison."

Meiliana is one of the first people to have been sentenced to prison for complaining about the volume of a mosque's speakers, despite a plea from the Indonesian Mosque Council, now led by Vice President Jusuf Kalla, for mosque staff to use loudspeakers wisely.

Meiliana reportedly said the azan was "too loud" and "hurt" her ears, and asked a neighbor to lower the speaker's volume.

Her remark, made in 2016, is believed to have triggered the worst anti-Chinese riot in the country since 1998, with Muslims who claimed to have been offended by her words burning several Buddhist temples.

During the riot, the angry mob destroyed prayer equipment, Buddha statues, tables, chairs, lamps and several cars and motorbikes, the police said.

The police arrested 19 people for their role in the riot. Eight were charged with looting, nine with malicious destruction of property and two with inciting violence. All were given one to four month jail sentences.

Meiliana's lawyer, Ranto Sibarani, said they would appeal the verdict.

"We will appeal the verdict because the judges could not prove that our client has committed blasphemy," he told The Jakarta Post over the phone.

Human rights activists have criticized the law enforcers for prosecuting Meiliana, saying that the case should have been settled out of court.

"This is an old case that was brought up again," M. Isnur from the Indonesian Legal Aid Institute (YLBHI) told the Post recently, adding that public pressure was likely the main driver of her prosecution.

"In a blasphemy case like this, [law enforcement officials] often listen to the MUI's fatwas."

Meiliana is the latest individual prosecuted under the nation's controversial blasphemy laws, under which dozens of people have been sent to prison, including former Jakarta governor Basuki "Ahok" Tjahaja Purnama.

Terror strikes Bodh Gaya, serial blasts rock Mahabodhi Temple

Law Kumar Mishra & Abdul Qadir,

Jul 7, 2013
The Times of India

GAYA: Terror struck the temple town of Bodh Gaya in Bihar, as nine serial explosions rocked the Mahabodhi Temple complex on Sunday morning.

Two tourists, including a monk from Myanmar, have been injured in the blasts. The injured are being treated at the Anugrah Narain Magadh Medical College hospital.

Union home secretary Anil Goswami confirmed that the Bodh Gaya blasts were a terror attack.

Bihar chief minister Nitish Kumar strongly condemned the serial blasts in and around the temple and demanded deployment of the Central Industrial Security Force (CISF) to protect the world famous Buddhist shrine.

Bihar Police suspect the involvement of Indian Mujahideen in the temple blasts.

"The serial blasts deserve strongest condemnation in strongest possible words as the perpetrators targeted the place of religious faith of crores of people with an aim to create fear among them," he told reporters after inspecting the blast sites at the Mahabodhi temple and surrounding areas in Gaya district with senior civil and police officials.

The chief minister said that the NIA and local police will probe the incident and expose the conspiracy and designs of those behind the attack.

Kumar, however, dismissed suggestions that there was any security lapse and said adequate precautionary measures were taken to beef up security measures at the Mahabodhi temple and surrounding areas in the wake of intelligence inputs.

Nitish arrived at Bodh Gaya by a helicopter from Patna with chief secretary AK Sinha and director general of police (DGP) Abhayanand.

He visited the Mahabodhi temple and took a first-hand stock of situation at the blast sites.

BJP activists led by former minister Prem Kumar greeted Nitish Kumar with 'go back' slogans outside the temple main gate.

JD(U) workers present there raised pro-Nitish slogans and countered the protesting BJP workers.

According to Gaya Police, the blasts took place in quick succession between 5.30am and 6am in the temple complex and near the Mahabodhi tree.

One of the blasts took place just under the enlightenment tree causing partial damage to the Buddha footprints in the shrine premises.

Four blasts took place inside the shrine premises, while another three blasts took place in the Tregar monastery premises. The Tregar monastery belongs to the Karmapa, the second most important spiritual leader.

One blast each took place at the great Buddha statue and a bus parked on the Sujata bypass.

Arvind Singh, a member of Mahabodhi Temple Management Commitee said two other bombs, one near the 80 feet statue and one at bus stand have been defused.

Cops have sealed the entry routes to the shrine. A NIA team is expected to arrive shortly for the probe.

"A team of NIA officers is coming to Bodh Gaya from Kolkata," DIG special branch Parasnath said.

The DIG said, "The sanctum sanctorum of the Mahabodhi Temple is intact. The temple premises have been sanitised."

The secretary of the Bodh Gaya committee Dorji said, "There were four blasts inside the temple premises. Fortunately, there was no damage to the Bodhi Tree or the main temple structure."

"In the first blast which took place near the Bodhi tree, a table was blown up because of which two persons were injured. The second blast, I think, was inside the enclosure where books were kept. The furniture was damaged but there was no damage to the monuments or statues," he said.

Asked about the nature of explosives used, S K Bharadwaj, ADG (Law and Order) said they were low intensity time bombs.

He said, "We got information about six-seven months back that there may be a terror attack on the Mahabodhi temple. After that we had beefed up secuirty and deployed extra forces".
Bodh Gaya Buddhist temple, around 10 km from Gaya and 100 km from capital Patna, is world famous. Lord Buddha had attained enlightenment here under the Mahabodhi tree in the temple premises.
Tibetan spiritual leader the Dalai Lama makes frequent trips to Bodh Gaya and Sri Lankan President Mahinda Rajapaksa had visited it six months back. A total of 52 countries have established their monasteries here.

Myanmar's army takes control of central city, imposing tense calm after violence kills dozens

By Associated Press, Published: March 22, 2013

MEIKHTILA, Myanmar — Myanmar's army took control of a ruined central city on Saturday, imposing a tense calm after clashes between Buddhists and Muslims left piles of corpses in the streets and buildings ablaze in the worst sectarian bloodshed to hit the Southeast Asian nation this year.

Truckloads of soldiers patrolled Meikhtila, taking up positions at intersections and banks as authorities delivered food and water to some 6,000 displaced Muslims who fled to makeshift camps at a local stadium and a police station. The government put the death toll at 32, according to state television, which reported that bodies had been found as authorities began cleaning up the area on Saturday.

President Thein Sein, a former general who vowed to bring democracy to Myanmar after half a century of military rule, imposed a state of emergency in the region Friday in a bid to end clashes that began two days earlier.

The unrest was the first of its kind in the country since two similar episodes shook western Rakhine state last year, and the spread of sectarian conflict has underscored both the challenges of reform and the government's failure to rein in anti-Muslim sentiment in a predominantly Buddhist nation. Even monks have armed themselves and taken advantage of newfound freedoms to stage anti-Muslim rallies.

It was not immediately clear which side bore the brunt of the latest unrest, but at least five mosques were torched, and terrified Muslims, who make up about 30 percent of Meikhtila's 100,000 inhabitants, have stayed off the streets as their shops and homes burned and Buddhist mobs carrying machetes and hammers tried to stop firefighters from dousing the flames.

Residents complained that police had stood by and done little to stop the mayhem. But "calm has been restored since troops took charge of security," said Win Htein, an opposition lawmaker from Meikhtila.

Some residents, who had cowered indoors since the mayhem began Wednesday, emerged from their homes to inspect the destruction.

Little appeared to be left of some palm tree-lined neighborhoods, though, where the legs of victims could be seen poking out from smoldering masses of twisted debris and ash. Broken glass, charred cars and motorcycles and overturned tables littered roads beside rows of burned-out homes and shops, evidence of the widespread chaos that swept the town.

Local businessman San Hlaing said he counted 28 bodies this week, all men, piled in groups around the town, including beside a highway.

The struggle to contain the violence has proven another major challenge to Thein Sein's reformist administration, which has also faced an upsurge in fighting with ethnic Kachin rebels in the north and major protests at a northern copper mine where angry residents — emboldened by promises of freedom of expression — have come out to denounce land grabbing.

The devastation was reminiscent of last year's clashes between ethnic Rakhine Buddhists and Muslim Rohingya that left hundreds of people dead and more than 100,000 displaced — almost all of them Muslim. The Rohingya are widely perceived as illegal migrants and foreigners from Bangladesh; the Muslim population of Meikhtila is believed to be mostly of Indian origin.

This week's chaos began Wednesday after an argument broke out between a Muslim gold shop owner and his Buddhist customers. Once news spread that a Muslim man had killed a Buddhist monk, Buddhist mobs rampaged through a Muslim neighborhood and the situation quickly spiraled out of control.

Residents and activists said the police did little to stop the rioters or reacted too slowly, allowing the violence to escalate. "They were like scarecrows in a paddy field," San Hlaing said.

Khin Maung Swe, a 72-year-old Muslim lawyer who said he lost all his savings, also complained authorities did nothing to disperse the mobs.
"If the military and police had showed up in force, those troublemakers would have run away," he said, inspecting the remains of his damaged home. "There would have been no violence if the security forces had just fired shots into the air to scare them away."

San Htwe, a 39-year-old housewife, said she could see police and soldiers "everywhere" in Meikhtila on Saturday but did not feel at ease. "I'm afraid that the situation will be like in Rakhine" — where sectarian tensions have split an entire state and Buddhist and Muslim communities live in near-total segregation, constantly fearing more violence.

San Htwe said her 8-year-old son was already traumatized by the riots and could barely eat. "Whenever he hears shouting, he says, in panic, 'Mom, let's run! The kalar are coming." Kalar is a derogatory word for Muslims.

"I think most children here have experienced trauma," she said. "I worry that it will remain in their minds forever."

Residents said rescue workers and volunteers were arriving from other towns to help, and that local Buddhists were giving food and water to displaced Muslims. Some Buddhists sought shelter at local monasteries.

In Washington, State Department spokeswoman Victoria Nuland said the U.S. was deeply concerned about communal violence, loss of life and property damage in Meikhtila, and that U.S. Ambassador Derek Mitchell had raised the concerns with senior Myanmar government officials.

"We welcome and encourage the efforts of government authorities, community leaders, civil society and political party leaders to restore calm, to foster dialogue and increase tolerance in a manner that respects human rights and due process of law," Nuland told a news briefing.
Occasional isolated violence involving Myanmar's majority Buddhist and minority Muslim communities has occurred for decades, even under the authoritarian military governments that ruled the country from 1962 to 2011.


Iran confiscates Buddha statues to stop promotion of Buddhism

By Associated Press, Published: February 17, 2013

TEHRAN, Iran — An Iranian newspaper is reporting that government authorities are confiscating Buddha statues from shops in Tehran to stop the promotion of Buddhism in the country.
Sunday's report by the independent Arman daily quotes Saeed Jaberi Ansari, an official for the protection of Iran's cultural heritage, as saying that authorities will not permit a specific belief to be promoted through such statues.

Ansari called the Buddha statues symbols of "cultural invasion."
He did not elaborate on how many have been confiscated so far, but said more would be seized from shops.
Iran has long fought against items, such as Barbie dolls and Simpsons cartoon characters, to defuse Western influence, but this appears to be the first time that Iranian authorities are showing an opposition to symbols from the East.


Thailand's Buddhists Take Up Arms Against Insurgency
Apr 16, 2012 12:00 AM EDT

A deadly Thai insurgency has Buddhists scrambling for guns.

A few hours' drive from the white-sand beaches of Phuket—one of the world's top tourist destinations—a deadly insurgency is terrorizing Thailand's south. The separatist movement, made up of mostly ethnic-Malay Muslims, roils the region with daily threats of sectarian violence and has prompted many Buddhist villagers, and even some monks, to take up arms in self-defense. A series of coordinated bombings across two provinces on March 31 alone left 14 dead and hundreds injured.

The conflict has been gaining steam over the past eight years, even as the international community pays little attention. Since 2004, drive-by shootings, IED bombings, and point-blank assassinations have claimed some 5,000 lives in the country's three restive southernmost provinces that border Malaysia, making the insurgency one of the world's deadliest.

The insurgent groups rally around the belief that the provinces—where ethnic Malay Muslims are the majority—should be independent of Thailand, where more than 90 percent of the rest of the population is Buddhist. The insurgents' preferred targets are Buddhists, especially those in the security forces or government, though they also kill fellow Muslims accused of not aligning with the separatist cause. They claim to have cells in 90 percent of southern villages; the boast, say security experts, is legitimate.

Even as a force of some 60,000 soldiers and police patrol the area, the insurgents have succeeded in spreading their network across the disputed territory, cultivating an atmosphere of perpetual insecurity for Buddhist communities living there. "First Muslim people came to our village and asked to buy our land," says Suphorn Nison, a soft-spoken Buddhist in his mid-40s. "But they became less diplomatic when Buddhist people declined to leave." The following month, Nison says, two men entered a convenience store operated by Nison's father and executed him with two shots to his head. Nison claims the gunmen were Muslim and intended to send a stern message. Most Buddhists in his village left, but those who stayed, including Nison, formed a neighborhood-security force.

That was in 2006. Today such community-defense units are ubiquitous in Thailand's south. Nison carries a revolver with him at all times. Many other Buddhists have also armed themselves, including a demure 38-year-old teacher, an acquaintance of Nison's, who prefers a light Glock .22. While village-defense forces, or Chor Ror Bor, also operate in Muslim communities, they are often given fewer and inferior weapons than their Buddhist counterparts, and don't receive the same level of support from the Thai Army and police, says Rungrawee Chalermsripinyorat, an analyst at the International Crisis Group, a nonprofit that studies ways to prevent conflicts.

Other village-defense groups are explicitly restricted to Buddhists—chief among them, the Or Ror Bor, a system initiated by Thailand's queen. During a trip south in 2005, two members of her security entourage were gunned down by separatists. She urged Buddhists in the region to remain on their lands and take weapons training. The queen also initiated land grants to encourage Buddhists from other parts of the country to move south.

Amid the violence, security measures have also transformed Buddhist temples. Many government troops in the deep south are based on the sprawling, walled-in temple grounds. Soldiers protect monks and worshippers from insurgent attacks, while benefiting from the monasteries' existing infrastructure. Buddhist insecurity has even spawned soldier monks—new Army recruits who are pulled aside by superiors and offered a chance to become ordained monks so that they can eventually move to monasteries in the contested provinces and serve as hybrid servants of the state, according to U.S. academic Michael Jerryson. He has dedicated months of field research to the phenomenon, which he says was conceived by the queen.

Monks interviewed in the region today are uncomfortable discussing the soldier-monk practice, which they say has been discontinued. But many of the state's security measures in the deep south are still channeled through Buddhists and Buddhist spaces, an approach that many analysts say has exacerbated sectarian divisions. "We've been saying it's problematic. It's like you're arming people from one religion against another," says the Crisis Group's Chalermsripinyorat. Jerryson makes a bolder claim: official policies have generated a Buddhist militant movement in its own right. "International and Thai analysts largely overlook the Buddhists' call to arms when they attempt to explain the spikes of violence in the war-torn region," Jerryson writes in his book Buddhist Fury: Religion and Violence in Southern Thailand, published last year. Groups such as Amnesty International have documented cases of soldiers bringing suspected insurgents to temple-housed bases to interrogate, torture, and even execute them. And Chor Ror Bor units have been suspected of engaging in vigilante justice.

Abdul Khodet Daman, a 46-year-old Malay Muslim rubber tapper in the southern province of Yala, believes he's a victim of the sort of Buddhist militancy identified by Jerryson. He says that he was attacked by a man in an Army uniform, who shot him in the neck in a rampage last year. Four were killed in the attack and 16 were injured, including Daman. He believes the suspect—a 25-year-old soldier alleged to have been motivated by the murder of his brother—was abetted by a Chor Ror Bor unit in an adjacent village, which includes a number of new residents who immigrated as part of the queen's land-grant program.

For others, such incidents obscure an equally harsh reality: the insurgency has put the region's Buddhists on the defensive, with no end to the violence in sight. HuaHui, a long-bearded villager, exemplifies the kind of self-appointed power that the militia system offers Buddhists. At the entrance to his restaurant, he sits behind a makeshift bunker, holding an M-15 assault rifle. He keeps a cache of weapons on hand, along with special bullets designed to overcome "the voodoo of insurgents." He's been the target of drive-by shootings and bomb attacks more than a dozen times, he says. In the latest incident, "a month ago gunfire struck guests." HuaHui sometimes patrols his district in a pickup truck, paying visits to friends—both Muslim and Buddhist—and making his presence felt to those he suspects of being on the "wrong side." He visited a group of Chor Ror Bor in a nearby village who said the hordes of Army and police are not enough to secure the area. Later that evening, cars passing along the entry road to the village were struck by IEDs and gunfire.

Srisompob Jitpiromsri, the head of Deep South Watch, a Pattani-based group that tracks the area's sectarian violence, says temple defenses and village militias serve a legitimate defensive purpose. But, he says, they also create backlash by helping insurgents convince Malay Muslim communities that Buddhists and the Thai state are fundamentally aligned against them.

His concern is catching on among some monks in the area. The abbot of one southern village recently asked soldiers stationed inside his temple to relocate. "It affected our image. Buddhism is a peaceful religion, and a temple must remain a peaceful place." Analysts say the military commander in charge of operations in the deep south plans to shift troops out of temples and schools as part of a broader attempt to demilitarize the region's public spaces. But, facing shadowy and omnipresent insurgents who are increasingly brazen in their methods, Buddhist communities may be less likely to move away from firepower. The consequences of their position, worries Jitpiromsri, might be only that they will be forced to double down on it. "Die-hard is their mentality."

Reporting for this story was supported by the Fund for Investigative Journalism. Brendan Brady reports from across Asia on diplomacy, human rights, religion, business, and environmental issues.

Buddhist worker beheaded in Thai Muslim south

06 Jun 2005
Source: Reuters

BANGKOK, June 6 (Reuters) - A Buddhist has been beheaded in Muslim-majority southern Thailand, police said on Monday, the fourth decapitation of a Buddhist since violence erupted in the region 18 months ago.

Police found the body of the 59-year-old rubber plantation employee at his hut in Yaha district of Yala province late on Sunday.

"We believe it must have been the work of those militants," a police officer said by telephone, declining to give further details of the incident in the largely Malay-speaking region, where more than 700 people have died in the violence.

No group has claimed responsibility for the violence.

The Muslim-majority region has a century-long history of violent separatism from Bangkok.

The first Buddhist rubber tapper was decapitated in May last year. His killers left a note saying they had acted in revenge for the arrest of innocent Muslims.

In November, two Buddhist men were beheaded in revenge for the deaths of 85 Muslim protesters in army custody, most of them by suffocation a month earlier.

Three policemen and two civilians were wounded on Monday when a 5 kg (11 lbs) bomb hidden in a motorcycle and triggered by a mobile phone went off in a park in the nearby tourist town of Sungai Kolok as people were exercising.

Late on Sunday, militants blew up a power transmitter, blacking out the city of Yaha, police said.

The government in the mostly Buddhist country has imposed martial law in parts of the provinces of Yala, Pattani and Narathiwat, which all border Malaysia, at the same time as offering lavish development aid and regional assistance.

However, neither the iron first or olive branch approach seems to have made any impact. Shootings, bombings and arson attacks mainly against official, Buddhist targets have become daily occurrences.



Violence Aimed at Driving out Buddhists, Says Thaksin
By Sutin Wannabovorn
AP Writer/Bangkok, Thailand
June 23, 2005
A series of gruesome beheadings and other killings in southern Thailand are part of a campaign by Islamic separatists to scare off the minority Buddhist population and to show that they can still carry out attacks despite a government crackdown, Thai Prime Minister Thaksin Shinawatra said Thursday.
Suspected insurgents decapitated a man at a teashop Wednesday in one of the boldest attacks since the Muslim-majority provinces near Malaysia erupted in violence last year. It was the fifth beheading in recent weeks and apparently the first to be carried out in broad daylight.
Thaksin called an emergency meeting with security forces Thursday to discuss the continuing attacks in Yala, Pattani and Narathiwat.
More than 880 people have been killed over the past 17 months in attacks generally blamed on the revival of a long-dormant secessionist movement.
"They (the insurgents) have been beheading innocent people to show they are still capable of creating violence," Thaksin told reporters. "They try to make (Buddhist) people scared so they will run away from the region because they want to seize the area."
He added that the insurgents had launched the attacks "out of desperation because several of their leaders have been arrested."
Thaksin's administration has been criticized for taking an overbearing approach to the unrest by posting thousands of troops and imposing martial law in the region. Muslim clerics have complained of soldiers showing disrespect for Islamic traditions in their drive to root out suspects.
But Thaksin has conceded failures in his government's handling of the south and pledged to try conciliatory means to resolve the conflict.
Maj-Gen Thani Thawitsri, the deputy regional police commander for the southern provinces, said the beheadings had become a pattern and that they were intended "to create chaos and scare people away from the region."
He said it remained unclear whether the Thai separatists were trying to imitate Iraqi insurgents, who have beheaded several foreign hostages since the US invasion of their country two years ago, because there is a history of such killings in Thailand.
In 1969, two female Western missionaries were decapitated on a mountain in Narathiwat province that was a stronghold for Muslim separatists at the time, he noted.
Muslim separatists waged a low-level campaign in the southern provinces for decades before largely dispersing after a government amnesty in the 1980s.
Southern Thai Muslims have long complained of discrimination, particularly in jobs and education.
Abdulraman Abdulsamad, chairman of the Islamic Council of Narathiwat, said the beheadings had sparked fear among local people and threatened to turn the region into a "ghost town."
"I cannot say who is the real culprit of this brutal killing," he said. "When you talk to local people, they believe the authorities did it. But when we talk to authorities, they say the terrorists did it."
Thousands of Buddhists flee Thailand's south
Thursday,7 July, 2005
BANGKOK: Thousands of Buddhist teachers and residents are fleeing Thailand's Muslim south as 19 months of anti-government violence shows no sign of slackening, officials said yesterday.
Another 2,000 teachers were expected to move to safer provinces after at least two dozen of their colleagues were among nearly 800 people killed by militants since violence erupted in the largely Malay-speaking region in January last year, they said.
As incentives to stay, the Education Ministry is offering 3,000 free flak jackets and faster licenses for 1,700 teachers waiting to buy guns in the most dangerous parts of the three provinces of Pattani, Yala and Narathiwat.
"Guns are their best friends," Deputy Education Minister Rung Kaewdaeng told reporters in Bangkok after visiting some of the 20,000 teachers in the region.
"The teachers who survived are those who returned fire on their attackers."
On Monday, Education Minister Adisak Bodharamik gave teachers wanting to move out a week to register and vowed to provide more security for those who wanted to stay.
Education Ministry data showed about 1,000 teachers have already left the region, where schools have been frequent militant targets as symbols of the government of predominantly Buddhist Thailand in faraway Bangkok.
Another 1,000 applications from teachers who routinely go to and from school with military escorts were awaiting approval.
Bombings, shootings and arson attacks directed at state buildings or workers — Buddhist and Muslim — have become daily occurences despite more than 30,000 troops and police patrolling the region of fewer than 2mn people.
The government has imposed martial law on parts of the region, where separatists fought low-key insurgencies in the 1970s and 1980s.
But violence is unabated with nine people beheaded — in killings some top officials say have been inspired by Iraqi insurgents — in recent months and officials say thousands of locally-born people, many of them Buddhists, have moved out.
Government data showed almost 15,000 people left between January 2004 and April 2005. In 2003, 22,000 moved in.
Rung said teachers leaving the far south would be replaced by volunteer and temporary teachers and the ministry would seek loans for teachers to buy guns to protect themselves.
"Creating debt or saving your life, which one would you choose," Rung replied when asked if encouraging teachers to take on more debt was a good idea.
A policeman was beheaded yesterday in troubled southern Thailand, the first member of the security forces to be decapitated in a string of such brutal attacks over the past month, police said.
The body of 44-year-old Sergeant Samphan Onyala, who was on duty but plainclothed, was found just after 8pm (1300 GMT) in Yarang district of Pattani province.
"Villagers heard gunshots and informed police, who went to the scene and found Sergeant Samphan shot once and with his head cut off," a police officer in Yarang said.
The victim's body was found close to his motorcycle while authorities were still searching for the head, he added.
4 Buddhists shot dead in Thailand`s restive south
Bangkok, Dec 02: Four Buddhists were shot dead on Saturday in Buddhist-majority Thailand's restive, Muslim-dominated south, as the government warned it may have to change its strategy to counter the rising violence.

A gunman posing as a customer whipped out a gun and shot a 59-yar-old food vendor in Pattani province in front of dozens of horrified bystanders, police Lt Wichathon Timkrom said.

In nearby Yala Provine, gunmen killed a 34-year-old truck driver as he rode his motorcycle with his wife, Police Lt Prasom Laungphu said. His wife was not hurt.

Two other Buddhists were shot dead today in Narathiwat province, police said. Gunmen fired into a grocery store in Rueso district, killing its owner Wanna Ongananurak, 35, and a second woman who was as yet unidentified, police said.

Thailand's military-installed government has pledged to make peace in the south a priority, and to reverse the hardline policies of former Prime Minister Thaksin Shinawtra, who was deposed by a coup September 19.

But with daily killings continuing unabated, Prime Minister Surayud Chulanont said today the government may have to change course if the situation does not improve.

"My government is insisting on a peaceful solution to resolve the problem, but if the situation is not improved in (the) next three months, the government may have to adjust the strategy," Surayud said, without elaborating.

More than 1,800 people have died from violence in predominantly Buddhist Thailand's three southernmost, Muslim-majority provinces - Yala, Pattani and Narathiwat - since an Islamic insurgency flared in January 2004.

Bureau Report