MUSLIM HATE IN INDIA!
Gurdaspur attackers heard shouting Islamic slogans during siege
Hindustan Times, Dinanagar
Jul 28, 2015

Punjab Police personnel said on Monday they heard terrorists shout 'Allah hu Akbar' — Arabic for 'God is great' — before three attackers were killed after an intense gunfight in Gurdaspur district, indicating the assault was a suicide attack.

Heavily armed men stormed a police station in the Punjab district close to the border with Pakistan, killing six people and wounding several others. Armed police exchanged fire with the attackers, who were holed up in the police station after the assault began at 5.30am. The police were sweeping the area after the three terrorists were killed.

A source in the Punjab Police said Khalistani militants were not known to carry out such suicide attacks. India fought a deadly Sikh insurgency in Punjab in the 1980s that peaked with the assassination of Prime Minister Indira Gandhi at the hands of her Sikh bodyguards in 1984. Sikh militant groups were demanding an independent homeland for minority Sikhs at the time, which they called Khalistan.

Punjab chief minister Parkash Singh Badal said the incident had nothing to do with the revival of terrorism in Punjab and that it appeared to be an attack carried out by a terrorist group active outside the state.

"The Khalistanis never indulged in suicide strikes at any target. This is clearly a suicide attack, perpetrated by some known terror groups," former Punjab Police chief Julio F Ribeiro said after the attack on Monday.

News agency Reuters, meanwhile, quoted police sources as saying that the attackers entered India from Pakistan two days ago in the troubled state of Jammu and Kashmir.

Jitendra Singh, a junior minister in Prime Minister Narendra Modi's office, said he did not rule out Pakistan's involvement. "There have also been earlier reports of Pakistan infiltration and cross-border mischief in this area," said Singh, whose constituency in the Jammu region borders Gurdaspur.

Earlier this month, Modi met his Pakistan counterpart Nawaz Sharif and agreed top security officers from the two countries would meet to discuss counter-terrorism. Modi also agreed to visit Pakistan next year.
In a pluralistic part of India, fears of rising Islamic extremism

By Emily Wax
The Washington Post
Saturday, February 5, 2011

IN MUVATTUPUZHA, INDIA Wearing jeans and leaving her auburn hair uncovered never created problems for Rayana Khasi, a 22-year-old Muslim engineering student in the coastal state of Kerala.
But then came the threats. About two months ago, members of the Popular Front of India, a fast-growing Muslim political and social organization in Kerala, allegedly started sending text messages to her saying, "You're committing blasphemy."
They admonished her publicly in her home town of Kasaragod, confronted her family and pelted her car with stones, she said.
"Many women here are now listening to them and covering. But this is India, not Afghanistan," said Khasi, who has moved to a different city and changed her cellphone number several times as Indian authorities investigate her charges.
For centuries, Kerala has been known as "God's country," and generations of Muslims, Christians and Jews were warmly welcomed by Hindus here. One of India's most religiously diverse states, Kerala has rarely experienced the religious violence that has flared in other parts of the country.
But the Popular Front's rise here is stirring concern as a growing number of its young members embrace a radical brand of Islam. Authorities say they fear that the group has become an example of how extremism can creep into a society, even one in which the vast majority of Muslims are not conservative.
Intelligence authorities say the government is investigating threats against women such as Khasi and other attacks, including a case in which Popular Front members are accused of severing the right hand of a Christian professor for what they felt was a slight against Islam. More than 25 men have been arrested in the case, and trials are set to begin soon.
The Popular Front, which has denied involvement in any attacks, says it sets out to defend minority groups and lower castes. But officials say they are troubled by the group's connection to the Students Islamic Movement of India (SIMI), which was banned in 2001 for supporting terrorism and accused of involvement in the 2003 train bombings in Mumbai that killed 10 people. Many Popular Front members were once part of SIMI.
The government has struggled with how to respond to the Popular Front because it often voices ideas through protests, a right "available in a democratic society and provided for by the Indian constitution," said Hormis Tharakan, former chief of India's intelligence agency, the Research and Analysis Wing. "But it's the propensity toward violence that is most worrying."
The group's emotional messages that mention the Palestinians and such common Muslim grievances as the wars in Iraq and Afghanistan resonate among Kerala's highly educated population, which tends to be more aware of global issues. And nearly every household has at least one male working in Persian Gulf countries, a migration that began during the oil boom of the 1980s.
"Once there, some Keralites undergo a spiritual reawakening in countries that espouse a far stricter version of Islam," said M.G.S. Narayanna, former chief of the Indian Council of Historical Research, who is based in Kerala. "They are told that Indian Islam is not pure and they should learn Arabic, study the Koran in Arabic. That is how it starts. Then they start learning about what they are told is hatred and injustice against Muslims around the world."
T.J. Joseph, the professor whose right hand was cut off in July, was allegedly attacked by a mob of Popular Front recruits.
The Mumbai Atrocities: Where is the Outrage?
Cinnamon Stillwell
San Francisco Chonicle
Thursday, December 17, 2008
It was often said after the terrorist attacks of Sept. 11, 2001, that everything had changed. And for a few years afterwards, indeed it had. After decades of denial, America and its allies went on the offensive against Islamic terrorism, both militarily and morally. Most importantly, there was no hesitancy to name the enemy or to condemn his inhumanity.
But if the lack of outrage over the Islamic terrorist assault on Mumbai, India last month was any indication, everything has changed back.
The obfuscation that characterized much of the early reporting on Mumbai is partially to blame. Watching a number of television reporters go through visible pains not to use the word "terrorist" to describe a four-day reign of terror that would eventually kill more than 170 people and injure hundreds was a surreal spectacle. Initial articles described "militants," "gunmen," and "extremists," but rarely terrorists, and rarer still, Islamic terrorists. So-called experts prattled on vaguely about the perpetrators' motivations, as if the ideology fueling a group called the Deccan Mujahedeen was a complete and utter mystery. ("Deccan" refers to a historic Islamic claim on the Deccan Plateau, the territory which stretches between Mumbai and Hyderabad, while "mujahedeen" are Muslim fighters engaged in jihad.) Links to the Pakistan-based terrorist organization Lashkar-e-Taiba added further confirmation and yet still, many of the talking heads remained stubbornly ambiguous. Indeed, the attack was largely presented as if it were occurring in a vacuum.
Perhaps they were taking a cue from last year's Departments of State and Homeland Security internal memorandum forbidding employees from using Islam-specific terminology to discuss Islamic terrorism or the British politicians who earlier this year adopted the phrase "anti-Islamic activity" to describe it. In any case, Orwell would have been proud.
When it was learned that the terrorists had attacked a Chabad center in Mumbai, the only specific target other than hotels and restaurants catering to Western tourists and wealthy Indians, the coverage become stranger still. No context was provided for the torture and murder of the Chabad Rabbi Gavriel Holtzberg, his wife, Rivka, and four other Jews, although it was obvious why they were targeted. The Holtzberg's surviving toddler son, Moshe, who was rescued by his Indian nanny, was certainly not the first Jewish child orphaned by Islamic terrorism. No connection was made to the virulent anti-Semitism fueling jihadist ideology. Nor to the Nazi-like propaganda promulgated throughout the Muslim world and fed to children so that they too will grow up to hate Jews, whether Israeli or not.
Similarly unexamined were the implications of the terrorists' barbarism. Witnesses described victims being lined up and shot execution-style and terrorists spraying bullets indiscriminately into crowds of men, women and children. Some survived by feigning death for hours under the weight of countless dead bodies. If not for the heroism of the hotel and restaurant staff, as well as others who rose to the occasion, more lives would have been lost. But lacking analysis, these horrific details were soon forgotten. Is it any wonder that the world no longer grasps the utter depravity and cruelty of the formidable opponent it's facing?
This is the same enemy who held hostage and slaughtered Russian children in Beslan; who lobs rockets at schools, uses women and children as human shields, preys upon the weakest in their own societies - women and children -- to mold them into suicide bombers, targets mosques and plans attacks on Muslim holidays, murders school teachers and aid workers, commits beheadings, hangings, stonings and honor killings, puts children and pregnant women into car bombs so they can more easily pass through checkpoints, indiscriminately targets civilians the world over, and who seeks to squelch all human achievement and progress.
Should not this grave threat to human rights be called what it is? Should not the world rally against this cancer within its midst and spare no expense or effort to stop it from metastasizing? Should not human rights groups make defeating this ideology its chief priority? Should not women's groups make the oppression of Muslim women, both within and without the Muslim world, its first priority? Should not gay rights groups turn their attention to the hangings of young men across the Muslim world? Should not Jewish groups condemn the hateful, anti-Semitic propaganda that is brainwashing Muslim youth? Should not those who believe in religious freedom denounce the persecution of religious minorities, apostates, and atheists in the Muslim world? Should not those who advocate free speech condemn the campaign to silence journalists and activists in the Muslim world, as well as attempts to do the same in the West? Should not the international community do everything in its power to prevent fanatical Islamist regimes from acquiring nuclear weapons and wreaking unprecedented havoc on the planet?
The answer to these questions would seem to be self-evident, but sadly, the world continues to waffle. Just as in the past when aggression and brutality were met with indifference or appeasement, today we are at risk of falling into the same trap. The old habit of believing one can mollify one's enemies by understanding his alleged grievances, avoiding offense, and indulging in self-blame is back in full force. Those who argue for forthright terminology and decisive action are demonized and bullied, while those who peddle in pacification and platitudes are glorified. Without leadership and moral clarity, we have become numb to the horrors at hand. Meanwhile, the enemies of civilization gain strength from our lack of fortitude.
There are those trying to call attention to the threat of radical Islam, but increasingly they are voices in the wilderness. Either that or they persecuted under the aegis of "Islamophobia." Defying this characterization, Muslim and Arab reformers are forthright about the conflict raging within Islam and the religious nature of the ideology fueling the jihadists. An inspiring show of opposition came from Mumbai's Muslims, who refused to bury the dead terrorists and who marched against their hate and violence. While such demonstrations are few and far between in the Muslim world, they should be broadly recognized and supported when they do occur.
Similarly, reformers in the West such as M. Zuhdi Jasser, founder of the American Islamic Forum for Democracy, Ali Alyami, executive director of the Center for Democracy & Human Rights in Saudi Arabia, and former Dutch parliamentarian and women's rights advocate Ayaan Hirsi Ali, should be supported as modern-day dissidents. But instead, they are hardly household names and in some cases face castigation, even as they risk their lives to tell the truth. Perhaps the problem is the world is not ready to hear the truth.
Until there is a united will to defeat this modern-day fascism, this threat to human rights, this abject evil, it will continue to thrive and to leave atrocities in its wake. And we will have no one to blame but ourselves for letting it happen.
Militants, commandos fight on in India's Mumbai
* Mumbai "still not under control" - state government
* Indian Prime Minister says attacks plotted overseas
* Police say 119 people killed, 315 wounded
By Krittivas Mukherjee
Thu Nov 27, 2008
MUMBAI, Nov 28 (Reuters) - Indian commandos fought to regain control of Mumbai on Friday, more than 24 hours after heavily armed militants killed at least 119 people and wounded more than 300 others in coordinated attacks in the commercial capital.
Prime Minister Manmohan Singh pinned blame for the attacks on militant groups based in India's neighbours -- usually an allusion to Pakistan -- raising prospects of renewed tension between the nuclear-armed rivals.
He warned of "a cost" if these nations did not take action to stop their territory being used to launch such attacks.
An estimated 25 men armed with assault rifles and grenades -- at least some of whom arrived by sea -- fanned out across Mumbai on Wednesday night to attack sites popular with tourists and businessmen, including the city's top two luxury hotels.
At least six foreigners, including one Australian, a Briton, an Italian and a Japanese national, were killed. Scores of others were trapped in the fighting or were being held hostage.
Commandos battled the militants through Thursday -- often room to room in the hotels -- to rescue people, police said. Flames billowed out of the buildings and loud explosions were heard during the fighting.
Dipak Dutta told NDTV news after being rescued at the Taj Mahal hotel that he had been told by troops escorting him through the corridors not to look down at any of the bodies.
"A lot of chef trainees were massacred in the kitchen," he said.
The city of nearly 18 million people, the nerve-centre of India's growing economic prowess and home to the "Bollywood" film industry, was virtually shut down on Thursday as the battles raged.
Sporadic gunfire and explosions could be heard early on Friday, and authorities said at least one militant was still holed up in the Taj Mahal hotel and several more in the nearby Oberoi-Trident hotel. Many staff and guests were also trapped, but it was not clear how many.
"It is evident that the group which carried out these attacks, based outside the country, had come with single-minded determination to create havoc in the commercial capital of the country," Prime Minister Singh said in a televised address.
"We will take up strongly with our neighbours that the use of their territory for launching attacks on us will not be tolerated, and that there would be a cost if suitable measures are not taken by them."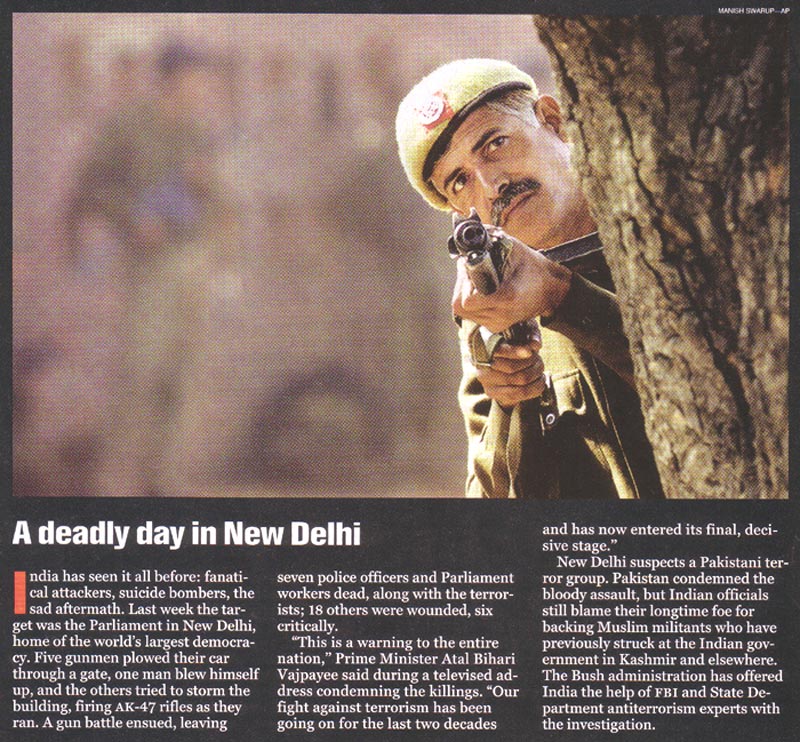 Muslim terrorism is active in India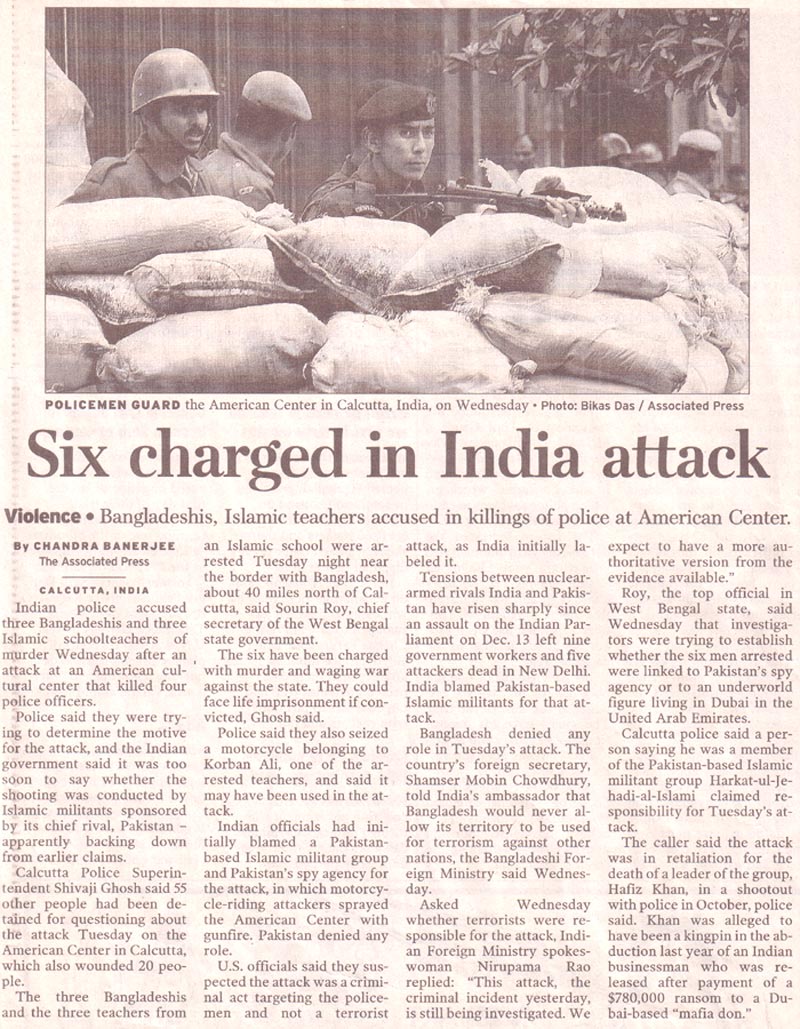 Islamic teachers targeted an American Center in India
Made in India Islamism
Indian Muslims, we are told, are a "bewildered, angry and hurt" lot. "They can't understand the sharp reactions to the largescale protests they took part in during the past weeks," a report in a weekly news magazine says.
The magazine goes on to quote sociologist Imtiaz Ahmed: "There are clear double standards here. On the one hand, you keep telling Muslims to come into the mainstream. When they believe they have a stake in the country and the right to protest, then why are you upset?"
The question, in a sense, explains why Muslims, or at least those to whom the magazine refers to in its report, are "bewildered, angry and hurt". What it does not elaborate on, however, are the reasons behind the "sharp reactions".
Mobilising tens of thousands of Muslims, most of them from madarsas that preach the pre-eminence of Islam and the unique right of the ummah to disregard the sensitivities of others, as the Jamait-e-Ulema-e-Hind did in Delhi on the eve of US President George Bush's visit, does not reflect any desire whatsoever to "come into the mainstream".
Nor does the mobilising of Islamists who believe that the cartoonists whose caricatures of Prophet Mohammad were published in the little-known Danish daily Jyllands-Posten should be murdered for committing "blasphemy" amount to Muslims declaring their intention to "come into the mainstream".
If raucous and riotous assertion of support for pan-Islamist causes - the war in Iraq, the cartoon controversy - are to be interpreted as Muslims coming into the mainstream of Indian public life, then we might as well give up all pretensions to being a secular society and accept the socio-political hegemony of a tyrannical minority.
The "sharp reactions" were as much against the mass mobilisation of Islamists across the country on issues that have no bearing at all on India's national interests as against the loathsome manner in which Muslim rage manifested itself.
In Hyderabad, after burning the Danish national flag that was earlier used as a foot mat by believers entering the city's main mosque for Friday's noon prayer, Muslims protesting against the Jyllands-Posten cartoons went on a rampage, beating up Hindu shopkeepers and looting their shops.
A fortnight later, Muslims in Lucknow did a repeat performance. The only difference was that while in Hyderabad there was no loss of lives, in Lucknow innocent persons, including a 14-year-old Hindu boy, were killed. In Hyderabad, the Islamists' ran amok to register their protest against the Danish cartoonists; in Lucknow they rioted to register their disapproval of Mr George Bush's visit.
In between, we were witness to the Uttar Pradesh Minister for Minority Welfare, Haji Yaqoob Qureshi, addressing a mammoth gathering of Islamists in Meerut where he declared a bounty of Rs 51 crore for any believer who kills the Danish cartoonists. Those who are given to thumping the Constitution of India have remained remarkably silent after this call for murder by a Minister who holds office by virtue of the fact that he has sworn to abide by the Constitution.
We were also witness to Islamists chanting slogans in praise of Osama bin Laden, heaping abuse on the US, calling for the death of Americans and waving banners eulogising jihad and jihadis - in Delhi, Mumbai, Meerut, Lucknow, Hyderabad and numerous other cities and towns.
If memories of Islamist rage and hate had dulled during the intervening years after Syed Shahabuddin's outrageous call to Muslims to boycott Republic Day celebrations, they have surfaced following the ummah's recent public belligerent demonstration of allegiance to causes and issues that lie beyond the boundaries of India.
What has also alarmed mainstream India is the ease with which such mobilisation can be done. It is not a very calming site, the gathering of tens of thousands of Islamists united by a common enemy: Anybody who dares defy their perverse worldview.
Imtiaz Ahmed senses "clear double standards" in this response. But there are no double standards - the only standard against which popular repudiation of Islamist rage can be measured is that of revulsion generated by the manifestation of Muslim rage on issues for which mainstream India does not care a toss.
There is also the other aspect, that of the sudden upsurge of minorityism, which has come to define the UPA Government's policies. From education to quotas, disbursement of development funds to meek acceptance of fatwa (remember Gudiya and Imrana?) that are antipodean to the law of the land, from sneakily conducting a Muslim headcount of the armed forces to mollycoddling minority educational institutions, and, from repealing the Prevention of Terrorism Act to subverting the Supreme Court's verdict against the Illegal Migrants (Determination by Tribunal) Act, the Congress and its allies in the UPA and the Left are perceived as bending over backwards to appease the Islamists and cravenly succumbing to their basest demands.
Yes, there were terror attacks when the BJP-led NDA Government was in power, and some of them were astonishingly daring. There was an assault on the Jammu & Kashmir legislature, terrorists struck Parliament House complex, jihadis assaulted Akshardham Temple.
But there was tough retaliatory action, too. Even the most cursory glance through the anti-terrorism record of the NDA regime will show that there was a certain resolve of the Government of India to fight this scourge. That resolve, tragically, has been severely diluted by the UPA regime.
It is, therefore, not surprising that the rash of terror attacks that have taken place after the return of the Congress and its cheerleaders to power should have been carried out by jihadis among us; they may have been inspired by foreign role models and Pakistani masters, but they were born in India.
The impact of the UPA Government's shameless pandering to fanaticism disguised as minority assertion is there for all to see. If the fidayeen attack on the Ram Mandir in Ayodhya last July and the subsequent serial bombings in Delhi on the eve of Diwali were fierce expressions of incipient Islamism, the bombings at Sankat Mochan Temple and the railway station in Varanasi on the eve of Holi, preceded by the public demonstrations of jihadi might, mark the coming of age of that which all of India must unanimously deplore - homegrown militant Islam.
Mainstream India should be worried. Very, very worried.
Mumbai probe eyes local Muslim group

India's Muslim community has a moderate reputation, but pockets of alienation exist in growing ghettos.

By Anuj Chopra Correspondent of The Christian Science Monitor

MUMBRA, INDIA – As the investigation into last week's bomb blasts gathers pace, authorities are probing a link between Pakistan-based Lashkar-i Tayyaba (LeT), the main suspect, and a banned Islamic organization in India called the Students Islamic Movement of India (SIMI).

Tests confirmed Monday that the bombers used the powerful military explosive RDX, a weapon used before by the LeT. Indian investigators say they suspect that LeT provided the bombs, the funding, the target, and the know-how to SIMI, which in turn provided the people on the ground. Authorities have rounded up nearly 300 local men from Muslim suburbs like Mumbra - including 11 detained Monday near the Bangladesh border.

This thread of the investigation has Indians facing the uncomfortable possibility that international jihad may have found a receptive ear within pockets of a huge religious minority. Already, some politicians are calling for tougher antiterrorism measures. But Muslim leaders here express concern that a harsh police crackdown and tough rhetoric from politicians would only serve to alienate a community with a strong reputation for moderation.

"India's Muslims don't countenance the killing of innocent civilians, and Muslim leaders have come out in the open and condemned these attacks. The terrorists want communal riots. They want to divide us," says Abdul Rauf Khan, an imam in Mumbra.

After bomb attacks in Mumbai three years ago, India's stringent antiterrorism law - the Prevention of Terrorism Act (POTA) - had been used with particular force against Muslims, resulting in arbitrary arrests, harsh interrogations, and detention without charge. POTA was repealed in 2004, and so far police tactics over the past week haven't been as sweeping. Many of the hundreds interrogated were let go in a few hours; only a few remain in detention.

Given the charged debate over POTA's repeal, Indian politicians may be loathe to reinstate it. But the controversial chief minister of Gujarat state traveled to Mumbai to publicly challenge Delhi to do just that - or allow state governments to pass their own versions.

"If we are allowed to enact such an antiterrorism act, Gujarat will be the first state to do so, and I will be the first chief minister who will show this country how terrorism is curbed and how to hang terrorists," Chief Minister Narendra Modi told an assembly Monday.

The timing and message of Mr. Modi's visit is seen as provocative by those who view him as complicit in communal riots that gripped Gujarat in 2002, leaving some 1,000 dead, mainly Muslims.

"It's a difficult time for Muslims in India after every terrorist attack," says Sayeed Khan, the founder of a nongovernmental organization MY India, an acronym for Muslim Youth of India - a name chosen to demonstrate that India's Muslims were Indian, and not Pakistanis, as alleged by some.

In times such as these, Mr. Khan says, people talk about Muslims disparagingly - and view them with suspicion.

"The terrorists are Muslims, and we're Muslims, too. That's our only fault," says Mohamed Tariq Qazi, a 27-year-old call center employee who was called in for questioning after the blasts.

In 2003, Mr. Qazi was arrested following a set of bombings. He had been mistaken for a SIMI activist because of his work with the Students Islamic Organization (SIO), part of the Jamaat-e-Islami Hind, a moderate religious social organization working for Muslim uplift and at one time associated with SIMI. "The word 'Islamic' in my organization's name makes all the difference."

"They [Mumbai's police] came in large numbers at 1:30 a.m., in pitch darkness, and arrested me," he recalls. "My neighbors thought I was a terrorist."

More Muslims live in India than in most Muslim-majority nations, and they've long been upheld as a moderate community, showing little passion for jihad in Iraq, Afghanistan - or even Kashmir. Not one of India's 150 million Muslims, thus far, has been found associated with Al Qaeda.

Although Muslims in secular, democratic India have access to greater rights and freedoms than in most Muslim countries, statistics paint a picture of a marginalized community. According to one study, the income of the average Muslim is 11 percent less than the national average. There's a dearth of Muslim police, government officials, and soldiers - only 29,000 Muslims make up the 1.1 million-strong Indian army.

Outbreaks of communal violence in recent years have caused some Muslims to relocate to Muslim-majority areas.

Mumbra, a suburb 25 miles from Mumbai, saw an influx of Muslims after Hindu-Muslim riots in Mumbai in 1992 and blasts in 1993. Mumbra's squalid quarters, dubbed derisively as "mini Pakistan," are notorious havens for criminals - and, police allege, terrorists.

In conversations with young men at SIO meetings, Mr. Qazi has observed a hardening aggression, and impatience with perceived mistreatment and prejudice. Tough questioning and long detentions of Muslim locals by police are often viewed as state harassment - and breed anti-state notions, he says.

Locals note that police have approached this week's investigation sensitively. A senior Mumbai police official says detentions are necessary to crack the local nexus of militants to prevent future strikes. Terrorists, he says, easily permeate Muslim-dominated areas, and thus combing operations are necessary. "Only if we interrogate locals can we zero in on the main accused."

The sluggish pace of bringing to court those responsible for the Gujarat riots also rankles Muslims here.

"The wounds of the Gujarat riots have still not healed. There's barely been any justice," says Sayeed Khan. "It might be easy to brainwash the youth by welling up memories of the Gujarat killings. Those wounds are still fresh."

One theory on why last week's bombs were planted in first-class train compartments ties into this frustration over Gujarat. Commuters in those compartments are usually traders from Mumbai's diamond industry - most of them Gujarati Hindus. Nearly 50 Gujaratis are believed dead in the bombings.

To ensure that youths don't easily fall for the violent preaching of fundamentalists, Mr. Khan, the imam, emphasizes the need to give Muslim youths better education opportunities.

"Our madrassahs need to be reformed," Khan says. "There's a need to teach subjects taught in regular school, like science, besides [memorization of] the Koran ... to bring Muslim men into mainstream society."

Indian Government in Denial after Bombay Train Blasts
July 29th, 2006
Sonia Gandhi's softness towards Islamic Fundamentalists runs the risk of making India an attractive destination for the Jihadis. …Sonia Gandhi, though not officially a member of the government has the responsibility for keeping the ruling coalition afloat. Her principal coalition partners—the Communists and Islamic power brokers—are in a position to make demands, which she is not in a position to reject.
I wrote the above paragraph in article published almost a year ago. The words are truer than ever today.
Both of my contentions— Sonia Gandhi's dhimmitude, which I called 'softness towards Islamic Fundamentalists' and India becoming a destination and even a base for Jihadis were in full display following the Mumbai train blasts of 7/11 that killed more than 200 and injured 700 more. While the public was reeling from this brazen attack, Sonia Gandhi and her hand-picked Prime Minister Manmohan Singh and other members of the government went around trying to assure the public that Indian Muslim groups were somehow not responsible for the terror attack. The government trotted out the timeworn 'foreign hand' theory, blaming Pakistan for engineering the outrage.
The idea in all this is to assure the public that Indian Muslims are somehow not affected by the worldwide Jihadi movement. But no one is buying this theory in spite of the Sonia-Manmohan Government's strenuous propaganda through dhimmi journalists. Tavleen Singh, a leading columnist, minced no words when she wrote, "Don't blame Pakistan, look inside":
… I am beginning to worry about whether Dr Manmohan Singh's [and Sonia's – NSR] government is capable of defending us against the ''jehad'' that is being waged against us so successfully that if it continues unchecked, it could cause a civil war and worse…
The Bombay blasts were triggered by eight separate explosions on the city's commuter train system, within minutes of one another but miles apart; it is hard to believe that it could be carried out by remote control from Pakistan without local logistical support. Ms. Singh rejected it out of hand pointing out:
"It is indigenous. It is a jehad being fought by homegrown terrorists and the sooner we come to terms with this the easier it is."
Manmohan Singh's "Pakistan hand" theory was only the beginning of the denial. While Sonia Gandhi maintained her customary silence over Jihadi terror, other members of her government went to the extent of exonerating known sources of terror. Shivraj Patil, the minister in charge of internal security extolled madrasa education. The Times of India reported:
Trying to dispel doubts about madrassas, often accused of being breeding ground of militancy, Union home minister Shivraj Patil on Sunday said these religious seminaries were not centres of terrorism. "…madrassas are seats of social service. They are not the centre of terrorism," Lauding the key role played by madrasas in imparting education to a vast section of people, the home minister said the government appreciated the significant contribution being made by Islamic seminaries in eradicating illiteracy and spreading the message of human values and unity in society.
Americans probably first learnt of Sonia Gandhi's Islamist appeasement when she gave what The Telegraph of London called a 'strongly pro-Muslim speech' at the bin Laden family-funded Oxford Centre for Islamic Studies, that too shortly after the 9/11 attacks. This was mild compared to her overall record in India.
The silent Sonia has not always been silent when it comes to defending Islamist organizations. She defended the banned Student Islamic Movement of India (SIMI) and had the ban lifted, but the Supreme Court of India ruled against her recommendation by ruling that SIMI was a terrorist outfit. Her henchman Salman Kurshid had argued for lifting the ban in the courts. SIMI has been implicated in the Bombay blasts.
The appeasement policy of her government has serious consequences for the global war on terror. As Tavleen Singh pointed out, the bombings in Mumbai (Bombay) are proof that Indians can no longer run away from the reality of a jihad indigenous to India. This means, India, far from being a bulwark in the war against terror will be a weak link as long as Sonia Gandhi's hold over the government lasts.
N.S. Rajaram is a mathematician and historian of science. He lives in Oklahoma City and Bangalore, India.
Taj Mahal closed after religious riot
The Australian
Bruce Loudon, South Asia correspondent
August 31, 2007
THOUSANDS of tourists were being evacuated from the famed Taj Mahal city of Agra yesterday after angry mobs set fire to shops and cars and attacked police in protest at the death of four Muslims in a traffic accident.
A total curfew clamped by authorities on the city of 1.6million people, 200km northwest of Delhi, failed to halt the rioting in which at least one person has been killed, more than 50 have been injured, and millions of rupees of damage has been caused.
Scores of cars and trucks were destroyed in the rampage, and five local factories, including a soft-drink bottling plant, were ransacked, looted and set on fire.
Terrified tourists were ordered to stay in their hotels, and the Taj Mahal, India's top tourist attraction, which attracts more than 20,000 visitors a day, was briefly closed and surrounded by armed police.
By late yesterday, the curfew had been restricted to just six suburbs and the Taj Mahal was reopened for tourists.
A senior police official in the city, which remained shrouded in a heavy pall of black smoke from fires caused by the rioting, described the situation as "still very tense" and tourists were being provided with armed guards as they drove along the Agra to New Delhi highway.
The violence erupted after a speeding truck killed four Muslims as they were riding home on a motor cycle after observing Shabb-e-Barat, a holy "night of salvation" festival held 15 days before the start of Ramadan.
The four were relatives of a prominent local MP in the state of Uttar Pradesh, and rampaging mobs, most of them believed to be Muslim, soon poured onto the main Agra-New Delhi highway, blocking it and doing battle with police and rival gangs from the majority Hindu community.
"The cause of this violence was that traffic was not regulated properly. Trucks were allowed into a no-entry zone meant for pedestrians who were going for the Shab-e-Barat procession," state government spokesman J.N. Chamber said yesterday.
On the streets leading to the Taj Mahal, police fired volleys of tear gas in a vain attempt to disperse the mobs, but came under sustained attack from stone and bottle-throwers.
Eventually, they were forced to fire live rounds of ammunition in the air.
Many of those injured in the rioting were police, and the child who died is said to have been hit by a stray police bullet.
About 20 per cent of Agra's residents are Muslim, the rest mainly Hindu.
The national newspaper The Pioneer described the scenes in Agra as "an orgy of pre-planned violence" in which Hindus were being attacked.
"If the accident (involving the four Muslim men) had not occurred, the mobs would have manufactured some other reason," it claimed in an editorial.
Meanwhile, in another manifestation of communal strife last night, the controversial chief minister of the state of Gujarat, Hindu nationalist hardliner Narendra Modi, was at the centre of charges that a Muslim man had been seriously bashed by security guards after he walked in front of the chief minister's convoy of cars. Mr Modi is a hate figure to many Muslims.
The 22-year-old Muslim man was reported to have been "mercilessly thrashed" by police after disrupting the convoy of cars carrying the chief minister.
Islamic group claims India blasts
By R.K. MISRA
July 27, 2008
AHMADABAD, India (AP) — An obscure Islamic group claimed responsibility for a series of synchronized explosions that killed at least 45 people in western India, warning of "the terror of Death" in an e-mail sent to several television stations minutes before the blasts.
Another unexploded bomb was found and defused early Sunday, said the city's police commissioner, O.P. Mathur. He said police had detained 30 people.
"In the name of Allah the Indian Mujahideen strike again! Do whatever you can, within 5 minutes from now, feel the terror of Death!" said an e-mail from the group sent to several Indian television stations minutes before the blasts began.
The e-mail's subject line said "Await 5 minutes for the revenge of Gujarat," an apparent reference to 2002 riots in the western state which left 1,000 people, mostly Muslims, dead. The historic city of Ahmadabad was the scene of much of the 2002 violence.
Saturday's e-mail, sent from a Yahoo account and written in English, was made available to AP by CNN-IBN, one of the TV stations that received the warning.
State government spokesman Jaynarayan Vyas said 45 people were killed and 161 wounded when at least 16 bombs went off Saturday evening in several crowded neighborhoods. The attack came a day after seven smaller blasts killed two people in the southern technology hub of Bangalore.
Investigators in Surat, a city about 160 miles south of Ahmadabad, found a car carrying detonators and a liquid that police suspect may be ammonium nitrate, a chemical often used in explosive devices, city police Chief R.M.S. Brar told reporters.
Cities around the country were put on alert and security was stepped up at markets, hospitals, airports and train stations.
The e-mail was sent by a group calling itself Indian Mujahedeen which was unknown before May, when it said it was behind a series of bombings in Jaipur, also in western India, that killed 61 people.
In its e-mail, the group did not mention the bombings in Bangalore and it was not clear if the attacks were connected.
"An e-mail was received by many news organizations. We are inquiring into that. We haven't traced it yet," city police Chief A.N. Roy said.
The Saturday bombs went off in two separate spates. The first, near a busy market, left some of the dead sprawled beside stands piled high with fruit, next to twisted bicycles. The second group of blasts went off near a hospital.
The side of a bus was blown off and its windows shattered, while another vehicle was engulfed in flames. Most of the blasts took place in the narrow lanes of the older part of Ahmadabad, which is tightly packed with homes and small businesses. Bomb-sniffing dogs scoured the areas.
Distraught relatives of the victims crowded the city's hospitals. One of the wounded was a 6-year-old boy whose father was killed in the blasts. He lay in a hospital bed with his arms covered in bandages and wounds on his face.
Narendra Modi, the chief minister of Gujarat state where Ahmadabad is located, called the blasts "a crime against humanity." He said the bombings appeared to have been masterminded by a group or groups who "are using a similar modus operandi all over the country."
India has been hit repeatedly by bombings in recent years. Nearly all have been blamed on Islamic militants who allegedly want to provoke violence between India's Hindu majority and Muslim minority, although officials rarely offer hard evidence implicating a specific group.
The perpetrators also rarely claim responsibility — a fact that raised doubts about the Indian Mujahedeen when it took credit in May for attacking Jaipur.
Fears that an attack could spark religious riots are real in India, which has seen sporadic violence between Hindus and Muslims since independence from Britain in 1947.
Those fears were amplified by the recent history of the 2002 religious riots. The violence was triggered by a fire that killed 60 passengers on a train packed with Hindu pilgrims. Hindu extremists blamed the deaths on Muslims and rampaged through Muslim neighborhoods, although the cause of the blaze remains unclear.
Ahmadabad is also known for the elegant architecture of its mosques and mausoleums, a rich blend of Muslim and Hindu styles. It was founded in the 15th century and served as a sultanate, fortified in 1487 with a wall six miles in circumference.