MUSLIM HATE FOR GAYS
Caning process of lesbians misunderstood, says Terengganu exco
Faiz Zainudin
September 4, 2018
FMT News
PETALING JAYA, Malaysia: The Terengganu government today defended the state Shariah High Court's decision to hold a public caning of two women for lesbian sex, saying critics should not make assumptions without witnessing the form and method of carrying out the sentence.
Satiful Bahari Mamat, the state executive councillor for shariah implementation, education and higher studies, said the caning was different from the harsher whipping imposed by civil courts.
"The critics may not have understood or witnessed the punishment but made an assumption based on civil laws which provide for harsher penalties.
"That is why caning under civil laws is done in prison and on the bare buttocks.
"However, under shariah laws, the offender is caned while seated and with the aurat covered, and the caning is done lightly because the objective is to educate," he told FMT.
The two women, aged 22 and 32, pleaded guilty to attempting to have same-sex relations and were caned six times each at the Shariah High Court in Kuala Terengganu on Monday, watched by about 100 people.
It was the first time that such caning was carried out in the state.
The punishment has been widely condemned by legal and human rights organisations and politicians including Rembau MP Khairy Jamaluddin.
Islamic Renaissance Front director Ahmad Farouk Musa described the caning as inhumane and a form of humiliation, adding that the country was "regressing to the Middle Ages".
"Although it happened in a state not governed by the Pakatan Harapan federal government, such degrading laws should not be allowed in this country," he said, referring to PAS-ruled Terengganu.
Satiful called Farouk's criticism contempt of court.
"What was decided by the judge was based on existing laws. It is a decision of the court and everyone should be able to differentiate between the powers of the government and the courts," he said.
He pointed out that there was a similar case which involved Kartika Sari Dewi Shukarnor in Pahang, except that the caning penalty was not carried out.
Satiful also said many people were confused about the punishment which was only carried out after the offenders admitted guilt and agreed to be punished.
"The offenders in this case were given time to file an appeal but they chose not to do it. In Islam, opportunity is given to the offenders to repent, to defend themselves and they are punished only after they admit guilt," he said.
Referring to comments by Minister in the Prime Minister's Department Mujahid Yusof Rawa that the presence of outsiders during the caning in Terengganu needed to be looked into, Satiful said the process was in line with provisions in the Quran.
He said the Quran stated that punishment should be carried out in public for the purpose of educating them.
Rights defenders angered by 'kill the gays' penalty proposed by Malawi Muslim Association
September 9, 2017
Elijah Phimbi
Nyasa Times
Fresh remarks from the Muslim Association of Malawi (MAM) spokesperson Sheikh Dinala Chabulika s calling for gay people to be condemned to have strongly attracted anger and condemnation both from local and international human rights defenders .
Sheikh Chabulika was quoted in an article published by one of the fortnight published newspaper 'Mkwaso' dated 1st-14th September 2017.
In the article, Chabulika stated that homosexuality is not only against the Islamic teachings and religion but also an abomination and therefore emphasized that those practiving it be executed.
He further emphasized that as the Muslim Community, they will never change their stand on the matter that homosexuals need to be handed death penalty as a way of making sure that the issue is curbed..
Chabulika was also responding to the call by Malawi government through the Malawi Human Rights Commission (MHRC) on the need to conduct a survey to sort views of Malawians on Homosexuality practice which is under the LGBTI (Lesbians, Gays, Transgender and Intersex) blacket.
The Sheikh said the Inquiry is 'unnecessary'.
In response to Chabulika's calls, Malawi Network of Religious Leaders Living with or Personally Affected with HIV and Aids (MANERELA) Human Rights Activist Allie Mwachande described the sentiments as a 'big shame'.
"This is a very big shame! If they say homosexuals be killed is he [Chabulika] himself ready to kill? Because if he is ready then he tell us when and where he will do that" said sounding angry Mwachande when he called Nyasa Times.
He added: "As a human rights campaigner, I meet different people and I know some of the Muslims who are within the LGBTI Community. Some are even from Mangochi where him and I all come from…will he be happy to see his brothers and sister killed?".
Mwachande further reminded Sheikh Chabulika as a man of Allah to always preach love inorder to serve the souls of the so called 'worst sinners'.
"As a Sheikh, he should always preach about love without looking at the sexual orientation, tribe, colour, cultural beliefs etc. Jesus and Mohammed both preached about love and the Bible and Quaran still tells us to love one another" explained Mwachande.
Consequences
The activist further warned the Sheikh that his remarks can cause breach of peace and bring trouble within the society.
"What he has said can bring alot of trouble amongst people and can lead to more victimization towards different minority groups. As servants of God, can they be happy to see people fighting and shedding blood? Let us love one another and let God be the best judge" he said.
He also observed that the HIV prevalence rate within the LGBTI Community is high hence the need to accept the members as a control measure so that they be able to access medical health services.
"I always say and remind Malawians that human rights activists are not there to push for legalization of same sex marriages no! We just need to accept that this is happening as evidenced by the HIV prevalence rate within the LGBTI Community and not that we are entirely tolerating their practices.
"So my humble request to Sheikh Chabulika and the entire faith community is to preach love and desist from making statements and take actions that can lead to extream stigma and discrimination," concluded Mwachande.
Several Human Rights Organisations including Centre for Development of People (CEDEP), Human Rights Watch (HRW), Alliance for Rights and Aids in Southern Africa (ARASA) among others are against the Inquiry on homosexuality in Malawi.
ARASA Director Michaela Clayton says: "The survey would only result in making life harder for the LGBTI Community".
On the other hand, CEDEP Executive Director Gift Trapence threatened to drag MHRC to court if they progress to conduct the survey.
Death penalty exists in Malawi laws not practiced as no President in multi party democracy has asented to it.
If we go by the christianity religion, homosexuality is a seen punishable by death as written on Leviticus 20:13 just like other sins that include aldutery, contempt to the judge or Priests among others.
However, most African and Islamic countries regard homosexuality as the worst sin even though the Bible says 'No sin is bigger than the other' before the eyes of God.
Chechnya opens world's first concentration camp for homosexuals since Hitler's in the 1930s where campaigners say gay men are being tortured with electric shocks and beaten to death
• Chechyna has opened the first concentration camp for homosexuals since Hitler
• Prisoners reportedly tortured with electric shocks and some beaten to death
• One of those who fled said prisoners were beaten to force them to reveal other members of the gay community
• Comes after 100 gay men were detained and three killed in Chechyna last week
By Thomas Burrows for MailOnline
10 April 2017
Chechyna has opened the first concentration camp for homosexuals since Hitler, where campaigners say gay men are being tortured with electric shocks and beaten to death.
It comes after it was claimed 100 gay men had been detained and three killed in Chechnya last week.
A report by Novoya Gazeta said authorities had set up several camps where homosexuals are killed or forced to promise to leave the republic.
One of the camps is reportedly at the former military headquarters in the town of Argun.
Svetlana Zakharova, from the Russian LGBT Network, told MailOnline: 'Gay people have been detained and rounded up and we are working to evacuate people from the camps and some have now left the region.
'Those who have escaped said they are detained in the same room and people are kept altogether, around 30 or 40. They are tortured with electric currents and heavily beaten, sometimes to death.'
One of those who escaped told Novoya Gazeta that prisoners were beaten to force them to reveal other members of the gay community.
Another prisoner who fled said that before being incarcerated in one of the camps, he had been forced to pay bribes to Chechen police of thousands of rubles every month in order to survive.
Now the regime had taken another step against gays by creating these camps, the survivor said.
Alexander Artemyev, from Amnesty International in Russia, told MailOnline: 'We can only call on the Russian authorities to investigate the allegations. Homosexuals in Chechyna are treated very harshly and prosecuted daily and they are afraid to talk about it.
'They either have to hide or leave the republic. We are keeping in touch with the LGBT network that helps people in Russia to find shelter. The problem is people there cannot talk about it as it puts their lives and those they speak to, in danger. This is the main issue we are facing in Russia and the main challenge.'
Ekaterina Sokirianskaia, Russia project director for the International Crisis Group, told MailOnline: 'The story is very much developing...victims are escaping.'
Tanya Lokshina, from Human Rights Watch in Moscow, said: 'For several weeks now, a brutal campaign against LGBT people has been sweeping through Chechnya.
'These days, very few people in Chechnya dare speak to human rights monitors or journalists even anonymously because the climate of fear is overwhelming and people have been largely intimidated into silence.
'Filing an official complaint against local security officials is extremely dangerous, as retaliation by local authorities is practically inevitable.
'It is difficult to overstate just how vulnerable LGBT people are in Chechnya, where homophobia is intense and rampant. LGBT people are in danger not only of persecution by the authorities but also of falling victim to "honour killings" by their own relatives for tarnishing family honour.'
Last week Novoya Gazeta said Chechen police had rounded up more than 100 men suspected of being gay and killed three.
It claimed that among those detained were well-known local television personalities and religious figures.
President Razman Kadyrov, who is a key ally of Vladimir Putin, allegedly ordered the clampdown, although officially his regime denied the arrests claiming 'it is impossible to persecute those who are not in the republic'.
Kadyrov, who introduced Islamic rule in the Muslim-majority region, has been accused of earlier human rights violations.
He described the allegations as 'absolute lies and disinformation'.
Kadyrov's spokesman Alvi Karimov told the Interfax News Agency: 'You cannot arrest or repress people who just don't exist in the republic.
'If such people existed in Chechnya, law enforcement would not have to worry about them, as their own relatives would have sent them to where they could never return.'
Chechen society is strictly conservative, meaning that unlike other cases where relatives or rights activists may put pressure on authorities when a homosexual relative disappears, those suspected are likely to be disowned by their own families.
According to the New York Times, gay men on the region have been deleting their social media profiles after it was reported authorities tried to lure gay men into dates and arrested them.
The reports from Russia claim those arrested range from just 15 to 50.


Orlando Highlights Islam's Complicated Relationship With Homosexuality
by ALASTAIR JAMIESON and MICHELE NEUBERT
NBC News
Islam's approach to homosexuality has been in the spotlight since the massacre at an Orlando gay club — criminal or compassionate? Prejudiced or progressive?
While ISIS death squads enforce an extreme version of Islam that punishes gays with death, the religion's history is far more nuanced. And like most relationships, when it comes to Islam and homosexuality — it's complicated.
What does Islam say about being gay?
Experts say that LGBT figures have been a feature of the faith since the days of the Prophet Muhammad.
"There is sexual diversity in Islam," said Ali A. Olomi, an Afghan-American activist and historian who teaches at the University of California in Irvine. "Of course there is homosexuality, gay people have existed and even been represented in Islam throughout history."
Most scholars agree that musician Al Dalal, a contemporary of the Prophet Muhammad, was gay. Then there's the 13th Century Persian poet Rumi, who wrote homoerotic verses dedicated to same-sex love.
Still, Islamic scholars overwhelmingly teach that same-gender sex is a sin. The Muslim holy book, the Quran, tells the story of Lot and the destruction of Sodom — with sodomy in Arabic referred to as "liwat," based on Lot's name.
Men having sex with each other should be punished, the Quran says, but it doesn't say how — and it adds that they should be left alone if they repent.
Gay Muslims say the Quran is not as prescriptive as many imams suggest.
"The Quran says little about homosexuality and many claims are made about the content of the Quran that do not necessarily stand scrutiny," according to Imaan, a British LGBT support group.
A small number of Islamic scholars, mainly in the West, have started re-examining Islamic teaching on same-gender sex and have concluded that the blanket condemnation is a misinterpretation.
Historic texts on Islam "deal with violence against men but not love or relations between women or any kind of nuance," said Olomi. "When you try to put ancient interpretations of sodomy onto modern sexuality it becomes convoluted.
"Religious leaders who say homosexuality is anti-Islamic interpret Islam in a narrow fashion that erases thousands of years of diversity and complexity," Olomi added. "There isn't a singular, modular concept of sexuality in Islam, it is always been debated and contested."
The review of Islamic teaching on same-gender sex, though, is only just beginning and is not widely accepted.
Who says homosexuality is punishable by death?
The idea of the death penalty comes not from the Quran but the Hadith — the traditions or sayings of the Prophet Muhammad. Accounts differ on the method of killing, and some versions give lesser penalties in some circumstances.
The death penalty is imposed in at least 10 countries: Afghanistan — where the Orlando shooter's father was from — Brunei, Iran, Mauritania, Saudi Arabia, parts of Somalia, Sudan, United Arab Emirates and Yemen.
In those countries "even the existence of homosexuality is only grudgingly acknowledged," according to Afghan-American writer Fariba Nawa.
Iran is notorious for hanging men accused of homosexual behavior. The Associated Press reports that since 2014, ISIS has executed at least 30 people in Syria and Iraq for being gay — including three men who were dropped from the top of a 100-foot building in Mosul in June 2015.
During their rule in Afghanistan in the 1990s, the Taliban had their own method: The victim would be placed in a pit and a large stone wall toppled on top of him.
Experts say the Orlando shooting has exposed hypocrisy in countries' treatment of homosexuality.
"Middle Eastern and North African countries have denounced the Orlando shooting when at the same time they criminalize homosexuality with sentences ranging from years in prison to the death penalty," said Ahmed Benchemsi, communications and advocacy director for the Middle East and North Africa at Human Rights Watch. "Those governments should repeal laws and abolish practices that persecute people based on their sexual orientation and gender identity."
Afghan president Ashraf Ghani tweeted that he condemned the "heinous and unforgivable crime in Orlando."
Another Twitter user quickly pointed out: "If you really think this crime towards LGBT people was bad, stop killing them for having same sex activity in your country!"
No fewer than 40 out of 57 Muslim-majority countries or territories have laws that criminalize homosexuality, prescribing punishments ranging from fines and short jail sentences to whippings.
However, same-sex relationships are not strictly illegal in 20 Muslim-majority nations including Albania, Bosnia and Herzegovina, Turkey, Kosovo, Jordan, and the Palestinian West Bank.
In Egypt, there have been police raids of suspected gay gatherings and people have been put on trial for "violating public morality."
Religiously-mixed Lebanon is the most liberal among Arab nations regarding same-sex relationships, and has an active LGBT community. A Lebanese law forbids homosexuality, although it is rarely enforced and has been challenged in courts.
So where do gay rights stand in Muslim communities?
There has been plenty of support for LGBT rights among Muslims. Just over 40 percent of U.S. Muslims said they supported same-sex marriage last year in a survey by the Washington-based Public Religion Research Institute. Lawmakers in Albania recently debated legalizing gay marriage.
In fact, Muslims in the U.S. are more accepting of homosexuality than evangelical Christians, Mormons and Jehovah's Witnesses, according to a 2015 Pew study.
Community leaders acknowledge that homophobia remains a problem, but there is a debate about whether that comes down to specific Islamic teaching on homosexuality or socially conservative attitudes.
"Sexuality in general is a somewhat taboo topic. The idea that homosexuality may exist is not something often discussed," Olomi explained. He added that homophobia was "not unique" to Islam but "quite a serious problem" in the U.S.
While there are signs Muslim communities in the U.S. and other Western nations are adapting to different social norms, the pendulum is swinging the other way in countries such as Iraq.
The rise of modern Islamic extremism has worsened homophobia in Muslim societies outside of the U.S., according to Ayaan Hirsi Ali, author of "Infidel" a fellow at the Harvard Kennedy School.
"Homophobia comes in many forms. But none is more dangerous in our time than the Islamic version," she wrote this week in the Wall Street Journal.
Others see signs of progress. Ibi Ibrahim, a Yemeni artist who has lived in the U.S., says "changes are happening, slowly" in the Middle East.
"Just a week ago I was reading a Moroccan newspaper and the front page was about a gay Moroccan man who did something in Europe and it was actually positive, the article was written in a positive way," Ibrahim said at a recent London exhibition on sexuality in Islam called "The Unbreakable Rope."
"I never thought I would just open the page of an Arab newspaper and see that being discussed in a normal way," he added.
What it is like to be gay and Muslim?
Many gays in the Muslim world keep their sexual orientation secret for fear of reprisal by relatives or authorities, while some find a surprising degree of acceptance.
"Like many other gay men, coming out for me was certainly nerve-racking but in the end was the best decision I made," said a Bay Area financial analyst and Afghan-American who did not want to be identified. "The response I received from my parents them was nothing short of unconditional love and support. They played a vital role in helping me fully accept myself."
He acknowledged that other Muslims, even in the U.S., have not been so lucky.
"I have met other Afghans and Muslims that have been ostracized by their families, or live in the closet for fear of being disowned," he said.
Nemat Sadat, 37, a New York City-born writer, faced death threats and was shunned when he came out in 2013. He is now an avowed atheist and a campaigner for LGBT rights in Afghanistan.
"Even if it takes me 50 years, this is what I am committed to," he said. "Even if I end up getting killed in the process, this is what I what to achieve."
Saudi government 'wants to EXECUTE gay people who show their sexuality in public & online'
SAUDI law makers could impose the death penalty on gay people who show their sexuality in public and on social media, according to reports.
By CHARLIE PEAT
PUBLISHED: 01:59, Wed, Mar 30, 2016
The government in the Sunni Kingdom is reportedly demanding tougher punishments on those found guilty and claimed social media has caused a boom in homosexuality.
According to Okaz newspaper, the last six months has seen 35 cases of homosexuality and 50 cases of cross-dressers as well as cases of "sexual perversion" in Saudi Arabia.
The judiciary reportedly also claimed there has been a large rise in "perverts" displaying "sins and obscenities" on social media in the Sunni Kingdom.
It comes after a Saudi man was arrested this week when he raised the rainbow flag outside his home in Jeddah.
The doctor was arrested by religious police within hours of hoisting the flag in the port city.
But he was released shortly afterwards when he claimed he had no idea what the pride flag symbolised.
In addition, Okaz reported that a man in his 50s was arrested for making sexual advances to men online.
He allegedly begged for forgiveness during the police interrogation and said he would not do it again.
The calls from the law makers has seen a backlash on social media with some using the hashtag #I_am_gay_will_not_be_deterred.
One tweeted: "I stand with the Saudi Arabian LGBT community."
Currently, the Saudi government hands out fines, prison sentences and whipping for being openly gay.
A second conviction automatically merits automatic executions although vigilante executions are also common.


Horrific moment ISIS kill four gay men by throwing them from a roof
27 JUNE 2015
BY JAMIE LEWIS
Mirror
In a video, released to highlight the barbarity of the group, four men are
thrown from the roof.
A sickening new ISIS video shows four gay men being thrown to their deaths from the roof of a building.
The footage was posted on the day the historic legislation of same-sex marriage was passed in the US.
Twitter account @Raqqa_Sl, which campaigns to end the violence in Syria, tweeted photos from the execution in the Syrian city of Deir ez-Zor.
A video uploaded by the campaigners showed the men being forced to queue on a five-storey building before being thrown over the edge.
No screams are audible as they fall to their deaths.
Hundreds of people living under the Islamic caliphate gathered to watch the brutal execution.
Spectators can be heard gasping in an atrocious scene as the men died one after another, with their corpses piling up on the ground.
Yesterday marked one of the greatest steps in gay rights history after a landmark Supreme Court decision making same-sex marriage a right for everyone in the US.
It has been suggested that the Islamic extremists flung four men from a rooftop before allowing them to plunge to their deaths to 'celebrate' the occasion.
Many ISIS extremists online were seen to ironically use the hashtag #LoveWins – a rallying tweet for gay rights campaigners across the globe.
The terror group have butchered a number of gay men in public executions within many of its strongholds in Syria.
Earlier this month ISIS killed another gay man after being hung by his feet from a roof.


Dozens arrested for being gay in north Nigeria

Jan 14, 2014
By MICHELLE FAUL
Associated Press

LAGOS, Nigeria (AP) - First the police targeted the gay men, then tortured them into naming dozens of others who now are being hunted down, human rights activists said Tuesday, warning that such persecution will rise under a new Nigerian law.

The men's alleged crime? Belonging to a gay organization. The punishment? Up to 10 years in jail under the Same Sex Marriage Prohibition Act, which has elicited international condemnation for criminalizing gay marriage, gay organizations and anyone working with or promoting them.

There were varying accounts of how many arrests were made in Nigeria's Bauchi state, and a local law enforcement official denied that anyone was tortured. Nevertheless, the aggressive police action shows that Africa's most populous country is attempting to enforce anti-gay measures that are becoming increasingly common throughout the continent.

In this instance, authorities responded to an unfounded rumor that the United States had paid gay activists $20 million to promote same-sex marriage in this highly religious and conservative nation, according to an AIDS counselor, who spoke on condition of anonymity for fear that he would be arrested.

An officer pretending to be a gay man then joined a group being counseled on AIDS, according to Dorothy Aken'Ova, executive director of Nigeria's International Center for Reproductive Health and Sexual Rights.

Aken'Ova said police detained four gay men over the Christmas holidays and tortured them until they named others allegedly belonging to a gay organization. She gave no details of what she called torture, but the AIDS counselor said the four men were brutally beaten until they gave up names.

The police have now arrested 38 men and are looking for 168 others, according to Aken'Ova, whose organization is helping provide legal services to the men. The AIDS counselor said he has helped secure bail for some of the 38 detainees. They both said dozens of homosexuals have fled Bauchi in recent days.

Chairman Mustapha Baba Ilela of Bauchi state Shariah Commission, which oversees regulation of Islamic law, said that 11 gay men have been arrested over the past two weeks. He said community members helped "fish out" the suspects and that "we are on the hunt for others."

Bauchi state has both a Western-style penal code and Shariah, or Islamic law, which is implemented to different degrees in nine of Nigeria's 36 states. About half of the country's more than 175 million people are Muslims, the other half Christians.

Ilela said all 11 arrested - 10 Muslims and a non-Muslim - signed confessions that they belonged to a gay organization, but that some of them retracted the statements in court.

He denied any force was involved.

"They have never been tortured, they have never been beaten, they have never been intimidated," he said.

Nigerian law enforcers are notorious for torturing suspects to extract confessions. They also are known for extorting money from victims to allow them to get out of jail cells.

Shawn Gaylord of Human Rights First, a Washington-based organization, said he was alarmed by the reports of torture and arrests.

"When discriminatory bills like this are passed, we are always concerned that they set the stage for violence and ill-treatment in society even when they are not enforced," Gaylord said in a statement. "But the fact that this law is being enforced so quickly and forcefully demonstrates the full extent of Nigeria's human rights crisis."

Olumide Makanjuola said lawyers for his Initiative For Equality in Nigeria are backing lawsuits of several homosexuals arrested by police without cause. He said police regularly and illegally inspect the cell phones of gay suspects, then send text messages to lure others.

Then the men or women are told they will be charged and their sexual preferences exposed unless they pay bribes. "Some pay 5,000, some 10,000 naira ($30 to $60). Even though they have done nothing wrong, people are scared, people are afraid that even worse things will happen," Makanjuola said in a recent Associated Press interview.

The new law was passed by the Nigerian Parliament last year but not signed by the president, Goodluck Jonathan, until last week - when he did so quietly and without fanfare. Jonathan's office confirmed Monday that the Nigerian leader had signed it.

The United States, Britain and Canada condemned the new law, with Secretary of State John Kerry saying Monday that it "dangerously restricts freedom" of expression and association of all Nigerians.

While harsh, Nigeria's law is not as draconian as a bill passed last month by legislators in Uganda that is awaiting President Yoweri Museveni's signature. It provides penalties including life imprisonment for "aggravated" homosexual sex. Initially, legislators had been demanding the death sentence for gays.

The Nigerian law provides penalties of up to 14 years in jail for a gay marriage and up to 10 years' imprisonment for membership or encouragement of gay clubs, societies and organizations. That could include even groups formed to combat AIDS among gays, activists said.

The U.N. agency fighting AIDS and the Global Fund to Fight AIDS, Tuberculosis and Malaria expressed "deep concern that access to HIV services for lesbian, gay, bisexual and transgender people will be severely affected" and that the law could harm Jonathan's own presidential initiative to fight AIDS, started a year ago.

It said Nigeria has the second-largest HIV epidemic globally with an estimated 3.4 million people living with the virus.
Jonathan has not publicly expressed his views on homosexuality.

But his spokesman, Reuben Abati, told the AP on Monday night, "This is a law that is in line with the people's cultural and religious inclination.

So it is a law that is a reflection of the beliefs and orientation of Nigerian people. ... Nigerians are pleased with it."

Many have asked why such a law is needed in a country where sodomy already was outlawed, and could get you killed under Shariah. Ilela said sodomy carries the death sentence in Bauchi state, with a judge deciding whether it should be done by a public stoning or by lethal injection.

No gay person has been subjected to such punishment.



Gulf states to introduce medical testing on travellers to 'detect' gay people and stop them from entering the country
• Bahrain, Kuwait, Qatar, Oman, Saudi Arabia and the UAE already outlaw homosexuality, but are toughening their controversial stance
• Kuwait's director of public health says 'gays will be barred'


By TED THORNHILL
Daily Mail
7 October 2013
A medical test being developed by Kuwait will be used to 'detect' homosexuals and prevent them from entering the country – or any of the Gulf Cooperation Countries (GCC), according to a Kuwaiti government official.
GCC member countries – Bahrain, Kuwait, Qatar, Oman, Saudi Arabia and the United Arab Emirates – already deem homosexual acts unlawful.
This controversial stance is being toughened, according to Yousouf Mindkar, the director of public health at the Kuwaiti health ministry.
He told Kuwait newspaper Al Rai: 'Health centres conduct the routine medical check to assess the health of the expatriates when they come into the GCC countries. However, we will take stricter measures that will help us detect gays who will be then barred from entering Kuwait or any of the GCC member states.'
Richard Lane, from gay rights campaign group Stonewall, said: 'These proposals are not only futile but contrary to international human rights law. Many Gulf states have gone to great lengths to market themselves as open for international business. Their leaders should think long and hard about putting forward measures to restrict freedom of movement and further prohibit the best talent from doing business in the region simply because of their sexual orientation.'
Those taking part in homosexual acts in Kuwait, if they're under 21, can receive a jail sentence of up to 10 years.
Earlier this month Oman newspaper The Week was suspended over an article that was deemed to be sympathetic to homosexuals, according to the BBC.
It's illegal to be gay in 78 countries, with lesbianism banned in 49. Five countries mete out the death penalty to gay people – Iran, Saudi Arabia, Sudan, Yemen and Mauritania.
WHERE HOMOSEXUALITY IS PUNISHED BY DEATH


Iran: Since 1979, the government has executed more than 4,000 people charged with homosexual acts. A non-adult who engages in consensual sodomy is subject to a punishment of 74 lashes.


Saudi Arabia: Although the maximum punishment for homosexuality is execution, the government tends to use other punishments - such as fines, prison sentences, and whipping - unless it feels that homosexuals have challenged state authority by engaging in social movements.


Sudan: For homosexual men, lashes are given for the first offence, with the death penalty following the third offence. 100 lashes are given to unmarried women who engage in homosexual acts.For lesbian women, stoning and thousands of lashes are the penalty for the first offence. Today, the issue has divided some religious communities. In 2006, Abraham Mayom Athiaan, a bishop in South Sudan, led a split from the Episcopal Church of Sudan for what he regarded as a failure by the church leadership to condemn homosexuality sufficiently strongly.
Yemen: Homosexuality is still illegal in Yemen in accordance to the country's Shari'ah legal system. Punishment ranges from flogging to death.
Mauritania: The Shari'a law applies in Mauritania. The penal code states that, since 1983,any adult Muslim caught engaging in an 'unnatural act' with a member of the same sex is punishable with the death sentence by public stoning.




Al-Qaeda militants kill Yemeni "gay"



JULY 16, 2013 AFP

Two militants from an Al-Qaeda linked group shot dead a Yemeni man in the southern Lahj province, accusing him of being a homosexual, a police source said on Tuesday.

The attackers from the Ansar al-Sharia group, which is on the US terror list, opened fire at 20-year-old Hashem al-Asmi late Monday in the provincial capital of Huj, the source told AFP, adding that the gunmen fled on their motorbike after killing Asmi.

The attackers who "accused the man of being gay... belong to Ansar al-Shariah," the source said on condition of anonymity.

Ansar al-Sharia is the local branch of Al-Qaeda in Yemen where the network, although weakened, is still active mainly in the southern and eastern parts of the country.

Al-Qaeda loyalists seized large swathes of Yemen's south and east in 2011, taking advantage of a decline in central government control during an 11-month uprising that forced veteran president Ali Abdullah Saleh from power.

Yemeni government troops have since recaptured much of the territory with support from US drone strikes, but the jihadists retain bases in the desert east and frequently carry out hit-and-run attacks using unlicensed motorbikes.

During their control of these areas, the militants had tried to impose a strict version of sharia (Islamic law) on residents, executing or lashing citizens they accused of various crimes. They had also severed the hands of many accused of burglary.

British Muslims' Fear of Homosexuality

by A. Millar
May 2, 2011

Hudson New York

Britain's awakening to Muslim homophobia and anti-homosexual violence might have occurred when Oliver Hemsley, 20, a fashion student from Cambridgeshire, was viciously attacked by a Muslim gang after leaving a well-known gay pub in London, the George and Dragon, in 2009. During the frenzied attack, Mr. Hemsley was repeated punched and kicked. During the assault, the gang leader, Nazrul Islam, plunged a knife through Mr. Hemsley's heart and lungs, partially severing his spinal column, and leaving him paralyzed from the neck down. Nazrul Islam was arrested, but later released on bail. He subsequently robbed a 12 year-old girl at knifepoint. After Mr. Islam was finally convicted, a gang of thirty Muslim men stormed into the George and Dragon pub, and attacked those inside. These crimes made barely a ripple in the mainstream media.

Muslim homophobia is not confined to the streets, but has become entrenched, at the opposite end of the societal spectrum, in the university. The institution is meant, of course, to enlarge the worldview of students, but in recent decades many colleges, in both Britain and the US, have been accused of peddling a particular, narrow, political, worldview: faculty members often view the world through the kaleidoscope of victim groups. The voice of radical Muslims tends, consequently, to be allowed to drown out the voice of homosexual students. Despite having an equal opportunities policy, Kings College London, for example, hosted Abdullah Hakim Quick, a preacher that had previously said that homosexuals should be executed. Kings College is not alone. Many universities have a track record of accommodating hard line preachers and hard line Muslim student organizations, the opinions of which would be denounced as "fascist" if uttered by a non-Muslim.

The Daily Mail recently reported that stickers with "Gay free zone. Verily Allah is severe in punishment" had been posted across the London borough of Tower Hamlets. Stickers may not seem to be a serious crime, however they have garnered more attention than many other stories of Muslim homophobia. The attention should be welcomed. Just as US law enforcers have long been aware that gang graffiti is the first step toward gang-controlled areas, the anti-gay stickers around Tower Hamlets are meant, in part, to declare it a Sharia-compliant, Muslim-only area.

But Britain is a liberal democracy.

Europe has long prided itself on its "tolerance," not only of immigrant cultures, but also of homosexuality, nudity in the media, alternative lifestyles, and so on. Secretly, and not so secretly, modern European's have contrasted their own countries with the US's "religious Right," which they perceive as embodying an intolerance long forced out of Europe.

Things are not quite so clear cut, it turns out. The average Frenchman or Englishman might tolerate homosexual nightclubs with no less sincerity than he does Salafi mosques, but these sites embody different worldviews in the twenty-first century, and incompatible notions of how to live life.

With an estimated 44 million Muslims in Europe (up from 29.6 million in 1990), the continent now has its own fast-growing "religious Right" in the form of Islam, which, with few exceptions, looks extremely unfavorably upon homosexuality and many aspects of European life.

Attitudes vary from one school of Islam to the next, of course, just as they do among Muslims across the continent. A 2009 Gallop poll found that British Muslims were considerably more conservative than European Muslims, on an array of issues from pornography to suicide. However, as the Guardian noted, "The most dramatic contrast was found in attitudes towards homosexuality. Not one of the 500 British Muslims interviewed believed that homosexual acts were morally acceptable. […] By comparison, 35% of French Muslims found homosexual acts to be acceptable."

Although homophobia is rightly considered to be anathema to modern society, in 2005, Baronnes Warsi – the current Conservative Party chair – distributed leaflets to Muslim areas, as part of her election campaign, in which she sought to exploit religious conservatism in regard to homosexuality. Baroness Warsi accused the Labour Party of reducing "the age of consent for homosexuality from 18 to 16 allowing school children to be propositioned for homosexual relationships" and promised to "campaign strongly for an end to[…] the promotion of homosexuality that undermines family life."

The baroness is not an Islamist, it should be stressed, although she sometimes inadvertently gives the impression of being a political opportunist. After failing to get herself elected, Warsi appeared to recant, saying, "Why did I phrase it like that? What was I on?" She has softened her position still further over the last few years, and recently compared homophobia to "Islamophobia," which she believes to be the main topic among apparently conversationally-challenged non-Muslims.

The Netherlands' perception of itself as Europe's progressive hot-spot was brutally shattered in 2008. Gay couples had long been able to walk around freely, openly holding hands; prostitution was tolerated, and marijuana could be smoked in certain cafés. But Muslim violence against homosexuals, and intolerance towards the Netherlands' liberal attitudes, had already begun to color the scene. In 2008 at a fashion show aimed at promoting tolerance towards homosexuals, model Mike Du Pree was dragged from the catwalk and beaten by ten Muslim youths. His nose was broken in the attack.

The public nature of the attack meant that the Netherlands could no longer deny the problem.

In Britain, attacks have been lower profile, with the media choosing to under-report even the most brutal incidents. Warsi's leaflets also attracted little attention at the time.

Not surprisingly, many young Muslims – previously normal, well-adjusted, young men and women – have been radicalized on campus. According to the Centre for Social Cohesion, 25% of Muslim students said that they had "not very much or no respect at all for homosexuals," as opposed to 4% of non-Muslims who agreed with the statement. Among Muslim men on campus the number was higher, at 32%, as opposed to 4% of non-Muslim men.

Dalia Mogahed, who officially unveiled the findings of the 2009 Gallop poll on Muslim attitudes, appears to be correct in her assessment: "the Muslim-West gap rests on differences in attitudes toward sexual liberalization and gender issues."

The political parties, media, and universities, silent for so long, need to send the message that these areas are non-negotiable, and that homophobia and misogyny will not be tolerated. Perhaps they could begin by supporting Britain's gay Muslims.



Gay-bashers thrive in modern-day Netherlands
By EZRA LEVANT, QMI Agency
Last Updated: October 10, 2010 2:00am
If you think Amsterdam is the gay capital of Europe, you're half-right, but 10 years out of date. Today it's the gay-bashing capital of Europe.
Because Amsterdam isn't just gay. Now it's Muslim, too. A million Moroccans and Turks have immigrated to the Netherlands, and sharia law rules the streets.
If you doubt it, then you haven't been paying attention. Actually, that's not fair. Gay-bashing is front-page news only when it's committed by a straight, white male.
The media is terribly uncomfortable writing about gay-bashing by minorities. It's the same reason why Canadian feminists are so eerily quiet about honour killings of Muslim girls.
According to an "offender study" by the University of Amsterdam, there were 201 reports of anti-gay violence in that city in 2007 — and researchers believe for every reported case there are as many as 25 unreported ones. Two thirds of the predators are Muslim youths.
The violence couldn't be more brazen. It's not in the back alleys in the dark, it's in the heart of the city, often in broad daylight. It's a direct dare to the Dutch government to show who rules the streets.
In 2008, 10 Muslim youths broke into a fashion show, dragged gay model Michael du Pree off the stage and beat him bloody. Last month, several lesbians were hit by beer bottles thrown at their heads as they marched in a parade of thousands to protest violence against gays. There's a gay community centre in Amsterdam — you'd think that would be safe. Wrong. It's a target, with home-invasion style beatings. No one is immune. Last year Hugo Braakhuis, the founder of Amdsterdam's gay pride parade, was attacked.
In 2005, Chris Crain, former editor of America's leading gay magazine, Washington Blade, was swarmed by seven Moroccan youths. "I was really surprised," Crain told reporters at the time. "I felt comfortable because it is San Francisco times 10." Or it used to be.
This didn't happen all at once. Ten years ago Pim Fortuyn rang the alarm. "I don't hate Islam," he said. "I consider it a backward culture."
He wanted to halt Muslim immigration, at least until those in the country accepted Holland's liberal values, such as its acceptance of him as an openly gay political leader. "How wonderful that that's possible. And I'd like to keep it that way."
Fortuyn was a Marxist professor, a champion of gay rights, women's rights, liberal drug laws and euthanasia. Yet, because he opposed Muslim immigration, the CBC called him "right wing."
Fortuyn was assassinated in 2002 by a leftist radical opposed to his views on Islam.
Next came Theo van Gogh, a descendant of artist Vincent van Gogh. He made a movie about Islam's treatment of women, called Submission.
A 26-year-old Dutch-Moroccan named Mohammed Bouyeri shot him eight times and tried to cut his head off. Then Bouyeri stabbed a knife into van Gogh's chest with a letter threatening Western governments, Jews, and van Gogh's collaborator, a liberal Muslim named Ayaan Hirsi Ali.
Hirsi Ali was placed under police protection, until a judge ordered her out of her safe house. She now lives in the United States. Fortuyn, van Gogh and Hirsi Ali are gone from Holland, but the Moroccans and Turks aren't.
Now comes Geert Wilders. Wilders is the leader of the Party for Freedom, the third-most popular party in Holland. The party joined the new government coalition in return for immigration cuts and a ban on burkas, the face-covering shrouds worn by some Muslim women.
His ideas are mainstream enough to become government policy. But this week, Wilders stood trial for "hate crimes" for those very same ideas.
Prosecutors say it's a crime to compare the Qur'an to Adolf Hitler's Mein Kampf, as Wilders has done, and that he has caused too much of the human emotion called hate.
Mohamed Rabbae supports the prosecution. He's the chairman of the National Moroccan Council. He wants a judge to order Wilders to apologize. "We are for correcting him," he said.
Rabbae is for a coerced apology and forced political re-education. And the Associated Press calls Rabbae a moderate.
These days, in Holland, unfortunately that's true.
Islamist Mob Shutters East Java Gay Conference

Police, management of two hotels in Surabaya, Indonesia, buckle to fundamentalist pressure

BY DOUG IRELAND

Saturday, March 27, 2010

A large, well-organized mob of Islamist fundamentalists in Surabaya, Indonesia's second-largest city, on March 26 attacked an international conference led by ILGA-Asia, a branch of the International Lesbian and Gay Association.

The mob used aggressive threats of violence to force police to ban the meeting and to intimidate two host hotels to expel conference participants.

Speaking by telephone from Surabaya, a city of 3 million that is the capital of East Java, ILGA's co-secretary-general, Renato Sabbadini, told Gay City News that the mob, which grew from 50 to 150, invaded and occupied the Oval Hotel at around 1p.m, shortly after Friday morning prayer services in the city's mosques had concluded.

According to Indonesian newspapers, the mob was organized jointly by the Islamic Defenders Front (FPI) –– which has a long history of attacking Indonesian LGBT people and was described by the Jakarta Post as a "radical" group of "hardline" fundamentalists –– and the Indonesian Council of Ulema, an association of Muslim clerics.

Indonesia, a multi-island nation of some 230 million people, has the world's largest Muslim population. According to the country's 2000 census, 86.1 percent of Indonesians are Muslims.

"The mob invaded the lobby of the hotel [named the Oval] and would not leave unless the police and the hotel management would guarantee that our conference would not go forward," Sabbadini told Gay City News.

"The rule of law was basically suspended during the occupation by the Islamists, and both the police and the hotel management gave in completely to the demands of the mob's leaders, who threatened to call in reinforcements if their demands were not met," he added. "The hotel management even went so far as to give a complete list of the conference participants staying in the hotel to the mob.

"Later that evening, mob members conducted a floor-by-floor sweep of the hotel, going to the rooms of conference participants to make sure they had left."

But that was not enough for the mob's leaders; one member of the event's local organizing committee, King Oey, told Gay City News he was repeatedly punched by one of the fomenters in the Oval's lobby for refusing to turn over ILGA's list of the 150 conference participants from 14 Asian countries, 60 of whom were Indonesians.

One conference participant, Joel Bedos of France, staff coordinator of the Paris-based IDAHO Committee (which organizes the International Day Against Homophobia observed each May in more than 65 countries), said, "We had to hide in our hotel rooms, where we were confined, because a mob of men outside the hotel screamed threats at us as soon as they saw someone at the hotel's windows."

Oey, a member of GAYa Nusantara, Indonesia's oldest gay group, founded in the 1980s, which helped host the conference, told Gay City News, "East Java is a hotbed of Islamic fundamentalism and extremism, which makes it one of the most hostile parts of Indonesia for LGBT people, and the rise of these extremist groups here are the biggest threat to us now –– more so than the police."

Although there is no national law making homosexuality illegal in Indonesia, many provinces and cities have local measures against "moral vice" that criminalize homosexuality along with prostitution and drug abuse. (For background, see this reporter's October 12-18, 2006 article "Indonesian Gays Fight Back.")

Oey told Gay City News the Islamic Defenders Front "will use violence against LGBT people any time they think they can get away with it."

The Jakarta Post reported that the Front's secretary-general, Muhammad Chaenruddin, said, "The foreigners were told to leave because Surabaya Muslims believe the conference was against religious values and teachings. We forced them to leave by Sunday, and we also told them not to make a media statement."

The Jakarta Globe reported, "When the ILGA members planned to hold a news conference after the raid, the Islamic Defenders Front members prevented them, leading to another skirmish."

The newspaper quoted Arukat Jaswadi, a fundamentalist mob leader, saying, "They are undermining us. It's clear that we don't want them to be here for the conference, now they want to hold a press conference."

By the time Gay City News spoke with Sabbadini late Saturday night Indonesia time, he said that all of the conference participants –– except for five ILGA staffers who remained behind unharmed –– had safely left the hotel and been evacuated to other locations or had returned home.

According to Sabbadini, the ILGA-Asia conference began having problems four days earlier, when local newspapers published sensationalized accounts of the planned meeting.

Oey told Gay City News, "In general, the media here treat homosexuality as hype, and while a few newspapers have somewhat neutral or realistic treatment of homosexuality, for the most part an ingrained homophobic bias persists" in the press.

Following those news reports about the conference, the Islamists began organizing against it. The conference had originally been scheduled for Surabaya's Mercure Hotel, but after the Islamists contacted its management, the hotel summarily canceled the conference and expelled participants staying there from their rooms.

The Mercure is owned by the giant French-based Accor hotel group, which owns more than 4,000 hotels worldwide, including the Sofitel, Novotel, and Ibis chains.

The conference was hastily switched to the Oval Hotel, where many of the participants moved as well, but by Friday morning the organizers, warned of an impending attack, canceled the public sessions. They succeeded, however, in holding a few workshops in hotel rooms they occupied –– at least until the mob arrived and took over the hotel lobby.

ILGA's Sabbadini denounced the collusion of both police and management of the two hotels with the anti-gay mob's leaders.

"By Friday evening, when the occupation of the hotel continued, we saw both the police and the hotel's managers chatting amiably with the mob leaders, who were being served dinner by white-gloved waiters," he said.

The Oval Hotel was built last year by an Indonesian company, PT Surya Karang Indah.

Sabbadini told Gay City News, "The police claimed they were powerless to assure the security of the participants in our conference, with the local police passing the buck to the national police, while the national police said it was purely a local matter."

The conference's local organizing committee tried to contact Indonesian political leaders to lift the police ban on holding the meeting, but to no avail, he added.

The Jakarta Post did, however, quote Benny Kabur Harman, the justice and human rights commission chairman of the Indonesian House of Representatives, saying on Friday, "[Holding a congress] is a basic human right. Gays and lesbians are citizens whose political and legal rights are guaranteed and protected by the Constitution, which allows freedom of opinion. The state should in no way forbid the congress from being held."

Gay Muslims made homeless by family violence
By Poonam Taneja
BBC Asian Network
Published 2010
A UK charity is dealing with an increasing number of young gay Muslims becoming homeless after fleeing forced marriages and so-called honour violence.
During a weekly drop-in group held by the Albert Kennedy Trust in London, Suni, a 20-year-old London student, helps himself to a warm mince pie and a steaming cup of coffee.
In 2008, during a holiday to Pakistan to visit relatives, his parents suspected the truth about his sexuality. They believed marriage would "cure" him of what they considered to be a psychological disorder.
Name 'blackened'
"They told me I'm going to be forced into marriage and they're looking for a girl and I'll be married in two to three months and I won't be able to come back to London," Suni said.
When he refused, he was imprisoned in his family's ancestral home in a remote village of Pakistan and subjected to regular beatings and abuse as he had brought "shame" on the strict Muslim family.
"I stayed there for three months and he was always beating me. He was telling me I had blackened our family name and he was saying it's a sin. I know it was just for honour."
Suni managed to escape and return to the UK, penniless and homeless.
Relatives and friends were reluctant to help him due to fear of violent reprisals from his family.
After a night spent in a police cell, he was put in touch with the trust, which helped find him safe accommodation.
'Gay demons'
Trust worker Annie Southerst said in the past six months there has been an increase in the number of Muslims coming to them for help.
"They face threats of physical violence, actual violence and restriction of liberties," she said.
"We've had people chased out of the house with knives and we have had issues around young people who had exorcisms planned to get rid of the gay demons, I suppose.
"They come to us because they're homeless, or in danger of being homeless imminently. We sort out emergency accommodation for them.
"But the biggest loss they face is the loss of their families.
"I can't imagine what it must be like to suddenly in your late teens, early 20s suddenly not to have a family anymore."
Using laws introduced by the government in November 2008, the charity has taken out four Forced Marriage Protection orders in the past few months.
The orders were introduced after ministers dropped plans to make forcing someone to marry a crime.
More than 80 have been imposed so far. Breaching one is contempt of court and can carry a two-year jail term.
Fazal Mahmood runs a support group for South Asian and Middle Eastern gay men, called Himat, which means strength in Urdu.
"I've got about 150 people on my mail out list.
"About 80%... have been coerced into marriage or been forced into marriage or are being forced into marriage," he said.
Mr Mahmood says homosexuality is considered a taboo issue within close-knit Muslim communities in areas such as London, Bradford and Manchester.
"I'm proud to be a Muslim, I'm proud to be South Asian, Pakistani and I'm proud to be gay as well.
"Unfortunately a lot of parents don't see that. All they see is 'what is my community going to feel like when they find out my son or daughter is gay?'."
Keeping quiet
In fact he advises young gay Muslims not to come out to their families.
"Once you've told your family and friends about your sexuality, the next unfortunate step for your family to do is ask you to leave."
Ali, 21, lives in east London with his large Bangladeshi family, and has decided to keep his sexuality a secret.
"When they do find out, they're basically going to go against it.
"My relationship with them is not going to be the same, the respect they have for me is going to be different and I'm going to miss that relationship," he said.
He is also worried about the repercussions within the local community if they discover he is gay.
"You see people being killed for being gay and stuff. I think I'd be vulnerable if people knew about me.
"I've heard a lot of remarks in the past about people saying that gay people should die for religious reasons."
Police protection
A special government unit tackles the issue of forced marriages. Every year it deals with around 1,600 cases of forced marriage. Three-quarters of all calls are from people of South Asian origin.
Department head Olaf Henricson-Bell said gay and lesbian youngsters were particularly vulnerable.
"A few weeks ago, an individual got in touch with the unit to say he'd been taken to Pakistan, forced to marry against his will, brought back to the UK then denounced by both his new wife and his family for his sexuality.
"He'd been subject to physical and other abuse. When he rang us he was scared to leave the home and we had to secure police protection.
"Forced marriage by its nature is an underground practice and the cases often go unreported.
"The individuals involved may be reluctant to mention sexuality when they ring us or when they bring their case to the attention of the authorities," he said.
The unit plans to work with the trust to produce a training programme for Lesbian, Gay, Bisexual, and Transgender organisations working with young people at risk of being forced into marriage.
Gays in the Islamic World
June 28, 2005
by Deroy Murdock
This weekend's Gay Pride festivities in New York City climaxed with Sunday's 36th annual parade down Fifth Avenue. As usual, the raucous affair thrilled some and rattled others, but everyone walked away intact.
One would have to fantasize about such an occasion, however, in most Muslim nations where homosexuality remains as concealed as a bride beneath a burqa. When it peeks through, it isn't pretty. While many liberals (and President G.W. Bush) call Islam a religion of peace, "celebrating diversity" is hardly on its agenda. Consider these recent examples of the Islamic world's institutional homophobia:
In Saudi Arabia, 105 men were sentenced in April for acts of "deviant sexual behavior"
following their March arrests. Al-Wifaq, a government-affiliated newspaper, claimed they illegally danced together and were "behaving like women" at a gay wedding.
"Calling the event a 'gay wedding' has become a lightning rod to justify discrimination against gay people," Widney Brown of Human Rights Watch told Patrick Letellier of gay.com.
Seventy men received one-year prison sentences while 31 got six months to one year, plus 200 lashes each. Four others face two years behind bars plus 2,000 lashes. If these four receive their lashes at once, Brown fears their wounds will prove fatal.
"Anyone caught committing sodomy – kill both the sodomizer and the sodomized," Islamic cleric Tareq Sweidan demanded on Qatar TV last April 22. As the Middle East Media Research Institute (memri.org) reports, Sweidan continued: "The clerics determined how the homosexual should be killed. They said he should be stoned to death. Some clerics said he should be thrown off a mountain."
Ogudu Emmanuel and Odjegba Tevin admitted that they were male lovers after their neighbors reported them to Nigerian cops. They were arrested January 15 and charged with "crimes against nature." The pair apparently escaped from jail while awaiting trial and potential 14-year prison sentences. Gay rights activists worried that cops or other inmates may have killed them in custody.
Last November, an Islamic court in Keffi, issued an arrest warrant for Michael Ifediora Nwokoma after neighbors accused him of having sex with a man named Mallam Abdullahi Ibrahim. Nwokoma quickly fled. Ibrahim was charged with the "unholy" act of "homosexualism." The court postponed Ibrahim's trial indefinitely and incarcerated him until Nwokoma surfaces.
In northern Nigeria, where Sharia law governs 12 Muslim states, homosexuality requires capital punishment by stoning.
Iraq's terrorist Ansar al-Sunnah Army, the Islamic Army in Iraq, and the Mujahedeen Army issued a statement last December 30 urging Iraqis not to vote in last January's elections, lest democracy spawn un-Islamic laws such as "homosexual marriage," in their words. To be sure, many Americans also oppose gay marriage, but they at least have the good manners not to detonate advocates of same-sex unions. Ansar-al-Sunnah is incapable of such restraint. It scored major headlines when it claimed responsibility for a December 21 bombing at a U.S. military mess tent at a base in Mosul. It killed 22 people, 18 U.S. GIs among them.
Egyptian cops have met gay men online and through personal ads, then arrested them, according to a March 1, 2004 Human Rights Watch report. Since 2001, HRW says at least 179 men have been charged with "debauchery," prompting five-year prison sentences for at least 23. As the Associated Press' Nadia Abou El-Magd wrote, HRW "interviewed 63 men who had been arrested for homosexual conduct. It said they spoke of being whipped, bound and suspended in painful positions, splashed with cold water, burned with cigarettes, shocked with electricity to the limbs, genital or tongue. They also said guards encouraged other prisoners to rape them" – thus using coercive gay sex to penalize consensual gay sex.
While he notes that secular nations such as Jordan, Indonesia, Malaysia, and Syria are more relaxed about homosexuality, Robert Spencer, director of JihadWatch.org and editor of The Myth of Islamic Tolerance, warns against equating the homophobia of strict Muslim states with, say, American social conservatives' opposition to gay-rights laws.
"Jerry Falwell and others like him do not call for the deaths of homosexuals, while these people do," Spencer tells me. "This demonstrates the bankruptcy and, ultimately, the danger of such moral equivalence arguments, which are nonetheless ubiquitous today in discussions of Islamic terrorism."
Unlike Sunday's marchers, many in the Muslim world literally risk their lives and limbs by merely peering out of the Islamic closet.
New York commentator Deroy Murdock is a syndicated columnist with the Scripps Howard News Service, and a fellow of the Atlas Economic Research Foundation.
Gays Get Death Threats From Islamic Fundamentalists
LONDON, July 18 – Three of leading members of Outrage! have received repeated death threats from Islamic fundamentalists in recent weeks and months, it was revealed today.
Peter Tatchell, OutRage! campaign coordinator Brett Lock, and gay Muslim and OutRage! spokesperson on Muslim affairs, Aaron Saeed, have been told they are on a "hit list" and are going to be "beheaded" and "chopped up", in accordance with "Islamic law".
The threats began soon after OutRage! stepped up its campaign in defence of gay Muslims, including gay Muslims fleeing attempted "honour killings" in Algeria, Iran, Palestine and in the UK.
The threats have been reported to the police. Officers have identified the phone number but have been unable to trace the owner, as it is a pay-as-you-go mobile phone.
The same Islamic fundamentalists have also threatened "attacks" on the whole gay community: "Just you wait, you'll see", they warned Peter Tatchell in a chilling late night phone call. The caller said: "We are going to punish you all…The punishment for sodomy is death."
"If the terrorists want to attack the gay community, they may well attempt to detonate a bomb in a crowded gay bar, restaurant, club or community centre," according to Brett Lock.
"We also urge extra security and special vigilance in gay areas like Canal Street and Old Compton Street, and at up-coming, publicly advertised gay events like Big Gay Out and Soho Pride.
"Since early April, Islamic fundamentalists have made various attempts to track the movements of Peter Tatchell, variously posing as journalists, police officers and representatives of the Muslim Council of Britain.
"Because of previous murder plots, enhanced security checks and restricted access to Mr Tatchell have thwarted these attempts."
Lock said that security chiefs suspect there are other terrorist cells in the UK. And he said that when they strike next, it could be outside London.
"Liberal Muslims, Jews and gay people are possible targets for future attacks," Locke said. "All gay venues throughout the country should install CCTV and search everyone who enters.
"In April 1999, OutRage! issued a similar warning after the Brixton and Brick Lane bombs, advising that gay venues could be targeted and urging increased security. The OutRage! warning was mostly ignored. Five days later, neo-Nazi David Copeland exploded a bomb in the Admiral Duncan gay bar in Soho, killing three people.
"It would be very foolish to ignore the possibility of Islamists bombing a gay bar or club," said Mr Lock.
Iran 'must stop youth executions'
By Steven Eke
BBC News
A US-based human rights organisation has called on Iran to end the execution of juvenile offenders.
Human Rights Watch (HRW) said Iran was in breach of international agreements it had signed up to.
The call follows last week's public hanging of two youths convicted of still unclear sexual offences.
Iran insists the youths were convicted of raping a younger boy. However gay rights organisations say the youths were executed for being homosexual.
'Inhumane punishment'
The case has had considerable global resonance.
Leading European and US gay organisations and publications have already launched letter-writing protest campaigns, and plan to hold demonstrations outside Iranian embassies over the coming weeks.
In a statement issued on Thursday, HRW said Iran was one of only five countries to continue executing juveniles and called for an end to what it called an inhumane punishment.
The Iranian judiciary has reacted angrily to the international outrage surrounding the public hanging of Mahmoud Asgari and Ayaz Marhoni, whom rights activists claim were aged 16 and 18.
Officials said they had been sentenced to whipping and hanging for rape, drinking alcohol and disturbing public order, and deserved the punishment they got.
Rare, close-up pictures of the execution were rapidly published on the internet. In them, officials can be seen placing nooses around the necks of the two obviously distressed, young men.
Public executions are not unusual in Iran but the execution of juveniles often attracts international opprobrium.
The case has been adopted as a cause celebre by gay rights groups.
They say the majority of media reports suggest the official charges were fabricated to reduce any public sympathy for the youths and that the real reason was the youths' sexual orientation.
Homosexuality is illegal in almost all Muslim countries, and punishable by death in many of them.
But gay and human rights groups say Iran's record is particularly shocking, having executed possibly thousands of gay men since the Islamic revolution.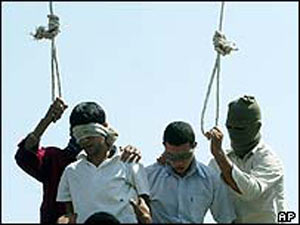 22 men arrested at gay Arab wedding
November 27, 2005
Story from BBC NEWS:
Published: 2005/07/28 18:39:26 GMT
BY JIM KRANE
DUBAI, United Arab Emirates -- More than two dozen gay Arab men -- arrested at what police called a mass homosexual wedding -- could face government-ordered hormone treatments, five years in jail and a lashing, authorities said Saturday.
The Interior Ministry said police raided a hotel chalet earlier this month and arrested 22 men from the Emirates as they celebrated the wedding ceremony.
Outward homosexual behavior is banned in the United Arab Emirates, and the gay group wedding has alarmed leaders of this once-isolated Muslim country as it grapples with an influx of Western residents and culture.
The Arabian peninsula, nevertheless, has a long tradition of openly homosexual wedding singers and dancers.
Police acting on a tip raided the hotel and found a dozen men dressed as female brides and a dozen others in male Arab dress, apparently preparing for a wedding ceremony, said Interior Ministry spokesman Issam Azouri.
''It was a real party with balloons and champagne,'' he said.
Azouri said the Interior Ministry's department of social support would try to direct the men away from homosexual behavior -- using methods including male hormone treatments, if the men are found to be deficient. AP
Muslim council condemns gay-marriage judgment
Johannesburg, South Africa
02 December 2005
The Constitutional Court judgement on same-sex marriages is a step backward that will have serious repercussions on the moral and social fabric of society, the Council of Muslim Theologians said on Friday.

"It is ironic that the December 1 judgement of the Constitutional Court recognising same-sex marriages coincides with World Aids Awareness Day -- a day that bears testimony to the scourge of sexual promiscuity," said a statement from the council's KwaZulu-Natal branch.

"Same-sex marriages are a violation of the limits prescribed by the Almighty, a reversal of the natural order, a moral disorder and a crime against humanity.

"No person is born homosexual, just like no one is born a thief, a liar or murderer. People acquire these evil habits because of widespread nude and shameless social interaction."

Homosexuality deprives a man of his manhood and a woman of her womanhood and leads to the destruction of family life.

"The Jamiatul Ulama (KwaZulu-Natal) views the judgement as a step backward which will have serious repercussions on the moral and social fabric of society."

Earlier, the Marriage Alliance of South Africa welcomed the ruling that Parliament change the Marriage Act within a year to allow same-sex marriages.

"We endorse and support the court's referral of the matter to Parliament and thereby placing the final responsibility for the outcome on civil society and the people of South Africa."

The alliance's Reverend Moss Nthla said: "The court has wisely taken the debate away from the lofty heights of a Eurocentric, academic and legal platform to the elected representatives of the people of South Africa.

"Hopefully the HSRC [Human Sciences Research Council] survey which reflects that 80% of the people in South Africa oppose same-sex marriage will have an effect on the conclusions of Parliament in this debate."

The court also ordered that if the necessary change is not done within a year, the words "or spouse" should be added to the relevant section of the Marriage Act to take away the restriction that a marriage is only between a man and a woman.

The judgement has received a mixed reaction of joy from gay groups, but outrage from religious groups and some political parties.

People at the judgement were also disappointed that they have to wait another year before they can marry. -- Sapa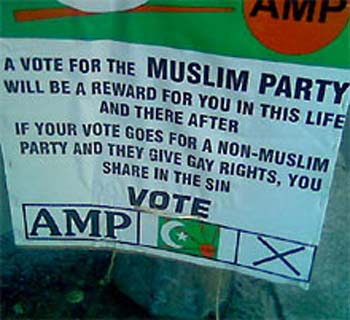 Sacranie charge dropped, but Muslim gay row continues -23/01/06

The Metropolitan Police have confirmed that there will be no further action taken against Sir Iqbal Sacranie, head of the Muslim Council of Britain umbrella group, after the Crown Prosecution Service advised that he had no case to answer for alleged anti-gay comments on a BBC radio programme.

But Muslim leaders immediately became involved in another row, after the organisers of a Festival of Muslim Cultures due to be opened in Sheffield tomorrow by Prince Charles refused permission for an event to celebrate the lives of gay Muslims.

Aaron Saeed, Muslim affairs spokesperson for the gay rights group OutRage! had offered to stage such an event, but told the Guardian newspaper that "we were told that gay Muslims don't belong in a festival of Muslim cultures."

A spokesperson for the event said that participation in the Festival was not restricted in terms of ethnic, sectarian or group divisions – but that this particular proposal would have caused offence to some Muslims and was therefore out of keeping with the tenor of the show.

Isabel Carlisle said that the Festival of Muslim Cultures did not want to be "subverted by any other agenda.

Muhammad Yusuf of the Interfaith Alliance, a new and small group on the inter-religious scene which tries to promote mutual tolerance, said that the Festival organisers' decision was "a matter of regret".

OutRage! has been accused by some Muslims of being deliberately insensitive towards them, while its members have accused Muslim organisations and leaders of homophobia.

The group has also 'outed' clergy, and its figurehead Peter Tatchell – a human rights campaigner who has twice tried to perform a citizen's arrest on Zimbabwe president Robert Mugabe – once occupied the Easter pulpit at Canterbury Cathedral to protest against the Church of England's rejection of homosexuals.

Many lesbian and gay Christians disagreed with the aggressive tactics, though sympathising with the message.

Observers say that, as with the church, changing attitudes to sexual orientation in Muslim communities is going to be a long process and needs to be led from within rather than forced from without.

But gay rights activists say that they are tired of being told to tolerate intolerance and discrimination.

Meanwhile, London mayor Ken Livingstone – who has been attacked for his willingness to dialogue with more radically conservative Muslim spokespeople – today opened an IslamExpo in London, claimed to be the largest in Europe, which aims to challenge public prejudice against the religion.

And Archbishop of Canterbury Dr Rowan Williams, himself besieged by warring factions in the Anglican churches over sexuality, will tomorrow help launch a new Christian-Muslim Forum aiming to build bridges between the communities in the sphere of public participation and consultation.

The Muslim Council of Britain is also involved in a continuing row over Holocaust Memorial Day on 26 January 2006, which it is refusing to back because it says it is not inclusive enough – something the organising trust disputes.
Festival of Muslim cultures refuses to allow gay event
Sandra Laville
Monday January 23, 2006
The Guardian
A national festival to promote Muslim culture which is being partly funded by the government has refused to stage an event designed to highlight the lives and experiences of gays and lesbians.
Prince Charles will open the Festival of Muslim Cultures in Sheffield tomorrow and over the next 18 months events will take place across the country to promote understanding of the Islamic faith. Promotional publicity states that the festival will feature the "diversity and plurality" of Muslim cultures, but gay Muslims say they have been refused permission to present an event.
Aaron Saeed, Muslim affairs spokesman for the gay rights group Outrage!, said he offered to stage an event to celebrate the lives and experiences of gay Muslims in Britain and across the world. But he said the organisers did not want him to take part. "We were told that gay Muslims don't belong in the festival of Muslim cultures," said Mr Saeed. "It is appalling that a registered charity is allowed to discriminate against gay people ... It is time the conservative leadership of the Muslim community got used to the fact that gay Muslims are here to stay and here to fight."
In her letter to Mr Saeed, the festival's director, Isabel Carlisle, said: "We have sought to go beyond sectarian, ethnic or other group divisions so we do not enquire into the sexual orientation, gender or ethnicity of the artists ... equally, at this difficult time for Muslims living in this country we are not prepared to present works that will give offence to significant numbers."
Ms Carlisle told the Guardian: "The festival is "non-ideological and non-political and non-sectarian ... we don't want to be subverted by any other agenda and that is principally why we turned Mr Saeed down."
Muhammad Yusuf, a member of the Interfaith Alliance, said it was a "matter of regret" that a festival aiming to reflect the diversity of Muslim culture was not prepared to take on board a facet that was different by reason of sexual orientation.
Dutch test immigrants with gay kiss
Two men kissing in a park and a topless woman bather are featured in a film that will be shown to would-be immigrants to the Netherlands.
The reactions of applicants including Muslims will be examined to see whether they are able to accept the country's liberal attitudes.
From tomorrow, the DVD which also shows the often crime-ridden ghettos where poorer immigrants might end up living will form part of an entrance test, in Dutch, covering the language and culture of the Netherlands.
Those sitting the test will be expected to identify William of Orange and to know which country Crown Princess Maxima comes from (Argentina) and whether hitting women and female circumcision are permitted.
Muslim leaders in the Netherlands say the film is offensive. "It really is a provocation aimed to limit immigration. It has nothing to do with the rights of homosexuals. Even Dutch people don't want to see that," said Abdou Menebhi, the Moroccan-born director of Emcemo, an organisation that helps immigrants to settle.
He added: "They are trying to find every pretext to show that people should not come to the Netherlands because they are fundamentalist or not emancipated. They confront people with these things and then judge them afterwards."
Famile Arslan, 34, an immigration lawyer of Turkish origin, agreed. "I have lived here for 30 years and have never been witness to two men kissing in the park. So why are they confronting people with that?" she said.
She accused the government of preaching tolerance about civil rights while targeting non-westerners with harsh and discriminatory immigration curbs.
The new test the first of its kind in the world marks another step in the transformation of the Netherlands from one of Europe's most liberal countries to the one cracking down hardest on immigration.
Rita Verdonk, the immigration minister known as Iron Rita, has introduced compulsory integration classes, higher age limits for marriage to people from abroad and the removal of residency permits if immigrants commit petty crimes. She has also talked of banning the burqa.
The measures were prompted in part by outrage over the 2004 murder of Theo Van Gogh, who had made a film about the oppression of women in Muslim communities.
Applicants will sit the exam at one of 138 embassies around the world. They will answer 15 minutes of questions and those who pass the first stage will have to complete two "citizenship" tests over five years and swear a pledge of allegiance to the Netherlands and its constitution.
The centre-right government of Jan Peter Balkenende, the prime minister, believes the tests will provide an objective way of assessing the suitability of applicants by gauging how well prepared they are to make the transition to Dutch life and their willingness to integrate.
Critics complain that people living in the mountains of Morocco or rural villages in Pakistan will not be able to make the long journey to cities for Dutch language lessons. According to Instituut Oranje, a Dutch language school, someone with a low level of education would require 250 hours of tuition, costing US$2,000, to pass the tests.
The total bill of US$2,580 including US$95 for a preparatory test pack and DVD and US$414 for the exam makes the process unaffordable for many.
Dirk Nieuwboer, a Dutch journalist based in Istanbul, said the multiple-choice cultural test included a question about how to behave in a cafe if two men at the next table started kissing. "There was another question about which former Dutch colony a particular spice came from," said Nieuwboer. "Most Dutch people don't know these things."
However, Jeroen Dijsselbloem, a socialist from the parliament's immigration committee, said the film had been created to help prepare people for "open-minded" attitudes on issues such as homosexuality. "We have lots of homo-discrimination, especially by Muslim youngsters who harass gay men and women on the streets. It is an issue here."
A spokeswoman for Verdonk said an edited version of the DVD would be available for showing in Middle Eastern countries such as Iran where it would be illegal to possess images of homosexuality.
Source: China Daily
22-March-2006
Katherine Knowles
PinkNews.co.uk Exclusive

Death Squads searching for gay men are active in Iraq, claims exiled poet Ali Hili. Transsexuals, he claims, are being burned and beaten to death in Baghdad.

The murdered Iraqi men are "usually discovered with their hands bound behind their back, blindfolds over their eyes and bullet wounds in the back of the head", Mr Hili asserts.

Grand Ayatollah Ali al-Sistani issued a fatwa against lesbian and gay people on his website, which has caused a surge in homophobic violence both in Iraq, and in Muslim communities in the UK. The cleric, who was nominated by Iraq for the Nobel peace prize in 2005 answered the question " what is your judgement on sodomy and lesbianism?" with the words "forbidden. Those involved in the act should be punished. In fact, sodomites should be killed in the worst possible manner".

Worrying, reports suggest that the militant wing of fundamentalist group The Supreme Council for Islamic Revolution in Iraq (SCIRI) has taken this instruction to heart. "Evidence we have received from our underground gay contacts inside Iraq suggests intensified homophobic abuse, threats, intimidation and violence," said Mr Hili, who now runs the human rights organisation OutRage. Mr Hili feared that the Badr Corps, the militant wing of the SCIRI might be taking what little law there currently is in the troubled country into its own hands.

"Intimidation, beatings, kidnappings and murders of gays have become an almost daily event," he claims. He said that many gay people had been forced to go into hiding for their own safety. Men in contact with OutRage had described feelings of terror and restrictive, desperate living conditions. One man writing on an internet blog describes his feelings of despair: "Sometimes I think there is no way out. I wish I was dead, but I am alive".

"Gay Iraqis are living in fear of discovery and death," said Mr Hili.
Muslim Leader Threatens Gay Activists Planning Parade in Jerusalem
July 06, 2006

by Jim Kouri - JERUSALEM -- Last week a top Muslim leader, Sheik Ibrahim Sarsur, who is also a member of the Israeli Kensett, warned gays that "if they dare to approach the Temple Mount during the World Pride 2006 parade in Jerusalem - they will do so over our dead bodies."
Charles Merrill, 72, a gay rights activist, defiantly replied, "I will be approaching the Temple Mount out of love and forgiveness to those who hate us. If the three major religions in the Middle East (Judaism, Christianity, and Islam) want us stoned to death as it dictates in their ancient scriptures, then our gentle innocent blood will be on their hands. Gays are
the meek in society and love all of humanity."

Merrill is one of thousands of homosexuals who will be taking part in World Pride 2006, a gay event in the holy city of Jerusalem. The event, which is held in a different world city every four years, was to have been in Jerusalem last summer but postponed due to the Israeli pullout from the Gaza.

Sheik Sarsur warns that he will use all means at his disposal to stop the gay pride parade and festivities in a city that is sacred to Christians, Jews and Muslims, and may find such an event would defile the city's sanctity. Other religious leaders have also condemned the use of Jerusalem for political activism.

Merrill says he will be marching in Jerusalem on August 10th as a celebration of universal love, and love across borders. Merrill's same sex partner, Kevin Boyle, will remain in the USA to carry on in the event of Merrill's death at the hands of religious extremists.

But some gays aren't big on the idea of this particular parade. One man said that the parade will do more damage than good.

"Rubbing our lifestyles in the faces of religious people and leaders is not the way to achieve acceptance and support for our rights. Jerusalem is considered the holiest city on earth by three religions that have millions and millions of followers. It's not the way to win them over," said the man, a New York City fashion designer who wished to remain anonymous.

Merrill, 72 - whose cousin, Charles Merrill, founded Merrill Lynch, and whose late wife, Evangeline, was the only daughter of Johnson & Johnson founder Robert Wood Johnson - wants other gays to join him in World Pride 2006, Jerusalem, Israel.

If Merrill's name sounds familiar, it's because he's also one of the founders of a growing movement in the United States for homosexuals to withhold their taxes until the government recognizes gay partners as having the same legal rights as heterosexual married couples.

According to the two gay activists, the momentum for the same-sex marriage tax protest started with a Page Six article in the New York Post and in an article on the Internet news organization WorldNetDaily.com in February 2006.

The articles covered how Merrill and his partner protested an anti-gay marriage amendment sponsored by President Bush.

Merrill said in a released statement, "As a result of nationwide publicity, we have had e-mails from hundreds of gay men and women from all over the country wanting to join us and asking how they could be a part of the gay tax protest."

Boyle added, "We gays will gladly pay our taxes once the government stops discriminating against us and passes laws that allows us to marry the person[sic] we love. We deserve the same Federal and State benefits as other married citizens."

Discrimination in the tax code also caught the attention of Howard Dean, chairman of the National Democratic Party. In a recent speech on June 3, 2006 to the gay political group National Stonewall Democrats' conference in Pittsburgh, Pennsylvania, Dean mentioned the outrage of gays and lesbians who are denied the benefits of marriage.

He is quoted as saying, "It is wrong for our tax code to be discriminatory. And it is wrong for any group of Americans to live in fear of hate crimes. We (Democrat Party) believe that every taxpayer should have the same government services and benefits as any other American."

Dean also said, "The fight continues, and the Democrat Party is standing with you by leading the fight against discrimination, and by helping you meet your electoral objectives this fall...."

The World Gay Pride parade may be cancelled, however, due to the continuing violence in the region between the Palestinian terrorists and the Israeli defense forces.
Holy hatred: Homosexuality in Muslim countries
afrol News - The majority of Muslim countries outlaw same-sex relationships. The seven countries in the world that carry the death penalty for persons presumed guilty of homosexual acts, justify this punishment with the Shari'a. Culture is not, however, always "against us and there are positive examples of same-sex relationships to be found in different Muslim cultures," she writes.
By Anissa Helie - I was born and raised in Algiers, of a French father and an Algerian mother. Having access to both cultures made me realize early on that racism as well as sexism were all-pervasive on both sides of the Mediterranean. It took me a few more years to come to the conclusion that homophobia was just as widespread.

Amnesty International counts at least 83 countries where homosexuality is explicitly condemned in the criminal code. Twenty-six of these are Muslim. This means that the majority of Muslim countries, including supposedly 'liberal' ones like Tunisia as well as dictatorships like Sudan, outlaw same-sex relationships. The seven countries in the world that carry the death penalty for persons presumed guilty of homosexual acts, justify this punishment with the Shari'a, or standard interpretation of Muslim jurisprudence. Though not always applied, the existence of the death penalty makes sexual minorities extremely vulnerable.

The state is not alone in practising repression. Communities and families have a part to play. In Indonesia, for example, homosexuality is not illegal. But in 1998 'Muslim militia' launched an anti-gay campaign on the island of Mindanao during which gay Muslims were terrorized, beaten up and ordered to leave or be castrated.

Jordan does not specifically outlaw homosexuality either. But that did not stop four Jordanians last year trying to kidnap their 23-year-old lesbian relative studying in the US, beating her and attempting to force her on to a plane bound for Jordan. The US police acted promptly and came to her rescue, but such an outcome tends to be the exception rather than the rule. Violence, harassment, persecution and extrajudicial or 'shame' killings are not uncommon.

Sex and tradition
In spite of such obstacles and hostility, same-sex relationships do take place, even in the most repressive countries. As one researcher from the Gulf told a Pan-Arab Conference on Sexuality held in Oxford in June 2000: "In prison same-sex sex is the norm. Saudi Arabia is just a large prison". Sometimes, the very segregation of the sexes allows for intimacy between people of the same gender without it being considered abnormal. As long as one keeps a low profile, such behaviour may generally go unchallenged.

This is true for both sexes. For women, cultural patterns may allow particular opportunities for intimacy: it's fairly acceptable to share a bed with your female cousin, your best friend and so on. And traditional women-only ceremonies may actually enable rural lesbians to make regular contact with other women.

Culture is not, therefore, always against us and there are positive examples of same-sex relationships to be found in different Muslim cultures. Nor is invisibility necessarily required. For example, in some traditional travelling theatres and musical groups in Pakistan, the younger men who play female roles sometimes live as a couple with the group leader. Among such communities, male couples may live out love relationships quite openly. There is also an entire body of poetry in local and Urdu literature that is clearly based on male love, yaari (3). Positive as they are, such examples should not make us forget that homophobia is prevalent, as well as systematically promoted by conservative forces everywhere.

Conservative manipulation
The "Qur'an clearly states that homosexuality is unjust, unnatural, transgression, ignorant, criminal and corrupt", declares the Jamaat-e-Islami, an extreme right politico-religious party in Pakistan. In fact, the Qur'an is far from clear on the issue and the controversy regarding the position of Islam and homosexuality is ongoing. For some people, homosexuality is "unlawful" in Islam; for others, the Qur'an does not clearly condemn homosexual acts. The only actual reference to homosexuality in the Qur'an can be found in the sections about Sodom and Gomorrah. While the harsh punishment inflicted on the people of Sodom and Gomorrah at the time of the prophet Lut is for some people a clear proof that Allah meant to eradicate homosexual practice, others argue that there is no specific punishment for homosexuality. The people of Sodom were punished for "doing everything excessively" and for not respecting the rules of hospitality. They insist that it is not the Qur'an itself that brings condemnation of homosexuals but rather the homophobic culture prevailing in Muslim societies.

In the vanguard of repression are so-called "religious fundamentalists". But in the Women Living Under Muslim Laws Network to which I belong, we maintain that "fundamentalism" is not a return to the "fundamentals" of any given religion. We believe that "fundamentalists" are extreme-right political forces seeking to obtain or maintain political power through manipulation of religion and religious beliefs, as well as other ethnic, culturally-based identities. And the rise of "fundamentalism" is a global phenomenon which affects not just Islam but all major religions.

There is also a strong connection between fundamentalist homophobic assaults and those directed against women who do not "behave", who may be unmarried or living alone. Extremist religious leaders and their followers target sexual minorities and women. They focus their offensive against homosexuals as well as others who transgress boundaries of "acceptable" behaviour. The very same rhetoric is used to justify repression against homosexuals, feminists or "different" women - who all are systematically denounced as non-Muslim, non-indigenous and so forth. It is always through manipulation of religious, national or cultural identities that violence is legitimized.

Both extremist religious leaders and state officials are likely to demonize sexual minorities, often as a means to distract from economic crisis or political controversy. Indeed, incitement to hatred and manifestations of homophobia increase in places where the local political agenda is most affected by growing fundamentalist forces.

For example, one of the very first victims of Algerian fundamentalists was Jean Senac, a gay poet assassinated in the early 1980s. Also in Algeria, Oum Ali, an unmarried woman living alone with her children in the Southern town of Ouargla, was stoned and her house burned down in 1989, killing her youngest son. These two incidents occurred long before the "official" beginning of the conflict; they reveal the untruth of Algerian fundamentalists' claims that they only resorted to violence in 1992 after being robbed of victory by the Government's cancellation of elections. In fact they targeted both homosexuals and women earlier on - but there was hardly anyone to stand up for such "second-class victims".

Joining forces
Why is sexuality and sexual conformity the focus of so much attention by fundamentalist forces? A possible answer is that when people exercise individual choice it appears as a challenge: autonomy - especially for women - is seen as a threat.

It is interesting to note that in past centuries Arabs attributed homosexual behaviour to the bad influence of Persians. Today, it's much the same story, though the characters may change - homosexuality is currently denounced as a "Western disease". In June 2000, Malaysian Foreign Minister Syed Hamid Albar stated that homosexuality was "against nature" and - following a call by Human Rights Watch to ban Malaysia's sodomy law - insisted that: "We can't amend the country's laws merely due to calls by outsiders".

Not just a local or national phenomenon, fundamentalism has taken on a global dimension. Extremist religious leaders from various faiths are coming together to oppose Sexual rights. By "closing ranks", coalitions of Christians, Muslims and other fundamentalists affect the international agenda. We saw the effect of such alliances on women's reproductive rights at the Cairo Conference on Population and Development in 1994. Such alliances also blocked the recognition of the rights of lesbians at both the 1995 World Conference on Women held in Beijing and the review of the Beijing Platform for Action in June 2000.

Of course, similar coalitions influence local political agendas. Take Britain, a secular country with a very vocal extremist Muslim minority. A Muslim-Christian alliance was recently formed to oppose the repeal of Section 28 - a law introduced in 1988 which forbids the "promotion" of homosexuality in schools as "a pretended family relationship". At a conference in May 2000, religious spokesperson Dr Majid Katme stated that "lesbianism is spreading like ire in society. We must vaccinate our children against this curse". He is supported in this view by Sheikh Sharkhawy - a senior cleric at the prestigious Regent's Park mosque in central London - who publicly advocates the execution of gay males over the age of ten and life imprisonment for lesbians.

At least as worrying is the support for fundamentalist politics by the so-called "free West". The help extended by states pretending to defend democracy is not a new phenomenon. Imam Khomeini was resident in France for several months in 1978, just before going back to Iran to lead the "Islamic" revolution. In Afghanistan, the CIA not only trained the Taliban but has also "admitted bringing 25,000 Arab volunteers to fight against the Red Army". Incidentally, both those countries - Iran and Afghanistan currently sentence homosexuals to death.

What does that teach us? First, that the hypocrisy of most political leaders knows no limit: their ever-changing definition of "fundamentalism" allows them to turn against allies of yesterday with whom they should never have got involved in the first place. Second, it is obvious that economic and geo-strategic concerns always prevail. We can only regret that there are so few allies at the international level who are ready to compromise their interests in order to defend the rights of women and sexual minorities.

Strategies of resistance
Despite a threatening environment, sexual minorities are organizing and becoming more visible in Muslim countries and communities. For example, much research is being carried out to interpret religious texts. The Qur'an is being re-examined by gay, or gay-friendly, theologians and believers in order to break the monopoly of male homophobic interpretation. To counter the stereotype of homosexuality as foreign, others are engaged in reclaiming homoerotic literature.

Another positive example is found in Lebanon, where homosexuality is illegal, but a popular weekly TV programme (Al Shater Yahki) has been focusing on sexuality since 1997 and includes gay voices. The fact that they speak from behind masks gives a measure of the risks involved.

Nevertheless, new solidarity associations are being set up (see above). These organizations are, for obvious security reasons, often located outside Muslim countries. Most of them, however, connect with either individuals or groups within Muslim countries. Whether mainly political, social or religious in their motivation, these organizations all aim at breaking the isolation faced by sexual minorities. In Muslim countries and communities, sexual minorities have only just begun speaking out. Threats of violence and accusations of betraying one's culture and religion have discouraged many from taking a public stand. However, more and more people are rejecting the idea that violence against sexual diversity is "divinely sanctioned"
Violence against gays preached in British mosques claims new documentary
By Tony Grew
September 1, 2008
Channel 4 will transmit controversial programme this evening that claims anti-Semitism and homophobia are being preached at a leading British mosque.
Dispatches documentary Undercover Mosque: The Return, "goes undercover again to see whether extremist beliefs continue to be promoted in certain key British Muslim institutions," the channel said in a press statement.
The film also investigates the role of the Saudi Arabian religious establishment in spreading fundamentalist Islamic ideology in the UK.
"A female reporter attends prayer meetings at an important British mosque which claims to be dedicated to moderation and dialogue with other faiths." said Channel 4.
"She secretly films shocking sermons given to the women-only congregation in which female preachers recite extremist and intolerant beliefs.
"As hundreds of women and some children come to pray, a preacher calls for adulterers, homosexuals, women who act like men and Muslim converts to other faiths to be killed, saying: "Kill him, kill him. You have to kill him, you understand. This is Islam.""
The programme will also feature Muslims and Islamic academics who reject and condemn these teachings of intolerance and segregation and warn of the impact this version of Islam is having on British society.
One imam at a leading university accuses the Saudi religious establishment of the: "distortion of Islam itself, the abuse and misuse of this great faith of mine and not only mine but of my children as well."
In May Channel 4 and independent film maker Hard Cash accepted damages and an apology at the High Court following a row over the original Undercover Mosque documentary, broadcast in January 2007.
The Dispatches programme showed preacher Abu Usamah at Green Lane Mosque in Birmingham calling for gay people to be executed.
"If I were to call homosexuals perverted, dirty, filthy dogs who should be murdered, that's my freedom of speech, isn't it?" he told followers.
A scene in the advertising for the documentary also showed a preacher calling for people to "take that homosexual and throw him off a mountain."
In August 2007 West Midlands police referred Undercover Mosque to the media regulator Ofcom and together with the Crown Prosecution Service issued a press release in which they said the words of three preachers featured within the programme had been "heavily edited" so their meaning was "completely distorted".
Kevin Sutcliffe, deputy head of current affairs at Channel 4, said after the HIgh Court ruling: "This is a total vindication of the programme team in exposing extreme views being preached in mainstream British mosques."