MUSLIM HATE OF STUDENTS
Militants storm Pakistan university, kill at least 20

BY JIBRAN AHMAD AND MEHREEN ZAHRA-MALIK
Reuters
January 20, 2016

Armed militants stormed a university in volatile northwestern Pakistan on Wednesday, killing at least 20 people and wounding dozens a little more than a year after the massacre of 134 students at a school in the area, officials said.

A senior Pakistani Taliban commander claimed responsibility for the assault in Khyber Pakhtunkhwa province, but an official spokesman later denied involvement, calling the attack "un-Islamic".

The violence nevertheless shows that militants retain the ability to launch attacks, despite a country-wide anti-terrorism crackdown and a military campaign against their strongholds along the lawless border with Afghanistan.

A security official said the death toll could rise to as high as 40 at Bacha Khan University in the city of Charsadda. The army said it had concluded operations to clear the campus six hours after the attack began, and that four gunmen were dead.

A spokesman for rescue workers, Bilal Ahmad Faizi, said 19 bodies had been recovered including students, guards, policemen and at least one teacher, named by media as chemistry professor Syed Hamid Husain. Husain reportedly shot back at the gunmen with a pistol to allow his students to flee.

Many of the dead were apparently shot in the head execution-style, TV footage showed.

The militants, using the cover of thick, wintry fog, scaled the walls of the university on Wednesday morning before entering buildings and opening fire on students and teachers in classrooms and hostels, police said.

Students told media they saw several young men wielding AK-47 guns storming the university housing where many students were sleeping.

"They came from behind and there was a big commotion," an unnamed male student told a news channel from a hospital bed in Charsadda's District Hospital. "We were told by teachers to leave immediately. Some people hid in bathrooms."

Thirty five of the wounded remain in hospital, a local police official said late on Wednesday.

The gunmen attacked as the university prepared to host a poetry recital on Wednesday afternoon to commemorate the death anniversary of Khan Abdul Ghaffar Khan, a popular ethnic Pashtun independence activist after whom the university is named.

Vice Chancellor Fazal Rahim told reporters that the university teaches over 3,000 students and was hosting an additional 600 visitors for the poetry recital.

Umar Mansoor, a senior Pakistani Taliban commander involved in the December 2014 attack on the army school in Peshawar, claimed responsibility for the Charsadda assault and said it involved four of his men.

He told Reuters by telephone the university was targeted because it was a government institution that supported the army.

However, later in the day, official Taliban spokesman Muhammad Khorasani issued a written statement disassociating the militants from the attack, calling it un-Islamic.

"Youth who are studying in non-military institutions, we consider them as builders of the future nation and we consider their safety and protection our duty," the statement said.

The reason for the conflicting claims was not immediately clear. While the Taliban leadership is fractured, Mansoor is believed to remain loyal to central leader Mullah Fazlullah.

The Pakistani Taliban are fighting to topple the government and install a strict interpretation of Islamic law. They are loosely allied with the Afghan Taliban who ruled most of Afghanistan until they were overthrown by U.S.-backed military action in 2001.

By afternoon on Wednesday, the military said all four gunmen had been killed.

"The operation is over and the university has been cleared," Pakistan army spokesman General Asim Bajwa said.

A security official close to the operation said he had seen the four gunmen's bodies riddled with bullets. He said none of the gunmen was wearing a suicide vest, but they carried guns and grenades.

Television footage showed military vehicles packed with soldiers driving into the campus as helicopters buzzed overhead and ambulances lined up outside the main gate while anxious parents consoled each other.

Shabir Khan, a lecturer in the English department, said he was about to leave his university housing for the department when firing began.

"Most of the students and staff were in classes when the firing began," Khan said.

Several schools had closed early at the weekend around Peshawar, the capital of Khyber Pakhtunkhwa, after rumors circulated of a possible attack.

The area has been on edge since the December 2014 massacre by six gunmen in Peshawar.

Pakistan, which has suffered from years of jihadist militant violence, has killed and arrested hundreds of suspected militants under a major crackdown launched afterwards.

The Peshawar school attack was seen as having hardened Pakistan's resolve to fight militants along its lawless border with Afghanistan.

"We are determined and resolved in our commitment to wipe out the menace of terrorism from our homeland," Prime Minister Nawaz Sharif said in a statement after Wednesday's attack.


Were Law Enforcement Leaders And UC Chancellor Aware Of Threat By Terrorsits/Extremists To Attack UC Merced?

POSTED BY: MATTHEW GONZALES
NOVEMBER 6, 2015
Merced County News

MERCED COUNTY, CA – I remember the days of the street thug punks who were in supposed gangs. I mean the real gangsters were Al Capone, Lucky Luciano, and Bugsy Seigel. These street thugs, who were calling themselves MS13, 18th Street and many other colorful names, soon learned how to organize and capitalize on street crime turning an otherwise local street problem into a global problem. And law enforcement leaders continued to see the street thugs as just that; explaining to the American people that we had nothing to worry about. But we did… we had a lot to worry about.

Gangs are now global empires taking in billions of dollars in drug, prostitution, and gun profits. Their empire has been aided by the Mexican cartels with many lives lost, families destroyed and our jails and prisons swollen to capacity. Had the problem been recognized, called what it was and addressed immediately we just may have saved a whole lot of lives, effort and money. So surely our law enforcement leaders learned their lesson, right?

Unfortunately the tragic event at UC Merced illustrates just how our law enforcement leaders have not learned from their past mistakes and may have jeopardized the lives of an entire classroom in doing so. What I am about to tell you has been confirmed by three independent law enforcement officials, all who cannot be named for fear of losing their jobs/pensions. The conversations I have engaged in compel me to believe that we are not being told the truth about the incident at our UC Merced and just who the suspect was.

From the information I have gathered, the suspect was indeed not only on the FBI's terrorist watch list but he was also on a national watch list and had been one of the topics of discussion at a recent FBI briefing to Merced County law enforcement leaders. According to recently obtained information, about 6 months ago the FBI held a terrorist/extremist briefing with Merced County law enforcement leaders. At this meeting several suspected terrorist with ISIS links were said to be here in Merced County. Names and photos were presented including one of Faisal Mohammad. Based on the FBI's own analysis and a number of people on the terrorist watch list that are in the area they projected an attack at the UC Merced campus. Though they were not absolutely certain of the attack on the UC they did feel that there was enough information for them to be here if it did.

According to my sources the UC Chancellor was also briefed on the potential threats.

A witness who wishes to remain anonymous stated that they had seen what appeared to be a picture of an ISIS flag which was pulled out of the suspect's pocket. Two of my law enforcement sources have verified that this is in fact true and that the UC Chancellor along with the FBI and DHS have instructed our local media and our local law enforcement leaders to feed the current narrative that FM was a disgruntled student instead of what he actually was… an extremist Muslim bent on attacking American students in the name of ISIS. And their reasoning for not informing Merced County residents or our out-of-town students and their parents about these potential threats to their lives? According to all three law enforcement sources the information was withheld because it would be bad for business. Protecting four innocent people's lives and the truth was bad for business.

We know that law enforcement leaders will frown upon us because of this story but we are not here to please everybody. We are here to tell you, Merced County, the information that helps keep you safe, allows you to make informed community decisions, and helps create a better place for all to live. From this story we hope that the people of Merced County will demand better information from the other local media who have ignored the real story they have been given because, well they just don't give a damn. And we do hope you will start making phone calls tomorrow to every CA politician that represents you. Call every media outlet that's supposed to tell you. And call every law enforcement leader who is tasked with protecting you and ask them simply, "Why did you fail to inform me of the truth?"

The last thing one of my law enforcement sources said before she hung-up was, "ISIS is here, Matt, and this is no longer a safe community. This info needs to be made public to the people of Merced County to be aware of the d anger signs." I think she's right because we have the right to know to be able to protect ourselves and our families from this impending danger.

Dozens of Students Killed in Suspected Isis Suicide Attack in Border Town Near Kobani

By Johnlee Varghese
July 20, 2015
International Business Times

Dozens of volunteer students, who were planning to visit Kobani to help the residents with construction work, were targeted in a suspected Isis suicide attack in Turkey's border town of Suruc on Monday.

The Turkish Interior ministry confirmed that at least 27 had died, while 100 were wounded in the blast. Turkey has called the explosion at the culture centre a terror attack.

Graphic images following the explosion shows bodies, mainly of women and children, lying scattered on the ground.

According to Hurriyet Daily News, it is being suspected that Isis suicide bomber had carried out the attack.

There were reportedly 300 people, mainly young students from various colleges and universities, who were all members of the Federation of Socialist Youth Associations (SGDF), at the time of explosion.

According to Turkish news source ANF, the blast occurred at the Amara Culture Centre in Suruc district of Urfa, where several members of the Socialist Youth Associations Federation (SGDF) had gathered in the morning for tea.

The team was later planning to cross into Syria to help the residents of Kobani, located 7 km from Suruc.

The culture center targeted in the bomb blast frequently hosts visiting journalists and volunteers assisting the refugees entering into Turkey from Syria.



Kenya Garissa University attack

At least 147 dead after al-Shabaab terrorists storm campus and separate Muslim and Christian students

HEATHER SAUL
Thursday 02 April 2015
Independent

At least 147 people have been killed and 79 wounded after al-Shabaab gunmen stormed a university in Kenya, opened fire on dormitories, released Muslim students, and took Christians hostage.

Kenya's National Disaster Operation Centre said the siege at Garissa University College ended on Thursday evening and that all students were evacuated from the building.

Interior Minister Joseph Nkaisser said security officers killed four suspected al-Shabaab attackers they had cornered in a dormitory.

Conflicting accounts of the number of fatalities emerged from the scene. Earlier, Mr Nkaisser said the death toll had risen from 16 to 70. Kenya's National Disaster Operation Centre later revised the number to 147. However, a Kenyan police source told the Press Association that as many as 160 people had died.

A dusk-to-dawn curfew running from 6.30pm to 6.30am across the four regions of Kenya which border Somalia was put into place as a precaution after the attack.

Heavy gunfire was reported in the early hours of Thursday morning at the university, which is located 120 miles from the Somalian border, when militants attacked the building.

Kenya's National Police Service said armed militants shot at campus guards to gain entry, triggering a "fierce shootout". The attackers still managed to get inside one of the student dormitories.

A spokesman for al-Shabaab told the BBC: "We've killed many people; Kenyans will be shocked when the go inside," a few hours after the siege began.

One student who witnessed the attack said he could hear militants opening doors and asking those hiding inside if they were Muslim or Christian. "If you were a Christian you were shot on the spot," he said. "With each blast of the gun I thought I was going to die."

One student who fled described chaotic scenes as gunmen burst into the building. "They are just shooting randomly," he said.

"My life was in danger, in fact everybody's. They were shooting at us with live bullets, everywhere, all over the school compound."

The US Embassy in Nairobi condemned the shooting as a "terrorist attack" on its official Twitter feed.

One Red Cross official told the BBC the attack began at 5am local time when a grenade was launched at the university's gates.

"The attackers went into the girl's hostel which is when they took the hostel over," she said. "Forces responded and took over the operation and they have locked down the campus.

Al-Shabaab has been responsible for a string of violent attacks in Kenya over recent years, which it claims are retribution for Kenya sending troops into Somalia.

Police believe the mastermind behind the attack may be Mohammed Mohamud, a teacher at a an Islamic religious school, or madrassa, who previously claimed responsibility for a bus attack in Makka, Kenya, in November that killed 28 people, and is alleged to lead al-Shabab's cross-border raids into Kenya.

Mohamud, also known by the names Dulyadin and Gamadhere, is now being sought under a $220,000 (£148,000) bounty for him.



Nigeria College Attacked: At Least 40 Killed

Suspected Islamist militants reportedly fire on students in Nigeria as they storm a dormitory and set classrooms ablaze.

29 September 2013
Sky News

At least 40 people have been killed after suspected Islamist gunmen fired on students as they slept at a college in northeast Nigeria.

The attackers reportedly stormed a dormitory and set fire to classrooms in the assault which happened about 1am local time on Sunday in the town of Gujba in Yobe state.

Nigeria's military is blaming militants from the Boko Haram insurgent group for the atrocity at the College of Agriculture.

A source told the AFP news agency that 40 bodies had been brought to hospital.

College provost Molima Idi Mato said security forces were still recovering bodies so he could not give an exact number of dead but said up to 50 had been killed.

He also said about 1,000 students had fled the scene.

The college is about 25 miles from the scene of similar school attacks around Damaturu town.

There were no security forces stationed at the college despite government assurances, said Mr Mato.

Two weeks ago, state commission for education Mohammmed Lamin urged all schools to reopen and promising protection by soldiers and police.

Most schools in the area closed after militants killed 29 pupils and a teacher, burning some alive in their hostels at Mamudo outside Damaturu on July 6.

Northeast Nigeria is in a military state of emergency following an Islamic uprising by Boko Haram militants who have killed more than 1,700 people since 2010 in their quest for an Islamic state.

Yobe has seen a series of brutal attacks targeting students in recent months, all blamed on the group.

The name Boko Haram means "Western education is forbidden" and the group has repeatedly attacked schools, universities and colleges during its four-year insurgency.

The military has described the spate of recent attacks as a sign of desperation by the Islamists, claiming they only have the capacity to hit soft targets.

An offensive launched against Boko Haram in mid-May has decimated the group and scattered their fighters across remote parts of the northeast, the defence ministry has said.

Boko Haram has said it is fighting to create an Islamic state in Nigeria's mainly Muslim north, but the group is believed to be made up of different factions with varying aims.


Boko Haram leader 'supports' Nigeria school massacre

Published July 13, 2013 AFP

The head of Nigeria's Boko Haram Islamists said he supported a July 6 attack on a school that killed 42 people, but did not claim responsibility for the massacre, in a video obtained by AFP on Saturday.

"We fully support the attack on this Western education school in Mamudo," in northern Yobe state, Abubakar Shekau said in the 10-minute video message.

The video was delivered to AFP in a manner consistent with previous statements from the Islamist leader, who has been declared a global terrorist by the United States.

The early morning gun and bomb attack at a boarding school in the Mamudo district of Yobe saw assailants round up students and staff in a dormitory before throwing explosives inside and opening fire, according to witnesses.

Most of those killed were students.

In the video, Shekau described all "Western education schools" as a "plot against Islam".

He however stopped short of claiming to have ordered the attack.

"We don't attack students," he said in the Hausa language message.



Yobe state was one of three areas placed under a state of emergency in May ahead of a sweeping military offensive against Boko Haram.



Roughly translated, Boko Haram means "Western education is sin."


Hamas claims responsibility for missile strike on bus that wounded boy
By the CNN Wire Staff
April 7, 2011

(CNN) -- Hamas on Thursday claimed responsibility for shooting a missile that struck an Israeli bus, critically wounding a teenage boy on his way home from school.

After not claiming responsibility for the attack earlier in the day, Hamas on Thursday night sent a message to reporters saying the strike was in retaliation for the killing of three Hamas leaders last weekend.

After the attack Thursday, and the firing of numerous mortars into Israel, the Israel Defense Forces "targeted nine terror-activity sites in the Gaza Strip," the IDF said in a statement.

Hamas said five people were killed and 45 were wounded. One of the dead was Saleh Tarbin, a field commander for Hamas, the group said.

The school bus was traveling in southern Israel near the Gaza border when it was hit by an anti-tank missile, Israeli authorities said.

A 13-year-old boy was the only passenger on the bus at the time, said Avital Leibovitch, spokeswoman for the IDF.

The boy is in critical condition, and the driver has moderate wounds, the IDF said.

And IDF statement later in the day listed the boy's age as 16.

It was not immediately known if the bus was targeted, but Leibovitch said it looked like "a direct hit."

Fifteen rockets and mortars were fired into Israel in one hour alone Thursday, the IDF said.

Israeli Defense Minister Ehud Barak "instructed the IDF to quickly take all necessary measures and respond to the terrorist attack," a statement from his office said. "He added that he holds Hamas responsible for all terrorist attacks emanating from the Gaza Strip."

Hamas controls the Palestinian government in Gaza. Listed as a terrorist organization by the United States, Hamas has carried out dozens of terrorist attacks killing Israelis and others.

A Hamas spokesman in Gaza, Fauzi Barhum, said, "The resistance movement's response to the enemy's massacre comes as self-defense, and to protect the citizens. It aims to pressure the occupier to stop committing crimes."

The IDF's Leibovitch said the attack was part of "ongoing terror directed against innocent Israeli civilians" emanating from Gaza.

The IDF said that in the past Palestinian militants have fired anti-tank weapons only at Israeli military targets. This is the first time Palestinians have been known to fire one at a civilian target, an IDF spokesman said.

After the incident, Palestinian security sources reported that a police training base and a factory were hit by Israeli fire. There was also an Israeli airstrike east of Rafah, the sources said. The dead included a member of the Hamas security forces and an 18-year-old civilian, security sources said. In total, 26 people were wounded, medical sources said.

Hamas said its forces fired mortars and machine guns in response to the Israel attacks.

The IDF, in a news release, said its aircraft and artillery forces "targeted two terrorist squads who were involved in firing military-use projectiles at the Israeli home front," and that "hits were confirmed."

"Additionally, artillery forces returned fire at the area in the northern Gaza Strip from which the anti-tank missile that hit a school bus was fired," the IDF said.

The IDF said this week that it has seen an increase in terrorist strikes into the country, counting 128 in March, compared with 61 in February and 83 in January.

The IDF also said its "Iron Dome" defense system successfully intercepted a rocket fired from Gaza toward Ashkelon in southern Israel.




Video captures deaths of 14 Afghan students
By JASON STRAZIUSO and AMIR SHAH
December 28, 2008
KABUL, Afghanistan (AP) — A single-file line of school children walked past a military checkpoint Sunday as a bomb-loaded truck veered toward them and exploded, ending the lives of 14 young Afghans in a heartbreaking flash captured by a U.S. military security camera.
The video shows an SUV slowly weaving through sandbag barriers at a military checkpoint just as a line of school children, most wearing white caps, comes into view. They walk along a pathway between the street and a wall, several of them pausing for a few seconds in a group before moving forward again. The vehicle moves toward the security camera while the children walk in the opposite direction, nearly passing the SUV when the footage ends in a fiery blast.
Photos of the bombing's aftermath showed bloodied text books lying on the ground beside small pairs of shoes. Afghan officials said the kids were attending a final day of class for the year to find out whether they would move up to the next grade.
Dr. Abdul Rahman, a doctor at a hospital near the blast, said the children were aged 8 to 10.
The U.S. military said the attack in the eastern province of Khost killed 16 people, including 14 children, an Afghan soldier and another person — likely a private security guard that Afghan officials reported killed. The U.S. said 58 people were wounded.
In an angry condemnation of the attack, President Hamid Karzai said those that carried it out "cannot escape the revenge of Afghans and God's punishment."
The U.N. mission in Afghanistan and the NATO-led force also strongly condemned the attack.
The blast went off near the entrance to a police and army post, said Yacoub Khan, the deputy police chief of Khost. U.S. troops are also stationed inside the outpost, but no troops were wounded or killed in the attack.
U.S. Gen. David McKiernan, the top NATO commander in Afghanistan, said he believes the militant network run by warlord Siraj Haqqani was responsible for the attack.
"The brutality and disregard for human life by terrorists is sickening, as I continue to witness innocent men, women and children being killed and maimed in the pursuit of this pointless insurgency," McKiernan said in a statement.
Afghan officials offered a slightly lower death toll. Abdullah Fahim, spokesman for the Ministry of Health in Kabul, said eight people in total died and 51 were wounded. Khan said he believed that only five school children had died.
It wasn't possible to reconcile the differing death tolls, though the U.S. military video seemed to support the likelihood of the higher toll.
Khan said the attack came at a time when Pashtun tribal elders from Mandozai district were meeting inside the compound to discuss security issues. It was not immediately clear how many — if any — of those tribal leaders were wounded or killed. Khan said it was possible they were the target but that there was no way for him to know for sure.
The attack came on the last day of school for the year. Students had gathered in the classrooms to receive end-of-year certificates and learn if they had passed on to the next grade, Asif Nang, spokesman for the Ministry of Education, said.
A U.N. spokesman said the U.N. mission in Afghanistan was "appalled" at the suicide attack.
"The deaths of young children who were receiving their end-of-year education certificates are particularly galling," said Dan McNorton.
The blast in Khost province came only hours after a late-night rocket attack in Kabul on Saturday killed three teenage sisters. McNorton said that attack "also reminds us of the true impact this conflict has on those who play no part in it."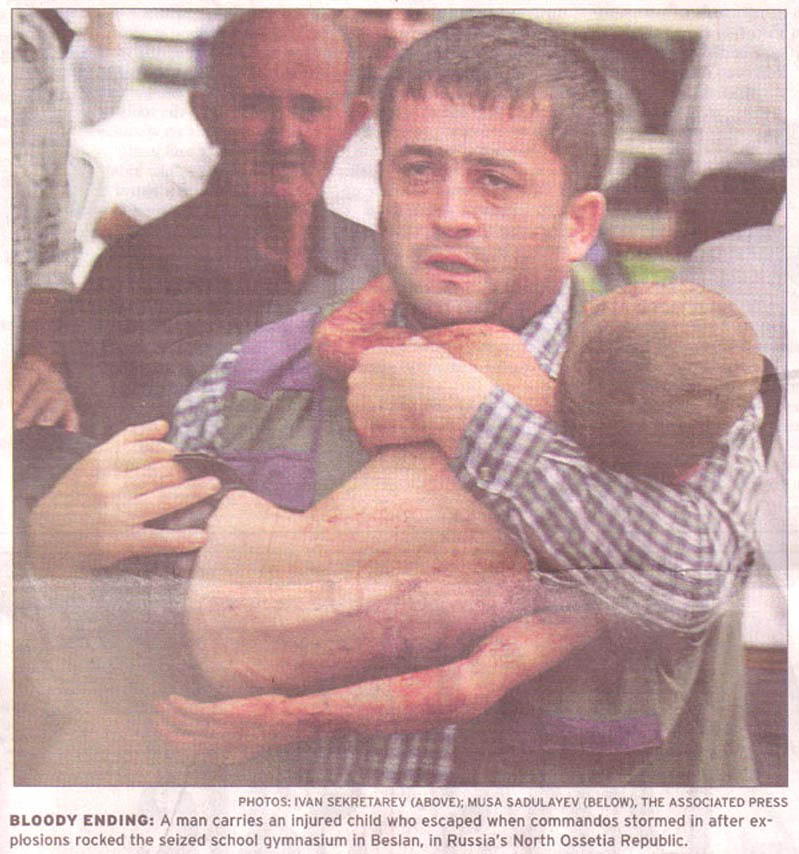 When hell came calling at Beslan's School No 1

It started with children laughing and ended in gunfire and slaughter - a 53- hour siege that horrified the world. Nick Paton Walsh and Peter Beaumont tell the inside story of an atrocity that turned to chaos

Sunday September 5, 2004
The Observer
For Borik Rubaiv and hundreds of other pupils at Beslan's Middle School Number One, it was to have been a celebration of the first day of the new school term. Parents carried flowers and teachers wore their best clothes. A Tannoy played music while the children formed lines alphabetically around the swing bars on the playground lawn.
It was some of the older children who noticed them first - a masked group quickly crossing the railway tracks that run behind the school. Some, giggling, thought it was a joke at first, until they picked up the anxiety of the adults waving at them to run.
'The kids first ran towards them and then they ran back towards us in the school. Within moments, we were surrounded,' said Borik's aunt, Vala Hosanova
Some of the children further back were luckier. Diana Kubalova, 14, ran with some of her classmates, a parent and a teacher back into the boiler room, in the bowels of the school. There they hid as Russia's worst-ever hostage crisis unfolded. Back in the playground, the militants quickly got their bearings. 'They asked us where the sports hall was,' said Hosanova. 'They then said that, if we did not go in there immediately, we would all be shot.'
According to witnesses, this was not the only group of terrorists. Another band had infiltrated the school in a van.
While his friends were lining up, Soslan Bigayev, 13, had been wandering around the school looking at the renovation work that had been done. Thirsty, he headed for a water fountain.
'I thank God that I became thirsty. It saved my life.' While he was drinking, the second group drove into the school. 'Men jumped out of the van,' Bigayev said. 'One of them had a long ginger beard, thick bushy eyebrows and a red-and-green skull-cap. He fired an automatic rifle into the air. I knew immediately that they were terrorists because of all the other attacks that I've seen on TV over the past few days.'
Bigayev fled. His friends fared worse. Caught between gunmen coming from two sides, an estimated 1,000 children, teachers and parents were herded at gunpoint into the gym, a new building about 10 metres wide and 25 metres long.
The first act of their captors was to order adults to hand over their mobile phones and cameras. It was the first sign that the militants had prepared well for their siege. Two years ago, when Chechen terrorists seized 800 theatre-goers in the Dubrovka theatre in Moscow, mobile phone calls had played a seminal role in helping the authorities to map out the layout of the crisis. Here, there would be no such errors and they would not be identified if they escaped.
And now it appears the planning had gone far further than learning from past mistakes. According to Russian state security officials, the gunmen and women had pre-planted extra weapons and explosives, smuggled into the school during rebuilding work over the summer holidays, and hidden them beneath floorboards.
As the militants filed through the school's corridors, one of Kubalova's friends peered through a crack in the door to see men with impressive beards - and two women wearing face masks and suicide bomber belts - march around the school, talking in Russian to each other, with what sounded like strong Chechen accents.
At that moment, Kubalova came across an Ossetian man, to whom she whispered for help. The militants heard, and ran towards the group, grabbing some, but allowing 14 to escape. The news of the seige of School Number One was out.
As local police rushed towards the red brick building, grabbing whatever escapees they could, the first exchanges of gunfire began and the first casualties fell dead.
Anatoli Sikoyev, a parent in his fifties who was recovering from a stroke, made a desperate dash to save his child that nearly cost him his life.
'When I heard the news, I rushed to school to save my family' he said from hospital that evening. 'I approached the schoolyard and came across a man with a huge beard.
'He shouted at me: "Lie down and crawl backwards". I could not lie down, so I bent over and began to move back. Then another man shot at me from a window, hitting my hand and skimming my head. Now I am helpless and here.'
As the gunmen fired out of the windows at fleeing parents and children, inside the school the terrorists were also separating men from women, according to witnesses shooting several male teachers in the process.
Inside the gym, the terrorists were also busy rigging up a series of bombs. Two wires were run from the basketball hoops at either side of the hall. On these wires, and on the hoops, mines, each the size of a Mars bar, were intermittently strewn. The walls and entrances were also booby-trapped, and two large plastic containers were put in the middle of the floor.
The militants had also set the men to work dragging a cupboard across the gym's main entrance, blocking it off, before they were marched to another room.
And as the fighters' leaders introduced themselves to their captives by their noms de guerre, any doubts that they had about the identity of their kidnappers and the peril they were in were quickly dispelled.
According to the Kommer sant newspaper, they called themselves Magas, Fantomas and Abdullah, the first two of whom were associates of the notorious Chechen warlord Shamil Basayev.
The newspaper identified Magas as Magomed Yevloyev, an Ingush who organised the bloody raid on Ingushetia on 22 June, in which more than 90 people died. Fantomas is a former bodyguard of Basayev, who is alleged to be an ethnic Russian.
Other Russian media identified the leader as Doka Umarov, a Chechen separatist leader.
Terrified, the thousand hostages inside the gym tried to adjust to the stifling cattle-truck conditions, leading many to strip off their clothes and others to have panic attacks and breathing difficulties.
Children and women had to sit shoulder to shoulder. 'There was not enough room to stretch out your legs,' said Hosanova. 'Sweat was trickling down us. We could not breathe.
'They had opened a tiny gap in the windows at the top, but that was having no effect. It was like a sauna in there, but they refused to make it any cooler.'
The terrorists moved quickly to establish their control over the captives. 'Three women in suicide bomber belts and masks said that, if we cried or shouted, they would take action', said Hosanova. To ensure the hostages that their rules were not for breaking, they killed a man whom they had caught using his phone. 'We will kill 20 to 40 of you if you use these again', they warned.
Outside the school, the chaotic scenes that had greeted the first attempt by local police and militia to rush the building was rapidly settling into an armed stand-off.
As the gunmen and bombers inside secured the school's buildings, Russian security forces - including officers from the Ministry of the Interior and OMON - had set up their own perimeters, bringing forward armoured cars and snipers.
The residents of Beslan, a town of 35,000, also appeared, some armed with weapons and sporting white armbands to distinguish them from the gunmen. There were perhaps as many as 5,000 of them.
Specialist rescue teams had been brought in too from Russia's Ministry of Emergencies, to deal with the crisis. But, for all the preparations, one error would be made that would later contribute to the huge death toll - too few ambulances would be brought up outside the school.
And it was not only on the ground, outside Beslan's School Number One, that the security authorities had gone quickly into emergency mode. In the Kremlin, too, the phone lines were buzzing as President Vladimir Putin's officials demanded to know what was going on - and precisely what the kidnappers were demanding.
For despite the obvious - that the latest terrorist atrocity was somehow linked to Russia's brutal war in Chechnya - how and why was still not clear.
The demands were not to become any little clearer until just a few hours before the siege reached its awful and bloody denouement.
North Ossetia's leader, Alexander Dzasokhov, briefed journalists on his knowledge of the negotiations that were already in train.
'They said Chechnya should be separate from Russia, be an independent state. But they didn't go beyond this assertion. They didn't say who they would like to talk to, or anything. My impression is that they are cut off from the outside world,' he said.
The Russian authorities had already made a decision totally out of keeping with their customary violent approach to Chechen hostage-takers. Faced with the risk of another disaster such as the Moscow theatre siege, which ended in scores being asphyxiated when Russian special forces used gas to subdue all within the auditorium, the Russians would talk. More extraordinarily, the Kremlin would ask for help from Chechen separatist leaders whom it had long regarded as beyond the pale.
Unusually, Putin himself, who ordinarily wastes no opportunity to expound his beliefs on Russia's fight against terror and who rose to power on the back of the Chechen threat, at first remained silent.
When he finally broke his silence, it was only on Thursday, a day into the siege. And then it was to reinforce the growing belief that Russian forces would negotiate, not storm the building.
'Our main task is, of course, to save the life and health of those who became hostages. We understand these acts are not only against private citizens of Russia, but against Russia as a whole. What is happening in North Ossetia is horrible,' he said in remarks shown on Russian television.
Inside the school, the terrorists were formulating their demands, which were passed in two notes to police outside. They sought the release of 24 militants arrested after a June raid by suspected Chechen separatists on neighbouring Ingushetia, in which Fantomas and Magas were implicated. They wanted to meet the presidents of Ingushetia and of North Ossetia, and other senior officials. And of course, they made the key and unfulfillable demand - the same that the Dubrovka hostage-takers had - of a complete Russian military withdrawal from Chechnya. At 15:38, they said, they would kill 50 hostages for each one of them who died and kill 20 if they were injured.
Inside they made a show of the lethal force they were prepared to use on themselves as well as their thousand hostages. About 20 of the men were gathered up and taken to the second floor of the main school building, to the right of the gym.
There, they were shot dead. One survivor said that she thought a female suicide bomber may also have been involved in their murder. Their bodies were thrown out of the windows and left to rot in the afternoon sun.
After that, the first night of the siege in the school passed quietly.
A few hostages had been allowed to drink water from the taps and showers in the changing rooms next to the gym. Only a few exchanges of gunfire and grenade blasts breached the calm of the siege.
But by the following morning, the mood worsened. The militants began the day by upping the stakes.
'They smashed the handles off the taps in the changing room so we could not use them', said Hosanova. 'Water became a big problem. We had to wring out our clothes to drink our sweat from them. We even drank our own urine, the children were so thirsty.'
Sitting in her flat yesterday, wretchedly awaiting news of her missing sister and niece, she shows with her dress how they demanded the children make a filter of four layers of clothes through which they could drink their own urine.
'The smell had become unbelievably bad by then', she said.
Inside the school, the tension was rising as conditions worsened. Random grenade blasts and gunfire sent ripples of tension through the crowds, tearful women ducking as explosions rocked the courtyard.
Tamara Peroyeva, 63, knew that something would have to give soon. She was sandwiched between two complete strangers, all of them in relative states of undress, writhing around in the grime of the gym floor and their own waste. Her grandson and other kids had used her belly as a pillow and for while they had laid on top of each other to try to keep up their strength.
Then the children had decided that chanting might change the militants' minds. 'Water, water, water', went the chant, as if they had forgotten this was not a normal gym class. 'We still had not seen any water, and the kids were crying', she said. 'The terrorists tried shooting in the air to silence them - there was nothing else that appeared to work.'
But as night drew in, and the authorities promised again there would be no siege, the chaos grew worse. 'The shooting stopped them crying for five minutes, but then they started up again.'
As dawn broke on Friday, Hosanova felt that events were about to take a turn for the worse.
The militants told them that, 'If they come at us with tanks, we will fight back until we run out of ammunition. But then we will take your lives as well as our own.' She noticed also that the male militants had begun whispering to each other for the first time, clearly not wanting to be overheard by the hostages. 'If they start a storm then only you will be to blame,' one said.
It was at 13:05, just a few moments after traditional Muslim prayers, that the day broke apart.
The men from the Russian MInistry of Emergencies had been nervous about their mission, but were keen to do it. After negotiations with the gunmen inside the school, they had been told that they could collect some of the bodies lying both inside and outside the buildings, because dogs had begun to worry some of the corpses.
Entering the school in two ambulances, they carefully left their vehicles and crossed to where they could see the first of the bodies, one of them propped up against a car. As the paramedics picked up the first two corpses, the air was rent by two powerful blasts, followed by the sound of small arms fire.
As the emergency workers took cover, they saw a middle-aged man emerge from the smoke, wearing only a pair of trousers, covered in dirt.
Startled into action by the two explosions, Russian troops staggered forward and began firing at the windows of the school, in an attempt to cover the escape of the bloodied survivors who were beginning to emerge from the building. At the same time, two Russian tanks moved in.
Inside the school, Hosanova recalls that she was sitting calmly when the first explosion sounded. She believes that one of the mines strung up between the basketball hoops in the gym had gone off.
'We all fell down and held our heads in our hands. We tried to cover the children with our bodies. What else could we do? I was totally disorientated. Those closer to the wall were luckier and did not get injured. Bits of roof and glass were falling everywhere. I looked up and saw that the woman next to me was dead. Children were running everywhere, panicking. A masked militant came near me and took some hostages away with him.' Soon she saw soldier with Spetznaz - Russian special forces - insignia, and was led to safety.
Ilfa Gagiyeva ran instinctively for the window when she heard the first blast. Yet before she jumped, she turned back, shocked that she had forgotten her daughter, Diana, seven. She said a second, 'strange-sounding' blast rang out.
'I grabbed her and then moved to the changing room. Hassan, one of the militants, was in the toilet during the first explosion and, when he came out, he tried to help people to the window to get fresh air. We stayed in the small hall near the gym for 20 minutes until the Spetznaz reached us.'
Outside the school, a scene of utter carnage was unfolding.
At the local administration, the doors of the nearby cafe burst open and dozens of children, grimy, bloodied and some limp, were hurriedly carried out into the street by police and bystanders. Helicopters swarmed overhead and automatic gunfire and explosions answered each other.
A group of militants appeared to head back over the railway, towards the direction from which they had come. A group of helicopters buzzed after them. Panicked, Spetznaz tried to block the railway, their efforts part-hampered, part-helped by groups of sweaty local men in tracksuits, bearing hunting rifles and eager to get involved in the fight.
Nearer the local Palace of Culture, the dead were beginning to be brought out. A seemingly endless stream of stretchers was half-dragged, half-carried toward the school, returning laden with another limp form. A young girl, her sooty form covered in bits of roof insulation. A woman, nearly naked.
The closer to the school, the thicker the blood - the Spetznaz troops had been exchanging fire with the gunmen from nearby apartment blocks. The terrorists' grenades had blown them out of the windows.
Below, local men were determined to reach their children and wives in the school. They broke through a garage wall that connected with the school's playground.
And then came the bodies. Children, alive, blackened, blinking with shock. Dazed mothers.
On the other side of the school, events had taken on an Inferno-esque turn.
On one side, local men and police gathered, eager to bear stretchers, to end their helpless, hopeless inertia, yet not involved in the military operation. One Alfa special forces soldier involved in the siege angrily told the Gazeta newspaper: 'There would have been a lot fewer victims if the local civilians had not got involved.'
An armoured personnel carrier was rammed against the school wall, and a fire truck sat in the centre of the playground where a single red rose lay, its petals mangled, mottled by soot.
But the worst was to come - what lay inside the still burning gym. It was revealed as the Russian troops continued to fight the last of the gunmen who had taken the school. At one stage, a tank was called up to clear a basement room.
They are scenes that will never be forgotten by those who fought there that day, some of whom are still struggling to understand what happened and whether they contributed to the high death toll.
Among them is a Spetznaz soldier called Vitali, who told the Kommersant newspaper: 'There was no command to storm and we did not return fire until we knew it was the end. The Vitez Spetznaz unit went in first. We saw a terrible fire in the gym.' Another Spetznaz trooper said: 'There were a lot of children on the floor; it was full of them'.
Even the most battle-hardened struggled to cope with what greeted their eyes. Lt Col Andrei Galageyev told Gazeta : 'When we entered the gym, I saw a 2 litre plastic bottle filled with plastic explosive and metals balls. I have been at war since 1994, but I have never seen anything like that. There were dozens of mangled bodies, some of them still burning.'
Hosanova, whose sister and niece have yet to come home, put it differently: 'We cannot say what it is. There are no words for this.'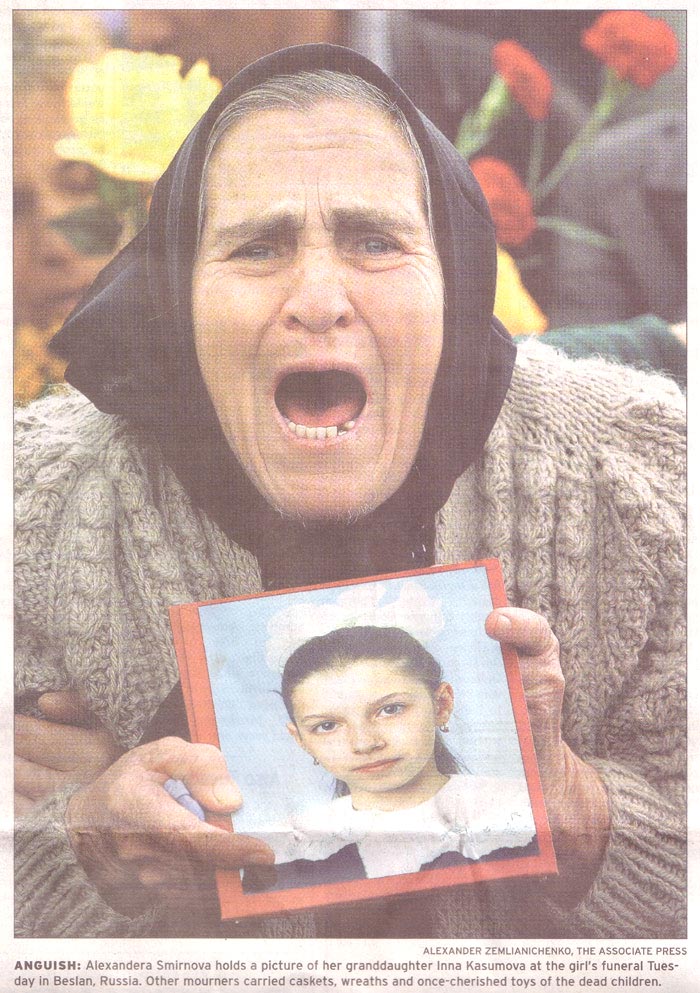 Alexandera Smirnova grieves over her granddaughter Inna Kasumova who was murdered by Muslims.
Trial begins in schoolgirl beheadings

Jakarta (dpa) - Three Indonesian men went on trial Wednesday in the beheadings of three Christian schoolgirls last year in Central Sulawesi, the site of a simmering religious conflict between Muslims and Christians.

The three Muslim defendants - Hasanuddin, Lilik Purnomo and Irwanto Irano - were charged under a national anti-terrorism law put in place in 2002 after the first of a string of terrorist attacks in Indonesia by Islamic militants.

The Central Jakarta District Court read out indictments against the defendants and was then to adjourn until later this month to allow the defence time to prepare its case.

The shocking murders occurred in October 2005 in Central Sulawesi province's Poso district - ground zero of the conflict - when several people dressed in black decapitated the teenagers with machetes.

The beheadings were met with revulsion and outrage across Indonesia, the nation with the world's largest Muslim population but also with minority Christian and Buddhist groups. Central Sulawesi's population is equally divided among Muslims and Christians.

Poso, about 1,600 kilometres north-east of Jakarta, and nearby regions were wracked by sectarian fighting from 1998 until 2001 that killed more than 1,000 people from both communities.

In early 2001, Muslim and Christian religious leaders signed a government-sponsored peace accord aimed at ending the conflict, but sporadic violence continues.

The situation has become tenser in recent weeks after the executions in September of three Christian men convicted of leading a massacre at a Muslim boarding school, and the shooting death of a Christian priest last month.
Bombing at university kills 65
The U.N. reports that nearly 35,000 Iraqi civilians died violently last year.
By STEVEN R. HURST
The Associated Press
Wednesday, January 17, 2007
BAGHDAD, Iraq – They lined up for the buses to take them home after a day of classes, some of Iraq's best and brightest – the new generation on which so much here depends.
But then two minivans exploded at the gates of al-Mustansiriya University, shattering more Iraqi lives, more Iraqi hopes. At least 65 died.
The bombings – the deadliest single attack in Baghdad in nearly two months – came as the United Nations reported 34,452 civilians were slain last year, nearly three times more than government figures.
At least 142 Iraqis were killed or found dead Tuesday, in what appeared to be a renewed campaign of attacks on Shiite targets.
Meanwhile, another four American soldiers from the 1st Cavalry Division were killed Tuesday by a roadside bomb in the Ninevah province, northwest of Baghdad.
The blasts at the university wrecked two small buses as students were lining up for the ride home at about 3:45 p.m., according to Taqi al-Moussawi, a dean. The attackers stationed a man in a suicide belt in the expected path of fleeing students, but security guards shot him dead before he could blow himself up, the dean said.
"The only guilt of our martyred students is that they pursued education. They belong to all religions, sects and ethnic groups," said al-Moussawi. "The terrorists want to stop education. ... Those students had nothing to do with politics."
The university's shaded campus occupies several square blocks in north central Baghdad, a mostly Shiite area. Thousands attend the school, known for its colleges of science, literature and education.
Researchers at al-Mustansiriya had worked with scientists from Johns Hopkins University on a report released last year that estimated that as of July, the war had led to the deaths of nearly 655,000 Iraqis – the highest casualty count by far. U.S. officials, including President Bush, scoffed at those estimates.
Prime Minister Nouri al-Maliki blamed the attack on "terrorists and Saddamists" seeking revenge for Monday's hanging of two of Saddam Hussein's top aides, convicted with him for the slaying of 148 Shiite men and boys after a 1982 assassination attempt in the northern town of Dujail.
The violence may signal a campaign by Sunni insurgents to shed as much blood as possible before the deployment of 21,500 more U.S. troops. Most of the Americans will be used to back up the Iraqi army in a security sweep of the capital.
The al-Mustansiriya bombings were the deadliest attack against civilians since Nov. 23, when car bombs and mortar attacks in Baghdad's Sadr City slum killed at least 215 people.
The U.N. civilian casualty count for last year was announced in Baghdad by Gianni Magazzeni, chief of the U.N. Assistance Mission for Iraq. He said 34,452 civilians had died – an average of 94 a day – and 36,685 were wounded.
But Dr. Hakem al-Zamili, Iraq's deputy health minister, said the U.N. may be using unreliable sources. "They might be taking the figures from people who are opposed to the government or to the Americans," he said. "They are not accurate." He said he would provide official figures later this week.
In early January, a compilation of government numbers yielded a civilian death toll for last year of 12,357. .
The U.N. report also said 30,842 people were detained in Iraq as of Dec. 31, including 14,534 held in U.S. military-run prisons.
At least 470,094 people have been forced to leave their homes since the bombing of a key Shiite shrine in February, the U.N. accounting said. The report said the violence has disrupted education by forcing schools and universities to close, as well as sending professionals fleeing the country.
In a summary posted on its Web site Tuesday, the U.N. mission said women were particularly vulnerable, citing cases where young women were abducted by armed militia and later found sexually assaulted, tortured or murdered. In many cases, the agency said, families refuse to retrieve the bodies out of shame.
Also Tuesday, a bomb planted on a motorcycle exploded in a used auto and motorcycle parts market in a Shiite neighborhood. As people rushed to help the victims, a suicide car bomber drove into the crowd. Fifteen people died.
"Motorcycles were flying in the air, people were falling dead and wounded," said Raid Abbas, 26, who suffered shrapnel wounds. He said he went to the market because the city had been quieter in recent weeks.
About 45 minutes later, gunmen on two motorcycles and in a van fired on another outdoor market in a mainly Shiite neighborhood near Sadr City. Police said at least 11 people were killed.
Of at least 142 Iraqis killed or found dead Tuesday, 124 were in Baghdad. Police said it was too violent to compile their daily count of dumped corpses in the eastern half of the city.
8 Burials for Jerusalem Seminary's Dead
By ISABEL KERSHNER and STEVEN ERLANGER
The New York Times
March 8, 2008
KFAR ETZION, West Bank — They carried the body of Avraham David Moses, 16 years old, on a stretcher down the slope of the vibrant green cemetery here, shaded by tall pines, overlooking a valley, in utter silence.
The boy was wrapped in a black-and-white prayer shawl, and as the pallbearers slipped him into the grave on Friday, the long silence was broken by quiet weeping and occasional sobs.
Men recited psalms, and Naftali Moses, the boy's father, his garments torn in grief, said the Hebrew prayer for the dead, his voice breaking, before moving back up the slope to the parking lot, through a somber line of mourners, men on one side, women on the other.
The boy's stepmother, Leah, described Avraham David, as he was known, as "a really good kid — he would come home and unload the dishwasher without being asked." If the adults started gossiping at the table, she said, he would recite mishnayot, or oral teachings. "He was just an incredible blessing," she said.
Avraham David was one of eight seminary students killed Thursday night in an act of terrorism, shot by a Palestinian from East Jerusalem who sprayed them with hundreds of rounds of automatic weapons fire before being killed himself. Ten other students were wounded, three of them seriously.
It was unclear what group, if any, was responsible for the massacre. The radical Islamic Hamas movement praised the deed on Thursday but did not claim it.
On Friday an anonymous caller claiming to be from Hamas took responsibility in a phone call to Reuters and said that details would come later. But Fawzi Barhoum, a senior Hamas spokesman in Gaza, said that no claim was official unless made in a written statement signed by the military wing of Hamas. The family of the gunman, identified as Ala Abu Dhaim, 25, said he had been intensely religious, but did not belong to any militant group.
Mark Regev, spokesman for Prime Minister Ehud Olmert, said Israel would act after proper investigation and deliberation, and he condemned those, like Hamas, who celebrated the killings with parades in Gaza. "That Hamas calls this a heroic act, and praises it, this exposes them for what they are," he said.
The young men died as they were studying in the library of the Mercaz Harav yeshiva in Jerusalem, a major center for the religious Zionist movement that supports Israeli settlement in the West Bank — settlements like this one, which Israel intends to keep in any future peace treaty.
The dead, most of them 15 or 16, with the oldest 26, were all buried Friday, in separate funerals drawing thousands of weeping and angry Israelis.
The funeral processions began together earlier on Friday at the yeshiva itself, where thousands of people, many of them in the traditional black clothing of the ultra-Orthodox or wearing knitted skullcaps, characteristic of more modern religious Zionists, lined the streets. In the large courtyard, where the blood had been washed away, eight benches were marked with the names of the dead, and one wall of the yeshiva was covered with large posters listing them.
As each body was brought forward to rest on its bench, the crowds outside the gates parted to let the pallbearers pass, with cries and screams from relatives and friends.
In every corner, students hugged and cried, and many went to see and touch the closed library door, shattered by bullets. In his eulogy, the yeshiva's chief rabbi, Yaakov Shapira, said that the gunman had made targets of "everyone living in the holy city of Jerusalem" and criticized the Olmert government for its willingness to negotiate the return of some occupied land to the Palestinians.
"The time has come for all of us to understand that an external struggle is raging, and an internal struggle, and everyone believes the hour has come for us to have a good leadership, a stronger leadership, a more believing leadership," he said.
Weeping, Rabbi Shapira said, "The murderers are the Amalek of our day, coming to remind us that Amalek has not disappeared, just changed its appearance." The Amalekites were indigenous nomads who attacked the Israelites on their flight from Egypt, and were annihilated by King David. "God asked Abraham to sacrifice his only son," the rabbi said. "We had to sacrifice eight."
The ceremony ended as it began, with the procession of bodies taken out of the gates, one by one, for their separate burials.
The Israeli government declared a high alert on Friday and barred Palestinians in the West Bank from traveling to Jerusalem over the weekend, deploying thousands of police officers and limiting the numbers of Muslims allowed to pray at the Al Aksa Mosque in Jerusalem.
The killer was a Palestinian with permanent residency in Jerusalem. His home in the Jebel Mukaber neighborhood of East Jerusalem was adorned Friday with the flags of Hamas, Islamic Jihad and Hezbollah. According to his family, he was a driver for a private company that had made deliveries to the yeshiva, but the police would not confirm that.
His family said that although he had been intensely religious, he was not a member of any militant group, and he had planned on marrying this summer. But he had been transfixed by the bloodshed in Gaza, where 126 Palestinians died from Wednesday through Monday, his sister, Iman Abu Dhaim, told The Associated Press. Several of his relatives were detained for questioning.
The Palestinian president, Mahmoud Abbas of Fatah, condemned the killing of civilians by both sides, and Israel said it would continue peace talks with him. Mr. Abbas had suspended such talks after the Gaza deaths.
Mr. Regev urged Mr. Abbas to do more to stop terrorism. "They have clear obligations to act against terror cells," he said. "While we understand that they have limitations on their capabilities today, we believe that they could be doing much more."
A senior Israeli official who spoke anonymously because of the delicacy of the issue said many details about the killing were unclear and no major decisions had been made. Mr. Olmert, Defense Minister Ehud Barak and Foreign Minister Tzipi Livni "understand that there is no quick fix for Hamas, that this will take time, and the goal is to continually apply pressure on the Hamas leadership — economic, military, diplomatic and political," the official said.
Isabel Kershner reported from Kfar Etzion, West Bank, and Steven Erlanger from Jerusalem. Rina Castelnuovo contributed reporting from Jerusalem, and Taghreed El-Khodary from Gaza.