MUSLIM HATE IN THAILAND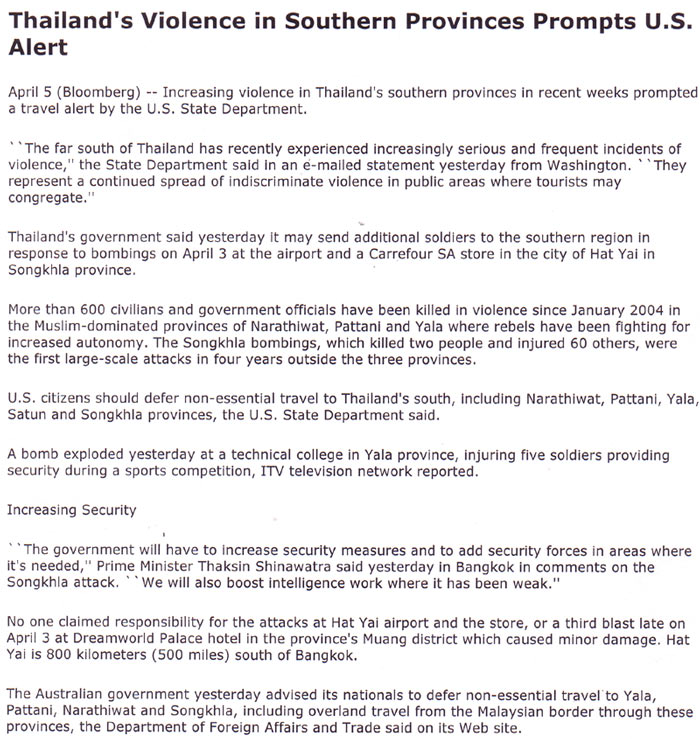 Teachers In South Fear For Their Safety
By D. Arul Rajoo
May 15, 2006

BANGKOK, May 15 (Bernama) -- Thousands of students and teachers in Thailand return to school Monday after a long holiday but educators in the restive southern provinces continue to fear for their lives.

Since violence erupted in January, 2004, 49 teachers died while 55 others were injured, mostly due to gunshots or became victims of bomb blasts carried out by suspected militants fighting for independence for the Muslim-majority Yala, Narathiwat and Pattani provinces.

Last week, two female teachers were killed along with a soldier and 16 other people injured in a bomb attack just 200 metres away from a private school in Pattani. In February, teachers at 250 primary schools in Yala refused to go to work for one week because of fears for their safety after five colleagues were shot dead in a single day.

So far, more than 1,200 have died in violence in the three provinces.

According to official figures, there are 11,267 teachers teaching more than 291,300 students in 861 schools in the three provinces.

Although teachers were escorted to and from schools by security forces in many parts of the border provinces, they have been targeted by Muslim separatists, and many have been gunned down while travelling alone as dozens of Buddhist teachers became the main target.

Early this year, about 300 villagers held 32 teachers hostage in a school until the authorities released the local imam who was detained for questioning over a bucket of petrol and some trekking equipment found in his residence during a military sweep of his village in Narathiwat's Joh I Rong district, one of the hotspots in the violence prone South.

Although the teachers were released unharmed, it heightened the risk of being taken by teachers serving in the region.

"Despite that, we are not willing to have soldiers inside our compound. It will make things worse. So, we are having more meetings with the local people to ensure such things don't happen anymore," said Rin Khonshuduang, the school's principal.

Three weeks before the new school term, the Southern Border Provinces Peace-Building Command, a multi-agency body responsible for overseeing security in the region, called for a meeting with security and education officials to plan for security measures for schools and teachers.

Yesterday, Education Minister Chaturon Chaisang visited the southern provinces and met with teachers to provide them with morale support and assure them security measures were being provided by the government.

So far, there were no reports of attack on teachers when school resumed today as security was tight, with thousands of soldiers and policemen patrolling the streets and guarding schools.

This year, officials are planning to train more than 900 Narathiwat teachers on how to use weapons, self-defence and negotiating with offenders.

But not all teachers were willing to undergo such courses due to fear that they could become target by militants.

Director of Narathiwat Education Office Area 2, Adul Promsaeng said although many teachers are still living in fear, they have to take the risk as they could not run away from their responsibility.

"When school opens, we have to go back to school as long as we remain as teachers," he said.

Yala Education Office Director, Adinan Pakbara said cooperation between security forces and the local people were important in ensuring the safety of teachers.

"The villages must come forward and help to protect teachers as their children's future depends on teachers.

Authorities should also cooperate more with the local community," he said.

Last year, more 1,200 teachers asked to be transferred from the restive provinces but no figures were provided this year.
Thailand closes 100 schools after teacher hostage crisis
Bangkok, AFP
Last Friday, some 500 angry villagers burst into an elementary school in Narathiwat and took 11 teachers hostage, demanding the release of suspected insurgents in exchange.
Thailand today temporarily closed some 100 schools in its restive Muslim-majority provinces, after a hostage crisis in an elementary school last week left a teacher critically injured.

Phairat Sangthong, the education chief in Narathiwat province, said the schools would remain closed all week.

"Teachers can't bear the dangers they are facing. They don't believe they have any security," Phairat said.

Narathiwat is the most violent of the three mainly Muslim provinces along Thailand's southern border with Malaysia, where a two-year insurgency has left more than 1,200 people dead.

Last Friday, some 500 angry villagers burst into an elementary school there and took 11 teachers hostage, demanding the release of suspected insurgents in exchange.

Security forces rescued the hostages three hours later, but a 26-year-old Buddhist teacher suffered severe head injuries that left her in a coma.

Phairat said teachers in the province were angry because security forces took two hours to get to the school.

"By then, most of the teachers had already been released thanks to negotiations between the village chief and the hostage-takers," Phairat said.

Most of the victims of the insurgency in the south are civilians. Teachers are frequently targeted because they are seen as imposing Thai Buddhist culture on a region that is predominantly Muslim and ethnic Malay.

The region was an independent sultanate until Thailand annexed it a century ago. Separatist violence has simmered ever since.