Muslim Hate of Cartoons
Islamic leaders in India issue fatwa against cartoons

By Cheryl K. Chumley
The Washington Times
Thursday, August 29, 2013

Islamic clerics in India have issued a fatwa against cartoons, saying the animated shows make a mockery of what they say are Allah's creations.
The ban stems from religious leaders at Darul Uloom seminary in the India community of Deoband, BBC reported. It encompasses all animated shows, even those with comedic tones, such as cartoons, saying such watching violates the basic principles of Islam, the Deccan Herald reported.
"A cartoon is a picture," said senior cleric Mufti Arif Quasmi in the Deccan Herald. "Besides, it is not for the children. It should not be watched."
Strict Islamic law says nothing that Allah created should be mocked — and that cartoons actually mimic what Allah created. At the same time, other interpreters of Islamic law say photographs and real videos are permitted.
The cartoon ban already has been met with some skepticism.
One member of the All India Personal Law Board said the Darul Uloom determination was actually "making a mockery" of Islam.
"I don't think the muftis who issued the fatwa have any knowledge of the subject or have applied their mind to understanding the art of cartoons at all," said one senior imam, BBC reported.
Darul Uloom in the past has issued fatwas against women wearing perfume with alcohol, having tattoos, donning jeans or adopting hairstyles similar to those worn by women in the West.




Egyptian authorities detain Christian accused of posting image of Islam's prophet on Facebook
By Associated Press
Published: December 30
CAIRO — Egyptian authorities have detained a Coptic Christian student accused of posting a drawing of Islam's prophet on Facebook that triggered two days of violence in southern Egypt.
Gamal Massoud has been accused by fellow students of ridiculing the Prophet Muhammad.
According to a security official, the 17-year-old student denies that and says friends posted the picture on his Facebook page. The official spoke Saturday on condition of anonymity because he was not authorized to speak to the press.
Since Wednesday, villagers have attacked Massoud's house while chanting "Allahu akbar," or "God is Great."
They have set fire to other Christians' houses.
Many Christian villagers fearing retaliation have left their homes.
Security forces intervened, using tear gas to disperse Muslim protesters.
Second man charged with threats to 'South Park' creators in U.S. custody

By Paul Cruickshank, CNN Terrorism Analyst
updated 10:02 PM EST, Fri November 18, 2011
(CNN) -- An American charged with communicating threats against the creators of "South Park" is in federal custody on U.S. soil, a senior U.S. counter-terrorism official told CNN.
Jesse Curtis Morton was the co-founder of a radical New York City-based Islamist group supportive of al Qaeda's worldview.
Morton, also known as Younus Abdullah Mohammad, was taken into U.S. custody in Rabat, Morocco, on October 28, according to court documents. He was first arrested by Moroccan authorities in May after being indicted in the United States. By October 31, he was back on U.S. soil, the official said.
In a detention hearing at federal court in Alexandria, Virginia, on November 4, Morton was ordered detained until trial, according to court documents. He has yet to enter a plea. In May, Morton, a former resident of Brooklyn, New York, became the second person charged in the "South Park" case.
Earlier this year, Zachary Adam Chesser, 21, who admitted to posting online threats, was sentenced to 25 years in prison.
Chesser, a Muslim convert, encouraged violent jihadists to attack "South Park" writers for an episode that depicted the Prophet Mohammed in a bear suit, court documents said. Chesser posted online messages that included the writers' home addresses and urged online readers to "pay them a visit," the documents said. In an affidavit accompanying the complaint against Morton, FBI special agent Paula R. Menges said Morton, co-founder of the group called Revolution Muslim, worked with Chesser on a "clarification statement" after Chesser's postings.
The pair made website postings that were threats -- despite their claims otherwise, Menges said. The agent also contends the statement contained pages of justification under Islamic law for the death of those who insult Islam or defame its prophet.
Morton was interviewed in New York by CNN in October 2009. In the interview, Morton, a convert to Islam and one-time follower of the Grateful Dead, defended the September 11, 2001, terrorist attacks and argued that further attacks on Americans were justified. But he told CNN he did not encourage violence on U.S. soil.
A day before Morton was taken into U.S. custody in Morocco, CNN's Drew Griffin was e-mailed a nearly 6,000-word statement in which Morton disputed the case against him, and denied he ever participated in any effort to promote illegal violence.
"On May 25, 2011, I was arrested for writing a clarification statement connected to an admittedly inflammatory post on an Islamic website," Morton wrote. "The post was a reaction to the announcement that the 'South Park' cartoon was going to portray the prophet Muhammad, something considered sacrilegious and part of an ideological accompaniment to a comprehensive Western war on Islam. The clarification statement intended to reduce the sensationalist nature of an initial overreaction but is now being utilized by U.S. law enforcement to imprison me for something I am innocent of," he wrote.


Cartoons spark a class of cultures
Some Muslim protesters have much to learn about free expression in a pluralistic society.

European journalists are right to describe the confrontations over the publishing of cartoons offensive to Muslims as a clash of cultures. Angry protests by Muslims in Europe and the Middle East greeted the publication by a Danish newspaper of such cartoons, including one showing Muhammad wearing a bomb in his turban. Newspapers in France and other parts of Europe showed solidarity with the Danish newspaper by reprinting the cartoons during the past week.
An editor at the Danish publication Jyllands-Posten told The New York Times: "This is about the question of integration and how compatible is the religion of Islam with a modern secular society - how much does an immigrant have to give up, and how much does the receiving culture have to compromise."
Those are important and serious questions, especially in Western Europe, where the mainstream liberal culture and the growing conservative Islamic culture have little in common.
Even some Americans are a bit shocked by the libertine nature of some European locales, with their legalized prostitution and drug use. Meanwhile, assimilation of North African and Arab residents is slow or nonexistent. Many of them cling strongly to their culture and traditional religious practices.
The images last fall of rioting youths in the squalid, mostly immigrant suburbs of Paris and other French cities reminded Europeans of how explosive the situation has become.
To those of us who believe in freedom of speech, it's a simple issue. No matter how offensive some religious groups might find the cartoons, it is the right of publications to print them. Period.
Arab governments - most of which protest not at all the routine depictions in the Arab press of Jews as murderers and even cannibals, and which have few free-speech traditions - have met with the Danish prime minister and demanded an apology. But, "I can't call a newspaper and tell them what to put in it. That's not how our society works," the prime minister said, according to the Times account.
He might also have added that in pluralistic societies people do not have the right notto be offended. In many Western nations, religion is given special protections from government interference, but it is not protected from the give-and-take of the marketplace of ideas.
Standing up for freedom of expression can get scary in Europe these days.
As the Times notes, Dutch filmmaker Theo van Gogh was fatally shot and stabbed in Amsterdam by a Muslim extremist because Mr. Van Gogh made a film depicting Islam's treatment of women, which also was viewed as too offensive to be shown.
To protest the publication of the cartoons, a mob of 300 people in Indonesia, according to Reuters, rampaged in the lobby of a building housing the Danish Embassy in Jakarta. They smashed lamps with bamboo sticks, threw chairs, lobbed rotten eggs and tomatoes.
Demonstrators marched to the Danish Embassy in London, holding signs reading "Exterminate those who insult Islam" and "Europe, your 9/11 will come."
And government ministers from 17 Arab nations asked the Danish government to "take necessary measures to punish those responsible" for publishing the cartoons.
Unfortunately, such violence, threats of violence and attempts to use government force to silence expression may well have a chilling effect. In a pluralistic society, these are unacceptable ways to register one's disagreement with such expression, even when you believe it to be blasphemous. Period.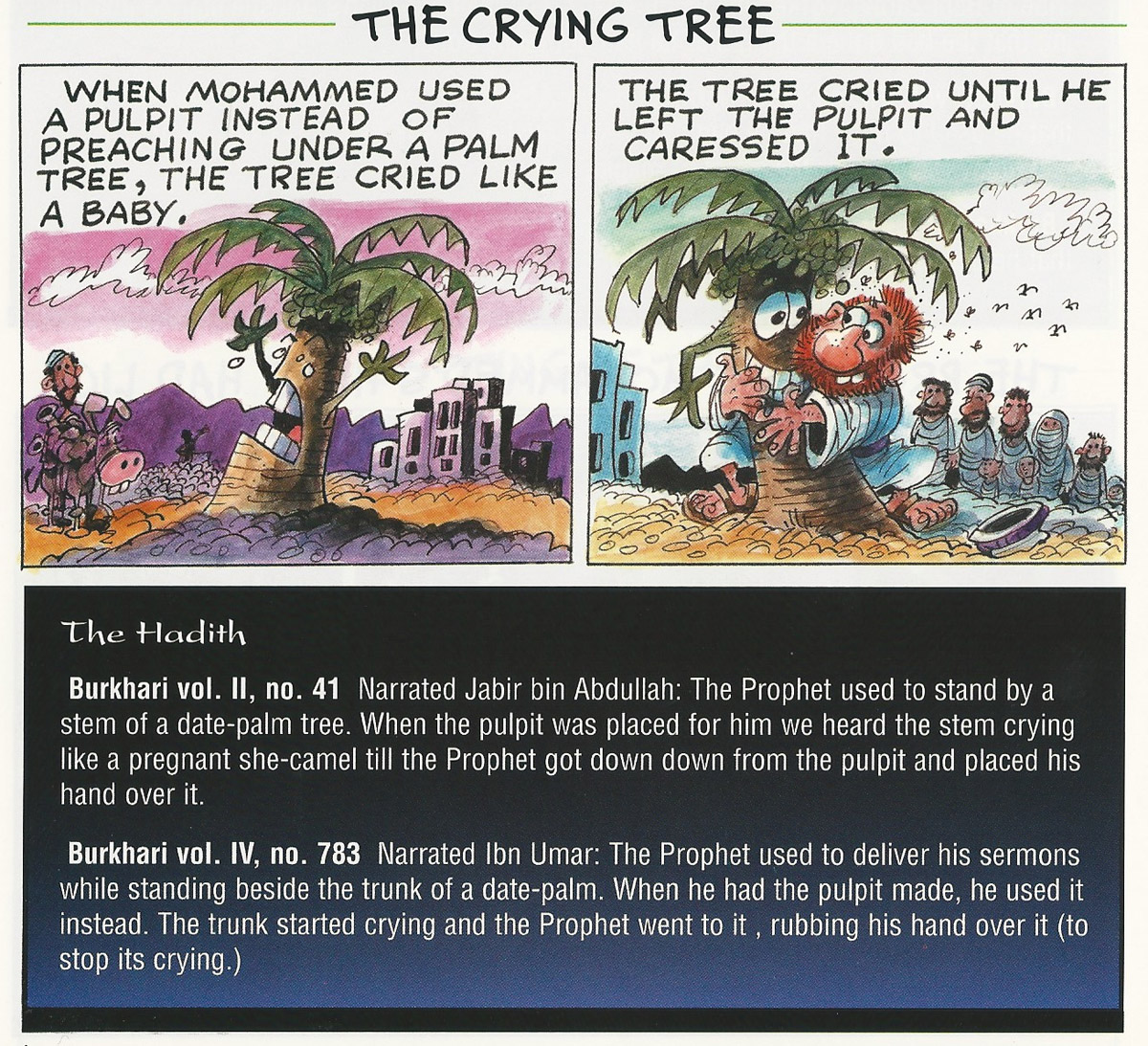 Mohammed was a tree hugger.
Muslim embassies complain over Mohammed caricatures
A number of Muslim states with embassies in Denmark have complained to the government after a newspaper published cartoons of Muslim prophet Mohammed
Daily newspaper Jyllands-Posten's decision to print twelve cartoons featuring Muslim prophet Mohammed has caused a stir among Muslim countries, daily newspaper Politiken reported on Thursday.
A number of Muslim countries with embassies in Denmark have sent a protest to Prime Minister Anders Fogh Rasmussen and the Ministry of Foreign Affairs about the caricatures.
'We are hoping for understanding about Muslims' feelings about Mohammed. And we're hoping for an apology from Jyllands-Posten,' said Mascud Effendy Hutasuhut, minister counsellor at the Indonesian Embassy.
In addition to Indonesia, a number of Arab states, Pakistan, Iran, and Bosnia-Herzegovina have complained about the cartoons, which they see as a hate campaign against Muslims in Denmark.
The newspaper urged cartoonists to send in drawings of the prophet after an author complained that nobody dared to illustrate his book on Mohammed. Twelve illustrators heeded the newspaper's call and sent in cartoons of the prophet, which were published in the newspaper last month.
Jyllands-Posten has called the cartoons a test of whether fear of Islamic retribution has begun to limit the freedom of expression in Denmark.
The caricatures have caused uproar amongst the nation's Muslims, and security guards were posted around the newspaper's Copenhagen office after a mentally unstable 17-year-old boy sent death threats to journalists and the illustrators.
Representatives of the Muslim countries have requested a meeting with the prime minister, who is also the minister of press issues, to discuss the cartoons.
The Prime Minister's Office's press chief, Michael Ulveman, said the ministry was preparing a reply, but would not give any further comments.
Peter Viggo Jakobsen, department chief at the Danish Institute for International Studies, said the Muslim ambassadors should not get their hopes up.
'If they have the faintest idea about how a Danish and democratic society works, they should know that the Danish government doesn't have any say about Jyllands-Posten's rights of expression,' Jakobsen said.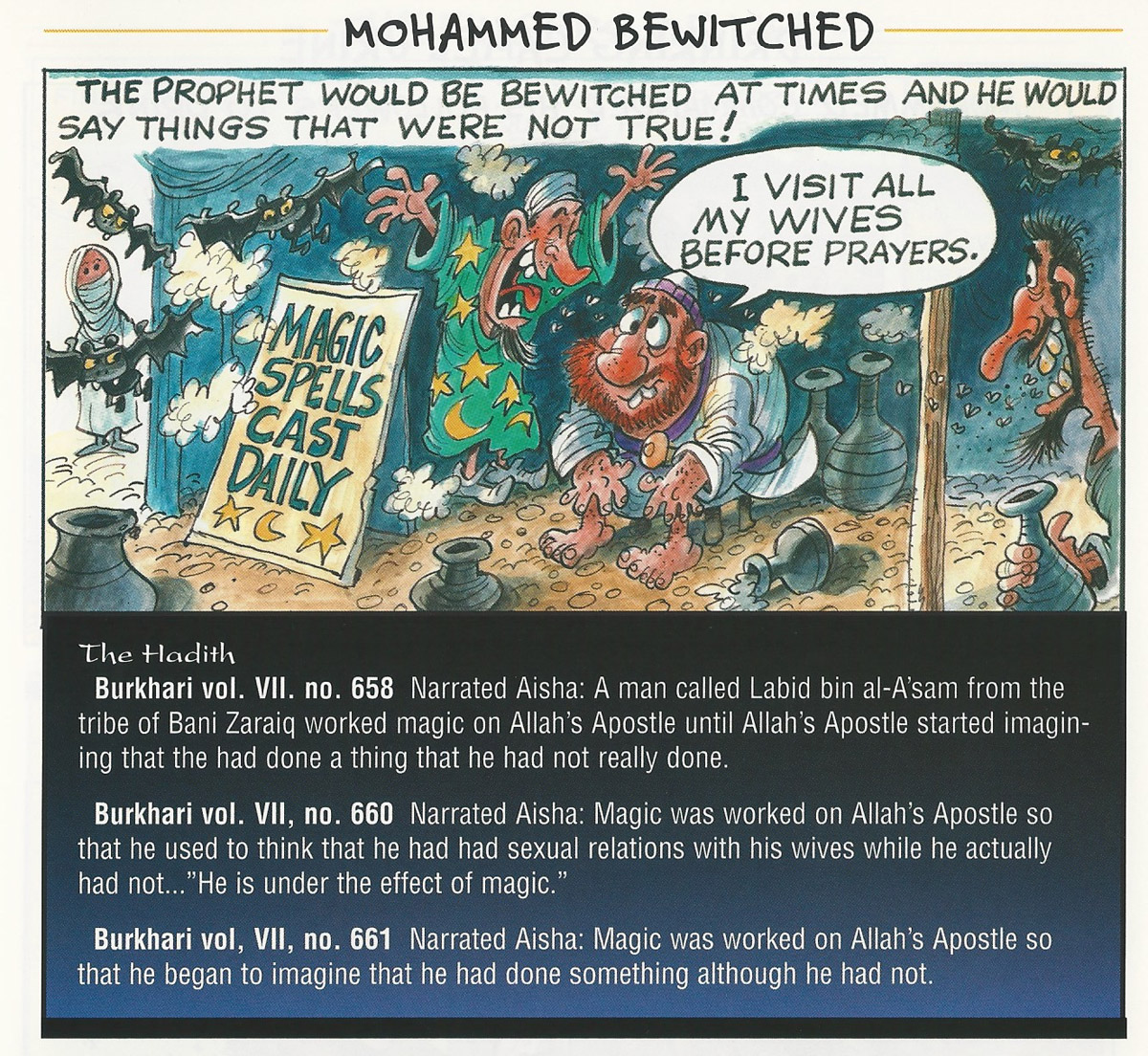 Mohammed became bewitched or demonized.
Cartoons of Muhammad draw Muslims' anger December 10, 2005
COPENHAGEN, Denmark - Associated Press
It was a provocative exercise: asking cartoonists to draw pictures of the prophet Muhammad that were published in one of Denmark's largest papers.
But no one at the Jyllands-Posten daily imagined the scale of the fallout: Death threats against the artists, an alleged bounty on their lives from a Pakistani group, protest strikes in Kashmir, and condemnation from Muslim leaders worldwide. Now, even the U.N. High Commissioner of Human Rights is reviewing the issue.
"I'm very surprised that the reactions have been so sharp, very shocked, and I find the death threats against the cartoonists to be horrible and out of proportion," Carsten Juste, chief editor of Jyllands-Posten told The Associated Press in a telephone interview.
The paper refuses to apologise for publishing the drawings on Sept. 30, saying it's a matter of freedom of speech. One shows the prophet wearing a turban shaped as a bomb with a burning fuse. Another depicts him with a bushy grey beard and a sword in his hand, while his eyes are covered by a black rectangular box.
"If we apologise, we go against the freedom of speech that generations before us have struggled to win," Juste said, adding the drawings were not meant to offend anyone.
The paper had asked 40 cartoonists to draw images of the prophet. That idea alone would be enough to offend many Muslims, since Islamic tradition bars any depiction of the prophet, even respectful ones, out of concern that such images could lead to idolatry. Twelve artists responded.
Lise Poulsen Galal, an anthropologist with the University of Copenhagen who specialises in Denmark's Muslims, said many Danes would be unable to understand why the cartoons might offend Muslims.
"It likely would not have happened elsewhere," said Poulsen Galal. "In other countries, (people) have a greater respect for other religions."
The idea came about after the author of a children's book on religion told the daily that the illustrator for the book demanded anonymity because he feared retaliation for a picture he had drawn of the prophet.
"The purpose of the (drawings) was to examine whether people would succumb to self-censorship, as we have seen in other cases when it comes to Muslim issues," Juste said.
The turmoil comes a year after Dutch filmmaker Theo Van Gogh was murdered in Amsterdam by a Muslim radical because he made a film critical of Islam. It also revives memories of the 1989 death threat "fatwa," or religious edict, against writer Salman Rushdie over his portrayal of Muhammad in "The Satanic Verses."
Critics say the drawings in Jyllands-Posten were particularly insulting because some of them appeared to ridicule the prophet.
"Those cartoons are very offensive to every Muslim feeling, and to Islam as a religion," said Abdel Moeti Bayoumi, a theology professor at Al-Azhar University in Cairo. "Do you expect Muslims to remain silent or rise to defend their religion?"
Eleven ambassadors from Muslim countries signed a letter of protest to Danish Prime Minister Anders Fogh Rasmussen, but his government has refused to enter the conflict.
"As prime minister I have no tool whatsoever to take actions against the media and I don't want that kind of tool," Fogh Rasmussen said on Oct. 24.
Denmark is proud of its extensive freedom of speech laws. The last slander conviction was in 1938, when a group of Danes were convicted for agitating against Jews. Eccentric painter Jens Joergen Thorsen, who died in 2000, escaped prosecution despite his deeply provocative work, including a painting of a crucified Jesus Christ with an erection.
Many Danes were caught off guard by the furore over the drawings.
The Danish Foreign Ministry said the youth auxiliary of Pakistan's largest Islamic group, Jamaat-e-Islami, offered a 50,000 kroner ($6,700; US$7,840) reward for killing the cartoonists. But spokesmen for the group have told Danish media that they have not made such threats, which have also been downplayed by Denmark's intelligence service.
In Indian-controlled Kashmir, many shops and businesses shut down Thursday after Islamic separatists and religious groups called a strike to "protest the outrage felt by Muslims over the insulting cartoons," separatist leader Syed Ali Shah Geelani said in a statement.
Turkish Prime Minister Recep Tayyip Erdogan condemned the drawings during a visit to Denmark last month. "Any action that demeans other people's religious symbols cannot be accepted," he said.
Muslim leaders in the Organization of the Islamic Conference asked U.N. High Commissioner for Human Rights Louise Arbour to raise the issue with the Danish government, an OIC official said on condition of anonymity because he is not a spokesman for the Organisation.
Danish media reported that Arbour said she understood their concerns and regretted "any statement or act that could express a lack of respect for the religion of others."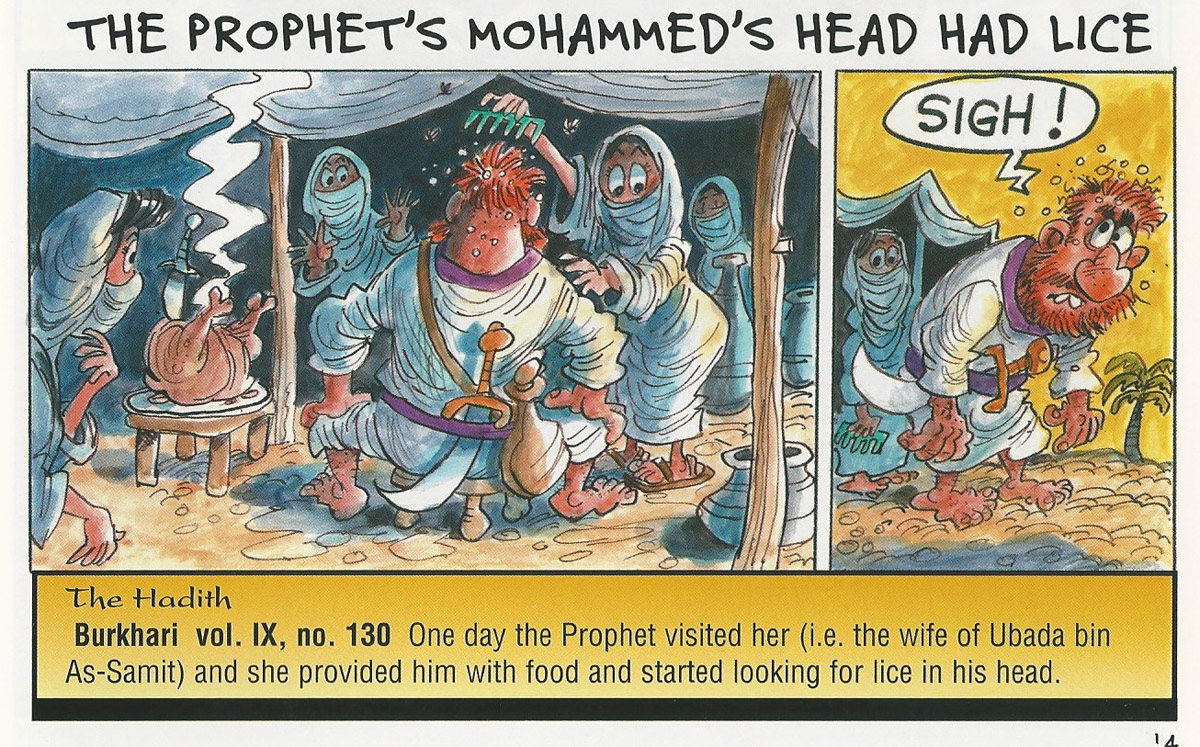 Mohammed had lice.
Thou Shalt Not Draw
By Robert Spencer
FrontPageMagazine.com - December 21, 2005
Last September, Danish author Kåre Bluitgen was set to publish a book on the Muslim prophet Muhammad, but there was just one catch: he couldn't find an illustrator. Artistic representations of the human form are forbidden in Islam, and pictures of Muhammad are especially taboo — so three artists turned down Bluitgen's offer to illustrate the book for fear that they would pay with their lives for doing so. Frants Iver Gundelach, president of the Danish Writers Union, decried this as a threat to free speech — and the largest newspaper in Denmark, Jyllands-Posten, responded. They approached forty artists asking for depictions of Muhammad and received in response twelve cartoons of the Prophet — several playing on the violence committed by Muslims in the name of Islam around the world today.
Danish Imam Raed Hlayhel was the first to react. "This type of democracy is worthless for Muslims," he fumed. "Muslims will never accept this kind of humiliation. The article has insulted every Muslim in the world. We demand an apology!" Jyllands-Posten refused. Editor-in-chief Carsten Juste refused: "We live in a democracy. That's why we can use all the journalistic methods we want to. Satire is accepted in this country, and you can make caricatures. Religion shouldn't set any barriers on that sort of expression. This doesn't mean that we wish to insult any Muslims." Cultural editor Flemming Rose concurred: "Religious feelings," he observed, "cannot demand special treatment in a secular society. In a democracy one must from time to time accept criticism or becoming a laughingstock."
Certainly Christians have had to learn this lesson: in the United Kingdom, the secretary of an organization called Christians Against Ridicule complained in 2003 that "over the last seven days alone we have witnessed the ridicule of the Nativity in a new advert for Mr Kipling cakes, the ridicule of the Lord's Prayer on Harry Hill's TV Burp, the ridicule of a proud Christian family on ITV's Holiday Nightmare and the opening of a blasphemous play at London's Old Vic Theatre — Stephen Berkoff's Messiah….Rarely a day goes by today without underhand and insidious mockery of the Christian faith." Christians Against Ridicule, however, issued no death threats at that point or any other; some Muslims in Denmark after the cartoons were published were not quite so sanguine. Jyllands-Posten had to hire security guards to protect its staff as threats came in by phone and email.
Muslim anger was not limited to threat-issuing thugs. In late October ambassadors to Denmark from eleven Muslim countries asked Danish Prime Minister Anders Fogh Rasmussen for a meeting about what they called the "smear campaign" against Muslims in the Danish press. Rasmussen declined: "This is a matter of principle. I won't meet with them because it is so crystal clear what principles Danish democracy is built upon that there is no reason to do so." He added: "I will never accept that respect for a religious stance leads to the curtailment of criticism, humour and satire in the press." The matter, he said, was beyond his authority: "As prime minister I have no tool whatsoever to take actions against the media and I don't want that kind of tool."
As far as one of the ambassadors, Egypt's, was concerned, that was the wrong answer. Egyptian officials withdrew from a dialogue they had been conducting with their Danish counterparts about human rights and discrimination. Egyptian Embassy Councillor Mohab Nasr Mostafa Mahdy added: "The Egyptian ambassador in Denmark has said that the case no longer rests with the embassy. It is now being treated at an international level. As far as I have been informed by my government, the cartoon case has already been placed on the agenda for the Islamic Conference Organization's extraordinary summit in the beginning of December."
Meanwhile, in Denmark in early November thousands of Muslims marched in demonstrations against the cartoons. Two of the cartoonists, fearing for their lives, went into hiding. The Pakistani Jamaaat-e-Islami party offered five thousand kroner to anyone who killed one of the cartoonists. The Organization of the Islamic Conference (OIC), with a membership of 56 Muslim nations, protested to the Danish government. Last week business establishments closed to protest the cartoons — in Kashmir. The Chief Minister of Jammu and Kashmir, Ghulam Nabi Azad, was reportedly "anguished" by the cartoons, and asked India's Prime Minister to complain to the Danish government. And last Saturday the most respected authority in the Sunni Muslim world, Mohammad Sayed Tantawi, Grand Sheikh of Al-Azhar University in Cairo, declared that the cartoons had "trespassed all limits of objective criticism into insults and contempt of the religious beliefs of more than one billion Muslims around the world, including thousands in Denmark. Al-Azhar intends to protest these anti-Prophet cartoons with the UN's concerned committees and human rights groups around the world."
The UN was happy to take the case. The UN High Commissioner for Human Rights, Louise Arbour, wrote to the OIC: "I understand your attitude to the images that appeared in the newspaper. I find alarming any behaviors that disregard the beliefs of others. This kind of thing is unacceptable." She announced that investigations for racism and "Islamophobia" would commence forthwith.
While solicitous of Muslim belief, Arbour did not seem concerned about the beliefs of the Danes. Yet Jyllands-Posten had well articulated its position as founded upon core principles of the Western world: "We must quietly point out here that the drawings illustrated an article on the self-censorship which rules large parts of the Western world. Our right to say, write, photograph and draw what we want to within the framework of the law exists and must endure — unconditionally!" Juste added: "If we apologize, we go against the freedom of speech that generations before us have struggled to win."
That freedom is imperiled internationally more today than it has been in recent memory. As it grows into an international cause célèbre, the cartoon controversy indicates the gulf between the Islamic world and the post-Christian West in matters of freedom of speech and expression. And it may yet turn out that as the West continues to pay homage to its idols of tolerance, multiculturalism, and pluralism, it will give up those hard-won freedoms voluntarily.
Robert Spencer is a scholar of Islamic history, theology, and law and the director of Jihad Watch. He is the author of five books, seven monographs, and hundreds of articles about jihad and Islamic terrorism, including Islam Unveiled: Disturbing Questions About the World's Fastest Growing Faith and The Politically Incorrect Guide to Islam (and the Crusades). He is also an Adjunct Fellow with the Free Congress Foundation.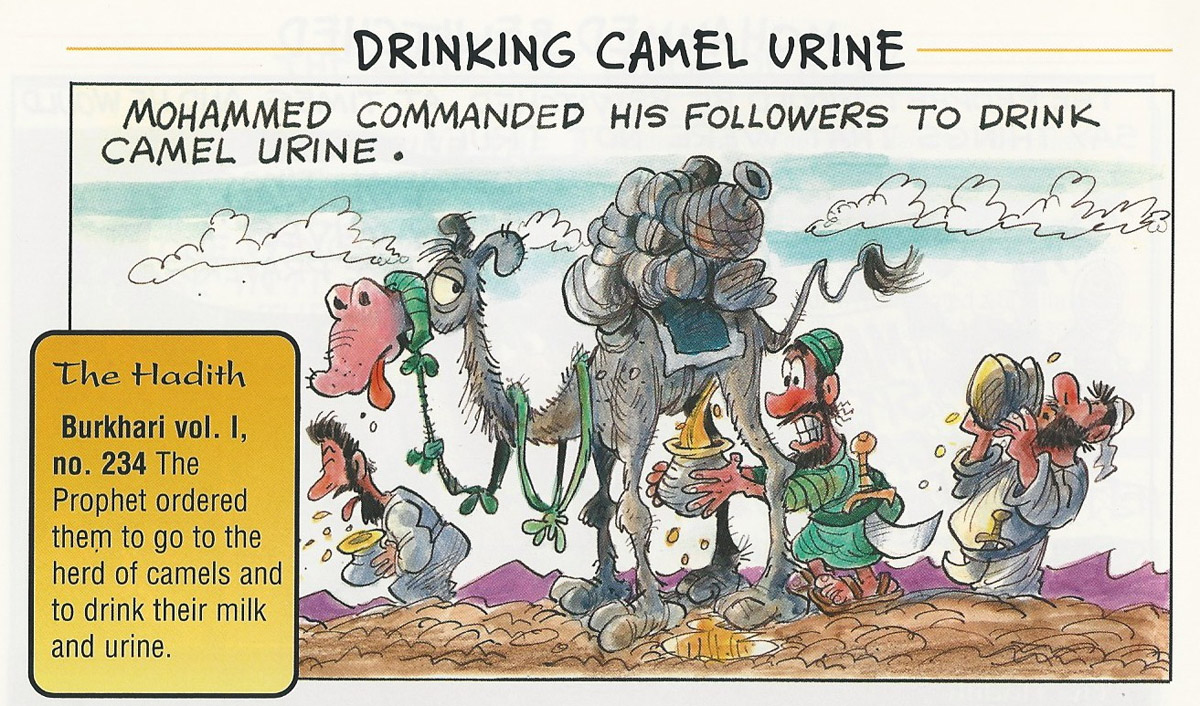 Mohammed commanded his followers to drink camel urine.
Cartoons and Islamic Imperialism
by Daniel Pipes
New York Sun
February 7, 2006
The key issue at stake in the battle over the twelve Danish cartoons of the Muslim prophet Muhammad is this: Will the West stand up for its customs and mores, including freedom of speech, or will Muslims impose their way of life on the West? Ultimately, there is no compromise: Westerners will either retain their civilization, including the right to insult and blaspheme, or not.
More specifically, will Westerners accede to a double standard by which Muslims are free to insult Judaism, Christianity, Hinduism, and Buddhism, while Muhammad, Islam, and Muslims enjoy immunity from insults? Muslims routinely publish cartoons far more offensive than the Danish ones . Are they entitled to dish it out while being insulated from similar indignities?
Germany's Die Welt newspaper hinted at this issue in an editorial: "The protests from Muslims would be taken more seriously if they were less hypocritical. When Syrian television showed drama documentaries in prime time depicting rabbis as cannibals, the imams were quiet." Nor, by the way, have imams protested the stomping on the Christian cross embedded in the Danish flag.
The deeper issue here, however, is not Muslim hypocrisy but Islamic supremacism. The Danish editor who published the cartoons, Flemming Rose, explained that if Muslims insist "that I, as a non-Muslim, should submit to their taboos ... they're asking for my submission."
Precisely. Robert Spencer rightly called on the free world to stand "resolutely with Denmark." The informative Brussels Journal asserts, "We are all Danes now." Some governments get it:
· Norway: "We will not apologize because in a country like Norway, which guarantees freedom of expression, we cannot apologize for what the newspapers print," Prime Minister Jens Stoltenberg commented.
· Germany: "Why should the German government apologize [for German papers publishing the cartoons]? This is an expression of press freedom," Interior Minister Wolfgang Schauble said.
· France: "Political cartoons are by nature excessive. And I prefer an excess of caricature to an excess of censorship," Interior Minister Nicolas Sarkozy commented.
Other governments wrongly apologized:
· Poland: "The bounds of properly conceived freedom of expression have been overstepped," Prime Minister Kazimierz Marcinkiewicz stated.
· United Kingdom: "The republication of these cartoons has been unnecessary, it has been insensitive, it has been disrespectful and it has been wrong," Foreign Secretary Jack Straw said.
· New Zealand: "Gratuitously offensive," is how Trade Negotiations Minister Jim Sutton described the cartoons.
· United States: "Inciting religious or ethnic hatred in this manner is not acceptable," a State Department press officer, Janelle Hironimus, said.
Strangely, as "Old Europe" finds its backbone, the Anglosphere quivers. So awful was the American government reaction, it won the endorsement of the country's leading Islamist organization, the Council on American-Islamic Relations. This should come as no great surprise, however, for Washington has a history of treating Islam preferentially. On two earlier occasions it also faltered in cases of insults concerning Muhammad.
In 1989, Salman Rushdie came under a death edict from Ayatollah Khomeini for satirizing Muhammad in his magical-realist novel, The Satanic Verses. Rather than stand up for the novelist's life, President George H.W. Bush equated The Satanic Verses and the death edict, calling both "offensive." The then secretary of state, James A. Baker III, termed the edict merely "regrettable."
Even worse, in 1997 when an Israeli woman distributed a poster of Muhammad as a pig, the American government shamefully abandoned its protection of free speech. On behalf of President Bill Clinton, State Department spokesman Nicholas Burns called the woman in question "either sick or … evil" and stated that "She deserves to be put on trial for these outrageous attacks on Islam." The State Department endorses a criminal trial for protected speech? Stranger yet was the context of this outburst. As I noted at the time, having combed through weeks of State Department briefings, I "found nothing approaching this vituperative language in reference to the horrors that took place in Rwanda, where hundreds of thousands lost their lives. To the contrary, Mr. Burns was throughout cautious and diplomatic."
Western governments should take a crash course on Islamic law and the historically-abiding Muslim imperative to subjugate non-Muslim peoples. They might start by reading the forthcoming book by Efraim Karsh, Islamic Imperialism: A History (Yale).
Peoples who would stay free must stand unreservedly with Denmark.
Cartoon Rage Grows Worldwide
by Robert Spencer
Posted Feb 01, 2006
Muslim rage over cartoons of Muhammad published in early October in a Danish newspaper continues to grow worldwide. (See the images below.) These cartoons are less offensive than what is routinely printed in every American newspaper about politicians. Yet rage over them keeps growing:

• Gaza: On Monday, gunmen seized an EU office, demanding apologies from Denmark and Norway (where another publication later reprinted the cartoons). On Tuesday, demonstrators chanted "War on Denmark, death to Denmark" as they burned Danish flags.

• Arab interior ministers declared: "We ask the Danish authorities to take the necessary measures to punish those responsible for this harm and to take action to avoid a repeat."

• Libya and Saudi Arabia recalled their ambassadors from Copenhagen, while in Saudi Arabia, a mob beat two employees of the Danish corporation Arla Foods, which has been subjected to a crippling boycott throughout the Islamic world -- a boycott that has been endorsed by, among others, the Sudanese Defense Minister.

• Iraqi Foreign Minister Hoshiyar Zebari complained to the Danish ambassador to Baghdad, while Danish troops were put on alert there after a fatwa concerning the cartoons was issued.

Even Bill Clinton has decried "these totally outrageous cartoons against Islam" and huffing self-righteously: "So now what are we going to do? ... Replace the anti-Semitic prejudice with anti-Islamic prejudice?" Of course not. The cartoons are not a manifestation of anti-Islamic prejudice: criticism of Muhammad or even of Islam is not equivalent to anti-Semitism. Islam is not a race; the problems with it are not the product of fear mongering and fiction, but of ideology and facts -- facts that have been stressed repeatedly by Muslims around the world, when they commit violence in the name of Islam and justify that violence by its teachings. Noting that there is a connection between the teachings of Muhammad and Islamic violence is simply to manifest an awareness of what has been repeatedly asserted by bin Laden, al-Zawahiri, Zarqawi, and so many others. Do all these men misunderstand and misrepresent the teachings of Muhammad and Islam? This question, as crucial as it is, is irrelevant here. The fact is, these and other jihad terrorists claim Muhammad's example and words as their inspiration. Some of the cartoons call attention to that fact.

Ultimately, then, the cartoon controversy is a question of free speech. Freedom of speech encompasses precisely the freedom to ridicule and offend. The instant that any ideology is considered off-limits for critical examination and even ridicule, freedom of speech has been replaced by an ideological straitjacket. Westerners seem to grasp this when it comes to affronts to Christianity, even when they are as offensive as Andres Serrano's Piss Christ or Chris Ofili's dung- and pornography-encrusted Holy Virgin Mary. But the same clarity doesn't seem to extend to an Islamic context.

Yet that's where it is needed most. The cartoon controversy is an increasingly serious challenge to Western notions of pluralism and freedom of speech. The Danes have already begun to apologize. But so far both the newspaper Jyllands-Posten and the Prime Minister have limited themselves to saying essentially that they are sorry if Muslims took offense, and that none was intended. If they go farther and "punish those responsible," as the Arab Interior Ministers demanded, or treat the cartoons as a human rights violation, as a Belgian imam demanded, they will be acknowledging that lampooning Muhammad and criticizing Islam is somehow wrong in itself. Such a notion is just as dangerous for a free society as the idea that the Beloved Leader or dialectical materialism is above criticism.

To take such offense, to withdraw ambassadors and call for boycotts, and above all to attack innocent people because of some cartoons is not a reaction to prejudice. It is madness. It should be denounced as madness. The fact that Bill Clinton is the only American politician who has taken notice of this ongoing controversy, and that on the wrong side, is a travesty.
The free world should be standing resolutely with Denmark, ready to defend freedom of speech. Insofar as it is not defended, it will surely be lost.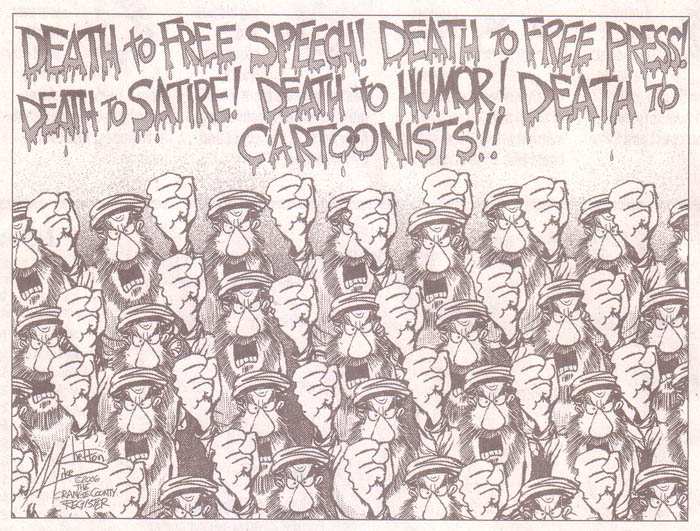 Muslim death to free speech, press, satire, humor, and cartoonists.
Muslim Cartoons: Publish or Perish
By Robert W. Tracinski
The Intellectual Activist - March 7, 2006
The central issue of the "cartoon jihad"—the Muslim riots and death threats against a Danish newspaper that printed 12 cartoons depicting Mohammed—is obvious. The issue is freedom of speech: whether our freedom to think, write, and draw is to be subjugated to the "religious sensitivities" of anyone who threatens us with force.
That is why it is necessary for every newspaper and magazine to re-publish those cartoons, as I will do in the next print issue of The Intellectual Activist. Click here.
This is not merely a symbolic expression of support; it is a practical countermeasure against censorship. Censorship— especially the violent, anarchic type threatened by Muslim fanatics—is effective only when it can isolate a specific victim, making him feel as if he alone bears the brunt of the danger. What intimidates an artist or writer is not simply some Arab fanatic in the street carrying a placard that reads "Behead those who insult Islam." What intimidates him is the feeling that, when the beheaders come after him, he will be on his own, with no allies or defenders—that everyone else will be too cowardly to stick their necks out.
The answer, for publishers, is to tell the Muslim fanatics that they can't single out any one author, or artist, or publication. The answer is to show that we're all united in defying the fanatics.
That's what it means to show "solidarity" by re-publishing the cartoons. The message we need to send is: if you want to kill anyone who publishes those cartoons, or anyone who makes cartoons of Mohammed, then you're going to have to kill us all. If you make war on one independent mind, you're making war on all of us. And we'll fight back.
But the issue of freedom of speech is too clear, and too well settled, in the West, to be worth spending much time debating it. What is far more interesting is the fact that such a debate is occurring, nonetheless.
This is a fact from which the Western world can draw some crucially important conclusions.
The West has long been aware that, while we hold freedom of speech as a centerpiece of our liberty, the Muslim world does not recognize this freedom. Before now, however, our worlds have rarely collided. The Muslims have not usually dared to extend their dictatorial systems to control our own behavior within our own cities. The Salman Rushdie affair—the Ayatollah Khomeini's 1989 death edict against the "blasphemous" novelist—was an ominous warning, but Americans did not take it seriously.
Now, seventeen years later, the Muslim fanatics are making it clear: you don't have to come to our country, you don't have to be a Muslim. Even in your own countries and under your own laws, you will not be safe from our intimidation.
For the whole Western world, this is an opportunity to learn an important truth about the goal of the Islamists. Their goal is not to achieve any specific political demand or settlement. Their goal is submission: our submission to their will, to their laws, to their dictatorship—our submission, not just to one demand, but to any demand the Muslim mobs care to make.
Europe particularly needs to learn this lesson. The Europeans have deluded themselves into thinking that this is our fight. If only Israel weren't so intransigent, if only the U.S. weren't so belligerent, they told themselves—if only those cowboys didn't insist on stirring up trouble, we could all live in peace with the Muslims. And they have deluded themselves into thinking that they can seek a separate peace, that having the Danish flag on your backpack—as one bewildered young Dane described it—would guarantee that you could go anywhere in the world and be regarded as safe, as innocuous.
Now the Europeans know better. With cries of "Death to Israel" and "Death to American" now being joined by cries of "Death to Denmark", every honest European can now see that they are in this fight, too—and they are closer to the front lines than we are. Threats against American cartoonists, when anyone bothers to make them, are toothless; there is no mob of violent young Muslims in the United States to carry them out. European writers and filmmakers, by contrast, are already being murdered in the streets. The first people to find themselves living under the sword of a would-be Muslim caliphate are Europeans, not Americans.
The lesson here is not just that the Islamist ideology of dictatorship is a threat to Europe. It is also that the dictatorships themselves are a threat. The advocates of cynical European "realpolitik" deluded themselves into thinking that, if they just made the right kind of deals with Saddam Hussein, or with the Iranian regime, or with the Syrian regime, then the dictatorships over there would have no impact on us over here.
But we can now see that the anti-Danish riots did not explode spontaneously: they were instigated by the dictators, by the regimes in Iran and Syria. To their credit, Danish Prime Minister Anders Fogh Rasmussen and now US Secretary of State Condoleezza Rice, have been pointing out this connection. The lesson for Europe: if you accommodate and appease the dictators, they won't leave you alone. Having gotten some of what they want, they will come after you and take the rest. Europe ought to have learned that lesson, at terrible cost, in 1939; this ought to refresh their memory.
If we want to know why these lessons have not been learned before now, the cartoon jihad also gives us clues to the answer. Note that those who are supposed to help us learn those lessons—the left-leaning intellectuals and newspaper editors, the people who have traditionally posed as the brave defenders of free speech—have been the first to collapse in abject submission to Muslim sensibilities. The New York Times, for example, dismissed the cartoons as "juvenile" and explained that refusing to publish even a single image of the cartoons "seems a reasonable choice for news organizations that usually refrain from gratuitous assaults on religious symbols."
Note how the New York Times—like many other left-leaning newspapers—hides behind the evasion that the Danish cartoons are "silly" or "juvenile." On the contrary: the best of the Danish cartoons provided a far more serious, hard-hitting, thought-provoking commentary than has been provided in the pages of these same newspapers. While the mainstream media has drooled that Islam is "a religion of peace"—in the midst of yet another Muslim war—it was left to a Danish cartoonists to suggest that Mohammed himself, and the religion he represents, might be the bomb that has set off all of this violence. (To see these cartoons, go to the simply named website muhammadcartoons.com.)
But the prize for most abject surrender to Muslim dictatorship has to go to the leftist academics. The first to decry the Bush administration as a creeping "fascist" dictatorship, they are, perversely, the first to fawn in admiration before the world's actual fascists. If you think that's an exaggeration, read an op-ed in Sunday's New York Times by Stanley Fish, a famous "Postmodernist" university professor and defender of "political correctness." Fish writes:
Strongly held faiths are exhibits in liberalism's museum; we appreciate them, and we congratulate ourselves for affording them a space, but should one of them ask of us more than we are prepared to give—ask for deference rather than mere respect—it will be met with the barrage of platitudinous arguments that for the last week have filled the pages of every newspaper in the country….
[T]he editors who have run the cartoons do not believe that Muslims are evil infidels who must either be converted or vanquished. They do not publish the offending cartoons in an effort to further some religious or political vision; they do it gratuitously, almost accidentally. Concerned only to stand up for an abstract principle—free speech—they seize on whatever content happens to come their way and use it as an example of what the principle should be protecting. The fact that for others the content may be life itself is beside their point.
This is itself a morality—the morality of a withdrawal from morality in any strong, insistent form. It is certainly different from the morality of those for whom the Danish cartoons are blasphemy and monstrously evil. And the difference, I think, is to the credit of the Muslim protesters and to the discredit of the liberal editors.
For years, the Left has told us that the foundation of freedom is subjectivism; if you are never certain that you are right, you will never be certain enough to "impose" your views on others. But will you be certain enough to defend your mind against those who want to impose their beliefs on you? If Fish is any indication, the answer is "no." Note how he bows with almost superstitious awe before the fanaticism of the Muslim mobs, while describing the old-fashioned liberals' defense of free speech as hypocritical, superficial, "condescending."
And now the "hate crimes" laws pioneered by the Left in the name of political correctness, are being invoked by Muslims to suppress publication of the Mohammed cartoons by a Canadian newspaper. The intellectuals of the Left, having built a reputation as defenders of free speech by striking a pose of defiance against innocuous threats at home, have now become the leading advocates for self-imposed submission to the Muslim hoards abroad.
Interestingly, intellectuals on the right have now become the loudest, most strident voices in defense of free speech, for which they deserve our admiration. Blogger Michelle Malkin has waged a particularly effective crusade on this issue. And she is not the only one; I linked to many good articles on the topic in last week's editions of TIA Daily.
But the right has its own contradictions, it own source of sympathy with the enemy. For years, conservative intellectuals have been demanding greater "sensitivity" to "religious sensibilities"—at least, to the religious sensibilities of Christians—and calling for a great role for religion in the "public square." They have waged a long crusade to allow religion to serve as the basis for laws against abortion and homosexuality, and for the subordination of science to religion, demanding that this be a "nation under God" rather than a "nation under Darwin."
And so we have seen a few prominent conservatives falter badly in the cartoon jihad. Prominent neoconservative scion John Podhoretz wrote a column in last Friday's New York Post that sounds an awful lot like Stanley Fish's column quoted above:
For many people, the way to grant Muslims the recognition they crave is to patronize them—to give them nice little nods and winks and talk about what a nice religion they have. That kind of recognition is unsatisfying and condescending. The impulse behind the original publication of the cartoons in Denmark last September was to cut through the condescension. They were literally provocative—designed to provoke discussion about how to deal with the phenomenon that Carsten Juste, the editor of the newspaper that published them, called the "self-censorship which rules large parts of the Western world."
Well, as Juste and his staff have learned to their sorrow, while some of that self-censorship may be the result of cowardly political correctness, some of it is clearly due to simple prudence. Juste and his underlings have been in grave physical danger for months, ever since the cartoons were published. And it would not be too much to say that they and the world would have been better off if they had exercised a little more self-protective caution in the first place.
Meanwhile, Hugh Hewitt—a much more dedicated religious conservative—practically squirms with discomfort at the idea of someone criticizing religion. He echoes the idea that the Danish editors were "irresponsible" for printing the cartoons because they could have predicted that it would "provoke" a violent reaction—but he adds a more pro-American gloss to it. He says that the cartoons were irresponsible because the enemy will use them as propaganda to incite riots and try to gain support among Muslims.
In a wired world, there aren't any inconsequential actions, and everything is grist for the propagandists among the jihadists. That doesn't mean censorship, or even self-censorship. Only a bit of reflection before rushing off to start new battles which divert attention from those already underway. There is a chasm of difference between serious commentary on the Islamic challenge facing Europe and the West…and crude, sweeping anti-Muslim propaganda. It isn't necessary to defend the latter in order to uphold and praise the former.
(See more of Hewitt's commentary on this issue.)
The weakness of the conservatives is that they think the essence of the West is our religion, our "Judeo-Christian tradition"—rather than our Enlightenment legacy of individual rights and unfettered reason. Conservatives try to evade the clash between religious authority and freedom of thought by claiming that religion provides the moral basis for liberty. But the clash cannot be avoided, and conservatives are forced to choose where they will draw the line: where respect for religious prohibitions, in their view, takes precedence over respect for the individual mind. On this issue—involving a religion alien to American traditions—most conservatives have had no problem drawing the line in favor of freedom. But will they draw a different line when their own religious dogmas are challenged?
This is the final lesson of the cartoon jihad. The real issue at stake is not just censorship versus freedom, but something much deeper: the need to recognize the real essence of the West. The distinctive power and vibrancy of our culture, the source of our liberty, our happiness, and our unprecedented prosperity, is our Enlightenment tradition of regard for the unfettered reasoning mind, left free to follow the evidence wherever it leads.
And this controversy has given our minds plenty of evidence to follow, and plenty of fearless conclusions to draw.
Muslim Group Pledges Violence Against Cartoon Offenders
February 04, 2006

By Sher Zieve – Another Muslim group has pledged violence against citizens of all countries who published Muhammad cartoons. On Saturday, global Muslim riots over the ostensible offense of publishing caricatures of the Muslim prophet Muhammad are said to be continuing.
The Muslim group Abu-Rish Brigades stated: "We'll abduct and hurt all citizens of the European countries who hurt Islam's feelings and honor!" Although the cartoons represent an application of free speech, the EU's Justice Commissioner Franco Frattini officially entered the controversy when he said that it was "imprudent" to publish the cartoons "even if the satire used was aimed at a distorted interpretation of religion."
Pak cleric offers reward on cartoonist
Amir Mir & Agencies
Saturday, February 18, 2006
Lahore/Peshawar: A Pakistani Muslim cleric and his followers have offered rewards for anyone who kills Danish cartoonists who drew caricatures of the Prophet Mohammed.
Maulana Yousef Qureshi said he had personally offered to pay a bounty of Rs5,00,000 (US$8,400) during Friday prayers, and two of his congregation put up additional rewards of $1 million and Rs1 million plus a car.

"If the West can place a bounty on Osama bin Laden and Ayman al-Zawahiri, we can also announce a reward for killing the man who has caused this sacrilege," Qureshi said.
A Danish newspaper, Jyllands Posten, first printed the cartoons by 12 cartoonists in September. The newspaper has since apologised to Muslims.

Denmark closed its embassy in Islamabad on Friday and Pakistan decided to recall its ambassador from Copenhagen.
Meanwhile, the Pakistani government put Hafiz Mohammad Saeed, founder of the Lashkar-e-Tayiba (LeT), under house arrest on Friday.

Saeed was served the order at his Johar Town residence in Lahore ahead of protests planned by his organisation, the Jamaatul Daawa, and the LeT, its former military wing.
Police said Saeed was detained to avoid any untoward incident in the city during the Friday protests.

In India, violence erupted in parts of Hyderabad on Friday during protests by Muslims. Two persons were injured in stone-throwing as protesters ransacked 10 shops and damaged or set on fire dozens of vehicles at Charminar, Murgi Chowk, Chhatrinaka, Darussalam, Mehdipatnam and Vijaynagar.

Police said the situation was tense but under control. They have arrested 10 people, including a corporator of the Majlis-e-Ittehadul Muslimeen.
Cleric puts $1m bounty on Danish cartoonists
18/02/06
ISLAMABAD - A Pakistani Muslim cleric and his followers have offered rewards amounting to over US$1 million for anyone who killed Danish cartoonists who drew caricatures of the Prophet Mohammad that have enraged Muslims worldwide.

The cleric offered the bounty during Friday prayers as Muslim anger against the cartoons flared anew in parts of Asia. Weeks of global protests over the cartoons have gained momentum and fears of a clash of civilizations between the West and Islam have led to calls on all sides for calm.

About 10 people were killed in violent clashes between Libyan police and demonstrators today at a protest over the cartoons, Italian Ambassador to Tripoli Francesco Trupiano told Reuters.

"The number of dead is not official, or definitive, because until the clashes are over, it's hard to say. But there are certainly about 10 victims," Trupiano said, clarifying that by victims he meant dead.

Trupiano said he had met Libya's interior minister about a half hour earlier to discuss the clashes outside Italy's consulate in the northeastern city of Benghazi.

On Friday, thousands rallied in Pakistan, police in Bangladesh blocked demonstrators heading for the Danish embassy in Dhaka and in the Indian city of Hyderabad, police fired teargas shells and batons to beat back hundreds of protesters, who had stoned shops and disrupted traffic.

Protests in Pakistan this week have resulted in at least five deaths and hundreds of detentions, and on Friday it became the latest country where Denmark has decided to temporarily close its embassy.

The Danish foreign ministry also issued a travel warning for Pakistan, urging any Danes to leave as soon as possible.

In the northwestern Pakistani city of Peshawar, cleric Maulana Yousef Qureshi said he had personally offered to pay a bounty of 500,000 rupees to anyone who killed a Danish cartoonist, and two of his congregation put up additional rewards of $1 million and one million rupees plus a car.

"If the West can place a bounty on Osama bin Laden and Zawahri we can also announce reward for killing the man who has caused this sacrilege of the holy Prophet," Qureshi told Reuters, referring to the al Qaeda leader and his deputy Ayman al Zawahri.

The cleric leads the congregation at the historic Mohabat mosque, on street known for goldsmith shops in the provincial capital of North West Frontier Province -- a stronghold of Pakistan's Islamist opposition parties.

The cartoons were first published in Denmark last September, but last month newspapers and magazines in Europe and elsewhere began republishing to assert principles of freedom of expression.

Muslims believe images of the Prophet are forbidden.

EMBASSY SHUTS

Pakistan's Foreign Ministry said it was recalling its own ambassador from Copenhagen for consultations. It did not elaborate further.

The Danish ambassador in Islamabad said, however, that relations had not been broken off because of the furor.

"I'm still in Pakistan and in a secure place," Ambassador Bent Wigotski told Reuters.

"There is no question of broken relations or anything like that," he said, adding that the German embassy was looking after Denmark's consular affairs.

Denmark has already shut its missions in Lebanon, Syria, Iran and Indonesia as a result of violence or threats of violence.

Protests in Pakistan have been large and violent and many have taken on a distinctly anti-US tone. Demonstrators, in addition to burning Danish flags, have attacked US fast-food outlets and burned US President George W. Bush in effigy.

Islamist parties have called for a nationwide strike on March 3, around the time President George W. Bush is expected to visit Pakistan, despite the unrest.

Western leaders have been calling for calm.

Former US President Bill Clinton and French President Jacques Chirac both said on Friday that it was a mistake to publish the cartoons.

Clinton, on a private visit to Pakistan, said he saw nothing wrong with Muslims around the world demonstrating in a peaceful way, but he feared a great opportunity to improve understanding had been squandered.

"This is not a time to burn bridges; this is a time to build them," he said, adding, "...I can tell you that most people are horrified that this much misunderstanding has occurred."

Chirac was more blunt.

"I am appalled by what happened as a result of the publications of these cartoons," Chirac told India Today news magazine which published an interview with him on Friday.

"I am, of course, in favor of the freedom of the press, which is a pillar of democracy. But I am equally for respecting everyone's sensibilities... So I deplore the situation," said Chirac, who visits India next week.

- REUTERS
New Muhammad comic printed
April 16, 2006
ROME (Agence France-Presse) -- An Italian magazine close to the influential Catholic conservative Opus Dei group has published a cartoon showing the prophet Muhammad in hell, sparking outrage among Muslim associations here.
The drawing in Studi Cattolici's March issue shows the poets Dante Alighieri and Virgil on the edge of a circle of flames looking down on Muhammad, whose body is cut in half down to his buttocks, according to a description by the Italian news agency ANSA.
"Isn't that Muhammad?" Virgil is shown asking Dante.
"Yes, and he's cut in two because he has brought division to society," Dante replies.
Opus Dei distanced itself from the magazine, with spokesman Giuseppe Corigliano telling ANSA that Studi Cattolici is not an official publication of the group even though it is edited by an Opus Dei member.
However, he said Opus Dei members "are free to have all the opinions they want."
Studi Cattolici editor Cesare Cavalleri told ANSA: "I hope the publication of this drawing won't lead to attacks, because if that happened it would only prove the idiotic positions" of Islamic extremists.
Cartoons by 12 artists first published in a Danish newspaper in September and later reprinted in a number of other mainly European dailies sparked Muslim riots worldwide.
"Sometimes a politically incorrect satirical cartoon can do some good. It's only a reference to a passage in [Dante's] Divine Comedy," Mr. Cavalleri said.
"In any case, Muhammad was sent to hell by Dante, one of the greatest Italian poets," he added.
Opus Dei, which has a chiefly lay membership, has aroused controversy over charges that it is secretive and socially conservative. It came to wider attention when it was heavily and unflatteringly featured in the best-selling novel "The Da Vinci Code."
The cartoon in Studi Cattolici drew immediate fire from Italy's Muslim community.
"With all the efforts made in the Christian and Muslim world for interfaith dialogue, there are nevertheless always minorities that inflame things and cause provocations," said Roberto Piccardo, an official of the Union of Italian Muslim Communities.
Souad Sbai, president of an association of Moroccan women in Italy, called on the magazine to "step back, stop and lower the tone."
"Wouldn't it be better to sit down around a table and talk about it, instead of provoking things? What can such an initiative mean?" she asked.
Muslim cleric wants shutdown of Danish paper
COPENHAGEN (Reuters) - Egypt's top Sunni Muslim cleric on Friday called for the editor of Jyllands-Posten, the Danish daily that published cartoons of the Prophet Mohammad, to be imprisoned and for his newspaper to be closed down.
The cartoons were first published in Jyllands-Posten last September and then reprinted by other media in Europe and the United States after Muslim protests began early this year.
"The satirical drawings of the Prophet Mohammad are one of the most serious crimes ever committed. The editor should be imprisoned for one, two or three years," Grand Sheikh Mohamed Sayed Tantawi told Danish newspaper Berlingske in an interview.
"In addition, one should forbid the paper from being published for a number of years," he said.
Many Muslims regard any depiction of the Prophet as an offence against their religion.
Denmark's government declined to apologise for the cartoons, saying the country's media are free and independent.
Tantawi, the Sheikh of al-Azhar mosque in Cairo, one of the oldest and most revered seats of Islamic learning, said the prophets, Jesus, Moses, Abraham and Mohammad were God's chosen.
"The West must understand that you can't treat prophets the same way as presidents or regular people."
The row over the cartoons sparked attacks on Danish embassies in parts of Asia, Africa and the Middle East in which more than 50 people died.
Jyllands-Posten has expressed regret over the offence that was caused.
Jylland-Posten's editor Carsten Juste was not immediately available to comment on the interview but Flemming Rose, the paper's culture editor, told Berlingske Tantawi's views underlined the need for dialogue.
Why Islam Is Unfunny for a Cartoonist
The arrest of a controversial Dutch cartoonist has set off a wave of protests. The case is raising questions for a changing Europe about free speech, religion and art.

By ANDREW HIGGINS

The Wall Street Journal
July 12, 2008; Page W1

On a sunny May morning, six plainclothes police officers, two uniformed policemen and a trio of functionaries from the state prosecutor's office closed in on a small apartment in Amsterdam. Their quarry: a skinny Dutch cartoonist with a rude sense of humor. Informed that he was suspected of sketching offensive drawings of Muslims and other minorities, the Dutchman surrendered without a struggle.

"I never expected the Spanish Inquisition," recalls the cartoonist, who goes by the nom de plume Gregorius Nekschot, quoting the British comedy team Monty Python. A fan of ribald gags, he's a caustic foe of religion, particularly Islam. The Quran, crucifixion, sexual organs and goats are among his favorite motifs.

Mr. Nekschot, whose cartoons had appeared mainly on his own Web site, spent the night in a jail cell. Police grabbed his computer, a hard drive and sketch pads. He's been summoned for further questioning later this month by prosecutors. He hasn't been charged with a crime, but the prosecutor's office says he's been under investigation for three years on suspicion that he violated a Dutch law that forbids discrimination on the basis of race, religion or sexual orientation.

The cartoon affair has come as a shock to a country that sees itself as a bastion of tolerance, a tradition forged by grim memories of bloody conflict between Catholics and Protestants. The Netherlands sheltered Jews and other refugees from the Spanish Inquisition, and Calvinists fleeing persecution in France. Its thinkers helped nurture the 18th-century Enlightenment. Prostitutes, marijuana and pornography have been legal for decades.

"This is serious. It is about freedom of speech," says Mark Rutte, the leader of a center-right opposition party. Some of Mr. Nekschot's oeuvre is "really disgusting," he says, "but that is free speech."

The saga has turned the previously obscure artist into a national celebrity. His predicament reprises, with a curious twist, a drama that debuted in Denmark just over two years ago. Then, Danish cartoonists published a series of cartoons of the prophet Muhammad in the nation's Jyllands-Posten newspaper. The drawings set off a tempest of often violent protests across the Muslim world and a fierce debate in Europe about how to balance secular and sacred values. One of the Danish cartoonists fled his house and went into hiding late last year after the state security service uncovered a murder plot against him. (The elderly artist is now back at home, guarded by police.) Last month, a suicide bomber killed six in an attack on the Danish Embassy in Pakistan.

The Dutch scenario involves similar issues but has followed a very different script. This time the state has stepped in to rein in the artist, rather than protect him, and it is secular champions of free speech who are angry. They haven't resorted to violence but have stirred up a political storm. Parliament held an emergency debate on the affair and cartoonists have bombarded the Dutch Justice Ministry with a blizzard of faxed protest caricatures.

"Denmark protects its cartoonists. We arrest them," says Geert Wilders, a populist member of the Dutch Parliament famous for his dyed-blond bouffant hairdo and incendiary denunciations of the Quran as an Islamic version of Hitler's "Mein Kampf." The arrested cartoonist, says Mr. Wilders, is "a bit obsessed" with Muslims and sex, but "it is not bad for artists to have a little obsession."

How to handle Muslim sensitivities is one of Europe's most prickly issues. Islam is Europe's fastest-growing religion, with immigrants from Muslim lands often rejecting a drift toward secularism in what used to be known as Christendom. About 6% of Holland's 16.3 million people are Muslims, and nearly half of Amsterdam's population is of foreign origin. Some predict the city could have a Muslim majority within a decade or so.

The contrasting Danish and Dutch responses "show that there is a serious struggle of ideas going on for the future of Europe," says Flemming Rose, a Danish newspaper editor who commissioned the drawings of Muhammad in Jyllands-Posten. At stake, he says, is whether democracy protects the right to offend or embraces religious taboos so that "citizens have a right not to be offended."

In Britain, a local police force got caught up recently in a flap over its use of a German shepherd puppy to promote an emergency hotline. A Muslim councilor, noting that dogs are viewed as unclean in Islam, complained that the puppy could turn off believers. The police force apologized and regretted not consulting its diversity officer.

In Switzerland, meanwhile, a bombastic anti-immigration political party is campaigning to ban all Muslim prayer towers, known as minarets. This week it gathered enough signatures to force a national referendum on the issue. The Swiss government says such a ban would violate freedom of religion and pose a security threat by provoking Muslims.

Afshin Ellian, an Iranian-born history of law professor at Holland's Leiden University, says he fled Tehran to escape religious taboos and now worries that Europe is "importing problems from the Middle East." He understands why Muslims, Christians and other devout believers might take offense at certain cartoons, paintings or texts, but he calls it "a matter of aesthetics not criminal law."

The inquiry into Mr. Nekschot's case is being led by an Amsterdam prosecutor unit that specializes in combating neo-Nazis and other hate-mongers. The cartoonist denies any links to fascist or other extremist groups. He says he loathes all ideologies and all religions as recipes for tyranny.

Mr. Nekschot, who calls the investigation "surreal," says, "Not even Monty Python could have come up with this." (His pen name, Gregorius Nekschot, is a mocking tribute to Gregory IX, a 13th-century pope who set up a Vatican department to hunt down and execute heretics. Nekschot means "shot in the neck" in Dutch.) Some Muslim groups have voiced dismay at his arrest as well. The head of an organization of Moroccan preachers in Holland said authorities seemed "more afraid" of offending Islam than Muslims.

"We are led by the law," says Franklin Wattimena, a spokesman for the Amsterdam Public Prosecutor's Office. He denies any attempt to squelch free speech and says locking Mr. Nekschot up overnight was probably a "mistake."

If formally charged and taken to court, Mr. Nekschot risks up to two years in prison and a maximum fine of €16,750, or about $26,430, says his Amsterdam lawyer, Max Vermeij. He thinks the odds on his client being prosecuted are better than even but draws some comfort from recent Dutch court rulings in discrimination cases that mostly came down on the side of free speech.

Mr. Nekschot himself is very worried. "I'm afraid of getting a judge who doesn't have a sense of humor," he says.

He's also worried that his identity will get exposed if he goes to court. This, says the cartoonist, could make him a target for attack like Theo van Gogh, a polemical filmmaker and foul-mouthed celebrity murdered by an Islamic extremist in November 2004. Mr. Van Gogh was a fan of Mr. Nekschot's work and posted his drawings on his own Web site, The Happy Smoker.

Justice Minister Hirsch Ballin, when grilled about the cartoon affair in Parliament, promised to protect Mr. Nekshot's anonymity so as "to guarantee the suspect's safety." (The Wall Street Journal also agreed not to publish Mr. Nekschot's real name.)

But the minister, a devout Christian, added fuel to a mounting political furor by revealing the existence of a previously secret bureaucratic body, called the Interdepartmental Working Group on Cartoons. Officials later explained that the cartoon group had no censorship duties and had been set up after the 2006 Danish cartoon crisis to alert Dutch officials to any risks the Netherlands might face. The group examined Mr. Nekschot's work, say officials, but played no part in his arrest. Headed by a senior bureaucrat from a national agency coordinating counterterrorism, it draws from the intelligence service, the interior minister, the prosecutor's office and various other government bodies.

Until his brush with the law, Mr. Nekschot was barely known outside a narrow circle of Internet-savvy aficionados. Newspapers shunned his caricatures. "They all said 'no way,' " he recalls. "They thought I was too offensive, too explicit and too strong on sensitive issues like religion." He set up his own Web site, at www.gregoriusnekschot.nl/blog, in 2003 to break the blockade. He published two books, "Sick Jokes" in 2006 and "Sick Jokes 2" earlier this year, but sales languished. A big book distributor refused to touch them.

Today, he's a cult phenomenon. Hits on his Web site went from a few thousand a day to over 100,000 a day when news of his arrest broke, he says. Newspapers that wanted nothing to do with him now print his work. He's been interviewed on television -- with his face hidden -- and his work is currently on display in the Parliament building, where Mr. Rutte, the politician, has set up a "free-thinkers space." Other exhibits include poems by Mr. Van Gogh, the murdered filmmaker, and abstract paintings of seminaked women that were banished from a town hall in central Holland after complaints from Christians and Muslims.

Guessing Mr. Nekschot's true identity has become a media parlor game -- to the chagrin of one prominent cartoonist who was named in print, wrongly, as the mystery man. The case has also stirred much speculation in the media and Parliament about why an apparently dormant investigation first launched in 2005 suddenly became so urgent that Mr. Nekschot had to be snatched from his home without warning. The prosecutor's office says it simply took a long time to figure out Mr. Nekschot's true identity and then find him.

Others say the timing of his arrest suggests an attempt by authorities to soothe Muslims angry over the March release on the Internet of "Fitna," a short film by Mr. Wilders, the Dutch legislator. The film, which denounces "hateful verses from the Quran," infuriated many Muslims and also Dutch leaders, who had urged that it not be released.

Officials deny any connection. The prosecutor's office notes that it has also taken action against Muslims suspected of discrimination. A Moroccan-born Dutchman was recently convicted of discrimination for writing in a blog that homosexuals should be tossed from rooftops and thrown down stairs. A court ordered him to do community-service work.

Mr. Nekschot makes no apologies for causing offense. "Harmless humor does not exist," he says. "I like strong stuff."

But, eager to stay out of prison, he's pruned his Web site of eight cartoons that prosecutors say are the focus of their investigation. Deleted were cartoons of a Muslim at the North Pole engaging in deviant sex, and of a black youth waving two pistols at a left-wing do-gooder wearing a peace sign.

Among the cartoons that survived his cut is a drawing of Mr. Van Gogh's jailed killer naked on his prison bed. It shows him leering salaciously at a copy of the Quran and lamenting that the holy book doesn't have any pictures.

The cartoonist blames his woes on what he calls Holland's "political correctness industry," a network of often state-funded organizations set up to protect Muslims and other minority groups. One of these, an Internet monitoring group known as MDI, says it received dozens of complaints about the cartoonist's mockery of Islam and first reported him to the prosecutor's office in 2005.

"We're not sure what he does is illegal, but there is a possibility that it is not legal," says the group's head, Niels van Tamelen. Many of the complaints, he says, came from followers of a controversial Muslim convert called Abdul-Jabbar van de Ven.

Mr. Van de Ven caused an uproar after the 2004 murder of Mr. Van Gogh, when he seemed to welcome the killing on national TV. He said Mr. Wilders, the anti-immigrant legislator, also deserved to die, preferably from cancer. Mr. Nekschot, appalled by the outburst, caricatured the convert as a fatwa-spewing fanatic.

Mr. Van de Ven says he's glad to see Mr. Nekschot in trouble. The cartoonist deserves prosecution, he says, for "disgusting cartoons about our beloved prophet Muhammad, may Allah's peace and blessings be upon him." Politicians who cry about free speech, he says, "shouldn't stick their noses into judicial matters."

Mr. Nekschot says everyone is entitled to their opinions. "If people say my cartoons are disgusting that is fine by me. I see lots of things I don't like. Beauty is in the eye of the beholder."