Muslim Hate of Jokes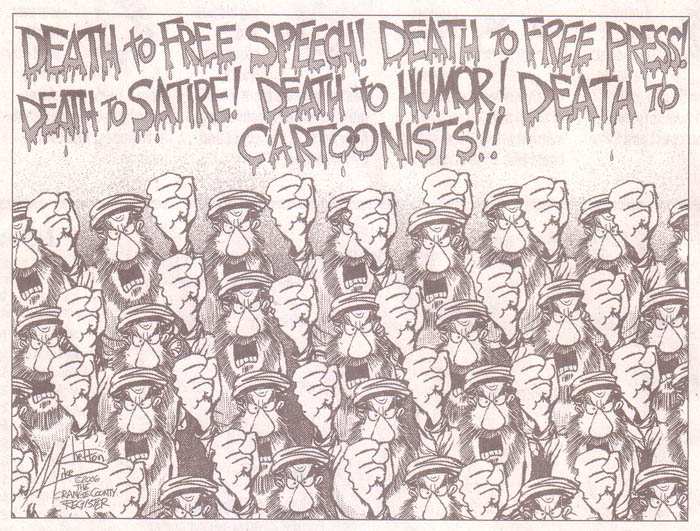 Egypt comedian found guilty of offending Islam
April 24, 2012

CAIRO (AP) — An Egyptian court on Tuesday upheld a conviction against one of the Arab world's most famous comedians, sentencing him to jail for offending Islam in some of his most popular films.

The case against Adel Imam and others like it have raised concerns among some Egyptians that ultraconservative Muslims who made gains in recent elections after Hosni Mubarak's ouster last year are trying to foist their religious views on the entire country. Critics say the trend threatens to curb Egypt's vibrant film industry and freedom of speech.

Imam was sentenced to three months in jail and fined around $170 for insulting Islam in roles he played in movies such as "The Terrorist", in which he acted the role of a wanted terrorist who found refuge with a middle class, moderate family, and the film "Terrorism and Kabab. "

The actor was also found guilty for his 2007 role in "Morgan Ahmed Morgan," in which Imam played a corrupt businessman who tries to buy a university diploma. The film included a scene parodying bearded Muslim men wearing traditional Islamic clothing.

Author Alaa al-Aswany, whose best-seller "The Yacoubian Building" was turned into a film costarring Imam, said the court ruling sets Egypt back to the "darkness of the Middle Ages."

"This is an unimaginable crime of principle in developed nations," he said in remarks posted on his Twitter account Tuesday.

The case is one of many brought by conservative lawyers in recent months seeking to punish individuals they deem as having offended Islam. Earlier this year, two courts rejected blasphemy cases against Christian media mogul, Naguib Sawiris, after he relayed a cartoon online of Mickey Mouse with a beard and Minnie in a face veil.

The cases highlight the newfound sense of empowerment among followers of the ultraconservative Salafi trend of Islam in Egypt after Mubarak was toppled in a popular uprising. Their newly formed Al-Nour party won 25 percent of seats in parliament, emerging as the second most powerful group in Egypt after the more moderate Muslim Brotherhood.

The mere filing of such blasphemy cases by Salafi lawyers has raised concern among rights groups and liberals about attempts to curb freedom of speech.

Egyptian entertainment reporter Tarek el-Shinnawi said the case against Imam is a setback for Cairo's famed film industry, which has produced the region's most popular films.

"It will make any writer, director or actor think before considering the role of a Muslim figure," el-Shinnawi said.

Imam was initially found guilty in February in a case brought by an ultraconservative Islamist lawyer. He was given a retrial since he was first tried in absentia. He did not appear in court Tuesday but his lawyers did. Imam has the right to appeal.

Under Mubarak, government censors controlled what could be shown in theaters or filmed by major studios. The films Imam starred in were approved by the censors.

El-Shinnawi argued that a legally sound case would involve the writers and directors, and the censors who approved the movies, not just the star of the films.

Imam, 71, has acted in dozens of films in a career that spans nearly 50 years.

Long a beloved figured in Egypt, Imam lost popularity among Egyptian protesters for supporting Mubarak during last year's 18-day revolt.

In one of his most popular roles, Imam played an Arab dictator in a 1998 satirical play called el-Zaeem. The play has since been aired on satellite television across the Arab world, bypassing state censors and gaining popularity through its comedic take of a tyrannical figure.


Entertainer apologizes formally for remarks over Muslim culture
Popular Taiwanese entertainer Jacky Wu offered a humble public apology on Wednesday for a gaffe he made on his variety show that has outraged the island's Muslim community.

Wu stirred up a public outcry when he said last month that Muslims did not eat pork because their prophet Mohammed had once drunk pig milk.

He apologized the following week on air, but his mea culpa was deemed "insincere" by Taiwan's Muslim community, which numbers 50,000 to 60,000.

"Wu's comment was ignorant and it hurt the feelings of Muslims and insulted our religion," said Salahuding Chao-yen Ma, chairman of the Taipei Grand Mosque.

On Wednesday, a solemn-faced Wu bowed deeply before the cameras, saying: "I gave my deepest apology to Muslim friends."

Taiwan Television Enterprise, which aired Wu's show, also promised to run a formal apology in major local newspapers.

"We extend our deepest apology to the Muslim community for the host's ignorance and lack of knowledge of the religion," said TTV acting program manager Wang Li-chen.

"We would also from now on endeavor to promote understanding of Islam and other faiths."

Muslims flooded TTV's Web site with complaints following Wu's comments, and some even protested outside the station on Tuesday.

"TTV can use this issue as an opportunity to educate the public and spread information about the correct concepts of Muslim," Ma told reporters.

Taiwan is a religiously diverse society where some 19 different faiths are practiced, though Buddhism and Taoism are the pre-dominant faiths, with four to five million believers each of a population of 23 million.
Finding fun in Islamic world
Muslims enjoy a laugh, and they especially like jokes about Bush
OMAR SACIRBEY
August 5, 2006
Religion News Service
What makes the world's 1.4 billion Muslims laugh?
Ahmed Ahmed has some answers.
"How do you know you're a Muslim?" the Egyptian American comedian asked, recalling one bit that worked in Dubai, in the United Arab Emirates. "When you drink, gamble and have sex -- but don't eat pork."
Ba-da-boom.
"People there laugh at the same things we do," Ahmed said, ticking off a list that included dating, religion, airport security and getting into nightclubs. Not to mention George W. Bush.
Comedy does indeed exist in the Muslim world. But, as suggested by Albert Brooks' recent film "Looking for Comedy in the Muslim World," stand-up is still a rarity in Muslim countries.
Films, sitcoms and talk shows have been making Muslims laugh for decades. Newspapers, magazines and theater troupes dish out political satire and poke fun at celebrities and the wealthy. Even jokesters that some regimes won't tolerate can still find captive audiences in the privacy of dinner parties or the ubiquitous cafes of the Middle East and other Islamic countries, where story- and joke-telling have been elevated to an art form.
Eccentric families, politicians and awkward boy-girl situations are all sources of comic relief from Morocco to Malaysia. At the same time, following decades of colonialism, corrupt regimes and war, many Muslims have become masters at turning misfortune into laughter.
Across the Muslim world, it seems, misery loves comedy.
Curfews, diets, politics
Consider Mayzoon Zayid, a Palestinian American who claims to be the first stand-up to perform in the West Bank and Gaza. The winning jokes there were about Israeli curfews, diets and Arab men marrying one of Bush's twin daughters (both girls, she said, if you're Muslim)."People there laugh at themselves all the time, because if they don't, they will go insane," said Zayid, 30.
Comedian Maz Jobrani, whose family fled Iran when he was 6 around the time of the Iranian revolution, agrees that misery breeds humor.
"Look at the history and what's happened to us and our countries. You have to have a sense of humor," said Jobrani, 33. "These countries have gone through so much crap that they have to laugh at it."
Misery isn't the only source of humor for Muslims.
"Arabs are very political, so any humor you do about politics is funny. Any humor you do about a crazy mother-in-law is funny. It's the things that people all relate to," said Zayid.
"George Bush is the universal joke," she added. "In Amman, Beirut, Palestine, Nazareth, every single place I've gone and told a George Bush joke, people freak out laughing."
Tread carefully in Iran
There's even political humor in Iran, home to almost 70 million Muslims, but writers and filmmakers can't name politicians and must tread carefully or risk running afoul of the hard-line Islamic regime.
"You see a lot of subtext in this stuff," Jobrani said, talking about Iranian films. "People have to really think about how they're going to comment on something the regime just did."
What might make Americans laugh, however, might not work on all Palestinians.
"When I'm doing comedy in the Muslim world, I'm not doing pop culture jokes, I'm not talking about Britney Spears, I'm not doing jokes about sexuality," Zayid said. "I choose to do the comedy that they're going to enjoy, because you have to take your audience into account. And talking about being a virgin, this is not funny to them; they're all that way. It's not unique."
On the other hand, sex jokes play well in Indonesia. Abdurrahman Wahid, a grandfatherly Muslim cleric and former president popularly known as Gus Dur -- he "has a joke for every occasion," said Time magazine -- even has a few sex jokes on his personal Web site.
While an Indonesian president can get away with sex jokes, "people usually don't like for comedians to talk about these topics," said Anis Shakur, who writes about Pakistani culture.
But that hasn't stunted comedic talent in Pakistan, where nearly 160 million Muslims live, thanks to a modern comedic tradition that started in films and accelerated with the introduction of TV there in the early 1960s, Shakur said. Instead, comedy about families, gender relations or poking fun at wealthy businessmen or vain celebrities prevails, Shakur said.
Pakistan's best known comedians are perhaps Moin Akhtar, considered by many to be the country's King of Comedy, and Umar Sharif. Both starred in numerous films going back to the 1960s and hosted TVs shows that featured jokes, impersonations, improv and sketch comedy. Although both Akhtar and Sharif still perform, their generation is giving way to younger entertainers like Faisal Qasi, who, according to online reviews, is putting audiences in stitches.
OK by Scripture
Islamic Scripture seems to have given a cautious nod to comedy. The Hadith, a collection of sayings by the Prophet Muhammad that ranks second to the Quran as a source of guidance, encourages humor and laughter. But Muhammad is also reported to have said, "Every Muslim should beware of making fun of his fellow brother," and warned that "too much laughter kills the heart."
There's no specific Hadith on stand-up. One self-described comedy writer from the United Arab Emirates, however, wrote in 2004 to IslamOnline.net, a Web site on which Islamic scholars field questions concerning religion, asking if writing comedy was permitted.
The reply: "Islam does not require that the speech of Muslims should consist entirely of pious utterances, that their silence should be one of meditation, that they should listen to nothing except the recitation of the Quran, nor that they should spend all their leisure time in the mosque."
"Rather, it recognizes that ... as they need to eat and drink, they also need to relax and enjoy themselves. Therefore, it is permissible to write comedy, particularly if it aims at highlighting moral behavior and other positive objectives."
Another entry at IslamOnline notes: Prophet Muhammad ... was a very pleasant light-hearted person. Despite all the severity and seriousness of his function, his company was neither dull nor uninteresting, but was full of pleasant and sincere humor. With his pleasant ways and moderate joking, the Prophet showed us that religion does not have to make us dull and disagreeable."
Next up: Egypt
Ahmed and Zayid say they hope to bring more stand-up to the Muslim world, and are confident there's an audience for it.
"I want to bring comedy to Egypt, that's one of my missions," said Ahmed, who gets e-mail from aspiring comics in the Middle East seeking advice on how to get started.
Zayid, who spends about three months a year in the Palestinian territories running arts and health programs for children wounded or orphaned, has also done comedy workshops for adults and children there, and is planning more for this year.
She believes there's an up-and-coming generation of Palestinian comics, and every couple of months she gets calls from friends in the Palestinian territories with stand-up sightings.
TV comic is killed as Iraq death toll climbs by more than 100
Total increases as November becomes the war's deadliest month so far.


By THOMAS WAGNER
Tuesday, November 21, 2006
The Associated Press
BAGHDAD, Iraq – Gunmen shot and killed a television comedian Monday who was famous for mocking everyone from the Iraqi government to U.S. forces to Shiite militias to Sunni insurgents.
Walid Hassan's slaying came as the Iraqi death toll rose to more than 1,300 for the first 20 days of November – the highest for any month since The Associated Press began tracking the figure in April 2005. October had been the previous high, at 1,216.
In all, 25 Iraqis were killed Monday in a series of attacks in Baghdad, Ramadi and Baqouba, police said. The bodies of 75 Iraqis who had been kidnapped and tortured also were found on the streets of the capital, in Dujail to the north of Baghdad and in the Tigris River in southern Iraq.
The actual totals are likely considerably higher because many deaths are not reported. Victims are quickly buried according to Muslim custom and never reach morgues or hospitals to be counted.
In addition to the victims of violence, countless Iraqis have had close calls with death. Among them were two officials who escaped assassination Monday.
Minister of State Mohammed Abbas Auraibi, a member of Iraq's Shiite majority, said a roadside bomb hit his convoy at about 9:30 a.m. as it was driving on a highway in eastern Baghdad. Two bodyguards were wounded.
Hakim al-Zamily, a Shiite deputy health minister, also escaped unhurt when gunmen opened fire on his convoy in Baghdad, killing two guards, the minister said.
On Sunday, suspected Sunni insurgents kidnapped another deputy health minister, Shiite Ammar al-Saffar, from his home in northern Baghdad. Officials said the gunmen wore police uniforms and arrived in seven vehicles to abduct al-Saffar, who was believed to be the most senior official kidnapped since the war began in March 2003.
Al-Saffar was seized nearly a week after dozens of suspected Shiite militia gunmen in police uniforms kidnapped scores of people from a Ministry of Higher Education office in Baghdad. That ministry is predominantly Sunni.
Monday's civilian victims included Hassan, an actor and comedian on Al-Sharqiyah TV who was shot while driving in western Baghdad. The motive for his slaying was unknown. Hassan had performed in a comedy series called "Caricature," which mocked coalition forces, insurgents, militias and Iraq's government. He was also a director of the station and hosted an interview show.
Assailants also shot to death Fulayeh al-Ghurabi, a Shiite professor at Babil University in the province south of Baghdad, as he was driving home at midday, police said.
A U.S. soldier was killed by a roadside bomb in Baghdad on Saturday night and a U.S. Marine died during combat in Anbar province on Sunday, the military said, raising to at least 2,865 the number of U.S. service members who have died since the beginning of the Iraq war. This month, 47 American service members have lost their lives.
MUSLIM JOKE #1
A fleeing Muslim, desperate for water, was plodding through the Afghanistan desert, when he saw something far off in the distance.

Hoping to find water, he walked toward the object, only to find a little old Jewish man at a small stand selling neckties.

The Muslim asked, "Do you have water?"
The Jewish man replied, "I have no water. Would you like to buy a tie? They are only $5."

The Muslim shouted, "Idiot Jew! Israel should not exist! I do not need an overpriced tie. I need water! I should kill you, but I must find water first."
"OK," said the old Jew, "it does not matter that you do not want to buy a tie, and that you hate me. I will show you that I am bigger than that. If you continue over that hill to the east for about two miles, you will find a lovely restaurant. It has all the water you need. Shalom"

Muttering, the Muslim staggered away over the hill.
Several hours later, he staggered back. "Your brother won't let me in without a tie."
MUSLIM JOKE #2
The Iranian Ambassador to the United Nations had just
finished giving a speech, and walked out into the lobby,
where he met President Bush.

They shook hands, and as they walked, the Iranian said,
"You know, I have just one question about what I have
seen in America."

President Bush said,
"Well, anything I can do to help you, I will."

The Iranian whispered, "My son watches this show
'Star Trek', and in it there is Chekhov, who is a Russian,
Scotty who is Scottish, and Sulu who is Chinese, but
no Muslims. My son is very upset, and doesn't
understand why there aren't any Muslims on Star Trek."

President Bush laughed, leaned toward the Iranian
ambassador, and whispered back, "It's because it
takes place in the future."
MUSLIM JOKE #3
The cork

Two Muslim terrorists are in a locker room taking a shower after their bomb making class, when one notices the other has a huge cork stuck in his butt.

"If you do not mind me saying," said the second, "that cork looks very uncomfortable. Why do you not take it out?"

"I regret I cannot", lamented the first Muslim. "It is permanently stuck in my butt."

"I do not understand," said the other.

The first Muslim says, "I was walking along the beach and I tripped over an oil lamp. There was a puff of smoke, and then a huge old man in an American flag attire with a white beard and top hat came boiling out. He said, "I am Uncle Sam, the Genie. I can grant you one wish."

I said, "No shit?"
MUSLIM JOKE #4
Mohammad, the Muslim, came to the United States
from the Middle East.
He was only here a few months, when he
became very ill.
He went to doctor after doctor, but none of
them could help him.
Finally, he went to an Muslim doctor, who said,
"Take dees bocket, go into de odder room,
poop in de bocket, pee on de poop, and den
put your head down over de bocket, and
breathe in de fumes for twenty minutes."
Mohammad took the bucket, went into the other
room, pooped in the bucket, peed on the
poop, bent over, and breathed in the fumes
for thirty minutes.
Coming back to the doctor, he said, "It
worked! I feel terrific! What was wrong
with me?"
The doctor said, "You were homesick!"
MUSLIM JOKE #5

Investment Opportunity

Thought you might want to consider getting on board early.

A Canadian engineer just started his own business in Afghanistan.

He's making land mines that look like prayer mats.

It's doing well.

He says prophets are going through the roof.