MUSLIM HATE OF JUSTICE!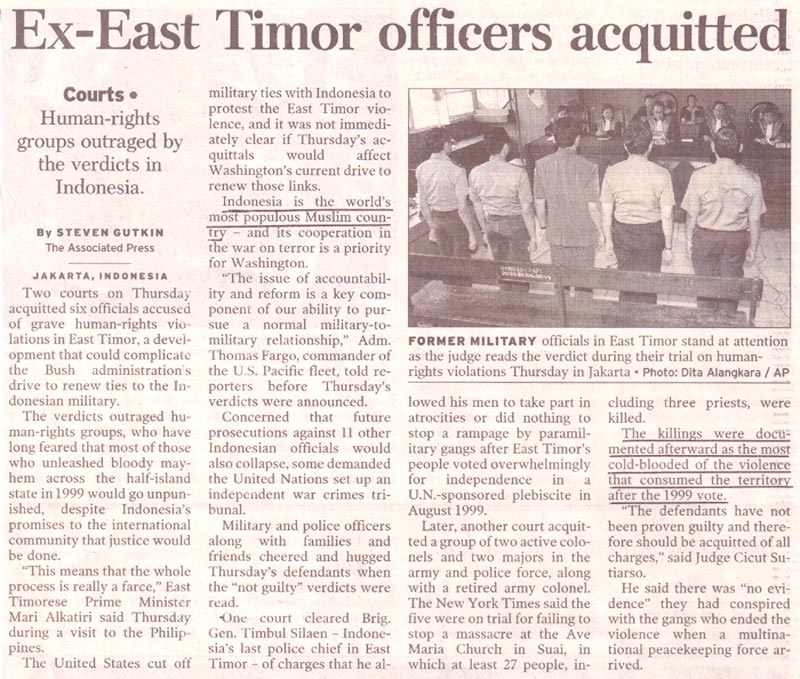 Teenager may be beheaded in death of Saudi baby
By Donna Abu-Nasr
The Associated Press
RIYADH, Saudi Arabia — Rizana Nafeek, a 19-year-old housemaid from Sri Lanka, is on death row because the baby in her care died while she was bottle-feeding him. If her appeal is turned down, she will be taken to a public square to be publicly beheaded.

The Sri Lankan government says it is working for a reprieve and has until Monday to file the plea. A last-minute pardon by the infant's parents also could spare her. But if her execution goes ahead, it will be the latest in a surge of beheadings that could surpass the kingdom's record of 191 in 2005.

The figure for 2007 already is at least 102, including three women, according to Amnesty International.

Beheading always has been the punishment meted out to murderers, rapists, drug traffickers and armed robbers in Saudi Arabia. Whether what Nafeek did amounts to murder never has been spelled out by courts or other officials, but Saudi authorities, facing criticism from foreign human-rights groups, insist they are just enforcing God's law.

Was she railroaded?

Amnesty International says some defendants are convicted solely on the basis of confessions obtained under duress, torture or deception.

Speaking of the housemaid's sentence, Kate Allen of Amnesty International called it "an absolute scandal that Saudi Arabia is preparing to behead a teenage girl who didn't even have a lawyer at her trial."

Nafeek arrived in the kingdom May 4, 2005, to work as a housemaid. She was given the additional duty of looking after the baby boy, a job the Sri Lankan Embassy says she was not trained to do. The embassy says the infant died May 22 while she was bottle-feeding him.

Nafeek allegedly confessed, the statement said, but then recanted, saying her admission was obtained under duress.

The Asian Human Rights Commission, an independent Hong Kong-based body of jurists and human-rights activists, said it was an accident. The child was choking, it said, and Nafeek "was desperately trying to help by way of soothing and stroking the chest, face and neck of the baby."

An estimated 5.6 million foreign workers, many of them Asian, serve a Saudi population of 22 million. Of the 102 people executed this year, half were foreigners, according to Amnesty International.

"Allah, our creator, knows best what's good for his people," said Suhaila Hammad of Saudi Arabia's National Society for Human Rights. "Should we just think of and preserve the rights of the murderer and not think of the rights of others?"

Saudi ritual

Beheadings are carried out with a sword, with no photos allowed. Prisoners, usually sedated, kneel, flanked by clerics and law-enforcement officials and facing the victim's family.

"The prisoner now recites verses from the Quran while a government official reads the charges and the verdict," according to an account in Arab News. "Halfway through the reading the executioner suddenly nicks the back of the prisoner's neck with his sword, causing him to tense and raise his head involuntarily."
Then, in one swift move, the prisoner is decapitated.

Beheadings usually take place in a square next to a mosque.

Some families pardon prisoners, just minutes before the blade falls. Others do it before an execution date is set in exchange for money or in response to appeals from members of the royal family.

A famous case was that of Samira Murait. In 2000 she shot dead a male acquaintance who stalked her after she married. After mediation efforts and pleas from the public as well as from a Saudi prince, the family agreed to forgive her. She had spent seven years in prison.

But Nafeek's Saudi employers refused to pardon her, and a court in Ad Dawadimi, 250 miles west of Riyadh, sentenced her to death June 16.