MUSLIM SHARIAH LAW
Sharia courts in the UK are run by extremists who back cutting off criminals' hands, says Muslim scholar

• Sharia courts in Britain are run by clerics who believe some offenders should have their hands chopped off, an investigation found
• A Muslim scholar said some clerics believe girls can be married at 12
• Findings come amid continuing controversy over the role of sharia courts

By STEVE DOUGHTY
SOCIAL AFFAIRS CORRESPONDENT FOR THE DAILY MAIL
28 February 2016

Sharia courts administering Islamic justice in Britain are run by clerics who believe some offenders should have their hands chopped off, an investigation has found.

Muslim scholar Elham Manea said that some clerics also believe girls can be married at the age of 12 and described their prevailing attitude as 'totalitarian' and more backward than some parts of Pakistan.

The findings from the human rights specialist come amid continuing controversy over the role of sharia courts, which rule in family and inheritance disputes between Muslims who agree to be bound by the decisions. There are thought to be around 85 operating in Britain.

Last December, Home Secretary Theresa May set up an independent review into their role, amid fears that they discriminate against women.

Professor Manea, who is based at Zurich University, spent four years speaking to clerics at sharia courts in London and the Midlands. Her book on the project concludes that the courts represent 'closed communities'.

Her findings, published by The Sunday Times, said that they increase 'segregation, inequality and discrimination' and can encourage 'political instability and home-grown terrorism'.

The verdict was strongly disputed by the Muslim Council of Britain, which said it was committed to ensuring sharia courts treat parties with respect and fairness and that they apply 'rules of natural justice'.

Professor Manea gave examples of incidents involving British sharia courts – which included that of a young woman forced to marry her cousin in Pakistan, who was subsequently raped on their wedding night. The woman appealed to a tribunal in Britain – which found that since she was married there could be no rape.

The professor quoted one cleric saying that 'puberty is the right age' for a girl to marry, and that 12 and 13-year-old girls are 'more or less fully–fledged women'. Another was reported saying 'a man should not be questioned why he hit his wife because this is something between them'.

Another said it was fair that in matters of inheritance a woman should get half that of a man. Professor Manea also found that a number of the clerics agreed with the idea that some offenders should have their hands chopped off as a form of 'corporal punishment'.

She said in the book, Women And Sharia Law: The Impact Of Legal Pluralism In The UK: 'The fatwas and opinions of these men have grave consequences. A child will be raped in the name of religion. A woman will be beaten in the name of religion.'

She is also critical of British public figures, such as the former Archbishop of Canterbury Rowan Williams, who have lent support to sharia courts.

Some sharia courts operate by consent among those who use them and others operate under arbitration law. A similar arrangement covers Jewish beth din courts.

A spokesman for the Muslim Council of Britain said: 'These bodies have no enforcement powers and operate only with consent of parties. Either party, if dissatisfied, is free to seek redress from courts in the UK.

'Sharia law is subservient to the civil as well as criminal law. We cannot comment on the complaints referred to in the book, as the MCB is not aware of the full facts.

'The MCB is committed to ensure that the councils apply rules of natural justice in their proceedings, treat parties with equal respect and fairness, have more women members on panels and all panel members are given training.'

Saudi blogger Raif Badawi wins EU's Sakharov rights prize
Reuters
BY ROBIN EMMOTT
10-29-2015
Saudi blogger Raif Badawi, who has been sentenced to 1,000 lashes and 10 years in jail for insulting Islam and for cyber crime, was awarded the European Union's prize for human rights and freedom of thought on Thursday.
Badawi received the first of his 50 lashes in January, prompting strong criticism in Western countries of the kingdom's human rights record, including its restrictive laws on political and religious expression and the status of Saudi women.
This month in London, he was given the International Writer of Courage award and was co-recipient of the PEN Pinter Prize.
Saudi Arabia's ambassador in London on Monday threatened "potentially serious repercussions" for its ties with Britain unless a more respectful discourse developed.
British lawmaker Syed Kamall, a member of the European assembly who nominated Badawi for the EU prize, said, "Saudi Arabia can lock up the man and they can lash him, but they will only strengthen amongst his countrymen the yearning for free speech and debate that he stands for."

A Jeddah court handed Badawi his sentence in 2012 after he criticised the Saudi clergy in a blog and called for changes in the way religion is practiced in Saudi Arabia.
Saudi Arabia, which follows the strict Wahhabi form of Islam, does not permit the public worship of other faiths or allow them to maintain places of worship inside the country. In a new law last year, it included atheism as a terrorist offence.
Named in honour of Soviet scientist and dissident Andrei Sakharov, Badawi's latest prize has been awarded by the European Parliament annually since 1988. The first recipients were Nelson Mandela and Russian author and dissident Anatoly Marchenko.

Britain must ban sharia "kangaroo courts", say activists

By REUTERS
PUBLISHED: 10:59 EST, 15 June 2015
By Emma Batha
LONDON, June 15 (Thomson Reuters Foundation) - Britain's new government must abolish Islamic sharia courts, campaigners said on Monday, describing them as "kangaroo courts" that deliver second-rate justice and trample over the rights of women and children.
They called for the government to stick to pre-election promises to hold an inquiry into sharia courts which first appeared in Britain in the mid-1980s.
"Over the years, we have witnessed with increasing alarm the influence of 'Sharia courts' over the lives of citizens of Muslim heritage," nearly 200 women's rights and secular campaigners said in a statement.
"Though the 'Sharia courts' have been touted as people's right to religion, they are in fact, effective tools of the far-right Islamist movement whose main aim is to restrict and deny rights, particularly those of women and children."
It has been reported that there are 85 such courts in Britain, but the number is unknown. The courts -- called sharia councils -- deal mostly with family matters, in particular divorce.
Campaigners say women in abusive relationships are being forced to return to their husbands while others end up in destitution following divorce under sharia law. Many women also lose custody of their children after divorce.
The courts give a woman's testimony only half the weight of that of a man, campaigners say, and sons inherit twice the share of daughters.
Sharia councils contacted by the Thomson Reuters Foundation were not immediately available for comment. But the Islamic Sharia Council in east London says on its website that it takes a "harsh stance" on domestic violence, never forces a woman to stay with a husband she wants to divorce and always insists that couples refer custody issues to civil courts.
The campaigners' statement called on the government to stop the development of parallel legal systems and to defend the principle of one law for all.
The 197 signatories include women's rights groups and secular organisations along with prominent writers, academics, journalists and lawyers. Many of the signatories are from a Muslim background.

Britain's Home Office said on Monday that a review into sharia courts would be included in a counter extremism strategy to be announced soon.

Some supporters of sharia councils have suggested problems with the system should be addressed through regulation, but opponents say the courts simply should not exist.

"Opposing 'Sharia courts' is not racism or 'Islamophobic'; it is a defence of the rights of all citizens, irrespective of their beliefs and background to be governed by democratic means under the principle of one law for all," the statement added.

The statement also called for the government review to examine the impact of "draconian" legal aid cuts which they said were increasingly forcing abused women from minority backgrounds to go to sharia courts to sort out family legal proceedings.

Sharia law derives from the Koran and the Hadiths, the sayings and customs attributed to the Prophet Mohammad, as well as rulings by Islamic scholars.

But the statement pointed out that sharia laws are contested in many Muslim-majority countries including Iran, Algeria, Tunisia and Pakistan.



Islamic law and suspicion fuel polio resurgence
Imran Ali Teepu, Special for USA TODAY
November 30, 2013
The problem is prompting some polio-free countries to demand that visitors from high-risk countries take oral vaccines at the airport upon arrival.

Once close to eradication worldwide, the dreaded disease polio is resurfacing in Muslim-majority countries where vaccinations are hard to come by due to war, religious edicts and ignorance, experts say.
The latest example comes this week in Syria, where a strain of polio originating in Pakistan has crippled more than a dozen children, according to doctors for the Kurdish Red Crescent. Cases have also been showing up in Somalia, Afghanistan and Nigeria.
The problem is prompting some polio-free countries to demand that visitors from high-risk countries take oral vaccines at the airport upon arrival if they cannot prove they've gotten the vaccine.
"The Saudi government has introduced restrictions for all those traveling to the Holy Land from polio-affected countries," said Mazhar Nisar of Pakistan's Ministry of National Health Regulations and Services.
"Every pilgrim is to take polio vaccine before traveling to Saudi Arabia and also upon arrival at any of the international airports in the Kingdom," Nisar said.
Polio is a highly contagious disease caused by a virus in the throat and intestinal tract that can cause paralysis, crippling and even death. It was once the leading cause of disability in the United States and infected millions of people worldwide until the introduction of the polio vaccine in the 1950s.
The disease was eradicated in the United States. Worldwide, there were fewer than a thousand cases and it was headed for total eradication until recently, according to the World Health Organization.
Polio outbreaks have been growing in Pakistan, Nigeria and Somalia, and people from those countries have traveled and spread it elsewhere. More than 1 million children in the Horn of Africa alone have not received polio vaccinations, according to the Polio Global Eradication Initiative.
In Somalia, teams of vaccine workers have been unable to get to children because of impediments brought on by a civil war in which some militant leaders prevent food and medicine from getting to the villages of their enemies. In Nigeria, some parents refuse to let their children be vaccinated unless vaccine groups give the families more benefits.
In Pakistan's Northwest territories, where Taliban clerics have significant influence, polio vaccination teams are maligned as un-Islamic or Western purveyors of poison meant to sterilize Muslim women.
A cleric in Pakistan's Punjab province warned that a jihad would be launched against polio vaccination teams, whose mission he labeled a Western conspiracy, frightening away a team that arrived in Muzaffargarh, according to The Express Tribune.
This week, militants in northwestern Pakistan kidnapped 11 teachers involved in a polio vaccination campaign. Local official Khyali Gul said the teachers were taken from a school in the Bara area, close to Pakistan's northwestern border with Afghanistan.
The United Nations in Pakistan pulled its staff involved in immunization from Pakistan after three eradication workers were shot in Peshawar and two of them were killed, in 2012. Since then, more vaccine teams have been targeted.
Without vaccination, the cases of polio are rising in Pakistan, as is the appearance of the Pakistani strain of polio in other countries where infected Pakistanis travel.
The Pakistani polio virus was found in sewage samples in Israel in June this year (the virus can be found in fecal matter of an infected person) and in Cairo in January.
Thousands of Pakistanis travel to Saudi Arabia every year for the Hajj, the pilgrimage to Islam's holy city of Mecca. And many Pakistanis have been flowing into Syria this year to fight in a civil war against dictator Bashar Assad.
Several cases were confirmed in a province bordering the Kurdish-controlled northeast, says the Kurdish Red Crescent. The United Nations confirmed 10 polio cases in northeast Syria, the first confirmed outbreak of the disease in the country in 14 years. The confirmed cases involved babies and toddlers.

The World Health Organization says the once-rare disease could be resurrected and has declared a polio emergency across the Middle East. Allias Durray, a doctor who is the chief of polio eradication for Pakistan, warned that Europe may be next.
"After the Syrian polio outbreak and the flight of refugees in proximity to Turkey and European Union, it is evident that the polio virus is at the doorstep of Europe," he said.
Not all countries check for polio vaccinations among foreign visitors from countries where polio is considered endemic. The United States requires immigrants be vaccinated, but not visitors.
"We collaborate closely with international organizations and other countries to make sure that international and U.S. guidance on vaccination for immigrants is implemented, said Donda Hansen, media spokesperson for the Center for Global Health at the Center for Disease Control in Atlanta.
"The U.S. maintains 'elimination status' in the U.S. by aggressively investigating every suspected case to determine whether an importation has occurred, taking steps to prevent transmission, and safeguarding Americans," Hansen said.


Saudi jails Lebanese who helped woman convert to Christianity
Published Sunday, May 12, 2013

A Saudi court jailed a Lebanese man for six years and sentenced him to 300 lashes after convicting him of encouraging a Saudi woman to convert to Christianity, Saudi dailies reported Sunday.
The same court sentenced a Saudi man convicted in the same case to two years in prison and 200 lashes for having helped the young woman flee the ultra-conservative, US-backed Sunni kingdom, local daily Al-Watan said.
A court delivered the verdict in Khobar in the kingdom's east, where the woman and the two accused worked for an insurance company.
The July 2012 case caused a stir in Saudi Arabia, which applies a strict version of Sharia that stipulates Muslims who convert to another religion must be sentenced to death.
The woman, known only as "the girl of Khobar," was granted refuge in Sweden where she lives under the protection of unspecified NGOs, according to local press reports.
She had appeared in a YouTube video last year in which she announced that she had chosen to convert to Christianity.
Her family's lawyer Hmood al-Khalidi said he was "satisfied with the verdict," according to the press.
Both men, who could also be prosecuted over other charges including corruption and forging official documents that allowed the woman to leave the country without her family's agreement, will appeal.
Saudi women are banned from travelling without their guardians' permission.
(AFP)


Sex and Sharia: Muslim women punished for failed marriages
By Charlotte Rachael Proudman
Monday, 2 April 2012

Today I received another telephone call from a young Muslim woman, Nasrin, who pleaded with me to help her obtain an Islamic divorce. After fleeing a forced marriage characterised by rape and physical violence, Nasrin applied for an Islamic divorce from a Sharia council; that was almost 10 years ago now. Despite countless emails, letters and telephone calls to the Sharia council as well as joint mediation and reconciliation meetings, the Sharia council refuse to provide Nasrin with an Islamic divorce. Why? Because of Nasrin's sex. An Imam at the Sharia council told Nasrin that her gender prevents her from unilaterally divorcing her husband, instead the Imam told her to return to her husband, perform her wifely duties and maintain the abusive marriage that she was forced into.
Having represented Muslim women pro bono at Sharia law bodies across the UK to obtain Islamic divorces, I am all too aware of the gender discriminatory experience many Muslim women suffer at some Sharia councils and Muslim Arbitration Tribunals ('Sharia law bodies'). Unfortunately their experiences have not been highlighted by the media. Instead some Sharia law bodies have been misrepresented by the media as being transparent, voluntary and operating in accordance with human rights and equality legislation. This is not the case.
Many Sharia law bodies rule on a range of disputes from domestic violence to child residence all of which should be dealt with by UK courts of law. Having observed Sharia law bodies ruling on legal disputes it is all too apparent that they operate within a misogynist and patriarchal framework which is incompatible with UK legislation. For instance, the cost of an Islamic divorce is £400 for a woman compared to £200 for a man at the Islamic Sharia Council in East London; this is an example of blatant gender discrimination which is incompatible with the Equality Act 2010.
With over 85 Sharia law bodies operating in the UK, the majority of which charge vulnerable and impoverished Muslim women astronomical fees, Sharia law bodies have become successful and lucrative businesses. For instance the Islamic Sharia Council rules on over 500 Islamic divorces per annum at a cost of £400 for every woman applicant, equating to an annual turnover of £200,000 for Islamic divorces only. If we consider the additional legal disputes they rule upon it is likely some Sharia law bodies have an annual turnover of over £500,000. The majority of women I represent can barely afford a £15 weekly shop let alone £400 for an Islamic divorce. These destitute women have been forced to pawn their jewellery and take out loans from dangerous loan sharks in order to pay for Islamic divorces that are not even guaranteed and ultimately to fund a service that is pricing women out of the Sharia law market.
Diana Nammi, founder of the Iranian and Kurdish Women's Rights Organisation explained that "Sharia law bodies are money-spinning businesses because they afford men more rights than women unlike UK law which is underpinned by a fundamental principle of 'equality for all'. In most cases women do not receive any practical advice or assistance to help them exit abusive marriages, and instead face further discrimination perpetrated by Sharia 'judges'".
According to Anne-Marie Hutchinson OBE, partner of Dawson Cornwell a leading family law solicitors firm, "women are forced to apply for Islamic divorces from Sharia law bodies to end their marriages unlike men who are in a position of power as they only have to pronounce talaq (divorce) three times to end their marriages". However, this is not a quick process, it is time consuming and emotionally draining for many women including Nasrin who applied for an Islamic divorce almost 10 years ago.
By protracting the time it takes for women to obtain Islamic divorces, Sharia law bodies are punishing women for their failure to maintain miserable marriages, and in Nasrin's case an abusive forced marriage which was flawed from its incept. Rather than freeing Muslim women from the shackles of unhappy marriages they are kept in limbo and are expected to mourn their destructive marriages and to reflect on their failures as wives and mothers. Worryingly some Sharia law bodies are growing cynical business enterprises, which use their position of power to maintain unequal gender relations while profiteering on the misery of Muslim women.
Anne-Marie Waters, Spokesperson for One Law for All commented – "the very process employed by Sharia law bodies is gender discriminatory, flawed and incompatible with UK legislation". For instance, unlike male divorce applicants, women are requested to bring along two Muslim, male witnesses to corroborate their testimony. I have yet to represent a Muslim woman who is able to comply with this gender discriminatory requirement that is contrary to the Equality Act 2010. Not only are such requirements near impossible to adhere to, but they also reflect Sharia law bodies' ideology that women are second class citizens. A stark comparison can be drawn between the way in which women are perceived as lacking capacity to give evidence before Sharia law bodies and their inability to give evidence in court to substantiate their own cases in Dickensian times. Women were treated as criminals not citizens in Dickensian times; their belonging to society was rejected as they were portrayed as mad and bad because of their gender. Sharia law bodies are a 21st century example of the patriarchal Dickensian period that eventually prompted the early Suffragettes to engage in feminist activism to bring about gendered change.
Where are the Suffragettes now that we need them? Fortunately we have Baroness Cox's Bill, which aims to prevent Sharia law bodies from ruling on family and criminal matters. With collective action from politicians, lawyers, human rights and women's rights organisations it is hoped that Muslim women will be better informed of their right to seek legal remedies under UK law instead of submitting to Sharia law bodies that promote and subsist in a patriarchal framework that runs parallel to UK law.



Sharia Law's Threat to Free Speech
by Connie Hair
10/11/2010
Human Events
An organized effort is underway worldwide orchestrated by a powerful Islamic political body to criminalize speech that "offends" Muslims. As much as that may sound like some fantastic conspiracy theory, these Muslim leaders broadcast their group's every move on their website—yet America's ruling elites refuse to listen.

The Organization of the Islamic Conference (OIC) is the second largest inter-governmental organization after the United Nations representing 57 member states which seek to criminalize speech that violates the archaic tenets of Sharia law.

The OIC is comprised of the kings and heads of state of all Islamic countries numbering its membership at 57 states by including the non-existent state of Palestine.
As reported last week on HUMAN EVENTS, the OIC website says it comprises "the collective voice of the Muslim world" making "policy decisions" and providing "guidance on all issues pertaining to the realization of the objectives and consider other issues of concern to the Member States and the Ummah."

The ummah is the worldwide body of Muslim believers.

The OIC's claim to speak for "the collective voice of the Muslim world" carries great weight considering its membership. The OIC is not an Islamic religious organization but a political entity exercising political power and territorial claims through all of its member states as well as the ummah.

On December 8, 2005, at a heads-of-state-level summit, the OIC ratified its "Ten-Year Programme of Action to Meet the Challenges Facing the Muslim Ummah in the 21st Century."

The plan, among other things, seeks to define slander according to Islamic Sharia law—making Islamic "slander" a serious crime in every jurisdiction in the world, including the United States.

By January of 2006—just one month after ratification—the first OIC-orchestrated crisis was born.

In an attempt to buck the trend of media self-censorship on matters regarding Islam worldwide, Danish newspaper Jyllands-Posten on September 30, 2005, published 12 editorial cartoon depictions of the Muslim prophet Muhammad. Under Sharia law it is illegal to publish an image of Muhammad.

Four months later, Muslim leaders circulated offensive cartoons not published by the paper, cartoons they had created themselves for the sole purpose of inciting violence. Manufactured outrage and violence ensued.

Eleven ambassadors from Muslim countries asked for a meeting with Danish Prime Minister Anders Fogh Rasmussen to discuss what they perceived as an "on-going smearing campaign in Danish public circles and media against Islam and Muslims."

On December 6, 2005, at a summit with heads of state in attendance, the OIC issued an official communiqué demanding that the United Nations impose international sanctions on Denmark.

On March 4, 2006, in The News from Karachi, Pakistani President Pervez Musharraf "raised the offensive caricatures issue and demanded his U.S. counterpart draft [a] law to avoid such incidents in the future. President Bush, who hopes to boost the U.S.' image among Muslims, condemned the publications of the cartoons and assured full cooperation."

Muslim imams toured the Middle East inciting violence that caused over 100 deaths.

Much more on the coordinated OIC efforts are found in this exhaustive, footnoted timeline of events.

The following year in 2007, the process was repeated when Salman Rushdie, author of the Satanic Verses, was honored with knighthood by the British government.

As reported in the Washington Times, Pakistani cabinet member Mohammed Ijaz ul-Haq called for violent response to what he framed for the ummah as "slander" to Islam—this coming from the son of Gen. Zia-ul-Haq, Pakistan's third military president who reinstated Sharia rule in Pakistan in 1977:

"This is an occasion for the [world's] 1.5 billion Muslims to look at the seriousness of this decision," Mohammed Ijaz ul-Haq, religious affairs minister, said in parliament.

"The West is accusing Muslims of extremism and terrorism. If someone exploded a bomb on his body, he would be right to do so unless the British government apologizes and withdraws the 'sir' title," Mr. ul-Haq said.

In 2008, the OIC continued its strategic campaign with an effort to silence Geert Wilders, a sitting member of the Dutch parliament. Because of OIC orchestrations, Wilders is currently on trial in Amsterdam for hate speech.

Wilders produced a film entitled Fitna which cites violent verses from the Koran interspersed with footage of Muslim imams spewing vitriol and violent Muslim jihadi attacks worldwide.
OIC General Secretary Ekmeleddin Ihsanoglu readily admitted in a speech in June of 2008 the OIC's targeting and orchestration, noting their success in causing the West to deter "freedom of expression."

"In confronting the Danish cartoons and the Dutch film Fitna, we sent a clear message to the West regarding the red lines that should not be crossed. As we speak, the official West and its public opinion are all now well-aware of the sensitivities of these issues. They have also started to look serious into the question of freedom of expression from the perspective of its inherent responsibility, which should not be overlooked," Ihsanoglu said.

Wilders' trial began in earnest last week and is expected to run through October. Wilders was denied expert-witness testimony to assert the truth of claims he made in the film about Islam.

The Dutch court instead stipulated to the truth-of-all-the-facts-of-the-matter when the court stated, in language that aligns with Islamic notions of "slander," that: "It is irrelevant whether Wilders' witnesses might prove Wilders' observations [about Islam] to be correct, what's relevant is that his observations are illegal."

It doesn't matter what's true; the court says speaking truth in regard to Islam is illegal in the Netherlands because it may incite violence. Just what the OIC ordered.

Wilders' speech in Germany last Friday gives great insight into the OIC attacks on those who confront the "supremacy" of Sharia law and his own court battle that resumes today.

In 2009, the UN Human Rights Council passed a resolution (without a vote), submitted by the Obama Administration, which would subordinate U.S. free speech rights to UN oversight standards. These standards mirror the OIC's Ten-Year Plan objectives.

The OIC seeks deterrent punishments for speaking against Islam to garner silence and submission to Sharia law.

In 2009 the toxic, politically correct atmosphere in the U.S. reached out and touched an American Christian group personally. The Christian Action Network (CAN) had its non-profit status revoked and was fined $4,000 by the state of Maine in 2009 for "an inflammatory anti-Muslim message."

CAN sent information to its members exposing schooling programs that took place in Byron, Calif., that required students to dress up as Muslims, chant "Praise be to Allah" and learn the Five Pillars of Islamic faith. The letter asked parents to sign a petition to the governor of their state to prohibit such Islamic teachings and activities in their public schools.

CAN eventually prevailed in court spending thousands of dollars to fight the precedent-setting fine for "insulting" Islam.

In August and September of 2010, we were all treated to threats of Islamic violence surrounding a Gainesville, Fla., preacher's plan to burn the Koran on the anniversary of the September 11 attacks.

The story hit the radar screen of most Americans in news reports of the Muslim threat of concerted retaliatory violence. How is it that these groups around the Muslim world were protesting this small-town rural American preacher at the same time on the same issue? Did al Jazeera open a Gainesville bureau?

Hardly.

In the Koran burning iteration of the information campaign, there was a coordinated media message including tie-ins to the Ground Zero mosque, Christian clergy condemning the pastor's activities as "un-Christian" to satisfy Muslim sensitivities, the State Department comparing the pastor to the 9/11 terrorists (an American citizen exercising his protected free-speech rights inside America, mind you), and the U.S. Army commanding general in Afghanistan injecting himself into constitutional free-speech issues by allocating blame for future acts of Islamic-based terrorism to Americans.

A staged protest of Afghanis pressured Gen. Petraeus to comment on the planned actions of a private citizen inside the United States.

As seen in these efforts, the OIC seeks out stories to augment and broadcast to the Muslim world to orchestrate the violence or threats of violence. Once the Gainesville pastor buckled to Sharia-compliant demands, there was no outrage in the Muslim world over those who actually did burn the Koran on the nine-year anniversary of September 11.

Because the OIC picked the Gainesville pastor as its target, when they forced him to back down through intimidation, they had won. U.S. leaders including the President of the United States demanded the pastor submit to the tenets of Sharia law.

The subordination of 1st Amendment rights to Islamic law under threat of lethal jihadi attacks should be understood to be a declaration of hostility by those making the demands.

The threat that Muslims will self-radicalize and kill is at the very heart of the OIC campaign to squelch free speech regarding Islam. Issues such as the proposed Koran burning are manipulated for that purpose. Western cultural "elites" are targeted to deem the free speech inappropriate thereby facilitating a cultural dilution of our commitment to free-speech principles over time.

OIC "slander" campaigns are calibrated against issues like Koran burning or the Muhammad cartoons to dupe elites in the West into support for Islamic standards of "free speech" against their own interests. And it's working.
Connie Hair writes daily as HUMAN EVENTS' Congressional correspondent. She is a former speechwriter for Rep. Trent Franks (R-Ariz.) and a former media and coalitions advisor to the Senate Republican Conference.
Western Court rules Islamic law discriminatory
By Robert Verkaik, Law Editor
The Independent
Thursday, 23 October 2008
Britain's highest court has criticised Islamic law for discriminating against women after a case in which a mother was forced to flee the Middle East for Britain to protect her son from his abusive father.
In a 5-0 ruling, the law lords said that there was no place in sharia for the equal treatment of the sexes. It would be a "flagrant breach" of the European Convention on Human Rights for the Government to remove a woman to Lebanon, where she would lose custody of her son because of sharia-inspired family law.
The woman, known as EM, came to the UK in 2004 with her son when he was eight. She has had sole custody of him since his birth because of her ex-husband's violence. She left Lebanon because its laws automatically award fathers custody of children from the age of seven.
Lord Hope of Craighead said that the right to non-discrimination was a core principle in the protection of human rights. "Sharia law as it is applied in Lebanon was created by and for men in a male-dominated society... There is no place in it for equal rights," he said.
Sharia was the product of a much-observed religious and cultural tradition, "but by our standards the system is arbitrary because the law permits of no exceptions to its application... It is discriminatory too because it denies women custody of their children after they have reached the age of custodial transfer simply because they are women."
Yesterday's decision reversed rulings by the Court of Appeal, the Asylum and Immigration Tribunal and the Home Secretary that returning EM to Lebanon with her son would not violate her right to family life.
The human rights groups Liberty and Justice intervened in the case. Liberty's legal director, James Welch, said: "How can the Government speak of equal treatment in one breath and seek to deport mother and child to face separation... in another? The law lords have rightly upheld basic protections which must be available to us all."
EM had obtained, in the Islamic Court in Lebanon, a divorce from her husband, who reportedly ended her first pregnancy by hitting her in the stomach with a heavy vase. She had been awarded physical custody of her son until his seventh birthday.
Lord Carswell said: "The House is applying the domestic law of this country, as it is bound to do... We are not passing judgment on the law or institutions of any other state. Nor are we setting out to make comparisons, favourable or unfavourable, with sharia law."
Eric Metcalfe, of Justice, said: "This isn't a case of British law versus Lebanese law or Sharia law. This is simply a victory for basic fairness and a useful reminder for anyone who doubts the value of the Human Rights Act 10 years on."
Anger over Christian convert in Kabul who faces death

From Tim Albone in Kabul
ABDUL RAHMAN, a 41-year-old Afghan, was a Muslim for 25 years before he began working for an international Christian group helping his fellow countrymen in Pakistan. Within a couple of years he had converted to Christianity.
Fourteen years later, the decision may cost him his life. After four years in Peshawar, Mr. Rahman spent the next nine in Germany. His problems began when he returned to Afghanistan in 2002 and tried to recover his two daughters, now aged 13 and 14, who were living with his parents in Kabul.
His parents refused to return them. The matter went to the police, with the parents complaining that their son had become violent. Mr. Rahman's father then denounced him as a convert. Mr. Rahman was promptly arrested, and found to possess a Bible. He now languishes in Kabul central prison and will, if convicted of an "attack on Islam", face the death penalty under Afghanistan's new constitution.
Mr. Rahman's case is shaping up as a trial of strength between Afghanistan's religious conservatives and reformers. "The constitution says Islam is the religion of Afghanistan, yet it also mentions the Universal Declaration of Human Rights, and Article 18 specifically forbids this kind of recourse," one human rights expert said in Kabul last night. "It really highlights the problem the judiciary faces."
News of his plight is likely to cause outrage in predominantly Christian countries such as Britain and America, whose troops are fighting to free Afghanistan from the religious zealotry of the Taliban.
The Bishop of Rochester, the Right Rev Michael Nazir-Ali, who leads the Church of England's dialogue with Islam, told The Times: "I'm amazed that the constitution that has been agreed in post-Taliban Afghanistan under the very eyes of the international community should allow this kind of thing to take place — for a person to be arrested for having been converted 14 years ago and to be threatened with execution simply for his beliefs.
"The British Army in Afghanistan is losing soldiers there through injury and death. Is the Army there to uphold this kind of thing? I thought we were there to promote democracy and freedom."
Alan Simpson, Labour MP for Nottingham South, told The Times: "We are asked to believe that in Afghanistan we are defending a more secular and democratic state when in fact the likes of Abdul Rahman face the death penalty. What sort of democracy are we defending? All reports suggest that the Taliban are coming in through the back door and their views through the front door. Hamid Karzai (the Afghan President) needs to be told that this absurdity must stop."
Nick Harvey, the Liberal Democrats' defense spokesman, said: "This is a horrifying situation and it makes a mockery of the efforts we are making to bring Afghanistan back into the international community. We have committed many soldiers to the situation in Afghanistan, many of whom will be committed Christians; we have spent huge amounts of money and committed resources and so I think we can take a strong moral position on this and explain to the Afghan authorities that to prosecute or even kill someone for having a different faith is unacceptable."
Mr. Rahman is being prosecuted for an attack on Islam, the punishment for which, under the draft constitution established in 2004, is death.
"The Attorney-General is emphasizing he should be hung," Judge Alhaj Ansarullah Mawlawy Zada, who will be trying his case, told The Times. "It is a crime to convert to Christianity from Islam. He is teasing and insulting his family by converting. In your country (Britain) two women can marry; that is very strange. In this country we have the perfect constitution, it is Islamic law and it is illegal to be a Christian and it should be punished."
The prosecutor, Abdul Wasi, has said that he would drop charges if Mr. Rahman converted back to Islam, but he has so far refused to do so.
"He would be forgiven if he changed back, but he said he was a Christian and would always remain one . . . We are Muslims and becoming a Christian is against our laws. He must get the death penalty." In the first hearing of Mr. Rahman's case, Judge Zada, the head of the Primary Court, said that a verdict would be reached within two months.
If the judge imposes the death penalty, Mr. Rahman will still have two avenues of appeal under Afghan law — the Provincial Court and the Supreme Court. The death penalty has to be ratified by President Karzai.
Prison authorities refused repeated requests for Mr. Rahman to be interviewed, but a cellmate, Sayad Miakhel, told The Times: "He is standing by his words; he will not become a Muslim again. He has been a Christian for over 14 years. It is what he believes in . . ." Mr. Miakhel, 30, said that conditions in the prison were basic, with 50 men to a cell built for 15. "Most prisoners have food brought to them by their families, but none of Abdul's family has been to visit. I'm not sure how he is eating.
"He seems depressed. He keeps looking up to the sky, to God," said Mr. Miakhel.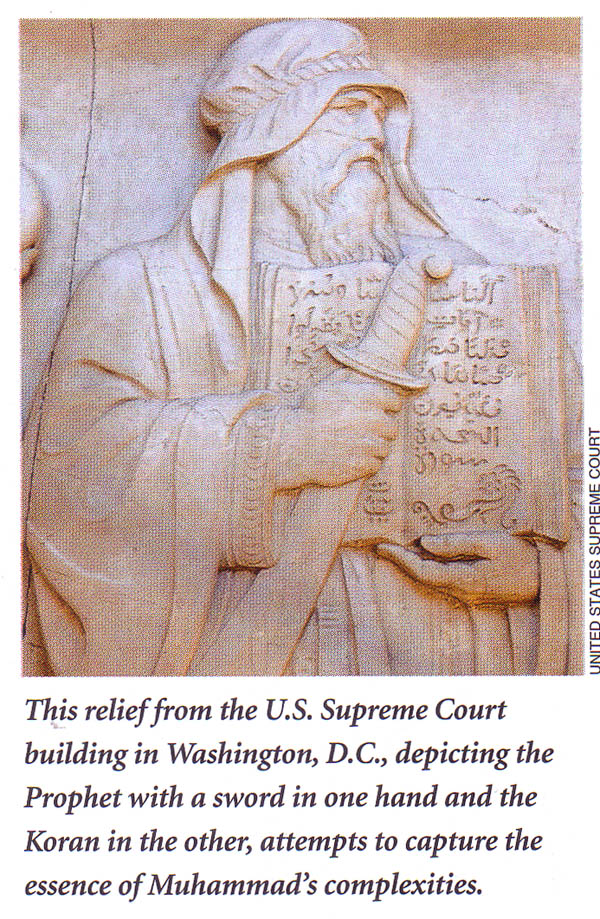 Sharia (Arabic: شريعة; also Sharī'ah, Shari'a, Shariah or Syariah) is the Arabic word for Islamic law. In the Islamic state sharia governs both public and private lives of those living within the state. Sharia governs many aspects of day-to-day life; politics, economics, banking, business law, contract law, and social issues. The term Sharia refers to the body of Islamic law. Some accept Sharia as the body of precedent and legal theory before the 19th century, while other scholars view Sharia as a changing body, and include reform Islamic legal theory from the contemporary period.

Before the 19th century legal theory was considered the domain of the traditional legal schools of thought. Most Sunni Muslims follow Hanafi, Hanbali, Maliki or Shafii, while most Shia Muslims follow Jaafari (Hallaq 1997, Brown 1996, Aslan 2006).
Contents
1 Divergent Developments after the 19th century
5 Contemporary Practice of Sharia Law
6 Laws and Practices Under Sharia
6.2 The role of women under Sharia
6.7 Illegal sexual relations: Adultery, Fornication and Homosexuality
Divergent Developments after the 19th century
During the 19th century the history of Islamic law took a sharp turn due to new challenges the Muslim world faced: the West had risen to a global power and colonized a large part of the world, including Muslim territories. Societies underwent transition from the agricultural to the industrial stage. New social and political ideas emerged and social models slowly shifted from hierarchical towards egalitarian. The Ottoman Empire and the rest of the Muslim world were in decline and calls for reform became louder. In Muslim countries, codified state law started replacing the role of scholarly legal opinion. Western countries sometimes inspired, sometimes pressured, and sometimes forced Muslim states to change their laws. Secularist movements pushed for laws deviating from the opinions of the Islamic legal scholars. Islamic legal scholarship remained the sole authority for guidance in matters of rituals, worship and spirituality, while they lost authority to the state in other areas. The Muslim community became divided into groups reacting differently to the change. This division persists until the present day (Brown 1996, Hallaq 2001, Ramadan 2005, Aslan 2006, Safi 2003).
Secularists believe the law of the state should be based on secular principles, not on Islamic legal theory.
Traditionalists believe that the law of the state should be based on the traditional legal schools. However, traditional legal views are considered unacceptable by most modern Muslims, especially in areas like women's rights or slavery [1].
Reformers believe that new Islamic legal theories can produce modernized Islamic law [2] and lead to acceptable opinions in areas such as women's rights [3].
Salafis believe that the traditional schools were wrong, and therefore failed, and strive to follow the generation of early Muslims.
Etymology
The term Sharia itself derives from the verb shara'a, which according to Abdul Mannan Omar's Dictionary of the Holy Qur'an connects to the idea of "spiritual law" (5:48) and "system of divine law; way of belief and practice" (45:18) in the Qur'an.
General
Mainstream Islam distinguishes between fiqh, which means 'understanding of details' and refers to the inferences drawn by scholars, and sharia, which refers to the principles that lie behind the fiqh. Scholars hope that fiqh and sharia are in harmony in any given case, but they cannot be sure.
Sharia has certain laws which are regarded as divinely ordained, concrete and timeless for all relevant situations (for example, the ban against drinking liquor as an intoxicant). It also has certain laws which are extracted based on principles established by Islamic lawyers and judges (Mujtahidun).
For Sunni Muslims, the primary sources of Islamic law are the Qur'an, the Hadith, the unanimity of Muhammad's disciples on a certain issue (ijma), and Qiyas (drawing analogy from the essence of divine principles). Qiyas — various forms of reasoning, including by analogy — are used by the law scholars (Mujtahidun) to deal with situations where the sources provided no concrete rules. The consensus of the community or people, public interest, and others were also accepted as secondary sources where the first four primary sources allow.
In Imami-Shi'i law, the sources of law (usul al-fiqh) are the Qur'an, anecdotes of the Prophet's practices and those of the 12 Imams, and the intellect (aql). The practices called Sharia today, however, also have roots in local customs (Al-urf).
Islamic jurisprudence is called fiqh and is divided into two parts: the study of the sources and methodology (usul al-fiqh - roots of the law) and the practical rules (furu' al-fiqh — branches of the law).
The comprehensive nature of Sharia law is due to the belief that the law must provide all that is necessary for a person's spiritual and physical well-being. All possible actions of a Muslim are divided (in principle) into five categories: obligatory, meritorious, permissible, reprehensible, and forbidden. Fundamental to the obligations of every Muslim are the Five Pillars of Islam.
Sections of Sharia law
Sharia law is divided into two main sections:
The acts of worship, or al-ibadat, these include:
Ritual Purification (Wudu)
Prayers (Salah)
Charities (Zakat)
Human interaction, or al-mu'amalat, which includes:
Financial transactions
Endowments
Laws of inheritance
Marriage, divorce, and child care
Foods and drinks (including ritual slaughtering and hunting)
Penal punishments
Warfare and peace
Judicial matters (including witnesses and forms of evidence)
Contemporary Practice of Sharia Law
There is tremendous variance in the interpretation and implementation of Islamic law in Muslim societies today. More recently, liberal movements within Islam have questioned the relevance and applicability of sharia from a variety of perspectives. As a result, several of the countries with the largest Muslim populations, including Indonesia, Bangladesh and Pakistan, have largely secular constitutions and laws, with only a few Islamic provisions in family law. Turkey has a constitution that is strongly secular.
Most countries of the Middle East and North Africa maintain a dual system of secular courts and religious courts, in which the religious courts mainly regulate marriage and inheritance. Saudi Arabia and Iran maintain religious courts for all aspects of jurisprudence, and religious police assert social compliance. Laws derived from sharia are also applied in Sudan, Libya and Afghanistan. Some states in northern Nigeria have reintroduced Sharia courts. In practice the new Sharia courts in Nigeria have most often meant the re-introduction of relatively harsh punishments without respecting the much tougher rules of evidence and testimony. The punishments include amputation of one/both hand(s) for theft, stoning for adultery, and execution for apostasy.
Many consider the punishments prescribed by Sharia as being barbaric and cruel; Islamic scholars argue that, if implemented properly, the punishments serve as a deterrent to crime. In international media, practices by countries applying Islamic law have fallen under considerable criticism at times. This is particularly the case when the sentence carried out is seen to greatly tilt away from established standards of international human rights. This is true for the application of the death penalty for the crime of adultery, and other such punishments such as amputations for the crime of theft and flogging for fornication or public intoxication. [4]
An unusual secular-state example was the proposal for a Sharia arbitration court to be established in Ontario, Canada. That province's 1991 arbitration court law allows disputes to be settled in alternative courts to avoid congestion and delay in the court system. The court would handle disputes between Muslim complainants. Critics claimed that misogyny which they held to be inherent in Sharia might influence the Canadian justice system, but proponents argued that those who do not wish to go by the court's rulings are not forced to attend it. Moreover, these sharia courts in Canada are only orthodox in a limited way as they respect the priority of Canadian civil law. Anybody not satisfied with a ruling from the sharia court can appeal to a civil court. As such, this sharia court would be only a very pale version of Sharia.
On September 11, 2005, Ontario premier Dalton McGuinty stated in a telephone interview that religious arbitration would no longer be allowed. However, the proposed changes to the Ontario Arbitration Act[5] do not specifically mention religious arbitration, but reduce the power of private arbitration in the area of family law, and introduce other changes. Specifically, under the proposed changes family arbitrators will be regulated, participants in family law arbitration cases will not be able to give up their right to appeal an arbitrator's decision to a court, and a pre-nuptial agreement to resolve family law matters, should they arise, through an arbitrator rather than through a court will no longer be binding.
Nevertheless, the proposed changes were condemned by parts of the Muslim and Jewish community, and legal challenges to the new law remain a distinct possibility.
Like Jewish law and Christian canon law, Islamic law is interpreted differently by different people in different times and places.
In the hands of fundamentalists, however, it is legally binding on all people of the faith and even on all people who come under their control. Islamic law to American Muslims in Dearborn, Boston, or Houston is very different than Islamic law to religious Muslims in Egypt, Saudi Arabia, the Gaza Strip, western China, Nigeria[6] or Indonesia. All follow Islamic law, yet their view of the law varies as much as individual Muslims vary.
Laws and Practices Under Sharia
Dietary laws
Main article: Islamic dietary laws
When eating meat, sharia dictates that Muslims may only eat from meat that has been slaughtered in the name of God and meets stringent dietary requirements. Such meat is called halāl or "lawful" (acceptable). Islamic law prohibits a Muslim from eating pork, and meat that has been slaughtered in other than the name of God. Most juridical opinions also hold monkey, dog, cat, carnivores and several other types of animal as being prohibited, or harām. For the meat of an animal to be halāl it must be one of the declared halāl species, it must generally be slaughtered by a Muslim using the correct method, and it may not be killed by excessively cruel or painful means. The traditional means of slaughter is by slicing open the jugular veins at the neck, resulting in quick blood loss; a state of shock and unconsciousness is induced, and death soon follows through cardiac arrest.
According to the Qur'an, the animal does not have to be slaughtered by a Muslim, but may be slaughtered by a Jew or a Christian (People of the Book) as long as it meets their strict dietary laws (Al-Ma'ida 5: "The food of those who have received the Scripture is lawful for you.") Thus, most Muslims will accept kosher meat as halāl. (Qur'an 2:173, 6:121)
The role of women under Sharia
Main article: women in Islam
Islam does not prohibit women from working, but emphasizes the importance of housekeeping and caring for the families of both parents. In theory, Islamic law allows husbands to divorce their wives at will, by clearly saying talaq ( "I divorce you" ) three times in public. In practice divorce is more involved than this and state proceedings vary. In 2003, for example, a Malaysian court ruled that, under Sharia law, a man may divorce his wife via text messaging as long as the message was clear and unequivocal. [7] Such a divorce, known as the "triple talaq" is not allowed in most Muslim states. Usually, the divorced wife keeps her dowry from when she was married, if there was one, and is given child support until the age of weaning, at which point the child may be returned to its father if it is deemed to be best.
In addition, women are generally not allowed to be clergy or religious scholars. Many interpretations of Islamic law hold that women may not have prominent jobs, and thus are forbidden from working in the government. This has been a mainstream view in many Muslim nations in the last century, despite the example of Muhammad's wife Aisha, who both took part in politics and was a major authority on hadith.
A Muslim may not marry or remain married to an unbeliever of either sex (2:221, 60:10). A Muslim man may marry a woman of the People of the Book (5:5); traditionally, however, Islamic law forbids a Muslim woman from marrying a non-Muslim man unless he converts to Islam.
See also ma malakat aymanukum.
Dress codes
The Qur'an also places a dress code upon its followers. For women, it emphasizes modesty. Allah says in the Qur'an, "And tell the believing women to lower their gaze and guard their private parts and not to display their adornment (interpreted as the hair and body-shape) except that which ordinarily appears thereof (interpreted as the face and hands) and to draw their headcovers over their chests and not to display their adornment except to their husbands, their fathers, their husbands fathers, their sons, . . . ." (surat an-Nur verse 31). All those in whose presence a woman is not obliged to practice the dress code are known to be her mahrams. Men have a dress code which is more relaxed: the loins must be covered from knee to waist. The rationale given for these rules is that men and women are not to be viewed as sexual objects.
Turkey, a predominantly Muslim country, has laws against these dress codes in schools and work places. After the declaration of the Republic in 1923, as part of revolutions brought by Ataturk, a modern dress code was encouraged. It is against the law to wear a head scarf while attending public school in Turkey, as well as France, where the recently enacted rule caused huge public controversy.
Some view Islamic women as being oppressed by the men in their communities because of the required dress codes. However, in more moderate nations, where these dress codes are not obligatory, there are still many Muslim women who practice it. Whether they choose to wear such clothes of their own free will because they believe it is the will of Allah, or due to community and social pressures is a controversial question.
One of the garments some women wear is the hijāb (of which the headscarf is one component). The word hijab is derived from the Arabic word hajaba which means 'to hide from sight or view', 'to conceal'. Hijāb means to cover the head as well as the body.
Domestic punishments
According to most interpretations, authorization for the husband to physically beat disobedient wives is given in the Qur'an. First, admonishment is verbal, and secondly a period of refraining from intimate relations. Finally, if the husband deems the situation appropriate, he may hit her:
"Men are the protectors and maintainers of women, because Allah has given the one more (strength) than the other, and because they support them from their means. Therefore the righteous women are devoutly obedient, and guard in (the husband's) absence what Allah would have them guard. As to those women on whose part ye fear disloyalty and ill-conduct, admonish them (first), (Next), refuse to share their beds, (And last) beat them (lightly); but if they return to obedience, seek not against them Means (of annoyance): For Allah is Most High, great (above you all)." (Qur'an 4:34 English translation: Yusuf Ali)
The medieval jurist ash-Shafi'i, founder of one of the main schools of fiqh, commented on this verse that "hitting is permitted, but not hitting is preferable."
The Arabic verse uses idribu¯hunna (from the root daraba ضرب), whose commonest meaning in Arabic has been rendered as "beat", "hit", "scourge", or "strike". Besides this verse, other meanings for daraba used in the Qur'an (though not with a human direct object) include 'to travel', 'to make a simile', 'to cover', 'to separate', and 'to go abroad', among others. For this reason — particularly in recent years (e.g. Ahmed Ali, Edip Yuksel) — some consider "hit" to be a misinterpretation, and believe it should be translated as "admonish them, and leave them alone in the sleeping-places and separate from them." Certain modern translations of the Qur'an in the English language accept the commoner translation of "beat" but tone down the wording with bracketed additions. Whatever idribu¯hunna is meant to convey in the Qur'an -- and multiple, complementary meanings are quite common in Islam's holy book -- the verb is directed, not at a single husband, but to the community as a whole.
Several Hadith urge strongly against beating one's wife, such as: "How does anyone of you beat his wife as he beats the stallion camel and then embrace (sleep with) her? (Al-Bukhari, English Translation, vol. 8, Hadith 68, pp. 42-43), "I went to the Apostle of Allah (peace be upon him) and asked him: What do you say (command) about our wives? He replied: Give them food what you have for yourself, and clothe them by which you clothe yourself, and do not beat them, and do not revile them. (Sunan Abu-Dawud, Book 11, Marriage (Kitab Al-Nikah), Number 2139)". However, some suggest that these Hadith were later abrogated, noting that in the Farewell Pilgrimage, he said:
Fear Allah concerning women! Verily you have taken them on the security of Allah, and intercourse with them has been made lawful unto you by words of Allah. You too have right over them, and that they should not allow anyone to sit on your bed whom you do not like. But if they do that, you can chastise them but not severely. Their rights upon you are that you should provide them with food and clothing in a fitting manner. (Narrated in Sahih Muslim, on the authority of Jabir.) [8]
According to Sheikh Yusuf al-Qaradawi, head of the European Council for Fatwa and Research:
"If the husband senses that feelings of disobedience and rebelliousness are rising against him in his wife, he should try his best to rectify her attitude by kind words, gentle persuasion and reasoning with her. If this is not helpful, he should sleep apart from her, trying to awaken her agreeable feminine nature so that serenity may be restored, and she may respond to him in a harmonious fashion. If this approach fails, it is permissible for him to beat her lightly with his hands, avoiding her face and other sensitive parts. In no case should he resort to using a stick or any other instrument that might cause pain and injury. Rather, this 'beating' should be of the kind the Prophet (peace be on him) once mentioned to a disobedient maid-servant, when he said 'If it were not for the fear of retaliation on the Day of Resurrection, I would have beaten you with this miswak (tooth-cleaning twig)' [as reported by Ibn Majah, by Ibn Hibban in his Sahih, and by Ibn Sa`d in his Tabaqat].[9] [10]
However, punishments are authorized by other passages in the Quran and Hadiths for certain crimes (e.g., extramarital sex, adultery), and are employed by some as rational for extra-legal punative action while others disagree (quotations provided by Syed Kamran Mirza):
Quran-24:2 "The woman and the man guilty of adultery or fornication—flog each of them with hundred stripes: Let no compassion move you in their case, in a matter prescribed by God, if ye believe in God and the last day."
Quran-17:32 "Nor come nigh to adultery: for it is a shameful (deed) and an evil, opening the road (to other evils)."
Sahi Muslim No. 4206: "A woman came to the prophet and asked for purification by seeking punishment. He told her to go away and seek God's forgiveness. She persisted four times and admitted she was pregnant. He told her to wait until she had given birth. Then he said that the Muslim community should wait until she had weaned her child. When the day arrived for the child to take solid food, Muhammad handed the child over to the community. And when he had given command over her and she was put in a hole up to her breast, he ordered the people to stone her. Khalid b. al-Walid came forward with a stone which he threw at her head, and when the blood spurted on her face he cursed her."
Sahih Al-Bukhari Vol 2. pg 1009; and Sahih Muslim Vol 2. pg 65: Hadhrat Abdullah ibne Abbaas (Radiallahu Anhu) narrates the lecture that Hadhrat Umar (Radiallaahu Anhu) delivered whilst sitting on the pulpit of Rasulullah (Sallallaahu Alayhi Wa Sallam). Hadhrat Umar (Radiallahu Anhu) said, "Verily, Allah sent Muhammad (Sallallaahu Alayhi Wa Sallam) with the truth, and revealed the Quran upon him. The verse regarding the stoning of the adulterer/ess was from amongst the verse revealed (in the Quraan). We read it, secured it and understood it. Rasulullah (Sallallaahu Alayhi Wa Sallam) stoned and we stoned after him. I fear that with the passage of time a person might say, 'We do not find mention of stoning in the Book of Allah and thereby go astray by leaving out an obligation revealed by Allah. Verily, the stoning of an adulterer/ress is found in the Quraan and is the truth, if the witnesses are met or there is a pregnancy or confession."

Critics of Islamic law have often pointed to "honor killing" as an illustration to the barbarity of Shariah law. While the practice of honor killing is common in many Muslim countries, some Islamic leaders and scholars condemn the practice of honor killing, and argue the practice is not based on religious doctrine. [11].
For a more detailed examination of the Islamic view of adultery, see Zina.
For a more detailed examination of "honor killing", see the Wikipedia entry.
Circumcision
Male circumcision involves the removal of the foreskin and is customary in most Muslim communities. It is performed at different ages in different cultures.
Female circumcision is not part of mainstream Islam. It is not practiced in Maghreb countries and most of Asia, but is performed by Muslims and non-Muslims alike across East Africa and the Nile Valley, as well as parts of the Arabian peninsula and Southeast Asia. In both areas, the custom predates Islam. Many African Muslims believe that female circumcision is required by Islam, but a large number of Muslims believe this practice has no basis in Islam. Nevertheless it is justified on religious grounds both by Muslims and Christians who practice it, mostly in parts of Africa.
The Egyptian-born president of the 'European Council on Fatwa and Research', Yusuf al-Qaradawi, emphasises that this is not a religious obligation, but expresses his personal preference for removal of the prepuce of the clitoris, called clitoridotomy (Fatwa on islamonline.net.) The use of the term 'circumcision' is highly confusing, as the practice ranges from a mild superficial act that does not reduce any physiological function (the 'real' circumcision) to various forms of partial or even complete removal of female genital organs. In certain countries, this is accompanied by reducing the genital opening. These forms are, because of their brutal nature, also referred to as female genital mutilation (FGM). This term is most often used in official publications of the United Nations and World Health Organization.
Muslim apostates
Main article: Apostasy in Islam
In most interpretations of Shariah, conversion by Muslims to other religions is forbidden and is termed apostasy. Muslim theology equates apostasy to treason, and in most interpretations of shariah, the penalty for apostasy is death.
Illegal sexual relations: Adultery, Fornication and Homosexuality
In most interpretations of Shariah, the death penalty is applied as penalty for homosexual acts. According to the opinions of scholars, acceptable means of performing the execution included burning, throwing from tall buildings, and stoning. [12]
Death by stoning is also the penalty for adultery where one or two married individual are involved, while lashing with 100 strips is usually the penalty legally applied for fornication when the guilty party is not married.
Freedom of Speech
Sharia does not allow freedom of speech on such matters as criticism of the prophet Muhammad.
The Qur'an says that Allah curses the one who harms the Prophet in this world and He connected harm of Himself to harm of the Prophet. There is no dispute that anyone who curses Allah is killed and that his curse demands that he be categorized as an unbeliever. The judgement of the unbeliever is that he is killed. [...] There is a difference between ... harming Allah and His Messenger and harming the believers. Injuring the believers, short of murder, incurs beating and exemplary punishment. The judgement against those who harm Allah and His Prophet is more severe -- the death penalty. ("The proof of the necessity of killing anyone who curses the Prophet or finds fault with him" [13])
In Egypt, public authorities annulled, without his consent, the marriage of Prof. Nasr Abu Zayd when he got in conflict with an orthodox Islamic cleric from the Al-Azhar University in Cairo. The cleric had condemned Abu Zayd's reading of the Qur'an as being against the orthodox interpretation and labelled him an apostate (seen as a non-believer and consequently not permitted to marry or stay married to a Muslim woman). Abu Zayd fled to the Netherlands, where he is now a professor at the university of Leiden.
This was demonstrated recently in the cartoon row with the West.
See also
Islamic Rulings - A list of the most controversial rulings in Islam
Islam in Turkey - the only secular state of Muslim world
Hudud - Severe crimes (sometimes considered "crimes against God")
Tazir - Less severe crimes (thus, "crimes against society", not God)
Qisas - retaliatory crimes
Cairo Declaration on Human Rights in Islam
References
Daniel W. Brown (1996). Rethinking traditions in modern Islamic thought. Cambridge University Press, UK. ISBN 0521653940
Wael B. Hallaq (2001). Authority, Continuity and Change in Islamic Law. Cambridge University Press. ISBN 0521803314
Wael B. Hallaq (1997). History of Islamic Legal Theories: An Introduction to Sunni Usul Al-Fiqh. Cambridge University Press. ISBN 0521590272
Tariq Ramadan (2005). Western Muslims and the Future of Islam. Oxford University Press, USA. ISBN 0195183568
Reza Aslan (2006). No God but God: The Origins, Evolution, and Future of Islam. Random House Publishing Group. ISBN 0812971892
Cemal Kafadar (1996). Between Two Worlds: The Construction of the Ottoman State. University of California Press. ISBN 0520206002
Omid Safi (2003). Progressive Muslims: On Justice, Gender, and Pluralism. Oneworld Publications. ISBN 185168316X
Mumisa, Michael (2002) Islamic Law: Theory & Interpretation. Amana Publications. ISBN 1590080106
External links
Muslim websites
Sunni websites
Basic principle: The penal law of Islam
Islamic Law: Myths and Realities
Reformist websites
Islamic Law: An Ever-Evolving Science Under The Light of Divine Revelation and Human Reason
Seeking justice for Muslim women
By Zainah Anwar
April 7, 2006
MALAYSIA once had the most progressive family law in the Muslim world. But now countries like Morocco, Turkey and Tunisia are way ahead of us.

The regressive trend began in the 1990s with the slow chiselling away of the rights women gained through the 1984 Islamic Family Law.

While other Muslim countries are now finding ways to ensure that their laws begin to reflect contemporary realities, the discriminatory amendments continually made to the Islamic Family Law in Malaysia seeks to preserve a world that no longer exists.

It continues to insist on a legal framework where men will always be superior to women, men will always be leaders, protectors and providers; never mind if this flies in the face of reality.

It is ironical that as we plunge into the 21st century, our legal drafters and lawmakers of the 1980s seemed better able to understand that historical legal practice and understanding must continually shift to keep pace with changing values and circumstances.

The purpose was not to ensure that Muslim men's privileged status must always be protected by law, but to ensure that the pursuit of justice remains central to the legal practice of Islam.

In 1984, the newly adopted Islamic Family Law extended to women several grounds to begin divorce to counterbalance a man's right to divorce his wife at will. It made divorce and polygamy outside the court illegal. A woman was entitled to a share of the matrimonial assets even though she did not financially contribute to the acquisition. Her contribution as wife and mother was recognised.

A man wanting to practise polygamy must satisfy the court on his ability to fulfil five strict conditions.

Other Muslim countries looked at Malaysia's law as a model. But by the 1990s, this reputation began to change.

The global forces of the Islamic revivalism movement engulfed Malaysia and the subsequent exploitation of faith for political purposes led to a steady regression in the legal status of Muslim women in this country. Suddenly, the gentler, kinder, inclusive Islam of our parents and forefathers was no longer authentic. It was deemed Jahilliyah (Age of Ignorance before the coming of Islam) Islam. We must adopt the "authentic" Islam of patriarchy and tribal culture.

Amendments to the Islamic Family Law have made the Muslim family institution today far more unstable. Divorce and polygamy conducted without the court's permission could be registered as legal.

The fifth condition for polygamy — no drop in standard of living of the existing family — was removed. Only the biological mother is held responsible for the maintenance of an illegitimate child. The biological father has no responsibility.

These amendments led to the proliferation of thousands of cases of men divorcing their wives at a whim — in a car, by the roadside, in a fit of temper during a fight, by telephone and now even by SMS.

Is it any wonder that the divorce rate for Muslims is at least three times that of non-Muslims.

All because our legal drafters and lawmakers saw it fit to believe that a man's desire to divorce or to take on multiple sexual partners must not be hindered or delayed in any way. Never mind if it leads to injustice and family decay.

It was not just the Islamic Family Law that came under review.

Amendments were made in 1996 to the Insurance Act and in 2000 to the EPF, through a fatwa from the National Fatwa Council. Both monies are now regarded as part of the deceased's estate to be divided according to faraid, the Islamic law of inheritance where wives and daughters get half of what the men get.

Thus a husband who names his wife to be the beneficiary of his insurance policy and his EPF will find that the wife is regarded merely as the administrator of the funds. If she has children, she is entitled to only 1/8th share; if she has no children, she is entitled to only ¼ share. The rest goes to her husband's family or to Baitulmal should there be no other valid heirs.

Malaysia seems to be the only Muslim country in the world to make insurance and EPF monies a part of the deceased's estate, rather than as a safety net for the benefit of his immediate dependants.

And then came this latest set of amendments to the Islamic Family Law which introduced gender neutral language to an already gender biased legal framework, thus further discriminating against Muslim women.

No reciprocal effort was made to use gender neutral language to extend rights traditionally enjoyed by men to women. Somehow that is deemed unIslamic because the great ulama of the medieval period had perfected the doctrinal understanding of the status of Muslim women.

For some of us these series of amendments made since the 1990s are mind-boggling in their impunity and contempt for justice and fair play. Its impact is to grossly undermine the stability of the family among Muslims. And it seems to thumb a nose at the huge strides and contributions women have made in this society by telling them that "hey, no matter what you are, you are still under our control".

For Muslim women, it is all the more painful that it is Islam that is used to deny change. Is it any wonder then that many are beginning to describe Malaysia as a country that practises religious apartheid as it formally establishes one set of rights for non-Muslims granting equality and justice between men and women, and a separate set of rights for Muslims, moving toward more inequality and injustice for Muslim women. As it was under apartheid rule in South Africa, separate can never be equal.

Through a series of law reform, the Government since the 1970s, has moved towards recognising justice and equality between non-Muslim men and women. Amendments to the Law Reform (Marriage and Divorce) Act, to the Distribution Act and the Guardianship Act enable women of other faiths to enjoy equal rights to marriage and divorce, a ban on polygamy, equal rights to guardianship and equal rights to inheritance. If a husband chooses to name his wife as his beneficiary to his insurance policy and his EPF funds, no one can take that right away from him.

No less than the Prime Minister himself has committed the Government to ending all laws that discriminate against women. It is responsive to public outcries of injustice. It is committed to appointing qualified women to top positions.

Yet, even when the Cabinet has ordered the Attorney-General to review the discriminatory Islamic Family Law amendments, there remains those within Government who cannot bring themselves to support this move.

When misogyny, injustice and political mission hide behind the cloak of religion, too many people in too many high places choose silence or acquiescence — out of fear, out of ignorance, out of personal belief, out of political ideology, or out of expediency for short-term political gains.
Muslim leaders warn of tax cheats
March 13, 2007
The Fairfax Digital
Muslim leaders have warned that hardline clerics are encouraging their followers to cheat the tax system because they consider paying income tax contrary to Sharia law.
Sydney-based Islamic leader Fadi Rahman says extremist Muslim clerics who were preaching messages against paying income taxes were also staunchly opposed to western ideologies, The Australian reports.
Mr Rahman said he had heard Friday sermons delivered by hardline clerics in Sydney which highlighted the importance of cheating the tax system.
"I mean, just like how you've got clerics (with) extreme views who are telling the Muslims in the western world to declare war against the very country that they live in and the very country that is paying for their day to day life, you'll find that these are the clerics that are telling them to dodge the tax system," Mr Rahman told News Limited.
The youth leader and president of the Independent Centre for Research Australia said tax itself was not allowed in Islam.
"So they (clerics) encourage them that if there's any way that you can dodge paying the tax, then you should do it."
Clerics pushing for the tax evasion espoused a fundamentalist form of Islam called Wahabbism, News Ltd reported.
Prominent Islamic cleric Khalil Shami said he had heard of imams encouraging tax evasion.
The fundamentalist Ahlus Sunnah Wal-Jamaah Association, which is headed by cleric Mohammed Omran, rejected suggestions that his imams were calling on followers to cheat on their taxes.
"Of course we pay taxes and we go as far as collecting money from our Muslim communities and donating it to organisations (such as the Royal Children's Hospital) to help," the Wahabbi organisation's spokesman Abu Yusuf said.
Blood money in Islamic Law
By Bassma Al Jandaly, Staff Reporter
Gulfnews.com
July 20, 2007
Dubai: With so many nationalities living here with their different ethnic backgrounds, religions and traditions, it is important for everyone to know about Sharia or the Islamic Law, as it is the law of this Islamic nation.
Ignorance of the law is not a justification in the eyes of the courts.
The legal system in Dubai is however, a combination of Sharia, civil and criminal laws, while in other emirates only Sharia is implemented.
According to the Sharia, if one causes the death or injury of another person accidentally or intentionally, he or she has to pay blood money or diya. The blood money is to be paid to the victim's family as compensation and the amount is given in accordance with Sharia.
The diya is also a punishment and a means of protecting the rights of the parents of the victim and is given automatically. The parents do not have to sue for the money.
The compensation will be granted by a judge who is in charge of criminal proceedings and he will award the diya when pronouncing the sentence on the accused.
The blood money will only be payable if the person who caused the death of another person is found guilty under criminal procedure or legally responsible for committing a wrongful act, offence or crime.
According to Sharia, the life of a Muslim is evaluated for a larger amount of blood money than people of other religions, faiths or ethnic groups. But in the UAE the blood money is Dh200,000 for all males residing the country, whatever their religion or nationality.
In defence
The Sharia grants the family of a female, half the amount for a male, which is Dh 100,000. However, it is left to the judge who is in charge of the case to decide the amount of the blood money.
Blood money is not paid if a person kills another while trying to defend himself, his family, his property or other individuals and their property from harm.
According to UAE law, a person who is keeping an animal, whether he or she is the owners or not, must control that animal and will be legally responsible and have to pay blood money if that animal causes the death of another person.
Also the owner of a building or the manager in a company, factory or any person in charge will be legally responsible for the death of person or persons if the building collapses or of anyone in their charge dies due to negligence on their part.
If a person who owns equipment or machinery will be liable to charges and payment of diya if the equipment or the machinery causes the death of another person.
In case the crime was committed by more than one person, each person should pay blood money in accordance to their share of the crime. However, the court may order all persons found legally responsible to pay for the damages equally.
An 8 year old child
caught stealing bread in a market of Iran
is punished in a public place,
in the name of Islam!!!
His arm was crushed and he lost its use permanently.
A religion of peace and love, they say?
How can anyone believe them
when they commit such
inhuman acts?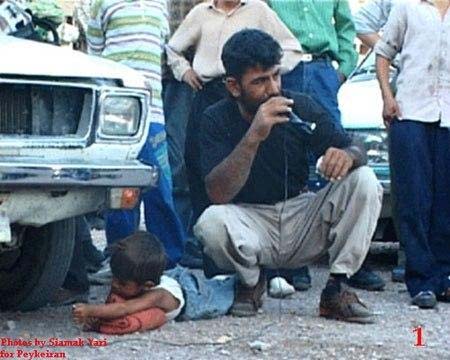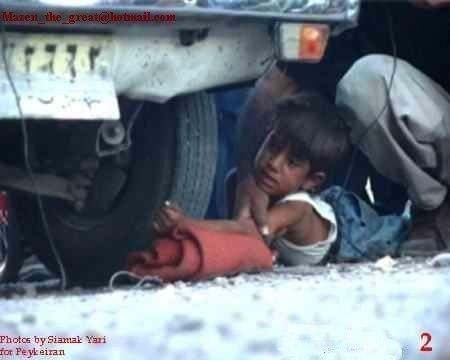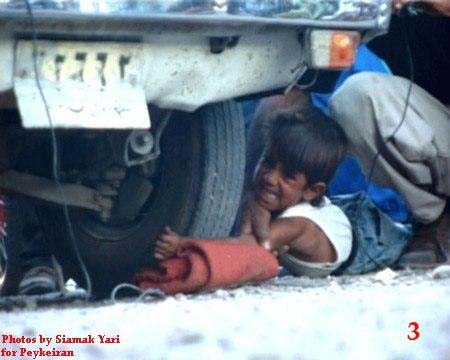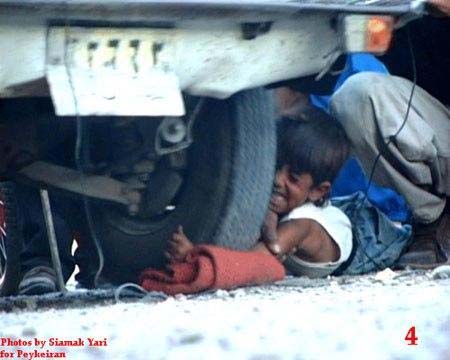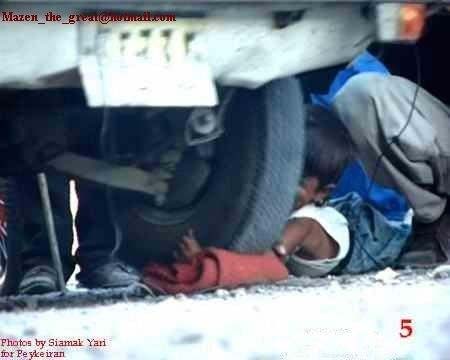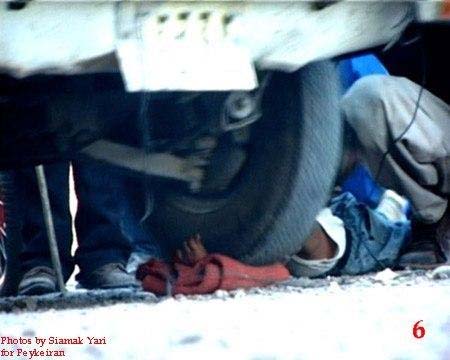 MUSLIM SHARIAH LAW IS THE PRACTICE OF BARBARIANISM