LACK OF MEDICAL EXPERTISE IN MUSLIM COUNTRIES





ATTACKERS TARGET AFGHANISTAN HEALTH CENTERS 240 TIMES IN TWO YEARS

BY LUCY WESTCOTT
3/6/17
Newsweek

Medical facilities in Afghanistan endured more than 240 attacks by armed groups in 2015 and 2016, resulting in extensive damage to equipment and buildings, deaths of staff members and patients and a worsening situation for the health of the country's children.

Detailed in a report released Monday by Watchlist on Children and Armed Conflict, the attacks were mainly carried out by the Taliban and other anti-government groups. However, the Afghan National Defense and Security Forces (ANDSF) also carried out more than 35 attacks, the group said, adding that it wants U.N. Secretary General António Guterres to list the ANDSF as "one of the parties responsible for the attack."

The report focuses on four provinces: Kunduz, Nangarhar, Helmand and Maidan Wardak. As of November 2016, more than 30 percent of Afghanistan did not have access to health care, according to the country's Ministry of Public Health.

Violent attacks on medical facilities are making worse the dire state of health care in Afghanistan, according to the report. Nearly five million people in the country are in "critical need of health care," including more than a million children suffering from acute malnutrition—a 40 percent increase since January 2015. Measles rates have increased by 141 percent, and child casualties rose by 24 percent between 2015 and 2016, according to the U.N. Assistance Mission in Afghanistan (UNAMA). Among children, deaths from preventable diarrhea-related diseases and polio have also increased, the report says.

"Targeted attacks on medical facilities have decimated Afghanistan's fragile health system, preventing many civilians from accessing life-saving care," Christine Monaghan, research officer at Watchlist and author of the report, said in a statement on Monday. "Children suffer as a result—we are seeing more deaths, injuries and the spread of disease."

The report also includes details of the October 2015 attack by U.S. forces on a hospital in Kunduz, run by Medecins Sans Frontieres (Doctors Without Borders). Following an investigation, the U.S. military called the hospital strike, which killed 30 people, a "tragic mistake."

The group is calling on all parties—including Afghan and international forces—to stop attacks on medical facilities and personnel.


Hamas boasted it could hit Tel Aviv area while its own PM's granddaughter was in hospital there

Schneider Children's Hospital in Petah Tikva, which treats 200 Palestinian children each year, has had to take security precautions against rocket attacks

BY ELHANAN MILLER
November 19, 2013
The Times of Israel

At the very moment the baby granddaughter of Hamas's Gaza Prime Minister Ismail Haniyeh was being treated for a critical illness at Schneider Children's Hospital near Tel Aviv Monday, a Hamas official boasted that his movement's rockets could hit targets in Israel "past Tel Aviv.

Speaking to Hamas daily Al-Resalah, Gaza-based official Salah Bardawil said that Hamas has improved its rocket capabilities since Operation Pillar of Defense last year, and is now able to hit targets beyond Israel's commercial and cultural hub.

"The resistance now has various military surprises in addition to newly acquired expertise," Bardawil said. "[Hamas] has improved its performance."

During Operation Cast Lead in November 2012, Israel destroyed most of Hamas's Fajr-5 rockets, obtained from Iran and able to reach a distance of 75 kilometers (46 miles), covering the greater Tel Aviv area. However, Hamas has been developing locally made M-75 rockets with a similar range, one of which landed south of Jerusalem on the third day of the military operation. Over 1,500 projectiles were launched into Israel from Gaza over the course of the eight-day military operation.

Like other Israeli hospitals in the greater Tel Aviv area, Schneider Children's Hospital, where Aamal Haniyeh was admitted on Sunday with severe inflammation of the gastrointestinal system, has been forced to take precautions against rocket attacks emanating from Gaza.

Over the past few years, the hospital has reinforced its glass windows against shattering and secured an oxygen supply to the basement in case of emergency patient evacuation, hospital spokeswoman Riva Shaked told The Times of Israel Tuesday.

Two hundred Palestinian children are treated at Schneider Hospital every year on average, and 70 percent of them reside in Gaza, Shaked added.

"The Palestinian Authority pays the bill for their treatment," she said.

Following the news of the treatment in Israel of Aamal Haniyeh, an Israeli government spokesman on Tuesday pointed out Hamas's cynicism.

"Ismail Haniyeh did not hesitate to send his granddaughter to an Israeli hospital to save her life, all the while expressing his commitment to killing Israelis," tweeted Ofir Gendelman, a spokesman to the Arab media for Prime Minister Benjamin Netanyahu. "This hypocrisy indicates [Hamas's] savagery."

Israel has increasingly been serving as an outlet for patients from Gaza since Egypt tightened its closure of the Rafah Border Crossing in July. Egypt now opens the border to civilian traffic only rarely and arbitrarily.

According to Physicians for Human Rights-Israel, 395 Palestinian patients were admitted to Israeli hospitals from Gaza for medical treatment in September, the highest number allowed in since January 2011. An additional 593 patients from Gaza were admitted to Palestinian hospitals is east Jerusalem. No data exists yet for October or November.

Fadel Al-Mzaini, a medical researcher at Gaza's Palestinian Center for Human Rights, said the number of patients Israel allows to enter is still far lower than the need of the Strip's population of 1.7 million.

"They [Israel] have indeed made it easier at the Erez Crossing [between Gaza and Israel], but they only allow in patients who are very seriously ill," Al-Mzaini told The Times of Israel. "They only allow in 20-25 patients a day and close the crossing on weekends and Jewish holidays."

On Sunday, the Israeli Coordinator of Government Activities in the Territories, known as COGAT, received a phone call from the Palestinian Authority's liaison office in Gaza requesting to admit Aamal Haniyeh, 1, to an Israeli hospital, after her medical condition deteriorated. The baby was immediately transferred to Israel, accompanied by her maternal grandmother, and admitted to Schneider Children's Hospital.

"She was brought into Israel, but returned to Gaza after her condition could not be stabilized. She is in critical condition," Major Guy Inbar, a spokesman for COGAT, told The Times of Israel.

Last month, Prime Minister Haniyeh called for a popular uprising in the West Bank and lauded recent terror attacks on the second anniversary of the release of Israeli soldier Gilad Shalit, who was kidnapped by Hamas in 2006.

No mention of the hospitalization was made on Hamas's official media outlets.





Algeria's Bouteflika in Paris after 'having mini-stroke'



Algerian President Abdelaziz Bouteflika has been flown to hospital in Paris after suffering a mini-stroke, the state news agency has said.

28 April 2013
BBC

Mr Bouteflika, 76, had a "transient ischemia" - a temporary blockage of a blood vessel often called a mini-stroke - an official told the APS news agency.

Doctors said on Sunday that he was "progressing well" and the damage was "not irreversible".

Mr Bouteflika is being treated at the Val de Grace military hospital.

It is commonly used by high-profile patients from France and beyond.

Mr Bouteflika's doctor, Rachid Bougherbal, said: "The transient ischemic attack did not last long and the condition is reversible. His state of health is progressing well."

Dr Bougherbal said Mr Bouteflika had "complete balance" and was "recovering some of the fatigue caused by the ailment".

'Cancer' report

Prime Minister Abdelmalek Sellal echoed Dr Bougherbal's assurances that there was no need for concern.

Mr Bouteflika, who makes few public appearances, underwent surgery in hospital in Paris several years ago.

Officially the problem was a stomach ulcer, but a leaked US diplomatic cable suggested he had cancer.

In spite of his age and apparently failing health, there are still those who believe Mr Bouteflika could stand for a fourth term in office in elections scheduled for next year.

He is part of an ageing leadership which has dominated Algerian politics since the country gained independence from France more than 50 years ago.




Saudi Arabia: King Has Surgery

By THE ASSOCIATED PRESS

Published: November 24, 2010

King Abdullah successfully underwent back surgery at New York Presbyterian Hospital, according to a palace statement on Wednesday. Abdullah, 86, flew to New York for medical treatment on Tuesday with a slipped disk and a blood clot pressing on the nerves in his back. He temporarily handed control of the kingdom to his half brother, Crown Prince Sultan. The king had "back surgery, in which the blood clot was extracted, the slipped disk was corrected, and the injured vertebrae was stabilized," the Saudi Press Agency quoted the statement as saying.





Saudi royals shot in arm for home of Mayo Clinic



November 17, 2008

ROCHESTER, Minn. (AP) — Rochester officials say members of Saudi Arabia's royal family spent enough during a visit to the Mayo Clinic to give the area's economy a shot in the arm.

City officials say Saudi Arabian King Abdullah bin Abdulaziz arrived in the Minnesota city on Nov. 15 for a checkup at the Mayo Clinic and was accompanied by at least five princes and hundreds of others.

The king left Wednesday, but some members of his group remain in Rochester.

Rochester Convention and Visitors Bureau executive director Brad Jones says a conservative estimate of the royal family's spending is up to $1.5 million.

Officials say that should offset the area's economic woes. Jones calls that a "great shot in the arm."




Formerly conjoined Egyptian twins happy and back in U.S.



DAILY NEWS STAFF
Tuesday, October 9th 2007

DALLAS — When they were born, conjoined twins Mohamed and Ahmed Ibrahim were happy regardless of being attached at the head. Now, four years after their separation, the smiles have not left their faces.

The 6-year-old Egyptian boys have returned to Dallas, where they were separated in October 2003, to be evaluated to see how their brains have developed.

"These boys to me represent the culmination of a very long journey, where they are arriving at what we all envisioned would be a possibility, but it turns out to be a reality," said Dr. Kenneth Salyer, chairman and founder of the nonprofit World Craniofacial Foundation, which brought the boys across the Atlantic for evaluation last week.

"But just from looking at these boys, I'm very pleased with how they've done," Salyer said. "They've made tremendous progress."

The pair have been accompanied by their mother, Sabah Abu el-Wafa. Their father and two older siblings remained in Egypt.

While in Dallas, they appeared at a fundraiser for the World Craniofacial Foundation along with another set of conjoined twins. They will also make a trip to Arizona for an MRI.

The surgery to separate them in 2003 took 34-hours and required them to stay in Dallas for another two years in order for their skulls to be reconstructed. They returned to Egypt in November 2005.




Extremist cleric to return for free heart operation



DAILY MAIL
10/08/05 - News section

Hate preacher Omar Bakri Mohammed may undergo heart surgery in an NHS hospital if he returns to the UK.

Bakri, who says he has a congenital heart problem, has already missed several appointments or had them postponed, friends said, but another one is likely to be scheduled before the end of the year.

The so-called "Tottenham Ayatollah" is currently in Lebanon but says he plans to return to the UK in a month's time.

That would allow him to have a free operation which would otherwise cost thousands of pounds privately.

Bakri's health problem is understood to involve the narrowing of arteries in his heart and the likeliest operation is an angioplasty.

More than 20,000 of the operations are carried out by doctors in the UK every year.

His condition is believed to be exacerbated by his weight.

Friends say that, because he is missing a bone in his ankle, he is unable to exercise and that has contributed to the narrowing of his coronary arteries.

£30,000 car

Earlier this year the father-of-seven, who uses a walking stick, took delivery of a £30,000 Ford Galaxy people carrier paid for under the Motability scheme.

He is estimated to have received several hundred thousand pounds in benefits during his two decades in the UK.

It is not clear which hospital Bakri would have his treatment at and hospitals refused to discuss confidential patient details.

But Anjem Choudary, another leading figure in the al-Muhajiroun movement, said: "He had an appointment for a heart operation at some point. I'm not sure exactly when.

"He had appointments before but he missed them - he doesn't like to take medicine, he likes to recover naturally.

"He has a congenital problem he has had the whole of his life. It's a problem with his arteries but I'm not a doctor so I don't know exactly."

Bakri, who had his mobile phone turned off today, sparked outrage last week by saying he would not inform police if he knew Muslim extremists were planning a bomb attack in Britain.

He left for Beirut amid suggestions that he could be tried for treason but the Government has since made clear there is no prospect of that.

Deputy Prime Minister John Prescott admitted there was nothing to stop the firebrand cleric coming and going at the moment from the UK.

But a review of the Home Secretary's powers to exclude people who promote terrorism could be complete by the time Bakri heads home, allowing him to be barred.

Tory leader Michael Howard argued that present powers were already sufficient to keep Bakri out and he called on the Government to use those powers "without delay".

"The Home Secretary has the power to exclude from this country people whose presence here is not conducive to the public good," he said.




WHY WAS MUSLIM CLERIC TAKEN TO LONDON?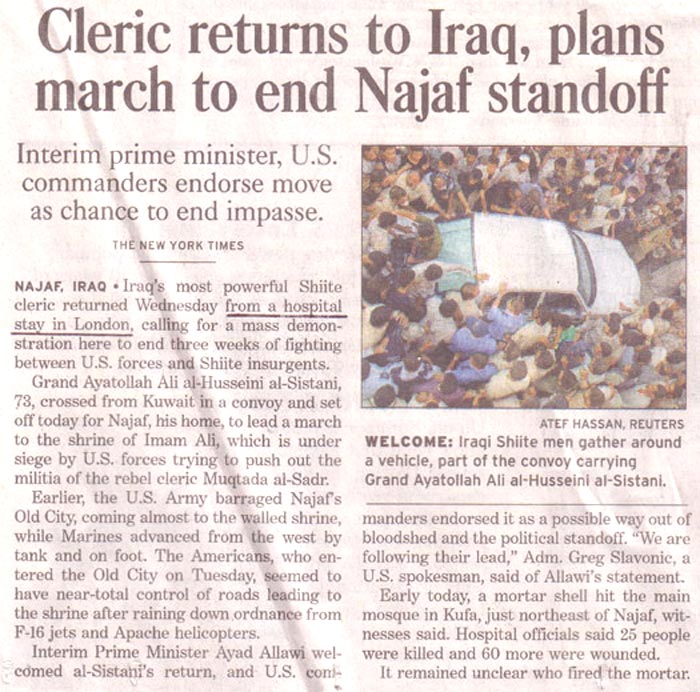 WHY WAS MUSLIM CLERIC TAKEN TO LONDON?
WHY WAS THE PALESTINIAN TAKEN TO ISRAEL?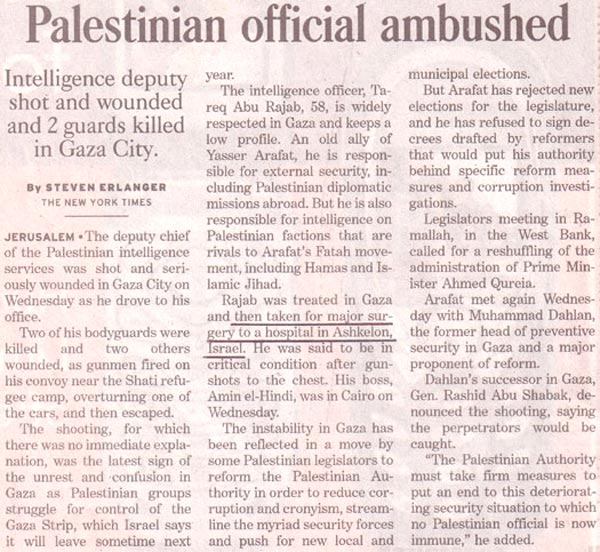 WHY WAS THE PALESTINIAN TAKEN TO ISRAEL?
WHY WAS ARAFAT TAKEN TO FRANCE?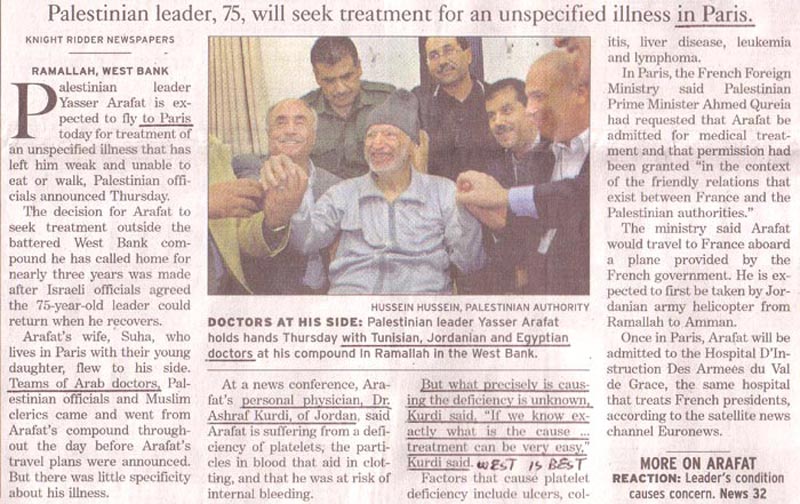 WHY WAS ARAFAT TAKEN TO FRANCE?