MUSLIM MOTHERS WANT TO MURDER YOU!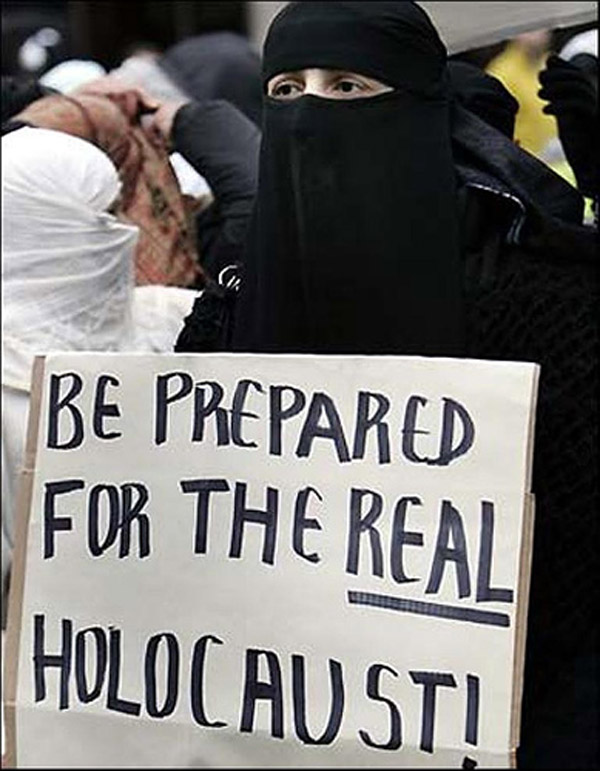 White Widow Samantha Lewthwaite 'has killed 400 people in reign of terror against the west'

17 MAY 2015
BY STEWART WHITTINGHAM
The Mirror

Spy chief says the British mum of four is believed to have directed terror raids, suicide attacks and car bombings in Somalia and Kenya

White Widow Samantha Lewthwaite has murdered 400 people after becoming a key figure in jihadist terror group al Shabaab.

The 32-year-old mother of four's atrocities include last month's slaughter of 148 by gunmen at a university in Kenya, say security chiefs.

One told the Mirror in the Somalian capital, frequently bombed by al Shabaab: "This lady sits at the right hand of the leader directing attacks."

She has been rapidly promoted through the ranks of al Shabaab after many of its leaders died in drone attacks.

The London University graduate was quickly recognised as intelligent and evil-minded enough by jihadi terror bosses to be trusted with the most horrific atrocities.

A senior Somali anti-terror officer says Lewthwaite is now at the right hand of al Shabaab leader Ahmad Umar and is suspected of ordering the deaths of more than 400 innocent people.

He said: "She is an evil person but a very clever operator."

Lewthwaite, of Aylesbury, Bucks, is believed to have directed terror raids, suicide attacks and car bombings in Somalia and Kenya, as well as masterminding last month's slaughter of 148 people, by gunmen at a university in Garissa, northern Kenya.

She has also launched a recruitment drive of teenagers and women as suicide bombers after bribing their desperate families with as little as £300.

One London resident blew herself up at a hotel in the Somali capital Mogadishu in February killing 25.

And Lewthwaite is believed to have sent brain-washed boys as young as 15 to their deaths as suicide bombers – after they were pumped full of heroin.

The top officer at Somalia's National Intelligence and Security Agency – who we are not naming to protect his identity – added: "The lady has moved up the ranks. She is one of the most important figures in the terror group.
"We think this lady is sitting at the right hand of the leader directing attacks.

"She does not carry out attacks herself as she is too important but is responsible for many, many deaths - hundreds.

"She uses children to kill for her after giving money to their families."

But he says the world's most wanted woman is now facing the same fate as her dead former jihadist leaders. NISA operatives are working with MI6 to capture her, dead or alive.

The Somali spy chief added: "We share all our information with British agents here in Mogadishu. They are here to keep an eye on the lady and other Britons in Somalia.

"The SAS are ready to get her or we are ready to call in a drone strike against her. We will get her eventually.

"We know she has surrounded herself with other Britons, her own people as her Somali language is not so good. They are her lieutenants and bodyguards."

Lewthwaite, whose dad is a former soldier who served in Northern Ireland, is the widow of Germaine Lindsay – one of the London 7/7 suicide bombers.

She fled Britain in the wake of the 2005 attacks that killed 52 and has been on the run for nearly four years after she and British terror suspect Jermaine Grant, 30, plotted to blow up tourists in Mombasa.

The fanatic has been accused of being one of the masterminds behind the Westgate mall attack in Nairobi where 67 people, including five Brits, were murdered by al-Shabaab in 2013.

Interpol issued a Red Notice warrant for Lewthwaite and security services in 200 countries are hunting for her.

It is thought she has changed her appearance through plastic surgery, dying her hair and loing two stone.

She narrowly escaped death in March when she had just left a terrorist camp that was bombed by a US drone attack in March.

Kenyan jets have also bombed camps in Somalia where she was hiding.

The Somali officer added: "The lady does not sleep in the same place twice. She moves around all the time."

It is thought she is hiding out near the town of Haaway in southern Somalia which is an al-Shabaab stronghold. Local villagers have been warned not to approach the area by the Islamic extremists.

Last summer The Mirror revealed that the White Widow married again to al Shabaab warlord called Hassan Maalim Ibrahim, aka Sheikh Hassan.

Al Shabaab is an Al Qaeda offshoot based in Somalia which still controls a fifth of the lawless country despite military setbacks against 10,000 African Union peacekeepers known as Amisom.

The extremists are fighting to impose strict Islamic law in Somalia and have banned football, dancing, music and even mobile phone ring tones.

Amisom have driven them out of towns and cities and obliterated much of their leadership with drone attacks and bombing raids.

An Amisom source revealed: "Lewthwaite comes to Hassan when she wants to hide out. She is protected in no-go areas by his clan and she often poses as a camel herder. She is dressed all in black robes and gloves so her white skin does not give her away."

It is thought she only sees her children rarely and does not take them with her on the run."

Captured terror boss Zakariye Ismail Hersi offered to betray the White Widow in January after he was captured.

He revealed she had been hiding out in the jungles of Ras Kiyamboni near the Kenyan border.

A suicide squad of up to 15 fighters often guard her. Two months she ago was seen with 25 women recruits in the city of Harardhere in northern Somalia after crossing the sea by dhow from the Yemen.

Lewthwaite is also feared to have helped plan last month's attack on a university in Garissa, Kenya. Gunmen stormed the university and shot 148 Christian students dead.

If they could not recite the Koran they were executed.

Cynthia Charotich, 19, told how she drank body lotion and hid in a cupboard for two days to escape the bloodbath.
Another student Eric Wekesa said: "What I managed to hear from them is 'We came to kill or finally be killed.' That's what they said. "It was horrible, there was shooting everywhere."

Kenya's security forces fear twisted Lewthwaite is on a revenge missionagainst Kenya after they killed her mentor - Sheikh Abubakar Shariff was killed in the Kenyan coastal city of Mombasa.

She had lived in a safe house there where The Mirror found her terrorist manifesto.

The hand-written 'Diary of Death' revealed she had brainwashed young radicals for a Holy War against the West.Itis thought brutal Islamic State executioner Jihadi John was on his way to meet the White Widow when he was arrested at an airport in Tanzania in 2009.

Mohammed Emwazi Al-Shabaab gunmen also ambushed a bus in November in Kenya and murdered 28 non-Muslims.

Kenya is now planning to build a wall across its border with Somalia to try and stop attacks.

William Ruto, the Kenyan deputy president, said: "The way America changed after 9/11 is the way Kenya will change after Garissa."

In February al-Shabaab released a video featuring an extremist with an English accent calling for terror attacks against London's Oxford Street and Westfield shopping centre.

He called on followers to "hasten to heaven" with a suicide attack similar to the Westgate massacre.

It is also thought brutal Islamic State executioner Jihadi John was on his way to meet the White Widow when he was arrested at an airport in Tanzania in 2009.

Security services think Mohammed Emwazi had been due to travel to Kenya to become a disciple of Lewthwaite before he then travelled to Syria to unlease his reign of terror.




Indiana Grandmother, a Muslim Convert, Being Investigated for Possible Terror Link
By Jana Winter
Published December 28, 2010
FoxNews.com
A 46-year-old Indiana grandmother is under investigation for her possible ties to suspected and convicted international terrorists, FoxNews.com has learned.

Muslim-convert Kathie Smith, 46, a U.S. citizen living in Indianapolis who has blogged about her granddaughter, last year married a suspected German jihadist, and has been flying back and forth between the U.S. and Germany as recently as two weeks ago.
A pro-jihadist video featuring Smith and her husband – alongside photos of members of the Islamic Jihad Union charged with plotting failed terror attacks against U.S. targets in Germany -- is being investigated by the Indiana Intelligence Fusion Center. The center is a counterterror intelligence clearinghouse staffed by law enforcement officers from local and federal agencies, including the FBI and Department of Homeland Security.

"Certainly, it's being looked at and evaluated by Indiana State Police, which runs Indiana Intelligence Fusion Center, " Indiana Department of Homeland Security spokeswoman Emily Norcross told FoxNews.com, adding that the video would be passed along to appropriate law enforcement for further investigation.

FBI spokeswoman Jenny Shearer said: "As you're aware, FBI and DOJ policy precludes us from confirming or denying the existence of an investigation."

The Department of Homeland Security (DHS) Washington office did not respond to a request for comment.

Interpol, which helps government law enforcement agencies track crime suspects around the world, declined to comment, citing policy.

The FBI also did not respond to an e-mail from FoxNews.com asking why Smith is not on the federal government's no-fly list. Smith, meanwhile, said she believes her name is on some kind of government "watch list."

In lengthy e-mail exchanges with FoxNews.com, Smith claimed that she has been repeatedly subjected to hours-long interrogations by Homeland Security every time she travels. She said her luggage has been subjected to bomb residue tests, and that officials asked her numerous detailed questions about her husband. She also claims DHS officials on more than one occasion escorted her onto a departing airplane.

DHS did not respond to FoxNews.com's request for comment on Smith's allegations.

Smith — who now calls herself Zubaida — added that she and her husband were met and interrogated by German police while in a taxi in October 2009.

German police, however, said they were not currently investigating an American woman, but declined to say whether they were aware of Smith.

In lengthy e-mail exchanges with FoxNews.com, Smith alternatively defended her online postings, denied being anti-American, called the Sept. 11 attacks an inside job, the U.S. a terrorist organization and praised the American-born radical Muslim cleric Anwar al Awlaki -- architect, trainer and inspiration for many of the recent terrorist attacks attempted or committed against the U.S. President Obama last April approved Awlaki's inclusion on the CIA's targeted killing list.

In one e-mail to FoxNews.com, Smith wrote:

"If your neighbor was being attacked by a perpetrator, would you just stand there and say, 'Oh I will let someone come who has a gun to help them'? No, you would rush to their defense. And use any type of "weapon" to help that person... this is what I am doing. I am defending the defenseless. I am defending my home and family and their right to safety. No matter who it is at my door. These are the rights the Constitution gives me. The very right this Communistic government is trying to take away from me and the rest of the Americans."

In the nearly six-minute video under investigation, Smith and her husband, known online as Salahudin Ibn Ja'far, 28, appear posing and hugging and holding weapons interspersed with photos of known and suspected terrorists and assorted jihadist propaganda, like an Awlaki sermon album cover.

There also are photos of German Taliban Mujahideen -- German nationals who have formed their own splinter group within the Taliban -- and mug shots of members of the Saarland cell of Islamic Jihad Union charged with plotting failed terror attacks against U.S. targets in Germany, including a 2007 plot to bomb the U.S. Air Force base at Ramstein.

Smith said of the Ramstein plotters featured in her video:

"The so-called 'jihadists' you have mentioned are actually personal friends of my husband from childhood. In the video he was expressing his love and gratitude to his friends, who have died fighting for freedom. Just like any other American or European citizen who displays pictures of soldiers who have died on their videos. There is no difference in gratitude and love. It is just that your government has deemed these noble men as 'terrorists' because they are not on the same side. Least us not forget the Mujahideen who fought the Russians for the U.S. They were deemed 'heroes' and lead by Osama Bin Laden at that time, and now because the government says so... they are "terrorists.""

(In a no-longer-active Facebook profile, Smith's husband, Salahudin, listed his current city as Saarbrucken, the capital of the state of Saarland in Germany.)

In addition to being close childhood friends of convicted terrorists, Salahudin has posted content from the German Taliban's media outfit and the Islamic Jihad Union on forums and social networking sites. He's also written in support of his "noble leaders" -- bin Laden, Awlaki, the Sept. 11 hijackers and other terrorist leaders.
Salahudin appeared to maintain forums devoted to hosting Awlaki's sermons. Earlier this month he uploaded videos to his since-deleted YouTube account that included German muhajideen training at jihadist camps in Pakistan, and another featuring the widow of a German Taliban jihadist directing the wives of jihadists to fulfill their obligations while their husbands are off fighting.

In other English-language posts, he suggests he himself has trained in these same jihadist camps.

On Facebook, he is "friends" with the notorious Al Qaeda English-language online magazine Inspire, thought to be principally authored by American-turned-Muslim radical Samir Khan. Salahudin also has used his online posts to call for the deaths of U.S. citizens, military and government leaders, and recently joined in on another user's thinly veiled threats against Condoleezza Rice, according to postings discovered by FoxNews.com and screen shots provided by the Jawa Report, a watchdog blog that has been following the online activities of Smith and her husband.

His Facebook "friends" make up a who's who of terror groups, many of which his wife is also associated with online. He and Smith have been kicked off of Facebook repeatedly over the past month, but both continue to open up new accounts and remain on the social networking site today.

On Facebook, Smith "likes" Awlaki, has belonged to a Facebook group called "Al Qaeda in Islamic Maghreb to answer your questions," referring to the North African branch of Al Qaeda. Smith also is Facebook "friends" with pages claiming to be the terrorist groups Al Shabaab and Ansar al Jundullah, in addition to "friends" Sheikh Faisal and Youself al-Khatb, the reported spiritual leader and co-founder of Revolution Muslim, respectively. Her "Likes" and "Groups" are visible to the public; a friend request from this reporter to Smith was not accepted.

A Facebook Page provided by Jawa Report shows that Smith warned her husband via Facebook post not to accept FoxNews.com's friend request either.

On her MySpace page, currently available for viewing via Google cache, Smith wrote: "As salamu alaikum akhi.. it is time for Jihad and it is now Fard ayn for ALL Muslims whether their in the United Snakes or else where...Insha'Allah!!!!"

Smith has lauded Awlaki, celebrated the deaths of U.S. soldiers -- who she called "terrorists" -- at the hands of the Taliban in Afghanistan, and applauded another user's posting of a rendering of the two planes hitting the World Trade Center towers on Sept. 11, 2001.

And while she has repeatedly called for jihad against the West, Smith told FoxNews.com: "I am exercising my right, as an American citizen to freedom of speech, religion, and the right to bare arms. I have the right in America to say what ever I want. That is what makes America so great, right?"

But a paid government consultant aware of Smith's movements said there's concern that Smith could follow the path of Colleen LaRose, a suburban Philadelphian dubbed "Jihad Jane," who pleaded not guilty in March to conspiracy charges involving a plot to kill a Swedish artist and providing material support to terrorists.

"As we saw in the case earlier this year with the arrests of "Jihad Janes" Colleen LaRose and [co-conspirator] Jamie Paulin-Ramirez, Kathie Smith has been exhibiting classic signs of extremism possibly transitioning into violence," the consultant told FoxNews.com, asking not to be identified due to the sensitive nature of his work. "Her online postings on Facebook have been increasingly promoted acts of terrorism and statements by terrorist leaders, such as Anwar Al-Aulaqi," the contractor said.

"When her husband released the video earlier this month of the two of them holding weapons and included standard jihad imagery, such as pictures of German jihadists that have left to join terrorist groups in Pakistan and Afghanistan or have been arrested for plotting terror attacks, we were concerned that they might be escalating to an attack themselves," the consultant said.

To that concern, Smith replied by e-mail to FoxNews.com:

"I live a simple life, a life where I fear Allah first and try hard to do what is right for mankind. I am not some "horribly misguided, or brainwashed" individual. I have lived a long life and have seen many things. And I will always stand up for what is right, no matter who is trying to say the contrary."
Female suicide bomber kills 38 in Baghdad
The explosion was at a crowded checkpoint where Shiite Muslim pilgrims were on their way to a shrine.
By Usama Redha and Kimi Yoshino
January 5, 2009
Reporting from Baghdad -- As Shiite Muslim pilgrims made their way to a shrine in Baghdad on Sunday to mark one of the sect's most important holidays, a female suicide bomber detonated her explosives at a crowded checkpoint, killing as many as 38 people and wounding 72, police said.

It was one of the capital's worst attacks in months and the second major bombing in the predominantly Shiite neighborhood of Kadhimiya in nine days. On Dec. 27, a minibus exploded, killing 24 people.
Violence in Iraq has declined significantly, but suicide attacks remain a threat. U.S. military officials have warned that January could be particularly violent, with provincial elections Jan. 31. Insurgents also might try to assert themselves as the U.S. hands over military control to Iraqis. Withdrawal of all American troops is planned by the end of 2011.

On Sunday, witnesses described a chaotic scene of dozens of dead and injured men, women and children, most of them on a pilgrimage to the shrine of Musa al Kadhim, considered the seventh imam of the Shiite sect. Thousands of pilgrims are visiting the holy site to mark Ashura, the anniversary of the battlefield death in 680 of Imam Hussein, a grandson of the prophet Muhammad.

Ashura, which falls on Wednesday this year, is a defining event in the Shiite faith. Militants have targeted Kadhimiya repeatedly because of its significance to Iraq's Shiite majority.
At least 17 pilgrims from Iran, which also has a Shiite majority, were among the victims Sunday, police said.

"I saw the people lying on the ground," said Assad, who declined to give his last name. "They were like sheep more than human. Is that acceptable? Oh, my God."

Heider abu Hussein, 32, who owns a bookstore near the site, said the bomber exploded from the middle of a crowd, sending people and body parts flying everywhere.

"Can anyone help us? Can anyone help us?" Hussein's friend Mohammed yelled into the crowd. "We need help here!"

The friends began carrying people to safety. Hussein spotted an infant, maybe 2 months old, lying on the ground and crying.

"Then I saw his mother," Hussein said. "She was moving in pain. She started to point at me. She couldn't speak. In her gesture, she was telling me to give her baby back. Then she collapsed. I thought she was dead."

The baby began vomiting blood and was bleeding from the stomach, where he had been struck by shrapnel. At a hospital, the friends learned that the baby's mother was alive but seriously injured.

Relatives were able to take care of the baby, Hussein said.

As police quickly cleared the scene and washed away the blood, angry residents criticized officials.

"The security procedures absolutely are not good," said Abu Zainab, 61, who carried injured people from the scene in handcarts. "The narrow streets of Kadhimiya are not secured. Anyone can enter the city easily."

Abu Zainab said he tried to get a police officer to help him immediately after the bombing but the officer refused, saying he had not been given such orders.

"I took off my shoes and I hit him with it," Abu Zainab said.

Some blamed lax checkpoints, reporting that they had seen officers and soldiers playing with their cellphones. Residents said the military had set up a couple of main checkpoints but several other entrances were easy to pass through.

"Every year, the people of Kadhimiya take the responsibility of protecting the holy city," said Heider Fahad, 22, owner of a nearby cellphone shop. "But this year, the army and the police did not let the civilians participate in this searching. There are a lot of entrances, and someone who wants to commit such activities can enter the holy city. It was a breach."

Qassim Atta, an army spokesman in Baghdad, said in a statement that security procedures in Kadhimiya were being followed. The senior U.S. military commander in Iraq, Gen. Ray Odierno, and U.S. Ambassador Ryan Crocker issued a statement blaming the insurgent group Al Qaeda in Iraq for the attack and warning that the group remained a threat.

Ali Adeeb, a Shiite lawmaker with Prime Minister Nouri Maliki's Islamic Dawa Party, called for tighter security in Baghdad but denied that hard-line Sunni groups were making a comeback.

"Security has improved, but there was some negligence and carelessness by the security leadership," Adeeb said.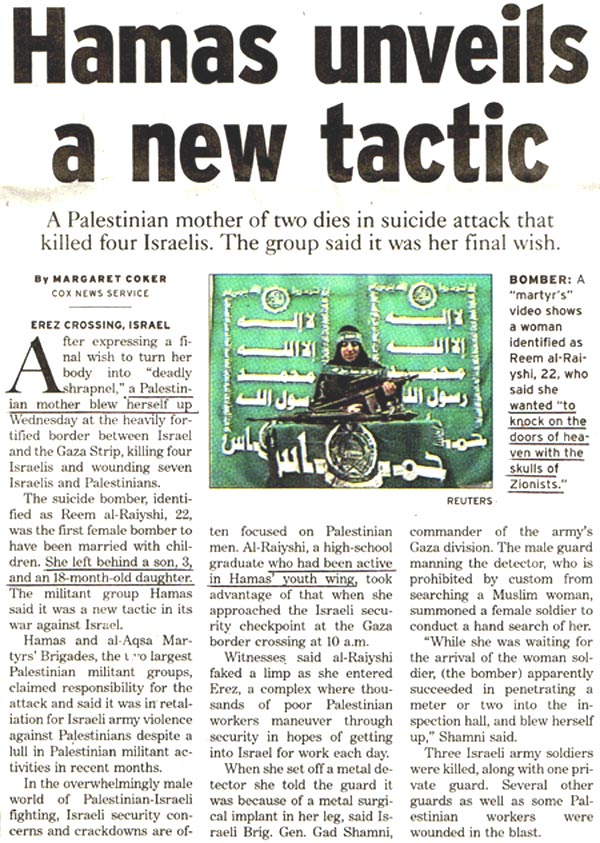 Hamas is using women to murder innocent civilians!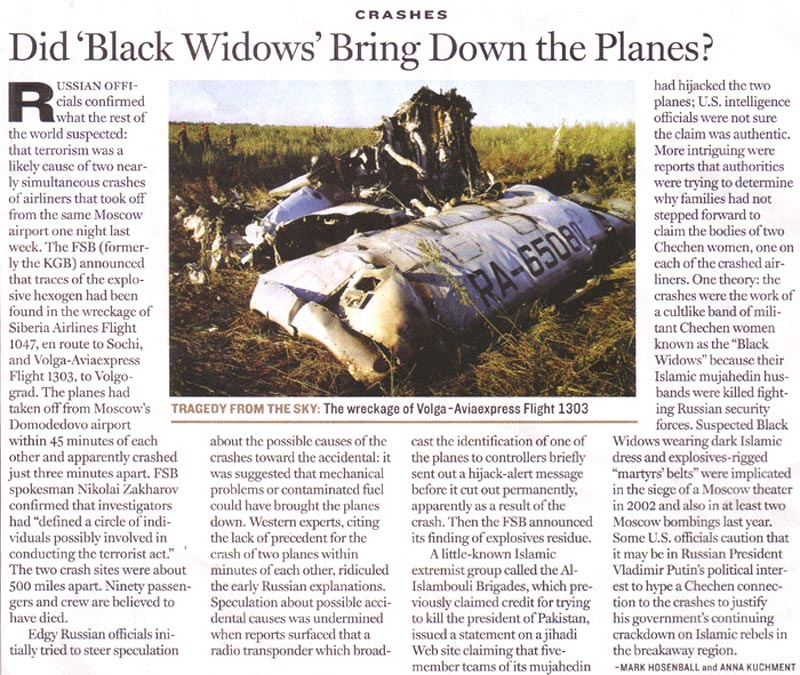 Muslim women are murdering innocent civilians!
Security & Terrorism
Portrait of a female suicide bomber
By GARETH HARDING
UPI Chief European Correspondent
BRUSSELS, Dec. 7 (UPI) -- What drives a white, middle-class woman from provincial Belgium to strap explosives around her waist and blow herself up in front of a U.S. troop convoy in central Iraq? The question has dominated Belgian newspapers -- and disturbed security officials -- since the identity of Europe's first female suicide bomber was revealed last week.
"This is our Belgian kamikaze killed in Iraq," screamed a headline on the front-page of La Derniere Heure newspaper, above a picture of an attractive, long-haired woman in her late 30s.
"This is very shocking for Belgians," says Claude Moniquet, a Brussels-based terrorism expert. "It took several days for the news to sink in. They simply don't understand how this could happen."
Belgians are used to reading stories about jihadist groups -- 13 Islamist terrorists are currently on trial in Brussels for being members of an organization linked to the recent Madrid and London bombings -- but what particularly horrifies locals about their homegrown jihadist fighter is that she came from such a "normal" background.
Muriel Degauque was born 38 years ago in Monceau-sur-Sambre, a small town near Charleroi in a coal-mining area known as the black country. Her mother, a hospital secretary, and her father, a retired factory worker, still live in the small red-brick house where Degauque was brought up a good Catholic girl. According to reports in the Belgian media, she had an "absolutely normal childhood -- she was well-dressed, well-behaved and went to Mass."
Then, in her late teens, things started to go pear-shaped. She fell in with a gang of bikers, dabbled in drugs and saw her brother killed in a motorbike accident when she was 20. "She has the classic profile of a convert to Islamic jihadism," Moniquet told United Press International. "She had a drink or drug problem when she was young, had several run-ins with the law, was not close to her family and was often unemployed. People like Degauque use Islam to sort out their own problems. They always say that with Islam they find a real family for the first time in their lives."
According to Edwin Bakker, a Dutch terrorism expert at the Clingendael Institute in The Hague, it is hardly surprising that Degauque turned to radical Islam after meeting an Algerian man. "All the studies show that suicide bombers are people who are seeking a new purpose in life."
When the former bakery salesgirl met and married Issam Goris, a Belgian man with a Moroccan mother, she began to immerse herself in Islam, learning Arabic, reading the Koran and moving to Morocco for a brief spell. Friends and family became worried when she appeared at her parents' house wearing a head-to-toe robe and refusing to sit in the same room as her father at mealtimes. "The religion was totally ingrained in her. She only lived for that," her mother Liliane told France's Le Parisien newspaper, describing her daughter as "more Muslim than Muslim."
Bakker says that many Islam converts' sense of estrangement becomes a self-fulfilling prophecy because of their decision to reject their past lives and beliefs. "Converting to a religion which is perceived by many as 'evil' or an 'enemy religion' can lead to social isolation and the loss of friends and family."
Cut off from her family, living in a run-down part of Brussels near the city's main train station and exposed to radical jihadist thinking through her husband, Degauque set off for Iraq by car with Issam in August. On Nov. 9, she detonated a bomb belt in an attempt to blow up a convoy of American troops on a road 30 miles north of Baghdad. One American soldier was wounded and the Belgian was fatally injured in the attack. On the same day, her husband Issam was shot in the head by American troops in another botched attack.
There have been European suicide bombers before -- most notably in the July 7 terrorist attacks on London -- but never a female kamikaze. Security officers and experts fear there will be more deadly strikes as the number of converts to Islam increases. A recent report drawn up for the Dutch parliament revealed that 10,000 Dutch citizens have converted to Islam and that 10 percent of radical Muslims switched to the religion. Another study drawn up by French intelligence services shows that one third of converts to Islam have criminal records.
"Islamist terror organizations particularly prize converts," wrote Middle East expert Daniel Pipes in the New York Sun Tuesday. "They know the local culture and blend in. They cannot be deported. They can hide their religious affiliation by avoiding mosques, lying low, even drinking alcohol and taking drugs to maintain their cover. One guide counsels would-be suicide bombers going to Iraq to 'wear jeans, eat doughnuts, and always carry your Walkman.'"
Moniquet says there is another reason converts are so valuable to jihadist groupings: "The fact that people from Christian backgrounds join the jihadist cause proves to them that the Jihad is the right way."
Muriel Degauque may have the dubious distinction of being Europe's first female suicide bomber, but she will probably not be the last.
3 women held in Iraq suicide bomb plots
August 6, 2008
BAGHDAD, Iraq (CNN) -- Iraqi security forces arrested three women, accusing them of plotting suicide bombings against the country's armed forces, the Interior Ministry spokesman told CNN on Wednesday.
Iraqi Interior Ministry spokesman Gen. Abdul Karim Khalaf said the women were arrested last week as part of the military offensive in Diyala province, the territory that sprawls north and east of Baghdad.
Khalaf said two of the women "tested positive for explosives residue" and explosives were found in another's house. He did not say precisely where or when they were seized. He said the women confessed to planning attacks.
Women are increasingly carrying out suicide attacks in Iraq. Male security forces will not search women and few women have been trained to conduct searches.
Up to 24 suicide attacks in Iraq have been commited by female bombers in 2008 -- up from eight in 2007 -- according to U.S. military figures.
The military offensive in Diyala, called "Omens of Prosperity," began in the provincial capital, Baquba, where security forces have imposed a curfew and are encircling the city.
In addition to recent suicide bombings in Diyala, two central Baghdad roadside bombings on Wednesday wounded six people, according to the Interior Ministry.
The U.S. military said troops targeting al Qaeda in Iraq in the central and northern parts of the country on Wednesday detained three wanted men and several other people.