AVOID MUSLIM PALESTINE
Defiant Abbas says he won't halt stipends to terrorists
Palestinian leader says PA will not allow anyone to 'interfere' with who it disburses money to; claims Arab states oppose Trump peace plan
9 July 2018,
The Times of Israel
Palestinian Authority President Mahmoud Abbas said Sunday that he will continue paying stipends to Palestinian attackers and their families despite the Israeli parliament's decision last week to withhold hundreds of millions in funds from taxes collected on the Palestinian Authority's behalf.
Abbas defiantly told a meeting of Fatah party leaders that the Palestinian government would pay "our martyrs and prisoners and wounded people" as it had since 1965.
"We will not allow anyone to interfere with the money that Israel is against us paying to the families of martyrs and prisoners," he said, according to an official transcript released by state-run news agency Wafa.
Israel has called on Palestinians for years to halt the stipends, which benefit roughly 35,000 families of Palestinians killed, wounded or jailed in the conflict with Israel, many of them accused of involvement in terror. Israel says the stipends encourage violence.
Among the beneficiaries are families of suicide bombers and others involved in deadly terrorist attacks on Israelis.
The Palestinians contend the number of stipend recipients involved in deadly attacks is a small fraction of those aided by the fund. They say that the tax revenue collected by Israel for them under past peace agreements is their money and that the Palestinian Authority has a responsibility to all of its citizens like any other government.
The stipends amount to approximately $330 million, or about 7 percent of the Palestinian Authority's $5 billion budget in 2018.
'Arabs against Trump peace plan'
Abbas also said that the Trump administration's efforts to restart the Israeli-Palestinian peace process are doomed to fail.
Jared Kushner, President Donald Trump's son-in-law and senior adviser, said last month that the administration would soon present its Israeli-Palestinian peace plan whether or not it had Abbas's support.
Abbas said the Palestinians would "will not let the 'Deal of the Century' work," referring to Trump's term for his administration's peace efforts.
"We have assured the world that we are against it, that we will not accept it and we will not allow it to pass," he said, according to Wafa.
Abbas said other Arab countries also have rejected the US plan, but didn't say which countries opposed the plan.
Police seize thousands in Hamas cash from family of dead terrorist who killed 8
Cops confiscate money from East Jerusalem home of Alaa Abu Dheim, who killed students in a terror attack at Jerusalem's Mercaz Harav yeshiva in 2008
Times of Israel
27 June 2018
Police seized tens of thousands of shekels from the family of an East Jerusalem terrorist on Wednesday, which cops said was paid as a stipend by the Hamas terror group.
The NIS 43,000 ($11,800) in Israeli and foreign currency had been given to the family of Alaa Abu Dheim, who in 2008 shot dead eight Israeli students, aged 15-26, in Jerusalem's Mercaz Harav yeshiva and wounded 11 more.
Abu Dheim, from the East Jerusalem neighborhood of Jabel Mukaber, was killed during the attack by an off-duty IDF captain and a student in the yeshiva.
"The activities carried out this morning were another step in the general actions of the Israel Police and security forces to prevent, thwart and stop those directly involved in riots or terror activities in Jerusalem, and also against those who encourage and support terrorists," police said in a statement.
"The operation was the result of covert activity and targeted intelligence gathering by the Israeli Police and security forces which found that the family of the terrorist who live in East Jerusalem received cash and funding from Hamas in support for the murderous terror attack," police said.
"We will not permit financial support from a terror organization for the families of terrorists who carry out murderous attacks," they added.
Security forces and lawmakers have worked to end payments from the Palestinian Authority and from Palestinian terror groups to families of terrorists which they say encourage further attacks.
On Wednesday lawmakers gave the final go-ahead for a decisive vote on a bill that would slash funds to the PA by the amount Ramallah pays out to convicted terrorists.
The bill, proposed by Yesh Atid MK Elazar Stern and Likud MK Avi Dichter, says that welfare payments paid out by the PA to Palestinian prisoners and their relatives must be deducted from tax revenues Israel transfers annually to the administrative body. The money withheld in this way would instead go into a fund designated to help victims of terror attacks.
Under the current law, based on the 1994 Oslo Accords that established the PA and the mechanism for Israeli funding, the finance minister already has the ability to freeze funds.
The measure, which would cut hundreds of millions of shekels from tax revenues transferred to the PA, is similar to a measure recently passed in the US, known as the Taylor Force Act, withholding funding to the PA over stipends to terrorists and their families.
According to the Defense Ministry, the PA in 2017 paid NIS 687 million ($198 million) to the so-called "martyrs' families fund" and NIS 550 million ($160 million) to the Palestinian Prisoners' Club — some 7 percent of its overall budget.
Palestinian prisoners serving 20- to 30-year sentences for carrying out terror attacks are eligible for a lifetime NIS 10,000 ($2,772) monthly stipend, the Defense Ministry said, citing PA figures. Those prisoners who receive a three- to five-year sentence get a monthly wage of NIS 2,000 ($554). Palestinian prisoners who are married, have children, live in Jerusalem, or hold Israeli citizenship receive additional payments.
The Defense Ministry last month released figures alleging that some terrorists who killed Israelis will be paid more than NIS 10 million ($2.78 million) each throughout their lifetimes by the PA.


Terrorists will get NIS 10 million each from PA
The Times of Israel
6 May 2018
Ahead of vote on cutting funding to Ramallah, state estimates sum of future payments to murderers of Henkin, Salomon, Ben-Gal and Shevach
The Defense Ministry released figures Sunday alleging that some terrorists who killed Israelis will be paid more than NIS 10 million ($2.78 million) each throughout their lifetimes by the Palestinian Authority.
Ahead of a Knesset vote on a measure to cut some payments to the PA until it stops paying stipends to terrorists and their families, the ministry gave estimates of the total payments made to several jailed murderers.
In each case the ministry said the terrorist would receive NIS 1,400 ($390) per month for their first three years in prison. But the ministry did not say how much it estimated each terrorist would be paid after the first three years, or how it arrived at its estimates of what each terrorist or his family would receive by the age of 80.
The PA provides the monthly payments, usually via an intermediary organization, to the families of those convicted of carrying out terror attacks on Israelis or those killed perpetrating such attacks. Israeli officials have repeatedly demanded that the payments be stopped, saying they incentivize terror.
"I call on all Knesset members to join us, vote for the law and put an end to this theater of the absurd," Defense Minister Avigdor Liberman said in a statement ahead of Monday's vote on the measure. "Every shekel that would have been transferred to the murderers will be deducted from the PA's tax revenues. We will stop financing terrorism."
Among the terrorists cited in the Defense Ministry report were the killers of Eitam and Naama Henkin in October 2015.
The Henkins were murdered in a drive-by shooting, and the four killers were each sentenced to two life sentences and an additional 30 years in jail.
The four, all Hamas members, were named as Yahia Muhammad Naif Abdullah Hajj Hamad, who carried out the shooting itself; Samir Zahir Ibrahim Kusah, the driver of the car, who was also linked to previous terror attacks; gunman Karem Lufti Fatahi Razek, who was wounded by gunfire from one of his fellow cell members during the attack; and Zir Ziad Jamal Amar.
By the time they turn 80, Razek will have been paid NIS 11,232,000 ($3.1 million); Amar NIS 10,056,000 ($2.8 million) and Hamad NIS 10,080,080 ($2.77 million), the ministry claimed. No numbers were given for Kusah.
Another terrorist cited in the report was Omar al-Abed, who stabbed to death three members of an Israeli family in their home.
Al-Abed knocked on the door of the Salomons family in the West Bank settlement of Halamish in July 2017, just minutes before festivities to celebrate the birth of a new grandson in the family. He murdered Elad, Yosef, and Chaya Salomon. He has already been paid NIS 12,200 ($3,370), the Defense Ministry said, and is expected to receive at least NIS 12,604,000 ($3.5 million) by the time he turns 80.
The ministry also estimated the payments to an alleged terrorist who was not yet convicted, and the payments to the family of another suspect killed in a shootout with the IDF.
Abed al-Karim Assi has been charged with stabbing to death Rabbi Itamar Ben-Gal, 29, at a bus stop outside the West Bank settlement of Ariel February 5, 2018. So far he has been paid NIS 1,400. However, if, as expected, he is sentenced to life imprisonment, he will receive a total of NIS 12,604,800 ($3.5 million) by the time he reaches the age of 80, the Defense Ministry said.
Similar payments are made to the families of Palestinians who allegedly attacked Israelis and were subsequently killed by Israeli security forces.
Ahmad Nassar Jarrar, believed to have been behind the January terror attack that killed Rabbi Raziel Shevach, was killed in a shootout with the IDF. Because he would have received a lengthy sentence, his family are receiving a monthly payment of NIS 1,400, and so far have received NIS 5,600 ($1,500), according to the ministry.
Due to their lengthy imprisonment, if any of the terrorists are released from prison they are automatically entitled to a job with the PA equivalent to a minister or a general, the Defense Ministry said. If they die their family will be entitled to continue receiving the payments.
Under an economic agreement signed in 1994, Israel transfers to the PA tens of millions of dollars each year in customs duties levied on goods destined for Palestinian markets that transit through Israeli ports.
The bill to be voted on Monday would allow the government to either permanently deduct the funds paid out to terrorists, or "freeze" the payments, leaving the security cabinet with the final say.
Liberman said last month that withheld tax revenues would go toward compensating Israeli terror victims who cannot sue their attackers.
"Soon, this theater of the absurd will come to an end, and the salaries of the terrorists that we will withhold from [PA President Mahmoud] Abbas will be used to prevent terrorism and compensate victims," he said.
The PLO gives monthly payments to all Palestinian prisoners jailed in Israel, no matter the reason for their incarceration, and also to families of so-called "martyrs" — a term used by the PLO to refer to anyone killed by an Israeli, including in the act of carrying out an attack.
A recent report published by the Coordinator of Government Activities in the Territories, the Israeli Defense Ministry agency responsible for administering civilian affairs in the West Bank and the crossings with Gaza, said that around one-third of Palestinian prisoners were "directly responsible for the murder of Israelis."
The bill is similar to the Taylor Force Act, which was recently passed by the US government.
Last May, a former senior defense official told a top Knesset panel that the PA had paid out some NIS 4 billion — or $1.12 billion — over the previous four years to terrorists and their families.
Setting out the figures, Brig.-Gen (res.) Yossi Kuperwasser, a former director general of the Ministry of Strategic Affairs and ex-head of the army's intelligence and research division, told the Foreign Affairs and Defense Committee that the longer the period for which a Palestinian security prisoner is jailed, "the higher the salary… Anyone who has sat in prison for more than 30 years gets NIS 12,000 ($3,360) per month."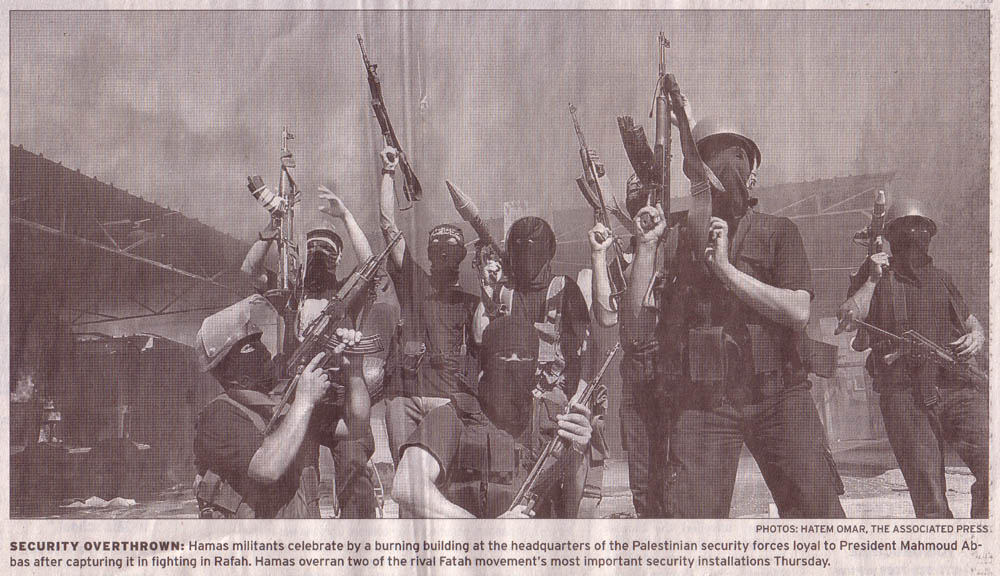 Hamas Militants Fighting Alongside ISIS in Sinai
by TheTower.org Staff | 03.14.16 8:08 pm
Militants from the Palestinian terrorist group Hamas are fighting alongside the Islamic State in the Sinai Peninsula, while ISIS fighters are continuing to receive treatment in Gaza hospitals, a senior IDF official told Palestinian media.
Maj.-Gen. Yoav Mordechai, the coordinator of government activities in the territories, specifically cited a Salafi militant named Mahmoud Z. who has allegedly been coordinating between the two Islamist groups, as well as Ibrahim Abu Qureia, an ISIS fighter who recently received medical care in Gaza.
Mordechai added that Hamas has been seeking to exploit the Erez crossing on the Israeli border for terrorist activities, and warned that continuing those attempts would negatively impact Israel's good-faith efforts to help with Gaza's reconstruction.
Israeli security officials told Ynet on Saturday that Hamas had permitted Salafi leaders from Gaza to travel to Sinai, where the local ISIS affiliate is fighting against the Egyptian military. At least two men—Hamas militant Mohammed Sami Gint and Mahmoud Nimr Abdel Latif Zagrah—left Gaza to fight with ISIS, they claimed. Their comments were made the same day Hamas leaders traveled to Egypt in an effort to repair ties with Cairo, which have deteriorated in recent years.
Egyptian security officials were quoted on Thursday by the Israeli daily Yedioth Ahronot as saying that Hamas was building 3-mile-long "mega-tunnels" into the Sinai. Egypt has been aggressively destroying Hamas tunnels that breach into its territory, and its intelligence service has echoed the Israeli assessment that Hamas is involved in arms smuggling with ISIS-Sinai Province.
Mordechai told the Arabic news site Elaph in February that the same tunnel network that Hamas uses to smuggle arms and explosives into Gaza serves as a crossing for ISIS fighters, which Hamas is treating in exchange for money and weapons. Israeli sources familiar with the situation told Elaph that Israel is keeping Egypt informed of ISIS's movements in the Sinai and of the group's relationship with Hamas, and has provided the Egyptian military with aerial photographs of tunnel openings along the Sinai-Gaza border.
Ynet reported in December that Hamas has been funding ISIS-Sinai Province with tens of thousands of dollars per month in weapons sales, and that the IDF was intensifying efforts to collect information on the group after it issued several threats against Israel. ISIS-Sinai Province is believed to have thousands of jihadists in its ranks and receive millions of dollars in aid from funders abroad, giving it the capacity to attack Egyptian targets on a daily basis.
According to Egyptian authorities, Hamas' logistical support and training was key in facilitating the rise of ISIS-Sinai Province. The ISIS affiliate's leader, Shadi al-Menei, reportedly met with top Hamas leaders in December in an effort to bolster their coordination.
Al-Menei's forces carried out a major attack in July against Egyptian troops in the northern Sinai, killing over a dozen. The group also claimed responsibility for striking an Egyptian naval vessel that same month, as well as for rockets fired into Israel's southern region. An Israeli general confirmed at the time that Hamas was assisting ISIS-Sinai Province through arms smuggling and other means.
Times of Israel journalist Avi Issacharoff similarly characterized the relationship between the groups as one of "close cooperation," adding that Hamas launched surveillance drones to track Egyptian troop movements near smuggling routes between Gaza and the Sinai. "These routes are vital to Hamas on one side of the border, and Islamic State on the other," he explained.
The widening coordination between the terrorist organizations echoes Israeli Prime Minister Benjamin Netanyahu's observation in his 2014 speech to the United Nations General Assembly that "ISIS and Hamas are branches of the same poisonous tree."
Arik Agassi wrote in The Tower Magazine in January that ISIS-Sinai Province "has become one of the most powerful, dangerous, and effective in the region," largely due to Iranian support via its proxy, Hamas.
The Iran-Hamas-ISIS axis is part of Iran's strategy of using proxy forces against U.S. allies like Egypt and Israel as part of a larger strategy to achieve hegemony over the Middle East. This has resulted in one of the region's best kept secrets: An intensive cooperation mechanism between Iran, Hamas, and ISIS, based on money, weapons, military equipment, and training.
Iran's foreign policy goal of hegemony over the Middle East is based on its primary ideological pillar – exporting the Islamic Revolution to other countries using terrorism and political subversion. In pursuing its ambitions, Iran has often put aside its religious differences with radical Sunni groups like ISIS and Hamas. The Islamic Republic is more than willing to cooperate with these groups as long as doing so helps promote its larger interests.
"By directly supporting Hamas in Gaza and indirectly supporting ISIS in the Sinai, Iran is able to gain foothold against Israel and Egypt to destabilize them, undermine America's regional influence, create another Iranian power base in a Sunni-dominated region, and project its power and influence in its pursuit of regional hegemony," Major (res.) Dan Feferman, a former senior IDF intelligence officer and Iran specialist, told the Tower. When asked why Iran would indirectly fund a serious rival such as ISIS, Feferman said that Lebanon, Iraq, and especially Syria are more important to Iran than the Sinai, as Iran wants to preserve its influence in states affected by the Syrian civil war – so Iran fights ISIS in those counties. In places where Iran does not have a strong influence, such as Egypt, it feels comfortable supporting ISIS, albeit indirectly.

Christians Suspect Islamic State Influencing Muslims in Palestinian Territories, Israel

6-11-2015
Increased radicalization seen in attacks, rhetoric.

ISTANBUL, Turkey (Morning Star News) – After months of Islamic State (IS) committing horrific violence in the Middle East and North Africa, Palestinian Christians say a large number of Muslims in the Palestinian Territories and Israel have become "radicalized" and are much more aggressive toward them.

Anti-Christian hostility boiling under the surface for years has come into plain view in the past few months in the form of physical attacks, incendiary religious speeches and inflammatory billboards, they said.

Palestinian Christian leaders said not all Muslims in the Territories and Israel have become extremists, and elders within the Muslim community are trying to dampen the effects of extremist ideology, but enough Palestinians have become radicalized that many Christians feel unsafe or, at minimum, openly unwanted. Whereas tensions between Christians and Muslims previously were seen as issues between individuals, there is now a definite "us vs. them" mentality from Islamic extremists, Christian leaders said.

"Since I was a child this has been happening in the Christian Quarter and in the Muslim Quarter [in Jerusalem's historic Old City area], but not in this way," said Rami Fellemon, a Palestinian Christian and director of Jerusalem Evangelistic Outreach, headquartered in East Jerusalem. "Many people are sitting here, and in their own mind they are thinking, 'What the heck are we doing here in this country? Let's leave the country.' Others have resentment toward Muslims now. They don't understand why they are doing this in such a way."

Ramped-up hostilities from radicalized Muslims come on top of attacks on Palestinian- and Christian-owned properties by ultra-Orthodox Jewish zealots, in addition to the day-to-day difficulties Israeli officials impose on Palestinians in the Territories.

"They feel like even more of a minority now and feel hated by both sides [Jews and Muslims]," Fellemon told Morning Star News. "It's a terrible feeling. Feeling afraid. Feeling cornered. Feeling, 'Maybe this is not my place. Maybe I just need to get out of here. I don't want to deal with them. I don't trust them anymore.'"

Opinions differ as to when attitudes started to change in the Territories, but most agree it happened some time in 2014, either during a retaliatory military campaign by Israel against Hamas for the June 12 kidnapping and murder of three Israeli teenagers, or when the IS territorial expansion in the Middle East started in earnest.

In February, Christians in Israel's heavily Muslim town of Nazareth were alarmed to find a billboard posted downtown ordering them not to spread their faith or even talk about Jesus in a way that contradicts the Islamic version of His life.

Quoting from Surah 4:171 in the Koran, the sign reads in Arabic, "O People of the Scripture, do not commit excess in your religion or say about Allah except the truth. The Messiah, Jesus, the son of Mary, was but a messenger of Allah and His word which He directed to Mary and a soul [created at a command] from Him. So believe in Allah and His messengers. And do not say, 'Three'; desist – it is better for you. Indeed, Allah is but one God. Exalted is He above having a son."

The billboard was placed just outside the Roman Catholic Church of the Annunciation. According to local media reports, area Christians are too afraid to ask to have the sign removed. None of the Christians interviewed by Morning Star News were willing to talk about the sign.

That month in East Jerusalem, in the Old City area, on Feb. 26 someone started a fire at a seminary building used by the Greek Orthodox Church near the Jaffa Gate. No one was injured, and although no one was ever arrested, ultra-Orthodox Jewish groups were widely thought to be responsible.

Islamist anti-Christian sentiment has not been limited to billboards. On May 1, Sheikh Issam Ameera, an imam at the Al-Aqsa mosque (built on the Temple Mount in the Old City area), posted online a video of a sermon entitled "The Islamic State is the keeper of religion and state" in which he essentially told fellow Muslims that they must be in a constant state of war and conquest against the "polytheist enemy", i.e., Christians, as well as against Jews.

"Today, our honorable Islamic scholars talk about defensive jihad, 'Fight for the sake of Allah those who fight you, but do not transgress, for Allah does not like transgressors,'" Ameera says in the video. "In other words, you should always be polite, never go against anyone, and never point your weapon at anyone, unless someone attacks you. In all other cases, everything must be peaceful? No! When you face a polytheist enemy, you should give him three options – they must convert to Islam, or pay the jizya [tax on non-Muslims], or else you should seek the help of Allah and fight them. You should fight them even if they do not fight you."

Ameera repeats that "polytheists" are enemies that must be fought with Allah's help.

"Let the scholars hear this: You should seek the help of Allah and fight them – only when they fight you? No! When they refuse to convert to Islam, and refuse to pay the jizya," he preaches. "In such a case, it is meaningless to let them keep enjoying their life in this world, eating from the sustenance bestowed by Allah, yet disbelieving in Him. No! Against their will, we shall subjugate them to the rule of Allah."

Three days later, a disagreement between a Christian and a Muslim in the Old City escalated into a mob attack against Christians. According to several witnesses, 60 to 80 Muslims in their 20s rampaged through the Christian Quarter immediately after the argument, throwing stones at houses and businesses. The young men also attacked an area Ethiopian Orthodox Monastery, where they spray-painted anti-Christian messages on the building and destroyed a cross.

"When they came, it was a wave of anger that was … you cannot describe it, you cannot understand it," Fellemon said. "Because when one kid is fighting with another kid, and 60 to 80 people come and start smashing doors and throwing stones on windows and doors of Christian families and smashing the cross of the convent, this is totally not about a kid hurting a kid. This is more about Islam and Christianity. It's more about persecution."

The attack on the Ethiopian monastery was considered particularly sinister because it took place two weeks after Islamic State released a video in which they beheaded or shot 28 Ethiopians for being Christians and threatened other attacks against Ethiopian Christians. The slogans spray-painted in the Christian Quarter caused concern among Palestinian Christians because they were the same statements made in the video, where IS called Christians "worshipers of the wooden cross."

There is some debate as to what is causing the change in attitudes of Palestinian Muslims toward Palestinian Christians, particularly those of Muslim youth in the Territories. Christians are asking how far IS ideology has penetrated Palestinian society. Has IS arrived in the Territories, or are the anti-Christian attitudes there the natural outcome of other radical Islamic groups in the region since 1980s? There is evidence for both theories.

The IS graffiti, scrawled word for word in the Christian quarter from the video of the slain Ethiopians, is thought to show that some Muslims are embracing IS ideology or, at minimum, are being influenced by it. Hizb al-Tahrir, an Islamist party in Palestine, has placed a recruiting billboard between Jerusalem and Ramallah inviting Muslims into IS and its caliphate. Ameera of the Al-Aqsa mosque is a leading member of the same party.

On May 11 the Islamic hostility appeared to be mitigated when a traditional elders council between Muslim and Christian leaders took place in Jerusalem. According to every Christian interviewed, the Muslim leaders apologized earnestly for the actions of those who attacked the Christian quarter. One Christian leader said they appeared to be almost shamed by the actions of the mob, which may show that the majority of Muslims in the Territories are tolerant towards the Christian minority.

The group issued an "honor pact" in which further attacks were foresworn. But on May 24, Muslims attacked another group of Christians near the Damascus gate. Details about the attack are scarce, other than that one man was slightly injured and that Israeli police broke it up.

Fellemon said that although he thinks IS may have some influence in the Territories, the terrorist group is a part of the larger problem of militant Islam in the Territories and not the other way around.

"Are they [those who attacked the Christian quarter] ruled by ISIS? I don't think so," he said. "Are they inspired by ISIS? It is hard for me to answer yes or no because ISIS is inspired by radical Islam. So maybe I would answer and say, 'Yes, they are inspired by radical Islam.'"

Another Christian leader said recent hostilities in Jerusalem could be the related to IS.

"The dark ideology of ISIS is spreading all over the region like cancer," he said. "This is also including the Holy Land. Christians, overall, live here in peace and harmony with Muslims in Jerusalem and the West Bank, but incidents do happen from time to time, and it's true that these incidents have recently increased, especially in the Old City of Jerusalem."

He added that some incidents could have been inspired and encouraged by Muslim extremists "and ignorant individuals or groups or others who are interested in making a problem."

The Christian leader said the hostilities call for prayer in the Territories.

"Pray for the relationships between Muslims and Christians to be good despite all of the problems," he said. "Pray that the Christians would act as they are called to be, 'salt and light' and a living testimony. Pray against this dark, satanic, and attacking spirit of fundamentalism, and for the Christians to respond in a way that reflects Christ."

If you would like to help persecuted Christians, visit http://morningstarnews.org/resources/aid-agencies/ for a list of organizations that that can orient you on how to get involved.


Nasrallah, in vicious public address, calls for the destruction of Israel



In first public appearance in almost a year, Hezbollah leader says no Arab leader has the right to relinquish any part of Palestine, 'from the river to the sea'



By TIMES OF ISRAEL STAFF and AP August 2, 2013

The leader of Hezbollah, Sheikh Hassan Nasrallah, rallied hundreds of cheering supporters Friday with pledges of support for Palestinians and vicious anti-Israel rhetoric. Israel was "a cancerous growth" that had to be wiped out, he said. "The only solution is to destroy it without giving it the opportunity to surrender.

Speaking on Quds Day, Nasrallah said "the elimination of Israel is not only a Palestinian interest. It is the interest of the entire Muslim world and the entire Arab world."

Nasrallah's first public appearance in almost a year, and his longest speech in public for several years, came as Lebanon's president vowed not to be intimidated after two rockets struck near the presidential palace. The rocket volley followed President Michel Suleiman criticizing Hezbollah's involvement in the civil war ravaging neighboring Syria, violence that has spread into Lebanon.



In his speech Friday, Nasrallah did not directly mention the rockets. Instead, he vowed to remain loyal to the Palestinian cause and appeared to be speaking mostly to his Shi'ite base in Lebanon and across the Muslim world.



"We say to America, Israel, Great Britain and their regional tools, we say to every enemy and friend … we in Hezbollah will not abandon Palestine and the people of Palestine," he said.



"Call us terrorists, criminals, try to kill us, we Shi'ites will never abandon Palestine," he added, firing up the crowd.



Nasrallah's rare use of sectarian language, highlighting the Shi'ite character of his group, is a departure from previous speeches during which he portrayed Hezbollah as a Muslim anti-Israel resistance group. It appeared aimed at whipping up support among Shiites across the Arab world, and reflects the extent which the group feels on the defensive.



Speaking days after the Arab League-backed resumption of Israeli-Palestinian peace talks, he said no Arab leader had the right to legitimize Israel, and that all of Palestine — "from the river to the sea" — belonged to the Palestinians, according to a report on Israel's Army Radio. "No sheikh, prince, king, president or government has the right to relinquish a single grain of Palestinian sand," he said. It was in Egypt's, Syria's and Lebanon's interest that Israel cease to exist, he said, to loud applause.



Nasrallah has been living underground since the 2006 month long war between his group and Israel, fearing Israeli assassination. He has since made very few and only brief public appearances.



His extended appearance Friday — he spoke for more than half an hour among crowds— is an attempt to show confidence at a time when his group is under growing pressure at home because of its involvement in Syria's civil war. On Thursday, Suleiman gave a speech criticizing the involvement of Hezbollah in Syria's conflict in supporting forces loyal to Syria's embattled President Bashar Assad.



Suleiman suggested Hezbollah's weapons be folded into that of the national Lebanese army. The president said that "resistance weapons have trespassed the Lebanese border," in a reference to Hezbollah. The Iranian-backed group has a formidable weapons arsenal that rivals that of the army.



That night, two rockets struck near the presidential compound in Baabda, southeast of the Lebanese capital, Beirut. It was the second time in two months that rockets have been fired in the area amid tensions related to the civil war in neighboring Syria.



Suleiman said Friday that the attack will not intimidate or make him change his convictions regardless of the party behind it.



"Repeated rocket messages, regardless of the sender or the target … cannot alter national principles or convictions that are expressed freely and sincerely," the president said in the statement issued by his office. The statement did not say whom officials believed were behind Thursday night's attack.



The rare criticism by Suleiman, a Maronite Catholic, angered Hezbollah and its allies. A pro-Hezbollah newspaper put a picture of Suleiman on its front page Friday with a bold-headlined single word: "Irhal," Arabic for leave.



Who fired the rockets remained unknown Friday, as scores of troops and police officers scoured the perimeter around the presidential palace in search of evidence. Anti-Hezbollah politicians immediately blamed the group and lauded Suleiman. Hezbollah condemned the "terrorist" attack and the "lowly and blatant" attempts to link between the rockets and the speech by Suleiman in which he criticized the group.



Hezbollah's open participation in the war is highly divisive in Lebanon, and has enraged Sunni Muslims there who sympathize with the overwhelmingly Sunni rebels fighting to topple Assad. Hezbollah fighters were instrumental in helping Assad's forces achieve victory over the rebels in the strategic Syrian town of Qusair near the border with Lebanon in June.

A last Christmas in Palestine?
Economic and Religious oppression of Christians, West Bank
By William John Hagan
Wednesday, December 21, 2005
Over two thousand years ago, in a town called Bethlehem, the first Christmas was celebrated with the birth of Jesus Christ. On that most holy of nights, a small group of people became the first Christians through the celebration of Christ's virgin birth. It goes without saying that for a Christmas celebration to occur, the presence of a Christian people is a prerequisite. While Bethlehem, and much of the modern de facto state of Palestine, is the birth place of Christianity, it is also a land where Christianity is dying at the hands of a barbaric regime known as the Palestinian Authority.
The population of Bethlehem was at one time over 90% Christian. Today, as a direct result of persecution, their numbers have dropped to below 25%. Today, less then 2% of the population in Palestine are Christian compared to over 20% in 1948. Various official and unofficial tactics have been used throughout Palestine to force the Christian population to flee to Israel. Economic discrimination is one of the frontline devices used by the Palestinians to destroy the Christians. One popular form of discrimination is the practice of hiring less qualified Muslims over more qualified Christians for official positions. This practice is particularly widespread in the public school system where the Muslim majority would rather have their children being taught by fellow Muslims. A more devastating practice is the unofficial boycott of Christian-owned businesses by the Muslim population of the West Bank. When 98% of the population refuses to do business with you because of your belief in Jesus Christ, it makes it almost impossible for Palestine's Christians to make a living.
Despite the economic persecution of Palestine's Christians, Bethlehem Mayor Victor Batarseh has invited Christians, world wide, to come to his city to celebrate the Christmas Holiday. The cynical reason for his invitation is not an olive branch to the Christian community but economic gain for the Palestinian people. Batarseh explained that, ""our great city of Bethlehem…depends upon tourism and pilgrimage for its economic survival". His message is a simple one. Christians are welcome to visit Palestine and spend their money; they are just not welcome to live there.
In addition to economic oppression, Palestinian Christians face a far greater threat in the form of violence from their Islamic neighbors. The worst recent example of such violence has taken place in Palestine's only all Christian town of Taybeh. In what has been described as a pogrom against the town's 1,500 Christians, a group of Muslim youths from the neighboring village of Dair Jarir carried out a two-day assault on Taybeh. According to a report by Daniel Pipes in the Gamla Intelligence Newsletter, the Muslims "broke into houses and stole furniture, jewelry, and electrical appliances. They threw Molotov cocktails at some buildings and poured kerosene on others then torched them. The damage included at least 16 houses, some stores, a farm, and a gas station. The assailants vandalized cars, looted extensively, and destroyed a statue of the Virgin Mary." "It was like a war," one Taybeh resident told the Jerusalem Post. Hours passed before the Palestinian Authority security and fire services arrived. Fifteen of the Muslim attackers, who were arrested, spent only a few hours in police detention and then were released.
Pierbattista Pizzaballa, the Catholic Custodian of the Holy Land, reports that Christians in the Bethlehem region alone have suffered 93 cases of injustice. One such case was the murder of two teenage sisters from the Christian Amre family at the hands of Muslims. The children were shot by their Islamic attackers and they had been tortured by having lit cigarettes applied to their genitals before they were executed.
Despite daily reports of alleged abuse of Palestinian Muslims in the mainstream media, the newspapers of the Western World have turned a blind eye to the violence and persecution that their fellow Christians and Jews are today suffering at the hands of the Palestinians, whom they attempt to portray as victims. This Christmas, as we celebrate in the comfort of our homes and churches, it would be more than fitting to remember the Christians who are dying for their faith, in the birth place of Christ.
William John Hagan is a columnist for the Canada Free Press. His work has appeared in the Providence Journal, the Houston Home Journal, Freedom Today Magazine (UK), and World Net Daily.
Eliminating Israel Politely
by Daniel Pipes
New York Sun
December 13, 2005
There is a right way and a wrong way, strangely, to call for the elimination of Israel.
The secretary-general of the United Nations, Kofi Annan, provided an example of both ways in recent weeks. When the president of Iran, Mahmoud Ahmadinejad, stated on October 26 that "the regime occupying Jerusalem must be eliminated from the pages of history," Mr. Annan replied by expressing "dismay." Again on December 8, when Ahmadinejad called for Israel to be moved to Europe, Annan responded with "shock."
But dismay and shock at Ahmadinejad's statements did not prevent Annan from participating on November 29, just between the Iranian's outbursts, in a U.N.-sponsored "International Day of Solidarity with the Palestinian People." Anne Bayefsky of " Eye on the UN," reports that Annan sat on the dais with an Arabic-language "Map of Palestine" nearby that showed a Palestine replacing Israel. It cartographically achieved exactly what Ahmadinejad called for: the elimination of the Jewish state.
Annan's contradictory actions result from the fact that, since 1993, explicit calls for the destruction of Israel have become offensive, but implicit ones have become more acceptable. The latter include:
Fatah and Hamas together display this dichotomy. Both aspire to eliminate Israel, but they have chosen different paths to get there.
Fatah's tactics have been opportunistic, duplicitous, and inconsistent since 1988, when Yasser Arafat nominally condemned terrorism and began the "peace process" with Israel – even as he simultaneously sponsored suicide terrorism and promoted an ideology totally rejecting Israeli legitimacy. This transparent deception enabled Fatah to gain great benefits from Israel, including a self-governing authority, a quasi-military force, vast Western subventions, and near-control of one border.
Hamas, by contrast, consistently has rejected Israel's existence, which has won it ever-larger segments of Palestinian Arab public opinion (the latest poll shows it ahead of Fatah in the forthcoming elections, 45% to 35%). But this overt rejectionism also has made it anathema to Israel and others, limiting its effectiveness. As a result, Hamas in recent months has started showing more flexibility; for example, it generally has honored a cease-fire with Israel and is moving in the direction of entering the diplomatic process. This brings advantages; the " Conflicts Forum" and others, with some success, are presenting Hamas as a newly legitimate interlocutor.
Palestinian Islamic Jihad might find itself the only purely rejectionist organization against Israel.
Why do such distinctions in style matter? Because the Fatah approach seduces Israelis enough to work with them; Arafat-like euphemisms, inconsistencies, subterfuges, and lies encourage them to make " painful concessions." Contrarily, the Ahmadinejad-PIJ approach crudely confronts Israel with overt and brutal threats that cannot be rationalized away. Blatant calls for Israel's disappearance make Israelis bristle, acquire new armaments, and close down diplomatically.
These ploys might strain credulity – surely the Israelis realize that the former is no less lethal than the latter?
Actually, they do not. Since 1993, Israelis have shown themselves, in the words of the philosopher Yoram Hazony, to be "an exhausted people, confused and without direction," willing and even eager to be duped by their enemies. All they need are some overtures, however unconvincing, that they will be freed from war, and they barely can restrain themselves from making concessions to mortal enemies.
Thus does enlightened world opinion condemn Ahmadinejad, sensing he went too far and will cause Israelis to retreat. If he would only tone down his comments and politely call for Israel's elimination by, for example, endorsing a one-state solution, all would be well.
Thus have Israelis effectively defined which anti-Zionism is acceptable and which is not. Kofi Annan's record of both condemning and endorsing Israel's elimination merely reflects the etiquette of destruction established by Israelis themselves.
Palestinians Taste a Dose of Their Own Medicine
by Daniel Pipes
New York Sun
November 15, 2005
A suicide bombing in Hadera, Israel, on October 26 that killed five people inspired the usual Palestinian joy: some 3,000 people took to the streets in celebration, chanting Allahu Akbar, calling for more suicide attacks against Israelis, and congratulating the "martyr's" family on the success of the attack.
But Palestinian Arabs were uncharacteristically morose after three explosions went off on November 9, killing 57 persons and injuring hundreds, in Amman, Jordan. That's because, for the very first time, they found themselves the main victim of those same Islamist "martyrs."
The massacre at a wedding in the Radisson SAS hotel ballroom took the lives of 17 family members attending the nuptials of what the London Times called a Palestinian " golden couple, beloved of their prominent Palestinian families and friends." The bombing also killed four Palestinian Authority officials, notably Bashir Nafeh, head of military intelligence on the West Bank.
After two decades of doling out this horror against Israelis, some of whom were also attending festive events (a Passover dinner, a Bar Mitzvah), Palestinians, who form a majority of the Jordanian population, unexpectedly found themselves at the receiving end.
And, guess what: They did not like it.
The brother of a woman injured in the attack told a reporter, "My sister, I love her. I love her to death, and if something happened to her, I'd be really..." Choked, he stopped speaking and cried. Another relative called the terrorists "vicious criminals." A third cried out, "Oh my God, oh my God. Is it possible that Arabs are killing Arabs, Muslims killing Muslims?"
I extend my deepest sympathy to the family. I also hope that Palestinian Arabs, who have established a worldwide reputation not just for relying heavily on suicide murder but for doing so enthusiastically, will benefit from this unique learning opportunity.
No other press and school system indoctrinates children to become suicide murderers. No other people holds joyous wakes for dead suicide bombers. No other parents hope their children will blow themselves up. None other receives lavish endorsement and funding for terrorism from the authorities. Nor has another people produced a leader so inextricably tied to terrorism as was Yasser Arafat, nor so bountifully devoted its allegiance to him.
The memorials of his death on November 11 were marked by effusive statements how " he will remain alive in our hearts" and reaffirmations to continue his work.
The Amman bombings, attributed to Al-Qaeda, exposed the hypocrisy of Palestinians and their supporters, who condemn terrorism against themselves but not against others, especially not Israelis. Shaker Elsayed, imam of Dar al-Hijrah Mosque in Virginia, denounced the Amman wedding attack as a "senseless act." Very nice. But Brian Hecht of the Investigative Project notes that Mr. Elsayed has a long history of justifying terrorist attacks against Israelis: "The jihad is a must for everyone, a child, a lady and a man," he said. "They have to make jihad with every tool that they can."
Queen Noor of Jordan embodied this hypocrisy when she stated that the Amman terrorists "made a significant tactical error here, because they have attacked innocent civilians, primarily Muslims," implying her approval had the victims been non-Muslims.
Will the Palestinian Arabs' shameful love affair with suicide killings and "martyrdom" diminish after the atrocity in Amman? Might a taste of their own medicine teach them that what goes around comes around? That barbarism ultimately visits the barbarians too?
Small signs point to a shift in views, at least momentarily in Jordan. Survey research done in 2004 at Jordan University found two-thirds of Jordanian adults seeing Al-Qaeda in Iraq as "a legitimate resistance organization." After the bombings, the pollster found that nine of ten survey participants who previously endorsed Al-Qaeda had changed their minds.
To change Palestinian Arab behavior requires that civilized people finally get tough on suicide terrorism. That means rejecting Hamas as a political organization and excluding dialogue with it. It means shunning propagandistic movies such as Paradise Now, a film that whitewashes Palestinian suicide bombing. And it means convicting Palestinian Islamic Jihad operatives Sami Al-Arian and his Florida cohorts.
The message to Palestinian Arabs needs to be simple, consistent, and universal: Everyone condemns suicide terrorism, unequivocally, without exceptions, whether the arena is electoral, diplomatic, or educational, and whether the bombing is in Amman or Hadera.
Ramallah: Islamic violence targets Christians
PALESTINE - HOLY LAND
7 April, 2006
Ramallah (AsiaNews) – Burned school rooms, church window panes destroyed, bible study halls set on fire and Catholic youth threatened by Muslims: thus runs a list of escalating violent attacks against Christians in Ramallah since Hamas won the election.
The parish priest, Fr Ibrahim Hijazin, 55 years, reported the violence to AsiaNews. Fr Ibrahim has been the parish priest in Ramallah for nine years and for 13 he has been running the Al Ahliyya school that educates poor Christian and Muslim children. The college was set up in 1856, in the time of the Ottoman Empire, and it had never been the target of violence before.
Once upon a time, Ramallah, the seat of the Palestinian presidency, was considered to a Christian city with at least 40-50,000 Christians. Now at least 30,000 have emigrated to America and countries in the Gulf. Now, as a result of the emigration, out of an overall population of around 40,000 people, Christians number around 10,000, sub-divided into Orthodox, Anglicans, Lutherans, Melkites and Catholics, who are around 2,000.
The parish priest said the thugs were people coming from outside who were determined to discredit the government of Hamas and its capacity to maintain law and order.
"On 10 February, while I was in Jericho for a meeting of the Legion of Mary, with the patriarch of Jerusalem, a youth called to warn me that a classroom had been burned," Fr Ibrahim said. "When I arrived, I found the remains of two Molotov cocktails, thrown at the windows that had the glass panes broken. We called the police and they started an inquiry but we have not any result."
Once again, "on 5 March, a Sunday, after Mass, one of my parishioners came to let me know there had been another fire started in the basketball ground of the school. All the equipment was destroyed and the hall was completely ruined. Then too we called the police, but they have not yet managed to find out who was behind it. This time, however, around two dozen people from Hamas came. They proposed putting Hamas men to guard the building and the church, even inside, but I declined the offer, accepting only to have one guard outside."
"All these incidents took place at night. Once, when Cardinal Theodore Mc Carrick of Washington was here with the patriarch, we made the matter known to the President Abu Mazen, and he also promised to rectify the situation. But so far, we have seen no results at all. We continue to face problems even with the community: our youth meeting in the evening for activities are often threatened and beaten by Muslim youth, who come and force their way into the parish building. We have reported this too to the police."
The parish priest does not think anyone has anything against him: "I am very well known because the school welcomes Christian and Muslim youth, very poor ones, and there is a beautiful friendship among them. Before the Intifada, we also had Judaism courses and Israeli youth used to participate."
As for who could be behind the incidents, "we think they are coming from outside Ramallah. Suspicion is falling on Palestinians who are against the Hamas government and who want to ignite inter-faith conflict" to discredit them. The parish priest swore there were never any problems with Hamas.
Other Christian communities have also been targeted. On 20 March, the Lutheran Church had all its windows and panes of glass broken. The headquarters of the Protestant bible association of Birzeit "Living stones" was burned down. On the doors, someone had written: "Oh Prophet of God, [we are] at your service!"
Palestinians burn West Bank YMCA

Follows Muslim warnings for Christian group to leave Hamas-controlled town or see violence
September 9, 2006
FROM WND'S JERUSALEM BUREAU
By Aaron Klein
JERUSALEM – Palestinian gunmen today attacked and set fire to the Young Men's Christian Association headquarters in Qalqiliya, a large West Bank city controlled by Hamas.
Local government sources identified the attackers as members of the Hamas and Islamic Jihad terror groups, saying the identities of the gunmen are "well known" to Qalqiliya's security forces, which are controlled by the Hamas government.
Today's arson follows a series of warnings by the Muslim leadership of Qalqilya accusing the city's YMCA of missionary activity and demanding the Christian organization close its offices and leave town or face likely Muslim violence.
According to local reports, the gunmen today destroyed the locks on the YMCA's entrance gates, crushed the gates, then entered the building and set it ablaze. Local fire brigades reportedly rushed to the scene and stopped the fire before it spread to neighboring buildings. The building sustained serious damage, YMCA officials said.
The Qalqiliya police say they opened an investigation into the incident and will hunt down and arrest the attackers.
One political source in the city told WND, "The identity of the attackers is well known to Hamas. We don't expect the Hamas-controlled police, the Hamas city council or the Hamas Interior Ministry to do anything about this attack."
The source called the arson a "warning to YMCA's and Christian groups in the Palestinian areas that they are not safe."
In April, WND reported major Muslim organizations in Qalqiliya, in conjunction with local mosques, the city's Mufti and municipal leaders, sent a letter to the interior minister of the Hamas-led Palestinian Authority accusing the YMCA of missionary activities and demanding the Palestinian government immediately shut down the Christian offices.
The PA did not act against the YMCA. The YMCA has operated in Qalqiliya since 2000.
The petition, obtained by WND, states, "We the preachers of the mosques and representatives of major families in Qalqiliya ask you to close the offices of the YMCA because the population of Qalqiliya doesn't need such offices, especially since there are not many Christians in our city."
It warned, "The act of these institutions of the YMCA, including attempting to convert Muslims in our city, will bring violence and tension."
Three days before the petition was delivered several Molotov cocktails were thrown at Qalqiliya's YMCA. Local political sources said the Molotov attacks followed Friday sermons in dozens of Qalqiliya mosques in which preachers called upon the community to revolt against the YMCA.
"There was a coordination among the mosques to speak about the YMCA. One major imam, for example, warned if the YMCA doesn't close down, it will lead to 'acts that no one would like to see,'" said one political source in April.
Joseph Medi, the YMCA manager in Qalqiliya, told WND his operation has never been involved with missionary activity.
"It's not what we're about. There is no missionary activity here whatsoever. The YMCA is in the city to serve the population with financial help, sporting activities and general educational programs," he said.
Medi pointed out many employees at his branch of the YMCA are Muslim. He said the YMCA was instrumental in establishing a number of community programs, including contributing to the financing of the Al Ahli Club, a mostly Muslim local soccer organization that has competed in national games.
Medi said Qalqiliya's YMCA received a final notification from local leaders warning the association to close its offices before "drastic measures" were taken. He said no specific measures were specified.
Qalqiliya is located at the West Bank's point of closest proximity to the Mediterranean Sea. There are reported only about 50-100 Christians in a population of about 28,300. The city's mayor, Sheikh Waji Qawwas, is a Hamas member who was just released from Israeli prison.
Hamas swept all 15 municipal offices in local elections in Qalqiliya last December. The terror group went on to win the vast majority of Palestinian parliamentary seats in January and officially took over the Palestinian Authority four months ago.
Christian persecution trend in West Bank, Gaza
One Christian leader, an aide to Jerusalem's Latin Patriarch Michel Sabah who asked his name be withheld out of fear of Muslim retaliation, called the threats against Qalqiliya's YMCA part of a general trend of Christian persecution in Palestinian areas.
"It's been happening all over the West Bank and Gaza," said the aide.
There have been rampant reports of abuses and persecution in several West Bank towns taken over by the PA.
Anti-Christian riots have been reported in Ramallah, Nazareth and surrounding villages as well as in towns in Gaza. In Bethlehem, local Christians have long complained of anti-Christian violence. The city's Christian population, once 90 percent, declined drastically since the PA took control in December 1995. Christians now make up less than 25 percent of Bethlehem, according to Israeli surveys.
Some analysts called the demands for the YMCA to close one of many indications Hamas may be seeking to impose Islamic rule on the Palestinian population.
Israeli officials say Hamas in the Gaza Strip has established hard-line Islamic courts and created the Hamas Anti-Corruption Group, which is described as a kind of "morality police" operating within Hamas' organization. Hamas has denied the existence of the group, but it recently carried out a high-profile "honor killing" widely covered by the Palestinian media.
A Hamas-run council in the West Bank came under international criticism last year when it barred an open-air music and dance festival, declaring it was against Islam.
Hamas chieftain: West can learn from Islamic values
In response to the uproar, Hamas Foreign Minister Mahmoud al-Zahar told WND during an exclusive interview: "I hardly understand the point of view of the West concerning these issues. The West brought all this freedom to its people but it is that freedom that has brought about the death of morality in the West. It's what led to phenomena like homosexuality, homelessness and AIDS."
Asked if Hamas will impose hard-line Islamic law on the Palestinians, al-Zahar responded, "The Palestinian people are Muslim people, and we do not need to impose anything on our people because they are already committed to their faith and religion. People are free to choose their way of life, their way of dress and behavior."
Al-Zahar said his terror group, which demands strict dress codes for females, respects women's rights.
"It is wrong to think that in our Islamic society there is a lack of rights for women. Women enjoy their rights. What we have, unlike the West, is that young women cannot be with men and have relations outside marriage. Sometimes with tens of men. This causes the destruction of the family institution and the fact that many kids come to the world without knowing who are their fathers or who are their mothers. This is not a modern and progressed society," al-Zahar explained.
The terror chieftain told WND the West can learn from his group's Islamic values.
"Here I refer to what was said in the early '90s by Britain's Prince Charles at Oxford University. He spoke about Islam and its important role in morality and culture. He said the West must learn from Islam how to bring up children properly and to teach them the right values."
Hamas Leader Killed, Fears of Civil War Escalate
Associated Press
December 14, 2006
KHAN YOUNIS, Gaza Strip - Palestinian gunmen forced a Hamas commander to his knees and shot him to death early Wednesday outside the courthouse where he worked as an Islamic judge, escalating factional tensions in the Gaza Strip and prompting the Palestinian prime minister to cut short a trip abroad.
The death came two days after three young sons of a Fatah-allied Palestinian intelligence officer were killed in a drive-by shooting, sparking renewed conflict between the rival Hamas and Fatah factions. The violence has reduced chances for a unity government and pushed the two sides closer to civil war.
Palestinian security officials said the slain man was Bassam al-Fara, 30, a judge at the Islamic court and a Hamas commander who belongs to the largest clan in the town of Khan Younis.
In a statement faxed to reporters, Hamas accused a Fatah "death squad" for al-Fara's death.
Fawzi Barhoum, a Hamas spokesman, said the dead man had been a field commander in Hamas' military wing and a prominent figure in the militant Islamic group. He gave no further details about al-Fara's militant activities but pledged to hunt down the killers. "Hamas is not going to forget the blood of its members," Barhoum said.
Fatah spokesman Tawfik Abu Khoussa rejected the accusations. "We condemn all acts of anarchy whatever may be behind them. We call on the brothers in Hamas to stop firing accusations before the investigation," he said.
In Sudan, Prime Minister Ismail Haniyeh, a top Hamas official, said he would return to Gaza on Thursday, cutting short a trip to Arab and Muslim countries, including Iran and Syria. Haniyeh left Gaza on Nov. 28 on what was expected to be a monthlong trip.
"We need the prime minister to be here now to resolve the internal problems," said Haniyeh's political adviser, Ahmed Youssef.
Haniyeh dismissed fears of the violence in Gaza escalating into a civil war.
"We want to assure you that words such as 'civil war' don't exist in our dictionary. They don't exist in our makeup, in our culture," Haniyeh said in Khartoum. "We will protect the national unity of the Palestinian people and we will thwart any attempt to instigate an inter-Palestinian struggle."
Witnesses to the shooting Wednesday said four gunmen calmly ate breakfast at a food stand as they waited for al-Fara outside the courthouse. When al-Fara emerged from a taxi, three of the men grabbed him and forced him onto his knees, while the fourth shot him. The attack left the sidewalk riddled with bullet holes. The witnesses declined to be identified, fearing for their safety.
Dozens of people gathered at the scene and Palestinian security set up roadblocks. Hamas militants also set up their own roadblocks throughout town, searching for the shooters.
About 1,000 Fatah loyalists, about half of them uniformed security personnel, marched through Gaza to the residence of President Mahmoud Abbas of Fatah.
"We tell Abu Mazen the time has come to exercise your powers and stop this farce," said Othman Shalouf, an officer in the National Security Service. Abbas is also known as Abu Mazen.
Some of the protesters fired in the air, but there were no clashes with Hamas militiamen they passed on their route. One demonstrator shouted appeals for Palestinian unity over a loudspeaker.
Students of the al-Azhar university joined the procession, carrying pictures of the three boys killed Monday, as well as Fatah security men killed in internal clashes.
Fatah and Hamas have been locked in a power struggle since Hamas ousted Fatah in parliamentary elections. More than 40 Gazans have died in battles between the two groups since Hamas took power in March.
Seeking to end the standoff, Abbas has been trying to persuade Hamas to join Fatah in a national unity government. But the talks broke down late last month. Tensions heightened after Abbas announced plans over the weekend to call early elections, drawing Hamas accusations that he is plotting a coup.
The latest round of violence was sparked by the deaths Monday of the three young sons of Baha Balousheh, an intelligence officer and Fatah loyalist who helped lead a crackdown on Hamas a decade ago. Balousheh, who was not in the car, escaped two previous Hamas assassination attempts.
Hamas denied involvement in the boys' deaths.
Hamas captures Fatah security HQ in Gaza
By DIAA HADID,
Associated Press Writer
GAZA CITY, Gaza Strip - Hamas gunmen captured the headquarters of the Fatah-allied security forces in northern Gaza, seizing control of a key prize in the bloody power struggle between the sides, Hamas and Fatah officials said.
Palestinian President Mahmoud Abbas of Fatah said Tuesday's fighting amounted to a coup attempt by the Islamic militants.
Hamas attacked the compound with mortars and automatic gunfire, and after several hours of battle, seized control, said Hamas commander Wael al-Shakra. A Fatah security official confirmed the building had been lost. He said at least 10 people were killed and 30 wounded.
Security commanders loyal to Abbas complained they were not given clear orders to fight back at a time when Hamas appeared to be moving forward according to a plan.
Abbas' Fatah movement was to meet later in the day to decide whether to pull out of his shaky coalition with Hamas. Calls by Abbas and exasperated Egyptian mediators for a cease-fire went unheeded.
Instead, Hamas and Fatah militants threatened to kill each other's leaders. In Gaza, a rocket-propelled grenade damaged the home of Prime Minister Ismail Haniyeh of Hamas but caused no injuries in what Hamas said was an attempted assassination. In the West Bank, Fatah gunmen kidnapped a deputy Cabinet minister from Hamas.
Hamas gunmen also exchanged fire with Fatah forces at the southern security headquarters in the southern town of Khan Younis, but had not yet launched a major assault. The town's streets were empty as people huddled indoors.
Col. Nasser Khaldi, a Fatah commander in southern Gaza, confirmed his men were on the defensive. Khaldi said Abbas, the leader of Fatah, must give orders now to fight back.
"There is a weakness of our leaders," he said. "Hamas is just taking over our positions. There are no orders."
Pro-Fatah forces attacked the Hamas-run Al-Aqsa TV and radio stations in Gaza City after security officials said they received orders to stop the broadcasts. Shortly after the attack, they started broadcasting pro-Fatah songs, a sign the security forces had taken control.
Hamas and Fatah have been locked in a violent power struggle since Hamas defeated Fatah in January 2006 legislative elections, ending four decades of Fatah rule.
The sides agreed to share power in an uneasy coalition three months ago, but put off key disputes, including control of the security forces. Most are dominated by Fatah loyalists, while Hamas has formed its own militia, in addition to the thousands of gunmen at its command.
The infighting has grown increasingly brutal. Some of those killed were shot execution-style or hit in shootouts that turned hospitals into battle grounds, while others were thrown from rooftops. Residents huddled indoors, and university exams were canceled.
The head of the Egyptian mediation team, Lt. Col. Burhan Hamad, said neither side responded to his call to hold truce talks. "It seems they don't want to come. We must make them ashamed of themselves. They have killed all hope. They have killed the future," said Hamad, who brokered several previous short-lived cease-fires.
Hamad said both sides were about equal in firepower. "Neither can have a decisive victory," he said. "To be decisive, they need weapons that neither side has."
Hamas Militiamen Beat Protesters in Gaza
Tuesday August 14, 2007
By IBRAHIM BARZAK
Associated Press Writer
GAZA CITY, Gaza Strip (AP) - Security men for Gaza's Hamas rulers clubbed and slammed rifle butts into opponents staging a rare protest Monday, seizing the cameras of journalists covering the event and raiding media offices to prevent news footage from getting out.
The Islamic militant group claims it is willing to tolerate dissent, but the crackdown was the latest in a series of moves to squash opposing voices, including breaking up private parties Friday and Monday where people were singing songs of the rival Fatah movement.
After Hamas gunmen in the Gaza Strip routed forces loyal to President Mahmoud Abbas and Fatah in five days of fighting in June, the group declared an amnesty for former Fatah fighters.
Yet when Fatah and allied groups announced plans for Monday's rally, Hamas banned ``all demonstrations and public gatherings'' that do not have official permission.
Buses carrying protesters were halted by Hamas guards who beat passengers, driving them away and confiscating Fatah flags. However, about 300 people got past the militia cordon and demonstrated for 20 minutes, shouting ``We want freedom. We want to raise our voice!''
Security officers arrested several demonstrators and then confiscated equipment from news photographers and cameramen trying to cover the arrests, including an Associated Press still camera.
Hamas squads also raided the Gaza offices of media organizations, looking for material from the rally. Staffers at satellite broadcaster Al-Arabiya said the militiamen seized a camera and videotape at their office.
The Palestinian journalists union urged its members to observe a three-day boycott of any events organized by the Hamas militia, known as the Executive Force, to protest its treatment of the media.
Saleh Nasser, a member of the small, leftist Democratic Front for the Liberation of Palestine who was at the rally, condemned Hamas' actions.
``Treating people in this way when they came to raise their voice in a peaceful demonstration is something that is condemned, rejected and cannot be accepted,'' he said. ``We are astonished by the decision to ban demonstrations.''
The Gaza fighting in June, during which about 100 people were killed and 500 wounded, deepened the already bitter political rivalry between Hamas and Fatah.
Following the Hamas takeover of Gaza, Abbas expelled Hamas from the Palestinian coalition government and formed a West Bank-based administration of moderates in its place.
Undeterred, deposed Prime Minister Ismail Haniyeh pledged to impose law and order in the formerly anarchic Gaza Strip. But his Executive Force is gaining a reputation for heavy-handedness, particularly when dealing with Fatah supporters.
On Friday, rifle-toting militiamen roared up to a bachelor party where revelers were dancing to Fatah songs. Video showed the Hamas men firing in the air to break up the celebration, clubbing guests, hurling chairs around and leaving one man lying unconscious.
The images were repeatedly broadcast on Fatah-affiliated Palestine TV. The cameraman who took the footage, from the local Gaza Ramattan news agency, was detained and questioned by Hamas for several hours.
On Monday, the Executive Force was in action again, breaking up the wedding of a Fatah activist and holing five guests for several hours.
One of those detained, Zaid Salem, said wedding participants were singing Fatah songs but did not break a Hamas ban on celebratory gunfire and were not charged with any wrongdoing.
``We were celebrating the wedding and we were astonished by this act,'' he said. ``We were released, but we have no explanation for what happened.''
Hamas did not comment directly on Monday's incidents.
But in a statement, it said the Executive Force is a nonpartisan enforcer of public order regulations, which require that demonstrations be authorized 48 hours in advance and that social events be low key - without shooting, fireworks, excessive noise or disruption of public streets.
``Anyone violating these orders will be subject to punishment,'' the statement said. ``Nobody is above the law.''
In other violence, a Hamas militant was killed and seven others were wounded early Tuesday by Israeli gunfire in the southern Gaza Strip, Palestinian officials said. The Israeli army confirmed it carried out the strike, saying it was targeting militants in the area.


Palestinians Between Nationalism and Islam

By Raphael Israeli
Vallentine Mitchell
July, 2008
The Palestinians are at war. But their war is not only against Israel. The two most prominent Palestinian factions, Hamas and Fatah, continue to battle on the streets of Gaza and the West Bank.
But the war does not end there. There is also a war for the soul of the Palestinian people, notes the prolific Hebrew University Prof. Raphael Israeli, in his newest book, Palestinians Between Nationalism and Islam.
Unfortunately, the Islamists are winning. They are exhorted to violence by the bulk of the Muslim world, which is steeped in the muck of radical Islam and the ossified ideas of authoritarian rule.
Only very slowly have moderates emerged from the shadows in Tunisia, Qatar, Iran and elsewhere to challenge this culture of violence. In some cases, these moderates are imprisoned for their courage. The courage of outspoken Palestinians, such as Nabil Amr, can result in life-threatening injury (he was shot by gunmen in Ramallah in 2004), or even death (many Palestinians have been summarily killed on charges of "collaboration").
The result is that the violence continues. "Islamikaze" violence, as Israeli terms it, is a virus that spreads quickly throughout the Muslim world. However, criticism is slowly seeping in, and challenging a system of ideas that the West hopes is doomed to fail.
Drawing from previously published essays, Israeli's book explores the dueling rhetoric between Hamas and Fatah leaders in the Palestinian territories. Even before the collapse of the Oslo peace process, the language of Islamism had become a tool to garner support on the Palestinian street. Indeed, Yasser Arafat found that even while he negotiated peace with Israel, he needed to wield the vitriolic language of his Islamist foes as a means to maintain legitimacy in a violent culture, thus blurring the line between state and religion in the still-forming Palestinian identity. Even Palestinian women have wielded this rhetoric in their bid to play a role in the "liberation of Palestine."
The author, a noted expert on the disaffected yet demographically significant Arab Israelis, observes that this population of some one million is undergoing a similar process. Their citizenship in the Jewish state makes their struggle even more complex.
Israeli explores several ways in which the Palestinians have failed to advance toward statehood, and still other roads this embattled people may yet take.
Notably, he states that "exactly as there are many Arab settlements within Israel proper, there is no reason that Jewish settlements cannot exist within the densely populated Arab areas." Such compromises will not be made, however, so long as the intransigent language of Islamism dominates the public square.
The writer, a former US Treasury intelligence analyst, is director of policy for the Jewish Policy Center and author of the forthcoming book Hamas vs Fatah: The Struggle for Palestine (Palgrave, November 2008).