SHOULD THE QUR'AN HAVE SPECIAL STATUS IN AMERICA?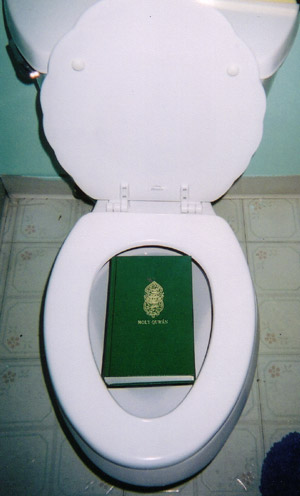 Defaced Qur'an Outrages US Muslims
TENNESSEE, June 23, 2005 (IslamOnline.net & News Agencies) – US Muslims in the Tennessee area have expressed fury at an apparent hate crime against the Muslims' Holy Book, as a copy of the Noble Qur'an was found outside an East Nashville housing complex covered with flies, with a torn-out page mashed with feces and burned around the edges.
"It would be difficult to come up with a scenario in which this incident was not bias-motivated," Executive Director of the Council on American-Islamic Relations Nihad Awad said in a statement, a copy of which was e-mailed to IslamOnline.net Wednesday, June 22. The desecrated Qur'an was discovered on a doorstep by a Muslim citizen living nearby in the LeNore Garden Apartments complex, largely populated by Muslim immigrants from Somalia.
Hearing the news of Qur'an desecration, dozens of Nashville Muslims gathered to express their outrage at the ugly incident. "I don't know why anyone would do this. I can't comprehend it," said Ab-dishakur Ibrahim, imam of the Al-Farooq mosque, according to the Tennessean Web site. "It's in the heart of every Muslim. We respect and we love (the Noble Qur'an) more than our families."
The new desecration incident followed the completion of a military inquiry launched after a May 9 Newsweek article, quoting a knowledgeable US government source, said US interrogators at Guantanamo had flushed a copy of the Qur'an down a toilet to try to "soften" the detainees.
After harsh criticism from the Pentagon, the weekly cast some doubts on the story in its May 23 edition, saying the source "couldn't be certain about reading of the alleged Qur'an incident in the report we cited, and said it might have been in other investigative documents or drafts".
The report sparked angry and violent protests across the Muslim world from Afghanistan, where 16 were killed and more than 100 injured, to Gaza City.
Why?!
Ali Salad Mohamed, a Muslim immigrant in the area, expressed outrage at the desecration of the Noble Book, according to the Tennessean Web site. "It seems that it's been put in feces, bleached and burned."
Mona Grigsby, 33, who lives at 649 Crutcher St., said she noticed the Qur'an on the steps Tuesday when she came home from work, stressing that it didn't seem like something to be worried about. "I didn't know really what it was."
In an attempt to appease furious Muslim inhabitants, Ab-dishakur Ibrahim asked them to show their concern through peaceful means.
"This city has been peaceful, nice, respectful to everybody. So let us not forget that," Ibrahim said. Nashvile is home to some 15,000-20,000 Muslims.
Inquiry
An inquiry was set up by Police and the Federal Investigation Bureau (FBI) into the incident. "Clearly we have to be open-minded to the possibility it is a hate crime," Metropolitan Nashville Police Department Lt. Steve Hewitt told CAIR Wednesday night. He added that it was still too early in the investigation to make a final determination as to motive.
Metro police Capt. Mike Hagar said a suspect could be charged with misdemeanor on the desecration of a venerated object or civil rights intimidation, which can be a felony or misdemeanor charge.
Following the incident, CAIR Executive Director asked people of conscience in Tennessee and throughout the United States to repudiate anti-Muslim bigotry by obtaining and reading the Noble Qur'an. "Our nation's leaders need to address what seems to be a growing level of intolerance and anti-Muslim sentiment in American society."
A recent report released by CAIR on May 11, showed that the anti-Muslim hate crimes, discrimination and harassment in the United States have increased by half over the past year.
On the third anniversary of the 9/11 attacks, Amnesty International said in a report that Racial profiling by US law enforcement agencies has grown over the past three years to cover one in nine Americans, mostly targeting Muslims.
A new nation-wide poll, conducted by the Cornell University and posted on its Web site, showed that at least 44 percent of the American society back curbing Muslims' civil rights and monitoring their places of worship.
Note: Americans are becoming educated about Islam.
A May 2004 report released by the US Senate Office Of Research concluded that the Arab Americans and the Muslim community in the United States have taken the brunt of the Patriot Act and other federal powers applied in the aftermath of the 9/11 attacks.
A double standard for holy books
Long Beach Press Telegram
By JONATHAN GURWITZ
Christian humanitarian groups are reporting a major crackdown on members of their faith in Saudi Arabia.
Tuesday, June 14, 2005 - According to International Christian Concern, the Saudi religious police have arrested scores of Christians in recent weeks, ransacking their homes and destroying Bibles found in their possession.
This follows the arrest on April 23 of 40 Pakistani nationals for celebrating Mass at a private residence in Riyadh. All forms of non-Muslim religious practice are banned in Saudi Arabia.
In the latest round of persecution, the kingdom's religious enforcers arrested eight Indian nationals for attending Christian fellowship meetings. ICC reports one of the prisoners, Samkutty Varghese, received a sentence of 10 months in prison along with 'numerous lashes.'
Meanwhile, the U.S. Southern Command issued its official report on desecration of the Koran at Guantanamo Bay. Consider that sentence. The U.S. military not the media, not human rights organizations, not Islamic groups made public a report of its own internal investigation confirming mistreatment of the Islamic holy book by members of the American military and military contractors.
The report confirms five cases of Koran mistreatment. In what is certain to be the most incendiary case, a guard left his post to urinate and the wind blew his urine through a vent, splashing a detainee and his Koran. Authorities reprimanded the guard and reassigned him to gate duty for the duration of his assignment at Guantanamo Bay.
In another case, an unknown individual scrawled a two- word, English obscenity inside the cover of a Koran.
In other incidents, a Koran was kicked, another was stepped on and an indeterminate number got wet when guards threw water balloons at detainees an episode that seems to warrant its own investigation.
Uncovering and factually reporting cases of disrespect toward Islam or any religion and fairly punishing those responsible serves American interests. Not, however, in the vain hope of trying to soothe the anti-American passions of those who would use Koran desecration as a pretext for more violence.
If not actual or fabricated stories of Koran desecration, Islamic extremists will substitute their conspiracy theory du jour, that American troops are harvesting the organs of Iraqis, that the AIDS epidemic is a form of Zionist biowarfare or that the Asian tsunamis were the result of American, Israeli and Indian nuclear weapons experiments.
It serves American interests to investigate and punish incidents of religious disrespect whether there are 50 or five or even only one because it highlights the difference between a society that demonstrates tolerance and dignity toward the beliefs of even its most fanatical enemies, in contrast to an ideology that brooks no religious dissent, that considers Shiite Muslims and insufficiently devout Sunni Muslims along with Christians, Jews and Hindus worthy of either submission or death.
The U.S. Southern Command investigation also found 15 cases of detainees abusing their own Korans. Among the desecrations: using the Koran as a pillow, ripping pages out of a Koran, urinating on a Koran and this should sound familiar a detainee who attempted to flush a Koran down a toilet.
There's no need to inquire whether these detainee desecrations, which outnumber incidents of American sacrilege 3-to-1, caused Pakistani cricket legend-turned-politician Imran Khan to demand an apology, as Newsweek's faulty story last month did, or whether they resulted in lethal protests throughout the Middle East.
Nor is there any cause to wonder if Christians are rioting in Delhi, Karachi, Vatican City or Topeka over the persecution of their co-religionists and the destruction of their holy texts in Saudi Arabia.
There is without question a religious element to the current global conflict, but it is largely nonexistent and finds no official sanction in the United States and its democratic allies. Where it does exist, it deserves thorough repudiation by politicians, clerics, academics and the media in Riyadh no less than at Guantanamo Bay.
Jonathan Gurwitz is a San Antonio Express-News columnist.
Quran Vandalism Prompts Shock from Local Muslims
Federal officials say they're looking into whether an on-line video posted by a Chattanooga man involves a hate crime.
Joe Legge
WDEF-TV News 12
Tuesday, July 11, 2006
Federal officials say they're looking into whether an on-line video posted by a Chattanooga man involves a hate crime.
The video, called "kill the koran," was posted last month on myspace.com, an on-line community.
The website's author is a 33-year old Chattanooga man. He lists his occupation as a mechanic and paramedic. News 12 received calls today from viewers revealing the man's identity, and he does appear to be local.
Chattanooga's Muslim community expressed outrage and fear after learning of the internet video showing two men, one reportedly local, shooting the Quran. Khaled Hashmi of Annour Islamic Community says "these acts are terrorist acts."
Hashmi says muslims treat their holy book more important than themselves. While local followers of Islam say they're in shock over the video, statements made on the man's website leave them frightened. "We don't know how many weapons they have and what their intentions are they just may go out and start committing crimes against us," says Hashmi.
The video, posted by a man identifying himself as "Mully88" shows two men going to a wooded area and shooting the Quran after purchasing it at a bookstore. One of the men then throws it on the ground outside the door of the Chattanooga Islamic Center.
Federal agents tell News 12 they've nearly completed a preliminary investigation into this matter and say right now, it will be up to the US Attorney's office to decide if a crimes been committed."
Special Agent Gary Kidder says "the question is whether the acts depicted here meet the elements of the statute one of which would be Title 18 Section 247, damage to religious property and free exercise of religious beliefs."
Agents say they'll have to wait for an opinion before moving forward.
Meanwhile, computer experts say the man who posted the video may not be able to hide behind his username for long. Andy Novobilski heads up the Computer Science department at the University of Chattanooga. "You have that opportunity to conceal your identity a little bit, but I'd imagine if law enforcement really wanted to find out who you were they could get fairly close."
Muslims in Chattanooga say this web posting doesn't mark the first time they've been attacked, just last week someone tore out the mailbox at a local mosque. They plan to ask authorities to provide protection for a community they believe is under siege.
FBI probes Web site of Quran desecration
By BILL POOVEY
ASSOCIATED PRESS WRITER
Tuesday, July 11, 2006
CHATTANOOGA, Tenn. -- The FBI will investigate an online video that showed two men shooting a Quran with a military-style rifle and then leaving the bullet-riddled holy book outside a Chattanooga mosque, an agent said.
The Washington-based Council on American-Islamic Relations asked the Justice Department to investigate, FBI agent Tim Burke said Monday.
The video, titled "kill the koran," was posted on the MySpace.com social networking Web service last month, said Ibrahim Hooper, a spokesman for the Islamic group. He said it may be as much as a year old. The video had been removed Tuesday.
A man on the Web site identified himself as "mully88" and claimed to live in Chattanooga. His profile listed as heroes "anybody that has killed a muslim or at least tried to kill a muslim." His Web page also contains slurs against Hispanics and blacks.
The video shows the man purchasing a Quran at a bookstore, taking it to a wooded area and shooting the book, then throwing it on the ground outside the door of the Chattanooga Islamic center.
The Council on American-Islamic Relations called it a possible civil rights violation. Legal Director Arsalan Iftikhar compared it to burning a cross.
"By throwing the bullet-riddled Quran at the mosque, we believe the perpetrators went beyond the limits of free speech by taking part in an overt act of religious intimidation," Iftikhar said.
Abdul Raheem Kabah, identified by Hooper as the imam of the Chattanooga mosque, did not immediately respond to calls seeking comment.
The council has also asked for an investigation into vandalism at an Indiana mosque as a possible hate crime and cited other incidents of vandalism in recent months against mosques in Maine, Arizona and Maryland.
Muslim Student Groups Praise Authorities For Handling Of Koran Incidents
NY1.com
October 19, 2006

Representatives of city Muslim organizations gathered Thursday to condemn two possible anti-Muslim bias crimes at Pace University. But as Criminal Justice Reporter Solana Pyne explains in the following report, the groups are impressed with authorities for the way they're investigating the incidents.

In the space of a month there have been two separate incidents where a Koran, the Muslim holy book, was found in a Pace University toilet. The most recent was found just last Friday.

"This is no different from placing a burning cross in front of a house or painting a swastika on a locker," said Aliya Latif of the Muslim-American Lawyers Association.

Representatives of New York Muslim organizations came together Thursday to make sure the incidents aren't forgotten, even as they praised the way authorities are handling them.

"We spoke to [the] NYPD yesterday and they said they are doing everything they could to make sure there will be an arrest. They will work really hard on this," said Omar T Mohammedi of the American-Islamic Relations Council.

The Pace Muslim Students association, which criticized the University for not being aggressive enough in its handling of the first incident where a library copy of the Koran was found in the library toilet, praised the administration's actions this time.

"I would say that the university has kind of done a 180 and is definitely working with us in terms of labeling it as a hate crime and then, the sensitivity forums that I spoke about earlier, they're actually helping us facilitate those," said Faiza Ali of the Muslim Students Association.

Pace University released a statement on Thursday in response to the incidents announcing an anti-hate campaign.

"Pace University has aggressively reached out to our many student organizations and campus councils that are concerned with promoting acceptance and combating intolerance," said part of the statement. "All of them are responding with deep concern and constructive suggestions; we are very united."

The Muslim Students Association said the fact that these incidents happened here on campus has made some fear for their safety. But they say that overall the reaction of other students has been more than reassuring.

"We actually have been welcomed by a lot of student groups on campus that have been standing in solidarity with us," said Ali.

And they are standing in solidarity with others in two more possible bias-related incidents over the last month, directed toward other groups.

"The same week that the first incident occurred with the Koran, that Friday a swastika and racial slurs were spray painted on a bathroom stall in Pace University," said Ali. "In our Westchester campus on someone's car there were racial slurs spray painted as well."

The NYPD hate crimes task force is investigating all four incidents. So far they haven't identified any suspects.

– Solana Pyne

LET'S PROTECT OUR FREEDOM OF SPEECH AND INFORMATION!