MUSLIM SCHOOLS TEACH HATE
Kindergarten in Indonesia dresses children in ISIS-style outfits for parade
The Straits Times
August 20, 2018
PROBOLINGGO (AFP) - An Indonesian kindergarten apologised on Monday (Aug 20) after images of its pint-sized students marching in niqab veils and carrying cardboard cutouts of assault rifles sparked outrage.
Organisers were left red-faced after a torrent of criticism suggested the Islamic State in Iraq and Syria (ISIS)-style outfits promoted violence in a country that has long struggled with militant attacks.
The group of about 15 students were taking part in a parade for Indonesia's independence day last Friday near the country's second-biggest city Surabaya.
The Kartika kindergarten, which is located inside a military complex in Probolinggo town, said the costumes were resurrected from storage to save parents the cost of buying new ones.
It denied that the gun replicas and full-body veils promoted extremism.
"I never meant to teach violence to my students," said school principal Suhartatik, who like many Indonesians goes by one name.
"We only used the props that we already had to cut costs for parents. I deeply apologise."
The costumes had been used in previous parades to teach students about the Prophet Muhammad's faith and beliefs, she added.
But the principal's explanation was met with derision on Indonesian social media.
"Nobody carried assault rifles in the prophet's time - is this teacher that clueless about history or was she just trying to dodge the blame?" one user posted on Twitter.
Another tweeted: "Obviously the seeds of ISIS are being nurtured early on." Indonesian parliamentary Speaker Bambang Soesatyo also lashed out at what he dubbed a "very concerning case".
"Parents and teachers should protect children from damaging their way of thinking," he told news site Detik.
Parade organisers said they were embarrassed for failing to notice the provocative outfits.
"I really apologise - I did not check beforehand," said chief organiser Supini. "This was supposed to be a cultural parade."
The incident came as Indonesia looks to promote itself as host of the 18th Asian Games, the world's biggest multi-sport tournament after the Olympics.
Indonesia has endured a spate of deadly militant violence in recent years.
The 17,000 island archipelago, which has the world's biggest Muslim population, suffered its worst attack in a decade in May after ISIS-inspired suicide bombers attacked several churches.
Indonesia's deadliest terror attack was the 2002 Bali bombing which killed over 200 people.



Islamic school head forced out after weapons and £400,000 cash found at flat in grounds
TRISTAN KIRK
Friday 22 June 2018
Evening Standard
The headteacher of an independent Islamic school has been forced out to spare it from closure after a raid by armed police uncovered weapons and more than £400,000 in cash at a flat in the grounds.
Officers were called to the Darul Uloom school in Chislehurst on May 30 after reports of a man brandishing a gun. Headteacher's son Yusuf Musa, who was the school's designated safeguarding staff member, was arrested in connection with the incident.
Officers found a toy gun at his flat as well as bladed weapons and more than £400,000 in cash, Westminster magistrates' court heard.
Headteacher Mustafa Musa was arrested the following day on suspicion of money laundering, sparking an emergency application by the Department for Education to shut the school. Government officials told the court they were concerned about the safety of the 155 pupils and applied for an order to suspend the school from the official register.
At court this morning, the school fended off the closure bid by agreeing that Mr Musa, and his son, will have "no involvement whatsoever" with the school in the future.
The two men are now banned from the grounds, including Yusuf Musa's flat, and accommodation for pupils who pay £3,000-a-year fees as boarders.
The school may be shut temporarily until a government-approved trustee has been appointed to handle safeguarding. An independent safeguarding audit must be carried out and the school must accept and act on any recommendations, the court heard.
Chief magistrate Emma Arbuthnot, who was due to hear the application, said: "I had real concerns and understand why the department brought the application. I had a concern about what £400,000 was doing in cash at the school — I think that's a danger to the school. If all the parents know they send money in and pay their fees in cash, that is a risk to the school. I would like there to be a bank account."
The school has failed a series of Ofsted inspections in the past two years, when serious problems with its safeguarding and leadership were identified.
Gavin Irwin, the lawyer representing the school, told the court there have been "very positive and meaningful safeguarding improvements in recent weeks".
"It's a steady, if perhaps too slow, improvement," he said.
The two men were questioned by police and remain under investigation. They have not been formally charged with any offence.
John Hartley, from solicitors Hodge Jones & Allen, which represents the school, said trustees "take their responsibilities for safeguarding children extremely seriously".
"They have made significant structural changes to the school's leadership and will keep the safeguarding of those children in its care under constant review," he said.
"However, they are pleased that the court has recognised improvements have been made and that there are no immediate reasons for the school to be permanently closed."


Here's how schools of faith, mobiles are radicalising Kashmir

Aarti Tikoo Singh
TNN
Jul 9, 2017
Youth throws stones at Indian security personnel in Srinagar
Last month, in a south Kashmir mosque, a fiery cleric in his raucous voice and shrill cries, defended former Hizbul commander Zakir Musa's call for Islamic jihad. For the first time, a cleric, using his religious pedestal, was exhorting his audience to support Kashmir's most wanted terrorist who recently aligned ideologically with al Qaeda. The audio recording of Mufti Shabir Ahmad Qasmi's incendiary speech was widely circulated on instant online messaging platforms in the valley. The Mufti very likely converted many of his ardent followers into Musa cheerleaders.
Kashmir's mosques have always been used for religio-political ends, and for separatism since 1989 when the militancy broke out. But the character of the mosque has changed dramatically in the last decade.
Hanafi/Barelvi Islam, the traditionally moderate school followed by the majority in Kashmir, is being replaced by the radical Ahl-e-Hadith, the local moniker for Saudi-imported Salafism or Wahhabism. Though many Hanafi clerics like Moulana Abdul Rashid Dawoodi are resisting their Wahhabi competitors, "the attendance in annual fairs of all major Sufi shrines has been decreasing," said Muzamil, a Sufi practitioner. Of the roughly six million Muslims in the Valley, the once-marginal Ahl-e-Hadith now has over a million followers, claimed its general secretary, Dr Abdul Latif.
The Arab funded Wahhabism finds convergence with other already established conservative strains of Islamic movements, such as Deobandi and Jamat-e-Islami in Kashmir. The mufti who made a plea for Musa is a Deobandi from a Jamati household. Such religious intersections are not limited to fundamentalists. Last year, Sarjan Barkati, a self-proclaimed Sufi, earned epithets like 'Pied Piper of Kashmir' and 'Freedom Chacha' for mobilising people and glorifying the Hizbul commander Burhan Wani who had wanted to establish an Islamic Caliphate. These mutations from moderate to radical have been happening insidiously and manifested themselves in the mob that lynched deputy SP Ayub Pandith on Shab-e-Qadr.
Last month, in a south Kashmir mosque, a fiery cleric in his raucous voice and shrill cries, defended former Hizbul commander Zakir Musa's call for Islamic jihad. For the first time, a cleric, using his religious pedestal, was exhorting his audience to support Kashmir's most wanted terrorist who recently aligned ideologically with al Qaeda. The audio recording of Mufti Shabir Ahmad Qasmi's incendiary speech was widely circulated on instant online messaging platforms in the valley. The Mufti very likely converted many of his ardent followers into Musa cheerleaders.
Kashmir's mosques have always been used for religio-political ends, and for separatism since 1989 when the militancy broke out. But the character of the mosque has changed dramatically in the last decade.
Hanafi/Barelvi Islam, the traditionally moderate school followed by the majority in Kashmir, is being replaced by the radical Ahl-e-Hadith, the local moniker for Saudi-imported Salafism or Wahhabism. Though many Hanafi clerics like Moulana Abdul Rashid Dawoodi are resisting their Wahhabi competitors, "the attendance in annual fairs of all major Sufi shrines has been decreasing," said Muzamil, a Sufi practitioner. Of the roughly six million Muslims in the Valley, the once-marginal Ahl-e-Hadith now has over a million followers, claimed its general secretary, Dr Abdul Latif.
The Arab funded Wahhabism finds convergence with other already established conservative strains of Islamic movements, such as Deobandi and Jamat-e-Islami in Kashmir. The mufti who made a plea for Musa is a Deobandi from a Jamati household. Such religious intersections are not limited to fundamentalists. Last year, Sarjan Barkati, a self-proclaimed Sufi, earned epithets like 'Pied Piper of Kashmir' and 'Freedom Chacha' for mobilising people and glorifying the Hizbul commander Burhan Wani who had wanted to establish an Islamic Caliphate. These mutations from moderate to radical have been happening insidiously and manifested themselves in the mob that lynched deputy SP Ayub Pandith on Shab-e-Qadr.
The coalescing of all the schools of Sunni Islamic thought in Kashmir is result of a "common broad-based platform, Ittehaad-e-Millat, created to resolve differences" not only among the puritanical groups but also with syncretic Barelvi outfits, said Jamat-i-Islami Amir chief Ghulam Mohammad Bhat. Incidentally, IeM was actively involved in organising protest rallies in favour of Wani last year.
Way before Wani was killed, the signs of Wahhabised radicalisation had already begun to emerge. Maulana Mushtaq Ahmad Veeri, for example, was already popular in south Kashmir by 2015 for sermons in which he praised the IS and Caliph Al Baghdadi. "It was only a matter of time before the youth started waving IS flags while pelting stones, or Wani or Musa declared jihad for the Caliphate. Ironically, many moderate Kashmiri Muslims claim that IS has been created by the US and Israel to malign Muslims,"said a student of religion from Bijbehara.
Official sources said that there are over 7,500 mosques and seminaries in Kashmir, of which over 6,000 are Hanafi and around 200 are syncretic Sufi shrines. Ahl-e-Hadith, Deoband and Jamat put together have just over 1,000 mosques and charity based seminaries, of which Ahl-e-Hadith has the largest number. "Ahl-e-Hadith mosques are popular for their modern furnishing and facilities," said Shahnawaz, a Barelvi follower in Anantnag, adding that the organisation also funds several orphanages, clinics and medical diagnostic centres.
Sources said Ahl-e-Hadith mosques and seminaries have doubled in the last 27 years. FCRA annual reports show that top donors to India among the Salafist Islam practising states are the UAE, Saudi Arabia and Qatar. Although it is not clear who the top donor and recipient in J&K is, the state has received between 10 and 100 crores as foreign funds each year in the last decade.
A lot of Salafist literature was being distributed for free in Kashmir through last 30 years, a Shia Kashmiri said. "There is a sizeable number of Kashmiri diaspora in the Middle East who send remittances, mostly through Hawala to fund not just this radical doctrine but terror too."
Religious scholars in Kashmir point out that Ahl-e-Hadith has four sub-schools—Jamait-ul-ahl-e-Hadith (puritan), Difai (ultra-puritan), Guraba (religio-political ultra-puritans like Masrat Alam), Sout-ul-Haq, represented by ISIS, where a nonconformist is 'wajib-ul-qatl' (eligible for murder). A scholar who didn't want to be named claimed the radical subsects are anywhere between 1 to 5 percent in Kashmir.
Ahl-e-Hadith played a role in the separatist movement as a part of the joint Hurriyat Conference until it was split in 2003. The organisation is known to share a relationship with Tehreek-ul-Mujahideen, which is closely associated with Lashkar-e-Taiba. The TuM is a part of the PoK-based United Jihad Council headed by Hizbul Mujahideen commander Syed Salahuddin, who in 2014, had declared support for al-Qaida's entry into Kashmir.
However, security officials believe that the influence of Wahhabi discourse through the Internet, social media and messaging platforms is far more dangerous than the mosques and literature. "Kashmir has around 2.8 million mobile internet users. Even if there is one Salafist preacher glorifying Burhan Wani or Zakir Musa and the clip is circulated over smartphones, it has a dangerous multiplying effect over a huge population," a senior police official said.
Mobile data usage, officials claim, is higher in Kashmir than other parts of the country because of lack of other sources of entertainment. Cinemas, bars and discotheques were shut in Kashmir in the early 1990s when militant groups issued diktats against all things "un-Islamic".


Peace International School in fix for 'lessons on jihad'
DECCAN CHRONICLE.
ROHIT RAJ
October 9, 2016
Each time an Islamic school anywhere is found to be teaching jihad, authorities act as if it is a singular and unprecedented event. In reality, however, jihad — as warfare against and subjugation of unbelievers — is taught in the Qur'an (9:29). Thus no one should be surprised in the least when discoveries of this kind are made.
"How many of you are willing to die for Islam? Think, think think." Thus goes a question in the syllabus of a Peace International School in Ernakulam district, that too for the second standard students. If the police version is to be believed, the school was conducting classes in religion rather than following the CBSE syllabus. "The school is asking second standard students about willingness to die. This gives an idea about the syllabus. We got a report from the education department that the syllabus is in violation of the CBSE norms," said Ernakulam Range IG S. Sreejith. The police will continue the investigation into it and there is no plan to hand over the case to the National Investigation Agency, he said.
The cops registered a case against the Peace International School, Chakkaraparambu, and slapped 153A (promoting enmity between different groups on grounds of religion, race, place of birth, residence, language). The police, however, refused to reveal the names of the persons against whom the cases were registered. The Peace School officials refused to comment on the issue, but a source confirmed that the police had inspected the school in the recent past.
The district educational officers, Aluva and Ernakulam, had given a report to the police after Ernakulam assistant commissioner K. Laljy filed a complaint before them. This is the second complaint filed by the police against the Peace school in the district. They had recently inspected many of the branches of Peace schools across the state. According to a source at the school, religious texts and study materials were collected from the school by the police after Merin, a teacher with the school, allegedly joined the Islamic State. The DEOs had also filed reports before the Dy. Director of Education.


Children in Pakistan are learning disturbing things about other religions in school
Nafees Takkar,
Christian Science Monitor
Mar. 31, 2016
The Easter bombing of civilians in a park in Lahore follows a long rise of religious extremism in Pakistan and a poisoning of public opinion towards minority faiths.
The jihadist group that claimed responsibility for Sunday's suicide bombing said they had targeted Christians, though most of the 72 killed were Muslims.
On the same day, thousands of radicals began a four-day sit-in in Islamabad over the execution of a bodyguard who killed a provincial governor who had been a voice for religious tolerance.
Yet the toxic religious atmosphere in Pakistan can't be blamed entirely on jihadis on the periphery of society, or on the system of religious madrassas.
In recent years in government-approved schools, students are using textbooks that teach hostility towards all forms of thought and expression – except orthodox Sunni Islam.
Pakistani intellectuals and secular educators argue that the texts present a steady pitter patter of negative views on other faiths, on democracy and the West, that begin at the earliest grades and continue through high school graduation.
The books claim that Christian, Hindu, Jewish, Sikh faiths, and even minority Muslim ethnic groups are inferior if not dangerous and should be opposed. They often present stereotyped images from history – the crusades in the Middle Ages, unjust colonial British civil servants, Jewish moneylenders, or of marauding Sikhs warriors – as if these are current affairs and represent popular views in the West and India today.
The texts also adopt fundamentalist arguments that Muslim individuals are responsible for taking independent action against those who are not virtuous.
Nearly 70 percent of Pakistani students attend public schools, according to the Center of Research and Security Studies. The Islamabad-based think tank points out that government committees decide on the content in curriculums.
"The textbooks take the readers to an absolute point of view that stops students from thinking critically and takes them into isolated thinking," says Khadim Hussain, a Peshawar-based writer on militancy and the director of an educational foundation.
In a seventh-grade social studies text, students read: "History has no parallel to the extremely kind treatment of the Christians by the Muslims. Still the Christian kingdoms of Europe were constantly trying to gain control of Jerusalem."
Relations with Jews are presented in a seventh grade text in this way: "Some Jewish tribes also lived in Arabia. They lent money to workers and peasants on high rates of interest and usurped their earnings."
Sixth graders are taught that, "Christians and Europeans were not happy to see Muslims flourishing."
Seventh graders read, learn, and are tested on material from texts that teach the Crusades almost as current affairs and offer a very narrow view of Christianity without describing the nearly universal approbation against them taken later.
"These wars are called crusades because the Pope, a head of the Christians, called a council of war," the text states. "In this meeting he declared that Jesus Christ sanctioned war against Muslims."
Brainwashing?
By 10th grade students learn not just that jihad is a form of internal struggle for the faithful, but that, "In Islam Jihad is very important. The person who offers his life never dies. All prayers nurture one's passion for Jihad."
Some government officials and public school teachers and officials privately say these readings encourage hate and bigotry and over time act as a form of brainwashing. They say that previous social studies courses presented a diverse smorgasbord of ideas and comparative concepts comparable to those in the West and cause students to turn inward.
"These texts present a world view that has nothing to do with real studies and the real world. The texts showing up in public schools repeatedly describe Christians and Jews as enemies of Islam," Mr. Hussain says.
The leaders of the Jamat-ul-Ahrar, the organization that claimed responsibility for the attack on Christians in Lahore, graduated from public schools.
The spokesman of a jihadi group that claimed a recent attack on Bacha Khan University in Charsadda, a town near Peshawar, got his first education from a regular school. The attack on Jan. 20, which killed 21 students and teachers, had symbolic importance since the college is named after a Pashtun leader known for his philosophy of non-violence against British rule.
Since the Lahore attack, Pakistan's prime minister, Nawaz Sharif, has been criticized for offering no real plan to tackle militancy. On Tuesday, military and civilian leaders chose to blame India for alleged espionage in Pakistan's volatile Balochistan province.
The military has also vowed to extend a crackdown that began after the slaughter of more than 130 students in a military school in late 2014. Civil society activists point out that this approach hasn't ended militancy, even though the Army claims that it is killing thousands of radicals a year.


ISIS in Afghanistan: School of Jihad
November 1, 2015
PBS
Young boys and girls cluster around a small room in a village school in eastern Afghanistan. The teacher calls on a young boy.
"Stand up, Daud. What is this called?" he asks, handing the boy an AK-47.
"Kalashnikov," the boy replies.
"Why do we use this?"
"To defend the faith," Daud responds.
The school is run by fighters who pledged allegiance to ISIS — the terrorist group that declared an Islamic caliphate in Iraq and Syria. They live among the locals in the village of Shaigal, take local wives and collect taxes. They seem to control every aspect of life.
The teacher, Abdullah Gul, tells the students what "jihad" means: "We must implement God's religion over all people," Gul tells the children in the below video. "God says do jihad until intrigue, idolatry and infidelity are finished in the world."
The footage — from the upcoming FRONTLINE documentary, ISIS in Afghanistan — is some of the first to show the degree to which ISIS has gained a foothold in the country, introducing a new level of brutality to the conflict, beyond what has been practiced by the Taliban. Fighting between ISIS, the Taliban, and government forces and allied militias has displaced a new wave of Afghan civilians, many of whom have made the treacherous journey across the Mediterranean Sea to seek refuge in Europe.
Those who remain in Afghanistan face an increasingly deadly conflict. The first six months of 2015 saw the highest death toll — 1,592 — since the United Nations began counting in 2009. The rising deadliness and complexity of the conflict led President Barack Obama to announce in October that the United States would keep 9,800 troops in Afghanistan through 2016.
Madrassas: behind closed doors

Victor Mallet
Financial Times
October 30, 2015

Are south Asia's Islamic schools causing a surge in extremism?

Deoband, India

To reach Deoband by road from the vast conurbation of greater Delhi, you must drive through one of the most densely populated regions on earth, past shanty towns, apartment blocks, brick kilns, petrol stations, sugar-cane fields, timber plantations of poplar and eucalyptus and arrays of cow-dung patties stuck to walls or heaped on the ground for future use as cooking fuel.

At first sight, Deoband, a typical town of the dusty north Indian plain, is barely worth the journey. The streets are strewn with rubbish, and the eye is drawn instead to brightly coloured hoardings that advertise computer classes and private schools in a land known for the poor quality of state education. But at the heart of the town is one school that has long made Deoband famous, or infamous, across the world: the Islamic madrassa of Darul Uloom.

We are greeted in this quiet, academic oasis, whose name means the house of knowledge, by the white-robed, white-bearded Arshad Madani. A revered scholar among south Asia's 500 million Muslims, he goes by the title Maulana (our lord). His forehead is marked with a zabiba, the permanent bruise caused by frequent prostration for prayers, and he learnt the whole Koran by heart by the time he was eight. "It's easy because God makes it so," he says.

Yet Madani is immediately defensive after he ushers us into a meeting room for an interview. As hundreds of boys in the neon-lit classrooms around seek to emulate his childhood feat of memory by rocking back and forth on the floors and mumbling verses of the holy book, he launches into a justification of the school's teachings — before anyone has even mentioned terrorism, or asked about the role of Deobandi adherents in Islamist violence from Afghanistan to Bangladesh.

"We teach our children the value of love above religious sentiments," declares Madani. He was born in 1941, six years before India's independence and partition, and is an expert on the hadith, the sayings of the Prophet Mohammed. "We train them for peace and love. That's why they are not involved in any kind of activity that's detrimental to peace. Students who are educated in other institutions — they are the ones involved in violent activities."

This outburst is not entirely surprising. Research and interviews by the FT into the madrassa phenomenon across south Asia show that "Deobandi" has become shorthand for a Sunni Muslim extremist, at least among some commentators. The ubiquitous Deobandi madrassas spawned across Asia since the school's foundation in 1866 were once seen by Muslims as "forts of Islam" amid the westernisation of British India. More recently, however, they have been described as dens of jihadism and violence. Atal Bihari Vajpayee, then Indian prime minister and a leader of the Hindu nationalist Bharatiya Janata party, called religious schools in neighbouring Pakistan "factories of terror" after an Islamist attack on the Indian parliament took the two countries to the brink of war in 2001.

Numbers are disputed, partly because so many madrassas are unregistered, but there are certainly tens of thousands in south Asia today. Wave after wave of Deobandi graduates have gone on to found their own institutions across the region, with a centenary report in 1967 recording the foundation of 8,934 Deobandi madrassas and maktabs (primary schools) in the first 100 years.

In Pakistan, the number has risen from 244 in 1956 to about 24,000 today, most of them Deobandi. In Bangladesh too, they are multiplying rapidly. As for India, Madani says he has "no idea" how many there are, but "there's not a single city without one. Ninety-nine per cent are Deobandi." Across the three countries, there are perhaps six million students at madrassas. That is a small share of the Muslim school-going population, but the problem lies with the fact that some of the Pakistani and Afghan graduates are internationally known terrorists and murderers.

Pashtun leaders of the Taliban in Afghanistan, including the late Mullah Omar, were trained in puritanical Deobandi madrassas along the Pakistan-Afghanistan border before imposing their joyless, patriarchal regime on the Afghan people in the 1990s. Pakistani Taliban fighters attended Deobandi madrassas in the same region. Two years ago, the US Treasury designated the Ganj madrassa in the Pakistani city of Peshawar as a terrorist training centre for suicide bombers, although the school's administrator — of the Ahl al-Hadith or Salafi tradition, a version of ultra-conservative Islam slightly different from Deoband's — insisted that it was a purely religious institution.

From Somali al-Shabaab militants slaughtering Christians in Kenya to the Bangladeshis who murder liberal bloggers with machetes on the streets of Dhaka, the perpetrators of Islamist terror attacks are often said by police to have been the teachers or pupils of Sunni Muslim madrassas. Only last Friday, bombers presumed to be Sunni militants killed 22 Shias in Pakistan and one in Bangladesh during the annual Shia processions for Ashura; dozens were injured.

We join Abdul Qasem Nomani, a graduate and now the vice-chancellor of Darul Uloom, who concurs with Madani in insisting that Deoband has nothing to do with these modern outbreaks of terrorist violence. The madrassa was founded to defend Islam. "Our main mission was to preserve Islamic culture and the Koran," says Nomani. The result, wrote historian Barbara Daly Metcalf in Islamic Revival in British India: Deoband, 1860-1900, was a madrassa that "began modestly in the old Chattah Masjid [mosque] under a spreading pomegranate tree", with one pupil and one teacher, and grew into a large, professional institution teaching Islam as well as law, logic and philosophy.

Madrassas had already been in existence for nearly a millennium, with the first in India established in Rajasthan in 1191. But Deoband's founders made it the centre for a "newfound scriptural conservatism in Islam", according to Alexander Evans, a British diplomat who visited scores of south Asian madrassas for his research a decade ago. "The foundation of Darul Uloom also marked a closing of doors to modern knowledge, which was now seen as polluting because of its association with the British," he wrote then in Foreign Affairs.

Darul Uloom today is as puritanical and orthodox as ever. The arrival of the FT's female video producer — a Hindu, what's more — among the 4,000 male students milling around the mix of modern and Mughal-style buildings attracts knots of curious young men before they are dispersed by the shouts of irritated teachers. She is not permitted even to enter the precincts of the mosque. It is not only Hindus who are shunned. Today's Deobandi teachers are uncompromisingly hostile to Shia Islam and south Asia's sometimes heterodox practice of Sunni Islam.

Indians, Madani explains, "absorbed Islam but it took on a different form and meaning — like bowing to the graves [of holy men] and asking for things . . . Islam says that nobody but Allah can give anything. Do not bow before anything." But surely, he is asked, Islam was changed by coming to India as much as Hindus were changed by the coming of Islam? His answer is unyielding: "Islam cannot be changed, because the foundation of Islam is the Koran and the hadith."

Isolated in the heart of Hindu-majority India, Darul Uloom itself is not seen as a promoter of contemporary terror. The institution has, in any case, been largely cut off from its south Asian hinterland by the Indian security services, its administrators are under constant pressure to speak out against Islamist violence, and it shies away from politics. It once hosted students from China, Malaysia, Iraq, South Africa, Burma and Saudi Arabia but has now been denied visa approvals for all but 20 or so Afghans currently at the seminary. "The fear is that students' minds will be poisoned, but we wouldn't do that," says Madani, whose rejection of the idea that Deoband should be blamed for the actions of its affiliates abroad implicitly admits that the problem lies with the Deobandi diaspora. "We are not responsible for what they do. But they follow our syllabus . . . There are no jihadis here, because we have full control over what we are teaching."

Wasim Khan is a 22-year-old student who has been at Darul Uloom for the past six years. He echoes the pro-peace, antiterrorism message, although he adds vaguely that the institution teaches its alumni "to challenge the forces inimical to Islam and give them a fitting reply, to counter those opposed to Islam and those who want to sully its image". When he graduates, he plans to spread the teachings of Islam, preferably abroad. "I will present the true picture of Islam to the world."

Dhaka, Bangladesh

Among politicians and Muslim leaders, there are running debates about whether madrassas should be reformed and controlled or encouraged to spread. In India, Bangladesh and Pakistan, the institutions are divided between those monitored by the state, which usually also teach official curriculum subjects such as English and math, and those that remain outside government purview and are more likely to be run by uncompromising Islamists. Officials and moderate Muslims talk constantly of the need to "mainstream" the thousands of unofficial madrassas, many of which are funded by Saudi money either directly or through the remittances of migrant workers in the Gulf.

Take Bangladesh. Syeed Ahmad, a liberal, agnostic blogger and social activist, says that in Dhaka, "in my village, 10 years ago there was only one madrassa. Now there are 19." Bangladeshi liberals lament what they see as an assault by Saudi-inspired Islamist fanatics on Bengal's tolerant culture of art, literature and music.

The recent upsurge in Islamist extremism among Bangladesh's 150 million inhabitants is not only the result of fundamentalist ideas spreading from the Middle East but also tied to the country's violent politics. While the nominally secular government of Sheikh Hasina harasses the opposition, a new, rural madrassa-based group called Hefazat-e-Islam (Protectors of Islam) has emerged from the shadows. At least 58 people were killed two years ago when the security forces dispersed tens of thousands of Hefazat supporters — which demands nationwide Islamic education and the separation of men and women — who had unexpectedly converged on Dhaka to confront young, secular Bangladeshis deemed to be atheists.

The main Deobandi madrassa in Dhaka is the Jamia Qurania Arabia, founded in 1950 in the teeming streets of the old city. Here the teachers are as insistent as those of Darul Uloom itself that they oppose violence. "Islam is against not only the killing of a man, but even of an ant," says Mufti Fayez Ullah, who teaches fiqh (jurisprudence) and hadith to the 1,800 pupils. But he is equally adamant about rejecting official attempts to control the curriculum, accuses the government of framing madrassa students over Islamist murders in Dhaka and confirms he is a member of an opposition political alliance. (Like many of Hasina's opponents, he has been deluged with criminal proceedings — 42 in his case — and says he cannot leave the madrassa for fear of being "disappeared".) He rejoices in the recent advances made by Islam in Bangladesh. "Islam is going to make further inroads. People have become more pious," he says.

Jamia Qurania Arabia is highly selective — only 500 out of the 10,000 applicants are accepted each year after an academic test — but tuition is free. It is financed, the mufti says, by rental income from property gifted to the school, by the sale of hides donated after animal sacrifices, and by Bangladeshis living in the UK and the Gulf.

Boys and young men between the ages of eight and 30 are hunched over the Koran and books of Arabic grammar and law. In one classroom, a teacher explains the significance of Muslim holidays and festivals. (The Day of Ashura definitely does not count, says Mufti Taiyeb Hossain — "It's a Shia celebration. It's not sanctioned by Islam.") Fayez Ullah says the madrassa is considering launching science lessons but they would have to be based on Islamic science. He quotes a Koranic verse that mentions the sun, the moon and their orbits. Graduates typically become clerics — there are 200 from this madrassa alone in Qatar, and others in east London and New York state — although some go into the garment business or serve on the supervisory boards of Islamic banks.

Mohammad Borkot, 20, began studying at the madrassa seven years ago when his father, an engineering professor, returned from the UK in order to put his children in religious schools. Borkot expresses admiration for ultra-conservative Salafism and regrets that teachers seem to shy away from discussing jihad. Asked what he wants to do for a career, he says he will probably have to join a business partnership, but "primarily, I just want to be a traveller — philosophy and stuff".

Lahore, Pakistan

More than 2,000km to the west, in the Pakistani city of Lahore, Tahir Ashrafi, a Deobandi who heads the Pakistan Ulema Council (PUC), an umbrella group of Islamic scholars, defends the original Deobandi ideology as moderate, "un-Salafi" and "very far from extremism and terrorism". That is important to understand, he says, for Deobandi-dominated countries such as Pakistan, Afghanistan and Tajikistan, and even for Malaysia and Indonesia to the east, especially since their inhabitants are mostly prevented from going to Deoband themselves by the Indian authorities. Ashrafi says there are two million boys and 250,000 girls in some 24,000 Pakistani madrassas. More than half come under the auspices of the PUC and a quarter offer English and math as well as religious studies. He once boasted that more than 60 per cent of students at PUC madrassas were "not involved in any training or terrorist activities", prompting a question as to whether that meant the remaining 40 per cent were involved. "That's the reality," he replied.

Ashrafi was educated at madrassas in Lahore, learnt Arabic, and says he was carrying a Kalashnikov by the age of 11, when he went to help the jihad against the Soviet occupiers of Afghanistan in the 1980s. There he met Osama bin Laden, the al-Qaeda leader, and was trained to use rocket launchers and other weapons by a US colonel called Michael. These days, Ashrafi is a rare voice for moderation and interfaith tolerance in Pakistan, which styles itself as an Islamic republic. He is proud that the PUC was among the first groups to issue a fatwa against Isis last year, and says he has survived six kidnappings and attempts on his life by extremists. "The problem is not the madrassas," says the heavyset Ashrafi, clad in sandals, a white kurta pyjama and a black turban. "It's in the mind, the mindset."

Even so, the most persuasive criticism of south Asia's hardline, Sunni Muslim madrassas is the narrow scope of what they teach. This issue came to a head in the Indian state of Maharashtra this year, when the government said madrassas that did not teach mainstream subjects would be considered "non-schools", ineligible for state funds. In the remote villages of Asia, madrassas are at least credited with feeding and teaching poor children to read for free. But curriculums are often fossilized, with some science and philosophy texts dating back to the 13th or 14th centuries.

Most graduates are qualified to do nothing in the modern world except become a preacher or open yet another madrassa. "Even a madrassa teacher has no awareness of the world," concedes Ashrafi in Lahore. "The world is his room."

In Bangladesh, government minister H T Imam is talking of the latest plan to bring madrassas under government control: "People from the poorer communities were taught only Arabic — and that defective — and the Koran and Koranic recitation. So what could they do? They could become imams in the mosques or perform religious rites. We are trying to bring them to the mainstream of the population by giving them other languages also. There were madrassas where they didn't fly the national flag or sing the national anthem. Arabic first, of course, but learn your own language too — Bengali — and English."

The future

Asked in New Delhi why Islamist extremism is on the rise, Maulana Wahiduddin Khan, a moderate Indian Muslim scholar and campaigner for "peace and spirituality", pulls no punches: "It's due to backwardness in scientific education." At today's madrassas, he says, teachers wrongly believe that democracy and the US are enemies of Islam. "Now we are living in the age of science. Muslims must enter into modern education," he says. "I was taught in a madrassa. But when I came into society I found that I could not answer the questions of those who were educated in a modern sense. So I decided to study modern thought."

His daughter Farida Khanam, a university professor of Islamic studies, laments the fact that fellow Muslims call her father a CIA or BJP agent for his positive attitude to the west. And while some Arab-backed madrassas have constructed buildings full of computers, the literature they are teaching is, she says, "still the same, the same mindset: 'All non-Muslims are our enemies.' Even my brother, who studied at Birmingham University, thinks all non-Muslims are our enemies."

Akhtarul Wasey, an expert on the history of Islamic education, says pre-Deoband madrassas had a broader curriculum including the science and literature of the time, and produced doctors and engineers as well as clerics. The first education minister of independent India, he recalls, was Abul Kalam Azad, an Islamic scholar who emphasised the importance of basic education for all, including girls. But in modern, Muslim-dominated Pakistan and Bangladesh, Wasey complains, "majoritarian arrogance" has led to narrow and exclusivist interpretations of the Koran.

Liberal Asian Muslims argue that the problem is not so much one of madrassas training terrorists, but rather of the growth of intolerance in society at large, and the consequent proliferation of bigoted religious schools. "People get rich and the first thing they do is build a madrassa in their village, because they think it's a pious action," says Mahfuz Anam, a Bangladeshi newspaper editor and father of the novelist Tahmima Anam. In an echo of western concerns about sexual predators among teachers and Catholic priests, the heroine of Tahmima Anam's The Good Muslim tries to rescue her nephew from sexual abuse by the master of a rural madrassa. Mahfuz Anam's Bengali grandparents were very pious but women wore no veils over their faces, he says. Now, with extremists hacking liberal bloggers to death in Dhaka, "it's becoming a bit like an Islamic state. They pick a Christian or a Muslim and slit his throat and say this is an enemy of Islam . . . There is an underbelly of religious intolerance that has spread through madrassa education."

In Pakistan, Hafeez Pasha, an economist and former education minister, describes a similar process, with some madrassas radicalising students and corrupt Pakistanis seeking to wash away their sins with religious donations. "Ninety-five per cent of philanthropy in this country goes into the construction of mosques," he says. When he was younger, there was one call to prayer audible in his neighbourhood at prayer time. "Now I can hear six."

Islamic leaders retort that the whole point of most seminaries is to train scholars and holy men, and ask why schools whose ultra-conservative curricula have been unchanged for centuries are being blamed for modern-day terrorism. They, and academics sceptical about the "factories of terror" rhetoric, also note that only a tiny proportion of Asian Muslims attend madrassas. Christine Fair, an associate professor at Georgetown University in the US and an expert on Pakistan, delights in debunking misconceptions about the country and its madrassas. Few Pakistanis, she says, actually attend madrassas, and those who do typically only go for a couple of years, while violent extremists are not destitute illiterates but disproportionately well-educated.

Nevertheless, she has concluded that Deobandis are indeed the largest source of violence in the country and that Deobandi madrassas are increasing faster than others. What is more, the latest data collected contradicts earlier conclusions that madrassa attendance is not correlated with terrorism. "They don't produce terrorists, but what they do is predict support for terrorists," she says, suggesting that militant parents, including mothers, are more likely to place their children in madrassas. "I've had to do a volte-face on this. Just going to a madrassa [means that] you are more disposed to supporting these kinds of groups."

Before evening prayers in Deoband, one of the students, 19-year-old Mohammed Abu Umamah, cheerfully confronts us outside the marble-paved mosque. He repeats Madani's message of peace. "Some people in Europe are presenting the wrong image of Islam, insisting that Islam is the religion of terrorism," he tells us. "But Islam teaches peace and Islam condemns the killing of any person."

Across the region, however, from the Maldives to central Asia, hundreds of millions of moderate Muslims are increasingly alarmed about the spread of violent extremism in their own societies. Deoband may be preaching the importance of peace, but its mosques and madrassas are where many of the most violent militants spent their formative years, and the schools continue to proliferate. "The number of madrassas [in India] has multiplied four or five times in the last 70 years," says Madani proudly, "and mosques by 10 times." The signs are that madrassas will continue to multiply in south Asia for years to come.

Victor Mallet is the FT's south Asia bureau chief

Every child left behind in the Islamic State's new elementary schools
Syria Direct
10-27-2015
AMMAN: The Islamic State opened elementary schools in the eastern Deir e-Zor countryside on Monday, imposing strict regulations dictating what students wear, how teachers teach and to what grade girls are permitted to study, local teachers and opposition media reported.
Under penalty of fines or arrests, parents in the east Deir e-Zor town of Mayadin, for example, must send their children to IS-run schools in a "Pakistani style" uniform of long-sleeved shirts and trousers, reported the local media campaign Deir e-Zor is Being Slaughtered Silently on Monday.
Mayadin teachers are supposed to be paid a monthly wage of 35 IS dinars, made of silver, and girls are only taught to the fourth grade, according to the Deir e-Zor is Being Slaughtered Silently report.
"I'm not quite sure what 35 IS silver dinars will get you, but I'll tell you nobody's laid eyes on one of those coins as of yet," Abu Mujahid a-Shami, the head of the Deir e-Zor is Being Slaughtered Silently Campaign told Syria Direct on Tuesday.
Classes are segregated by gender, beginning in the first grade, reported pro-opposition Step News Agency Monday.
One former elementary teacher from A-Raqqa tells of a colleague who earned 30 lashes for deviating from the Islamic State narrative. "He had drawn a map of Syria and written on it the names of neighboring states," said Abu Abdullah. "According to the Islamic State, there are no other states besides theirs," he said.
In early 2014, the Islamic State shut down schools in Deir e-Zor and A-Raqqa, including private schools, citing the corrupting influence of Baathist curricula.
Math, music, philosophy, history, French and geography were all banned.
The schools were reopened briefly, but quickly closed again for a redesign of the curricula. "The main reason given was that the education they were giving in Syrian governmental schools was incompatible with Islam and inspired apostasy," said Abu Abdullah.
Children who grow up knowing only indoctrination and violence represent a lost generation, Abu Abdullah says.
"The worst possible fate for them is that they'll be an uneducated generation; children have grown accustomed to the sight of guns, and some of them have probably witnessed public executions," the former teacher says.
"Their fate is up in the air."



Palestinians 'Brainwashed With Hate'

Israel's ambassador to the UN claims Palestinian children are being "taught to hate" as violent clashes continue in the West Bank.

Saturday 17 October 2015
Sky News

Palestinian children are being "brainwashed" with "incitement and hate", according to an Israeli spokesman.

Danny Danon, Israel's new ambassador to the United Nations, is urging the Security Council to make a statement against what he described as "the incitement that fuels terror".

During his speech, Mr Danon held up a piece of card with a diagram of a human body entitled "How to Stab a Jew", which he said was "an example of what Palestinian children are being exposed to day in and day out, in school, after school".

Sky News has been unable to verify Mr Danon's claims, in which he said: "When a Palestinian child returns from school and opens (sic) the television, he doesn't see Barney or Donald Duck, he sees murderers portrayed as heroes.

"When he opens a textbook, he doesn't learn about math and science, he's being taught to hate."

Mr Danon's speech came amid an increase in violence in which 41 Palestinians and seven Israelis have died.

Holding up the card, Mr Danon continued: "The picture is being taught in middle schools, in high schools, in elementary schools.

"Instead of educating about peace and tolerance, the Palestinian leadership is brainwashing children with incitement and hate.

"Palestinian leaders have established an incubator to raise children as terrorists."

Mr Danon accused Palestinian president Mahmoud Abbas of leading the "dangerous incitement" and of "spreading lies" saying Israel is trying to change the delicate status quo at Jerusalem's holiest site the al Aqsa Mosque.

The mosque has been at the root of recent tensions - it is revered by Jews as the Temple Mount and it is also Islam's third-holiest site.

Mr Danon said Israel would not agree to any international presence at the compound, adding that "any such intervention would violate the decades-long status quo".

The emergency council meeting - called by Arab states amid increasing violence in the region - highlighted the deepening bitterness and distrust between the two sides after decades of conflict.

Riyad Mansour, the Palestinian ambassador to the UN, told the council the issue of protection "has become more urgent than any time before" because of what he called Israeli aggression "against our defenceless Palestinian people", including at the al Aqsa.


Islamic University Dean Supports Stoning

Netherlands News Service
THE HAGUE, 18/10/13 - The rector of the Islamic University of Rotterdam (IUR) values stoning as an appropriate punishment, NRC Handelsblad newspaper reported Thursday. The Lower House is demanding clarification from Integration Minister Lodewijk Asscher.

The rector, Ahmet Akgündüz, has written a pamphlet on the demonstrations this summer in Turkey. He calls opponents of Turkish Premier Erdogan "enemies of Islam." The demonstrations were the work of "people with a Western lifestyle." In addition, he is said to characterise stoning as "one of the prescribed punishments within Islam."

The conservatives (VVD), Labour (PvdA) and the Christian democrats (CDA) are among parties calling for a reaction from the government. They are all the more concerned about the statements because the IUR is recognised by the government as a training institute for Imams.

IUR started Imams with a HBO course this year. A spokesman said the school fully supports the publication.

The parties want to know what action the minister will take against the university. "With this, you will get Imams with hostile views and anti-western values," said PvdA MP Keklik Yücel.

The Problem Of Pakistan: Teaching Intolerance And Violence
Forbes
1-9-2012
The U.S. may have no more difficult relationship than the one it has with Pakistan. This supposed ally plays a double game in Afghanistan, mixes an unstable political system and weak civilian government with nuclear weapons, and acts as an incubator for religious intolerance. Obviously, Islamabad has its own, sometimes well-founded complaints against America. But there may be no more dangerous nation today than Pakistan.
An important cause of conflict in that divided society is the educational system. All too often, both public schools and private madrassas promote intolerance and extremism. These attitudes have encouraged increasing violence which threatens to consume the entire country with deadly effect.
In November the United States Commission on International Religious Freedom published a report written by Ashar Hussain (International Center for Religion and Diplomacy), Ahmad Salim (Sustainable Development Policy Institute), and Arif Naveed (also SDPI).
Pakistan's birth was bloody, featuring violent conflict between and mass movement of Hindus and Muslims within the areas which became India and Pakistan. Although Pakistan's Islamic character was clear, founder Mohammad Ali Jinnah declared: "Minorities, to whichever community they may belong, will be safeguarded. Their religion or faith of any kind will be secure. There will be no interference of any kind with their freedom of worship."
Pakistan would be a much better place if these sentiments continued to reflect that nation's reality. However, much has changed over the last six decades. For instance, General Muhammad Zia-ul-Haq promoted Muslim fundamentalism to win public support for his military rule. Rising Islamic currents around the world created greater receptivity to extremism. Most recently, American military operations in both Afghanistan and Pakistan generated widespread antagonism.
These factors alone would have created a tough environment in which to protect the human life and dignity of religious, ethnic, and political minorities. However, the education system for a growing youth population has created an equally serious barrier. As the Commission observed: "education plays a critical role in the fabric of Pakistani life, with the potential of bringing the society together or tearing it apart." Today, unfortunately, education, so-called, is far too often doing the latter.
For years schooling in Pakistan was largely secular, but the public system failed to educate most students. Gen. Zia increased the money going to education, but simultaneously "infused the education system with rigid Islamic content," explained the USCIRF. Before dying in a suspicious plane crash in 1988, the dictatorial Zia changed curriculum and textbooks for the worse.
His government stated that "The highest priority would be given to the revision of the curricula with a view to reorganizing the entire content around Islamic thought and giving education an ideological orientation so that Islamic ideology permeates the thinking of the young generation." The problem was not that the system emphasized Islam, but instead promoted intolerant fundamentalism. Dr. Nasim Ashraf of the Middle East Institute said the Zia years were "the turning point for Pakistan's educational system," creating "the bedrock on which militant extremism was founded."
The most obvious impact is that many religious minorities suffer through an education which directly attacks their faith. Noted the Commission, minority students "are forced to study from textbooks and curricula that are biased against them and routinely face discrimination and intimidation from Muslim students and teachers." So much for Article 22 of the 1973 Pakistani constitution, which states that "No person attending any educational institution shall be required to receive religious instruction, or take part in any religious ceremony, or attend religious worship, if such instruction, ceremony or worship relates to a religion other than his own."
Even worse, though, warned the Commission, the educational system "presents a challenge to the full implementation of protections for religious minorities, and in some cases has even been linked to physical violence against them." And not just against non-Muslims. In effect, the Pakistani government now is training those who are determined to kill even Muslims to get their way. Last year Islamic extremists murdered a liberal Muslim governor as well as a Christian government minister. The killers came from the generation which studied under the Zia educational "reforms."

Inflammatory textbooks are an important problem. Noted the Commission, "The portrayal of religious minorities in textbooks is generally either derogatory or omitted entirely." Indeed, non-Muslims "are often portrayed as inferior or second-class citizens who have been granted limited rights and privileges by generous Pakistani Muslims, for which they should be grateful." The harshest attacks are on Hindus, though Christians, Jews, and Sikhs do not receive a fair description.
In 2006 Islamabad revised its curricula guidelines for the better. However, nearly six years later, reported the USCIRF, "textbooks incorporating these revisions in line with the 2006 guidelines have not been created." Unfortunately, the authorities have backtracked some over that time. Moreover, in the intervening years English language textbooks were changed for the worse, actually eliminating accurate descriptions of religious minorities.
More worrisome is the situation in private madrassas. They operate with minimal government oversight and choose their own educational materials. In general, Pakistani researchers (who conducted the Commission study) found that the most recent books, used for astronomy, grammar, and mathematics, date from the 14th century. Other texts are even older.
It should surprise no one that such materials present non-Muslims in a less than positive light. Noted the USCIRF: "Non-Muslims are generally portrayed in the madrassa textbooks reviewed in one of three ways: (1) kafirs (infidels) or mushrakeen (pagans), (2) dhimmis (non-Muslims living under Islamic rule), or (3) murtids (apostates, i.e., people who have turned away from Islam). Non-Muslims are never described as citizens with the constitutionally-protected rights which accompany citizenship."
Over the last decade Islamabad has initiated some limited madrassa reform efforts, including spending more money, creating an oversight board, and prohibiting extremist indoctrination. However, in practice the government has spent most of its time attempting to convince madrassas to teach more modern and secular subjects and has not enforced its ban on hate-mongering, whether intentional or incidental. In this case Islamabad is allowing others to actively undermine the foundational principles of the nation.
In both public schools and private madrassas the problems caused by dubious curriculums and textbooks are compounded by profoundly disturbing teacher attitudes. In general public school teachers knew little about religious minorities and "expressed a strong sense of self-righteousness regarding sectarian issues."
Large numbers believed that sectarian differences were wide and that religious minorities were not citizens. The vast majority believed that violent jihad was mandatory for Muslims. Many teachers were critical of the behavior of religious minorities and proselytized in class. Overall, reported the Commission, "As many as 80% of the respondents considered non-Muslims to be enemies of Islam."
No surprise, madrassa teachers were even more negative towards religious minorities. After all, observed the religious panel, "As opposed to public school teachers, madrassa teachers teach (and often live) in an environment without religious diversity."
The result? "Madrassa teachers expressed hostility for the followers of most religions." They believed the sectarian divide was large and in jihad which was "sometimes to be directed violently against religious minorities." While accepting religious minorities as citizens, madrassa teachers believed they should not have political power. The instructors were prone to believe in conspiracies.
Overall, the Commission found that many teachers were personally intolerant and publicly insensitive toward students of minority faiths. Teachers often reinforced discriminatory stereotypes while offering little encouragement to non-Muslim children, sending "covert and overt messages to non-Muslim students to convert to Islam."
Thus, the problem of extremism in Pakistan has become self-perpetuating. The educational system teaches intolerance to those who will become instructors, who in turn will shape the next generation, transmitting the same intolerance. Even if the central government changes the curriculum and textbooks, the teachers will perpetuate today's abuses.
As one would expect, given both texts and instructors, public school students were unfriendly to religious minorities. The children tended to see Pakistan as Islamic, often by sect. Although nominally respectful of religious minorities, reported the Commission, "when probed on other issues, the respect in many instances seemed vacant. Students often expressed negative views of followers of other religions." Kids generally perceived jihad in narrow, violent terms, and many did not consider religious minorities to be citizens. Perhaps more ominously, "the majority of students simply identified non-Muslims as the enemies of Islam."

Madrassa students had less contact with non-Muslims but, paradoxically, were more likely to view the latter as citizens with basic rights. However, the principal reason these students wanted to promote good relations was to advance proselytism. And at the same time "a majority of them considered non-Muslims as enemies of Islam, with some considering members of other Muslims sects to be enemies."
Hostility toward Jews, Hindus, Ahmadis, and Shias was particularly noteworthy. The USCIRF added: "madrassa students indicated that Jews and Hindus, and to some extent Christians, were considered as the biggest enemies of Islam." America, India, and Israel also were singled out as "as enemies of Islam."
The direct victims of intolerance in the Pakistani educational system are non-Muslim students. The Commission detailed several cases. For instance, a Christian fourth-grader was singled out for the dirtiest janitorial duties and corporal punishment, and his father was threatened with loss of his job for filing a complaint. All the Christian girls at one school were failed; a protest forced the administration to regrade the annual exam. A 13-year-old girl wrote of pressure to convert and social isolation, when "teachers and my fellow students refused to eat and drink with me." Another was insulted and beaten by his teacher and called a "dirty Christian."
Of greater concern to Americans is the collective impact on the Pakistani people. Reported the Commission, a number of educational experts shared "a sense that discrimination is pervasive throughout Pakistani society, influencing and being influenced by the formal educational system." They pointed to misrepresentation of the tenets of other faiths, treatment of non-Muslims as outsiders, view of religious minorities as threats to Islam and Pakistan, and insistence that Islam is the norm for Pakistanis.
Shah Jahan Baloch of Save the Children warned: "Biases created in schools at the early age have an effect in the long run and we can see them." Dr. Khalil Masood, former Chairman of the Council of Islamic Ideology, said religious differences were "also about culture and caste." Although religious minorities helped create Pakistan, "this political representation of non-Muslims was systematically brought to an end." Peter Jacob of the National Commission for Peace and Justice observed: "These biases create a big chain of discrimination in all walks of life."
Although causation is never easy to prove, those who study Pakistan's educational system linked "biases in the education and the incidences of extremism, hatred, and violence in the country." For instance, Jahan concluded that "it has a huge effect on religious harmony because it promotes misperceptions about sectarian diversity." Some of the scholars saw educational intolerance encouraging the violence that has become so common against religious minorities. Yet, complained Dr. Tariz Rahman of Qaid-e-Azam University, policymakers "haven't taken initiatives to solve these problems."
America's educational system obviously is far from perfect, and many problems afflict Pakistani society. However, violence threatens not only religious minorities, who face sometimes deadly persecution, but increasingly any Pakistani who eschews extremism. If those in power do not want to be consumed by the fires of Islamic extremism, they must transform an educational system which is stoking the flames.
There is nothing the U.S. can do directly. And, given the state of bilateral relations, even Washington's indirect influence is limited. However, American officials should raise the issue, since what happens in Pakistan matters well beyond its own borders. Should Islamabad's fragile political superstructure collapse, the consequences would be enormous, and reverberate outward throughout the region and beyond.
Pakistan began with great promise. But it increasingly looks like a failed state with nuclear weapons. Unfortunately, many of that nation's problems are self-inflicted, starting with an educational system that helps normalize intolerance and violence.
Poor schooling slows anti-terrorism effort in Pakistan
By Griff Witte
Washington Post
Sunday, January 17, 2010
ISLAMABAD, PAKISTAN -- With a curriculum that glorifies violence in the name of Islam and ignores basic history, science and math, Pakistan's public education system has become a major barrier to U.S. efforts to defeat extremist groups here, U.S. and Pakistani officials say.
Western officials tend to blame Islamic schools, known as madrassas, for their role as feeders to militant groups, but Pakistani education experts say the root of the problem is the public schools in a nation in which half of adults cannot sign their own name. The United States is hoping an infusion of cash -- part of a $7.5 billion civilian aid package -- will begin to change that, and in the process alter the widespread perception that Washington's only interest in Pakistan is in bolstering its military.
But according to education reform advocates here, any effort to improve the system faces the reality of intense institutional pressure to keep the schools exactly the way they are. They say that for different reasons, the most powerful forces in Pakistan, including the army, the religious establishment and the feudal landlords who dominate civilian politics, have worked against improving an education system that for decades has been in marked decline.
"If the people get education, the elite would be threatened," said Khadim Hussain, coordinator of the Aryana Institute for Regional Research and Advocacy and a professor at Islamabad's Bahria University. "If they make education available, the security establishment's ideology may be at risk."
That ideology, Hussain said, involves the belief that non-Muslim nations are out to destroy Pakistan and that the army is the only protection Pakistanis have from certain annihilation. Those notions are emphasized at every level in the schools, with students focused on memorizing the names of Pakistan's military heroes and the sayings of the prophet Muhammad, but not learning the basics of algebra or biology, he said.
The nature of the education system is reflected in popular attitudes toward the Taliban, al-Qaeda and other Islamic extremist groups that in recent months have carried out dozens of suicide bombings in Pakistan, many of them targeting civilians.
Although the groups in many cases have publicly asserted responsibility for the attacks, a large percentage of the population here refuses to believe that Muslims could be responsible for such horrific crimes, choosing to believe that India, Israel or the United States is behind the violence. When Hussain challenges graduate-level students for proof, they accuse him of being part of the plot, he said.
"Telling students they need to use evidence and logic means that you are definitely an agent of India, Israel and the CIA," he said. "They don't understand what evidence is."
The madrassas have multiplied in Pakistan as public education has deteriorated. But madrassas still educate only about 1.5 million students a year, compared with more than 20 million in public schools. If Pakistan is to improve its dismal literacy rate and provide marketable skills to more of the estimated 90 million Pakistanis under the age of 18, it will have to start in the public schools.
The United States plans to spend $200 million here this year on education, the U.S. Agency for International Development's largest education program worldwide. The money comes from the Kerry-Lugar aid bill, which was passed in late 2009 and promises Pakistan $7.5 billion in civilian assistance over the next five years.
The funds are intended to signal a substantial shift from earlier years, when U.S. assistance to Pakistan was overwhelmingly focused on helping the military, which is battling the Taliban and al-Qaeda in the nation's northwest.
U.S. officials say the money will be spent on a combination of programs, including infrastructure improvements, teacher training and updates to the curriculum. Unlike in past years, the money will not be filtered through non-governmental organizations and contractors but will be given directly to Pakistan's government, officials say.
The idea is to improve the capacity of the nation's fledgling civilian-led administration, and to promote trust between the two nations.
But there is also the risk that without adequate monitoring, much of the money will go to waste.
Pakistan's current spending on education -- less than 3 percent of its budget -- is anemic, and far lower on a relative basis than in India or even Bangladesh. Much of it never reaches students.
Pakistan's public education system includes thousands of "ghost schools," which exist on paper and receive state funding. But in reality, the schools do not function: A local landlord gets the money, and either pockets it or dispenses it to individuals who are on the books as teachers, but in fact are associates or relatives who do nothing to earn their salaries. School buildings are often used for housing farmworkers or livestock, not for education.
Those buildings that do operate lack basic facilities -- a 2006 government study found that more than half do not have electricity and 40 percent have no bathrooms. About a third of students drop out by the fifth grade. Teachers, meanwhile, earn as little as $50 a month, less in many cases than that of a domestic servant. The low pay mirrors teachers' perceived value in Pakistani society.
"The social status of teachers is low, compared with other professions," said Rehana Masrur, dean of the education department at Allama Iqbal Open University in Islamabad. "If someone is doing nothing and has no future, people say, 'Why doesn't he become a teacher?' "
Top government officials have little incentive to change that, experts here say. Although the vast majority of Pakistanis must choose between the public schools or madrassas for their children, Pakistan's well-to-do can send their kids to private schools, many of which are considered world-class.
Javed Ashraf Qazi, a former Pakistani education minister, said the United States has not helped by frittering away much of its assistance budget on poorly defined programs, such as conflict-resolution training, which he said leave no enduring impact. What Pakistan really needs, he said, is a network of vocational training institutes that can prepare students for the workplace.
"What would help is something that is lasting," he said. "The U.S. is spending more money, but spending it in a way that it does not leave any impact."
But Pervez Hoodbhoy, a noted nuclear physicist at Islamabad's Quaid-i-Azam University and a longtime proponent of education reform, said Pakistan needs something more fundamental.
"I don't think it's a matter of money. The more you throw at the system, the faster it leaks out," he said. "There has to be a desire to improve. The U.S. can't create that desire. When Pakistanis feel they need a different kind of education system, that's when it will improve."
Bangladesh seizes explosives from Islamic school
Mar 24, 2009
DHAKA, March 24 (Reuters) - Bangladesh soldiers raided an Islamic religious school on Tuesday as part of countrywide hunt for islamist militants and seized a cache of arms and explosives stored there by suspected Islamist militants, police said.
The elite Rapid Action Battalion (RAB) force raided the Green Crescent Madrasa at a village near Bhola district town, 350 km (219 miles) south of the capital Dhaka, following an intelligence tip, a police officer told Reuters by telephone from the scene.
"The raid is still continuing," said police inspector Mohammad Sohrab Ali. Two suspected Islamist militants from the madrasa were detained, he added.
The government has been conducting a sweep for members of outlawed Islamist groups, which it suspects may have been involved in the mutiny at the Dhaka headquarters of a paramilitary unit last month.
The February 25-26 mutiny killed nearly 80 people, mostly army officers commanding the paramilitary Bangladesh Rifles (BDR) troops, and raised fears of more violence to come.
Police last week said suspected Islamist militants had threatened the principals of several English-language schools if they did not pay "tolls".
Officials say Islamist militants, who have killed dozens of people in Bangladesh in bomb attacks in recent years, were trying to turn the Muslim-majority country of 140 million people into a sharia-based Islamic state.
The radical Islamist movement has been subdued since six top commanders were executed in 2007. But intelligence officials have said they were regrouping and might strike again.
Police seized a huge cache of explosives, grenades and firearms after raiding suspected militant hideouts ahead of parliamentary elections in December. (Reporting by Nizam Ahmed; Editing by Bill Tarrant)
U.S. Islamic Schools Teaching Homegrown Hate
Wednesday, February 27, 2002
By Kenneth Adelman
NEW YORK — Can it be true? That Islamic schools in the United States teach hatred towards American Christians and Jews?
The Washington Post on Monday revealed that one such school outside Washington, D.C., uses textbooks teaching 11th graders that "the Day of Judgment can't come until Jesus Christ returns to Earth, breaks the cross and converts everyone to Islam, and until Muslims start attacking Jews."
Other accredited Islamic schools in America have world maps on classroom walls that exclude Israel. Some such schools promote class discussions that portray Usama bin Laden as "simply the victim of … prejudice" against all Muslims in America.
These astonishing facts were broken by Post reporters Valerie Strauss and Emily Wax in their front-page piece, too tepidly entitled, "Where Two Worlds Collide: Muslim Schools Face Tension of Islamic, U.S. Views."
But their reporting was anything but tepid.
Americans generally assume Islamic hate teaching resided "out there" — in Cairo or Riyadh. And yet it's right here — in the elite Islamic Saudi Academy just outside Washington, D.C. "At stake," the two ace reporters say, "is how the next generation of Muslims coming of age in the United States will participate in the country they live in."
As with all educational institutions, the stakes are high. But the prospects here are low.
I don't know precisely what new immigrant schools taught when waves of Catholics or Jews first flocked to America. But I suspect they adopted and spread the basic American values — tolerance, freedom and patriotism.
Surely not the hatred propagated in many Islamic studies classes. At the Al-Qalam All-Girls School in Springfield, Va., seventh graders learn that Usama bin Laden may be not a villain but a victim of Americans' biased views toward great Islamic leaders. Hence "some students question the government's claim that bin Laden is responsible for the terrorist attacks — disputing that videotapes actually show him taking credit."
The Post reporters questioned "Fawzy, a 19-year-old who will graduate from George Mason University in 2003, [who] … wonders whether the United States just needed someone to blame and picked a Muslim. 'A lot of the students can't make up their minds if [Usama] is a good guy or a bad guy,' Fawzy said. 'The thing is, we don't have any real proof either way. I think a lot of people feel this way.'"
Classrooms of the Washington Islamic Academy, which teaches kindergarten through fourth grade, feature world maps without Israel. "Upstairs in Al-Qalam girls school, the word is blackened out with marker, with 'Palestine' written in its place."
When the reporters asked about this, academy officials "defended the maps, pointing out that some of the students are refugees from Palestine and want their heritage represented."
These school officials attempt to delegitimize Israel. I would delegitimize them — removing them from any role in shaping the beliefs and instilling knowledge in young Americans.
With the massive immigration of Muslims over recent decades — primarily because of the wretchedness of most native Islamic states — these parochial schools are increasing. Throughout America now are 200 to 600 Islamic day schools, teaching at least 30,000 full-time students and thousands more on weekends. The Washington Islamic Academy, outside the nation's capital, teaches some 1,300 kids, including children of Arabic-speaking diplomats.
It may rank among the worst of these academies, as it is funded by Saudi money. Its high school textbook, in the reporters' words, "says one sign of the Day of Judgment will be that Muslims will fight and kill Jews, who will hide behind trees that say: 'Oh Muslim, Oh servant of God, here is a Jew hiding behind me. Come here and kill him.'"
According to Strauss and Wax, "Several students of different ages, all of whom asked not to be identified, said that in Islamic studies, they are taught that it is better to shun and even to dislike Christians, Jews and Shiite Muslims.
"Some teachers 'focus more on hatred,' said one teenager … 'They teach students that whatever is kuffar [non-Muslim], it is okay for you' to hurt or steal from that person."
What can be done about this outrage?
First, reveal it, for which Valerie Strauss and Emily Wax and the Post deserve a Pulitzer Prize. Other reporters and top media outlets should follow in their steps.
Second, stop the accreditation of these hate schools. This, too, the reporters investigated when contacting an official at an accrediting agency of the Islamic Academy. His response was typical bureaucratese: the Secondary and Middle School Commission of the Southern Association of Colleges and Schools "does not delve into curriculum extensively but … would be 'concerned' about such material being taught."
Well, he can stop being "concerned" and start de-accrediting the place.
Third, stop the Saudi funding. After Sept. 11, we were shocked to realize that "our friends, the Saudis" gave us Usama bin Laden, 15 of the 19 terrorists of Sept. 11 and more than 100 of the 150-plus terrorist leaders now confined in Guantanamo Bay cells. They also fund the Islamic schools spreading hate around the world towards Christians, Jews, America, freedom, and our sacred values.
Now we learn that Islamic hatred is being spread here at home, molding young American minds in what is shaping up as a real fourth column.
Kenneth Adelman is a frequent guest
A Madrassah in Bridgeview, Illinois
by Daniel Pipes
FrontPageMagazine.com
June 20, 2005
Islamic schools constitute perhaps the least known area of Muslim institutional life in the United States, acting largely out of public view but with many signs suggesting their radicalization. When a reporter has the rare chance to interview faculty and students, especially with a photographer in tow, it's an important opportunity.
Marguerite Michaels of Time Magazine got "an unusual degree of access" to the inside of the Universal School in Bridgeview, Illinois, sixteen miles southwest of downtown Chicago, with 638 students in pre-K through 12th grades. She wrote up her impressions at "The Model School, Islamic Style" and Robert A. Davis took some striking pictures.
Unfortunately, Michaels proved clueless about the real nature of the Universal School. She portrays it as a moderate institution, but the information she herself provides points to its being a school imparting an extreme version of Islam.
Several examples concern sexuality:
· "Casual conversation between girls and boys is discouraged at all times," she reports. "They can't socialize," so any communication between the sexes is limited to writing.
"Older girls must wear the hijab (light blue for middle schoolers, gray or white for high schoolers) and a calf-length navy top that resembles a raincoat." The astonishing photograph of eight covered girls playing basketball brings to mind the female Islamist revolutionaries who rose against the shah of Iran in the late 1970s. Students realize how off-putting most Americans find this apparel; a freshman, Gulrana Syed, points out how "It's kind of impossible to blend in wearing a head scarf."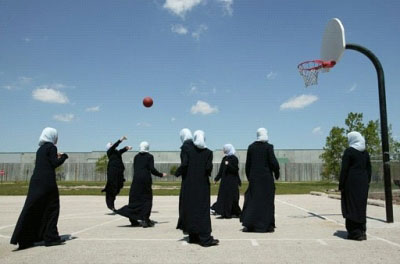 · When a high school senior, Ali Fadhli, tells about his "problems" dealing with America outside the school environment, he mostly means sexual temptation. This 18-year-old male will likely have difficulties adjusting to the mainstream of American life; he could end up isolated and perhaps violently rejecting the society around him.
Other attitudes concern the place of Muslims in the United States:
· Until 9/11, says Safaa Zarzour, vice chairman of the school's board and its former principal, Muslims, like other immigrants, experienced a "little discrimination." Since 9/11, however, "people don't think there is any such thing as a good Muslim." One school family actually fled the United States after 9/11 for the United Arab Emirates, saying it did not feel "welcome here as Muslims." This siege mentality furthers the Islamist agenda of grievance and demanding special privileges.
· So too does a comment of Universal's principal, Farhat Siddiqui. "We're telling our kids they're American. But the doors of opportunity have been shut since 9/11. What's the password to open them?" This is nonsense, for all evidence indicates that Muslims are flourishing socio-economically in the United States, no less after 9/11 than before it.
· The high school senior quoted above also believes that "America" sees Muslims as the "new enemy." A student named Ryan Ahmad observes that "Americans seem to have more fun. Muslims try to be American, but we don't know how. The cultures are so different." Seeing Americans and Muslims, or more accurately, non-Muslims and Muslims, as separate populations is a key component of the Islamist project.
A preoccupation with foreign policy rounds out the picture:
· "They are obsessed with foreign politics," says Steve Landek, the mayor of Bridgeview. "I come to talk to them about better sidewalks. They want to know how to run for Congress so they can change America's Israeli policy."
· Assigned in English class to write about his American Dream, a 15-year-old wrote that the territories under Israeli control should be returned to the Palestinians and "the Jews should be left to suffer."
I finished Marguerite Michaels's article doubly dismayed. First, that a veteran Time journalist cannot see an American madrassah before her very eyes, replete with the alienation, resentment, supremacism, and isolation that feed the Islamist temperament. Secondly, that this "model school" quietly and openly churns out graduates hoping they will create an Islamic States of America.
From www.danielpipes.org | Original article available at:
www.danielpipes.org/article/2696
Islamic schools under abuse scrutiny
ISLAMABAD, Pakistan (AP) -- The accounts are disturbing: beatings, forced sex and imprisonment with shackles and leg irons. Abuse accusations from hundreds of children sent to study at Islamic schools are prompting growing calls from parents and rights groups for a full-scale investigation.
But officials have moved slowly and cautiously in probing the charges of mistreatment in Quranic schools, or madrassas -- pointing to a paradox across much of the Muslim world. It's often easier to tackle Islamic militants than to confront the cultural taboo on publicly airing alleged sex crimes and challenging influential clerics.
Still, if Islamic institutions ever face a reckoning over sexual abuse -- such as the Roman Catholic upheavals in recent years -- it could begin in Pakistan where institutions already are under unprecedented scrutiny by anti-terrorism agents.
"We are forcing people to look this problem in the eye," said Zia Ahmed Awan, whose group Madadgaar, or Helper, compiles reports of sexual abuse of children in Pakistan. "It is not anti-Muslim. It is not anti-cleric. We are looking out for the most vulnerable in society."
Last year, a Pakistani official stunned his nation by officially disclosing more than 500 complaints of sexual assaults against young boys studying in madrassas. Children's rights advocates were elated, feeling their long-standing claims had been validated. They also hoped Pakistan's actions would open related inquiries in other Muslim nations -- similar to the domino effect through parishes after the Catholic abuse scandals broke in the 1980s.
But there's been little progress since.
There have been no significant arrests or prosecutions involving alleged sex abuse in madrassas. Also, the official who made the revelations -- Amir Liaquat Hussain, the deputy minister for religious affairs -- now refuses to discuss the issue after reported death threats and harsh criticism from Islamic leaders. He turned down repeated interview requests by The Associated Press.
Every discussion about Pakistan's madrassas leads eventually in an uncomfortable direction for authorities: the potential problems of leaning too hard on Islamic schools.
The madrassas have ties to influential religious and political groups. The core of madrassa funding is a tour of powerful networks: government aid, Saudi donations and zakat, the traditional Islamic practice of giving alms.
The schools also serve as a social safety net in a nation with a galloping birth rate and nearly one-third of the population under the poverty line -- meaning they cannot afford basic necessities.
Poor families often count on the nation's more than 10,000 madrassas to take one or more young sons to ease financial strains at home. The boys typically receive little more than Quranic studies for an education. But the big dividend for families is the housing, clothes and meals offered the boys. The schools, which have up to 1 million students, operate with almost no official oversight.
"The mullahs think they are above the law," said Asma Jehanghir, chairwoman of the Human Rights Commission of Pakistan, a nongovernment agency. "We have to break this wall of silence."
An Interior Ministry official confirmed that police are investigating some cases of alleged sex abuse by madrassa instructors. He declined to give further details or to be identified by name because he was not authorized to speak to the media.
Hanif Jalandhri, the head of the Federation of Madrassas, the main overseeing agency in Pakistan, acknowledged that abuses could occur, but disagreed it is a widespread problem.
"I cannot rule out isolated incidents of sex abuse at madrassas, but I reject reports that hundreds of students are being subjected to sexual attacks at madrassas," he told AP. "It is wrong."
Pakistani rights groups are encouraging parents and children to speak out and document abuse. Dozens of allegations of abuse in madrassas are being compiled -- part of a wider campaign to draw attention to child abuse in a culture where domestic violence is common but rarely reaches the public's attention.
"The difference now is that no one can deny (abuse) is happening," said Manizeh Sano, executive director of Sahil, a group assisting child victims of sexual abuse. "The leaders of madrassas cannot turn their back on this problem anymore. That's a first step."
A madrassa teacher and two others are jailed awaiting trial in the port city of Karachi for an acid attack on a 14-year-old boy in 2002 after he allegedly refused to have sex with a cleric. The boy was blinded and badly disfigured. The suspects deny the charges.
In December, in another part of Karachi, Muhammad Askoroni's mother noticed a bite on the 10-year-old boy's neck. The child started crying and vomiting when asked what happened, said his mother, Dil Jauher. The boy's claim: a cleric at his madrassa sodomized him after evening Quran classes, according to a complaint filed with police and the rights group Madadgaar.
Jauher claims a madrassa official and village elders offered her a bribe to keep the incident quiet. "But I want justice for my son," she told AP.
There have been no arrests yet in the case.
The files of the Human Rights Commission of Pakistan include the affidavit of Atif Rehman, who was 11 when he was admitted to the Lahore Children's Hospital in April 2004 with head injuries and extensive bruises. He told investigators he was routinely beaten with iron rods at a madrassa in the northern city of Faisalabad and was chained when he tried to escape.
"The boy was bleeding from the mouth and nostrils," said his father, Muhammad Aashiq, according to the commission report.
A madrassa teacher, Qari Mahboob Aalam, denied the torture allegations, but admitted "it is a practice to chain students," the report said.
The maximum penalty in Pakistan for sexually attacking a child is life imprisonment, according to Karma Cauchy, a senior Pakistani lawyer. But tribal justice and Islamic law dominate in some parts of the country and could bring calls for violent punishment.
"When you start talking about it, then you start to think that things can change," said Fazila Gulrez, spokeswoman for the Islamabad-based Society for the Protection of the Rights of the Child. "That is what's happening here in Pakistan. People are starting to talk about it."
The problem goes beyond Pakistan, according to scattered references to alleged sex abuse and other rights violations in madrassas noted in recent international reports.
A 2003 survey by the Thailand-based group ECPAT -- or End Child Prostitution, Child Pornography and Trafficking of Children for Sexual Purposes -- raised concerns about madrassa teachers in Mauritania forcing students to beg on the streets and hand over the money.
In Bangladesh, rights groups have increased calls for madrassa investigations after a teacher was arrested in March and charged with raping girl students, who are allowed to attend the schools that in many other countries are male-only.
In the Middle East, few activists have demanded investigations into conditions in Islamic schools, but that could change as groups increasingly challenge traditional centers of influence.
"Pakistan is now a center of the showdown between modernizing Islam and forces resisting change," said Irfan Khawaja, a professor at John Jay College of Criminal Justice in New York who follows Islamic affairs. "The madrassa issue is part of this. It will spread around the Islamic world."
Amnesty International and the Human Rights Council of Pakistan have recounted cases in Pakistan of students shackled to prevent escape and noted growing allegations of sex abuse.
"Leaders of religious parties resent official probing into the functioning of the madrassas and threaten retaliation if they are more closely controlled," Amnesty wrote.
The London bombings in July, meanwhile, could hasten the end to the madrassas' traditions of secrecy and autonomy in Pakistan.
At least one of the attackers visited a Pakistani madrassa. Pakistan's president, Gen. Pervez Musharraf, has vowed to stamp out "extremism and militancy" in madrassas and has threatened to close schools that refuse to register with authorities by the end of the year.
Copyright 2005 The Associated Press.
Pakistan struggles with Islam in schools
By Paul Watson
Los Angeles Times
Lahore, Pakistan -- Each year, thousands of Pakistani children learn from history books that Jews are tightfisted moneylenders and Christians vengeful conquerors. One textbook tells children they should be willing to die as martyrs for Islam.
These aren't students being indoctrinated by extremist mullahs in madrassas, the private Islamic seminaries often blamed for stoking militancy in Pakistan. These are pupils in public schools learning from textbooks approved by the administration of President Pervez Musharraf.
Since joining the United States as an ally in its "war on terror" four years ago, Musharraf has urged Pakistanis to shun radical Islam and pursue "enlightened moderation."
Musharraf and U.S. officials say education reforms are crucial to defeating extremism in Pakistan, the only Islamic nation armed with nuclear weapons. Yet reformers who study the country's education system say public-school lessons still promote hatred against non-Muslims and urge jihad, or holy war.
"I have been arguing for the longest time that, in fact, our state system is the biggest madrassa," said Rubina Saigol, a U.S.-trained expert on education. "We keep blaming madrassas for everything and, of course, they are doing a lot of things I would disagree with.
"But the state ideologies of hate and a violent, negative nationalism are getting out there where madrassas cannot hope to reach."
The current social-studies curriculum for sixthand seventh-graders instructs textbook writers and teachers to "develop aspiration for jihad" and "develop a sense of respect for the struggle of (the) Muslim population for achieving independence."
Textbook teaches students to prepare for jihad
In North-West Frontier Province, governed by supporters of the ousted Taliban regime in neighboring Afghanistan, the federally approved Islamic-studies textbook for eighth grade teaches students they must be prepared "to sacrifice every precious thing, including life, for jihad."
"At present, jihad is continuing in different parts of the world," the chapter reads. "Numerous mujahedeen (holy warriors) of Islam are involved in defending their religion, and independence, and to help their oppressed brothers across the world."
The textbook for adolescent students says Muslims are allowed to "take up arms" and wage jihad in self-defense or if they are prevented from practicing their religion.
"When God's people are forced to become slaves of man-made laws, they are hindered from practicing the religion of their God," the textbook says. "When all the legal ways in this regard are closed, then power should be used to eliminate the evil.
"If Muslims are being oppressed," the book reads, "then jihad is necessary to free them from this cruel oppression."
"Jihad" can mean peaceful struggle as well as holy war. Jihad can be waged on several levels, from a peaceful, inner struggle for one's own soul to the killing of infidels.
Pakistani critics of the public school system maintain that jihad's softer sense is easily lost in lessons that emphasize the oppression of Muslims in many parts of the world and that encourage fellow Muslims to fight.
"Some people coming from the regular school system are volunteering for various kinds of jihad, which is not jihad in classical Islamic theory, but actually terrorism in the modern concept," said Husain Haqqani, a Pakistani author and professor of international relations at Boston University.
"All of that shows that somehow the schooling system has fed intolerance and bigotry."
Pakistan is an Islamic state, and 97 percent of its people are Muslims, so it's not surprising that its government promotes Islamic values in public schools.
But Pakistan's public education system goes beyond instilling pride in being Muslim and encourages bigotry that can foment violence against "the other," said Haqqani, who has written a new book on links between the military and radical Muslims.
Under Pakistan's federal government, a national curriculum department in Islamabad, the capital, sets criteria for provincial textbook boards, which commission textbooks for local public schools.
Javed Ashraf Qazi, a retired army general and former head of the military's powerful Inter-Services Intelligence agency, was named education minister last September to revive a stalled reform effort.
Study weighs in on public-school textbooks
In a nation with one of Asia's highest illiteracy rates, Qazi said he was determined to have specialists rewrite course guidelines and textbooks, from the first grade to the college level, so that "the curriculum will be in line with that of any other advanced country."
"We don't want to condemn any religion -- which we will not," he said.
A study of the public-school curriculum and textbooks by 29 Pakistani academics in 2002 concluded that public-school "textbooks tell lies, create hatred, inculcate militancy and much more."
The study by the independent Sustainable Development Policy Institute angered religious conservatives, and even a few liberals, who saw it as an attack on the country's Islamic values, or even a plot by Western governments and rival India to subvert Pakistan.
Qazi headed the ISI from 1993 to 1995, when the intelligence agency was recruiting students from Pakistan's madrassas to join the extremist Taliban militia. Under Qazi's watch, the Taliban won its first major victory, the seizure of Kandahar, with ISI training and weapons.
His critics say that makes Qazi the wrong man to take on hard-line Islamic parties and clerics who are blocking education reforms. But the education minister insists he will fight hard to correct a curriculum he calls lopsided.
It would be easier to end extremism in Pakistan if Western governments did more to resolve conflicts that anger Muslims worldwide, such as the war in Iraq, the dispute with India over the enclave of Kashmir, or the Palestinians' struggle against Israel, he said.
After it won independence from Britain in 1947, Pakistan had a secular public-school system. President Zia ul-Haq, a former military dictator, ordered Islamic education to be incorporated into the public-school curriculum in the 1980s as he consolidated power with the support of hard-line Islamic clerics.
Still grappling with 'Islamization' policy
Pakistan is still grappling with the lethal forces that Zia's "Islamization" policy unleashed.
Educationists pressing for deeper reforms say they suspect Musharraf, an army general who seized power in a 1999 coup, wants to maintain elements of Zia's strategy in order to preserve the military's dominant role in Pakistani society.
"Reforming education is not a part of Musharraf's agenda, because it will require squarely confronting the mullahs," said Pervez Hoodbhoy, a professor who specializes in high-energy and nuclear physics.
"Musharraf acts only upon pressure, and there must be relentless, sustained pressure from the outside world if meaningful reforms are ever to become reality," he said.
Punjab state's seventh-grade social-studies textbook, published in January, begins with a full-page message from Musharraf urging students to focus on modern disciplines such as information technology and computers.
"It is a historical fact that the Muslims ruled the world for hundreds of years," Musharraf writes. He acknowledges that in the past, Pakistan's school curriculum "was not in concert with the requirements of modern times." But he assures students that "textbooks have been developed, revised and updated accordingly."
The changes, if any, are hard to spot. Disparaging references to Christians, Jews and Hindus from previous editions are carried over to the new text.
"Before Islam, people lived in untold misery all over the world," the textbook reads. "Some Jewish tribes also lived in Arabia. They lent money to workers and peasants on high rates of interest and usurped their earnings. They held the whole society in their tight grip because of the ever increasing compound interest.
"In short, there was no sympathy for humanity," the passage continues. "People were selfish and cruel. The rich lived in luxury and nobody bothered about the needy or those in sufferings."
A section on the Crusades teaches that Europe's Christian rulers attacked Muslims in the Holy Land out of revenge even though "history has no parallel to the extremely kind treatment of the Christians by the Muslims."
"Some of the Christian pilgrims to Jerusalem fabricated many false stories of suffering," the passage continues. "If they were robbed on the way, they said it were the Muslims who robbed them."
Christians eventually realized they were inferior to Muslims, the chapter concludes.
Combined with lessons on armed jihad, such a view of history helps make young Pakistanis ripe for manipulation by Islamic militants, who have given jihad "a demonic meaning," said Saigol, the education expert.
"The word is so much more associated with violence, killing, death and blood," she said, "that I think it's difficult to reclaim it, as the modernists are trying to do, and turn it into a war against one's inner self."
Nineteen Muslim teachers held in restive Thai south
By Nopporn Wong-Anan
Reuters
Tuesday, March 28, 2006; 5:51 AM
BANGKOK (Reuters) - Nineteen teachers at an Islamic school founded by a top fugitive insurgent in the Thai south have been held on suspicion of involvement in two years of bloody separatist violence, officials said on Tuesday.
The arrests would fuel more resentment among ethnic Malays in the mainly Muslim region, where more than 1,100 people have been killed in the violence, Muslim leaders and lawyers said.
Security officials in Bangkok said the 19 men were arrested under a controversial emergency decree which allows detention of suspects without charge for 30 days.
The teachers at Thamma Wittaya School in the city of Yala were arrested last week after they came back from a curriculum preparatory meeting on an island off nearby Satun province, said a Bangkok-based Muslim lawyer who is working on the case.
"Police and soldiers went to search their houses and arrested them after they came back from the island," Kitcha Ali-ishoh, who also works for a Justice Ministry-appointed agency to bring peace to the south, told Reuters.
"This mass arrest as a result of their meeting, which was not a secret, will affect students when classes resume," he said.
Thai schools are on holiday until in mid-May.
At least six teachers from the school -- founded by Sapaeing Bazo, the most wanted separatist leader with 10 million baht ($257,000) on his head -- have been killed since the latest unrest began in January 2004.
Security agencies have named Sapaeing as a leader of the BRN Coordinate, one of the groups behind the violence in the region, and say he is believed to be hiding in Malaysia.
Several teachers and students at Thamma Wittaya, a school of 6,000 students which teaches both Islam and general subjects, have been arrested previously on suspicion of involvement in the two-year insurgency, police said.
Security officials told Reuters the 19 teachers were arrested because other suspects had implicated them during police interrogations and some of these teachers were educated in Muslim countries like Egypt, Saudi Arabia and Indonesia.
"They claimed to have a meeting about the school curriculum, but why did they have to have it on a remote unknown island hardly ever visited by tourists," a Satun security official said.
A leading Islamic scholar in the region said arresting people on flimsy excuses would only raise more anger in a region which has seen bouts of separatist violence since annexed by predominantly Buddhist Thailand a century ago.
"I've told senior officials so many times that if they suspect someone, they should invite them for questioning, not just detain them with no charges," Yala provincial Islamic council chief Abdullahmee Cheseh said.
The government has tried many ways to end the violence and win the hearts and minds of the 1.8 million people in the region bordering Malaysia, from brute force to bombing the region with millions of paper "peace" birds by Air Force warplanes. But the violence persists.
Saudi textbooks preach intolerance, hate
Despite post-9/11 policy change, children still taught to wage jihad
By Lisa Myers & the NBC Investigative Unit
Updated: 2:02 a.m. PT July 11, 2006
WASHINGTON - In the classroom and across Saudi society, Saudi officials insist their message has changed dramatically. The land that produced 15 of the 9/11 hijackers now officially preaches religious tolerance and moderation.
In numerous statements, senior Saudi officials have specifically claimed that the kingdom has cleaned up all school textbooks.
"We eliminated what might be perceived as intolerance from old textbooks that were in our system," says Prince Turki al-Faisal, the Saudi ambassador to the U.S.
There has been progress. However, a new study found examples of intolerance, even hate, in multiple Saudi textbooks now used in grades 1-12.
Nina Shea's group — the Center for Religious Freedom — examined textbooks used during the past school year, and found the following teachings, which were verified by NBC News:
· Jews and Christians are "enemies" of Muslims.
· Every religion other than Islam is "false."
· "The hour [of Judgment] will not come until the Muslims fight the Jews and kill them."
"It's taught that Christians and Jews are the enemy of the Muslim," says Shea. "And that the Muslim must wage jihad in order to spread the faith in battle against the infidel."
What's more, an eighth grade text equates Jews with "apes" and Christian infidels with "swine." A tenth grade text teaches that the life of a Muslim is worth twice that of a non-Muslim.
"This is the ideological foundation for building tomorrows' terrorists," says Shea.
And it's not just textbooks. In Canada, moderate Muslims like Tarek Fatah charge that militant literature provided by the Saudis is radicalizing some young Muslims, like the 17 men arrested there last month for planning bombings in Canada.
"I see Saudi influence," says Fatah, the communications director of the Muslim Canadian Congress.
Fatah says a version of the Quran sent to Canada from Saudi Arabia in his possession includes added language encouraging jihad.
"The Quran does not ask people to conduct war against non-Muslims, but that's what the Saudis are distributing," says Fatah.
In one example, the word "Jews" is added to the translation, identifying "people" who have "strayed from God's laws."
"It's totally unethical, immoral and un-Islamic to do that, to play around with the words of God," says Fatah.
Middle Eastern sources tell NBC that the Saudi government has stopped distributing the Qurans in question. As for the textbooks, Saudi officials say they can only change as much and as fast as Saudi society allows, and that they are more concerned about how reforms are perceived at home than in the United States.
The problem with schools in Muslim countries
May 21, 2006
SOROUSH SEIFI
SPECIAL TO THE STAR
My name is Soroush. I was born in Iran 21 years ago and now reside in Toronto. I lived through the eight-year Iran-Iraq war. But this article is not about me. It is about a disturbing trend in education in Muslim countries.
I hope to draw a correlation between the education system in Iran and the recruitment of angry, young and easily manipulated individuals by terrorist organizations such as Al Qaeda.
The ruins of Ground Zero are proof that we no longer live in an isolated box. The problems of people on one side of the world can bring destruction to people on the other. I say this only to reiterate former secretary of state Colin Powell's statement in 2004: "To eradicate terrorism, the United States must help... alleviate conditions in the world that enable terrorists to bring in new recruits."
It seems that conditions in the Middle East are not being "alleviated," as the U.S. administration had planned. Even Republican senators disagree with U.S. President George W. Bush on the war in Iraq.
Meanwhile, the U.N. Department of Economic and Social Affairs' annual surveys consistently show a lack of freedom of expression, human rights, access to resources, economic stability and technological innovation in societies where most terrorists come from.
So perhaps there are more effective ways than military force to fight terrorism. The failure of American military intervention should prompt us to look at other dimensions of the conflict.
The school system of countries like Iran, where I was educated, is a good place to start.
To be a terrorist, it is not enough to be poor and angry. Otherwise, many more terrorists would originate from places like sub-Saharan Africa, where the rates of poverty are much worse than in Saudi Arabia, the homeland of 15 of the 19 Sept. 11 terrorists. Those terrorists were predominantly from middle-class families.
The more interesting issue is why these individuals were unable to think for themselves and find better ways of showing displeasure than through terrorism. My personal school experience in Iran offers a clue.
My education there was a military-like experience. The vice principal would stand in front of students lined up in formation and ask us to repeat pro-government propaganda, such as "Long Live Hezbollah" (a Middle Eastern paramilitary group with a strong presence in Iran and Lebanon). I was only 10 back then.
I remember that the teacher was similar to a God figure. We accepted his/her words without a grain of salt. Students were not encouraged to think for themselves or come up with our own solutions. On the contrary, we were spoon-fed information.
In religion and Qur'an classes (mandatory for all students), we learned the "correct" way of speaking, reading and acting. The incessant declaration of the importance of tradition helped students conform to what the authorities considered "Islamic." For example, it was blasphemous to dress in "feminine" colours, have a fancy haircut or, in general, think outside of the box. Such transgressions were often met with physical abuse.
I remember one of my close friends, Ali Esmaili, asked our Grade 5 teacher, "Miss, is it true that Ayatollah Khomeini only had an elementary school education?" The teacher immediately got up from her chair and her glare became fixed on Ali's eyes. She asked him to stand up. When he did, she hit him. After three blows, the teacher told Ali to go to the office and call his parents because he was going to be expelled from school.
Ali was not expelled in the end, but I learned never to question authority again. I can only assume that the other 41 students in that class continue to believe that very same message today: Never think for yourself.
When it came to mathematics and science, those subjects were no more than a struggle through theoretical concepts in books that we bought at the beginning of each school year. I never had to do research, look through dictionaries and encyclopedias, or go to the library to learn things on my own.
I remember that teachers constantly reviewed many of the political experiences of the nation in a certain framework. We were taught to accept some values and reject others. For one reason or another, the teachers, despite their own personal opinions, usually promoted the status quo.
In Grade 7, my teachers told me and other students to tell our parents to "vote for Nouri," the conservative opponent of the former Iranian president, Mohammad Khatami.
My experience in Canadian schools has been entirely different. I moved here in 1997 with my family and went into Grade 8 in the Toronto public school system. The teachers there taught me to understand things through various creative activities and to think for myself.
I sometimes wonder whether young Muslims who become terrorists are trapped by the limits of their education. Like me and my classmates in Iran, they don't question anything; they merely do what others tell them to do for no other reason than to simply obey orders.
To alleviate terrorism, it will be necessary to create educational systems in Muslim countries like Iran that allow the harvest of children's creative ideas. Allowing thought to grow will give these children the opportunity to imagine and be innovative as adults; they will find new ways to solve their problems. These solutions will stem from within and most likely match their culture, as well.
It is not possible to build a house without first laying the foundation. Hence, developed nations — instead of military intervention — have the responsibility to help lay the foundation and encourage education systems that foster creativity in Muslim nations.