POLITICALLY INCORRECT SOLUTIONS FOR INDIVIDUAL MUSLIM TERRORISTS
9 get death sentence for terrorism in Xinjiang
Saibal Dasgupta,TNN
Jun 6, 2014
BEIJING: Chinese courts have sentenced nine people to death for terrorist activities in the northwestern Xinjiang region. Two others have been given death sentence with a two-year reprieve, which means the verdict will be reviewed after the reprieve period.

The convictions follow a series of deadly attacks, including the recent killing of 31 people in a market in the provincial capital of Urumqi.

The convicted are among the 81 defendants who have been sentenced to various punishments — including death penalty, life imprisonment and long-term sentences — by six different courts in the region, according to the regional higher people's court.

The alleged terrorists included 68 people who were accused of organizing, leading or participating in terrorist organizations, intentional homicide, arson or illegal manufacture, storage and transport of explosives.

The courts convicted another 13 people for inciting ethnic hatred and discrimination, or teaching criminals methods.

The crimes were the focus of the region's special operation to crack down on terrorism, said the regional higher people's court.

A senior Xinjiang official said the crimes were the result of religious extremism and not China's policies on ethnic affairs. Arkin Tuniyazi, vice chairman in the region's government, rejected allegations the authorities interfered in local customs, prohibiting men from growing beards and women from wearing the veil.

"Elder Uygur men, especially those living in southern Xinjiang, have the tradition of growing thick beards. We have never thought that it is a problem; it is completely their own choice," said Tuniyazi. He admitted the government did try to dissuade women from wearing the veil, because it represents religious conservatism and was "never a Uygur tradition". Some young Uygur women have begun to use the veil under the influence of religious extremism, which is preached to them unlawfully, he said.

"Some scripture interpretations prohibit people from dancing to express their joy at weddings or mourning over the deceased at funerals," the official media quoted him as saying. "I find those rules seemingly out of 'restraint' entirely against nature."


China official urges education to stem terrorism
By CHRISTOPHER BODEEN
January 8, 2009
BEIJING (AP) — Rocked by a fresh outbreak of anti-government violence, officials in China's far western Xinjiang region are urging expanded free education to staunch support for Islamic separatists.
The appeal appeared to acknowledge that force alone will not vanquish pro-independence sentiment, although it was matched by a renewed call for high-pressure security tactics against terrorism, separatism and religious extremism.
Radicals among Xinjiang's native Turkic Uighur population have waged a long-simmering campaign against Chinese rule, although 2008 saw the worst outbreak of violence in recent years, intended — authorities say — to sabotage the Beijing Olympics.
Students in the traditionally Muslim region who quit after middle school become easy targets for radical groups, the head of the regional education department was quoted as saying by the official China Daily newspaper on Thursday.
Keeping them in school for 12 years rather than nine would help prepare them for the job market and better shape their "ideology and mentality," Zhao Dezhong said.
The plan specifically targets the region's most underdeveloped areas, where a mere 15 percent of all junior high graduates continued their studies, Zhao said. The last three additional years of school would be devoted to vocational education, he said.
"In terms of maintaining social security and stability, the move is of strategic significance," Zhao was quoted as saying on Wednesday on the sidelines of the regional assembly's annual session.
The plan would cost around $500 million and has yet to win central government approval, Zhao said.
Authorities have in the past chosen to portray support for separatism as purely a political and security issue, a line largely echoed by Xinjiang Gov. Nur Bekri in his main address to the assembly at its opening session Wednesday.
"Maintain strict vigilance against the 'three forces,' keep the pressure high and strike hard against them," Bekri said, according to a text posted on the Web site of the Xinjiang Daily newspaper.
Culturally, religiously and linguistically distinct from the China's Han majority, Uighurs have long complained of economic marginalization by migrants who have flooded into Xinjiang since communist occupation in 1949. Like Tibetans, China's other restive minority, many Uighurs claim they were independent for much of their history.
Last year's violence prompted a clampdown in which the government says 1,295 people were arrested in Xinjiang for state security crimes, up from the nationwide total of 742 arrests on such charges in 2007.
Nicholas Bequelin, a researcher with Human Rights Watch's Asia Division, said the high number of arrests was likely a sign that authorities were including any kind of peaceful ethnic dissent or challenge to Chinese rule in their definition of public security.
"The police cast a very wide net to try to prevent any incidents before the (Olympic) games," Bequelin said from Hong Kong in a recent telephone interview.
China, he said, needs to make a finer distinction between "genuine security threats and people who just express dissent."
Thailand uses 're-education' to fight Muslim separatists
July 16, 2008
YALA, Thailand (AFP) — Thailand's army is increasingly using controversial "re-education" camps to indoctrinate young Muslim men in the hope of stopping them from joining a bloody insurgency, officials and activists say.
Detained suspects in Thailand's southernmost provinces have been forced to go through re-education programmes since the separatist conflict erupted four years ago in Muslim-majority provinces along the Malaysian border.
Last year the government's efforts to force men to attend the camps -- which could include lessons on anything from Thai history to job training -- ended up in court.
Judges in October ordered the army to release 85 Muslims being held against their will for what was described as a job training course.
But the rules changed in December during the last days of the previous military government, which imposed a new Internal Security Act (ISA) that allows the army to detain people without charge for up to six months.
Now the army is bringing so many people into the camps that it is building a new training centre to cope with the numbers, said Diana Sarosi of the Working Group on Justice for Peace, a Thai human rights group.
"People are asked to participate in all kinds of trainings, mostly re-education or civilising workshops ranging from one to several days," Sarosi told AFP. "People are too scared to turn down these invitations'."
The military isn't shy about discussing the scheme, which it views as a key part of efforts to win the trust of residents in a region where separatist violence has claimed 3,300 lives since 2004.
Somsae, 39, said he had been a propaganda officer for a group of insurgents when he was caught by the Thai military. Instead of going to jail, he was sent to be re-educated about the history of this region, which was once the autonomous Malay sultanate of Pattani.
"The insurgents gave me false knowledge about Islam," Somsae told AFP in an interview, accompanied by army Colonel Chinnawat Mandech.
"They came into the village and taught us about Islam and the history of Pattani. They seemed to have very deep knowledge," he said.
Somsae said he had already left the insurgency a year before his arrest. It is impossible to know how he really feels about his captors as he talks alongside them.
Chinnawat said the aim of the camps is entirely educational, a battle of ideas aimed at defeating the radical militants' claim that they have an Islamic duty to fight Thai "imperialism" in a Malay Muslim region annexed in 1902 by Buddhist Thailand.
"We sent teachers to give him a course of Islamic study so that he can learn the truth and then decide for himself," Chinnawat told AFP.
He believes the militants learn their extremism when Thai students go to Indonesia to study and fall under the influence of Islamist group Jemaah Islamiah.
When the students return to teach in southern Thailand, they pass on their ideology at local religious schools.
"Then the teachers who spread this go back to their villages and tell everyone else," he said. "I think 90 percent of private Islamic schools here have this radical thought."
At one re-education programme in Yala province, deputy governor Puchong Pothigudsai said the goal is simply to promote peace.
"We try to correct understanding on three issues -- religion, history and race," he told AFP.
"The main world religions support each other. The highest purpose of all religions is the same -- kindness and peace.
"We have to use violence to protect ourselves but the last step must be peaceful so we don't create new conditions for violence."
But Puchong is unequivocal on how to deal with those who cannot be taught.
"For the ones who are hardcore we have to destroy their hope," he said. "Because you cannot separate and set up a new country."
Experts fear that with the new security law, and little transparency about the programmes, proving instances of arbitrary detention will become harder, and could actually worsen the conflict.
"You don't win over hearts and minds by branding everyone a suspect and then forcing them to negate their identity," Sarosi said.
"These measures merely aggravate the grievances that sparked the violence in the first place in that Malay Muslims continue to feel like second-class citizens not worthy of rights, justice and dignity."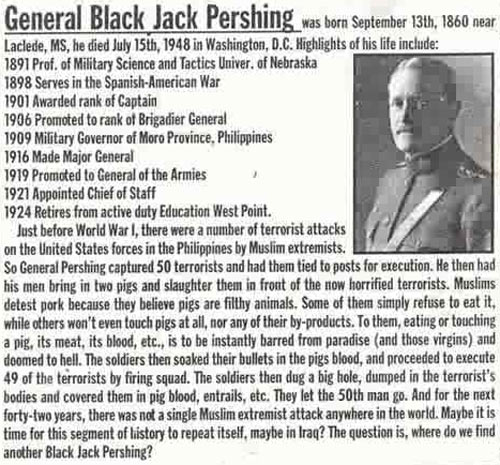 HOW TO STOP ISLAMIC TERRORISTS...... it worked once in our History...
Once in U.S. history an episode of Islamic terrorism was very quickly stopped. It happened in the Philippines about 1911, when Gen. John J. Pershing was in command of the garrison. There had been numerous Islamic terrorist attacks, so "Black Jack" told his boys to catch the perps and teach them a lesson.
Forced to dig their own graves, the terrorists were all tied to posts, execution style. The U.S. soldiers then brought in pigs and slaughtered them, rubbing their bullets in the blood and fat. Thus, the terrorists were terrorized; they saw that they would be contaminated with hogs' blood. This would mean that they could not enter Heaven, even if they died as terrorist martyrs.
All but one was shot, their bodies dumped into the grave, and the hog guts dumped atop the bodies. The lone survivor was allowed to escape back to the terrorist camp and tell his brethren what happened to the others. This brought a stop to terrorism in the Philippines for the next 42 years.
Pointing a gun into the face of Islamic terrorists won't make them flinch.
They welcome the chance to die for Allah. Like Gen. Pershing, we must show them that they won't get to Muslim heaven (which they believe has an endless supply of virgins) but instead will die with the hated pigs of the devil.
A True story about General "Black Jack" Pershing.
Born September 13th, 1860 near Laclede, Mississippi
Died July 15th, 1948 in Washington, D.C.
1891 Professor of Military Science and Tactics University of Nebraska
1898 Serves in the Spanish-American War
1901 Awarded rank of Captain
1906 Promoted to rank of Brigadier General
1909 Military Governor of Moro Province, Philippines
1916 Made Major General
1919 Promoted to General of the Armies
1921 Appointed Chief of Staff
1924 Retires from active duty
Education: 4 Years-West Point
One important thing to remember is that Muslims detest pork because they believe pigs are filthy animals. Some of them simply refuse to eat it, while others won't even touch pigs at all, nor any of their by-products. To them, eating or touching a pig, its meat, its blood, etc., is to be instantly barred from paradise and doomed to hell.
Just before World War I, there were a number of terrorist attacks against the United States and it's interests by, you guessed it, Muslim extremists.
So General Pershing captured 50 of the terrorists and had them tied to posts execution style. He then had his men bring in two pigs and slaughter them in front of the, now horrified, terrorists.
The soldiers then soaked their bullets in pigs blood, and proceeded to execute 49 of the terrorists by firing squad.
The soldiers then dug a big hole, dumped in the terrorist's bodies and covered them in pig blood, entrails, etc.
They let the 50th man go. And for about the next 42 years, there was not a single attack by a muslim fanatic anywhere in the world.
Russian Police Kill Chechen Rebel Leader
By KAZBEK VAKHAYEV
Associated Press Writer
June 17, 2006
GROZNY, Russia (AP) -- Police killed the Chechen rebel leader Saturday allegedly acting on a tip from within his network and dealing a possible blow to efforts to spread the increasingly Islam-inspired insurgency throughout southern Russia.
Abdul-Khalim Sadulayev was shot during a raid on a hideout in his Chechen hometown of Argun, nine miles east of Grozny. He had been planning a terror attack in Argun to coincide with the Group of Eight summit of leading industrialized nations in St. Petersburg in mid-July, the Moscow-backed Chechen premier claimed.
Wearing combat fatigues, Prime Minister Ramzan Kadyrov posed for TV cameras next to a half-naked bloodied body identified as the rebel leader's. He said a close associate of Sadulayev's tipped police to his whereabouts for the equivalent of $55.
"He urgently needed to buy a dose of heroin, so he sold his leader for heroin," Kadyrov, flanked by his lieutenants, said with a grin.
The prime minister said his paramilitary police had wanted to capture Sadulayev but had to kill him when he resisted arrest. Russian television stations showed the basement of a house where the rebel leader was allegedly hiding, its wall riddled with bullets.
"The terrorists have been virtually beheaded. They have sustained a severe blow, and they are never going to recover from it," Kadyrov said. "We must decisively end international terrorism in the whole of the North Caucasus."
The mountainous Caucasus region encompasses southern Russia - including the breakaway Chechen republic - and the former Soviet republics of Georgia, Armenia, and Azerbaijan.
An intelligence agent and a police officer were killed in the operation, the Federal Security Service, the main KGB successor agency, said in a statement. One rebel also was killed and two rebels escaped, NTV news reported.
Top rebel aide Ibrahim Mezhidov confirmed Sadulayev was killed, according to the Kavkaz Center Web site sympathetic to the rebels.
Speaking to Ekho Moskvy radio, rebel envoy Akhmed Zakayev, who lives in London, denounced the killing as a "political murder." He said warlord Doku Umarov would now become the secessionist president.
An Islamic scholar, Sadulayev took over after Russian forces killed rebel leader Aslan Maskhadov in March 2005. Maskhadov had called Sadulayev a co-organizer of one of the most high-profile Chechen rebel attacks: a 2004 raid on police and security installations in the neighboring republic of Ingushetia that killed some 90 people.
Russian prosecutors consider Sadulayev the top organizer of the 2001 kidnapping of Kenneth Gluck, of New York, who worked for Doctors Without Borders in southern Russia. Gluck was freed after 25 days.
Previously, Sadulayev had been an imam of his hometown mosque. He preached on local television when Chechnya enjoyed de-facto independence after the Russian troops' withdrawal following the botched 1994-96 Chechen campaign.
Though rooted in nationalist sentiment, Chechnya's separatist movement took on a growing Islamic cast after Russian forces launched a second Chechen invasion in 1999. In 2002, Sadulayev was named the chief judge of the Chechen rebels' court of Islamic law.
As rebel president, Sadulayev presided over insurgent efforts to reach beyond Chechen borders and encourage militant movements in nearby Caucasus regions.
Militant cells linked to Chechen rebels have spread quickly across the volatile Caucasus provinces, encouraged by the region's poverty and simmering public anger at police brutality and persecution of Muslims who worship outside officially sanctioned mosques.
"Sadulayev has cast himself as the leader of the so called 'Caucasus Front,' the man leading a new generation of young militants," Alexei Malashenko, and expert with the Carnegie Endowment's Moscow office, told The Associated Press.
He also was a compromise figure, accepted by different militant cells throughout the Caucasus, and as a result his death deals a serious blow to the Chechen rebel movement, said Alexander Ignatenko, head of the Moscow-based Institute for Religion and Politics.
"Heads of regional cells have sworn an oath of allegiance to him," Ignatenko told AP. "They might not accept another Chechen as their leader."'
Some analysts said that Sadulayev's death could set stage for a turf battle between warlords Umarov and Shamil Basayev.
A top rebel commander, Basayev has claimed responsibility for some of Russia's worst terror attacks, including the seizure of some 800 hostages in a Moscow theater in October 2002 and the September 2004 school hostage taking in Beslan that killed 331.
"Basayev is much more authoritative than Umarov," Malashenko said.
The Chechen prime minister - whose feared paramilitary forces are suspected of abducting civilians and other violence - vowed Saturday to track down both warlords.
Political commentator Yulia Latynina said the rebel leader's killing marked the beginning of Kadyrov's bid for regional presidency. "By liquidating a major rebel figure ... Kadyrov wanted to prove his loyalty to federal authorities," she said on Ekho Moskvy.
Kadyrov is the son of Chechnya's first pro-Moscow president, Akhmad Kadyrov, who was assassinated in a rebel bombing in 2004. He has moved up steadily within the region's Kremlin-backed government and is expected to become Chechen president when he reaches the mandated age of 30 in October.
Larry, Curly and Osama
Ridiculing terrorists as a weapon of war.
By J. Michael Waller, J. MICHAEL WALLER is a professor of international communication at the Institute of World Politics, a graduate school in Washington.
May 21, 2006
OSAMA BIN LADEN says he doesn't fear dying. He says he fears being humiliated.

So let's give it to him.
Bin Laden and others have thrived on the almost obsessive American focus on them as personal rivals. We give them the coveted "Enemy of the Great Satan" brand whenever our national leaders single them out by name.

What would happen if we ridiculed the terrorists instead? Would young people still flock to become "fighters" and suicide bombers? Would they still leave on their doomed missions with tearful support from their mothers, fathers, grandparents and the pretty girls at home, blessed by a cleric who justifies murder as a noble sacrifice in Allah's name?

Terrorism is psychological warfare: to accomplish much with little by manipulating people's perceptions, emotions and actions. That's why the terrorists like soft targets — innocent civilians in a skyscraper or mosque — that have little if any military value. The killings serve to terrorize civilized society, Muslim and otherwise. Ridicule strips the terrorist of his power. If we stop being afraid, we turn the icons of fear into objects of contempt.

The U.S. military may be developing its war-fighting skills to do just that. Recently it shattered the seemingly invincible persona of Al Qaeda leader Abu Musab Zarqawi, whose beheadings and bombings have terrorized Iraq and the world, by pairing his latest video release with captured raw outtakes. The outtakes showed Zarqawi not as a fearsome fighter but as a confused, bumbling fat boy in American sneakers and a black ninja costume who couldn't figure out how to operate a simple machine gun. (And even if it wasn't simple, there was no way to know that from the outtakes.) For the first time ever, the world saw Zarqawi's weak side: a pudgy, vulnerable, even contemptible creature who can't fight like a real warrior.

To most Americans, ridiculing terrorists might seem trivial, even sophomoric, as a weapon of war. But dictators and terrorists, being unable to function in the free market of ideas, need propagandists to control (not merely spin) their public images. They require obedience or acquiescence — a fear factor that cannot long coexist with put-downs and snickering. (That's why, six months after taking power in 1959, Fidel Castro had signs placed in official buildings that read "Counterrevolutionary jokes forbidden here." One of the first publications he shutdown was Zig Zag, a humor magazine.)

Pride, honor and shame are profound in much of Arab Muslim culture. The Zarqawi video was devastating. That's why Iraqi television and other moderate Arab media gave it plenty of play.

The ancients of the Middle East understood the mortal power of ridicule. In the Talmud, the basis of Jewish law, the Hebrews proclaimed, "All mockery (leitzanut) is prohibited except for mockery of idol worship." Muhammad, the founder of Islam, weaponized ridicule. From the third to fifth years of his annunciation as a prophet, Muhammad deployed warrior poets ahead of his invading armies to soften the targets through mockery and derision.

Back in simpler times, Americans reflexively ridiculed their enemies. In a 1940 episode of "The Three Stooges," Moe did a ridiculous impression of Hitler while Larry heiled as propaganda minister, and Curly dressed as Goering with his belly and buttocks festooned with medals.

When the U.S. entered World War II in 1941, the Army turned film studios into wartime propaganda mills. Humor about sacrifices at home and ridicule of the enemy were staples in Disney and Warner Bros. productions that starred Donald Duck and Bugs Bunny. (In fact, "Donald Duck in Nutziland" won an Academy Award in 1942.) To home audiences, the parody brought comfort and reassurance that, mighty as the enemy was, we could still defeat it.

In a January 2006 recorded message, Bin Laden signed off by saying: "I swear not to die but a free man even if I taste the bitterness of death. I fear to be humiliated or betrayed."

If he's not afraid to die, let's pour on the humiliation.

As long as the terrorists can make themselves look like fearsome winners — and as long as we inadvertently help them — they will always recruit followers. But nobody likes to follow a loser.