ISLAM OPPRESSES WOMEN
Push to protect Iraq women from domestic violence by changing laws falters, experts say
By Associated Press, Published: October 10, 2011
BAGHDAD — Salma Jassim was beaten, kicked out of her marital home with her newborn daughter on her shoulder and then deserted by her husband. But she says the threat she faces from her own family, who feel shamed because of her divorce, is just as bad as the abuse.
There are few places in Iraq where Jassim can turn for help. Iraqi experts believe that domestic abuse has increased during the years of war and economic hardship since the 2003 U.S.-led invasion. But attempts to strengthen laws to protect women have gone nowhere in the face of heavy cultural and religious resistance.
The World Health Organization has estimated that one in five Iraqi women has reported being a victim of domestic violence, and experts say the rate is much higher. Government officials say for the time being there's little hope that laws giving men wide rights to "discipline" their wives will be changed.
"There are abusive laws against women ... but we believe that in this era, this project will be rejected," said the Human Rights Ministry's spokesman Kamil Amin. "Politicians have no will to change these abusive laws."
State Minister for Women's Affairs Ibtihal al-Zaidi agreed.
"The new reforms might raise issues against Islamic laws as well as tribal and traditional norms," she said. "It is a very sensitive issue."
Al-Zaidi's ministry is working with other ministries along with civil society organizations in coordination with the United Nations to finalize a national strategic plan for the advancement of women, combating violence against women, and preparing draft legislation to protect against domestic violence.
However, al-Zaidi said she was "very hesitant" to present the draft legislation to parliament because of unsuccessful attempts made by Iraq's Human Rights Ministry to repeal discriminatory provisions.
"The Iraqi Supreme Judicial Council thwarted our attempts under the pretext that the time was not right for such amendments which would be rejected by the Iraqi street because they conflict with religious, tribal and traditional norms," said Amin, the Rights Ministry spokesman. "Not only male lawmakers but even some female lawmakers stood against such reforms because of their extreme religious convictions."
At issue is Iraq's penal code, written in 1969, that excuses crimes "if the act is committed while exercising a legal right." Husbands punishing their wives, and parents and teachers punishing children are considered permissible "within certain limits prescribed by law or by custom."
In Iraq, some tribes and fundamental Muslim sects believe that Islamic laws allow husbands to beat unruly wives, and even for families to kill women relatives who are accused of bringing shame upon the home, such as in cases of adultery. The authority given to husbands can sometimes be exploited by their families to abuse wives as well.
More often than not, women like Jassim routinely are blamed instead of helped.
Jassim said her husband's family, which became wealthy after their son started a thriving car spare parts business, was ashamed of her because of her humble background.
She said her husband's sisters beat her so badly her breast milk dried up and she could not feed her baby. The sisters one day kicked her and her baby out of the house, even ripping her headscarf and some of her hair off, she said. Jassim's husband eventually divorced her after his sisters accused her of stealing money from them.
But when Jassim, 22, returned to her family home with her baby, her brothers blamed her for the entire debacle and said she'd shamed their family by being kicked out and divorced. They refused to let her leave the house, held her at gunpoint and threatened to kill her.
"I accept insult, degradation and abuse rather than the hellish condition I am living in now," Jassim said recently, sitting in the Baghdad office of an Iraqi aid agency that offers legal advice to such women.
In September, Iraq was named among 34 countries that will share a $17.1 million grant from the U.N. for programs to end violence against women. The U.N. says the money can be used to give women legal and medical access, provide counseling for men and women and other programs.
Even small efforts to curb domestic violence short of changing the law have largely failed, officials and experts say.
Last year, the Interior Ministry opened two women's protection centers in Baghdad, where victims can file abuse complaints with police. The centers are sponsored by the State Ministry for Women's Affairs, which opened at least one in each of Iraq's 18 provinces.
Police Col. Mushtaq Talib, who oversees the two centers in Baghdad, said women rarely file complaints because "they would end up homeless, for their families would surely reject them."
At any one time, Talib said, the centers deal with less than a combined 100 cases which were referred to them from court.
The WHO study found that 21 percent of Iraqi women — out of the country's population of 30,747,000 — reported being victims of domestic violence in a survey taken in 2006 and 2007, the latest data available.
Talib said the actual number of domestic abuse victims likely is far higher. A 2010 U.N. report concluded that while it's impossible to gauge how often Iraq women are beaten by family members since so few report it, "the problem may be widespread."
In its own study, Iraq's Human Rights Ministry found that domestic violence was a factor in the nationwide increase in divorce cases, Amin said. In 2010, 53,840 marriages ended in divorce, compared to 52,649 in 2009 and 28,800 in 1997, according to the latest available U.N. and Iraqi Supreme Judicial Council data.
In previous generations, women suffering domestic abuse would stay with their husbands regardless of how bad it got. But Amin said now Iraqi women are starting to push back and ask for a divorce when they're abused.
These women who are "better educated, enlightened and aware of their rights," he said. "They are ready to sacrifice their married life for the sake of preserving their dignity."
But even so, many women prefer to stay in abusive relationships because the social stigma of divorce isn't just embarrassing — it can put them in danger of their own families as Jassim's divorce did.
"When divorced women leave one abusive family, they fall victims to another abusive family," said lawyer Wijdan Khalaf. "In our society, women have no options. There is no social protection."
Saudi woman sentenced to 10 lashes for driving car
By MAGGIE MICHAEL, Associated Press
September 27, 2011
CAIRO (AP) — A Saudi woman was sentenced Tuesday to be lashed 10 times with a whip for defying the kingdom's prohibition on female drivers, the first time a legal punishment has been handed down for a violation of the longtime ban in the ultraconservative Muslim nation.
Normally, police just stop female drivers, question them and let them go after they sign a pledge not to drive again. But dozens of women have continued to take to the roads since June in a campaign to break the taboo.
Making Tuesday's sentence all the more upsetting to activists is that it came just two days after King Abdullah promised to protect women's rights and decreed that women would be allowed to participate in municipal elections in 2015. Abdullah also promised to appoint women to a currently all-male advisory body known as the Shura Council.
The mixed signals highlight the challenge for Abdullah, known as a reformer, in pushing gently for change without antagonizing the powerful clergy and a conservative segment of the population.
Abdullah said he had the backing of the official clerical council. But activists saw Tuesday's sentencing as a retaliation of sorts from the hard-line Saudi religious establishment that controls the courts and oversees the intrusive religious police.
"Our king doesn't deserve that," said Sohila Zein el-Abydeen, a prominent female member of the governmental National Society for Human Rights. She burst into tears in a phone interview and said, "The verdict is shocking to me, but we were expecting this kind of reaction."
The driver, Shaima Jastaina, in her 30s, was found guilty of driving without permission, activist Samar Badawi said. The punishment is usually carried out within a month. It was not possible to reach Jastaina, but Badawi, in touch with Jastaina's family, said she appealed the verdict.
Saudi Arabia is the only country in the world that bans women — both Saudi and foreign — from driving. The prohibition forces families to hire live-in drivers, and those who cannot afford the $300 to $400 a month for a driver must rely on male relatives to drive them to work, school, shopping or the doctor.
There are no written laws that restrict women from driving. Rather, the ban is rooted in conservative traditions and religious views that hold giving freedom of movement to women would make them vulnerable to sins.
Activists say the religious justification is irrelevant.
"How come women get flogged for driving while the maximum penalty for a traffic violation is a fine, not lashes?" Zein el-Abydeen said. "Even the Prophet (Muhammad's) wives were riding camels and horses because these were the only means of transportation."
Since June, dozens of women have led a campaign to try to break the taboo and impose a new status quo. The campaign's founder, Manal al-Sherif, who posted a video of herself driving on Facebook, was detained for more than 10 days. She was released after signing a pledge not to drive or speak to media.
Since then, women have been appearing in the streets driving their cars once or twice a week.
Until Tuesday, none had been sentenced by the courts. But recently, several women have been summoned for questioning by the prosecutor general and referred to trial.
One of them, housewife Najalaa al-Harriri, drove only two times, not out of defiance, but out of need, she says.
"I don't have a driver. I needed to drop my son off at school and pick up my daughter from work," she said over the phone from the western port city of Jeddah.
"The day the king gave his speech, I was sitting at the prosecutor's office and was asked why I needed to drive, how many times I drove and where," she said. She is to stand trial in a month.
After the king's announcement about voting rights for women, Saudi Arabia's Grand Mufti Abdel Aziz Al Sheik blessed the move and said, "It's for women's good."
Al-Harriri, who is one of the founders of a women's rights campaign called "My Right My Dignity," said, "It is strange that I was questioned at a time the mufti himself blessed the king's move."
Asked if the sentencing will stop women from driving, Maha al-Qahtani, another female activist, said, "This is our right, whether they like it or not."
Egyptian women, long allowed to vote, lag despite uprising

BY HANNAH ALLAM
McClatchy Newspapers
Septempber 26 2011
Cairo • Thousands of Egyptian women fought in the 18-day uprising that unseated longtime President Hosni Mubarak. They hurled stones at pro-regime attackers, delivered meals to hungry protesters, and drew global attention to the struggle through their blogs and Twitter accounts.
At least 15 women died in the uprising, according to official figures. Hundreds were wounded.
And still, complain prominent Egyptian feminists, women are being sidelined from post-Mubarak politics: their names ignored for government posts, and their divorce and custody rights threatened by a powerful new Islamist lobby.
Egyptian activists shrugged off the announcement over the weekend that Saudi women, who cannot drive and require a male guardian for even mundane business, finally won the right to vote and run as candidates in local elections. Egyptian women have been voting, in mostly rigged elections, since 1956.
But the revolution that ended Mubarak's 30-year dictatorship has done little for women's rights in the Arab world's most populous country. With parliamentary elections just two months away, the outlook for women candidates is so dismal that Egyptian women activists are shelving dreams of leadership and progressive new laws because they fear they'll be too busy guarding their few hard-won gains of recent years.
"We won't waste our time finding women, training women, to run a campaign. They won't win," said Nehad Abu el-Komsan, head of the nonprofit Egyptian Center for Women's Rights. "We're using these two months just to strengthen groups that support women's rights."
Another obstacle for activists is that because Mubarak's widely despised wife, Suzanne, projected herself as a champion of Egyptian women, women's rights are stigmatized as belonging to the old regime, or, worse, imposed by the West.
Nonprofit groups that once relied on U.S. or other foreign aid said their funding has dried up, partly because of political pressure against accepting American money, and partly because of new layers of bureaucracy in applying for such grants.
"Since the revolution was against the system, and Suzanne was the wife of the head of the system, women's rights were seen as part of a corrupt regime," said Hoda Badran, head of the Cairo-based nonprofit Alliance for Arab Women, which used to receive U.S. funding. One newspaper published the word "traitor" next to Badran's photo to smear her as an American agent.
As a result, even some of the young female protest leaders are keeping quiet on women's issues, frustrating older feminists who consider them naive for thinking that the slogans of the uprising will automatically protect their rights.
"These girls think the revolution called for equality, democracy and social justice, so when that's accepted, women's rights will be covered," Badran said. "They think equality will free them all. We have great respect for them, and we are trying to discuss this. Our wisdom and years of experience with their energy and technology is what we need."
Many women from the new generation of Egyptian activists bristle at highlighting women's rights, insisting that the revolt was for reform in all sectors of society. To them, cultural and educational changes have to take place before any meaningful discussion of women's rights. And they deride Western-style feminists who push for women's rights without sensitivity to Egypt's conservative context.
"There are still women — and I meet them often — who think they were created to stay at home and be good and faithful housewives," said Rola Badr, an officer in the April 6 Democratic Front, an offshoot of the youth movement that was at the forefront of the uprising. "I can't talk with them about a woman becoming a minister before I help them erase what they've been fed for the past 30 years."
So far, women have been conspicuously absent from the government's efforts to build a more democratic Egypt. An early transitional advisory panel, the so-called Wise Men, included just one woman, out of about 30 members. There were no women on the board to draft constitutional amendments, and none included in the reshuffling of governors. Only one woman serves in the caretaker Cabinet, and she's an unpopular figure from the former regime.
The interim government also scrapped a Mubarak-era quota that guaranteed 64 new parliamentary seats for women. Even youth groups that are demanding quotas for young Egyptians in the next government won't back the same kind of quota for women, activists complained. And despite the recent amendments, wording in the constitution still implies that only a man can serve as president.
"It's a combination between the weak performance of the government and the poor attitudes toward women in Egypt," said Abu el-Komsan, who recently received a death threat because of her work. "Instead of asking, we must show our strength."
After several fruitless meetings with senior officials from the ruling military council and caretaker government, women's activists said, some groups are pushing for dramatic measures. One idea — scrapped for security reasons — called for mothers to drop off their children in Tahrir Square and let government forces deal with them for a day.
They're also trying unconventional conduits to decision-makers.
One recent afternoon, a small group of women gathered outside Prime Minister Essam Sharaf's house, shouting for his wife to push her husband to address their demands. Public relations specialists are teaching the activists how to pitch profiles of inspiring Egyptian women to local newspapers.
In June, women's activists held a national conference that created an umbrella group — the National Federation of Egyptian Women — to fight attacks on women's rights in family law cases, promote the inclusion of women in government, and launch a public awareness campaign. They work long hours, fielding calls for guidance from discouraged activists around the country.
"I get literally hundreds of calls, women crying and afraid. After the first 20, I started telling them, 'Go to hell,'" Abu el-Komsan said. "'If you're not going to defend yourselves, I'm not going to do anything.' I told them, 'Go write letters to all the newspapers, write in your own language, write with your spelling mistakes.' Just organize."
In the election-season political grandstanding, candidates are courting the Islamists, the business community, Coptic Christians and the poor. Women, however, still aren't viewed as a vital constituency, despite official figures that show about 20 million women are eligible to vote.
Just one presidential candidate — the former Arab League chief Amr Moussa — has approached women's groups to pitch his vision for a new Egypt. Only a couple of the many emerging political parties explicitly call for women's rights as part of their charter goals. Even the secular, intellectual elites, activists said, address women's rights with flowery words of support, but no real action.
"'Oh, our sisters, oh, our daughters.' I hate that," Badran said, referring to male politicians' pandering. "It's a power transaction. It's not about feelings and emotions, and they won't get it until they feel our power. We have to show that we are half the society, we are organized, and we can use our votes for empowerment."
Feminists' dilemma: How to respond to Muslim oppression

Nina Funnell
January 6, 2011

On Sunday, it was announced that Iranian woman Mohammadi Ashtiani's sentence of death by stoning could be overturned, after a senior judiciary official stated that ambiguities remained in the case. Ashtiani had previously been sentenced to death by two different courts in Tabriz in separate trials in 2006 for having allegedly committed adultery.

But in a peculiar about-face, Ashtiani has lashed out at the anti-stoning campaigner Mina Ahadi and the two German journalists who raised international awareness about her case after interviewing her son and former lawyer about the case.

"I have told Sajjad (my son) . . . to sue the ones who have disgraced me and the country . . . I have a complaint against them," she said. "I am willing to talk because many people exploited (my case) and said I have been tortured, which is a lie... Leave my case alone. Why do you disgrace me?" Ashtiani asked reporters.

Advertisement: Story continues below

It is very possible that Ashtiani may have been pressured, forced or coerced into making such a statement. She may also be trying to strategically curry favour with the authorities. But the issue of Muslim women becoming complicit in their own subjugation (through fear, obeisance or wilful intent) and by extension, the issue of some Muslim women becoming complicit in the symbolic oppression of women in general is an important — though fraught — topic.

In 2010, three Muslim women in Malaysia who were caned for having sex outside of marriage claimed that the punishment was justified and even beneficial. The three women, aged 17-25, said they turned themselves in after feeling guilty for having pre-marital sex with their respective boyfriends.

This sort of resignation to anti-feminist ideals is also reflected in the beliefs held by some Muslim women who not only accept but also defend the actions of men who abuse them (or other women) physically, psychologically, or through other means such as by forcing a girl into an arranged marriage.

While many of these women are victims of the regimes they live under, this does not mean that they will not collude as misogynists themselves. Mothers who arrange for their daughters to undergo female genital mutilation or worse, the mother who stands by as her daughter becomes the victim of an honour killing may well have suffered in their own lives (and indeed they may participate in such misogynistic rituals because of their own normalised experience of suffering), but this does not excuse such abuse. Cultural relativism is not a defence for human rights abuses.

So what is an appropriate feminist response to all this? How are feminists meant to react when, as happens in Western countries too, women act as their own worst enemy? It's a difficult dilemma. Painting Muslim women as victims only infantilises and alienates them. Conversely, ceding agency to Muslim women by claiming that they freely "choose" their religion only obfuscates the complex systems of power and gendered exploitation that continue to exist within many Muslim communities.

Of course, just because some Muslim women are complicit in their own oppression doesn't mean that all Muslim women feel, or are, powerless. Indeed there are growing pockets of feminist resistance and collective networking within many Muslim female communities. In Australia, organisations such as the Muslim Women's National Network of Australia and Immigrant Women's Speakout Association along with the many grassroots groups for women of all cultures are growing in number and influence. Individual women are also making a difference such as Samah Hadid, a practising Muslim, who acts as Australia's Youth Representative to the United Nations.

Similarly, it is also not helpful to assume that just because some Muslim clerics endorse misogynistic practices such as domestic violence and marital rape, that all Muslims do. Extremist fundamentalist Muslims do not represent the majority and their comments often only fuel xenophobic attitudes.

But Western feminists have still been far too politically correct in their approaches. Muslim women may not all be victims but when feminists such as Naomi Wolf argue that the burqa is potentially liberating and empowering (because it supposedly frees women from the male gaze) it just makes a mockery of the process by which a woman's social identity is systematically erased. If non-Western cultures are designated as "off limits" to unadulterated feminist criticism, then the advances made by Western feminists since the 1970s are intended and reserved for Western (predominantly white) women only.

These issues are clearly complex. But ultimately blaming Muslim women for participating in their own oppression (and the subjugation of women at large) does little to advance the situation. Those women who accept and even condone their own persecution merely illustrate the need for more education and feminist intervention.

Nina Funnell is a researcher in the Journalism and Media Research Centre at the University of NSW.

Islamic Feminists Storm Some Barricades
Can pray-ins by Muslim women end segregation at U.S. mosques?
Muslim feminists call it the "penalty box." It's the area of a mosque where women, segregated from the men, pray. In Islam, prayer is required five times a day and Muslims often pray in congregation at mosques. During these prayers, women usually are partitioned off in a separate room or behind a curtain, "like naughty children," one Muslim woman tells me, while men pray in a grand main hall.
One Muslim, Fatima Thompson, describes the penalty box at her mosque in Maryland as an overheated, dark back room. Another Muslim woman, Asra Nomani, tells me that at a major Washington D.C. mosque, the female section was in a trailer, where the voice of the imam (the prayer leader) came from a crackling speaker. "It was so humiliating I never went back," says Ms. Nomani, a former reporter for the Journal.
Now these Muslim feminists have had enough. Hoping to reform Islam by making it more women-friendly, Ms. Thompson—an American convert to Islam—has organized several "pray-ins" at mosques in the D.C. area. These include the Islamic Center of Washington and the Dar Al-Hijra Islamic Center in Falls Church, Va., a mosque attended by several of the 9/11 hijackers and the Fort Hood mass killer Maj. Nidal Hasan. Ms. Thompson's next pray-in target is a mosque in Washington.
Like the civil rights activists of the 1960s, whose "sit-ins" were part of a movement that ended racial segregation, Ms. Thompson hopes her peaceful pray-ins will help initiate a movement that ends overt sexism in Islam, despite the conventional wisdom that regards Islam and feminism as anathema. Her efforts come at a time when, as of a 2001 study, 66% of American mosques segregate men from women during prayer, an increase of 14% from 1994.
During the pray-ins, Ms. Nomani, Ms. Thompson, and several other women walk through the front door of the mosque—many require women to enter through a side or back door—and into the main hall. They then seat themselves behind the rows of men to pray.
The Muslim men get rattled. Ms. Nomani remembers one bearded man who "furrow[ed] his brows and scream[ed]… 'Sisters go over there!'"—indicating the dreaded penalty box. Ms. Nomani humorously refers to him as the mosque's "bouncer." At one pray-in, the women didn't budge when they were asked to move, and the service began with them praying with the men.
Though neither Ms. Thompson nor Ms. Nomani has been arrested, say, for trespassing, Ms. Nomani—who has been fighting sexism at her mosque in West Virginia for seven years—says she has received several death threats. Such violence-oriented intolerance, which in the West has become the public image of Islam, seems irreconcilably at odds with the moderate feminism of the pray-in group.
While people like Ms. Nomani work for reform, other women question whether it is possible. Ayaan Hirsi Ali, the Somali author of "Infidel" and a former-Muslim-turned-atheist, agrees with the Islamic feminists that a mosque is "an island of gender apartheid." To her, however, such practices represent Islam's essential sexism. Being a Muslim and a feminist, she told me, are inherently contradictory.
For her bold denunciations of Islam, Ms. Hirsi Ali lives under constant threats against her life by Muslim fanatics. But anyone who questions, even from within the faith, risks trouble, she says. "A single attempt to change things, to innovate, invites accusations of blasphemy" she notes, "because you're considered to be someone putting [yourself] on Allah's [God's] throne." Islam means submission. Muslims must submit to the Quran's God, not change him.
Yet, nowhere in the Quran does it say that women and men should be segregated during prayer. The Hadith, a large body of holy Islamic texts chronicling the life and attributed sayings of the Prophet Muhammad, notes that for women at prayer, the "best rows are the last rows." And even then, some scholars, like UCLA's Islamic law expert Khaled Abou El Fadl, don't see this as an admonition. After all, in the seventh century, at the Prophet's mosque, women did not pray behind a partition. And today in Islam's holiest spot, Mecca, women and men can pray side-by-side.
Still, there is an undeniable sexism that gnaws away at many Muslim communities—communities that center around the social space of the mosques. Whether the pray-in movement will encourage mosques to grant women more rights is yet to be determined. Until then, Ms. Thompson and Ms. Nomani are initiating a much-needed debate about the status of women in Islam.
Rebel Muslim's book due out Tuesday
ARTHUR MAX
Associated Press
April 28, 2006
THE HAGUE, Netherlands - She breaks all Dutch molds. A former refugee from Somalia, she is a black face in the white crowd in parliament. She seeks blunt confrontation rather than the quiet consensus of traditional politics. In a country that used to pride itself on its free and easy ways, she lives under constant guard.
What makes Ayaan Hirsi Ali stand out is religion: She is a Muslim who rejects the Prophet Muhammad as a guide for today's morality. For this she is castigated as a "traitor" by the Muslim community she abandoned, and is accused of heightening tensions with "Islam bashing" and mindless provocation.
Elected to parliament four years ago, she became internationally famous when a film she wrote provoked the murder of its director, Theo van Gogh, by an Islamic radical on an Amsterdam street. It drove home to the Dutch how vulnerable they were to terrorism.
To meet her at the Dutch parliament, a reporter must be escorted by a security guard who stays by the door throughout the interview.
Hirsi Ali's unusual trajectory started when she was 22 and passing through Germany en route to Canada for an arranged marriage to a distant cousin she had never met. She instead got on a train to Amsterdam and got asylum.
She briefly worked as a chambermaid and part-time translator before enrolling in university for a political science degree and joining the leftist Labor Party.
In 2002, on the promise of a parliament seat, she jumped to the conservative Liberal Party, causing a political storm but guaranteeing her a high visibility platform and a regular spot on TV talk shows.
Today, at 36, she feels she is having an impact.
"Issues that I wanted to put on the agenda in 2002 and that were dismissed as incidental or unimportant are now issues that are discussed at all levels of government," she said. "I have a satisfaction that this wasn't for nothing."
Not all Dutchmen agree. Hirsi Ali was indirectly targeted in a report by a government advisory group which criticized the "climate of confrontation and stereotypical thinking" about Islam and its activists.
Its author, Jan Schoonenboom, was more direct in news interviews, accusing Hirsi Ali and other politicians of "Islam bashing" and of appealing to "gut feelings" rather than reason.
Immigration and integration, women's rights and the place of Islam in Western countries are subjects of "The Caged Virgin," a book Hirsi Ali will launch in New York on Tuesday.
The essays and reprinted articles explore "my relationship with Islam. We Muslims should learn to look at ourselves critically, at our moral values," she says. "The best agent for this reform is emancipating or liberating our women."
"We Muslims" may sound curious coming from Hirsi Ali, who was raised a strict Muslim but now calls herself an atheist. She would like to see a Muslim Reformation of the kind that remade European Christianity in the 16th century.
Muslims need "to develop a different relationship, a different concept of God, of what God means," she says - not just total submission to God's will but "a dialogue with God."
Such a reformation is more likely to emerge from the West, she said, because for reformers in Muslim societies "there is always the fear of being killed, of being shunned by your community, of being exiled, jailed, tortured."
But Holland hasn't proved much safer. She went into hiding after Van Gogh's murder, spending 2 1/2 months in the United States.
She faults the Dutch intelligence service for focusing too late on the Islamic fringe, and the government for then overreacting by allowing infringements on civil liberties.
"There is ethnic profiling. But unlike in the United States, we don't even debate it. That's bad," she says. "In the Netherlands and in the rest of Europe we pretend that we are morally superior to the United States, that we are not doing any form of ethnic profiling. But we are."
She was a critic of Dutch immigration policy at a time when it was unfashionable to talk about an immigrant underclass, high crime rates among second generation migrants, and crowded Muslim ghettos.
As a translator for the immigration service, she says, she saw evidence of the mistreatment of women in Muslim families and the difficulty of the Calvinist Dutch to deal with an alien culture.
Joining the conservative governing coalition in parliament hardly softened her criticism.
"Our migration policy is a failure," she said. "We used to pretend that we were a homogenous little country and that Holland is not a migration country. We have become a migration country like the United States."
She believes the housing projects that have become immigrant ghettos should be demolished and their inhabitants blended into mainstream society.
Hirsi Ali is the daughter of Hirsi Magan, a Somali politician who opposed the regime of Mohammed Siad Barre and took his family into exile in Saudi Arabia, Ethiopia and finally Kenya.
Her 11-minute film "Submission" got its director killed three months after it aired on Dutch television, but Hirsi Ali is undaunted. She says she's going ahead with "Submission Part II," a 90-minute sequel.
Veil a 'mark of separation' - Blair
Press Association
Tuesday October 17, 2006
The veil worn by hundreds of Muslim women in the UK is a "mark of separation" which makes people of other ethnic backgrounds feel uncomfortable, Prime Minister Tony Blair has said.
Mr Blair's comment was his strongest intervention yet in the debate sparked by Cabinet colleague Jack Straw's assertion that the wearing of full veils - or niqab - made community relations more difficult.
The Prime Minister also backed a local education authority which has suspended a teaching assistant who refused to remove her veil during lessons.
And he said it was "absurd" to suggest that Britain's foreign policy was to blame for the radicalisation of Muslim youth.
Speaking at his regular monthly press conference at 10 Downing Street, Mr Blair said that the veil was a visible symbol of a wider debate about the way the 1.8 million-strong Muslim community integrates into British society.
Questions were being asked, not only in Britain and across Europe, but also within the Muslim community and in the Middle East, about how Islam "comes to terms and is comfortable with" the modern world, he said.
Asked if a woman who wore the veil could make a full contribution to British society, Mr Blair paused before saying: "It is a mark of separation and that's why it makes other people from outside the community feel uncomfortable."
Culture Secretary Tessa Jowell this weekend described the veil as a "symbol of women's subjugation to men" and suggested that women wearing it "cannot take their full place in society".
But Mr Blair stressed that he was not suggesting women should be ordered to remove their veils: "No one wants to say that people don't have the right to do it, that's to take it too far, but I think we do need to confront this issue about how we integrate people properly with our society."
Mr Blair said he could "see the reason" why Kirklees Council chose to suspend 24-year-old Aishah Azmi for refusing to remove her veil in the classroom at Headfield Church of England Junior School in Dewsbury, West Yorkshire. While stressing that such decisions were a matter for local authorities, he added: "I do support the authority in the way that they have handled this."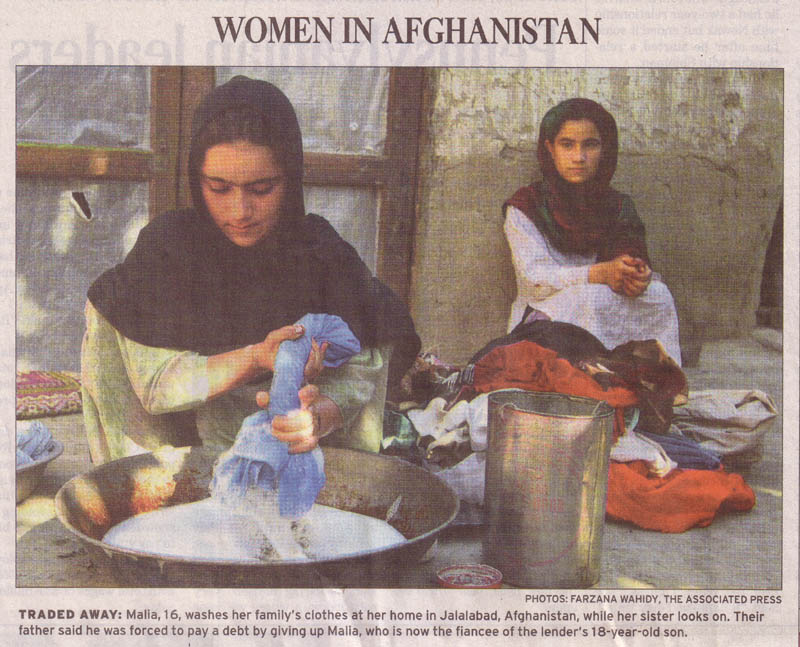 Afghan girls sold off to settle disputes
ALISA TANG
The Associated Press
July 10th, 2007
JALALABAD, Afghanistan – Unable to scrounge together the $165 he needed to repay a loan to buy sheep, Nazir Ahmad made good on his debt by selling his 16-year-old daughter to marry the lender's son.
"He gave me nine sheep," Ahmad said, describing his family's woes since taking the loan. "Because of nine sheep, I gave away my daughter."
Seated beside him in the cramped compound, his daughter Malia's eyes filled with tears. She used a black scarf to wipe them away.
Despite advances in women's rights and at least one tribe's move to outlaw the practice, girls are traded like currency in Afghanistan and forced marriages are common. Antiquated tribal laws authorize the practice known as "bad" in the Afghan language Dari – and girls are used to settle disputes ranging from debts to murder.
Such exchanges bypass the hefty bride price of a traditional betrothal, which can cost upward of $1,000. Roughly two out of five Afghan marriages are forced, says the country's Ministry of Women's Affairs.
"It's really sad to do this in this day and age, exchange women," said Manizha Naderi, the director of the aid organization Women for Afghan Women. "They're treated as commodities."
Though violence against women remains widespread, Afghanistan has taken significant strides in women's rights since the hard-line Taliban years, when women were virtual prisoners – banned from work, school or leaving home unaccompanied by a male relative. Millions of girls now attend school and women fill jobs in government and media.
There are also signs of change for the better inside the largest tribe in eastern Afghanistan – the deeply conservative Shinwaris.
Shinwari elders from several districts signed a resolution this year banning several practices that harm girls and women. These included a ban on using girls to settle blood feuds – when a man commits murder, he must hand over his daughter or sister as a bride for a man in the victim's family. The marriage ostensibly "mixes blood to end the bloodshed." Otherwise, revenge killings often continue between the families for generations.
Jan Shinwari, a businessman and provincial council member, said a BBC radio report by a female journalist from the Shinwari tribe, Malalai Shinwari, had exposed the trade of girls and shamed the elders into passing the resolution to end the practice.
The Women and Children Legal Research Foundation in Afghanistan investigated about 500 cases of girls given in marriage to settle blood feuds and found only four or five that ended happily. Much more often, the girl suffered for a crime committed by a male relative, said Hangama Anwari, an independent human rights commissioner and founder of the organization.
The story of Malia and the nine sheep illustrates the suffering of girls forced into such marriages.
Malia listened as her father described how he was held hostage by his lender, Khaliq Mohammad, because he could not come up with the money to pay for the sheep, which Ahmad had sold to free a relative seized because of another of Ahmad's debts.
Ahmad was freed only when he agreed to give Malia's hand in marriage to the lender's 18-year-old son. Asked how she felt about it, Malia shook her head and remained silent. Her face then crumpled in anguish and she wiped away tears.
Asked if she was happy, she responded halfheartedly, "Well, my mother and father agreed … " Her voice trailed off, and she cried again.
Does she want to meet her husband-to-be? She clicked her tongue – a firm, yet delicate "tsk" – with a barely perceptible shake of her head.