POLITICAL HONESTY ABOUT ISLAM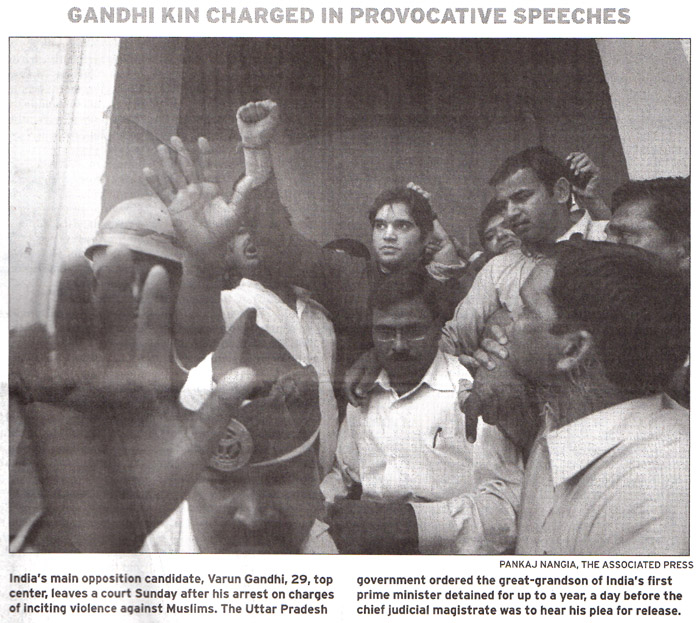 Varun Gandhi speaks out against Muslim atrocities - 2009
Vatican Cardinal Warns: "West Will Disappear" Because of Mass Migration

April 5, 2019
Explain Life

Vatican Cardinal Robert Sarah warns that the "west will disappear" as a result of mass migration, adding that "Islam will invade the world" and "completely change culture, anthropology, and moral vision."

Sarah's new book, Evening Draws Near and the Day is Nearly Over, is causing controversy in Europe because it explicitly identifies Muslim migration as a harbinger of the continent's collapse.
"If the West continues in this fatal way, there is a great risk that, due to a lack of birth, it will disappear, invaded by foreigners, just as Rome has been invaded by barbarians," said Sarah, adding, "My country is predominantly Muslim. I think I know what reality I'm talking about."

The Cardinal also blamed the European Union for its "desire to globalize the world, ridding it of nations with their distinctive characteristics," labeling the move "sheer madness".

"The Brussels Commission thinks only about building a free market in the service of the great financial powers," he continued. "The European Union no longer protects the peoples within it. It protects the banks."

In a previous video interview, Sarah warned that Europe had lost its roots and was dying because of fewer European natives having children.

In recent interviews he has gone even further, noting that priests, bishops and cardinals within the Catholic Church have betrayed the teachings of Christ by pursuing political activism.

Sarah's comments put him at odds with the Pope, who has relentlessly promoted migration from African and Middle Eastern countries into Europe.

According to the Cardinal, it is wrong to "use the word of God to promote migration," and it is better "to help people flourish in their culture than to encourage them to come to Europe."

Sarah slammed mass migration as a "new form of slavery" because migrants end up "without work or dignity".

"Is that what the Church wants?" he asked.



DALAI LAMA TO MIGRANTS: 'EUROPE BELONGS TO THE EUROPEANS'



09/12/2018
Joshua Gill | Religion Reporter
The Daily Caller

The exiled spiritual leader of Tibet said Wednesday that, while Europe can help refugees, "Europe belongs to the Europeans" and migrants should rebuild their homelands.

The Dalai Lama made the comments at a conference in Malmo, Sweden, which has struggled with an increase in rape and violent crimes correlating to an increase in refugees from Syria and other predominantly Muslim countries. The Dalai Lama argued that European countries were "morally responsible" for assisting "a refugee really facing danger against their life," but that refugees should ultimately go back and rebuild their home countries. (Pope's 'Don't Close Your Doors' Refugee Initiative Begins On The 445th Anniversary Of Papal Army Driving Out Islamic Invaders)

"Receive them, help them, educate them … but ultimately they should develop their own country," the Dalai Lama said, according to AFP.

"I think Europe belongs to the Europeans," he added, saying "they ultimately should rebuild their own country."

The spiritual leader's comments likely struck a chord with locals, as Sweden has experienced an explosion in violent migrant gang-related incidents, many of which involved military-grade explosive devices, since 2014 when over 100,000 asylum seekers from predominantly Muslim countries settled in the area.

The Dalai Lama also made similar comments concerning refugees in Germany in 2016, saying that "Europe, for example Germany, cannot become an Arab country."

"Germany is Germany. There are so many that in practice it becomes difficult," he said, according to Independent.

"From a moral point of view, too, I think that the refugees should only be admitted temporarily," he added.

The Dalai Lama clarified at the time that he had compassion for refugees, especially those fleeing from war, but said now the goal of aid should be their return to their homelands.

"When we look into the face of every single refugee, especially the children and women, we can feel their suffering," he said. "The goal should be that they return and help rebuild their countries."

The Dalai Lama has remained in exile since 1959, when he escaped Tibet and settled in India with tens of thousands of followers after Chinese communist troops took over the region. The Indian government agreed to grant asylum to him and his followers and also granted voting rights to Tibetans born in India. The Indian government also bore all expenses related to establishing schools for Tibetan children in the country.


Czech Prez: Europe Is 'Jeopardised by a Culture of Hatred Incompatible with Ours', Israel a 'Heroic Model for Us'

by JACK MONTGOMERY
Breitbart.com
19 Dec 2017

The President of the Czech Republic has warned that Europe's values are being "jeopardised by a culture of hatred that is incompatible with ours", and said that "Israel and its heroism are a model and encouragement for us".

Miloš Zeman is a former leader of Czech Social Democratic Party and considered something of a left-wing populist, but has maintained a robust stance against mass immigration and multiculturalism throughout his time in office.

"The European Union has already experienced many crises," explained the 73-year-old, in an interview with Israel Hayom transcribed by the ParlamentníListy.cz news portal.

"We are now dealing with a large-scale immigration crisis related to terrorism, which puts the EU in a situation where the EU has to take very specific and very effective steps.

"It is a serious situation in which the fundamental Judeo-Christian values of European culture are jeopardized by a culture of hatred that is incompatible with ours. As I have already noted, Israel and its heroism are a model and encouragement for us," he said.

President Zeman, a strong supporter of Israel and one of the few European heads of state to back U.S. President Donald Trump's decision to officially recognise Jerusalem as the capital of Israel — and blast "the cowardly European Union" for its decision to support "a pro-Palestinian terrorist movement" instead — said he would be urging incoming prime minister Andrej Babiš to follow the U.S. premier's lead by moving the Czech embassy from Tel Aviv to Jerusalem.

Zeman has also been a strong supporter of the Czech parliament's moves to introduce a kind of Second Amendment for its citizens — in the teeth of fierce opposition from the EU establishment — noting that "the level of international crime is growing because of Islamic terrorism" in a speech to the intergovernmental Council of Europe.

"What can we do against international criminality? Invest in the police, invest in the army, and have the courage to invest in our own guns.

"My wife has a pistol. Of course, she passed all necessary tests, but now I am guarded by my wife, and not only by bodyguards," he told his scandalised European audience, who tend to take a dim view of the right of ordinary citizens to keep arms for self-defence — with the notable exception of Switzerland.

President Zeman has been a fierce critic of the European Union's institutional stance on mass migration, describing the migrant crisis as "an organised invasion and not a spontaneous movement of refugees".

The Czech Republic will likely become the most Eurosceptic country in the EU after the United Kingdom has left, leaving Brussels mandarins seriously concerned a 'Czechout'could be their next major headache after Brexit has been completed.

Officially, President Zeman and Prime Minister Babiš both say they would prefer to reform the bloc from within, with Zeman telling Israel Hayom that "the four Visegrad states that have had unhappy experiences with totalitarian regimes in the past" — Czech Republic, Hungary, Poland, and Slovakia — "can and should be the real engine of change within the EU".

This anti-mass migration, pro-sovereignty alliance has recently been bolstered by the ascension of conservative-populist coalition government in Austria, which will have a strong focus on tackling illegal immigration and radical Islam.



Bulgarian Parliament Moves to Criminalise Radical Islam, Support of Jihad, Sharia, Caliphate

by LIAM DEACON
Breitbart.com

7 Dec 2017

The Bulgarian parliament has moved to criminalise the promotion of radical Islam, including advocating a caliphate, religious violence, and sharia law.

The legislature adopted the amendments to the nation's criminal code aimed at tackling radical Islam on their first reading this Wednesday.

They were proposed by a nationalist electoral alliance called the United Patriots (UP).

Promoting any ideology of violence or one threatening the law and constitution of the nation could be punishable with one to five years in jail and a fine of around £2,000, the Bulgarian newspaper Dnevnik reports.

UP Member of Parliament Boris Yachev told the paper that the change in law was not aimed at targeting a religion but a dangerous ideology.

"Radical Islam is a particularly aggressive and dangerous ideology that justifies violence and the murder of [infidels]," he said, insisting it also excused "slavery and genocide" as a "systemic policy".

His party proposed a legal definition of radical Islam, which, according to the law's parliamentary reading, includes "when a person is agitating for the creation of an Islamic State [or caliphate]".

Other tenets are promoting religious law over secular law, the "forcible application of religious principles", advocating violence including "sacred war against non-Muslims [jihad]", and recruiting people into Islamist terrorism.

In June 2016, the Bulgarian parliament voted with a large majority to become the third European nation to ban the Islamic full-face veil, or burqa, finalising the law in September with a fine of around £90.

As a legacy of almost 500 years of Ottoman Turkish rule, Bulgaria has one of the biggest Muslim minorities in Europe at about 12 per cent of its 7.1 million population, Reutersreports.

Speaking in October of this year, Deputy Prime Minister Krasimir Karakachanov said: "It turns out that problems [with radical Islam] we see in a number of European countries already exist in Bulgaria."

He claimed that "extremely liberal" laws were allowing the spread of more radical strains of Islam in education and training.

"It is mostly the… financing by private structures of religious communities that attempt to realise political influence in the country," Mr. Karakachanov added, promising to crack down on the funding of radical Islam.


Governments Should Be 'Dedicated to Christian Values' that Made Europe Great


by VICTORIA FRIEDMAN
1 Nov 2017
Breitbart.com

Hungarian Prime Minister Viktor Orbán said that after decades of being under the control of "anti-Christian, internationalist powers" the country needs a government "based on the teachings of Christ" which "made Europe and the Hungarians great".

Speaking at a celebratory event marking the 500th anniversary of the Reformation, the conservative Fidesz party leader said that it was a duty of his government to protect "the ways of life that have their roots in Christianity", including human dignity, the family, the nation, and faith communities, adding that Christian Europe needs a spiritual and intellectual renewal.

After decades of oppression under Communist rule, the Hungarians' emergence from the collapsed Soviet Empire led them to look to their Christian heritage to frame their constitution which begins: "God bless the Hungarians!"

Mr. Orbán told crowds assembled for the anniversary: "We are grateful that the nation has united its strength, regained its feet and strengthened, […] that it has regained its vitality, its capacity for action and the desire to do great things."

Making pointed remarks conveying his government's scepticism of progressive doctrine, he added: "We are grateful that, instead of letting the current carry it, [Hungary] has chosen a cardinal point of the compass and a lodestar, it has charted a course, and it is creating a route for its own life."

Alluding to the country's defiance against interference from open-borders campaigner George Soros and the European Union, the prime minister added that "although we need to stand in the way of major forces – even global forces – we can still stand, and we are still standing on our feet".

Hungary is being assailed by the EU over the country's stand on the bloc's forced migrant relocation plans, and its new legal measures for greater transparency of foreign influenced charities and universities – the latter two directly affecting the interests of the billionaire speculator Soros, whose plans to flood the continent with one million migrants a year is believed by the Hungarian government to be directly influencing the EU's migration policy.

"We are fighting and praying together so that God may bless the Hungarian people," said the prime minister in closing remarks. "God save Hungary! Soli Deo Gloria [Glory to God alone]."

Last month, fellow former Soviet satellite state Poland celebrated another important date in Christian history, with the Catholic Feast of the Holy Rosary that marked the anniversary of the Battle of Lepanto where "the Christian fleet overcame the Muslim armada, saving Europe from Islamisation".


The anniversary was marked by the Rosary on the Borders prayer campaign that saw over a reported one million Poles pray along the country's 2,000-mile border for the salvation of their country, the event openly supported by Poland's prime minister, Beata Szydło.
'Forcing Migrants on Nations Will Mean the End of the EU': Polish President

by VIRGINIA HALE6
Oct 2017
Breibart.com

Brussels' insistence on ordering European Union (EU) nations to accept third world migrants could lead to the bloc's break-up, Poland's president Andrzej Duda has warned.

The EU principle of unity, Duda told a press conference Thursday, "must come down to the fact that we work together … we do not try to force other states to act against their own interests and against the interests of their people."

"Therefore, we don't agree to being dictated to, with regards to the quota system and forcing migrants to move to Poland, against our people's will," he stressed, speaking after talks with Bulgarian president Rumen Radev.
Duda added that Poland and Bulgaria share the "same and unequivocal" position on how Europe should deal with the migrant crisis, stating both countries believe the bloc should protect its borders, and provide aid to refugees close to their homelands.

Unity, equality, and solidarity are "the basic principles of the EU", said Duda, who hails from Poland's conservative Law and Justice (PiS) Party.

"If these principles are broken, then, in my opinion, it will mean the end of the bloc as we know it — or certainly its decline, which will lead to the disintegration of the Union."

Solidarity with regards to the migrant crisis means giving mutual support in dealing with the problems, according to Poland's president, who pointed out that the nation sent guards to Bulgaria to help protect the Union's external border.

"Both for Bulgaria and ourselves, preventing illegal immigration by maintaining an efficient, tightly guarded EU border, that cannot be easily crossed is one of the most important tasks to be undertaken," he said.

In 2015, against Central European nations' wishes, EU interior ministers approved a plan to force member states to welcome a share of third world migrants who arrived on the continent since German Chancellor Angela Merkel opened the borders.

Threatened with sanctions over their refusal to take the share of "refugees" dictated by Brussels, Polish interior minister Mariusz Błaszczak insisted that financial penalties would do less damage to the nation than being made to take in migrants.

Radio Poland has reported that, with a €50 million contribution announced last month, Warsaw is the largest donor so far to the European Investment Bank's Economic Resilience Initiative, which aids refugees living in nations including Algeria, Egypt, Lebanon, Tunisia, Syria, Albania, and Serbia.

According to the bank, the initiative "aims at rapidly mobilising additional financing in support of the capacity of economies in the Southern Neighbourhood and Western Balkans regions to absorb and respond to crises and shocks, such as the Syrian refugee crisis, while maintaining strong growth".
'We Do Not Want More Muslims in Czech Republic': Prime Minister

by VICTORIA FRIEDMAN
30 Aug 2017
Breitbart.com

Prime Minister Bohuslav Sobotka does not want the Muslim community to grow in the Czech Republic, saying he has seen what problems large Muslim populations have caused in other European countries.

Noting that there was only a small, non-radicalised Muslim community in the Central European country, the prime minister told Austrian newspaper Die Presse: "When we see problems in other European countries, we do not want Muslims in the Czech Republic."

"We would greatly appreciate if Europe would better protect its external border. Receiving refugees should always be the responsibility of nation states," Mr. Sobotka added.

In comments alluding to crime, sex attacks, and terrorism committed by Middle Eastern and African migrants in Western Europe since 2015, the prime minister said: "In Europe too often we see problems with the integration of people coming from another cultural or religious environment."

The Czech Republic has around 22,000 Muslims living in the country who are described as well-integrated and not particularly committed to or fundamentalist in the expression of their faith.
The comments come in the same week Czech President Miloš Zeman defended burkini bans at swimming pools across the country, saying: "In Czech swimming pools there is no reason for anyone bathing in Arab clothes."

Sobotka pointed to the country's commitment to assisting in tackling the migrant crisis, telling the Austrian newspaper the Czech Republic is financially supporting the Libyan coastguard and migrant camps as well as sending policemen to assist border patrols in the Balkans.

Like the other three countries in the Visegrád Group (Slovakia, Poland, and Hungary), the Czech Republic rejects the European Union's forced migrant relocation programme.
The prime minister made the point that the country is "helping people coming from Eastern Europe".

Similarly, President Zeman has said people fleeing the Ukraine, following the Euromaidan protests, should be included in the migrant redistribution programme given the numbers absorbed by the Visegrád group. Poland has issued nearly 1.3 million visas to Ukrainians last year, including those claiming asylum.

"Ukrainians, too, are refugees and with their origin and diligence, they are somewhat close to us," said Zeman in September 2015, after stating the month prior that "Unlike the Islamic ones, they have a much a better ability to assimilate themselves."
Hungarian parliament approves law allowing all asylum seekers to be detained

Prime Minister claims country 'under siege' from refugees and must be protected

Lizzie Dearden


Tuesday 7 March 2017


Independent

The Hungarian parliament has approved a law enabling all asylum seekers in the country to be detained and forced back into neighbouring Serbia.

Viktor Orban, the Prime Minister, claimed migrants were keeping his country "under siege". Speaking at a swearing-in ceremony for a group of specialist guards known as "border hunters", he said that Hungary could only count on itself for protection.

Mr Orban, leader of the right-wing populist Fidesz party and a supporter of Donald Trump, has already ordered the reinforcement of fences along Hungary's southern border and claimed refugees are a threat to Europe's Christian identity and culture.


Trump Is Right: Sweden's Embrace of Refugees Isn't Working
The country has accepted 275,000 asylum-seekers, many without passports—leading to riots and crime.
By JIMMIE ÅKESSON and MATTIAS KARLSSON
The Wall Street Journal
Feb. 22, 2017
When President Trump last week raised Sweden's problematic experience with open-door immigration, skeptics were quick to dismiss his claims. Two days later an immigrant suburb of Stockholm was racked by another riot. No one was seriously injured, though the crowd burned cars and hurled stones at police officers.
Mr. Trump did not exaggerate Sweden's current problems. If anything, he understated them. Sweden took in about 275,000 asylum-seekers from 2014-16—more per capita than any other European country. Eighty percent of those who came in 2015 lacked passports and identification, but a majority come from Muslim nations. Islam has become Sweden's second-largest religion. In Malmö, our third-largest city, Mohamed is the most common name for baby boys.
The effects are palpable, starting with national security. An estimated 300 Swedish citizens with immigrant backgrounds have traveled to the Middle East to fight for Islamic State. Many are now returning to Sweden and are being welcomed back with open arms by our socialist government. In December 2010 we had our first suicide attack on Swedish soil, when an Islamic terrorist tried to blow up hundreds of civilians in central Stockholm while they were shopping for Christmas presents. Thankfully the bomber killed only himself.
Riots and social unrest have become a part of everyday life. Police officers, firefighters and ambulance personnel are regularly attacked. Serious riots in 2013, involving many suburbs with large immigrant populations, lasted for almost a week. Gang violence is booming. Despite very strict firearm laws, gun violence is five times as common in Sweden, in total, as in the capital cities of our three Nordic neighbors combined.
Anti-Semitism has risen. Jews in Malmö are threatened, harassed and assaulted in the streets. Many have left the city, becoming internal refugees in their country of birth.
The number of sex crimes nearly doubled from 2014-15, according to surveys by the Swedish government body for crime statistics. One-third of Swedish women report that they no longer feel secure in their own neighborhoods, and 12% say they don't feel safe going out alone after dark. A 1996 report from the same government body found that immigrant men were far likelier to commit rape than Swedish men. Last year our party asked the minister of justice to conduct a new report on crime and immigration, and he replied: "In light of previous studies, I do not see that a further report on recorded crime and individuals' origins would add knowledge with the potential to improve the Swedish society."
Our nation's culture hasn't been spared either. Artists accused of insulting Islam live under death threats. Dance performances and art exhibitions have been called off for fear of angering Islamists. Schools have prohibited the singing of traditional Christian hymns because they don't want to "insult" non-Christian immigrants. Yet reports made with hidden cameras by journalists from Swedish public media show mosques teaching fundamentalist interpretations of Islam.
Dutch anti-Islam lawmaker acquitted of hate speech

By TOBY STERLING, Associated Press
June 23, 2011

AMSTERDAM (AP) — The boundaries of free speech in Europe widened Thursday after a Dutch court acquitted politician Geert Wilders of inciting hatred against Muslims when he compared Islam with Naziism and called for a ban on the Quran.

Political analysts say the ruling will likely embolden Wilders and other right-wing populists across the continent to ramp up their anti-immigrant rhetoric, with remarks like Wilders' call for a "head rag tax" now squarely within the boundaries of fair political debate.

The ruling did lay down a clear limit: Calls for violence remain out of bounds. Wilders, who has lived under constant police protection due to death threats since 2004, has never called for violence or endorsed it.

Presiding Judge Marcel van Oosten said some of Wilders' comments — such as saying foreign influences are "breeding" in the Netherlands and threatening to overrun Dutch culture — may be "crude and denigrating." But he said they did not amount to inciting hatred and must be seen in a wider context of a fierce national debate over immigration policy and multiculturalism.

While the United States has enshrined the right to freedom of speech in its Constitution, many European nations introduced hate-speech laws in the wake of World War II, determined to prevent the scapegoating of minorities.

Van Oosten cited one of Wilders' most incendiary statements — "the core of the problem is the fascist Islam, the sick ideology of Allah and Mohammed as laid down in the Islamic Mein Kampf: the Quran" — saying that criticism of a religion and its followers is not illegal.

Wilders sat stone-faced while the judge read the ruling, but smiled broadly and shook hands with his lawyers after the verdict. His cheering supporters hugged each other in the public gallery, and Wilders waved to them and grinned as he left the courtroom.

"It's not only an acquittal for me, but a victory for freedom of expression in the Netherlands," he said afterward. "Fortunately you're allowed to discuss Islam in public debate and you're not muzzled."

Political science professor Andre Krouwel of Amsterdam's Free University said Wilders might have been convicted a decade ago, but his ideas have since entered the mainstream. Wilders' Freedom political party is now the country's third-largest in parliament and it is propping up an all-conservative Dutch government that agrees with much of his right-wing platform.

"(The verdict) will further the inward-looking and to some extent xenophobic atmosphere in the Netherlands," predicted professor Leo Lucassen, chair of the Social History department at Leiden University.

The verdict comes a week after the government announced plans to end programs to help integrate immigrants into Dutch society, which "fuels this idea of immigrants who are basically an alien element to the Dutch people," Lucassen told The Associated Press.

The government also is moving to ban Muslim face-covering clothing and to further slash immigration.

Dutch Muslims who pressed for the trial said Wilders' strident anti-Islam tone has already led to increased discrimination and harassment against them, and even attacks on mosques. But Krouwel said seeking remedy in the courts proved an "incredible mistake" because Thursday's decision "legalized populist rhetoric."

"Inside the Netherlands and outside, politicians will now go the same way: to the edge of what is allowed," he told the AP. "Right-wing politicians in other countries will be able to point to the Netherlands and say, 'They can say it there, why not here?'"

Immigration-related issues have dominated politics in the Netherlands and much of Europe over the past decade. Wilders has drawn comparisons with populists such as the late Jorg Haider in Austria and Jean-Marie Le Pen in France.

His stances resound deeply with Dutch voters, who have reconsidered their famous tolerance amid fears their culture is being eroded by immigrants who don't share their values. Around six percent of the Dutch population is now Muslim.

Groups that filed the complaints that led to Wilders' prosecution were disappointed with Thursday's ruling.

"What surprises me is that the judge says that what's permissible is determined by the context of the societal debate," said Aydin Akkaya, chairman of Council of Turks in the Netherlands. "In other words, if you just find a 'context' you can go nuts."

Mohamed Rabbae, chairman of the moderate National Moroccan Council, said the case has gone as far as it can in the Dutch courts and the battle will switch to another venue.

"We will go to the U.N. Committee for Human Rights in Geneva. The suit will be directed against the government of the Netherlands for not protecting ethnic minorities against racism and discrimination," he said in an email.

The court found that Wilders was "at the edge of what's legally permissible" when he described the threat Islam allegedly poses to Dutch culture as "a fight going on and we must arm ourselves."

"This has an inciting character," Van Oosten said. But because the lawmaker later added that he has no objections to Muslims who integrate and accept Dutch values, judges ruled he had not crossed the line.

The court paid special attention to Wilders' 2008 film, "Fitna," — Arabic for "ordeal" — a 15-minute series of verses from the Quran juxtaposed against news videos of violence and terrorism. The film prompted angry demonstrations and official protests around the Muslim world.

"Given the film in its whole and the context of societal debate, the court finds that there is no question of inciting hate with the film," the judgment said.

Even prosecutors called for his acquittal and said they are satisfied with the ruling. Despite prosecutors' initial reluctance to prosecute the politician, the court ruled last year that it was in society's interest the case be heard, given public confusion over free speech rules.

Associated Press correspondent Arthur Max contributed to this report.

Statement by Lars Hedegaard on his conviction for "hate speech"
Copenhagen, May 5, 2011
It is with great sadness I have to report that Denmark's reputation as a haven of free speech and a bastion of resistance to sharia encroachment is irreparably tarnished. Denmark is my country and I used to be proud of it.
On May 3 the Eastern Superior Court in Copenhagen convicted me of hate speech under Denmark's infamous Article 266 b of the penal code – a rubber provision that may be stretched to serve any political purpose dear to the hearts of the ruling elites.
My crime is to have called attention to the horrific conditions of Muslim women and for my audacity the court has now enabled my detractors to label me a racist.
Muslims can say whatever they want with impunity. Just a few weeks ago Denmark opened its gates to the hate-spewing preacher Bilal Philips, known for his advocacy of wife-beating and the killing of homosexuals. He was provided a platform in Copenhagen and nobody thought of dragging him into court.
Our authorities and their allies among the pc elites have chosen sides in the struggle between the forces of freedom and the forces of darkness and so opted for the oppressors of their own people and against those deserving of their protection.
The real victims of this despicable case are freedom of speech and the tens of thousands of girls and women – Muslim as well as non-Muslim – whose plight may no longer be mentioned in my country for fear of legal prosecution and public denigration.
We cannot permit this outcome to stand. I have therefore decided to appeal my conviction to the Supreme Court and – if that is denied – to the European Court of Human Rights.
This is a fight for liberty against tyranny. It will be long and hard but losing is no option.
Oklahoma Bans Sharia Law
by Connie Hair
11/04/2010
Voters have passed an amendment to the Oklahoma state constitution to ban the use of Islamic Sharia law in the state courts by an overwhelming 70% of the vote. The amendment also bars judges from using foreign law in rendering decisions.

Seen as a pre-emptive strike, Oklahoma now joins Louisiana in blocking Sharia law, a draconian legal doctrine that does not recognize the most basic human rights as measured by any Western standard.

As previously reported on HUMAN EVENTS, free speech rights are under assault worldwide through violence, threats of violence, and Sharia-compliant "incitement" laws.
In England, 85 Sharia courts are in use and are pulling even non-Muslims into the system, threatening to overturn equal justice in the courts.

The American Thinker tells of a June 2010 study titled "Sharia Law in Britain: A Threat to One Law for All and Equal Rights", which begins with a quote from the Secretary General of the Islamic Sharia Council Suhaib Hasan, "If Sharia law is implemented, then you can turn this country [Great Britain] into a haven of peace because once a thief's hand is cut off nobody is going to steal." Furthermore, "once[,] just only once, if an adulterer is stoned[,] nobody is going to commit this crime at all," and finally, "[w]e want to offer it to the British society. If they accept it, it is for their good and if they don't accept it they'll need more and more prisons."

Any attempt to shut down the dual court system in England would likely cause more jihadi violence and bloodshed.

In 2005, Canada rejected setting up the dual court system amid vocal protest, yet Sharia is creeping into the legal system in divorce and custody cases, undermining the equal status of women under the law.

In the United States in August, a New Jersey judge denied a restraining order to a Muslim woman after she had been repeatedly raped by her husband. Marital rape is permitted under Sharia law.

Fox News reported that the man's wife is a Moroccan woman who had recently emigrated to the U.S. at the time of the attacks.

"Defendant forced plaintiff to have sex with him while she cried. Plaintiff testified that defendant always told her 'this is according to our religion. You are my wife, I c[an] do anything to you. The woman, she should submit and do anything I ask her to do," according to court records.

"In considering the woman's plea for a restraining order after the couple divorced, Charles ruled in June 2009 that a preponderance of the evidence showed the defendant had harassed and assaulted her, but 'The court believes that [defendant] was operating under his belief that it is, as the husband, his desire to have sex when and whether he wanted to, was something that was consistent with his practices and it was something that was not prohibited.'"

It took an appellate court to overturn the judge's decision, raising grave concerns and prompting support for pre-emptive measures to block Sharia from use in America's courts.

More constitutional amendments banning Sharia law are expected to hit ballots nationwide in 2012.
Anti-Islamic Dutch lawmaker speaks at US college

(AP) – October 20, 2009

PHILADELPHIA — An anti-Islamic Dutch lawmaker's visit to Temple University was cut short after a question and answer session turned nasty.

Geert Wilders (VIL'-durz) was escorted from the Philadelphia university's lecture hall as some in the crowd of several hundred students began shouting jeers at the Dutch politician.

Wilders' previous 30-minute address was met by a mixture of applause and boos Tuesday night at the public university serving about 34,000 students.

He touched on common themes in his speeches, including calling the Muslim holy book, the Quran, "an evil book" that promotes violence and intolerance.

The event was organized by a student group called Purpose and is being funded by the California-based David Horowitz Freedom Center, a foundation that promotes conservative scholarship.

Synagogue Hails Dutch Lawmaker as a Hero
March 2, 2009
Penny Schwartz
JTA Wire Service
In his home continent, Dutch politician Geert Wilders is something of a pariah, banned from the United Kingdom and facing prosecution in the Netherlands for his harsh views of Islam.
His calls to end immigration from Muslim countries and ban the Koran—he compared it to Hitler's "Mein Kampf" and said it incites to violence—have earned him broad condemnation in Europe and forced him under the protection of a security detail, a rarity for Dutch leaders.
But in some quarters of the American Jewish community, Wilders is more akin to a hero. At the very least, he was greeted as such by about 250 people last week at a Conservative synagogue in this Boston-area town.
The boisterous crowd at the Ahavath Torah Congregation gave Wilders, who heads the Dutch Party for Freedom and serves in the parliament, a standing ovation and shouted "Bravo" at the conclusion of his speech.
In an event co-sponsored by the Middle East Forum's Legal Project and the Republican Jewish Coalition, Wilders made his only synagogue appearance on his recent tour of the United States, where he appeared on cable news networks and radio talk shows, spoke at the National Press Club and held a private showing of his anti-radical Islam film "Fitna" for senators and their staff on Capitol Hill.
The Middle East Forum's director, Daniel Pipes, said he doesn't agree with Wilders that the Koran should be banned. But he does believe that Wilders should be able to publicly present that view, which is why his organization co-sponsored the talk and is raising funds for Wilders' legal defense.
"I don't need to agree with him to see the importance of him making his arguments," Pipes said.
Wilders is among a small number of European political figures who have spoken out forcefully about the impact of Muslim immigration and what they see as a religion irrevocably at odds with Western values. In the Netherlands, renowned for its liberalism and tolerance, the debate has often been particularly fraught.
A former parliamentary colleague of Wilder's, Ayaan Hirsi Ali, was forced into hiding for her work on a film critical of Islam's treatment of women. Theo Van Gogh, a Dutch filmmaker and Hirsi Ali's partner, was murdered on an Amsterdam street in 2004. Pim Fortuyn, another Dutch politician outspoken about immigration and Islam, was murdered in 2002.
In Europe, where freedom of speech laws are generally more restrictive—Holocaust denial, for example, is widely outlawed—figures like Wilders have pushed the boundaries of acceptable discourse. But in the United States, with its comparatively looser speech laws, the violence and intimidation directed at Islam's harshest European critics is seen by some as allowing radical viewpoints to flourish.
"If our collective voice is impeded from speaking" or "shut down," said Pipes, then "the way is paved for radical Islam to move ahead."
Pipes says hate speech laws, which also have been used to prosecute Holocaust deniers in Europe, are a bad idea.
"I believe in the First Amendment," he said.
Republican Jewish Coalition executive director Matt Brooks takes a similar position, saying that while he also opposes banning the Koran, he believes Wilders' views should still be given a hearing.
"If we only had speakers we agree with 100 percent of the time, it would be a very small universe of speakers," Brooks said.
Bjorn Larsen, whose International Free Press Society arranged Wilders' U.S. tour, said the Dutch politician was invited personally by the rabbi at Ahavath Torah, Jonathan Hausman.
Hausman would not speak on the record to JTA about the event.
Security was tight in Stoughton, with bags being checked and guards for Wilders. After a showing of "Fitna," Wilders said the Koran is being used as a justification for "hatred, terrorism and violence against the world," and he outlined how he believes the rise of Islam in Europe is threatening the traditional Judeo-Christian values of the West.
A staunch supporter of Israel who once lived on a moshav, Wilders also proclaimed solidarity with the Jewish state.
Israel "is receiving the blows for all freedom-loving people," he said. "We are all Israel. We have to defend our freedom."
Wilders noted that while he was banned from the United Kingdom despite being a member of the Dutch parliament and carrying an E.U. passport., the head of Hezbollah was allowed to enter the country.
"This is Europe today," he said.
There were no protests at Wilders' speech—there was little advance publicity—and many in the crowd were sympathetic to his arguments. Andrew Warren of Sharon said he wanted to judge for himself whether Wilders is xenophobic, and said afterwards that Wilders had not crossed the line.
"The unfortunate reality is that a lot of troubling passages in the Koran are being embraced by militant ideology," Warren said.
Louise Cohen of Brookline described Wilders as a hero and a man of courage.
"What's disturbing to me is that no one has said that there is anything in his movie that is false," she said.
While unaware of Wilders' call to ban the Koran, Cohen said his film makes a case that the Koran is a hate document.
That view troubles Ron Newman, who said Wilders took certain verses from the Koran that appeared to promote violence and used them to generalize about all of Islam.
Saying that a similar approach could be used with portions of the Torah, Newman cautioned that the line of reasoning could be used to produce an anti-Semitic film.
"I don't like that being done to us," he said. "I don't support people who do that to others."
Nonetheless, as a staunch supporter of free speech, Newman said the attempt to squelch Wilders' film and the refusal to allow him into Great Britain is a travesty.
Staff writer Eric Fingerhut in Washington contributed to this report.
Putin Denounces Plans for Radical Islamic worldwide Caliphate

Vladimir Putin declared in Brussels on Monday that radical Islamic groups are planning to systematically annihilate non-Moslems and to create a worldwide Caliphate.

He added that western civilisation was at risk of being attacked by terrorists, these attacks being more than sporadic one-off attacks. Rather, they are, in the opinion of Vladimir Putin a "concerted effort and programme" by an organisation which has a global structure and which has the intention to commit murderous atrocities in the name of Islam.

Vladimir Putin also declared that there was a possibility that this organisation (Al-Qaeda) already has nuclear weapons. He did not hesitate to point out that the terrorists operating in Chechnya are part of this worldwide league of extremists and indeed are in constant contact with Osama Bin Laden's Al-Qaeda. Western sources repeatedly refer to the Chechens as "separatists" who want to fight for their independence, whereas the reality is quite different.

The Chechen terrorists are a small part of the 850,000 Chechen population, most of whom despise the bandits for what they are: common criminals with connections to international crime, posing in the name of Islam and separatism to gain sympathy for their cause from the ignorant or from those who periodically like to attack Russia.

President Putin declared that if the West does not deal effectively with the Chechen question, acts such as those perpetrated in Moscow and Bali will become commonplace all over the world.
Fallaci: Warrior in the Cause of Human Freedom
By Robert Spencer
FrontPageMagazine.com
November 30, 2005
"We are gathered here tonight," announced David Horowitz, "to honor a warrior in the cause of human freedom."
Oriana Fallaci, who received the Center for the Study of Popular Culture's Annie Taylor Award in New York Monday evening, has been a warrior for human freedom ever since she joined the anti-fascist resistance in 1944, at age fourteen. For over six decades, she has fought against those she has labeled "the bastards who decide our lives," opposing all forms of tyranny and oppression, from Mussolini and Hitler to Osama bin Laden and Abu Musab Al-Zarqawi. She amassed a fearsome reputation as an interviewer, recounting of Ariel Sharon: "'I know you've come to add another scalp to your necklace,' he murmured almost with sadness when I went to interview him in 1982." Other scalps on her necklace include that of Henry Kissinger, who termed his interview with Fallaci "the most disastrous conversation I ever had with any member of the press." While interviewing the Ayatollah Khomeini, Fallaci called him a "tyrant" and tore off the chador she had had to wear in order to be admitted to his presence. According to Daniel Pipes in his introduction of Fallaci Monday night, she is also apparently one of the few who ever made the irascible old man laugh.
Today, at seventy-five years old, Fallaci still stands for freedom. She is suffering from cancer. She stated with her usual directness at the Taylor Awards ceremony: "I shall not last long." But she has dedicated the four years since 9/11 to trying to awaken her native Italy, Europe and the world to the magnitude global jihad threat, which most analysts continue, whether from willful blindness, ignorance, or a misplaced strategic imperative, to misapprehend. Pipes noted that "she has her differences with the President. When he says that Islam a 'religion of peace,' she has said, 'each time he says it on TV? I'm there alone, and I watch it and say, "Shut up! Shut up, Bush!" But he doesn't listen to me.'"
And it isn't, of course, just Bush. Fallaci spoke fervently Monday evening about how Western nations are selling their own homelands and culture to their mortal enemies. "We seem to live in real democracies," she said, "but we really live in weak democracies ruled by despotism and fear." Western elites – government and media – are paralyzed by fear, afraid to speak out against the life-destroying aspects of the Sharia law that Islamic jihadists want to impose on the rest of the world. The risk of offending Muslims is, in their calculus, apparently greater than the risk of national or civilizational suicide. Alexis de Tocqueville, according to Fallaci, explained that in dictatorial regimes, despotism strikes the body: the dissenter is tortured into silence. But in democratic regimes that have succumbed to corruption, despotism ignores the body and strikes at the soul. One is not tortured for dissent; instead, one is discredited for it. To affirm the patent fact that Islam is not a religion of peace today renders one "unelectable," or "bigoted," or beyond the bounds of what is fit to print. In despotic democratic regimes, Fallaci observed, everything can be spread except truth.
That is indeed the present-day situation. Most of the liberal and conservative mainstream not only will not feature trenchant criticisms like Fallaci's of the violent and supremacist impulse within Islam; they will not even discuss them. Those who, like Fallaci, speak the truth about the motives and goals of the jihadists are vilified and marginalized, while the purveyors of comforting half-truths, distortions and lies fill the nation's airwaves and newsprint. Fallaci herself faces the most frivolous of frivolous lawsuits in Italy for defamation of Islam; a Muslim group tried to have banned her searing, passionate response to 9/11, The Rage and the Pride.
Why does all this happen? In her speech Fallaci explained that it was to a great degree because "truth inspires fear." When one hears the truth, one can only be silent or join the cause. It is a call to a personal revolution, an upheaval, a departure – perhaps forever – from a life of ease and comfort. So most will prefer not to hear the truth -- in no small part because of the difficulty of living up to it. Yet the real heroes, she said, are "those who raise their voices against anathemas and persecution," while most succumb -- "and with their silence give their approval to the civil death of those who spoke out."
"This," Fallaci declared, "is what I have experienced the last four years." She described how, since 9/11, the whole of Europe has become a "Niagara Falls of McCarthyism" – with the new Grand Inquisitors of the Left persecuting and victimizing all others. "In Europe, we too have our Ward Churchills, our Noam Chomskys, our Michael Moores, our Lewis Farrakhans." And they are doing immense damage to the unity, will and cultural identity of the people. In Europe as in America, the new thought police ban Christmas observances to avoid offending Muslims; history is rewritten to depict Islam as having built a civilization of peace and mercy (regardless of the preponderance of evidence to the contrary), while Europe's own Judeo-Christian civilization is regarded as "a spark of a cigarette – gone." A spent force. In Leftist-controlled municipalities, police stand idly by while Muslim hooligans demonstrate their contempt for European society and culture by urinating upon and otherwise desecrating churches. Fallaci: "This is considered 'freedom of expression' – unless the offense is committed against Muslims."
Meanwhile, the "religion of peace" myth and other falsehoods that interfere with our ability to defend ourselves are propagated aggressively by elected officials, the media, the Hollywood elite, and the justice system. Defenders of freedom are stripped of credibility and denied the means to get their message across. Or if they do get it across, they are not believed. "I really feel as a Cassandra," said Fallaci, "or as one of the forgotten anti-fascists." Yet she wears the Left's attacks with defiant pride. "Since I wrote the trilogy (La Rabbia e l'Orgoglio (The Rage and the Pride), La Forza della Ragione (The Force of Reason), and L'Apocalisse (The Apocalypse), my real medals are the insults I get from the new McCarthyists."
Fallaci told the audience that she faced three years in prison in Italy if convicted in her trial for hate speech. "But can hate be prosecuted by law? It is a sentiment. It is a natural part of life. Like love, it cannot be proscribed by a legal code. It can be judged, but only on the basis of ethics and morality. If I have the right to love, then I have the right to hate also."
Hate? "Yes, I do hate the bin Ladens and the Zarqawis. I do hate the bastards who burn churches in Europe. I hate the Chomskys and Moores and Farrakhans who sell us to the enemy. I hate them as I used to hate Mussolini and Hitler. For the cause of freedom, this is my sacrosanct right."
What's more, Fallaci pointed out that Europe's hate speech laws never seem to be used against the "professional haters, who hate me much more than I hate them": the Muslims who hate as part of their ideology. While Fallaci faces three years in prison in Italy, "any Muslim can unhook a crucifix from a wall in a school or hospital and throw it into the garbage," with little fear of consequences. Also unprosecuted, she said, were those responsible for a vile little publication entitled Islam Punishes Oriana Fallaci, which urges Muslims to kill her, invoking five Qur'anic passages about "perverse women." In Italy Fallaci must be guarded around the clock; but no effort has been made to bring those who threatened her to justice.
Yet for all the isolation and the verbal abuse to which her enemies have subjected her, Fallaci remains indomitable – and has found an unlikely ally in Pope Benedict XVI, whom she warmly praised Monday night. Fallaci, who identified herself as an atheist (a "Catholic atheist"), was the first individual granted a private audience with the new Pope. She stated that the Islamic challenge had opened up a void in the West that only spirituality could fill – "unless the Church also misses its appointment with history. But I don't think it will."
Despite these warm words for the Pope and the ancient institution he heads, however, Fallaci announced that at the risk of disappointing many of her hearers, "I am not a conservative. I don't sympathize with the Right more than I do with the Left. I cannot b associated with the Right or with the Left." Why not? Because, she said, both Right and Left have been guilty of the "abuse of democracy, demagogic egalitarianism, denial of merit, tyranny of the majority, and lack of self-discipline" that are sapping the strength of Europe today. "Europe's Islamic invasion has been backed by the Left, yes. But it would never have reached the point it has if the Right had not been complicit."
Another indication of that complicity was, according to Fallaci, the American Right's support for the entry of Turkey into the European Union – which both Fallaci and her friend in the Vatican oppose. "European citizens do not want Turkey in our home. Condoleeza Rice should stop exercising realpolitik at our expense." And in America, she asked why the Right was so complacent before Leftist outrages such as the ongoing war against Christmas, the removal of the Ten Commandments monument from the Alabama courthouse, the amending of the noise ordinance to allow for the Muslim call to prayer over loudspeakers (but not church bells) in Hamtramck, Michigan, and others. Why, she asked, was Ward Churchill not fired for calling the 9/11 victims "Little Eichmanns," while Michael Graham was fired for suggesting that Islam might have something to do with present-day terrorism?
This, Fallaci concluded, is the war we are really fighting. "I do not see Islamic terrorism as the main weapon of the war that the sons of Allah have unleashed upon us. It is the bloodiest, but not the most pernicious or catastrophic aspect of this war." Far more dangerous to the West in the long run is unrestricted Muslim immigration, which already has brought at least 25 million Muslims to Europe (not counting, Fallaci said, the huge numbers of illegal aliens). That number will double by 2016 and, as Bernard Lewis and others have predicted, almost certainly create a Muslim Europe by 2100.
Yet all this immigration has not been accompanied by integration and assimilation – not because of European racism, but by the Muslims' own choice. Fallaci noted that many other groups have assimilated into European societies, but Muslims have not. "They don even care to learn our language. They only obey the rules and laws of Sharia." They do not want to learn European ways; rather, "they want to impose on us their own habits and way of life. They have no intention of integrating with us. On the contrary, they demand that we integrate with them." Today's Islamic expansionism, therefore, does not need the armies and fleets with which the Ottoman Empire once terrorized Europe. It only needs the immigrants, whom short-sighted politicians and befuddled multiculturalists continue to welcome. Fallaci said that Europeans – French, Dutch, Germans, English, Italians – are about to reach the status of the Comanches, Cherokees, and Sioux: "We will end up on their reservation." She noted that some Muslim spokesmen, confident of their imminent supremacy, already refer to non-Muslim Europeans as "indigenous people" or "aboriginals."
What to do about all this? Establish dialogue with Muslim leaders? Try to strengthen moderate Islam? Fallaci was dismissive of both options. Muslims have no intention of entering into genuine dialogue with non-Muslims, she said, and "I do not believe in moderate Islam. What moderate Islam? Is it enough not to cut heads off? Moderate Islam is another invention of ours." Adopting Western dress, she said, was easy; adopting Western values was not.
Then Fallaci threw down the gauntlet to the multicultural, politically correct, and fearful. "There is not," she asserted, "good Islam or bad Islam. There is just Islam. And Islam is the Qur'an. And the Qur'an is the Mein Kampf of this movement. The Qur'an demands the annihilation or subjugation of the other, and wants to substitute totalitarianism for democracy. Read it over, that Mein Kampf. In whatever version, you will find that all the evil that the sons of Allah commit against themselves and against others is in it." As jarring as such language is to contemporary sensibilities, Fallaci here made a statement of fact that can be verified or disproved. And indeed: Islamic terrorists such as Osama bin Laden, Zarqawi, and others have never hesitated to quote the Qur'an copiously to justify their actions. It remains for those who identify themselves as moderate Muslims to convince violent Muslims that they are misusing the Qur'an – if indeed they are – and should lay down their arms. They have had no notable success in this so far.
Fallaci's a voice of rare courage. "I am not as young and energetic as you are," she told the crowd Monday night. "I am hopelessly ill. I shall not last long." When she is gone, we may hope – for all our sakes – that many others will be ready to step into the breach and speak the truth as she did, whatever the cost, as she did. As Oriana Fallaci so memorably demonstrated in her address on receiving the Annie Taylor Award, nothing less than our civilization itself is at stake.
US Televangelist Robertson Censured for Anti-Islam Rant
US evangelical broadcaster Pat Robertson drew a diatribe Tuesday, March 14, from American Christian and Muslim leaders for descending in a new rant against Islam.

"At a time when inter-religious tensions around the world are at an all-time high, Robertson seems determined to throw gasoline on the fire," the BBC News Online quoted Reverend Barry W. Lynn, executive director of Americans United for Separation of Church and State, as having said.

Calling the comments "grossly irresponsible," Lynn said it seems as if Robertson was "wrestling with demons of his own; namely intolerance and bigotry."

"To condemn an entire religion because of the behavior of some is deplorable," he said.

On his live television program The 700 Club, Robertson said anew Tuesday that "Islam is not a religion of peace", and "the goal of Islam, ladies and gentlemen whether you like it or not, is world domination."

He was responding to a news item about the reaction of Muslims in Europe to the publishing of cartoons that lampooned Prophet Muhammad (peace and blessings be upon him).

He said the pictures of violent Muslim demonstrations against the cartoons "just shows the kind of people we're dealing with. These people are crazed fanatics, and I want to say it now: I believe it's motivated by demonic power. It is satanic and it's time we recognize what we're dealing with".

Lynn said it is imperative that Robertson issue an immediate and unequivocal apology.

"Because millions of viewers have already heard the inflammatory remarks. When will Robertson ever learn to think before he speaks?"

The offensive cartoons were first published by a Danish newspaper in September and then reprinted by papers across Europe.

The furor exposed a gulf of misunderstanding between the West, which defended the publication by citing the right of free speech, and Muslims who saw it a sort of blasphemy.

"False Message"

Nihad Awad, director of the Washington-based Council on American-Islamic Relations (CAIR), said US religious and political leaders must condemn Robertson's remarks in the strongest possible terms.

"The failure by mainstream religious and political leaders to challenge Mr. Robertson's Islamophobic remarks will send the false message to Muslims worldwide that the majority of Americans agree with his hate-filled views," he said on the rights advocacy group's Web site.

"The constant, and largely unchallenged, drumbeat of anti-Muslim rhetoric is poisoning the public's attitude toward ordinary American Muslims."

Two recent polls showed that almost half of Americans have a negative perception of Islam and that one in four of those surveyed have "extreme" anti-Muslim views.

The Washington Post's report on the poll findings quoted experts who say negative attitudes about Islam are "fueled in part by political statements and media reports that focus almost solely on the actions of Muslim extremists."

"Islamophobic rhetoric inevitably translates into acts of bias, discrimination and even violence against Muslims," said Awad.

Robertson has repeatedly defamed Islam and Muslims on his program.

He once called Islam the "religion of the slavers" and said Americans who reverted to Islam exhibited "insanity."

Robertson had also criticized US President George W. Bush for calling Islam as a "religion of peace."

During a 2002 appearance on Fox News Channel's "Hannity & Colmes" program, Robertson smeared both Islam and the Prophet Muhammad.

His repeated ravings are part of a string of anti-Islamic remarks from prominent US evangelicals, chiefly Jerry Falwell and Franklin Graham.

Washington Post via IslamOnline.net & News Agencies
WASHINGTON, March 15, 2006
Aussie PM defends cleric after Q'uran remarks
May 05 2006
Sydney - Australian Prime Minister John Howard stepped up to defend the country's highest-ranking Catholic cleric on Friday after Cardinal George Pell sparked controversy by saying the Q'uran was rife with "invocations to violence".

Pell, the traditionalist archbishop of Sydney, made the comments about the Islamic holy book during a speech to a United States audience earlier this year. The text of the address was posted on the archdiocese's website this week.

Speaking to a group of Catholic business leaders, Pell said an understanding of Islam was vital for the future of Western democracies.

He said the September 11, 2001, attacks on the United States was "a wake-up call" that prompted him to read the Q'uran.

"I recommend that you too read this sacred text of the Muslims, because the challenge of Islam will be with us for the remainder of our lives," he said.

"In my own reading of the Q'uran, I began to note down invocations to violence. There are so many of them, however, that I abandoned this exercise after 50 or 60 or 70 pages," he said.

"Considered strictly on its own terms, Islam is not a tolerant religion and its capacity for far-reaching renovation is severely limited," he said.

A prominent Muslim spokesperson, Keysar Trad of the Islamic Friendship Association of Australia, chided Pell for making "ill-informed comments" which he called a "totally subjective, an off-the-cuff dismissal of the teachings of one of the world's great religions".

"I think there will be many Catholics out there who'll be cringing when they hear these comments, and they'll be saying 'what happened to the legacy of Pope John Paul 2?'," he told the Australian Broadcasting Corporation.

But Howard defended Pell as someone who "brings a great intellect" to the debate among religions.

"I'm quite sure he is not trying to be unhelpful," Howard said in a radio interview when asked about Pell's remarks.

"I know for a fact he's been a strong proponent of good relations between Christianity and Islam," he said.
Film on radical Islam a wake-up call to the West
By JOHN GLEESON, WINNIPEG SUN
June 1, 2006
Nonie Darwish was wowed by our gorgeous weather but she was less than impressed by one Winnipeg media outlet's shrill, torqued coverage of the documentary film she appears in, Obsession: Radical Islam's War Against the West.
Aspers sponsor hate film, say critics, roared the headline, despite the fact that only one critic is quoted in the story, an academic.
"This is not a hate film," Darwish told the packed house at Imax Theatre following a Wednesday night screening. "It is against hate, against terrorism."
Darwish went one further and said criticizing the film for not depicting "the other side" is like criticizing an account of Nazi atrocities for "not showing the other side about Hitler."
It was a pretty apt comparison, since the film delves into the extreme cult of death and hatred toward the West that prevails in many parts of the Arab world -- and, in particular, focuses on the state-sponsored brainwashing of Muslim children that is tragically fuelling global terrorism.
Indeed, one of the people interviewed in the film was a former Hitler Youth officer who draws chilling parallels between his own indoctrination and that of school-age children in the Middle East.
Darwish, who now lives in the U.S. but grew up in Egypt and Gaza in the 1950s, recalled having to recite poetry in school pledging jihad against Israel. "We would have tears in our eyes, pledging that we wanted to die," she said.
She was a prime candidate for indoctrination, since her father, a top Egyptian army intelligence officer and founder of the Fedayeen, became the first targeted assassination carried out by the Israeli Defence Forces. It took her many years, she said, to shed her hatred and understand that her father was killed because he ordered the killing of hundreds of Israelis.
Today, Darwish is an outspoken advocate for reconciliation and peace but says westerners are still kidding themselves about the nature and degree of the threat posed by radical Islamic terrorism, which she calls "a declaration of war against Western culture."
"America has to wake up because we are strangling ourselves with political correctness."
As a wake-up call to the West, Obsession sets the record straight on a number of important points that have been glossed over in the name of "not offending" the peaceful but too often silent majority of Muslims.
* Radical Islam is just that, a destructive and hate-filled interpretation of a belief system contained in the Qur'an. It may well be a false interpretation, it may only be shared by a small fraction of the world's 1.2-billion Muslims (though experts in the film estimate that 10% to 15% of Muslims support radical Islam) but to disavow any connection between the two is to deny the primary motivation of the enemy.
* Those who subscribe to the radical Islamic worldview are bent on nothing short of global conversion to Islam by force. "This religion will destroy all other religions by jihad," says a school primer used by Jordanian and Palestinian children.
* The "big sin" committed by westerners is not economic, military or cultural imperialism -- it is the fact that westerners are non-believers (kuffars). As one British-based radical cleric puts it in the film, being a kuffar in a Muslim land means you deserve to be enslaved or killed, "like a cow."
* The saturation o hate propaganda against the West -- the U.S. and Israel, in particular -- is much more pervasive in the Muslim world than most westerners realize.
In reality, says Darwish, despotic regimes use the West as a scapegoat to deflect attention from their own often considerable failures.
Standing before a receptive audience at Imax, she called on Muslims to stand up and speak out against the perversion of their faith by violent fanatics. That, of course, is the true remedy for radical Islamic terrorism.
For the rest of us, let's lose the blinders, shall we?
Florida Republican in Islam hate row
BROOKSVILLE, Fla., Nov. 2 (UPI) -- A prominent local Republican in Florida said Tuesday he believed Islam was a "hateful, frightening religion."
Tom Hogan, Sr., the recently appointed commissioner of Hernando County, told the St. Petersburg Times Tuesday that he agreed with a letter his wife Mary Ann had written to the paper describing Islam as a "hateful, frightening religion."
"Overall, worldwide, it certainly is," Hogan said. "Don't you read your own paper?
"There's a saying out there, and there's some truth to it, that not all Muslims are terrorists, but all terrorists are Muslims. It's their thing," he told the newspaper.
Mrs. Hogan wrote her letter to the St. Petersburg Times last week in which she criticized county authorities for supporting the celebration of Eid-al-Fitr, the festival that marked the end of the Muslim holy month of Ramadan on Oct. 23, at a local mosque.
The St. Petersburg Times described Tom and Mary Ann Hogan as being "widely considered the first couple of Hernando County's Republican Party, and both have helped lead the party since the 1960s."
The paper said that local Muslim religious leaders in Hernando County "reacted with shock and dismay" to the Hogans' comments.
"We're deeply concerned about the hateful and racist nature of these comments," Ahmed Bedier, executive director of the Tampa chapter of the Council on American-Islamic Relations, told the newspaper. He said he would urge Florida Gov. Jeb Bush, who appointed Hogan to the county commissioner's post less than three months ago, to fire him from it.
But Mary Ann Hogan told the St. Petersburg Times she was standing by her comments. "They can call it whatever they want to," she said. "I'm calling them barbarians. "
Threats on Islam sites could deter terrorists
By The Denver Post
08/03/2007
U.S. Rep. Tom Tancredo, R-Colo., speaks with supporters during a campaign stop at Silver Eagle Harley-Davidson/Buell motorcycle dealership in Waterloo, Iowa, Saturday, May 12, 2007. Tancredo participated in a local annual motorcycle ride of ABATE of Iowa, a statewide motorcycle safety and awareness group. (AP | Scott Mussell, The Waterloo Courier)
Washington - Republican presidential hopeful Tom Tancredo says the best way he can think of to deter a nuclear terrorist attack on the U.S. is to threaten to retaliate by bombing Islamic holy sites.
The Colorado congressman on Tuesday told about 30 people at a town-hall meeting in Osceola, Iowa, that he believes such a terrorist attack could be imminent and that the U.S. needs to hurry up and think of a way to stop it.
"If it is up to me, we are going to explain that an attack on this homeland of that nature would be followed by an attack on the holy sites in Mecca and Medina," Tancredo said at the Family Table restaurant. "Because that's the only thing I can think of that might deter somebody from doing what they otherwise might do."
Mecca and Medina, in Saudi Arabia, are Islam's holiest cities.
A Washington-based Islamic civil rights and advocacy group responded Thursday, calling Tancredo's statement "unworthy of anyone seeking public office in the United States."
"Perhaps it's evidence of a long-shot candidate grasping at straws and trying to create some kind of a controversy that might appeal to a niche audience of anti-Muslim bigots," said Ibrahim Hooper, spokesman for the Council on American-Islamic Relations.
This isn't the first time Tancredo has suggested such action.
In 2005, he drew international criticism after he told a radio talk-show host that "you could take out" Islamic holy sites if terrorists ever launched a nuclear attack against the United States.