POLITICAL IGNORANCE OF ISLAM.

Kerry Meeting With Iran to Salvage Nuke Deal With Rogue Diplomacy

Shadow diplomacy aids Iran's regional pursuits
9-12-18
Adam Kredo
Washington Free Beacon

Former Secretary of State John Kerry disclosed that he has been conducting rogue diplomacy with top Iranian officials to salvage the landmark nuclear deal and push the Islamic Republic to negotiate its contested missile program, according to recent remarks.

Kerry, in an interview with radio host Hugh Hewitt to promote his new book, said that he has met with Iranian Former Minister Javad Zarif—the former secretary's onetime negotiating partner—three or four times in recent months behind the Trump administration's back.

"I think I've seen him three or four times," Kerry said, adding that he has been conducting sensitive diplomacy without the current administration's authorization. Kerry said he has criticized the current administration in these discussions, chiding it for not pursuing negotiations from Iran, despite the country's fevered rhetoric about the U.S. president.

Kerry's comments are in line with previous reporting on his behind-the-scenes attempts to save the nuclear deal and ensure that Iran continues receiving billions in cash windfalls. These payments were brought to a halt by the Trump administration when it abandoned the nuclear agreement and reimposed harsh sanctions on Iran that have nearly toppled its economy and sparked a popular revolution.

Kerry said he met Zarif in Norway, Munich, and other international forums.

As Iran continues to plot terror attacks across the globe and transport weapons to regional hotspots in Syria and Yemen, Kerry has tried to help Zarif preserve the nuclear agreement with European nations.

"What I have done is try to elicit from him [Zarif] what Iran might be willing to do to change the dynamic of the Middle East for the better," Kerry said. "How does one resolve Yemen, what do you do to try and get peace in Syria? Those are the things that really are preoccupying him because those are the impediments to Iran's ability to convince people its ready to embrace something different."

Kerry said he has offered blunt talk to Zarif in order to push the regime to accept restrictions on its foreign interventionism.

"I've been very blunt to Foreign Minister Zarif. I told him, 'Look, you guys need to recognize the world does not appreciate what's happening with missiles, what's happening with Hezbollah, what's happening with Yemen,'" Kerry recounted. "You're supporting an ongoing struggle there."

Iran has said "they're prepared to negotiate and resolve these issues, but the [Trump] administration's taken a very different tact."

Criticizing the current White House, Kerry lamented that "it appears right now, as if the administration is hell-bent … to pursue a regime change strategy" in Iran that would "bring the economy down and try to isolate further."

The former secretary of state cautioned the current administration, saying "the United States historically has not had a great record in regime change strategies, number one, and number two that makes it very difficult, if not impossible, for any Iranian leader to sit down and negotiate anything because they're not going to do it in a capitulatory situation."

Iranian leaders have said multiple times in recent months that they will not take any meetings with Trump or his administration.


British benefits payments used to fund Paris and Brussels attack suspects' campaign of terror, court hears

By Martin Evans, crime correspondent Lexi Finnigan
24 NOVEMBER 2016
The Telegraph

The jihadists suspected of carrying out the bomb and gun attacks in Paris and Brussels used British benefits payments to fund international terrorism, a court has heard.

Mohamed Abrini - who became known as the "man in the hat" following the deadly attack on Brussels airport in March, was handed £3,000 by two men in Birmingham before flying to Paris and disappearing.

He had been sent to collect the money by Abdelhamid Abaaoud, who is suspected of being one of the ringleaders of the attacks across the French capital just months later in which 130 people were killed.

Zakaria Bouffassil, 26, from Birmingham is accused of handing over the cash which had been withdrawn from the bank account of Anouar Haddouchi, a Belgian national, who had been claiming benefits while living in the West Midlands with his wife.

Kingston Crown Court heard how thousands of pounds of taxpayers' money continued to be paid into Haddouchi's bank account, even after he had left Britain for Syria and had begun fighting for Islamic State in Iraq and Levant (Isil).

Mr Bouffassil, 26, who is also originally from Belgium is accused of giving Abrini a large amount of cash during a secretive meeting in a Birmingham park last July.

He was accompanied by Mohamed Ali Ahmed, who has already admitted the charge.

On the opening day of their trial, jurors heard how some of the most notorious and wanted terrorists in Europe had used British taxpayers' money to fund their activities in Syria and elsewhere.

Max Hill QC, prosecuting, said: "There is no doubt that the money was handed over with the intention of assisting acts of terrorism."

He went on: "The intention could not be more clear. Haddouchi had left the UK to fight for Daesh in Syria. Abrini came to collect the money in the UK.

"The destination would include Syria and specifically Daesh, either to Haddouchi himself or to other fighters. In other words the cash was handed over to Abrini with the intention of assisting others to commit acts of terrorism."

Mr Hill explained that Haddouchi had left Britain for Syria in the summer of 2014.

He told the jury: "His TSB account at times contained some £7,000 or more. The figure fluctuated over time because benefits payments were still going into the account, even though Haddouchi had left the country."

He said the money had been gradually withdrawn in cash sums on various dates between 30 May 2015 and 23 November 2015.

The court heard that hours after collecting the money, Abrini visited the Grosvenor Casino in Birmingham where he took a photograph of a gambling machine on his mobile phone.

Mr Hill said the actual use of the money is 'not part of the criminal offence charged against' Boufassil and, even if Abrini did gamble some of the money in a casino, 'that does not undermine the criminal offence.

"Even terrorists spend money on food and drink, whether in a casino or elsewhere," he explained.

Abrini then travelled to Manchester where he spent the night before trying to catch a flight to Paris.

However when he discovered there were no direct flights he returned to Birmingham by coach before finally leaving the UK on July 16.

In March this year Abrini captured on CCTV alongside Ibrahim El Bakraoui and Najim Laachraoui, who detonated bombs hidden in suitcases killing 12 people at Brussels airport.

Another 20 people died in an attack on Maalbeek metro station less than two hours later.

Jurors were also told he is also wanted by the French authorities in connection with the attacks in Paris last November.

Boufassil denies one charge of engaging in conduct in preparation for acts of terrorism and the trial continues.




European welfare benefits help fund ISIS fighters

Kim Hjelmgaard
USA TODAY
Feb. 23, 2017

Governments across Europe have accidentally paid taxpayer-funded welfare benefits such as unemployment funds, disability pensions and housing allowances to Islamic State militants who have used the money to wage war in Iraq and Syria, authorities and terrorism experts say.

Danish officials said this week that 29 citizens were given $100,000 in public pension benefits because they were considered too ill or disabled to work, and they then fled to Syria to fight for the radical group.

Denmark has one of the world's most generous social-welfare systems, which provides eligible unemployed people up to $120 a day. In addition to trying to reclaim the benefits accidentally disbursed, the government is trying to tighten legislation for welfare claims made by suspected militants.

"It is a huge scandal that we disburse money from the welfare fund in Denmark for people who go to Syria," said Troels Lund Poulsen, Denmark's labor minister. "Staying in a war zone and directly or indirectly taking part in military operations is not something that is in any way compatible with receiving disability benefits."

Other countries that also have paid benefits to Islamic State fighters:

SWEDEN

It took eight months before welfare authorities cut off benefits paid to a Swedish national who had joined the terror group in its Syrian stronghold Raqqa.

Michael Skråmo, who grew up near Gothenburg, fled in 2014 with his wife and four children to Syria. There, he swore allegiance to the Islamic State, changed his name to Abdul Samad al Swedi and has appeared in propaganda videos posing with a Kalashnikov assault rifle. It was not until a year after Skråmo left Gothenburg that a letter was sent to his Swedish address by authorities stating his child and housing benefits had been terminated, Swedish media reported. Over the eight months, Skråmo was paid more than $5,000.

Försäkringskassan, the Swedish welfare agency responsible for making the payments, declined to comment on Skråmo's case.

Sweden has been in the spotlight this week because of President Trump's false assertions that its liberal asylum policies have led to a crime wave by Muslim immigrants.

BELGIUM

Authorities concluded that several of the plotters in the Brussels and Paris terror attacks that killed 162 people in 2015 and 2016 were partly financed by Belgium's social welfare system while they planned their atrocities.

Philippe de Koster, director of Belgium's agency that fights money laundering and terrorism financing, said steps have since been taken to prevent that from happening again. For example, those convicted of terrorism can no longer receive benefits while in jail.

FRANCE

The government has cut the social-welfare benefits of several hundred French citizens who have left the country to join jihadist groups.

"It's the critical terror financing issue of the day," said Tom Keatinge, director of the Centre for Financial Crime and Security Studies at the Royal United Services Institute in London. "Security services are focusing on lone actors, small cells and inspired or directed individuals operating in European countries, and of course the issue of (Islamic State) returnees.

"But the eye-catching headline is that a key funder of terrorists attacks in Europe are European governments," he said. "In an increasing number of cases, people are taking money provided to them by their national governments and using it for other than what it's intended for."

France is the largest source of Western fighters in Iraq and Syria — an estimated 2,000 as of May last year, according to the Counter Extremism Project, a think tank.

BRITAIN

A local government council in Birmingham admitted in December that it erroneously paid almost $7,000 in housing benefits to a man who was fighting in Syria for the Islamic State, also known as ISIS or ISIL. Anouar Haddouchi used the money to fund his journey to join the group.

In September, radical Islamic cleric Anjem Choudary, who was jailed for terrorist activities, urged followers to claim "jihadiseeker's allowance" — a reference to the nation's welfare system. His phrase echoes a manual released by the militant group in 2015. How to Survive in the West: A Mujahid Guide advises that "if you can claim extra benefits from a government, then do so."

British authorities estimate 850 citizens have traveled to Iraq and Syria to fight for radical groups.

The United Kingdom's Department for Work and Pensions said people lose entitlement to benefits when they move overseas, excluding pensions they have contributed to.

"Britain is just not up to speed with this," warned Anthony Glees, who runs the Centre for Security and Intelligence Studies at the University of Buckingham. "One can assume that people who want to blow us up are entirely relaxed about taking as much money as they can from the British government."
Image expert for U.S. stumbles in Iraq debate

Hughes tells students Saddam gassed hundreds of thousands of his citizens.
By CHRIS BRUMMITT
The Associated Press
Saturday, October 22, 2005
JAKARTA, INDONESIA – Karen Hughes, who has faced a rocky road since being named Washington's public relations chief, answered tough questions Friday about the invasion of Iraq, and wrongly stated that Saddam Hussein gassed to death "hundreds of thousands" of his people.


Although the U.S. undersecretary for public diplomacy twice repeated the claim after being challenged by journalists, Gordon Johndroe, a State Department official traveling with Hughes, later called The Associated Press to say she misspoke.


Hughes, a longtime confidante of President George W. Bush, was in the world's most populous Muslim nation to improve America's image after the invasions of Afghanistan and Iraq.


At a public debate with university students in Jakarta, she was repeatedly criticized over Washington's original stated rationale for the war in Iraq - Saddam's alleged weapons of mass destruction. No such arms were discovered.


"The consensus of the world intelligence community was that Saddam was a very dangerous threat," Hughes said.
"After all, he had used weapons of mass destruction against his own people," she told about 100 students in a small auditorium. "He had murdered hundreds of thousands of his own people using poison gas."


At least 300,000 Iraqis were reportedly killed during Saddam's decades-long rule, but only about 5,000 are believed to have been gassed - in a 1988 attack in the Kurdish north.


Hughes' three-day trip Indonesia came as the United States tried to limit damage from TV footage that purportedly shows U.S. soldiers in Afghanistan burning the corpses of two Taliban fighters.


There has been little public reaction in Indonesia to the footage, but clerics in other Islamic nations expressed outrage and warned of a possible violent anti-U.S. backlash.


Indonesia is a moderate Islamic country with significant Christian, Hindu and Buddhist minorities. It has a long tradition of secularism, but in recent years has seen a series of terror attacks by militants.


One student said the Sept. 11 attacks on the United States should be taken as a warning to America for interfering in the affairs of other countries. Another compared Bush to Hitler.


"Your policies are creating hostilities among Muslims," student Lailatul Qadar told Hughes. "It's Bush in Iraq, Afghanistan, Palestine and maybe it's going to be in Indonesia, I don't know. Who's the terrorist? Bush or us Muslims?"


Hughes has also faced tough questions in Egypt, Saudi Arabia and Turkey since taking up her post two months ago.
Prince Charles to plead Islam's cause to Bush

By Andrew Alderson, Chief Reporter
(Filed: 29/10/2005)
The Prince of Wales will try to persuade George W Bush and Americans of the merits of Islam this week because he thinks the United States has been too intolerant of the religion since September 11.
The Prince, who leaves on Tuesday for an eight-day tour of the US, has voiced private concerns over America's "confrontational" approach to Muslim countries and its failure to appreciate Islam's strengths.
The Prince raised his concerns when he met senior Muslims in London in November 2001. The gathering took place just two months after the attacks on New York and Washington. "I find the language and rhetoric coming from America too confrontational," the Prince said, according to one leader at the meeting.
It is understood that Prince Charles did not - and does not - believe that the actions of 19 hijackers should tarnish the reputation of hundreds of millions of law-abiding Muslims around the world.
Khalid Mahmood, the Labour MP for Birmingham Perry Bar, was also at the meeting at St James's Palace. "His criticism of America was a general one of the Americans not having the appreciation we have for Islam and its culture," he said.
Mr Mahmood and other Muslims present stressed that Prince Charles did not go so far as to criticise the US-led invasion of Afghanistan in October 2001. More recently, he has been careful not to express his views on Iraq.
The Prince also spoke of his sympathy for America after the terrorist attacks that claimed the lives of almost 3,000 people. He said he wanted to promote better relations between the different religions of the world.
Those present at the meeting in 2001 included Sir Iqbal Sacrani, the secretary general of the Muslim Council of Britain, and Hashir Faruqi, the chief editor of Impact International, an Islamic affairs magazine.
Prince Charles, who is about to embark on his first official foreign tour since his marriage to the Duchess of Cornwall, wants Americans - including Mr Bush - to share his fondness for Islam. He has agreed to attend a seminar on religions at Georgetown University, Washington, on Thursday: the only event where he will not be accompanied by the Duchess.
"The seminar will look at how faith groups can alleviate social problems in their community," a royal aide said.
The Prince and Duchess will attend a lunch and dinner with President Bush and his wife, Laura, at the White House on Wednesday.
Prince Charles has done more than any other member of the Royal Family in history to understand Islam. He said in 1994 that when he became Supreme Governor of the Church of England, he would rather be "defender of faiths" than "defender of the faith".
A year earlier Prince Charles made a speech, acclaimed throughout the Arab world, on relations between Islam and the West. He urged the West to overcome its "unthinkable prejudices" about Islam and its customs and laws.
He spoke warmly of the West's debt to the culture of Islam and distanced moderate Muslims from misguided militants. "Extremism is no more the monopoly of Islam than it is the monopoly of other religions, including Christianity," he said.
A senior aide to Prince Charles said yesterday: "The Prince has never promoted political messages around religion. He has simply said that he wants a greater tolerance and understanding of each other religions which will, in turn, promote better relations between faiths."
A spokesman for Clarence House declined to discuss the Prince's comments four years ago. "We never discuss private conversations," he said.
Prince Charles has been wooing the US media ahead of next week's tour when he will visit New York, Washington and San Francisco. It is considered a risky venture because Diana, Princess of Wales, who died eight years ago, was so revered in the US.
In an interview to be shown on CBS's 60 Minutes today, he speaks of his desire to enrich people's lives through his work. "I only hope that when I am dead and gone they might appreciate it a little more," he jokes.
Charles takes crusade for Islam to Washington
October 31, 2005
London: Prince Charles will try to persuade President George Bush of the merits of Islam this week because he thinks the US has been intolerant of the religion since the September 11, 2001, terrorist attacks.
The Prince, who leaves tomorrow for an eight-day tour of the US, has said privately that he is concerned about the US's "confrontational" approach to Muslim countries and its failure to appreciate Islam's strengths.
Charles raised his concerns when he met senior Muslims in London in November 2001, two months after the attacks.
"I find the language and rhetoric coming from America too confrontational," a leader at the meeting quoted him as saying.
Khalid Mahmood, a Labour MP who was also at the meeting at St James's Palace, said: "His criticism of America was a general one - of the Americans not having the appreciation we have for Islam and its culture."
Other Muslims present stressed that Prince Charles did not criticise the US-led invasion of Afghanistan in October 2001, Mr Mahmoud said.
More recently, Charles has been careful not to express his views on Iraq. The Prince also spoke of his sympathy for the US after the 2001 terrorist attacks, which killed nearly 3000 people. He said he wanted to promote better relations between the different religions of the world.
Those present at the meeting in 2001 included Sir Iqbal Sacrani, the secretary-general of the Muslim Council of Britain, and Hashir Faruqi, the chief editor of Impact International, a respected Islamic affairs magazine.
Charles wants Americans - including Mr Bush - to share his fondness for Islam. He has agreed to attend a seminar on religions at Georgetown University, Washington, on Thursday.
"The seminar will look at how faith groups can alleviate social problems in their community," an aide said.
Charles and his wife, the Duchess of Cornwall, will attend functions with the Bushes at the White House on Wednesday.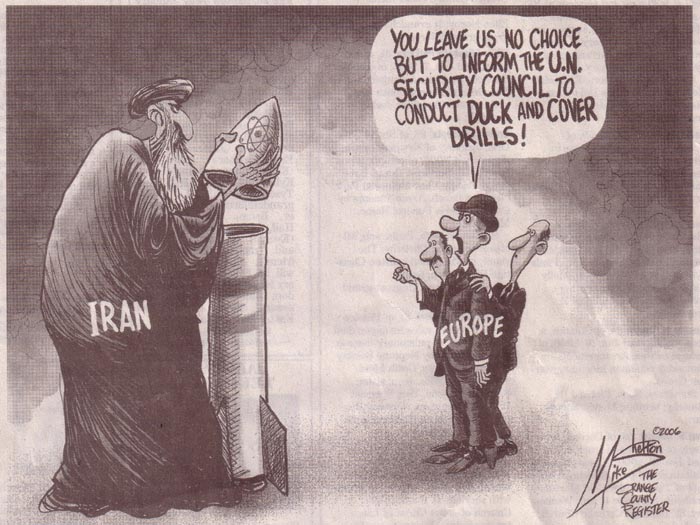 Ignorance of Islamic Terror Poses Greatest Threat
Amil Imani




SPECIAL TO THINK & ASK


NEW YORK
The intention of this article is to provoke a much-needed debate on the nature of a phenomenon called "Islamic Terrorism." Most people in the United States assume that the phenomenon called "Islamic Terrorism" started after the 11 September 2001 attack on the World Trade Center in New York City.
Actually, the world was in a deep coma about the nature of Islamic Terrorism before the events of 11 September. In some cases, people still refuse to accept that there is such reality called "Islamic Terrorism." However, this phenomenon did not start on or about 11 September 2001. This event was conceived and put into action fourteen hundred years earlier across the hot, sandy deserts of Arabia.
The word "Islam" means "submission." One may ask submission to what or whom? A Muslim is a person who is obedient to the will of "Allah." According to the words of the Prophet of Islam, Allah is the author of the holy book of Quran, thus a Muslim is a person who must do what the book says to do. If he or she does not follow the words of the Quran, then he or she is not considered to be a Muslim.
Muslims insist that the almighty Lord of all living thing is synonymous with what is known in Arabic as "Allah." Muslims confess that every word in the holy book of Quran is the word of Allah. It contains 114 Surahs (chapters) and more than 6,000 verses. Ironically, the greatest enemy of Islam is this very book, which Muslims vow to be free of errors.
Islamic scholars proudly state that the Quran is unrivalled in its recording and preservation. They proudly say that the holy book has remained unchanged to the letter -- even after fourteen hundred years.
However, they won't allow any one to question any part of the teaching. Questioning any part of the holy book will result in death. As we have witnessed, the Islamic zealots do not tolerate opinions contrary to their own. For Quran's teachings you may go to: http://www.faithfreedom.org/Quran.htm
Nowadays, we all hear from the Muslim apologists that the holy religion of Islam has been hijacked by the militant Muslims. Even some friends in the United States utter the same thing.
Muslims keep repeating that Islam means "peace," something my friends in the states say as well. In reality though, Islam means war. It is through so many wars that Islam established itself as another religion. It is through fear, intimidation, and indoctrination of innocent people that Islam has made its loyal follower to adhere to this ideology of hate. It is through sacrifices and the killing of innocent people that Islam has lasted as long as it has. It is with the sword of Islam that people became Muslims.
There is no such phenomenon called good Muslims or bad Muslims. Good Muslims are non-Muslims, the ones who have never read the holy book of Quran and do not understand or do not want to understand the nature of Islam. They merely were born into a Muslim family. Those who think Islam has been hijacked by the bad Muslims are not true Muslims. Bad Muslims are those who execute the words of Allah. Therefore, the bad Muslims are the true believers who follow the path of the prophet of Islam. In other words, the Islamic terrorists are the true sons and daughters of the Islamic faith.
Understanding what "Islamic Terrorism" is and identifying the signs or association those who are or may become Islamic terrorists, may help the society to detect and prevent or capture the terrorists before they commit crimes against the innocent civilians. A better understanding of the true nature of Islam will alarm people of the dangers of "Islamic Terrorism."
Islam rewards those who are willing to die for "Allah." "Everybody hates death, fears death. Only those, the believers who know the life after death and the reward after death, would be the ones who would be seeking death.

Have no unbelieving friends. Kill the unbelievers wherever you find them.

If the unbelievers do not offer you peace, kill them wherever you find them.

Those who oppose the messenger and become unbelievers will go to hell.

Christians are wrong about the Trinity. For that they will have a painful doom. The holy Quran
Everyone eventually will face death. However, the destination after death is not the same. Those who believed in Allah --and followed what Allah's messenger said-- will be in paradise. In other words, those who commit crimes against humanity, murder the infidels, rape little girls or boys, burn the cities of disbelievers, hijack airplanes to fly them into buildings, and bringing down the towers and casting terror in the lives of people, will spend their eternal rest in heaven. To top it all off, 72 virgin women will greet them at the gate with a bottle of French wine.
For those who deviate from executing the words of Allah, an eternal blazing Fire (Hell) will be awaiting them. In other words, every good person, kind person, giving person and innocent person on earth will taste eternal fire.
Muslims still insist that "Allah" is the same as the Eternal God, Creator of the Universe, Lord of all lords, King of all kings, Most Compassionate, Most Merciful, yet he needs blood and lots of it.
Since its inception fourteen hundred years ago, Islam has been at war with the people of this planet. Millions of people have been literary butchered with the sword of Islam. Some may argue that all religions at one point in time in have committed crimes against humanity. That may be so, but none of the existing world religions' foundations have been based upon shedding the blood of its innocent victims. Islam lives, breaths and grows on blood. Once we take away this red element from Islam, Islam will vanish completely. Islam cannot possibly live in the hearts and minds of its believers. Islam needs to shed the blood of the infidels, meaning all non-Muslims. Islam is about world domination. It is utterly part of being Muslims.
Islam is worse than a plague, worse than leprosy, worse than hunger and famine, which cause bodily damage to humans. Islam slowly, like a canker, gnaws at the soul and the spirit. Islam stops your brain from thinking, and empties out your love and kindness for others. Islam will turn you into a killing machine. We may be able to cure the plague, leprosy and other diseases, but we are unable to deal with Islamists. We can't cure them with medical technology. We can't take them to a doctor to see where it hurts. Once you become an Islamist, no earthly medicines are able to cure you. True Muslims literary have turned into walking missiles.
You can't reason with people blinded by hate. You can't argue with people blinded by Islamic faith. Islam hates the power of the individual. Islam hates the achievements of women. Islam hates progress. Islam hates the religious freedom of others. Islam hates the pre-Islamic heritage of other nations. Islam hates the light of truth. Islam is against free-will and hates democracy, liberty and justice for all. Islam simply loves to eat you alive. That is what Islam does and that is what Islam is. Worshipping that? NEVER!
Citizens of the United States are slowly waking up from a long winter sleep on this issue. However, there are still millions who are extremely naïve about the dangers of Islamic terrorism. Those in the states are good people; they are sympathetic people; they are giving people; they like to see the goodness in human beings and for that, they unconsciously refuse to believe that in a faith -- teachings can make wild animals out of its believers.
The greatest threat facing the United States today is its own ignorance about Islam.
Until citizens of the United States understand the threat of Islam to its society and on its own soil -- people will continue to die in these sporadic attacks. Until there is a true understanding of this faith and a means to control it, we, along with other people will continue to die as a result of its teaching. The threat of Islam is real. Until the United States understands that all violent Islamic fundamentalist groups, including al-Qaeda and Hezbollah and others are true Muslims and wish to kill all non-believers, we will continue to be at their mercy.
No, Islam has not been hijacked by the Islamic militants. The cult of Islam has hijacked humanity for almost 14 centuries. Until we digest this and do something to circumvent the trend, our risk and exposure grows greater in between each attack.
Ruddock: no ban on Muslim group
Fairfax Digital
January 28, 2007
The Federal Government refuses to ban a radical Muslim group that has sparked outrage by bringing to Australia its calls for an Islamic superstate.

Indonesian firebrand cleric Ismail Yusanto outlined his vision for an Islamic utopia before a crowd of about 500 Muslims at Lakemba, in Sydney's south-west, today.

Dr Yusanto and fellow members of the extremist group Hizb-u-Tahrir believe it can ease suffering around the world by creating an Islamic superstate - ruled by Sharia law - through jihad, or holy war.

The NSW government and federal opposition are outraged, demanding the Commonwealth follow Britain, Germany and several Middle Eastern countries in banning the group.

But Attorney-General Philip Ruddock said today there was not enough evidence to justify using anti-terrorism laws to outlaw Hizb-u-Tahrir.

To be proscribed as a terrorist organisation, a group has to urge the use of force or violence.

"Evidence to sustain that has to be available," he told reporters.

"Just because people have messages that I don't regard as broadly in keeping with Australian values doesn't mean they can be proscribed as terrorist organisations," Mr Ruddock told reporters.

Hizb-u-Tahrir spokesman Wassim Doureihi defended the group, saying it was only advocating change through peaceful means in the Muslim world, not in Australia.

"We do not engage in physical violence, we are not advocating terrorism," he told reporters.

"We are advocating peaceful political change within the Muslim world."

But his message appeared at odds with Dr Yusanto's comments advocating jihad during the Lakemba meeting.

Dr Yusanto said if the utopian superstate fell, "all military-aged Muslims" and "Muslims living outside of the boundary" of the Sharia state should obtain military training and "join the jihad".

"Once successful, the new order would be just the beginning of the new era in the application of Islamic ideology," he said.

"There is no victory and glory without sacrifice and hard work. No pain no gain."

NSW Premier Morris Iemma said he believed the group should never have been allowed to meet in Australia.

"This is not a case of someone being different, someone advocating a different point of view," he told Sky News.

"This is an organisation that is basically saying that it wants to declare war on Australia, our values and our people. That's the big difference.

"And that's why I believe that they are just beyond the pale, enough is enough and it's time for the Commonwealth to review this organisation's status and take the lead from other countries and ban them."

Opposition immigration spokesman Tony Burke called on newly appointed Immigration Minister Kevin Andrews to consider cancelling Dr Yusanto's visa.

"There are clear character provisions in the Immigration Act that mean that if the government didn't want Ismail Yusanto here it could have stopped him from coming," he told reporters.

"The only reason we have someone in western Sydney right now preaching Sharia law is because the federal government chose to allow him to be here.

"My question and my comment to anyone from around the world who hates Australia is simple - if you hate the place, don't come here."
Jimmy Carter Visits Calif. Campus
By Associated Press
May 4, 2007
IRVINE, Calif. -- Former President Jimmy Carter urged students at a Southern California university with a history of strained relations between Jewish and Islamic groups to set differences aside and work together to find solutions.

"I'd like to see the leaders form a combined group and take my invitation to go to Palestine and see what's going on for yourselves," Carter told a crowd of about 3,300 students and faculty at University of California, Irvine on Thursday.
"If you take me up on it, I'll raise the money to pay for your trip," he said.

The hourlong talk included discussion of the 82-year-old Nobel Peace Prize winner's book, "Palestine: Peace Not Apartheid," which has been criticized by some as being slanted against Israel. Carter reiterated his belief that Palestinians "are being persecuted horribly."

At the Irvine campus, tensions between Jewish and Islamic groups have surfaced in recent years. Last year, the U.S. Office for Civil Rights began an investigation into anti-Semitism there. In 2003, a memorial to Holocaust victims was vandalized. A year later an anti-Zionism mural erected by the Society of Arab Students was set on fire.

On Thursday, campus police reported no disturbances. Anteaters for Israel, a Jewish student group, passed out literature before Carter's speech. The Irvine mascot is an anteater.

"We're supportive of dialogue on both sides," said 19-year-old Emily Shaaya, co-president of the Jewish group. "We'd have much rather not had President Carter speak on this campus or at least have him speak in a much more debate-oriented format."

Carter's 20-minute speech was followed by half a dozen questions submitted in advance. Carter, who has written 23 books since leaving office in 1981, did not receive a fee for his appearance.

Carter said pro-Israel lobbyists have stifled debate in the U.S. about the Israeli-Palestinian situation and urged students to get involved.

"There's political fear in Congress and among U.S. presidential candidates to speak out on a balanced position with anything that relates to Israel. But college students can play a crucial role in this debate," he said. "You have nothing to lose."

Yasser Ahmed, a Muslim majoring in economics, said he was "amazed at the manner in which (Carter) portrayed the conflict."

"As he mentioned in his speech, it is something that is not mentioned in this country," Ahmed said.