The Legacy of Doctrine and Covenants Section 132 or Polygamy
Polygamous sect leaders facing on food stamp fraud charges

By Brady McCombs and Lindsay Whitehurst
Associated Press
February 24, 2016

SALT LAKE CITY — Investigators say they noticed something strange when they began tracking food stamp transactions coming out of two small convenience stores in a polygamous community on the Arizona-Utah border.

The volume of food stamp purchases was so large that it rivaled big-box stores like Wal-Mart and Costco.

They said they later learned that residents were scanning their food stamp debit cards at the stores but getting no items in return, letting leaders of the polygamous sect divert the money to front companies.

The proceeds paid for a John Deere loader, a Ford truck and $17,000 in paper products, federal prosecutors said Tuesday.

The alleged scheme is at the heart of what marked a major takedown of top leaders of the secretive sect in which followers adhere to the belief that having multiple wiveIs brings exaltation in heaven.

Eleven people were charged with food stamp fraud and money laundering, including Lyle Jeffs and Seth Jeffs, top-ranking leaders of the Fundamentalist Church of Jesus Christ of Latter Day Saints and brothers of imprisoned sect leader Warren Jeffs.

Lyle Jeffs runs the day-to-day operations in the polygamous community of Hildale, Utah, while Seth Jeffs leads a branch of the group in South Dakota. Their brother Warren Jeffs is serving a life sentence in Texas for sexually assaulting girls he considered brides at a secretive church compound in that state.

Prosecutors accuse church leaders of orchestrating a yearslong fraud scheme that included meetings where they told members how to use the use food-stamp benefits illegally for the benefit of the faith and avoid getting caught, charging documents show.

One common tactic was buying groceries with the food stamps and giving the supplies to the church's communal storehouse for leaders to choose how to divvy up.

The practice has been called "bleeding the beast," taking money from a government they disdain and using as they see fit, said Amos Guiora, a University of Utah law professor who has studied the church.

The arrests — which were made Tuesday in Salt Lake City; Custer County, South Dakota; and the sister cities of Hildale, Utah and Colorado City, Arizona — are the government's latest move targeting the sect based on the Utah-Arizona border, coinciding with legal battles in two states over child labor and discrimination against nonbelievers.

The arrests come amid a civil rights trial in Phoenix against the twin polygamous towns of Hildale and Colorado City, Arizona, in which prosecutors say the communities discriminated against people who were not members of the church by denying them housing, water services and police protection.

Federal labor lawyers also are going after the group on allegations that leaders ordered parents to put their kids to work for long hours for little pay on a southern Utah pecan farm.

The communities deny those allegations.

Prosecutors said the actions in this new case weren't coordinated. But Sam Brower, a private investigator who has spent years investigating the group, said one common theme in all the cases is that authorities are finding more willing witnesses with inside knowledge because large numbers of people who have been kicked out or left.

Lyle Jeffs and Seth Jeffs and the others are expected to make their initial court appearances in Wednesday in three different federal states.

Federal prosecutors are asking the judge to keep them behind bars, arguing in court documents that they are flight risks. They contend if allowed out on bail, they polygamists are likely to flee and seek hiding in the group's elaborate network of houses throughout North and South America, using aliases, disguises, false identification documents and pre-paid cellphones to help people avoid being caught.

The sect does not have a spokesman or a phone listing where leaders can be contacted. The Associated Press could not verify if the defendants had attorneys yet.

Blake Hamilton, an attorney representing Hildale, said none of those indicted was serving in a government position and that it had nothing to do with the city government.

U.S. Attorney John Huber said repeatedly Tuesday that the indictment was not about religion, but fraud.

Guiora said the bust goes well beyond fraud — putting in doubt who will lead the group and how members will respond to a decisive message from government officials they have historically despised.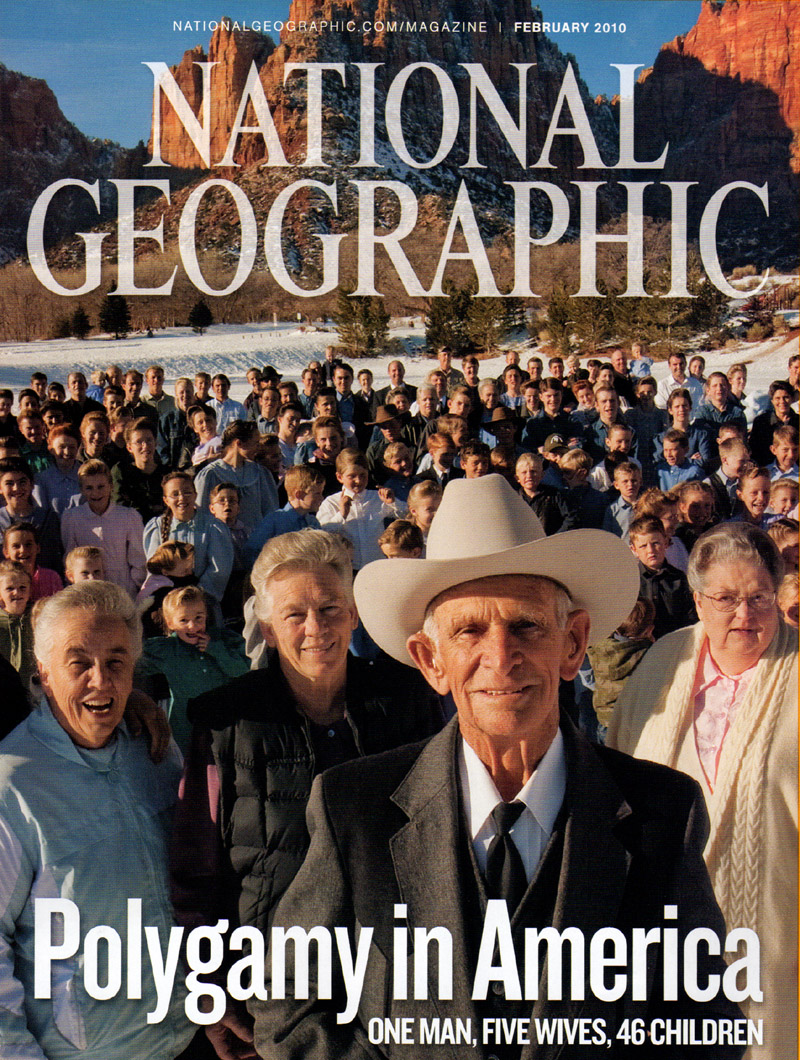 The Polygamists
A sect that split from the Mormons allows multiple wives, expels "lost boys," and heeds a jailed prophet.
By Scott Anderson
National Geographic Magazine – February 2010
The first church members arrive at the Leroy S. Johnson Meeting House in Colorado City, Arizona, at about 6 p.m. Within a half hour the line extends out the front doors, down the side of the building, and out into the parking lot. By seven, it stretches hundreds of yards and has grown to several thousand people—the men and boys dressed in suits, the women and girls in Easter egg–hued prairie dresses.
The mourners have come for a viewing of 68-year-old Fo­neta Jessop, who died of a heart attack a few days ago. In the cavernous hall Fo­neta's sons form a receiving line at the foot of her open casket, while her husband, Merril, stands directly alongside. To the other side stand Merril's numerous other wives, all wearing matching white dresses.
Foneta was the first wife.
Colorado City is a town with special significance for those of Foneta's faith. Together with its sister community of Hildale, Utah, it is the birthplace of the Fundamentalist Church of Jesus Christ of Latter-Day Saints (FLDS), a polygamous offshoot of the Mormon Church, or LDS. Here in the 1920s and '30s, a handful of polygamous families settled astride the Utah-Arizona border after the leadership of the Mormon Church became increasingly determined to shed its polygamous past and be accepted by the American mainstream. In 1935 the church gave settlement residents an ultimatum: renounce plural marriage or be excommunicated. Practically everyone refused and was cast out of the LDS.
At the memorial service for Foneta, her husband and three sons give testimonials praising her commitment to the covenant of plural marriage, but there is an undertone of family disharmony, with vague references by Merril Jessop to his troubled relationship with Foneta. No one need mention that one of Merril's wives is missing. Carolyn Jessop, his fourth wife, left the household in 2003 with her eight children and went on to write a best-selling book on her life as an FLDS member. She describes a cloistered environment and tells of a deeply unhappy Foneta, an overweight recluse who fell out of favor with her husband and slept her days away, coming out of her room only at night to eat, do laundry, and watch old Shirley Temple movies on television.
At the conclusion of the service, most of the congregation walk over to the Isaac Carling cemetery for a graveside observance. I assume the enormous turnout—mourners have come in from FLDS communities in Texas, Colorado, and British Columbia—stems from the prominent position Foneta's husband holds: Merril Jessop is an FLDS leader and the bishop of the large chapter in West Texas. But Sam Steed, a soft-spoken, 37-year-old accountant acting as my guide, explains that elaborate funerals are a regular occurrence. "Probably between 15 and 20 times a year," he says. "This one is maybe a little bigger than most, but even when a young child dies, you can expect three or four thousand people to attend. It's part of what keeps us together. It reminds us we're members of this larger community. We draw strength from each other."
FEW AMERICANS had heard of the FLDS before April 2008, when law enforcement officials conducted a raid on a remote compound in West Texas known as the Yearning for Zion Ranch. For days after, television viewers witnessed the bizarre spectacle of hundreds of children and women—all dressed in old-fashioned prairie dresses, with elaborately coiffed hair—being herded onto school buses by social workers and police officers.
That raid had been spurred by phone calls to a domestic violence shelter, purportedly from a 16-year-old girl who claimed she was being sexually and physically abused on the ranch by her middle-aged husband. What lent credibility to the calls was that the residents of YFZ Ranch were disciples of the FLDS and its "prophet," Warren Jeffs, who had been convicted in a Utah court in 2007 for officiating at the marriage of a 14-year-old girl to a church member.
The raid made for gripping television, but it soon became clear that the phone calls were a hoax. And although authorities had evidently anticipated a violent confrontation like the 1993 shoot-out at the Branch Davidian compound in Waco—SWAT teams were brought in, along with an armored personnel carrier—the arsenal at the YFZ Ranch consisted of only 33 legal firearms. A Texas appeals court later found that authorities had not met the burden of proof for the removal of the more than 400 children, and most were returned to their families within two months.
Yet after interviewing teenagers who were pregnant or had children, Texas authorities began investigating how many underage girls might have been "sealed" to older men. (Plural marriages are performed within the church and are not legal.) The result: Twelve church members, including Warren Jeffs, were indicted on charges ranging from bigamy to having sex with a minor. The first defendant to stand trial, Raymond Jessop, was convicted of one charge last November. Trials of the other defendants are scheduled to take place over the coming year.
FROM THE BLUFF behind his Hildale home, Joe Jessop has a commanding view of the Arizona Strip, an undulating expanse of sagebrush and piñon-juniper woodland that stretches south of the Utah border all the way to the northern rim of the Grand Canyon, some 50 miles away. Below are the farm fields and walled compounds of Hildale and Colorado City, which Joe refers to collectively by their old name, Short Creek. "When I first came to Short Creek as a boy, there were just seven homes down there," says Joe, 88. "It was like the frontier."
Today, Short Creek is home to an estimated 6,000 FLDS members—the largest FLDS community. Joe Jessop, a brother of Merril, has contributed to that explosive growth in two very different ways. With the weathered features and spindly gait of a man who has spent his life outdoors and worked his body hard, he is the community's undisputed "water guy," a self-taught engineer who helped with the piping of water out of Maxwell Canyon back in the 1940s. He's had a hand in building the intricate network of waterlines, canals, and reservoirs that has irrigated the arid plateau in the decades since.
A highly respected member of the FLDS, Joe is also the patriarch of a family of 46 children and—at last count—239 grandchildren. "My family came to Short Creek for the same reason as everyone else," he says, "to obey the law of plural marriage, to build up the Kingdom of God. Despite everything that's been thrown our way, I'd say we've done a pretty good job."
Members of the faith describe the life that the Jessops and other founding families have built as idyllic, one in which old-fashioned devotion and neighborly cooperation are emphasized and children are raised in a wholesome environment free of television and junk food and social pressures. Critics, on the other hand, see the FLDS as an isolated cult whose members, worn down by rigid social control, display a disturbing fealty to one man, the prophet Warren Jeffs—who has claimed to be God's mouthpiece on Earth.
To spend time in Hildale and Colorado City is to come away with a more nuanced view. That view is revealed gradually, however, due to the insular nature of the community. Many of the oversize homes are tucked behind high walls, both to give children a safe place to play and to shield families from gawking Gentiles, as non-Mormons are known. Most residents avoid contact with strangers. National Geographic was given access to the community only on the approval of the church leadership, in consultation with the imprisoned Warren Jeffs.
In keeping with original Mormon teachings, much of the property in Hildale and Colorado City is held in trust for the church. Striving to be as self-sufficient as possible, the community grows a wide variety of fruits and vegetables, and everyone, including children, is expected to help bring in the yield. Church members also own and operate a number of large businesses, from hotels to tool and machine manufacturers. Each Saturday, men gather at the meetinghouse to go over a roster of building and maintenance projects around town in need of volunteers. In one display of solidarity, the men built a four-bedroom home, from foundation to roof shingles, in a single day.
This communal spirit continues inside the polygamous home. Although living arrangements vary—wives may occupy different wings of a house or have their own granny cottages—the women tend to carve out spheres of influence according to preference or aptitude. Although each has primary responsibility for her own children, one wife might manage the kitchen, a second act as schoolteacher (virtually all FLDS children in Hildale and Colorado City are home­schooled), and a third see to the sewing. Along with instilling a sense of sorority, this division of labor appears to mitigate jealousy.
"I know it must seem strange to outsiders," says Joyce Broadbent, a friendly woman of 44, "but from my experience, sister wives usually get along very well. Oh sure, you might be closer to one than another, or someone might get on your nerves occasionally, but that's true in any family. I've never felt any rivalry or jealousy at all."
Joyce is a rather remarkable example of this harmony. She not only accepted another wife, Marcia, into the family, but was thrilled by the addition. Marcia, who left an unhappy marriage in the 1980s, is also Joyce's biological sister. "I knew my husband was a good man," Joyce explains with a smile as she sits with Marcia and their husband, Heber. "I wanted my sister to have a chance at the same kind of happiness I had."
Not all FLDS women are quite so sanguine about plural marriage. Dorothy Emma Jessop is a spry, effervescent octogenarian who operates a naturopathic dispensary in Hildale. Sitting in her tiny shop surrounded by jars of herbal tinctures she ground and mixed herself, Dorothy admits she struggled when her husband began taking on other wives. "To be honest," she says, "I think a lot of women have a hard time with it, because it's not an easy thing to share the man you love. But I came to realize this is another test that God places before you—the sin of jealousy, of pride—and that to be a godly woman, I needed to overcome it."
What seems to help overcome it is an awareness that a woman's primary role in the FLDS is to bear and raise as many children as possible, to build up the "celestial family" that will remain together for eternity. It is not uncommon to meet FLDS women who have given birth to 10, 12, 16 children. (Joyce Broadbent is the mother of 11, and Dorothy Emma Jessop of 13.) As a result, it's easy to see why this corner of the American West is experiencing a population explosion. The 400 or so babies delivered in the Hildale health clinic every year have resulted in a median age of just under 14, in contrast with 36.6 for the entire U.S. With so many in the community tracing their lineage to a handful of the pioneering families, the same few names crop up over and over in Hildale and Colorado City, suggesting a murkier side to this fecundity: Doctors in Arizona say a severe form of a debilitating disease called fumarase deficiency, caused by a recessive gene, has become more prevalent in the community due to intermarriage.
The collision of tradition and modernity in the community can be disorienting. Despite their old-fashioned dress, most FLDS adults have cell phones and favor late-model SUVs. Although televisions are now banished, church members tend to be highly computer literate and sell a range of products, from soaps to dresses, via the Internet. When I noticed how few congregants wore glasses, I wondered aloud if perhaps a genetic predisposition for good eyesight was at work. Sam Steed laughed lightly. "No. People here are just really into laser surgery."
THE PRINCIPLE of plural marriage was revealed to the Mormons amid much secrecy. Dark clouds hovered over the church in the early 1840s, after rumors spread that its founder, Joseph Smith, had taken up the practice of polygamy. While denying the charge in public, by 1843 Smith had shared a revelation with his closest disciples. In this "new and everlasting covenant" with God, plural wives were to be taken so that the faithful might "multiply and replenish the earth."
After Smith was assassinated by an anti-Mormon mob in Illinois, Brigham Young led believers on an epic 1,300-mile journey west to the Salt Lake Basin of present-day Utah. There the covenant was at last publicly revealed and with it, the notion that a man's righteousness before God would be measured by the size of his family; Brigham Young himself took 55 wives, who bore him 57 children.
But in 1890, faced with the seizure of church property under a federal antipolygamy law, the LDS leadership issued a manifesto announcing an end to plural marriage. That certainly didn't end the practice, and the LDS's tortured handling of the issue—some church leaders remained in plural marriages or even took on new wives after the manifesto's release—contributed to the schism between the LDS and the fundamentalists.
"The LDS issued that manifesto for political purposes, then later claimed it was a revelation," says Willie Jessop, the FLDS spokesman. "We in the fundamentalist community believe covenants are made with God and are not to be manipulated for political reasons, so that pre­sents an enormous obstacle between us and those in the LDS mainstream."
Upholding the covenant has come at a high price. The 2008 raid on the YFZ Ranch was only the latest in a long list of official actions against polygamists—persecutions for simply adhering to their religious principles, in the eyes of church members—that are integral to the FLDS story. At various times both Utah and Arizona authorities attempted to crack down on the Short Creek community: in 1935, in 1944, and most famously, in 1953. In that raid some 200 women and children were hauled to detention centers, while 26 men were brought up on polygamy charges. In 1956 Utah authorities seized seven children of Vera Black, a Hildale plural wife, on grounds that her polygamous beliefs made her an unfit mother. Black was reunited with her children only after agreeing to renounce polygamy.
MELINDA FISCHER JEFFS is an articulate, outgoing woman of 37, and she gives an incredulous laugh when describing what she's read about the FLDS. "Honestly, I can't even recognize it!" the mother of three exclaims. "Most all of what appears in the media, it makes us sound like we're somehow being kept against our will."
Melinda is in a unique position to understand the conflicting views of this community. She is a plural wife to Jim Jeffs, one of the prophet's nephews and an elder in the FLDS. But she is also the daughter of Dan Fischer, a former FLDS member who has emerged as one of the church leadership's most vociferous critics. In 2008 Fi­scher testified before a U.S. Senate committee about alleged improprieties within the FLDS, and he now heads an organization that works with people who have been kicked out of the church or who have "escaped." When Fischer broke with the church in the 1990s, his family split apart too; today 13 of his children have left the FLDS, while Melinda and two of her half siblings have renounced their father.
"And that is not an easy thing," Melinda says softly, "obviously, because I still love my father. I pray all the time that he will see his errors—or at least, stop his attacks on us."
If there is one point on which FLDS defenders and detractors might agree, it is that most of the current troubles can be traced to when its leadership passed to the Jeffs family, in 1986. Until then, the FLDS had been a fairly loosely run group led by an avuncular man named Leroy Johnson, who relied on a group of high priests to guide the church. That ended when Rulon Jeffs took over following Johnson's death. After being declared the prophet by the community, Rulon solidified the policy of one-man rule.
Charges that a theocratic dictatorship was taking root in the Arizona Strip grew louder when, after Rulon's death in 2002, the FLDS was taken over by his 46-year-old son, Warren. Assuming the role of the prophet, Warren first married several of his father's wives—and then proceeded to wed many more women, including, according to Carolyn Jessop, eight of Merril Jessop's daughters. Although many FLDS men have multiple wives, the number of wives of those closest to the prophet can reach into the double digits. A church document called the Bishop's Record, seized during the Texas raid, shows that one of Jeffs's lieutenants, Wendell Niel­sen, claims 21 wives. And although the FLDS would not disclose how many plural wives Warren Jeffs has taken (some estimate more than 80), at least one was an underage girl, according to a Texas indictment.
Although the issue of underage marriage within the church has garnered the greatest negative media attention, Dan Fischer has championed another cause, the so-called Lost Boys, who have left or been forced from the community and wound up fending for themselves on the streets of Las Vegas, Salt Lake City, and St. George, Utah. Fischer's foundation has worked with 300 such young men, a few as young as 13, over the past seven years. Fischer concedes that most of these boys were simply "discouraged out," but he cites cases where they were officially expelled, a practice he says increased under Jeffs.
Fischer attributes the exodus partly to a cold-blooded calculation by church leaders to limit male competition for the pool of marriageable young women. "If you have men marrying 20, 30, up to 80 or more women," he says, "then it comes down to biology and simple math that there will be a lot of other men who aren't going to get wives. The church says it's kicking these boys out for being disruptive influences, but if you'll notice, they rarely kick out girls."
Equally contentious has been the FLDS restoration of an early Mormon policy of transferring the wives and children of a church member to another man. Traditionally, this was done upon the death of a patriarch so that his widows might be cared for, or to rescue a woman from an abusive relationship. But critics argue that under Jeffs this "reassignment" became one more weapon to hold over the heads of those who dared step out of line.
Determining who is unworthy has been the exclusive province of the prophet. When in January 2004 Jeffs publicly ordered the expulsion of 21 men and the reassignment of their families, the community acquiesced. Jeffs's diary, also seized during the Texas raid, reveals a man who micromanaged the community's every decision, from chore assignments and housing arrangements to who married whom and which men were ousted—all directed by revelations Jeffs received as he slept. He claimed that God guided his every action, no matter how small. One diary entry reads: "The Lord directed that I go to the sun tanning salon and get sun tanned more evenly on their suntanning beds."
In 2005 a Utah court transferred control of the trust that oversees much of the land in Hildale and Colorado City from the FLDS leadership to a state-appointed fiduciary; the church is currently waging a campaign to recover control of the trust. As for Jeffs, after spending over a year on the lam avoiding legal issues in Utah—and earning a spot on the FBI's Ten Most Wanted list—he was caught and is currently serving a ten-year-to-life sentence as an accomplice to rape. He awaits trial on multiple indictments in Arizona and Texas. The 11 other church members awaiting trial in Texas include Merril Jessop, who was indicted for performing the marriage of Jeffs to an underage girl.
Yet Jeffs's smiling portrait continues to adorn the living room of almost every FLDS home. In his absence, his lieutenants have launched a fierce defense of his leadership. While conceding that underage marriages did occur in the past, Donald Richter, contributor to one of the official FLDS websites, says the practice has now been stopped. As for the Lost Boys, he argues that both the numbers involved and the reasons for the expulsions have been greatly exaggerated by the church's enemies. "This is only done in the most extreme cases," Richter says, "and never for the trivial causes they're claiming. And anyway, all religious groups have the right to expel people who won't accept their rules."
Certainly Melinda Fischer Jeffs hasn't been swayed by the ongoing controversy. "Warren is just the kindest, most loving man," she says. "The image that has been built up about him by the media and his enemies is just unrecognizable to who he really is." Like other church members, Melinda has ready answers for most of the accusations leveled against Jeffs and is especially spirited in defending the policy of reassignment. According to her, it is almost always initiated at the request of a wife who has been abandoned or abused. This is debatable. In his diary Jeffs recounts reassigning the wives of three men, including his brother David, because God had shown him that they "couldn't exalt their ladies, had lost the confidence of God." One of his brother's wives had difficulty accepting the news and could barely bring herself to kiss her new husband. "She showed a great spirit of resistance, yet she went through with it," Jeffs records. "She needs to learn to submit to Priesthood."
Yet Melinda's defense of Jeffs underscores one of the most curious aspects of the polygamous faith: the central role of women in defending it. This is not new. In Brigham Young's day a charity rushed to Utah to establish a safe house for polygamous women seeking to escape this "white slavery"; that house sat virtually empty. Today FLDS women in the Hildale–Colorado City area have ample opportunity to "escape"—they have cell phones, they drive cars, there are no armed guards keeping them in—yet they don't.
Undoubtedly one reason is that, having been raised in this culture, they know little else. Walking away means leaving behind everything: the community, one's sense of security, even one's own family. Carolyn Jessop, the plural wife of Merril Jessop who did leave the FLDS, likens entering the outside world to "stepping out onto another planet. I was completely unprepared, because I had absolutely no life skills. Most women in the FLDS don't even know how to balance a checkbook, let alone apply for a job, so contemplating how you're going to navigate in the outside world is extremely daunting."
It would seem there's another lure for women to stay: power. The FLDS women I spoke with tended to be far more articulate and confident than the men, most of whom seemed paralyzed by bashfulness. It makes sense when one begins to grasp that women are coveted to "multiply and replenish the earth," while men are in extraordinary competition to be deemed worthy of marriage by the prophet. One way to be deemed worthy, of course, is to not rock the boat, to keep a low profile. As a result, what has all the trappings of a patriarchal culture, actually has many elements of a matriarchal one.
There are limits to that power, of course, for it is subject to the dictates of the prophet. After hearing Melinda's stout defense of Jeffs, I ask what she would do if she were reassigned.
"I'm confident that wouldn't happen," she replies uneasily.
"But what if it did?" I ask. "Would you obey?"
For the only time during our interview, Melinda grows wary. Sitting back in her chair, she gives her head a quarter turn to stare at me out of the corner of one eye.
ON A SUNNY AFTERNOON in March 2009, Bob Barlow, a friendly, middle-aged member of the FLDS, gives me a tour of the YFZ Ranch in West Texas. The compound consists of about 25 two-story log-cabin-style homes, and a number of workshops and factories are scattered over 1,700 acres. At the center sits a gleaming white stone temple. It is remarkable what the residents have created from the hardscrabble plain. With heavy machinery, they literally made earth out of the rocky terrain, crushing stone and mixing it with the thin topsoil. They planted orchards and gardens and lawns and were on their way to creating a self-sufficient community amid the barren landscape. All that ground to a halt after the 2008 raid.
"The families are slowly coming back now," Barlow says. "We'll come out the other side of this better and stronger than before."
I suspect he's right. So many times in the history of Mormon polygamy the outside world thought it had the movement on the ropes only to see it flourish anew. I'm reminded of this one afternoon in Colorado City when I speak with Vera Black. Now 92 and in failing health, Vera is the woman whose children were taken from her by Utah authorities in 1956 and returned only after she agreed to renounce polygamy. Within days of making that promise, she was back in Short Creek with her children and had renewed her commitment to the everlasting covenant.
Now living with her daughter Lillian, Vera lies in a daybed as her children gather around. Those children are now in their 50s and 60s, and as they recount the story of their long-ago separation—both from their mother and their faith—several weep, as if the pain were fresh.
"I had to make that promise," Vera says, with a smile, "but I crossed my fingers while I did it."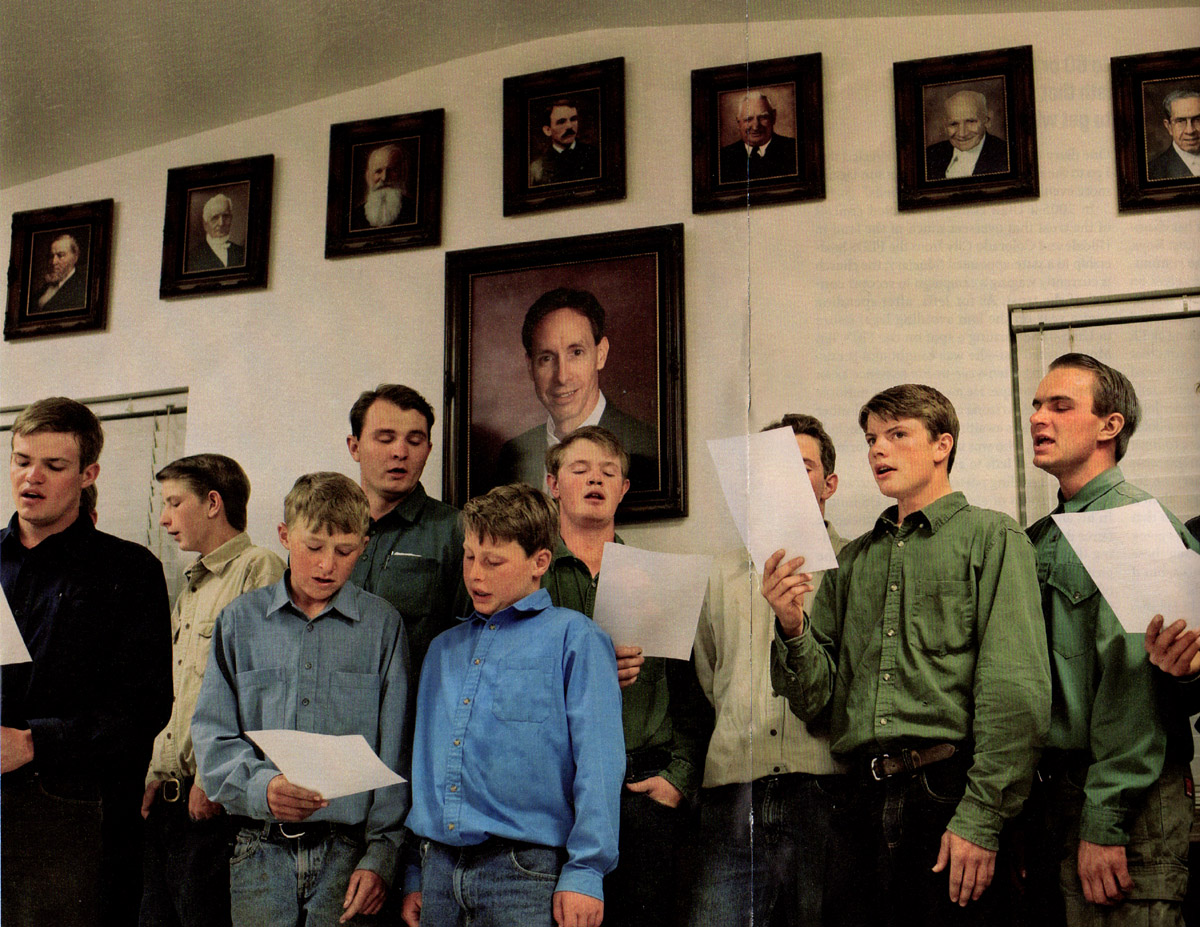 The victims of modern American polygamy are the young people who are worked long hard hours and are not allowed to marry each other leaving young men with no marriage partners or widows while young women are forced into marriage with old men. To solve this obvious problem, Brigham Young sent young men far away to recruit primarily women to the Church of Jesus Christ of Latter-day Saints during the latter half of the 19th century.
Brady Udall's 1998 Esquire article "The Lonely Polygamist"

By Brady Udall (Esquire)
April 19 2010

This article, "The Lonely Polygamist," by Brady Udall, appeared in the Feb. 1, 1998, issue of Esquire. The article is being reprinted with the permission of Esquire and the author.

Meet Bill. He has four wives and thirty-one kids. And something's missing.

POLYGAMY IS not something you try on a whim. You don't come home from work one day, pop open a beer, settle down for your nightly dose of Seinfeld reruns, and think, "Boy, my marriage is a bore. Maybe I should give polygamy a whirl." It's true that polygamy, as a concept, sounds downright inviting. Yes, there are lots of women involved, women of all shapes and sizes and personalities, a wonderful variety of women, and yes, they'll fulfill your every need, cook your dinner, do your laundry, sew the buttons on your shirts. And yes, you're allowed to sleep with these women, each of them, one for every night of the week if you want, and what's more, when you wake up in the morning, you won't have to deal with even the tiniest twinge of guilt, because these women, all of them, are your sweethearts, your soul mates, your wives.

Then what, you're asking yourself, could possibly be the problem?

The problem is this: Polygamy is not what you think it is. It has nothing to do with the little fantasy just spelled out for you. A life of polygamy is not a joyride, a guiltless sexual free-for-all. Being a polygamist is not for the easygoing or the weak of heart. It's like marine boot camp or working for the mob; if you're not cut out for it, if you don't have that essential thing inside, it will eat you alive. And polygamy doesn't just require simple cojones, either. It requires the devotion of a monk, the diplomatic prowess of Winston Churchill, the doggedness of a field general, the patience of a pine tree.

Put simply: You'd have to be crazy to want to be a polygamist.

That's what's so strange about Bill. Bill has four wives and thirty-one children. Bill is an ex-Mormon, and he doesn't seem crazy at all. If anything, he seems exceptionally sane, painfully regular, as normal as soup. He's certainly not the wild-eyed, woolly-bearded zealot you might expect. Approaching middle age, Bill has the unassuming air of an accountant. He wears white shirts, blue ties, and black wing tips. He is Joe Blow incarnate. The only thing exceptional about Bill is his height: He is six foot eight and prone to hitting his head on hanging lamps and potted plants.

Bill's wives are not who you'd expect, either. They're not ruddy-faced women with high collars buttoned up to their chins. These are the women you see every day of your life. They wear jeans and T-shirts; they drive minivans; they have jobs. Julia is a legal secretary; Emily manages part of Bill's business; Susan owns a couple of health-food stores; and Stacy stays at home with the younger children. They are also tall, all of them around six feet; if you didn't know better, you'd think Bill and his wives had a secret plan to create a race of giants.

Each of Bill's wives lives in a different house in the suburbs around Salt Lake City. They've lived in different configurations over the years--all in one place, two in one and two in another--but this is the way that seems best nowadays, since there are teenagers in the mix, and one thing everybody seems to agree on is how much teenagers need their space. Bill himself is homeless. He wanders from house to house like a nomad or a beggar, sometimes surprising a certain wife with the suddenness of his presence. In the past, he has used a rigid rotation schedule but now opts for a looser approach. He believes that intuition and nothing else should guide where he stays for the night.

Okay, now: Put yourself in Bill's size-14 wing tips for a minute. You've just finished an exhausting day at work. It's that time of the evening when you think to yourself, "Hmmm. Which house am I going to tonight?" You get in your car and head off toward Emily's house; you haven't seen Emily for several days, and besides, she's having trouble with one of your teenage daughters--she's not sticking to her curfew. But you remember that your son Walt has a soccer game on the other side of town at 5:30. You start to turn around, but then you think of Susan, wife number two, who has come down with the flu and is in need of some comfort and company. Then it hits you that not only did you promise to look at the bad alternator in Stacy's Volvo tonight, not only did you tell Emily that you'd be home in time to meet with the insurance man to go over all your policies, but that Annie, your six-year-old daughter, is having a birthday tomorrow and you've yet to get her a present.

Sitting there at the intersection--cars honking, people flipping you the bird--do you feel paralyzed? Do you feel like merging with the rest of the traffic onto I-15 and heading for Las Vegas, leaving it all behind?

This is Bill's life.

It's not a normal day if Bill doesn't get himself completely confounded in one way or another. When Bill raises his head from the pillow after a night of sleep, he sometimes has to ask himself a couple of questions well-known to any man who's ever picked up a woman in a bar: "Where am I?" and "Who is this person next to me?" Every once in a while, he'll get up in the middle of the night to use the bathroom and, not really sure which house he's in, will bumble around in the dark, clutching at walls, until he finally ends up trying to locate the toilet in a walk-in closet.

When you live in four separate houses, it's tough to keep track of your stuff. You've misplaced your favorite golf shirt? Start looking, buddy, because you've got four houses, each ten to fifteen miles apart from the next, to choose from. Many times, Bill has awakened on the morning of an important business meeting to find that he's missing his dress shoes or a suit jacket and has to race around town like a crazed cabbie to track down the lost article and get to work on time.

After many years of such shenanigans, Bill has hit upon a simple solution: a suitcase in the trunk of his car. It's like a big emergency kit filled with backup items for every eventuality: a razor, a couple of ties, contact lenses, a wristwatch, a bottle of aftershave. It's a small thing, this suitcase, but for Bill it is a huge source of security and comfort to know it is always there, just in case, backing him up. With a life as chaotic and unpredictable as Bill's, you will take security and comfort wherever you can find them.

But these are mere nuisances when you consider some of the other complications Bill has to face. First is Bill's legal status. Technically speaking, Bill is a criminal. In Utah, polygamy is a felony and is banned in the state's constitution. All it would take is some overzealous DA to get a wild hair and decide to press charges and Bill could end up with five in the state pen.

It wasn't long ago that the state police combined forces with the feds and occasionally carried out raids against different polygamist groups, arrested the men, took the women into custody, and put the children in foster homes. This doesn't happen much anymore, but the threat is always there. Bill has to be circumspect. He's not afraid to talk about his lifestyle, but then he doesn't exactly advertise it, either. He decided he didn't want his real name in this piece (his wives' names are pseudonyms as well) because his business is part of a national chain, and if some of the higher-ups were to get wind of his unorthodox family life, he might find himself kicked out into the cold.

When people do find out about Bill's little secret, the first question they always ask is "What's the sex like?" Well, Bill's answer is bound to disappoint. Bill doesn't have sex for fun. He says that he and his wives believe that sex should happen for one reason and one reason only: procreation. It's written in the Bible--don't spill your seed unnecessarily; keep it for when you need it. It's hard to imagine a man in a regular marriage coming right out and admitting to a boring sex life. And women's cycles being what they are, it is the woman who makes decisions about the goings-on in the marriage bed. "It's the girls who are in charge of all that," Bill says. Bill is a man of God.

So why does he do it, then? Why have four wives--four girls, as Bill calls them--if it's not for the sex? Why be a polygamist if it's no fun? If it's such a pain in the ass?

The answer is simple: Bill is a polygamist because that is what God wants him to be.

A few early Mormon leaders postulated that heaven was a polygamous state. It was Joseph Smith, the prophet and founder of the Mormon Church, who first instituted polygamy. There were various theological justifications for the practice, one of which was rooted in the doctrine of premortal existence--a spirit world where millions of souls await the chance to come to earth and receive a mortal body. Once this finite number is exhausted, once every spirit has a body, Christ will come again and bring with him the Day of Judgment, and who can provide bodies to these waiting spirits better than a man with multiple wives? So what is Bill doing with four wives? Bill is hastening the Second Coming of Christ.

Bill and his fellow fundamentalists see it this way: Polygamy is the cornerstone of God's great plan for his children, as important to the gospel as the holy sacrament or the Ten Commandments. The Mormon Church has outlawed plural marriage, but Bill and others continue to take multiple wives no matter that they are excommunicated by the church they love, shunned by neighbors, hounded and arrested by national and local authorities. They keep raising many children to the Lord, because it is exactly what the Lord expects of them. Bill is a twin champion of the Lord and fertility.

You MIGHT EXPECT, when you go to visit Bill, some kind of compound with a badly lettered sign out front proclaiming, "VeNgeanCebE THINK," an upside-down American flag at halfmast. But this is a nice townhouse in a fancy suburban neighborhood. This is Emily's house, and she is the one who greets you at the door.

There's wall-to-wall taupe carpeting throughout the house and a framed print of a pretty girl in an Emma-era dress, hanging over the couch in the living room. The house is quiet--the children, apparently, asleep or gone somewhere else. Emily stretches out comfortably on the couch. Her feet are bare. She has smiling eyes and a dark spray of hair and is ten years Bill's senior. Bill speaks only when he is directly questioned. You talk about the day-to-day struggles of the family, and Bill is polite, but there is a certain inscrutability in his smile, a guardedness. For a while, you feel like a detective questioning a potential witness. He is wary of you, wary of strangers wanting to know too much, like the time he had to face an IRS auditor and explain why two of the children he had listed as dependents showed birth dates only two weeks apart. Bill knows that there is a bigger world out there beyond the closed circles of his family and church group. He knows that it is a world that misunderstands him, despises him, and that you are very much a part of it.

At one time, Bill was part of this world as well. He grew up in a regular, middle-class Mormon family not too far from here. Bill had only passing contact with people who practiced plural marriage, didn't give it much of a thought at all until he went away to college and stayed for a time with a man named Rulon Allred, his seven wives, and their forty-eight children. His stay in the Allred home made a deep impression on him. He remembers Allred, a respected doctor and spiritual leader who was later assassinated by two wives from a rival polygamist group, as "the strongest, most kind, most Christ-like man I ever met." After college, Bill married, gave monogamy a shot, but finally came to realize that a union between one man and only one woman was "unnatural and counterproductive"--that God's will was for him to be a polygamist. He divorced his first wife, and within a couple of years he had two new ones.

Does it bother him that people pass judgment on him, call him immoral and lecherous for what he does and believes? "Doesn't bother me a bit," he says, then pauses for a moment and admits that he finds it "interesting" that in a world full of divorce, pornography, and loose morals, he, a good Christian man trying to do right by his family, is viewed as a scoundrel and a pervert. Yes, okay. It does bother Bill a little bit. It bothers him that our role models--our athletes and politicians and entertainers--spend so much time divorcing and remarrying that they can hardly do much else, and when they do have a monogamous relationship, it is most likely a sham.

And it is Bill who is the criminal, the barbarian.

"You know," Bill says, "if it was some kind of sexual thing, I could just go over across the border to Nevada and pay for whatever I needed. It would be a lot cheaper that way."

It is many things, but life as a polygamist is not cheap; it's not something you're going to be able to pull off working the swing shift at Burger King. The four mortgage payments aren't really what get you. It's the little things that sneak up unexpectedly; it's the sudden rash of doctor and dentist bills; it's eight birthdays and two wedding anniversaries in the same month; it's waking up one August morning and realizing you've got more than two dozen kids who need new school clothes.

Bill works like an animal, makes a considerable sum of money, but if you're a man with four houses, four wives, thirty-one children, and all the expenses that go with them, you can make all the money you want, yet in the end it's like trying to keep a bonfire burning bright with all your hard-earned twenties and fifties--you can never make enough. Bill beats himself up over the fact that some of his wives have to work to help keep the family afloat. He believes that he should be able to shoulder the whole burden himself.

While Bill tells you about his money problems, Emily looks at him, concern on her face, maybe even a little pity. Now, wait a second here, you think. Pity for Bill? If you understand polygamy correctly, shouldn't all the pity be reserved for the wives? They are the ones who are oppressed, subjugated, and forced into positions of servitude, right?

Before she met Bill, Emily was part of a monogamous relationship that she remembers as a "bore" and a "downer" and a "complete drag." At thirty-five, she met and married Bill. She is his third wife. She says that her life as one of four has "all the security of marriage and all the freedom of being single." As a plural wife, she believes that her identity is not so tied up in the man she has chosen to marry, that she is much freer to be her own person. But when things get difficult, when she really needs a partner, somebody to stand by her and give her support, Bill will always be there.

Bill doesn't know much about feminism, doesn't know much about women's liberation and power; he just wants to see his wives happy. Right now, everything in the family is fairly tranquil, but there have been times when it seemed it would all fall apart, the whole family structure would come crashing down around his knees like a demolished skyscraper. It used to be that Bill didn't really know how to deal with family problems, the jealousy among wives, the conflicts among children of different mothers, the competition for his attention, so he mostly tried to ignore it all. Now he realizes that he is not merely the head of the family but also a judge, a counselor, a referee, an arbiter of justice. It's as if he were the prime minister of a small, unstable country, mediating disputes, keeping his eye on trouble spots, putting down rebellions from within.

A key thing to remember about Bill, who is married to four women and is the father of thirty-one children, is that he's--how to put it?--available. What this means is that he is always on the matter. He has not only the pressures of married life to deal with but the stresses of a swinging bachelor as well. Maybe a certain widow will take a shine to him, maybe a woman at his church group will catch his eye, and the next thing you know it's a date to the movies, half a dozen roses, and a goodnight kiss at the door, after which he drives home and goes to bed with one of his wives. Give him a couple of months and he could be a newlywed once again, suddenly faced with the daunting prospect of helping this new bride feel comfortable in this mob of a family while trying to negotiate the concerns of his other wives, these women who have loved him for years and must now get used to the idea that there is one more of them, another woman who certainly means less time with Bill. One false step by Bill and the whole thing could fly apart.

It's true that the wives in a polygamous family normally have to approve their husband's choice of a new mate and that often they're the ones who actually choose another woman for their husband to marry, but that doesn't change the fact that a plural wife is still going to feel abandoned and betrayed. Emily admits that jealousy is no doubt the biggest obstacle a plural wife has to face, but "a little bit of jealousy helps you stay in love," she says. "It keeps you from getting bored."

Bored? Bill doesn't know what the word means.

Bill is, in all respects, big. And that's not only because he's six eight and thick in the joints. It's because everything about him and his life is amplified, outsize. He is excruciatingly normal and yet bigger than life. It isn't merely his many houses, many wives, many children; it's also the magnitude of his responsibilities, the sheer number of worries and entanglements each of his days contains, the enormously heavy weight that sits on his shoulders.

But is Bill--big as he is--man enough to love four women at the same time? Forget the financial stress of having thirty-five mouths to feed and living on the wrong side of the law and having trouble finding the bathroom in the middle of the night; it's this love thing that would have to be the ultimate complication of Bill's life. Regular guys can't seem to love even one woman without twisting themselves into knots, always wondering if they're saying the right things, being the kind of man they should be. So how could he ever hope to simultaneously give four different women the love they require? Is Bill's heart--along with everything else--oversize as well?

Bill furrows his brow as if he were considering an equation from a textbook on quantum mechanics. "I don't know. It's hard to explain," he says and scratches his head.

Bill, when it comes to matters of love, has to be something of a split personality. Essentially, Bill has to be four different Bills; for each of his wives, he has to be a different kind of husband, has to figure out who each woman really is, what the necessities of her heart are, and has to somehow become the man that she needs him to be. He'll never claim to be entirely successful at this, but he really works at it, just as he does at everything else, tries his best to be a soul mate, a lover, a confidant, while still maintaining a sense of fairness with everyone.

"You have to have a unique bond with each wife," he says. He pauses. "It's just that it can't be too unique."

You ask Bill whom he leans on and confides in, whom he talks to. "Sometimes, I feel like an island," he says. "I know it sounds crazy for a man with a family as big as mine to say this, but I feel lonely a lot of the time."

Bill sighs and sinks back in his chair as if he were hoping to become part of it. He has to be at work early in the morning. He has to get out there and make a bunch of money The tilt of his head, the slump of his shoulders, his nearly bloodshot eyes--all testaments to the bone-wearying rigor of this life he's chosen for himself And still, there's a certain regality to the way he holds himself--like a king who's spent, worn down by the demands of his kingdom, but who knows he's a king just the same. Bill can face the bewildering hassles of his life knowing that he has done his part to provide mortal bodies to heavenly spirits waiting to get themselves born, knowing that he has helped to bring about the Second Coming of the Savior, knowing that it's all part of the great celestial plan. Because as Bill struggles to build up his own little kingdom on earth, he's building up the kingdom of God.



Difficulties for Prosecutors in Trial of Sect Leader

By JAMES C. McKINLEY Jr.
The New York Times
Published: November 3, 2009

ELDORADO, Tex. — A year and a half after the state authorities raided a fundamentalist Mormon ranch here, the first of a half-dozen leaders of the sect has gone on trial on charges that he had sex with an under-age girl who state officials assert was one of several wives assigned to him by church elders. Skip to next paragraph

The trial, taking place in a makeshift courtroom in this rural hamlet, has opened a window on the polygamous world inside the Yearning for Zion ranch, the compound of log buildings built around a stone temple where the state contends that arranged marriages involving under-age girls were commonplace.

But the proceeding has also exposed the difficulties prosecutors face in proving sex crimes were committed at the ranch, since the young woman at the center of the case, like most of the female sect members, has not cooperated with the authorities.

The state's case rests mainly on genetic evidence that links the defendant, Raymond M. Jessop, 38, to a child born in 2005 to the 16-year-old girl he was living with along with several other women.

On Monday, Amy Smuts, a forensic scientist at the University of North Texas, testified that DNA samples taken from Mr. Jessop, the young woman and her baby showed Mr. Jessop was the likely father of the child. She said there was a 99.9 percent probability Mr. Jessop had fathered the child, who is now 4.

In addition, the state has introduced dozens of documents and photographs seized from the ranch in April 2008 in an effort to prove that Mr. Jessop was not legally married to the girl at the time and that she was impregnated by him while they were living in Texas. Both are necessary for the charge to be valid.

The defense, meanwhile, has fought to keep the jury from seeing any evidence regarding Mr. Jessop's polygamous lifestyle, arguing that it is irrelevant to the charge of sexual assault.

Defense lawyers have also labored to cast doubt on the state's genetic expert, forcing Ms. Smuts to acknowledge that mistakes had been made in the university's laboratory in the past and that the laboratory did not take into account the possibility that a relative of Mr. Jessop's might be the father.

Further, Mr. Jessop's lawyers have raised questions in court about whether the state can prove any assault even took place in Texas.

Mr. Jessop faces up to 20 years in prison if convicted. He also faces a separate charge of bigamy that has yet to go to trial. Four other senior members of the sect, the Fundamentalist Church of Jesus Christ of Latter-day Saints, face similar charges, chief among them Warren S. Jeffs, the founder of the group.

Mr. Jeffs is jailed in Arizona awaiting trial on charges related to arranging under-age marriages there. He was also arrested in Utah in 2006 and later convicted as an accomplice to rape.

The prosecutor, Assistant Attorney General Eric Nichols, said at a hearing on Monday, with the jury in a separate room, that the girl had been moved to the ranch from another state and placed in a "celestial marriage" with Mr. Jessop in November 2003, when she was 15. In previous court filings, prosecutors have said Mr. Jessop had nine wives.

In all, 12 members of the church have been indicted since the Texas authorities raided the Yearning for Zion ranch in April 2008, seized hundreds of documents and took 439 children into state custody. The raid turned into a disaster for state authorities when an appellate court later ruled that the children should be returned to their parents because the state had not proved they were endangered.

Still, documents seized in the raid are being used by the Texas Attorney General's Office in the trial of Mr. Jessop and the other defendants.

The sect is a splinter group not recognized by the Mormon Church, which renounced polygamy more than a century ago. Though the group has its roots along the Arizona-Utah border, church members bought a ranch outside Eldorado about six years ago.

The ranch had a clinic set up specifically as a birthing center for the women on the ranch. A portrait of Mr. Jeffs, whom the members of the group refer to as a prophet, can be seen hanging over the delivery bed in photographs shown to the jury.

In a lengthy hearing on Tuesday without the jury present, Mr. Nichols said the state intended to prove from documents kept by the church that the 16-year-old girl underwent three days of difficult labor in the clinic, but that Mr. Jeffs, in a dictated memorandum, ordered that she not be taken to a hospital because social workers might question her about her relationship with Mr. Jessop.

Mr. Jessop's lawyer, Mark Stevens, argued that the document should not be shown to the jury because it was unclear who the author was and because it alleged misconduct that had nothing to do with sexual assault. "It goes beyond the charge in the indictment," Mr. Stevens said. Judge Barbara Walther of State District Court overruled him.

The judge also said she would allow into evidence another memorandum, supposedly dictated by Mr. Jeffs, that said the girl had previously been assigned as a wife to Raymond Jessop's brother Ernest M. Jessop in November 2003. The memorandum suggested that the girl was transferred to Raymond Jessop in August 2004, a year before she gave birth.

Throughout the first week of the trial, Mr. Jessop has sat calmly at the defense table in a white shirt and no tie, resting his chin on his hand, with a genial expression, as the details of his private life are discussed. He has not spoken to reporters.



Ex-polygamist Charlotte Godbe passionate about women's suffrage

By Kristen Rogers-Iversen
The Salt Lake Tribune
Updated: 06/22/2009

You have to admire the women -- and men -- who worked tirelessly to get women the vote. Charlotte Godbe was among them.

Charlotte had a passion to win women full voting rights -- and full participation in intellectual and political affairs. She knew a woman's sex should not limit her. So she befriended and persuaded influential friends in the East, wrote letters to leading newspapers and spoke in public about women's suffrage.

This powerhouse of a woman swam in a sea of fascinating paradoxes.

» When Charlotte was five, her mother left a husband and five other children to become a Mormon and marry Brigham Young. She took five-year-old Charlotte with her. Later Charlotte lived in the Lion House.

» Charlotte married William Godbe as his fourth wife, but found polygamy a "painful experience." The couple later separated and divorced.

» Seven months after he married the couple, Brigham Young excommunicated William Godbe. William was the leader of a group who questioned Young's authority, especially his anti-mining, hunker-down economic policies. This group called themselves the Godbeites.

» Charlotte stayed faithful to the LDS Church but also participated with the Godbeites in "spiritualism, and other causes.

» As a feminist, Charlotte raised an effective voice for women's suffrage. But Utah's most renowned suffragist, Emmeline Wells, tried to discount her. Mormon suffragettes never listed Charlotte as one of them.

Nevertheless, Charlotte fought independently for the rights of all women on the principle of justice.

As Congress was debating a suffrage bill in 1869, Utah's Territorial Delegate, William Hooper, sent a note to Charlotte in the gallery: "Persevere in the spirit you now are & you will not only bless yourself -- but the Community among whom you were reared."

In 1870, Utah women became the second place in the nation to grant women the vote. (Wyoming was first.)

In Boston in 1871, national suffragettes asked Charlotte to speak before a huge audience. A Boston paper reported, "The Mormon women are fortunate in having so brave a champion as Mrs. Charlotte Ives Godbe and they would do well to send her to the coming Congress for Women as Delegate."

However, in Utah Emmeline Wells immediately discredited Charlotte in the Woman's Exponent . To Emmeline, a person who did not advocate polygamy could not represent Utah women. Besides, Charlotte had those Godbeite ties.

Women's suffrage for Emmeline was part of a strategy to promote Mormon women and defend polygamy, support the LDS Church and achieve statehood. Charlotte believed women's suffrage was first and foremost a moral cause. The two became strenuous, and perhaps bitter, rivals.

But even if her own Mormon sisters marginalized her, Charlotte persevered. She wanted all women to collaborate. She wrote, "I wish women could loose themselves ... & work for the question at issue, & not all want to be Generals! But hold up the hands of any woman who is doing good work for their side." In that spirit, she worked to form a women's association "entirely free from religious ties," where Protestants, Catholics and Mormons could cooperate together.

Charlotte believed "politics & religion won't mix." But faith helped motivate her life's passion. Writing to LDS Church President Wilford Woodruff, she said, "In all my trials ... I have been driven more closely to the Arm of God, & have so learned to lean upon Him ... I feel in my inmost soul that my heart is given to Christ; & to the furtherance of his great work upon this Planet."

But she wasn't only pious. Charlotte Godbe was also vigorously intellectual. "I am myself a prayerful woman. Yet ... I enjoy a fine spirited argument, the life of a political campaign, the trushing up of old ideas, the introduction of new ones."



Woman Who Escaped Polygamous Sect Revisits Past
ABC NEWS

Laurene Jessop Confronts Husband Who Also Married Her Sister -- Will She Forgive Him?
March 1, 2006 — - Last summer was Laurene Jessop's first trip back to polygamist-run Colorado City, Ariz., since her escape from, what was, to her, an isolated and forbidding world 18 months earlier. She had no idea what to expect.
"I'm nervous," she said. "I want to be able to walk through town and not be handcuffed, and if the police officers decide to handcuff me, what to say?"
Laurene said she was taken by force to a mental institution three times for disobeying her husband. She finally got away with the help of an anti-polygamy activist, and won custody of her five children.
Laurene returned to Colorado City several months ago to prove to herself that the polygamist sect that runs this town no longer has power over her, and to confront the demons from her past, including sexual abuse by her father.
Even after all that, Laurene found it difficult to completely break free from her past life. Recently, her journey took a strange U-turn back to Colorado City.
Feeling Like an Intruder
People in Colorado City are taught from a very young age that outsiders are evil, Laurene said. They wear clothes from another century, and they run from "Primetime's" cameras as they documented Laurene Jessop's journey.
The people in Colorado City also submit fervently to the rules of Warren Jeffs, a man they call "the prophet."
Jeffs, a leader of the Fundamentalist Church of Latter Day Saints, is in hiding, wanted on charges of forcing underage girls to marry older men. FDLS is a breakaway sect of the Mormon Church of Jesus Christ Latter Day Saints. The Mormon religion banned polygamy in 1890.
Laurene's father had four wives and 56 children. She said it was an oppressive childhood, with the outside world completely shut out.
"I remember one time looking out the window just feeling like I was trapped and wishing that I was free," Laurene said, pointing to the house where she grew up.
At 19, she married Val Jessop, an older man the sect chose for her. Her sister, Marie, was already married to Jessop.
"I always felt like I was an intruder," Laurene said.
Laurene and her sister have eight children with Val Jessop --five by Laurene and three by her older sister.
But Laurene says Marie was bitterly jealous from day one, beginning from the time she and Val consummated the marriage. She said her sister was even present when they had sex.
"He invited her into our bed. She just hugged his back -- hugged him all the way through," Laurene said. "It was very strange ... painful. And I was very shy. I was scared. I didn't dare say -- like I should have -- this is our wedding night. We should go to a motel, or we should have our own privacy."
'Keep Sweet'
When Laurene finally spoke up about her "sister wife," Laurene said Jessop called the sect police, who forcibly removed Laurene from her home -- she says for not following the law that says plural wives must obey their husband.
"These are state-certified policemen who have been ordered by the prophet, or an elder, to come in there and arrest me," Laurene said.
She said she was handcuffed, put in a police car and taken to a mental institution in Flagstaff, Ariz., more than 200 miles away from her children.
Laurene returned home and said she was sent to the institution three more times. She says she found it impossible to be the perfect servant to her husband's every whim, even though it was the law of the land.
"I was trapped," she said. "I felt like I had done my very best in trying to live my religion. I was taught that the only rights a woman has is to be obedient to her husband."
That's the prevalent attitude of the community, captured by a frequently used slogan: "Keep sweet."
"That means ... don't show any emotion. Don't rock the boat. Don't make any trouble," Laurene said.
Laurene was desperate to escape, but there seemed to be no way to take her children with her -- until she met anti-polygamist activist Flora Jessop.
'I Feel Empowered'
Having escaped from the polygamous community as a teenager, Flora now rescues others from the sect. With Flora's help, Laurene finally ran far away to Phoenix, where she found an apartment and won custody of her children -- daughters Luanne, Jennifer and Valene, and sons Anthony and Thomas.
"It's not only the fear of leaving. It's the fear of how do I take care of my children once I'm out there?" said Flora.
Flora said that Laurene's leaving the sect makes her a hero. And returning to Colorado City to confront her past also makes her a survivor.
Once she would cower before the police, but when she returned, she stood her ground when challenged by cops and even confronted one of the policemen who she says took her to the institution.
"I feel empowered," Laurene said. "I feel like I could stand there and look that man in the eyes."
But Laurene's journey had just begun. She couldn't truly leave her past behind until she confronted some dark secrets.
Confronting Abuse
In Colorado City, Laurene says men wield absolute power over both wives and children. For Laurene, a much harsher indoctrination into the male-dominated culture began before she was even married. She said she was sexually abused by her father. "The sexual abuse started about the time I started developing," she said. "There was no safe place to go. There would be several of us girls in the room, and he would come into the house and go around and put -- kiss each one of the girls -- put his hand down your blouse, say, 'Oh, looks like you're getting bigger, you know, you're developing, you're coming along very well here.'"
Laurene and 12 of her sisters reported being molested, though they say the abuse stopped short of actual intercourse. In 1983 their father, Jack Cooke, pleaded guilty to sexual assault and went to prison for five years.
"He took my virtue," said Laurene. "And I think he should have got more than five years in prison."
Jack Cooke is now 76 years old and hasn't seen Laurene in 22 years. In an interview with "Primetime," with Laurene listening from a nearby room, Cooke admitted to abusing his daughters.
"I have committed -- uh, fondling and touching my daughters improperly, but I claimed ... on the same premise ... as our religion," he said. "I didn't know it was abuse. I didn't view it as abuse. ... It wasn't a sexual deal."
Cooke said he viewed the abuse as "no big deal." He also claimed that the contact was "consensual." "And every intimacy which I had with them, they understood perfectly that if I did anything they didn't like, to tell me and I would not do it," Cooke said.
After hearing her father say these things and upset that he would claim that she and her sisters ever consented to his actions, Laurene emerged from the room to confront him.
Finally, her father offered a sort of apology. "I'm not trying to minimize the sexual things," Cooke said. "All I can say right now -- with these things happening to you -- all I can say is I'm sorry."
'It's in My Blood'
After leaving the sect, Laurene and her children began a new life in Phoenix -- 400 miles away from Colorado City. In awarding custody of the children to Laurene, an Arizona judge concluded their polygamist community was dominated by abuse.
Activist Flora Jessop had been at Laurene's side almost constantly. She understood the struggle ahead for the family.
"When you have a second-grade education and five children, how do you feed them? How do you dress them? How do you give them a house? How do you put a roof over their heads?" Flora said.
Laurene and her kids lived in subsidized housing and received food stamps and other assistance from the government.
Meanwhile, her estranged husband, Val, lived alone in an empty house on the edge of Colorado City. For reasons he won't discuss, FLDS ex-communicated him and took away his other wife. He said he missed his children most of all.
Val denied asking the police to arrest Laurene for disobeying him, and he claimed she was mentally ill and violent. He maintained he was the true victim, because he lost his children, and he questioned the authority of the man-made laws that awarded Laurene custody.
Val Jessop defended his "plural marriage." "I was born Mormon, OK?" he said. "It's in my blood, you know? I'm not going to go be something else. I'm who I am."
Forgiveness
When she confronted her father over the summer, Laurene wasn't ready to forgive him for her lost childhood or the other damage caused by polygamy. But six months after her meeting with her father, Laurene was ready to forgive. "I've been in communication with him, talked several times with him. I feel complete forgiveness toward him," she said.
She now believes that sexual abuse of children was accepted -- and rampant -- in Colorado City, and that her father was made a scapegoat by the polygamous sect.
"He's the only one that was really held accountable for what he did. And other men were doing the same thing," she said. "But what it did was shut the women up, the girls up, from telling. ... And I think he, he's paid the price for what he did."
Change of Heart
Meanwhile, all was not well in Phoenix, where one of her two sons was depressed and brooding. Anthony said he would do almost anything to get back home and even admitted he talked about blowing up his school in Phoenix.
Laurene had come a long way, but she also admitted to a frightening inner conflict -- and a strange force pulling her back to Colorado City and Val Jessop, the husband she shared with another wife.
Laurene told "Primetime" she was terrified of the community and determined never to return. But months after meeting her father, she got into her car alone and drove six hours to Colorado City to see her ex-husband, Val Jessop.
"I was really scared because I didn't know how Val would be," said Laurene.
Laurene said her former husband had "mellowed. And he was nice to me. And the children wanted him," she said.
After that meeting, Laurene agreed to bring the children home -- under the condition that Val not take any additional wives.
"He has said he wouldn't," Laurene said. "If he does, I will leave. I won't live in polygamy again."
Two years after helping Laurene escape, anti-polygamy activist Flora Jessop says she's not surprised that women who escape polygamy sometimes go back.
"Even when they come out, they find it difficult not to be drawn back in," Flora said. "They're all trying to overcome an entire lifetime of intense control and indoctrination."
The reunited Jessop family now lives in a rented house just outside Colorado City, and they all seemed happy to be back together. Anthony, the son who had talked about blowing up his school in Phoenix, seemed transformed.
"It's a miracle, absolute miracle that they're holding hands," Anthony said of his parents.
And Laurene is convinced Val will not take another wife.
Yet when pressed, Val admitted he still believed that the fugitive sect leader, Warren Jeffs, is the one true prophet of God.
"I don't have the option," Val said of plural marriage. But he also said another marriage had not been revealed to him "through the legitimate authority" -- the prophet, Warren Jeffs. If Val's intention seems uncertain, Laurene said she would take her chances and stay -- as long as she remains the one and only woman of this house. "And I've forgiven him. I know the Lord loves us, the children, and he wants us to be a family," she said.
But Laurene was adamant that she wouldn't live a life of polygamy again. "It's too much pain that way."
Book buyer Finds Rare Mormon Texts
Friday, 20 Jul 2007
By JENNIFER DOBNER
Associated Press Writer
SALT LAKE CITY -- It's a book collector's dream -- rifling through the shelves of a secondhand store and finding a valuable text for a bargain price.
It happened Jan. 31 to a man who plunked down $40 and took home eight books of sermons and writings from elders of a secretive and polygamous Mormon breakaway group, the Fundamentalist Church of Jesus Christ of Latter Day Saints.
Adding interest to the find -- the books are inked in red with a property stamp from Purgatory Correctional Facility, the jail in Hurricane where FLDS church president Warren Jeffs is awaiting trial on charges of rape by accomplice.
The volumes are rare and likely worth much more than the purchaser paid, say booksellers who trade in early writings from leaders of the mainstream Church of Jesus Christ of Latter-day Saints. It's still a mystery how the books made their to the thrift store.
"Those books are unbelievably scarce," said Tom Kimball, a collector and seller. "They could be worth thousands. It's every Mormon book nerd's fantasy."
Members of the FLDS live intensely private lives and shun most interaction with outsiders, including members of their own families who leave the faith. For decades, members have lived in the remote twins towns of Hildale, Utah, and Colorado City, Ariz., dressing in 19th century-style clothes, rejecting the trappings of modernity and striving for perfect obedience to God.
Drawing on the early theology of the Mormon church, the sect continues to practice polygamy, believing that plural marriage brings exaltation in heaven. They consider church president Jeffs a prophet who communicates with God.
While some fundamentalist works are available, the nature of the various polygamous groups usually means printed materials circulate only internally, said Ken Sanders, owner of a rare books store in Salt Lake City.
"It's very, very rare," said Stan Larson, curator of manuscripts at the University of Utah's Marriott Library. "We would be very glad to have them."
The volumes were produced between 1994 and 2006 by the Twin City Courier Press, of Hildale, a company owned and operated by a member of the fundamentalist church.
Each of the 8 1/2-by-11 books is hard-bound in a black cover with its title printed in gold leaf. Depending on the volume, publishing credits are either awarded to Jeffs or his predecessor and father, Rulon Jeffs.
Six of the books are the collected sermons of former FLDS President Leroy S. Johnson, who led the fundamentalist church from 1955 until his death at age 98 on Nov. 25, 1986. The sermons begin in 1950 and each reflects the occasion or location where it was delivered, including the southern Utah communities originally called Short Creek, Salt Lake City and a small FLDS enclave in Canada.
Some of the writings appear to be from Johnson's own hand, imparting his personal stories, reflections or anecdotes. Others draw primarily on scriptural references from either the Bible or the Book of Mormon, and cite sermons or speeches from early leaders including Joseph Smith, Brigham Young and John Taylor.
Two of the books are collections of "Zion's Light Shining," a monthly FLDS newsletter that originated with Rulon Jeffs, who assumed leadership of the church in the 1980s. The newsletters, each about 40 pages, date back to February 1999 and contain similar material, along with writings from various FLDS elders.
"With Every Breath, Keep Sweet, No Matter What" and "Perfect Obedience Produces Perfect Faith," the newsletter masthead reads, reinforcing two key tenets of FLDS faith.
Ben Bistline, a former FLDS church member and a historian who has written two books about the FLDS, said the volumes are likely reprints of books first published about 1980. Then the collected works of Johnson were churned out in paperback for church members' personal use.
"But you had to get permission of the prophet to buy one," recalled Bistline, of Cane Beds, Ariz. "They published the books to promote polygamy and their way of thinking."
Bistline questions whether the volumes are a complete record. If memory serves, he said, FLDS leaders selected the teachings they thought would be most useful to members.
Although some of the writings tout the practice of plural marriage and others warn of government persecution from the states of Utah and Arizona, there's not much fire and brimstone.
The collector, a fundamentalist from St. George, in southwestern Utah, who spoke only on condition that his name not be used, said he bought the volumes because of his interest in early Mormonism and because of his own beliefs. He let a reporter and a photographer from The Associated Press look at the books, but said he had no immediate interest in selling or donating the books.
"An interesting find for me," he wrote in an e-mail about the books.
It's unclear when or how the books made their way to the jail, said Washington County sheriff's Lt. Jake Adams.
Jeffs, 51, is charged with two felony counts of rape as an accomplice for having forced a religious marriage between a 14-year-old follower and her 19-year-old cousin in 2001. His trial is scheduled for this September, roughly a year since he was first jailed.
Canada won't prosecute FLDS members
The Associated Press
08/02/2007
VICTORIA, British Columbia - No charges will be filed against members of a polygamist community, but the province may determine the validity of the law against multiple marriages by referring it to the British Columbia Court of Appeal, the attorney general said Wednesday.

Provincial Attorney General Wally Oppal said he has reviewed a report by special prosecutor Richard Peck and agrees no charges should be pursued against members of a fundamentalist Mormon sect in Bountiful, British Columbia.

The group is part of the southern Utah-based Fundamentalist Church of Jesus Christ of Latter Day Saints, known as the FLDS and headed by Warren S. Jeffs.

Oppal said the government could find no witnesses on the sexual-assault allegations because investigators were told that all consented to the acts that took place.

More serious allegations of sexual exploitation of young women also could not be substantiated, Oppal said.

He said he was surprised by the number of young women who told police they were the aggressors and wanted to have sex with the older men.

Church doctrine that touts plural marriage as a path to exaltation in heaven is rooted in the early Mormon theology. Mormons, however, abandoned polygamy in 1890.

B.C. government pledges aid for Bountiful women
CanWest News Service
August 21, 2007
VANCOUVER - The B.C. government has reached a negotiated settlement with a number of people who complained to the B.C. Human Rights Tribunal over the polygamous community of Bountiful.
Two days of mediation late last week resulted in the agreement, details of which were released Monday.
Under the agreement, the government will provide funds for basic crisis intervention training for interested members of the Bountiful community, maintain the current level of services to the Bountiful community and work to refine the way those services are delivered to residents of the closed and secretive community.
Judith Doulis, the complainants' lawyer, called it a positive outcome in a "very difficult situation where no one can say you have to do this or you have to do that."
"They (the complainants) did what they could and hopefully it will assist people (in Bountiful) who want to make a lifestyle change," she added.
Bountiful is the 60-year-old community of about 1,400 fundamentalist Mormons. The group is a breakaway sect of the mainstream Mormon church, which disavowed polygamy in 1890.
Sect leader 'forced teen to have sex'
John Dougherty, St George, Utah
New York Times
September 15, 2007
THE prosecution's star witness in the trial of the fundamentalist Mormon polygamist leader Warren Jeffs has testified that she was taught to obey church leaders without question or face dire consequences.
"We would forfeit our chance at the afterlife" by disobeying religious leaders, said the woman who, in 2001 at the age of 14, married her 19-year-old first cousin in a religious ceremony performed by Jeffs.
Identified as Jane Doe, the woman told the jury that the fundamentalist Mormon religious leaders were considered by church members to be "gods on Earth". How much control Jeffs had over the girl is crucial to the outcome of the case, which has drawn international attention to the Mormon community based in the adjacent towns of Hildale, Utah, and Colorado City, Arizona. Jeffs, 51, is charged with rape as an accomplice.
The prosecution says he coerced the girl to unwillingly consummate a "spiritual marriage", while the defence argues that she was not raped and that Jeffs never encouraged her to submit to sexual relations.
Jeffs is the self-proclaimed prophet of the Fundamentalist Church of Jesus Christ of Latter-day Saints, a breakaway sect of the mainstream Mormon Church with about 10,000 followers in the western states of the US. The sect practises polygamy in defiance of state and federal laws and adherents believe a man must have three wives to reach heaven's highest realms.
The mainstream Mormon Church disavowed polygamy in 1890 in a political compromise for Utah to obtain statehood. Jeffs could face life in prison if convicted.
Prosecutor Brock Belnap said Jeffs had told the girl, after she asked not to be married, that "her heart was in the wrong place and it was her duty to go forward" with the marriage.
Mr Belnap said Jeffs "commanded" the couple "to multiply and replenish the Earth".
The couple did not immediately engage in sexual relations because the girl resisted. Mr Belnap said Jane Doe again asked Jeffs to be released from the marriage, but, once again, Jeffs ordered her to return to her husband. "He told her to repent," Mr Belnap said. "Go home. Give yourself mind, body and soul to your husband."
A defence lawyer, Tara Isaacson, told jurors the state had failed to prove that Jane Doe was raped by her husband. She also said there was no evidence that Jeffs had anything to do with the couple's sexual conduct.
She told the jury that the victim never told her friends and her family that she had been raped, and that her cousin would also testify that he never raped her. The cousin has not been charged with rape.
Polygamy leader says was "immoral" with sister
Wed Oct 31, 2007
LOS ANGELES (Reuters) - U.S. polygamist sect leader Warren Jeffs, convicted of being an accomplice to rape, renounced his role as prophet while awaiting trial because he had been "immoral" with a sister and a daughter 30 years ago, according to a court document.
The newly released document showed that Jeffs, 51, made the statements in several conversations from his Utah jail with family and members of the breakaway Mormon sect earlier this year.
Jeffs, revered by followers as the leader of the Fundamentalist Church of Jesus Christ of Latter-day Saints, or FLDS, will be sentenced on November 20. He was convicted in August in Utah on two counts of being an accomplice to rape by forcing a 14-year-old sect member to marry her first cousin.
The trial riveted Utah, the Western state with a majority Mormon population, many who consider polygamy to be a thorn in the side of their faith. The FLDS, whose estimated 7,500 members live in an enclave along the Utah-Arizona border, is not part of the mainstream Mormon church, which has long renounced polygamy.
While in jail awaiting trial, Jeffs made a series of phone calls recorded by authorities in which he said he "had been immoral with a sister and a daughter" when he was 20 years old, a court document released on Tuesday showed. Jeffs did not elaborate on the nature of the conduct.
"He renounced his role as prophet, explaining that the Lord revealed to him that he was a wicked man and has not held the priesthood since he was 20 years old," the document said.
He later retracted his renouncement in another recorded telephone conversation after being treated for depression, according to the document. The audio and video recordings were not presented at Jeffs' trial on the grounds they would prejudice the jury.
Jeffs' word was considered God's will to his followers. Women were taught to be submissive and "keep sweet," while dissent led to exile and religious damnation, witnesses testified at the August trial.
Jeffs, who pleaded not guilty, had been on the run for 15 months and was on the FBI's most wanted list before being arrested in August 2006. After being sentenced in November to a possible 10 years in prison, he is expected to stand trial on similar charges in Arizona.
Author delves into life in Bountiful
March 26, 2008
SAANICH News
Exploring polygamy
Author delves into life in Bountiful
Religious extremism seems worlds away from Victoria.
However, the southern part of our province is a hotbed of religious extremists. A tiny communal town with less than 1,000 people, Bountiful, B.C., is one of North America's well-known settlements for the Fundamentalist Church of Jesus Christ of Latter Day Saints, who openly practice polygamy — the practice of taking multiple wives.
The tiny community recently gained national attention when Utah's Warren Jeffs, the former leader of Mormon fundamentalist polygynist sect who had close ties to the town, was arrested and convicted of being an accomplice to rape after he arranged an extralegal marriage between an adult follower and underage girl.
Winston Blackmore, the leader of Bountiful, B.C., once a follower of Jeffs and close confident, has since denounced the former leader as a "false prophet." Blackmore currently has around 22 wives (at last count) and has allegedly fathered more than 100 children and allegedly impregnated 15 year olds.
Vancouver Sun columnist Daphne Bramham has been covering Mormonism and polygamy in both Utah and Bountiful for close to five years. She recently released The Secret Lives of Saints: Child Brides and Lost Boys in a Polygamous Mormon Sect, an in-depth account of Blackmore's operation and some who have fled faith.
She started writing about Bountiful in 2004 while delving into the issue of human trafficking and met Blackmore in person some two years later.
"He's quite charming and quite funny," said Bramham, who will speak in Victoria April 5. "And like some religious or political leaders, from the moment he meets you he's looking for your weaknesses and looking at ways that he can expose them and exploit them."
In 2004 Bramham was invited by the wives of Bountiful to come and explore the community. But when she arrived, Bramham found the wives mysteriously were unwilling to speak to her.
South of Cranbrook and Creston right beside the Washington State border, Bountiful is a picturesque town. Bramham made several trips there while penning her book and found the men very secretive.
"All the time while I was talking to the women they were always getting phone calls and I presume it was from Winston. Calling them, telling them what to say, the women really become the public face in a way because the men are so scared of being arrested. And these women, they're so well-trained to tell you that they're happy in this sort of sweet way."
A columnist for the Sun since 2000, Bramham also interviewed the 'lost boys', young men who had either been kicked out, or left the sect. Uneducated, untrained and unfamiliar with the outside world, many of the boys fall into deep drug and alcohol addictions.
"The ones who were kicked out really are in no position to be dependable on their own and that's what they're faced with."
Within The Secret Lives of Saints is commentary on why the provincial and federal government seem inept at prosecuting men such as Blackmore.
"I don't believe they should be allowed to continue, it's antithetical to Canadian society. People should be able to practice religion as they choose, but it should not be able to go above and beyond the Charter of Rights and Freedoms."
Top court must decide polygamy issue, government told

Senior lawyers agree charges would be unlikely to survive an appeal

Andy Ivens, The Province; with a file from Reuters

Published: Tuesday, April 08, 2008

The provincial government will have to decide whether to send to the courts the question of the legality of practising polygamy in Bountiful, after a decision by a senior lawyer was made public yesterday.

Leonard Doust, a senior member of the B.C. bar, agreed with the conclusions of a special prosecutor last year -- that having the state pursue polygamy charges against members of the breakaway Mormon sect in the Creston Valley enclave near the U.S. border would likely fail.

Special prosecutor Richard Peck was appointed by Attorney-General Wally Oppal last year to submit a legal opinion on polygamy.

Section 293 of the Criminal Code prohibits "any form of polygamy [or] entering into a conjugal union with more than one person at the same time." The maximum penalty is five years in prison.

But Peck found the law likely would not survive a challenge under the Charter of Rights and Freedoms on the ground it infringes the constitutional guarantee to freedom of religion.

Oppal asked for another opinion from Doust, who agreed with Peck. His view was released yesterday.

"The serious misconduct in Bountiful will likely continue until the constitutionality of Sec. 293 is authoritatively decided by the Supreme Court of Canada," wrote Doust.

". . . Given both practical considerations and concerns about fairness, a reference [to the B.C. Court of Appeal] rather than a prosecution is the most appropriate way to proceed at this time," he said.

Doust also said that if the high court finds the law unconstitutional, its reasons "will force and assist the government of Canada to consider other, constitutional solutions to the problem of polygamy."

Despite the legal hurdles the judges and lawmakers would have to clear, Doust said he feels it would still be "the swiftest, most effective and fairest way of beginning to address . . . the problems in Bountiful."

The Bountiful residents are part of the Fundamentalist Church of Latter Day Saints, a breakaway sect of the Mormon church, which banned polygamy in the 1890s.

The polygamous community sprang up in Bountiful in the late 1940s.

Home to about 1,000 residents, it is part of the sect led by jailed U.S. polygamist leader Warren Jeffs that saw its Texas ranch raided last week in an investigation into allegations of abuse by a young woman at the compound.



52 Girls Are Taken From Polygamist Sect's Ranch in Texas

By RALPH BLUMENTHAL
The New York Times
Published: April 5, 2008

HOUSTON — Responding to an accusation of sexual abuse of a 16-year-old girl, Texas enforcement officers and child welfare investigators raided a West Texas ranch founded by the convicted polygamist sect leader Warren Jeffs and removed 52 children, officials said Friday.

All were girls. Eighteen of the children, ages 6 months to 17 years, were believed to have been abused or at risk of abuse and were placed in foster care by Child Protective Services, said Darrell Azar, communications manager for the Texas Department of Family and Protective Services. Thirty-four were taken to a nearby civic center for questioning, Mr. Azar said.

There were no immediate arrests and no resistance, officials said. But state troopers, Texas Rangers and other investigators with search and arrest warrants late Friday were still inside the 1,700-acre compound, the Yearning for Zion Ranch of the Fundamentalist Church of Jesus Christ of Latter-day Saints, a breakaway Mormon sect. The compound is in Eldorado, roughly 160 miles northwest of San Antonio.

An armored police vehicle stood by in case officers had to be evacuated quickly. Roads to the compound were sealed off by police roadblocks.

Tela Mange, a spokeswoman for the Texas Department of Public Safety, said an undisclosed number of people, but fewer than 10, were named in the arrest warrants. Investigators with the department, Ms. Mange said, "were able to talk to the folks they wanted to talk to."

Mr. Azar said the raid, which began late Thursday, stemmed from a complaint to child and family services on Monday that a 16-year-old girl at the ranch had been sexually and physically abused. On Friday, he said, child welfare investigators workers "legally removed" 18 girls and transported 34 for questioning to the civic center.

"We haven't talked to any boys yet," he said. "We will be interviewing boys, too."

Mr. Azar said the girls were removed "because we had reason to believe they had been abused or were at immediate risk of future abuse."

The ranch was built in 2003 by followers of Mr. Jeffs, who was sentenced last November in Utah to 10 years to life in prison for forcing a 14-year-old girl to marry her 19-year-old cousin and to submit to sexual relations against her will. Mr. Jeffs is in jail in Arizona awaiting trial on separate rape charges involving the arranged marriages of two teenage girls to older relatives.

Local authorities monitored the compound over the years. But aside from a few traffic tickets, there were no problems with sect members, said Raymond Loomis, the Schleicher County attorney.

The Fundamentalist Church of Jesus Christ of Latter-day Saints — with an estimated 10,000 members in the West — split from the mainstream Mormon Church after church leaders in 1890 repudiated the polygamy prescribed by its founding prophet, Joseph Smith, and excommunicated members practicing plural marriage. The breakaway group continued to teach that a man must have three wives to reach heaven's highest realms.

Mr. Azar said religion and lifestyle played no part in the action. "Our only interest," he said, "is in protecting children from abuse and neglect."


More than 200 removed from polygamist compound: reports
FORT WORTH, Texas (AFP) — Police in Texas late Sunday had removed some 219 women and children from the compound of a polygamous sect, as they pressed ahead with an investigation into possible child abuse, US media reported.
The Salt Lake Tribune newspaper reported late Sunday that authorities were still only halfway through their search of the compound, which was launched after allegations that a 16-year-old girl there was forced to bear the child of her 50-year-old husband.
The unidentified girl reportedly called officials from the compound owned by the Fundamentalist Church of Latter Day Saints (FLDS), a breakaway group of the US Mormon church, and said she had given birth to a child months ago.
Under Texas law, girls younger than 16 may not marry, even with parental approval, which suggests that the baby's father may have violated state sex and marriage consent laws.
The teen's complaints sparked a massive police operation at the compound, which so far has spanned three days. Special police units entered the temple late Saturday without incident, following an hours-long standoff during which temple leaders refused investigators access, US media reported.
While social workers interviewed residents from the compound, authorities continued to search for the teenage girl, her baby, and the infant's alleged father.
The Utah-based Salt Lake Tribune reported that 60 women and 159 children have been evacuated from the isolated compound so they could be questioned in a less intimidating atmosphere.
Social workers were trying to determine if the young women removed from the compound had been abused or were in immediate risk of future abuse.
The vast Texas ranch was bought by the sect in 2003 and has been kept under surveillance by the authorities.
The compound, in the town of El Dorado about 414 kilometers (255 miles) southwest of Dallas, Texas, is linked to polygamist leader Warren Jeffs, who is now behind bars in connection with another polygamy case.
Jeffs is jailed in Kingman, Arizona awaiting trial for four counts each of incest and sexual conduct with a minor stemming from two arranged marriages between teenage girls and their older male relatives.
Considered to be the sect's prophet, Jeffs was arrested near Las Vegas in 2006 and sentenced to life in jail for being an accomplice to rape. He also faces federal charges in Arizona and Utah.
The mainstream Mormon church -- the Church of Jesus Christ of Latter Day Saints -- renounced polygamy more than one century ago as a price of Utah's admission to the United States.
It now excommunicates members who engage in the practice and disavows any connection with the FLDS church.
Members of the FLDS church are known to live in Utah, Nevada, Arizona, Texas, Colorado, South Dakota and British Columbia.

400 children saved from Mormon sect amid allegations of abuse


James Bone in New York
The London Times
April 9, 2008
Hundreds of children taken by the authorities from the compound of a polygamist sect in Texas had their first glimpse yesterday of the outside world — which they have been taught to view as evil and whose food they cannot eat.
The children, in 19th-century dresses, were bussed out of the Yearn For Zion (YFZ) ranch after a raid on the breakaway Mormon sect of Warren Jeffs, the jailed polygamist leader.
"They are like aliens — or we are like aliens to them," Helen Pfluger, a volunteer at a local Baptist church who helped to care for the children, told The Times. "They know nothing of the outside world. The children and their mothers did not know what to do with crayons. Our food makes them sick because they are not used to processed food.
"It was like talking to people from 1870. Their clothing needs were the most difficult to fulfill. They need a dress for a four-year-old. They specified the dress should be long down to the ankles, have long arms, a loose waist, and be a solid color in a pastel shade. I don't think there is a place in Texas you can get a dress like that."
Authorities raided the remote 690 hectare (1,700 acre) compound on Saturday after a teenage mother called a hotline to complain she had been beaten and raped by her husband. The 16-year-old girl, who has an eight-month-old daughter, was 15 when she allegedly married sect member Dale Barlow, 50, to become his seventh wife. In 2005 Texas raised the legal age limit for a girl to marry from 14 to 16 after concern about the sect.
The 10,000-strong Fundamentalist Church of Jesus Christ of Latter Day Saints broke away from the Mormon Church in the 1930s after Mormon leaders outlawed polygamy.
Concentrated along the Utah Arizona border, the sect bought a ranch outside Eldorado, Texas, in 2003 and built a four-story temple and a small town on the site that is now the YFZ ranch.
The operation that began on Thursday was the largest since the Short Creek raid on the sect in 1953, when 400 fundamentalists including 236 children were taken into custody. A number of men were being held at the ranch while officials searched for evidence of abuse and whether the under-age girl was married to Barlow, a convicted sex offender. He pleaded no contest last year to conspiracy to commit sexual conduct with a minor and is currently on probation.
Investigators said girls as young as 13 were groomed for sex. "There is a pervasive pattern and practice of indoctrinating and grooming minor female children to accept spiritual marriages to adult male members of the YFZ ranch resulting in them being sexually abused," Lynn McFadden of the Texas family protection services, said.
The children, ranging from infants to teenage mothers, are being housed at an old army fort in San Angelo. About 133 women voluntarily accompanied them, and they are likely to be placed in foster homes unless their mothers agree to move out of the compound. Ms Pfluger said they seemed frightened by the outside world. "They had no TV, magazines or newspapers," she said. "They did warm up with us, so they would smile and say a few words about their needs."
ET Mormons Say Sect Suffers Delusions
ESCORTED OUT: An FLDS woman and children walk with two Texas Child Protective Services workers (right) at Fort Concho in San Angelo on Monday. More than 400 children, mostly girls in pioneer dresses, were swept into state custody from a polygamist sect in what authorities described as the largest child-welfare operation in Texas history.
By PATRICK BUTLER
Religion Editor

Texas State Troopers raided the world's largest polygamist compound in Eldorado this week, taking more than 400 children of polygamists into custody. A 16-year-old girl called a local shelter for help, saying she had been forced into an unwanted marriage, prompting the raid.

The children at the compound are offspring of those who still adhere to Prophet Joseph Smith's teaching of "The Principle of Multiple Marriage." The members of the Fundamentalist Church of Jesus Christ of Latter Day Saints contend they are faithfully practicing "The Principle" as originated and taught by the prophet in the early 19th century. The "apostate" Mormons - just one sect of Smith's original church scattered when he died in 1844 - discarded "The Principle" in 1890 over a matter of convenience, say FLDS leaders. At stake was admission to the Union and FLDS leaders say Mormons disobeyed Smith, jeopardizing their own eternal rewards.

Smith was married to 34 women, some as young as 14 years old and some who were already married, according to Web site wivesofJosephSmith.org. Large polygamist FLDS communities are located today in Northern Arizona and Southern Utah. Some estimate that the largely hidden church has up to 40,000 members in North America.

The Fundamentalist Church purchased 1,500 acres in Eldorado in 2004, a West Texas town of 2,000 about 50 miles south of San Angelo. Schleicher County Sherriff David Doran said to the Tyler Morning Telegraph in 2006, "We made it clear to them what Texas law said about marriage, that we would be enforcing the law and if there was a violation, we'd come after them."

APOSTATES

The two groups descended from Smith have had little to do with each other for more than 100 years. Even today there is little love between them.

"God wants us to stop patronizing businesses of the apostates (Mormons)" said FLDS leader Warren Jeffs in a 2004 speech. "Stop doing business with them, strengthening their hand by your labors to fight our prophet."

The FLDS is the one suffering from delusion, said East Texas Mormons.

"We've been fighting this battle for more than a hundred years," said Laura Mikulecky, a public affairs director for the Tyler Stake of the Mormon Church. "Mormons disavowed polygamy in 1890. It was a condition for Utah to become a state. At that time, the Prophet of the Church, Wilford Woodruff, declared polygamy was not to be a part of Mormon Church. We adhered to that and these others (the FLDS) did not."

Mrs. Mikulecky is the public affairs director of the Athens and Tyler Stake of the nicknamed "Mormon" segment of a church that splintered into various sub-sects after the death of Smith in 1844.

There are an estimated 8,500 Mormons in East Texas, she said, and about 2,500 in the Tyler Stake. In a 2006 special report by the Tyler Paper, she explained polygamy was ordained by God in Smith's church.

"When the Lord says something is all right, it's all right," she said, speaking of Smith's Principle of Multiple Marriage doctrine. "When it's not all right, it's not all right."

Woodruff heard from God decades after Smith introduced polygamy, she said.

"When that time was over and the new prophet (Woodruff) gave us the new rules, those were the rules the church then went by. The prophet heard from God and polygamy was stopped."

But some church splinter groups, most notably the Reorganized Church of Jesus Christ of Latter Day Saints founded by Joseph Smith III, opposed polygamy at its inception decades before Mormons renounced it by the "revelation" given to Woodruff.

"When the Mormons came West (after Smith's death) and so many men died there were a lot of women who did not have husbands," said Mrs. Mikulecky. "The Lord told (Mormon leader) Brigham Young that some of the men could covenant to be married to more than one wife." (Webmaster Note: Doctrines and Covenants Section 132 was the formal announcement of polygamy to the Mormons by Joseph Smith in 1844. Polygamy had been practiced for years prior to this announcement within the inner circles of Mormonism. Laura Mikulecky either is ignorant of Mormon history or is a liar. Mormon public affairs directors are not to be trusted.)

Young married 27 women, including 15-year-old Clarissa Decker and Lucy Bigelow, 16. After The Principle was renounced, Utah was admitted to the Union. There are more than 100 "faith communities" that consider themselves the "true successor" to the church founded by Smith, according to religoustolerance.org

The Mormons are the true church, said Mrs. Mikulecky.

"We believe the Church of Jesus Christ of Latter-day Saints (Mormons) is the only true living church upon the face of the whole earth," she said. "We believe every person born on earth will receive immortality, but if you leave the church, you are no longer entitled to the blessings it can afford you."

Many polygamists blend into modern society
SALT LAKE CITY (AP) — The neighbors knew Anne Wilde as a divorcee with three children, but she had a secret: She was married to a polygamist, a man who divided his time among his various wives, visiting her once a week at her house in the suburbs.
"We'd play games — he'd park his car at a grocery-store lot and I'd pick him up" so that other people wouldn't see his vehicle parked in front of her home overnight, said Wilde, now a 72-year-old grandmother whose husband died five years ago.
The neighbors had their suspicions, but they never questioned her.
While the raid on the West Texas sect earlier this month has focused attention on polygamists who live in communal fashion and dress like 19th-century pioneers, many polygamists are very much part of the modern world, and live right next door in cities, suburbs and small towns across the West.
At least 37,000 men, women and children live in polygamous families from Canada to Mexico, with most of them in Utah, according to Wilde, who has become an activist for plural marriage. Law enforcement agencies do not dispute her figures.
While some men in rural Utah build large barracks-style houses with separate entrances to accommodate multiple wives, many of the state's polygamists are unattached to any particular sect or clan and live almost invisibly, under rather conventional-looking circumstances.
Each wife gets her own house; the men sneak around, often without a home to call their own. Mothers hold themselves out as single parents to PTA or school officials if they have to explain. But that is not usually a problem in a state where many lifelong residents can trace polygamy in the family tree, and where law enforcement authorities rarely prosecute the offense.
Carlene Cannon, a 37-year-old homemaker who lives in the Salt Lake City area, talks about polygamy without actually uttering the word, referring to it as her "lifestyle choice."
"I'm in a very committed relationship, that's what I tell people," she said. If pressed, she will add that she is not legally married. "In today's society, you don't really need to explain how it works, because there's so many single mothers," she said.
Sometimes the truth comes out. Garrett Kelsch grew up outside Park City in one of two nearby households kept by his polygamous father. As a high school freshman, he tried to keep the family's secret from his new classmates. One thing or two gave him away.
Kelsch, now a 34-year-old manager of a door-manufacturing shop, said he had a half-brother of the same age in the same class. "At first the others thought we were cousins," he said, "but they eventually asked about polygamy and we said, `Yeah.'"
Kelsch said he never actively concealed his father's polygamy, but "we weren't going to advertise it."
Wilde and just about all other practitioners of plural marriage in the West consider themselves followers of the true Mormon faith. But the mainstream Mormon church renounced polygamy more than a century ago and strongly disavows any connection to them.
Many of Utah's polygamists draw a sharp distinction between themselves and the Fundamentalist Church of Jesus Christ of Latter Day Saints, the polygamous sect raided by Texas authorities earlier this month because of allegations of physical and sexual abuse. By Wilde's estimate, about 15,000 of Utah's polygamists belong to no group at all.
According to law enforcement authorities in Utah and Arizona, many other polygamists are divided among about 11 communities, societies or orders, though Wilde said some of those groups have faded away, have few members or lack religious legitimacy.
Most Utah women in polygamous marriages are indistinguishable from other women. They take jobs or work from home to help support their families. Wilde, for example, helped run a Mormon publishing house from her home. They don't wear prairie dresses or put their hair in braids or a bun, the style consistent among FLDS women.
In black dress pants and a white blouse with a charcoal-colored jacket, Heidi Foster looks like any other 36-year-old suburban Salt Lake City mom, albeit with 10 children in her home. The youngsters' father is an occasional visitor who acknowledges another woman as his only legal wife.
Foster belongs to the Kingston clan, a 1,500-member group based in the Salt Lake City area but scattered across the Intermountain West. The group has legitimate and widespread business interests worth an estimated $150 million by some published reports, including pawn shops, a trash collection company, dairies and coal mines.
Polygamist John Daniel Kingston — Foster is careful not to call him her husband — helps support her family.
Court papers from a custody battle involving two of their rebellious teenage daughters say Kingston has at least a dozen other wives. When asked about it, Kingston has invoked his Fifth Amendment right against self-incrimination. He is believed to have more than 100 children.
Even outside the FLDS, women in polygamous relationships tend to marry young — around 17, according to research conducted at the University of Utah. The men usually wait 10 years after a first marriage to start accumulating more wives.
In the cities and suburbs, the polygamist husbands are usually nomads, said Irwin Altman, a psychology professor at the University of Utah.
"Typically, the guy doesn't have his own place. His clothes are spread all over. For privacy, some said they had to take a drive in their car," said Altman, co-author of the 1996 book "Polygamous Families in Contemporary Society."
Altman found that the men earnestly cling to early Mormon beliefs that polygamy is key to eternal salvation.
Ex-sect members escape polygamy but not pain
Thu April 17, 2008
By Eliott C. McLaughlin

(CNN) -- Long after she escaped a polygamist Colorado City, Arizona, community in 1986, Flora Jessop found another way to escape: cocaine.
"It killed the pain. It killed the hurt," she said. "I didn't have to hurt so bad because I missed everything I knew."
Once she fled the fundamentalist Mormon sect, she was an apostate. She believed God hated her. Her parents and siblings thought she was wicked. Worst of all, she knew she was damned to hell, Jessop said.
Jessop, then 17, began hitchhiking across the country, almost killed herself with cocaine, worked as a topless dancer and eventually became pregnant, she said.
Fearing that church members would hunt her down, she looked over her shoulder for five years, she said. She occasionally drank alcohol -- she liked tequila best -- but preferred to use cocaine because it kept her alert.
"When you're running for your life, you can't afford to get to the point you cannot run," she said.
It was a need to protect her daughter that finally convinced her there was more to life, she said.
Today, Jessop, 38, escapes by freeing others trapped unwillingly in polygamist sects: 84 to date. She finds particular solace in rescuing women and children, some of whom are child brides like she was. It was a marriage to her first cousin Philip that prompted Jessop to run.
Her story strikes a common theme among those who have left the Fundamentalist Church of Jesus Christ of Latter Day Saints, a Mormon offshoot that disavowed the mainstream church in 1890 when it abandoned polygamy as a pathway to the highest level of heaven.
The FLDS has strict rules, especially for girls: no pants, haircuts, drugs, booze or boys; just "keep sweet" and obey. So young women who leave often delve into worldly pleasures once outside, indulgences as innocent as blue jeans and as destructive as heroin and prostitution, survivors and an expert say.
Jenny Larson experienced such urges in 1946, when her mother, Berna, left a polygamist household in Glendale, Utah, with seven of her nine children. In those days, however, rebellion bore a different hue.
Larson, 73, recalls how "you wouldn't have caught me wearing a long-sleeve blouse" after leaving Glendale.
"I think I was one of the first girls in the seventh grade to wear lipstick. I put henna in my hair to make it red. I wasn't going to look like a little 'polyg' kid," she said, using the slang "polyg" with all the contempt of a racial slur.
Larson -- who goes by Aunt Jenny to the dozens of girls she's helped escape and who wrote the book "Brainwash to Hogwash: Escaping and Exposing Polygamy" -- concedes it's rare that young women can shed the sect's psychological shackles.
So how did she know polygamy wasn't for her? Larson recalls seeing her father, Vergel, smack her mother for expressing jealousy over his second wife, Mae.
"There was no way in hell I was going to live that way," Larson said.
And Larson quipped of the men hounding her for her hand in marriage when she was 11: "Some of them were so ugly I wondered how they could have sex without putting a sack over their head, but I'm being mean."
Larson's and Jessop's escapes are not typical. Many women don't want to leave, ex-sect members and an expert said.
The purportedly rescued women often return to polygamy. An example is the 1953 raid at Short Creek (now Hildale, Utah, and Colorado City), where dozens of women and more than 260 children were placed in state custody.
Three of the then-children taken in the raid recently said that they eventually returned to polygamist lifestyles, including Fawneta Caroll, who was 7 when she was taken from her family. She remembers clearly what she felt 55 years ago, and it wasn't relief, she said.
"We knew that the object was to take us away, adopt us out and we would never be back to our homes," she said.
Religion -- the reason these women say they stay -- is also used to validate the brainwashing and, in some cases, physical abuse employed to keep women and children submissive, said Marci Hamilton, author of "Justice Denied: What America Must Do to Protect Its Children."
The women are wholly dependent on the patriarchal community, Hamilton said. They often lack education and marketable skills, and they're told of "terrible forces outside the compound," namely evil people who wish them harm, she said.
And there's always the prospect of eternal damnation, said Hamilton, a professor at Yeshiva University's Cardozo School of Law who has studied polygamist sects for 10 years.
"It's not only physically dangerous to leave, you're also risking your soul," she said. "Staying in the compound, even though they're being abused, may look like a smarter choice to a lot of these people."
Joni Holm has taken care of four children who escaped Colorado City, and she concurs that youngsters who leave the community have trouble shaking their indoctrination.
"You literally have to take them, deprogram them and reintroduce them to society," she said.
Flora Jessop brought Fawn Holm, 16, and Fawn Broadbent, 17, to Joni Holm's Sandy, Utah, home in 2004.
Fawn Holm, Joni's sister-in-law, feared that she was about to be married to now-imprisoned FLDS "prophet" Warren Jeffs, who is serving time in Utah for being an accomplice to rape. Broadbent's name had just been placed in the church's "Joy Book," meaning she could be married off any day, and probably without warning.
The "two Fawns" were smart, Joni Holm said, but had elementary school education levels. They had bizarre mannerisms and wouldn't look people in the eye. They would sometimes jump off elevators because "they were taught they could never be alone with a man," she said.
Fawn Holm began using drugs and alcohol, and Broadbent dabbled in drinking, Joni Holm said.
It's a common phenomenon, Larson said. "When you're held down and can't have any freedoms, they go the opposite way when they get out: drinking, drugs, sex. They're going to hell anyway; they just jump headfirst in."
Joni and husband Carl's greatest challenge, however, was teaching the teens to trust. So entrenched was their distrust of "outsiders" that they needed even the simplest things proved to them, especially examples of how the FLDS "twisted" the Book of Mormon, said Joni Holm, a mainstream Mormon.
"You have to show them factual stuff, because this is what their dad has taught them all their lives," she said.
When Texas authorities seized 416 children from the FLDS Yearning for Zion compound in Eldorado this month, there were similar signs of indoctrination, said Helen Pfluger, whose Baptist church in nearby San Angelo volunteered to help feed and clothe the children and their mothers.
"They were very quiet and didn't want to look us in the eye," she said. "We never knew for sure which child belonged to which mother. It was very communal."
They refused to play board games. Clothes had to be cotton and plain, no patterns and no red, "the color of the devil," Pfluger said. The children shunned processed food, white bread and sodas, and essentially subsisted on yogurt, fruit and lots of almonds, she said.
"Another San Angelo church had brought some coloring pages and crayons," she said. "They didn't know what to do with them, and their mothers didn't either."
Learning to color will be one of many challenges the children will face if they're permanently removed from YFZ ranch.
Joni Holm said it takes five to 10 years for a sect child to learn how to live a life society would deem "normal." Larson said it could take longer. Jessop said she might never be normal.
But Jessop said she would rather wage the battles she faces on "the outside" than live a life of submission and abuse. She reckons many FLDS children would feel the same way if given a choice, she said.
It was difficult to give up the life she was taught was her only path to salvation. But she had to do it to get away from a culture that she felt was backward and malevolent, she said.
"The pain got so bad in heaven that I was willing to damn myself to hell to escape it," she said.
Texas polygamist sect is accused of indoctrinating girls
SAN ANGELO, Texas (AP) — Girls in the west Texas polygamous sect enter into underage marriages without resistance because they are ruthlessly indoctrinated from birth to believe disobedience will lead to their damnation, experts for the state testified Friday at a custody hearing for 416 youngsters.
The renegade Mormon sect's belief system "is abusive. The culture is very authoritarian," said Dr. Bruce Perry, a psychiatrist and an authority on children in cults.
But under questioning from defense lawyers who lined up in the courtroom aisles to have a turn at each witness, the state's experts acknowledged that the sect mothers are loving parents and that there were no signs of abuse among younger girls and any of the boys.
The testimony came on Day 2 of an extraordinary mass hearing over an attempt by the state of Texas to strip the parents of custody and place the children in foster homes away from the compound inhabited by members of the Fundamentalist Church of Jesus Christ of Latter Day Saints.
A witness for the parents who was presented by defense lawyers as an expert on the FLDS disputed the state's contention that a bed in the retreat's gleaming white temple was never used to consummate the marriages of underage girls to much older men.
Instead, W. John Walsh testified, it is used for naps during the sect's long worship services.
"There is no sexual activity in the temple," Walsh said.
The children were seized this month in a raid on the desert compound because of evidence of physical and sexual abuse, including the forcing of underage girls into marriage and childbearing.
Texas District Judge Barbara Walther boiled it down this way: "The issue before the court is: Can I give them back?"
Attorneys for the children and the parents appeared to be trying to show in cross-examination that their children were fine and that the state was trying to tear families apart on the mere possibility that the girls might be abused when they reach puberty several years from now.
Only a few of the children are teenage girls. Roughly a third are younger than 4 and more than two dozen are teenage boys. But about 20 women or more gave birth when they were minors, some as young as 13, authorities say.
The judge controlled the hundreds of lawyers with a steelier hand Friday than she did the day before.
Under cross-examination, state child-welfare investigator Angie Voss conceded there have been no allegations of abuse against babies, prepubescent girls or any boys.
But her agency, Child Protective Services, contends that the teachings of the FLDS — to marry shortly after puberty, have as many children as possible and obey their fathers or their prophet, imprisoned leader Warren Jeffs — amount to abuse.
"This is a population of women who appear to have a problem making a decision on their own," Voss said.
In response, the FLDS women, dressed in long, pioneer-style dresses with their hair swept up in braids, groaned in chorus with their dark-suited attorneys.
Walsh disputed that young girls have no say in who they marry.
"Basically, they're into match-making," he said of the sect, adding that girls who have refused matches have not been expelled.
"I believe the girls are given a real choice. Girls have successfully said, 'No, this is not a good match for me,' and they remained in good standing," he said.
Perry testified that the girls he interviewed said they freely chose to marry young. But he said those choices were based on lessons drilled into them from birth.
"Obedience is a very important element of their belief system," he said. "Compliance is being godly; it's part of their honoring God."
Perry acknowledged that many of the adults at the ranch are loving parents and that the boys seemed emotionally healthy when he played with them. When asked whether the belief system really endangered the older boys or young children, Perry said, "I have lost sleep over that question."
Under questioning, Perry also conceded the children would suffer if placed in traditional foster care.
"If these children are kept in the custody of the state, there would have to be exceptional and innovative programmatic elements for these children and their families," he said. "The traditional foster care system would be destructive for these children."
At that, dozens of FLDS parents applauded.
Eugene Volokh, a UCLA law professor, said courts have generally held that a parent's belief system cannot, in itself, justify a child's removal. He said, for example, that a parent might teach his child that smoking marijuana is acceptable, but only when he helps the child buy pot does he cross the line.
"The general view of the legal system is until there is an imminent risk of harm or actual harm, you can't" take the children, Volokh said.
The raid was prompted by a call from someone identifying herself as a 16-year-old girl with the sect. She claimed her husband, a 50-year-old member of the sect, beat and raped her. Investigators have yet to identify her among the children seized.
Jeffs is in prison for being an accomplice to rape. He was convicted in Utah last year of forcing a 14-year-old into marrying an older man.
Walsh testified that the renegade Mormon sect did not promote underage marriages until imprisoned leader Warren Jeffs took over as the sect's "prophet."
"He encourages marriage," Walsh said. "In some ways, he's indifferent to their age."
Associated Press writer Jennifer Dobner contributed to this report.
Two Polygamist Sect Survivors Tell Their Stories

"When I Thought of My Dad, I Thought of Him Being God"

by JEN PEREIRA, KIRAN KHALID and EMILY YACUS
July 7, 2008

There's been a lot in the news recently about polygamist groups, but what is it really like for the children who grow up in them? Amber Dawn Lee and Estephania LeBaron are two women who spent their childhoods in two very different -- and very troubled groups -- and later escaped.

The women shared with "Good Morning America" what it is like to live in and to survive the secret society of a renegade polygamist sect.

"The children were all taught that if we were ever to talk about what happened sexually inside the group, that we will go straight to hell," Lee said of her time spent inside the Zion Society.

After she was abandoned by her mother, Lee was adopted and her new parents joined the Zion Society, a group led by a retired landscaper and excommunicated Mormon named Arvin Shreeve.

"I always had a feeling that something wasn't right. That it wasn't normal," said Lee.

Shreeve divided the women into groups called Sister Councils in which it was their job to sew lingerie to sell to local strippers. But first they had to model the lingerie. Shreeve reportedly even hired strippers to train his wives for the sect's fashion shows.

Lee, who as part of a Sister Council learned to sew at a young age, said that she "hoped that I could stand out somehow to Arvin, and that he'll notice that I'm here too."

Lee also said that the children suffered repeated physical and sexual abuse. "A 15-year-old girl would be instructed to teach the 9-year old girl how to sexually satisfy a man or woman," she said.

"Arvin sort of came out of nowhere. There are a lot of independent polygamists," according to senior reporter Mike Watkiss at KTVK in Phoenix. "That's what they call themselves, and they're just guys who basically put their hands up and say, 'I'm a prophet.'"

Estephania LeBaron said she knew about the horrors from a different sect. She is the daughter of polygamist Ervil LeBaron, founder of the Church of the Lamb of God.

"When I thought of my dad, I thought of him being God," she told "GMA." "I just had a huge feeling of awe." She also feared that if she deviated from her father's sect, she "might not get into heaven."

Although neither the Zion Society nor the Church of the Lamb of God were affiliated with the Church of Jesus Christ of Latter-day Saints, Ervil came to be known as the Mormon Manson, for allegedly ordering the death of 22 people. And in 1979 he was convicted of ordering a hit on rival polygamist leader Rulon Allred.

"Ervil LeBaron was crazy," said Watkiss of KTVK. "He was a bad man, and really, I think really, intoxicated with his own alleged connection to God."

His daughter Estephania was one of 52 children, and her mother was one of 13 wives. Growing up in Mexico, she was forced into marriage twice at age 13. Those who attempted to leave the group risked death, a practice Ervil called "blood atonement."

"I had my aunt and my younger sister who were blood atoned. And I was 11 years old, and it was traumatizing," Estephania said while trying to hold back her tears. "Anybody that threatened to go to the police, or young mothers who wanted to leave with their children, those were grounds to kill them."

When asked how the two women survived their cult experiences, Lee said that it took some time. "I did a lot of drugs. I felt like I couldn't fit in. I felt different in the group and outside the group."

LeBaron said it was consoling to realize "that others had it much worse. Like with Hitler, and they went on."




Celestial polygamy
Public Forum Letter
Salt Lake Tribune
05/09/2008
I am a mainstream Mormon. Thomas S. Monson is the president of my church, headquartered in Salt Lake City. Yet I am a polygamist with the blessing of the First Presidency of The Church of Jesus Christ of Latter-day Saints.

I married my first wife in the temple. I married my second wife in the temple while still temple-married to my first wife. I was divorced on Earth, but not in the next life. My second wife has asked the church to cancel my first wife's marriage to me, but they say it isn't necessary because my first wife needs the blessings of a husband. They say I can have two wives. My second wife asked why her marriage to her first husband was canceled by the church but mine wasn't. She was told that only men can have more than one spouse in the church. In heaven I will have two wives; maybe more if I am worthy. Mormon men know they will have more than one wife in the celestial kingdom. It's doctrinal.

Why does the church distance itself from polygamy? Why do they say they don't teach it or believe in it anymore? Polygamy started with Joseph Smith and is going strong with Thomas S. Monson. I wish the church would be honest.

Dana Miller
Idaho Falls, Idaho
The following are organizations that help women looking to flee polygamy.
www.helpthechildbrides.com
www.childpro.org
www.justiceforchildren.org