BUSINESSMAN SUN MYUNG MOON
THE GOSPEL OF ASIAN SUPERIORITY
false messiah Sun Myung Moon died of old age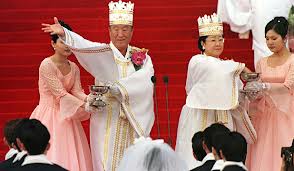 false messiah Sun Myung Moon died of old age

Rev. Moon, religious and political leader, dies in South Korea at 92

By the CNN Wire Staff
Sunday September 2, 2012
(CNN) -- The Rev. Sun Myung Moon -- founder of the church whose followers are colloquially known as the Moonies -- died early Monday in South Korea, an organization affiliated with his church said.
The Universal Peace Federation said on its website that Moon died early Monday morning of complications related to pneumonia. He was 92.
The Washington Times, one of several publications that Moon founded, similarly reported Moon's death.
"Words cannot convey my heart at this time," said Thomas P. McDevitt, the Times' president said in a story on the newspaper's website. "Rev. Sun Myung Moon has long loved America, and he believed in the need for a powerful free press to convey accurate information and moral values to people in a free world."
McDevitt added that the Times is a "tangible expression of those two loves." In 2010, the newspaper was sold to a group operating on Moon's behalf, according to a statement on the paper's website.
Doctors put Moon in intensive care in a Seoul hospital Tuesday after he suddenly fell ill, church spokesman Ahn Ho-yeol said then. At the time, physicians gave him a 50% chance of survival.
The Unification Church gained fame worldwide for its mass weddings decades ago, including at New York City's Madison Square Garden.
Many met their spouses-to-be for the first time during the ceremony. In addition to weddings in South Korea, couples from various countries took part in the ceremony through satellite hookups.
The controversial Moon, whose church critics compare to a cult, served a federal prison term in the United States for tax evasion.
Moon was "virulently anti-Communist," having been imprisoned in North Korea during the Korean War before being freed by the allies, she said.
He softened his hard line on North Korea, though, over time -- even meeting North Korea's founder (and grandfather of its current leader), the late Kim Il Sung, and investing money in the north.
His church believes that Jesus was divine but he is not God, a position that puts the Unification Church outside the bounds of traditional Christianity.
Followers instead regard Moon as the messiah who is completing the salvation mission that Jesus Christ failed to accomplish.
Moon had multiple health problems in recent years. He had heart surgery that was performed in the United States about 10 years ago, his son, the Rev. Hyung Jin Moon, said in an August sermon posted on a church website.
"Father, who is responsible to save the world, pushed himself way beyond his limits," said the son in remarks in which he referred to his father's ailing health.
Hyung Jin Moon in that speech praised his father's efforts over the years, as well as stating some of the family's political positions as regards China, Russia and others.
He made a point to thank those who have been praying for his father's health.
"We need to remember, father is not just a normal person," said the Rev. Hyung Jin Moon. "Father's body is not just a normal body."
Moon ceremony causes uproar in D.C.
New York Times
Sheryl Gay Stolberg
June 24, 2004
WASHINGTON -- As a shining symbol of democracy, the U.S. Capitol is not ordinarily a place where coronations occur. So news that the Rev. Sun Myung Moon, the eccentric and exceedingly wealthy Korean- born businessman, donned a crown in a Senate office building and declared himself the Messiah while members of Congress watched is causing a bit of a stir.
One congressman, Rep. Danny K. Davis, D-Ill., wore white gloves and carried a pillow holding one of two ornate gold crowns that were placed on the heads of Moon and his wife, Dr. Hak Ja Han Moon, at the ceremony, which took place March 23 and capped a reception billed as a peace awards banquet.
Davis, for the record, says he held the wife's crown and was "a bit surprised" by Moon's Messiah remarks, which were delivered in Korean but accompanied by a written translation. In them, he said emperors, kings and presidents had "declared to all heaven and earth that Reverend Sun Myung Moon is none other than humanity's Savior, Messiah, Returning Lord and True Parent."
By Wednesday, after news of the event had been reported in the online magazine Salon and various newspapers, Capitol Hill was in full-blown backpedaling mode, as lawmakers who attended but missed the coronation-- or saw it and did not think much of it -- struggled to explain themselves.
"I remember the king and queen thing," said Rep. Roscoe G. Bartlett, R-Md., "But we have the king and queen of the prom, the king and queen of 4-H, the Mardis Gras and all sorts of other things. I had no idea what he was king of."
Others, like Sen. Mark Dayton, D-Minn., insisted they were duped and had no idea that the organization holding the reception was connected to Moon. Dayton said he attended because a constituent was being honored. He left before the crowning.
"I never saw Reverend Moon present during the time I was there," he said. "I did not stay for any formal program."
At 84, Moon cuts a curious figure in Washington, where he mingles with the city's power elite by dint of his dual roles as religious leader and media mogul. He owns The Washington Times, which bills itself as a conservative alternative to The Washington Post, as well as United Press International, the wire service. He calls himself "Father" and has drawn notoriety for officiating at mass weddings. As a conservative, he claims close ties to President Bush and the Republican Party.
Moon's Unification Church has many branches, including the Interreligious and International Federation for World Peace, which held what it called an Ambassadors for Peace awards banquet in the Dirksen Office building on March 23. Lawmakers were told that "exemplary leaders from across the nation will be honored with the 'Crown of Peace' award for leadership in reconciliation and peacemaking."
An initial invitation, sent to all members of Congress, stated that Moon and his wife would also be present and honored for their work. But follow-up letters, including one provided by Dayton, mentioned only the peace foundation and simply told lawmakers who from their states was being honored.
Barry Lynn, executive director of Americans United, an organization devoted to preserving the separation of church and state, said Moon often draws lawmakers into his fold in this way. Lynn said it seemed Moon was particularly courting black lawmakers, including Davis of Illinois, and Rep. Elijah E. Cummings, D-Md., who attended but said he did not stay for the crowning ceremony.
"Reverend Moon has been very intentional about promoting his activities within the African-American church community," Lynn said. But he said he was disturbed by lawmakers' "flimsy excuses," adding, "You had what effectively amounted to a religious coronation in a government building of a man who claims literally to be the savior."
Cummings, however, said the invitation was similar to countless requests he receives to honor local constituents. In this case, he said, a black bishop in his district was among the award recipients. "That's a big deal," he said. "If you've got a bishop coming to be honored, you've got to show up."
For his part, Bartlett said he attended to support The Washington Times. "I'm a conservative," he said. "I'm delighted that we have a middle-of-the-road paper in Washington."
The event itself attracted little notice, though Lynn's organization wrote about it in a newsletter in May. The uproar did not occur until this week, when John Gorenfeld, a freelance writer based in San Francisco, published an account of the event in Salon. Gorenfeld, who wrote that at least a dozen members attended, said he had been scouting the Internet, researching Moon, when he stumbled on a video of the coronation ceremony.
"Nobody sent it to me," he said. "I discovered it and I thought, 'Oh, my God.' "
But Archbishop George August Stallings, pastor of the Imani Temple, an independent African-American Catholic church in Washington, who helped coordinate the reception, does not see what all the fuss is about. "From his spiritual perspective," he said, referring to Moon, "that is how he sees his role, as ordained by God."
He added: "This is not the first time the man has been on Capitol Hill. It's not the first time he's spoken there."
As to whether it will be the last, that is an open question.
Black clergy join the Rev. Moon

In unlikely alliance, some are taking down the cross and following Korean spiritual leader.

By DELROY ALEXANDER and MARGARET RAMIREZ
Chicago Tribune
Monday, November 13, 2006

CHICAGO – Central United Community Church stands on Chicago's South Side as a storefront sanctuary, serving the needy and spiritually hungry who pass through its doors. The modest church has worn wooden pews and a fiery pastor preaching from a pulpit, but missing is Christianity's most powerful symbol: the cross.

The Rev. Joseph McAfee took down the cross and buried it, inspired by the teachings of the Rev. Sun Myung Moon, the controversial Korean spiritual leader. "If you stop at the cross, you're just preaching pain," said McAfee, who keeps an autographed picture of the Unification Church founder in his office.

The cross may be a symbol of pain to McAfee, but its removal from his church is emblematic of something more – a growing and potent alliance between Moon and black religious leaders across the country.

The unlikely partnership, known as the American Clergy Leadership Conference, represents the latest chapter in Moon's remarkable evolution from convicted felon and alleged cult leader to influential religious and political figure with ties to the Rev. Jerry Falwell and former President George H.W. Bush.

Nationwide, organizers say, thousands of pastors attend monthly prayer breakfasts where they praise Moon and his wife as "Father and Mother Moon." Many have taken expenses-paid overseas trips.

And dozens of Chicago-area ministers such as McAfee either have taken down their crosses or participated in those ceremonies. Moon's people, in fact, see Chicago as the model for national growth of the religious alliance.

Moon's outreach to largely Baptist and Pentecostal clergy thrives despite a doctrine that states he is the Second Coming of the Messiah and that Jesus Christ failed to complete the mission God sent him to do.

The ACLC attracts primarily black clergy even though Moon envisions creating a new human family where his interracial wedding ceremonies eventually will produce a single race that is all "yellow."

As Moon put it in a 1991 sermon: "Little by little, the color of black people will gradually become lighter."

While the conference is promoted as a bridge between races and faiths, it also has become a marriage of convenience for Moon and black religious leaders. For the black pastors, the benefits include prestige, a powerful ally and gifts, including watches worth $12,000. For Moon, the alliance brings credibility in poor urban communities, a new audience for his theology and political leverage.

"The assumption is that he's just doing it to curry favor and buy credibility," said the Rev. Phillip Schanker, spokesman for the Unification Church, formally known as the Family Federation for World Peace and Unification. "That's not what I've seen."

Although some black pastors courted by Moon's followers contend the network is being manipulated to advance his agenda, those closer to the movement defend their thinking – even if they don't declare Moon as the Second Coming.

"No. I already have a messiah. That's Jesus Christ," McAfee said. "I don't need another messiah. But I do need a friend."

The ACLC was born on a Korean mountaintop in May 2000. Moon invited the 120 founding members on an expenses-paid trip where he christened the pastors, presented each with a diamond-studded watch and said they were on a "mission to become one with the True Parents," as Moon and his wife are known in the Unification Church.

Those on the trip included two men who are leaders of the ACLC in Chicago, the Rev. T.L. Barrett Jr. and the Rev. A. Harold White. With their help, the leadership conference has become Moon's main vehicle in the black community to help unite the world's religions under his philosophy of Godism – in effect, a worldwide theocracy.

"The wall between church and state as it's understood now would not be there," Schanker said.

To finance his grand vision, Moon and his followers have developed a sprawling business empire that includes The New Yorker Hotel, The Washington Times and a seafood conglomerate, True World Group Inc., that supplies sushi-grade fish to thousands of restaurants in the U.S. In launching the ACLC, Moon has spent several million dollars, according to the Unification Church.

Moon's unorthodox theology is spelled out in the sacred text of the Unification Church, the Divine Principle. Under Moon's interpretation of the Bible, Jesus failed to complete God's mission for him, to marry and create perfect children.

Moon, 86, also teaches that he and his second wife are the "True Parents" of a new spiritual lineage born without original sin. The ultimate purpose of Moon's famous mass weddings is to carry out his vision of a world in which most people will have Asian blood. "The Pacific era will come," Moon said in a 1993 speech. "The Asian culture and people will become more dominant."

In explaining Moon's philosophy about race, Schanker wrote in an e-mail: "The emphasis is not on diluting the races, per se, but the transcending of race."

Moon's controversial views don't faze his supporters in the black religious community.

"If we could live under the hard oppressive rule of the white man, certainly I have no problem with the Koreans," said Washington, D.C.-based pastor Bishop C. Phillip Johnson. "If God so chooses to raise them up to be the lead and to bring about real true religious and racial harmony, then I have no problem following him."