Mormon History
James Buchanan State of the Union Address - 1858
PRESIDENT JAMES BUCHANAN
STATE OF THE UNION ADDRESS - 1858
The present condition of the Territory of Utah, when contrasted with what it was one year ago, is a subject for congratulation. It was then in a state of open rebellion, and, cost what it might, the character of the Government required that this rebellion should be suppressed and the Mormons compelled to yield obedience to the Constitution and the laws. In order to accomplish this object, as I informed you in my last annual message, I appointed a new governor instead of Brigham Young, and other Federal officers to take the place of those who, consulting their personal safety, had found it necessary to withdraw from the Territory.
To protect these civil officers, and to aid them, as a posse comitatus, in the execution of the laws in case of need, I ordered a detachment of the Army to accompany them to Utah. The necessity for adopting these measures is now demonstrated.
On the 15th of September, 1857, Governor Young issued his proclamation, in the style of an independent sovereign, announcing his purpose to resist by force of arms the entry of the United States troops into our own Territory of Utah. By this he required all the forces in the Territory to "hold themselves in readiness to march at a moment's notice to repel any and all such invasion," and established martial law from its date throughout the Territory. These proved to be no idle threats. Forts Bridger and Supply were vacated and burnt down by the Mormons to deprive our troops of a shelter after their long and fatiguing march. Orders were issued by Daniel H. Wells, styling himself "Lieutenant General, Nauvoo Legion," to stampede the animals of the United States troops on their march, to set fire to their trains, to burn the grass and the whole country before them and on their flanks, to keep them from sleeping by night surprises, and to blockade the road by felling trees and destroying the fords of rivers, etc.
These orders were promptly and effectually obeyed. On the 4th of October, 1857, the Mormons captured and burned, on Green River, three of our supply trains, consisting of seventy-five wagons loaded with provisions and tents for the army, and carried away several hundred animals. This diminished the supply of provisions so materially that General Johnston was obliged to reduce the ration, and even with this precaution there was only sufficient left to subsist the troops until the 1st of June.
Our little army behaved admirably in their encampment at Fort Bridger under these trying privations. In the midst of the mountains, in a dreary, unsettled, and inhospitable region, more than a thousand miles from home, they passed the severe and inclement winter without a murmur. They looked forward with confidence for relief from their country in due season, and in this they were not disappointed. The Secretary of War employed all his energies to forward them the necessary supplies and to muster and send such a military force to Utah as would render resistance on the part of the Mormons hopeless, and thus terminate the war without the effusion of blood. In his efforts he was efficiently sustained by Congress. They granted appropriations sufficient to cover the deficiency thus necessarily created, and also provided for raising two regiments of volunteers "for the purpose of quelling disturbances in the Territory of Utah, for the protection of supply and emigrant trains, and the suppression of Indian hostilities on the frontiers." Happily, there was no occasion to call these regiments into service. If there had been, I should have felt serious embarrassment in selecting them, so great was the number of our brave and patriotic citizens anxious to serve their country in this distant and apparently dangerous expedition. Thus it has ever been, and thus may it ever be.
The wisdom and economy of sending sufficient re-enforcements to Utah are established, not only by the event, but in the opinion of those who from their position and opportunities are the most capable of forming a correct judgment. General Johnston, the commander of the forces, in addressing the Secretary of War from Fort Bridger under date of October 18, 1857, expresses the opinion that "unless a large force is sent here, from the nature of the country a protracted war on their [the Mormons's] part is inevitable." This he considered necessary to terminate the war "speedily and more economically than if attempted by insufficient means."
In the meantime it was my anxious desire that the Mormons should yield obedience to the Constitution and the laws without rendering it necessary to resort to military force. To aid in accomplishing this object, I deemed it advisable in April last to dispatch two distinguished citizens of the United States, Messrs. Powell and McCulloch, to Utah. They bore with them a proclamation addressed by myself to the inhabitants of Utah, dated on the 6th day of that month, warning them of their true condition and how hopeless it was on their part to persist in rebellion against the United States, and offering all those who should submit to the laws a full pardon for their past seditions and treasons. At the same time I assured those who should persist in rebellion against the United States that they must expect no further lenity, but look to be rigorously dealt with according to their deserts. The instructions to these agents, as well as a copy of the proclamation and their reports, are herewith submitted. It will be seen by their report of the 3d of July last that they have fully confirmed the opinion expressed by General Johnston in the previous October as to the necessity of sending re-enforcements to Utah. In this they state that they "are firmly impressed with the belief that the presence of the Army here and the large additional force that had been ordered to this Territory were the chief inducements that caused the Mormons to abandon the idea of resisting the authority of the United States. A less decisive policy would probably have resulted in a long, bloody, and expensive war."
These gentlemen conducted themselves to my entire satisfaction and rendered useful services in executing the humane intentions of the Government.
It also affords me great satisfaction to state that Governor Cumming has performed his duty in an able and conciliatory manner and with the happiest effect. I can not in this connection refrain from mentioning the valuable services of Colonel Thomas L. Kane, who, from motives of pure benevolence and without any official character or pecuniary compensation, visited Utah during the last inclement winter for the purpose of contributing to the pacification of the Territory.
I am happy to inform you that the governor and other civil officers of Utah are now performing their appropriate functions without resistance. The authority of the Constitution and the laws has been fully restored and peace prevails throughout the Territory. A portion of the troops sent to Utah are now encamped in Cedar Valley, 44 miles southwest of Salt Lake City, and the remainder have been ordered to Oregon to suppress Indian hostilities.
The march of the army to Salt Lake City through the IndianTerritory has had a powerful effect in restraining the hostile feelings against the United States which existed among the Indians in that region and in securing emigrants to the far West against their depredations. This will also be the means of establishing military posts and promoting settlements along the route. I recommend that the benefits of our land laws and preemption system be extended to the people of Utah by the establishment of a land office in that Territory.
(Webmaster Note: Mormon Senator Harry Reid would have made a great 19th century Anti-Mormon)
Reid: Polygamous groups are criminal gangs
July 24, 2008
WASHINGTON, July 24 (UPI) -- Polygamous groups are criminal gangs that commit welfare fraud and tax evasion as well as sexual abuse, U.S. Senate Majority Leader Harry Reid said Thursday.
Reid, D-Nev., a Mormon, spoke at the opening of a Judiciary Committee hearing on the communities, the Deseret Morning News reported. He said he was glad the hearing was being held on Pioneer Day, a Utah holiday commemorating the arrival of the Latter-Day Saints in Salt Lake City.
"I am here to tell you that polygamist communities in the United States are a form of organized crime," he said. "The most obvious crime being committed in these communities is bigamy, child abuse -- teen and preteen girls are forced to marry older men and bear their children."
Reid proposed a federal-state task force to police polygamous sects, CNN said. "The lawless conduct of polygamous communities in the United States deserves national and federal action," Reid told the Washington hearing.
Polygamists, including women in long dresses, packed the hearing room. The focus was on law enforcement, and the polygamists did not testify although former sect members did.
Bill Number: S. 3313 (IS)
Bill Title: Victims of Polygamy Assistance Act of 2008 (Introduced in Senate)
Sponsor: Sen Reid, Harry View all legislation sponsored by this member.
Introduced: 2008/07/23
Latest Major Action: 2008/07/23 Referred to Senate committee. Status: Read twice and referred to the Committee on the Judiciary.
Notes: There are no notes for this Bill
S 3313 IS
110th CONGRESS
2d Session
S. 3313
To establish a Federal Polygamy Task Force, to authorize assistance for victims of polygamy, and for other purposes.
IN THE SENATE OF THE UNITED STATES
July 23, 2008
Mr. REID introduced the following bill; which was read twice and referred to the Committee on the Judiciary
A BILL
To establish a Federal Polygamy Task Force, to authorize assistance for victims of polygamy, and for other purposes.
Be it enacted by the Senate and House of Representatives of the United States of America in Congress assembled,
SECTION 1. SHORT TITLE.
This Act may be cited as the `Victims of Polygamy Assistance Act of 2008'.
SEC. 2. FINDINGS.
Congress makes the following findings:
(1) Despite the fact that polygamy has been illegal in the United States for over 100 years, the practice of polygamy involving underage marriages is growing. Sizable polygamist communities exist in Arizona, Utah, and Nevada, and are expanding into other States.
(2) Polygamist communities are typically controlled by organizations that engage in widespread and systematic violations of State laws and the laws of the United States in order to enrich their leaders and maintain control over their members.
(3) The crimes perpetrated by these organizations include child abuse, domestic violence, welfare fraud, tax evasion, public corruption, witness tampering, and transporting victims across State lines.
(4) Due to the systematic and sophisticated nature of these crimes, State and local law enforcement agencies would benefit from the assistance of the Federal Government as they investigate and prosecute these organizations and their leaders for violations of State law. In addition, violations of Federal law associated with polygamy should be investigated and prosecuted directly by Federal authorities.
(5) The work of State and Federal law enforcement agencies to combat crimes by polygamist organizations would benefit from enhanced collaboration and information-sharing among such agencies.
(6) The establishment of a task force within the Department of Justice to coordinate Federal efforts and collaborate with State agencies would aid in the investigation and prosecution of criminal activities of polygamist organizations in both Federal and State courts.
(7) Polygamist organizations isolate, control, manipulate, and threaten victims with retribution should they ever abandon the organization. Individuals who choose to testify against polygamist organizations in Federal or State court have unique needs, including social services and witness protection support, that warrant Federal assistance.
SEC. 3. ESTABLISHMENT OF A FEDERAL POLYGAMY TASK FORCE.
(a) Establishment- There is established within the Department of Justice a Federal Polygamy Task Force, which shall consist of the Deputy Attorney General, the United States attorneys from affected Federal judicial districts, representatives of the Federal Bureau of Investigation, the Internal Revenue Service, the Department of Labor, and the Department of Health and Human Services, and any officer of the Federal Government whom the Deputy Attorney General considers necessary to strengthen Federal law enforcement activities and provide State and local law enforcement officials the assistance they need to address the illegal activity of one or more polygamist organizations.
(b) Purposes- The Federal Polygamy Task Force established under subsection (a) shall--
(1) formulate effective responses to the unique set of crimes committed by polygamist organizations;
(2) establish partnerships with State and local law enforcement agencies to share relevant information and strengthen State and Federal efforts to combat crimes perpetrated by polygamist organizations;
(3) assist States by providing strategies and support for the protection of witnesses;
(4) track the criminal behavior of polygamist organizations that cross State and international borders; and
(5) ensure that local officials charged with protecting the public are not corrupted because of financial, family, or membership ties to a polygamist organization.
SEC. 4. POLYGAMY VICTIM ASSISTANCE DISCRETIONARY GRANTS.
The Victims of Crime Act of 1984 (42 U.S.C. 10601 et seq.) is amended by inserting after section 1404E the following:
`SEC. 1404F. ASSISTANCE FOR VICTIMS OF POLYGAMY.
`(a) In General- The Director may make grants as provided in section 1404(c)(1)(A) to State, tribal, and local prosecutors' offices, law enforcement agencies, courts, jails, and correctional institutions, and to qualified public and private entities, to develop, establish, and maintain programs for the enforcement of rights and provision of social services (including witness protection, housing, education, vocational training, mental health services, child care, and medical treatment) for an individual who is exploited or otherwise victimized by practitioners of polygamy.
`(b) Authorization of Appropriations- In addition to funds made available under section 1402(d), there are authorized to be appropriated to carry out this section--
`(1) $2,000,000 for fiscal year 2009; and
`(2) $2,500,000 for each of the fiscal years 2010, 2011, 2012, and 2013.
`(c) False Claims Act- Notwithstanding any other provision of law, amounts collected pursuant to sections 3729 through 3731 of title 31, United States Code (commonly known as the `False Claims Act'), may be used for grants under this section, subject to appropriation.'.
SEC. 5. POLYGAMY INVESTIGATION AND PROSECUTION ASSISTANCE DISCRETIONARY GRANTS.
Section 506(a) of the Omnibus Crime Control and Safe Streets Act of 1968 (42 U.S.C. 3756(a)) is amended--
(1) in paragraph (1), by striking `and' at the end;
(2) in paragraph (2), by striking the period at the end and inserting `; and'; and
(3) by adding at the end the following:
`(3) $2,000,000, to be granted by the Attorney General to States and units of local government to investigate and prosecute polygamist organizations that violate Federal, State, or local laws.'.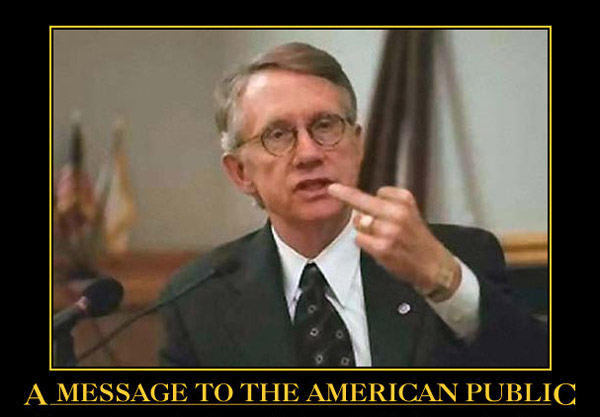 Mormon United States Senator Harry Reid of Nevada