Mormon History
Brigham Young on the Resurrection and how to Attain it - 1862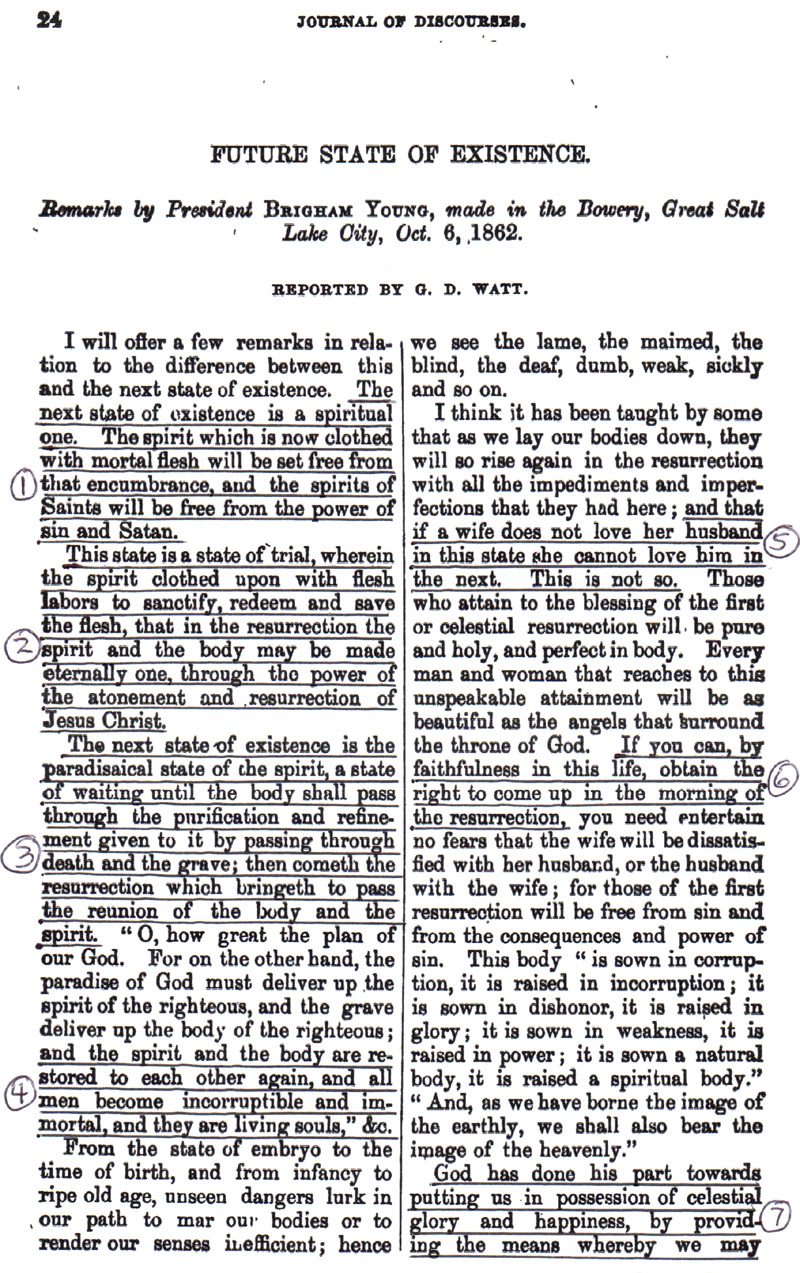 1) Christians will have a tangible existence in the life to come.
Now as they said these things, Jesus Himself stood in the midst of them, and said to them, "Peace to you." But they were terrified and frightened, and supposed they had seen a spirit. And He said to them, "Why are you troubled? And why do doubts arise in your hearts? Behold My hands and My feet, that it is I Myself. Handle Me and see, for a spirit does not have flesh and bones as you see I have." Luke 24:36-39
2) Jesus Christ is the Savior of Christians based on His death for your sins.
And such were some of you. But you were washed, but you were sanctified, but you were justified in the name of the Lord Jesus and by the Spirit of our God. 1 Corinthians 6:11
3) Jesus Christ is the key to the resurrection for eternal life.
Jesus said to her, "I am the resurrection and the life. He who believes in Me, though he may die, he shall live. And whoever lives and believes in Me shall never die. Do you believe this?" John 11:25-26

4) Each person is composed of a body, soul, and spirit or a trinity in the image of God.
Now may the God of peace Himself sanctify you completely; and may your whole spirit, soul, and body be preserved blameless at the coming of our Lord Jesus Christ. 1 Thessalonians 5:23

5) There will be no human marriage in heaven as Christians will be married to Jesus Christ.
Jesus answered and said to them, "You are mistaken, not knowing the Scriptures nor the power of God. For in the resurrection they neither marry nor are given in marriage, but are like angels of God in heaven. Matthew 22:29-30

6) Salvation is a gift of God not of your faithful works.
For by grace you have been saved through faith, and that not of yourselves; it is the gift of God, not of works, lest anyone should boast. Ephesians 2:8-9

7) Salvation results from simply trusting God through sincere belief.
"For God so loved the world that He gave His only begotten Son, that whoever believes in Him should not perish but have everlasting life. For God did not send His Son into the world to condemn the world, but that the world through Him might be saved. He who believes in Him is not condemned; but he who does not believe is condemned already, because he has not believed in the name of the only begotten Son of God." John 3:16-18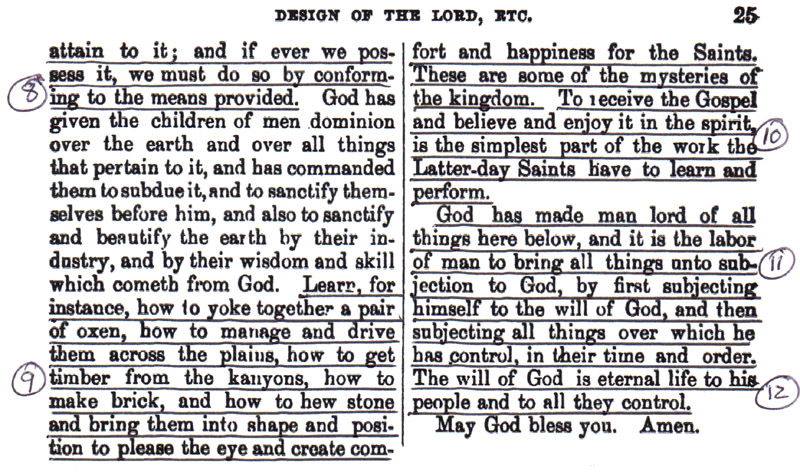 8) Conforming to God's plan of salvation involves sincere belief manifested through sincere confession.
But what does it say? "The word is near you, in your mouth and in your heart" (that is, the word of faith which we preach): that if you confess with your mouth the Lord Jesus and believe in your heart that God has raised Him from the dead, you will be saved. For with the heart one believes unto righteousness, and with the mouth confession is made unto salvation. Romans 10:8-10

9) The mysteries of the Kingdom of God are spiritual not physical work.
Therefore do not let your good be spoken of as evil; for the kingdom of God is not eating and drinking, but righteousness and peace and joy in the Holy Spirit. Romans 14:16-17

10) The Christian Gospel is about Jesus Christ not your physical labor.
Moreover, brethren, I declare to you the gospel which I preached to you, which also you received and in which you stand, by which also you are saved, if you hold fast that word which I preached to you—unless you believed in vain. For I delivered to you first of all that which I also received: that Christ died for our sins according to the Scriptures, and that He was buried, and that He rose again the third day according to the Scriptures, and that He was seen by Cephas, then by the twelve. 1 Corinthians 15:1-4

11) God the Father Himself will bring all things unto subjection to Jesus Christ.
The Lord said to my Lord, "Sit at My right hand, till I make Your enemies Your footstool." Psalm 110:1
But this Man, after He had offered one sacrifice for sins forever, sat down at the right hand of God, from that time waiting till His enemies are made His footstool. For by one offering He has perfected forever those who are being sanctified. Hebrews 10:12-14

12) The will of God the Father for eternal life is sincere belief and trust in Jesus Christ.
"And this is the will of Him who sent Me, that everyone who sees the Son and believes in Him may have everlasting life; and I will raise him up at the last day." John 6:40


Conclusion: Brigham Young was not a Christian but a rich despotic cult leader.