Mormon History
The Mormon Dilemma of Abraham Lincoln - 1862
The Civil War proved to have far greater influence on Utah and the Mormons than Brigham ever anticipated. In 1862 Lincoln told T.B.H. Stenhouse, a Mormon journalist, that he intended to leave the Mormons alone:
"Stenhouse, when I was a boy on the farm in Illinois there was a great deal of timber on the farms which we had to clear away. Occasionally we would come to a log which had fallen down. It was too hard to split, too wet to burn, and too heavy too move, so we plowed around it. That's what I intend to do with the Mormons. You go back and tell Brigham Young that if he will let me alone I will let him alone."
Despite Lincoln's tolerant attitude, circumstances would make Utah's stance during the Civil War vital to the Union. Early in the war it became necessary to shift the transcontinental stage lines northward, out of the reach of Confederate troops. The new route passed directly through Salt Lake City and the Utah Territory. Even more important, a key segment of the transcontinental telegraph, completed in 1861 with the help of the Mormons, ran through Utah. If the Union were to maintain the loyalty of California and other important western areas, it was essential that Utah remain firmly in the north's control.
Brigham Young – American Moses, page 295.
The Saints and the Union, pages 191-192
The Mormon Experience, page 170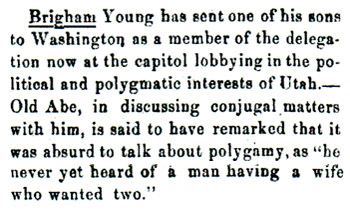 Liberty Weekly Tribune - October 3, 1862