Mormon History
Brigham Young and His Ideas About God, Government, and Salvation - 1864
DIFFERENCE OF IDEAS ENTERTAINED RESPECTING GOD
Sermon by Brigham Young Delivered in Salt Lake City on July 31, 1864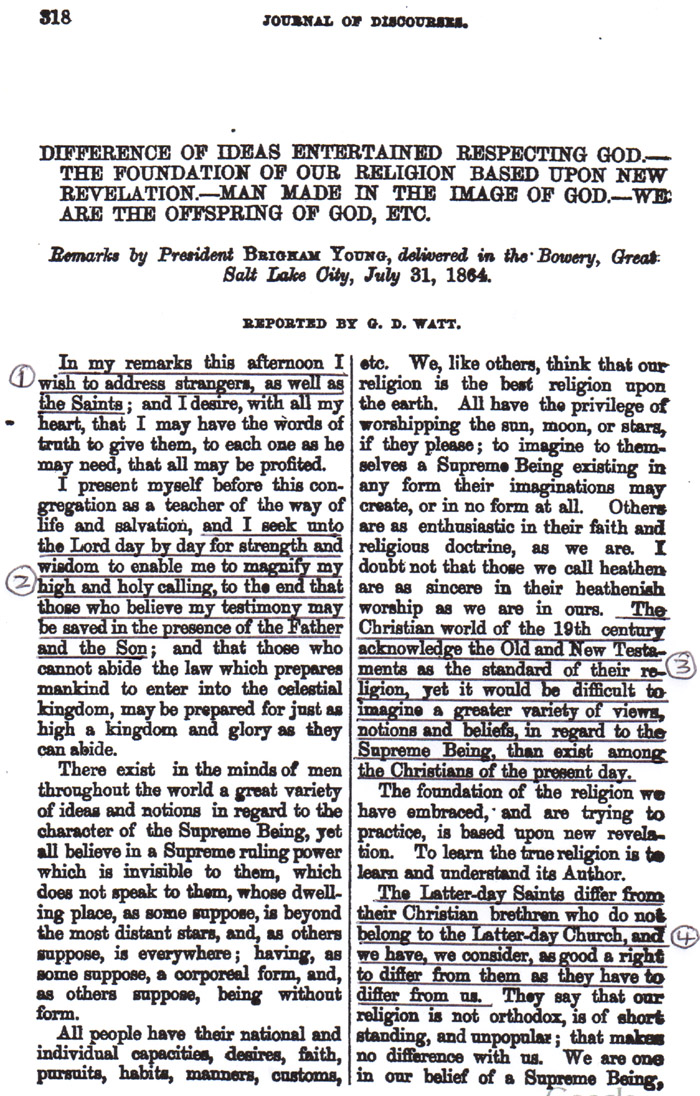 1) Mormon scribes helped craft this sermon directed at non-Mormons moving to Utah due to mining and United States military protection.
2) Christians will place their belief in Jesus Christ instead of a false prophet based in Salt Lake City. Romans 10:8-10 But what does it say? "The word is near you, in your mouth and in your heart" (that is, the word of faith which we preach): that if you confess with your mouth the Lord Jesus and believe in your heart that God has raised Him from the dead, you will be saved. For with the heart one believes unto righteousness, and with the mouth confession is made unto salvation.
3) The Christian creeds of Christendom have been in existence for nearly 1,700 years that cults and false religions denounce. Will you confess the Apostles Creed? I believe in God, the Father Almighty, the Maker of heaven and earth, and in Jesus Christ, His only Son, our Lord: Who was conceived by the Holy Ghost, born of the virgin Mary, suffered under Pontius Pilate, was crucified, dead, and buried; He descended into hell. The third day He arose again from the dead; He ascended into heaven, and sits on the right hand of God the Father Almighty; from thence he shall come to judge the quick and the dead. I believe in the Holy Ghost; the holy catholic church; the communion of saints; the forgiveness of sins; the resurrection of the body; and the life everlasting. Amen.
4) The Latter-day Saints or Mormons should never be considered Christians per Brigham Young and Christian testimony. 1 Corinthians 2:1-2 And I, brethren, when I came to you, did not come with excellence of speech or of wisdom declaring to you the testimony of God. For I determined not to know anything among you except Jesus Christ and Him crucified.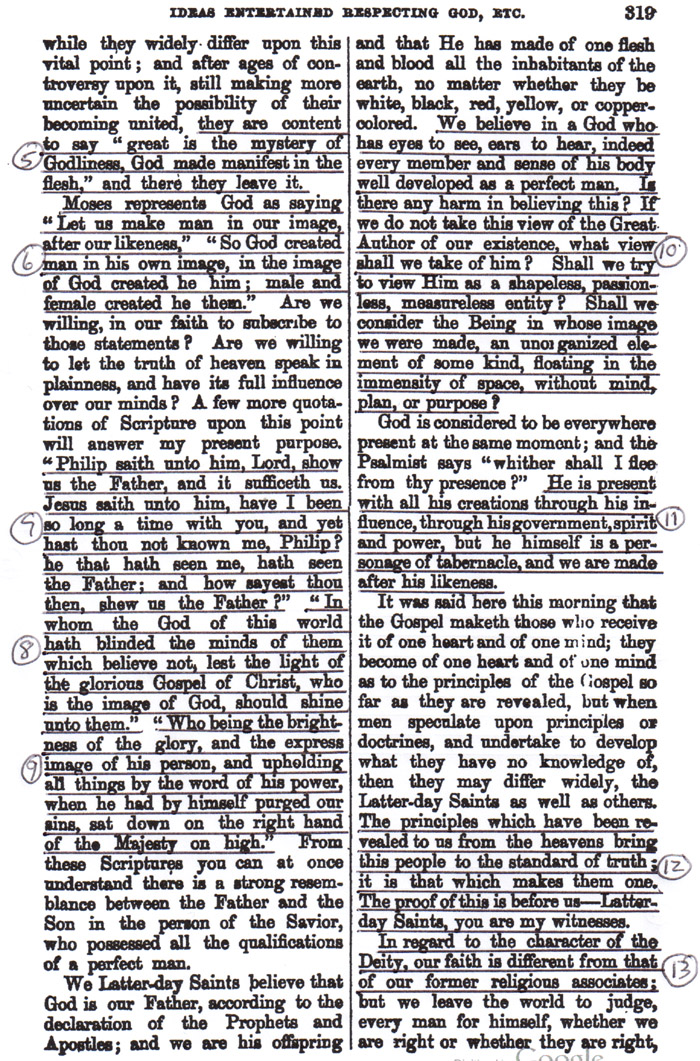 5) Brigham Young had no respect for the Apostle Paul or the preachers of Christendom. The preachers of Christendom will preach Jesus Christ. 1 Timothy 3:16 And without controversy great is the mystery of godliness: God was manifested in the flesh, justified in the Spirit, seen by angels, preached among the Gentiles, believed on in the world, received up in glory.
6) Brigham Young was ignorant of the essence of mankind being a trinity of body, soul, and spirit. 1 Thessalonians 5:23 Now may the God of peace Himself sanctify you completely; and may your whole spirit, soul, and body be preserved blameless at the coming of our Lord Jesus Christ.
7) Brigham Young like Philip was ignorant of the intangible essence of God the Father that was manifested in Jesus Christ. John 14:10-11Do you not believe that I am in the Father, and the Father in Me? The words that I speak to you I do not speak on My own authority; but the Father who dwells in Me does the works. Believe Me that I am in the Father and the Father in Me, or else believe Me for the sake of the works themselves.
8) Mormon scribes took Scriptures out of context in an effort to prove their pagan point. Colossians 1:15 He is the image of the invisible God, the firstborn over all creation.
9) In context of Scripture used, God the Father speaks through Jesus Christ not false prophets based in Salt Lake City. Hebrews 1:4 God, who at various times and in various ways spoke in time past to the fathers by the prophets, has in these last days spoken to us by His Son, whom He has appointed heir of all things, through whom also He made the worlds; who being the brightness of His glory and the express image of His person, and upholding all things by the word of His power, when He had by Himself purged our sins, sat down at the right hand of the Majesty on high, having become so much better than the angels, as He has by inheritance obtained a more excellent name than they.
10) Mormons are not true worshipers of God the Father and should never be considered Christians. John 4:23-24 But the hour is coming, and now is, when the true worshipers will worship the Father in spirit and truth; for the Father is seeking such to worship Him. God is Spirit, and those who worship Him must worship in spirit and truth."
11) Mormons do not process the truth since they have denied the essence of the Father, the Son, and the Holy Spirit. John 16:13-15 However, when He, the Spirit of truth, has come, He will guide you into all truth; for He will not speak on His own authority, but whatever He hears He will speak; and He will tell you things to come. He will glorify Me, for He will take of what is Mine and declare it to you. All things that the Father has are Mine. Therefore I said that He will take of Mine and declare it to you.
12) Christians are witnesses specifically of Jesus Christ while Mormons are witnesses of their false prophets in Salt Lake City. Acts 1:8 "But you shall receive power when the Holy Spirit has come upon you; and you shall be My witnesses in Jerusalem, and in all Judea and Samaria, and to the end of the earth."
13) The Latter-day Saints or Mormons should never be considered Christians per Brigham Young and Christian doctrines.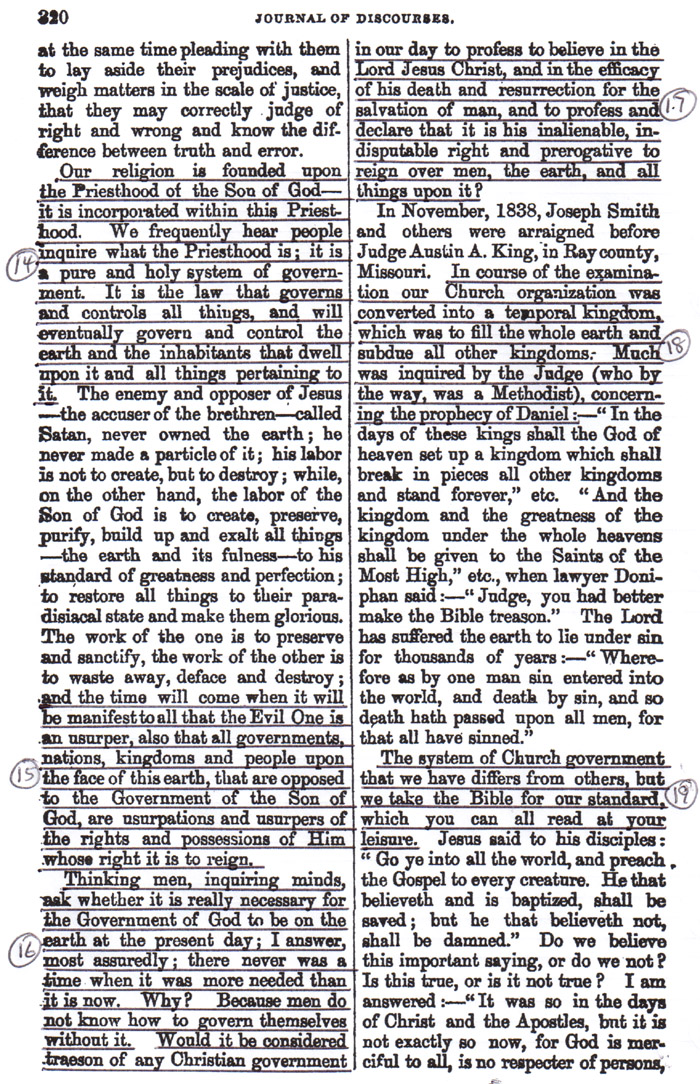 14) Christianity is founded upon the grace of God the Father and faith in Jesus Christ. Ephesians 2:8-9 For by grace you have been saved through faith, and that not of yourselves; it is the gift of God, not of works, lest anyone should boast.
15) Mormons openly practiced treason against the United States during the 19th century through misinterpretations of the Holy Bible. Romans 13:1 Let every soul be subject to the governing authorities. For there is no authority except from God, and the authorities that exist are appointed by God.
16) Mormons openly practiced treason against the United States during the 19th century through misinterpretations of the Holy Bible. Romans 13:2 Therefore whoever resists the authority resists the ordinance of God, and those who resist will bring judgment on themselves.
17) Mormons openly practiced treason against the United States during the 19th century through misinterpretations of the Holy Bible. Romans 13:3-4 For rulers are not a terror to good works, but to evil. Do you want to be unafraid of the authority? Do what is good, and you will have praise from the same. For he is God's minister to you for good. But if you do evil, be afraid; for he does not bear the sword in vain; for he is God's minister, an avenger to e3xecute wrath on him who practices evil.
18) Mormons openly practiced treason against the United States during the 19th century through misinterpretations of the Holy Bible. Romans 13:5-7 Therefore youare due, customs to whom customs, fear to whom fear, honor to whom honor. must be subject, not only because of wrath but also for conscience' sake. For because of this you also pay taxes, for they are God's ministers attending continually to this very thing. Render therefore to all their due: taxes to whom taxes
19) The Christian Church during the early apostolic era had apostles ahead of prophets contrary to the LDS church. 1 Corinthians 12:28 And God has appointed these in the church: first apostles, second prophets, third teachers, after that miracles, then gifts of healings, helps, administrations, varieties of tongues.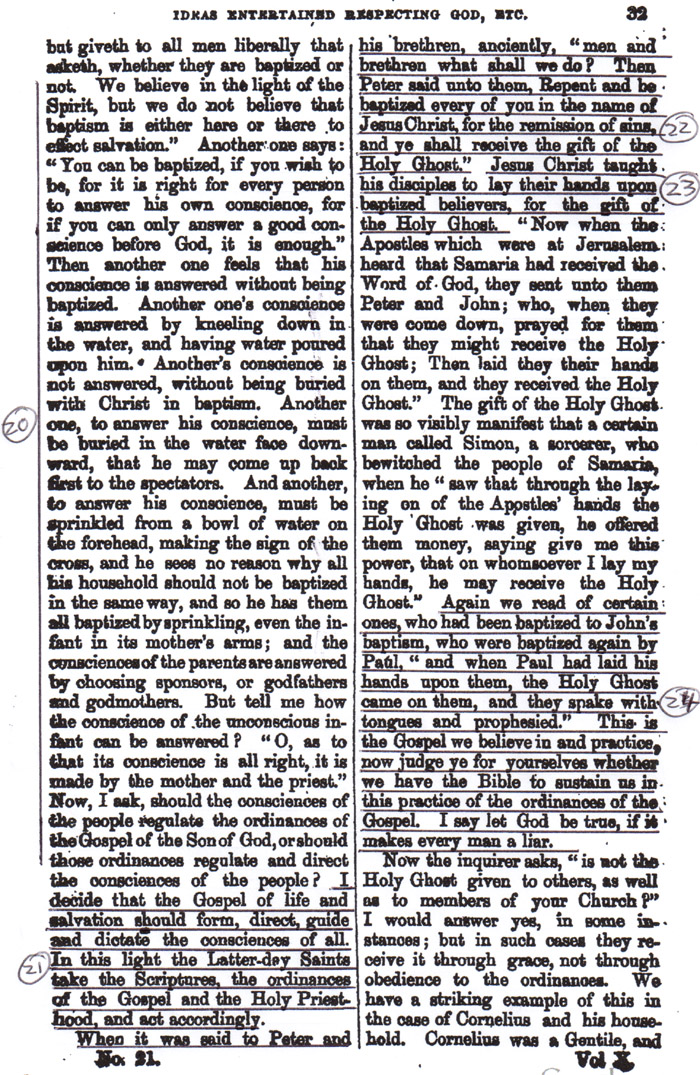 20) Methods of baptism have nothing to do with essence of God. 1 Corinthians 1:14-16 I thank God that I baptized none of you except Crispus and Gaius, lest anyone should say that I had baptized in my own name. Yes, I also baptized the household of Stephanas. Besides, I do not know whether I baptized any other.
21) The Christian Gospel is strictly about Jesus Christ unlike the Mormon gospel. 1 Corinthians 15:1-4 Moreover, brethren, I declare to you the gospel which I preached to you, which also you received and in which you stand, by which also you are saved, if you hold fast that word which I preached to you—unless you believed in vain. For I delivered to you first of all that which I also received: that Christ died for our sins according to the Scriptures, and that He was buried, and that He rose again the third day according to the Scriptures, and that He was seen by Cephas, then by the twelve.
22) The Apostle Peter did not mention baptism in his second sermon as he was growing in his knowledge of Jesus Christ. Acts 3:12-16 So when Peter saw it, he responded to the people: "Men of Israel, why do you marvel at this? Or why look so intently at us, as though by our own power or godliness we had made this man walk? The God of Abraham, Isaac, and Jacob, the God of our fathers, glorified His Servant Jesus, whom you delivered up and denied in the presence of Pilate, when he was determined to let Him go. But you denied the Holy One and the Just, and asked for a murderer to be granted to you, and killed the Prince of life, whom God raised from the dead, of which we are witnesses. And His name, through faith in His name, has made this man strong, whom you see and know. Yes, the faith which comes through Him has given him this perfect soundness in the presence of you all."
23) The Holy Spirit comes from Jesus Christ through belief in Christian faith regardless of method. John 20:22 And when He had said this, He breathed on them, and said to them, "Receive the Holy Spirit."
24) Brigham Young did not preach the Christian Gospel so he must have been a liar. 1 Corinthians 1:17-18 For Christ did not send me to baptize, but to preach the gospel, not with wisdom of words, lest the cross of Christ should be made of no effect. For the message of the cross is foolishness to those who are perishing, but to us who are being saved it is the power of God.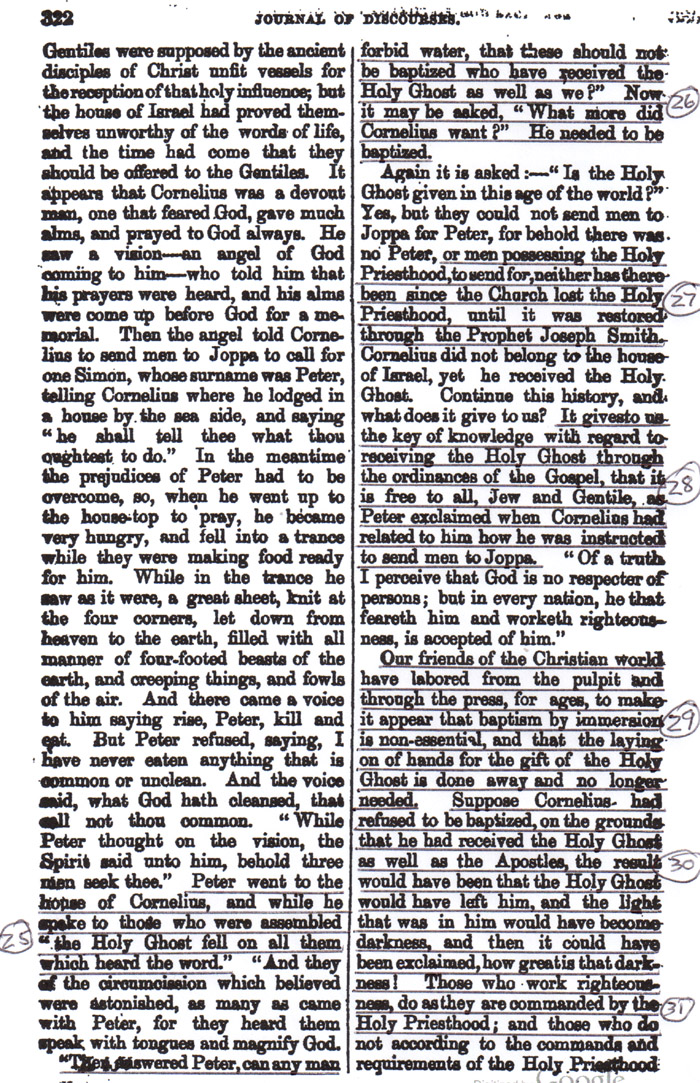 25) The Apostle Peter was preaching Jesus Christ not baptism when people were filled with the Holy Spirit. Acts 10:42-44 And He commanded us to preach to the people, and to testify that it is He who was ordained by God to be Judge of the living and the dead. To Him all the prophets witness that, through His name, whoever believes in Him will receive remission of sins." While Peter was still speaking these words, the Holy Spirit fell upon all those who heard the word.
26) People need to sincerely place their belief in Jesus Christ through Christian faith to be saved from damnation. Luke 23:39-43 Then one of the criminals who were hanged blasphemed Him, saying, "If You are the Christ, save Yourself and us." But the other, answering, rebuked him, saying, "Do you not even fear God, seeing you are under the same condemnation? And we indeed justly, for we receive the due reward of our deeds; but this Man has done nothing wrong." Then he said to Jesus, "Lord, remember me when You come into Your kingdom." And Jesus said to him, "Assuredly, I say to you, today you will be with Me in Paradise."
27) Christians will preach Jesus Christ not a bogus priesthood or the false prophet Joseph Smith. 1 Corinthians 1:22-24 For Jews request a sign, and Greeks seek after wisdom; but we preach Christ crucified, to the Jews a stumbling block and to the Greeks foolishness, but to those who are called, both Jews and Greeks, Christ the power of God and the wisdom of God.
28) Do not be led away by the errors of Brigham Young but grow in the grace and knowledge of our Lord and Savior Jesus Christ. 2 Peter 3:17-18 You therefore, beloved, since you know this beforehand, beware lest you also fall from your own steadfastness, being led away with the error of the wicked; but grow in the grace and knowledge of our Lord and Savior Jesus Christ. To Him be the glory both now and forever. Amen.
29) Christians will preach Jesus Christ with baptism being a public testimony of a person's faith in Jesus Christ not of a bogus priesthood, false church, or false prophets. Acts 8:4-5 Therefore those who were scattered went everywhere preaching the word. Then Philip went down to the city of Samaria and preached Christ to them.
30) Suppose Brigham Young had obeyed the Holy Bible and preached Jesus Christ instead of treason towards the United States? Then Utah would have been a state in 1856 instead of 1896 instead of being a rebellious territory for an extra 40 years. 1 Peter 2:13-16 Therefore submit yourselves to every ordinance of man for the Lord's sake, whether to the king as supreme, or to governors, as to those who are sent by him for the punishment of evildoers and for the praise of those who do good. For this is the will of God, that by doing good you may put to silence the ignorance of foolish men—as free, yet not using liberty as a cloak for vice, but as bondservants of God.
31) Righteousness before God requires sincere belief in Jesus Christ through Christian faith not a bogus priesthood. Romans 1:16-17 For I am not ashamed of the gospel of Christ, for it is the power of God to salvation for everyone who believes, for the Jew first and also for the Greek. For in it the righteousness of God is revealed from faith to faith; as it is written, "The just shall live by faith."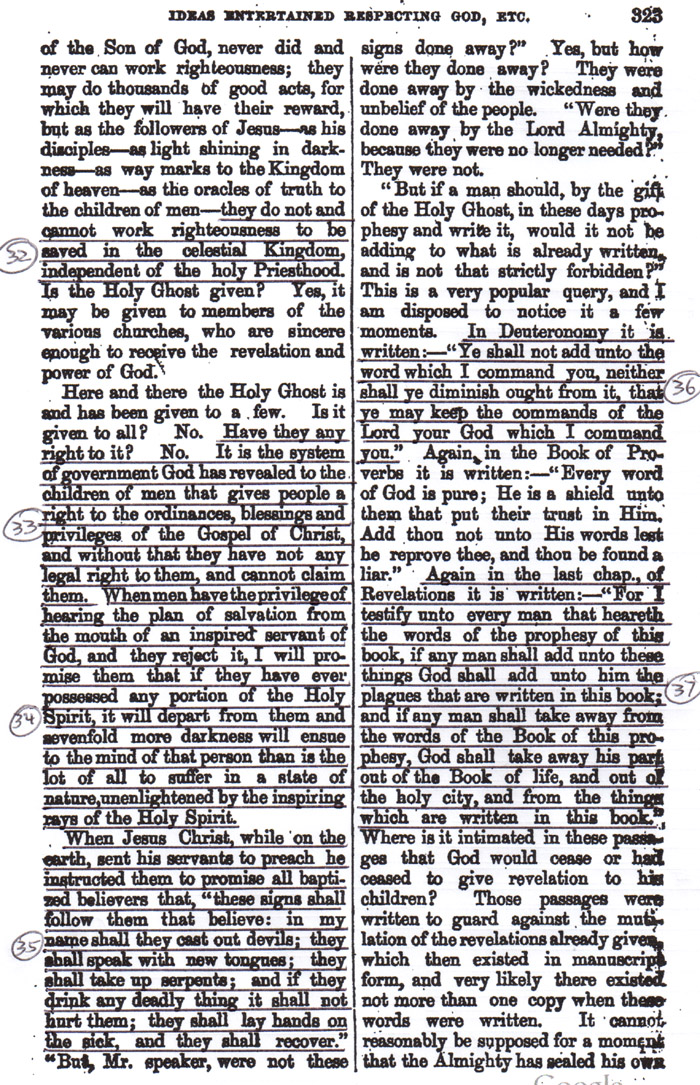 32) Righteousness before God requires sincere belief in Jesus Christ through Christian faith not a bogus priesthood. Romans 3:21-22 But now the righteousness of God apart from the law is revealed, being witnessed by the Law and the Prophets, even the righteousness of God, through faith in Jesus Christ, to all and on all who believe.
33) Righteousness before God does not require legal rights under Mormon law. Romans 3:23-26 For there is no difference; for all have sinned and fall short of the glory of God, being justified freely by His grace through the redemption that is in Christ Jesus, whom God set forth as a propitiation by His blood, through faith, to demonstrate His righteousness, because in His forbearance God had passed over the sins that were previously committed, to demonstrate at the present time His righteousness, that He might be just and the justifier of the one who has faith in Jesus.
34) Jesus Christ condemns false religious leaders such as Brigham Young who instill fear in their followers. Matthew 23:27-28 Woe to you, scribes and Pharisees, hypocrites! For you are like whitewashed tombs which indeed appear beautiful outwardly, but inside are full of dead men's bones and all uncleanness. Even so you also outwardly appear righteous to men, but inside you are full of hypocrisy and lawlessness.
35) Jesus Christ promised evidence to non-believers for those preaching the Christian Gospel. Luke 24:46-48 Then He said to them, "Thus it is written, and thus it was necessary for the Christ to suffer and to rise from the dead the third day, and that repentance and remission of sins should be preached in His name to all nations, beginning at Jerusalem. And you are witnesses of these things."
36) The Holy Bible proclaims that the Book of Mormon of the LDS Church to be false scripture. Deuteronomy 4:2 You shall not add to the word which I command you, nor take from it, that you may keep the commandments of the Lord your God which I command you.
37) The Holy Bible proclaims that the Doctrine and Covenants of the LDS Church to be false scripture. Revelation 22:18-19 For I testify to everyone who hears the words of the prophecy of this book: If anyone adds to these things, God will add to him the plagues that are written in this book; and if anyone takes away from the words of the book of this prophecy, God shall take away his part from the Book of Life, from the holy city, and from the things which are written in this book.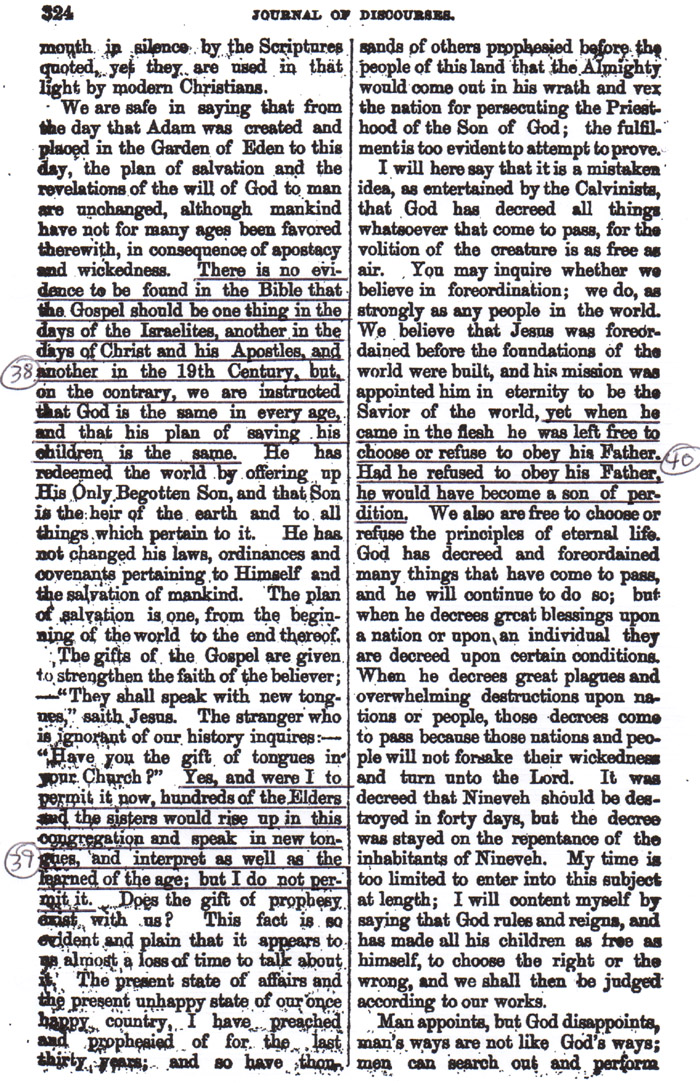 38) The Mormon god and gospel should never be confused with the Christian God and Gospel. Doctrine and Covenants 132:4 regarding polygamy: For behold, I reveal unto you a new and an everlasting covenant; and if ye abide not that covenant, then are ye damned; for no one can reject this covenant and be permitted to enter into my glory.
39) Mormons have never manifested the evidence of Christian salvation. 1 Corinthians 13:13 And now abide faith, hope, love, these three; but the greatest of these is love.
40) Brigham Young did not love Jesus Christ due to his negative confession. John 14:20-21 "At that day you will know that I am in My Father, and you in Me, and I in you. He who has My commandments and keeps them, it is he who loves Me. And he who loves Me will be loved by My Father, and I will love him and manifest Myself to him."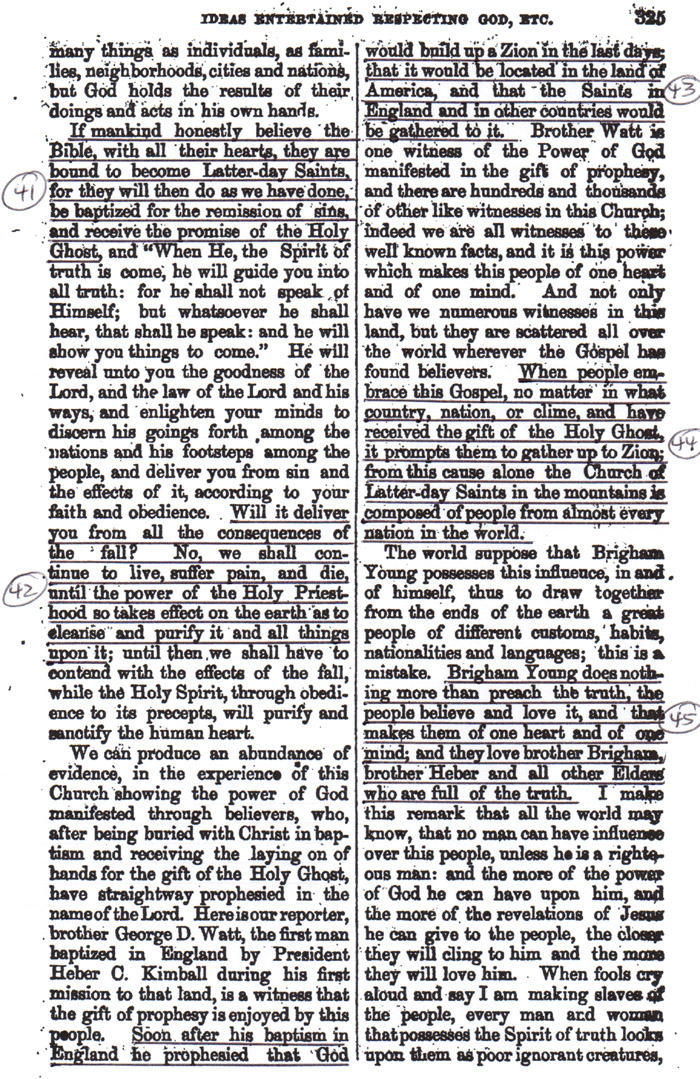 41) Christians will be obedient to God through their witness for Jesus Christ. Acts 5:29-32 But Peter and the other apostles answered and said: "We ought to obey God rather than men. The God of our fathers raised up Jesus whom you murdered by hanging on a tree. Him God has exalted to His right hand to be Prince and Savior, to give repentance to Israel and forgiveness of sins. And we are His witnesses to these things, and so also is the Holy Spirit whom God has given to those who obey Him."
42) God will eventually purify the earth not the bogus Mormon priesthood. Revelation 21:5 Then He who sat on the throne said, "Behold, I make all things new." And He said to me, "Write, for these words are true and faithful."
43) Heber C. Kimball made a false prophesy about Zion being in America instead of heaven. Hebrews 12:22-24 But you have come to Mount Zion and to the city of the living God, the heavenly Jerusalem, to an innumerable company of angels, to the general assembly and church of the firstborn who are registered in heaven, to God the Judge of all, to the spirits of just men made perfect, to Jesus the Mediator of the new covenant, and to the blood of sprinkling that speaks better things than that of Abel.
44) When people embrace the Christian Gospel they will not be gathered to a specific place. Mark 16:15 And He said to them, "Go into all the world and preach the gospel to every creature."
45) Brigham Young was a lover of himself and Mormons should turn away from his teachings. 2 Timothy 3:2-5 For men will be lovers of themselves, lovers of money, boasters, proud, blasphemers, disobedient to parents, unthankful, unholy, unloving, unforgiving, slanderers, without self-control, brutal, despisers of good, traitors, headstrong, haughty, lovers of pleasure rather than lovers of God, having a form of godliness but denying its power. And from such people turn away!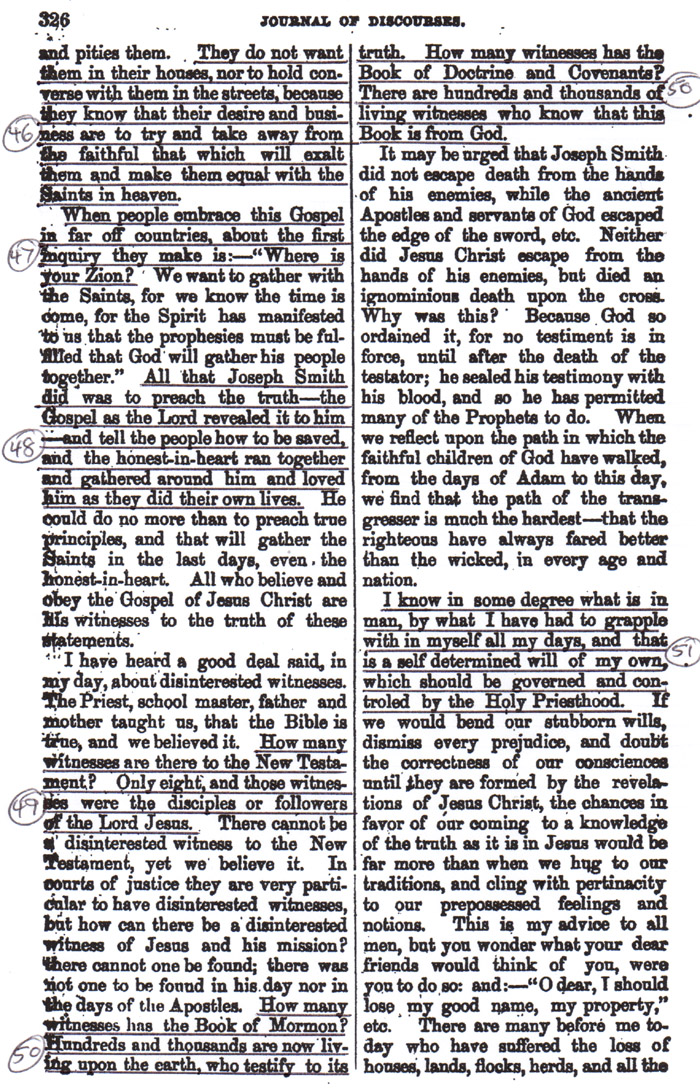 46) Brigham Young exploited Mormons and lived like a king in Salt Lake City. 2 Peter 2:1-3 But there were also false prophets among the people, even as there will be false teachers among you, who will secretly bring in destructive heresies, even denying the Lord who bought them, and bring on themselves swift destruction. And many will follow their destructive ways, because of whom the way of truth will be blasphemed. By covetousness they will exploit you with deceptive words; for a long time their judgment has not been idle, and their destruction does not slumber.
47) When people first accept the Christians Gospel there is joy and God is glorified. Acts 13:48 Now when the Gentiles heard this, they were glad and glorified the word of the Lord. And as many as had been appointed to eternal life believed.
48) Joseph Smith taught blasphemy and promoted himself at the expense of Jesus Christ. Sermon delivered on 5-26-1844 at 10:00am: Come on! ye prosecutors! ye false swearers! All hell, boil over! Ye burning mountains, roll down your lava! for I will come out on the top at last. I have more to boast of than ever any man had. I am the only man that has ever been able to keep a whole church together since the days of Adam. A large majority of the whole have stood by me. Neither Paul, John, Peter, nor Jesus ever did it. I boast that no man ever did such a work as I. The followers of Jesus ran away from Him; but the Latter-day Saints never ran away from me yet.
49) There are many Christians or witnesses to the truth of the New Testament. 2 Timothy 2:1-2 You therefore, my son, be strong in the grace that is in Christ Jesus. And the things that you have heard from me among many witnesses, commit these to faithful men who will be able to teach others also.
50) Christians will be witnesses of Jesus Christ not of Mormon works of fiction. Acts 2:32-33 Jesus God has raised up, of which we are all witnesses. Therefore being exalted to the right hand of God, and having received from the Father the promise of the Holy Spirit, He poured out this which you now see and hear.
51) Christians will be governed by the Holy Spirit not a bogus priesthood. Romans 8:13-14 For if you live according to the flesh you will die; but if by the Spirit you put to death the deeds of the body, you will live. For as many as are led by the Spirit of God, these are sons of God.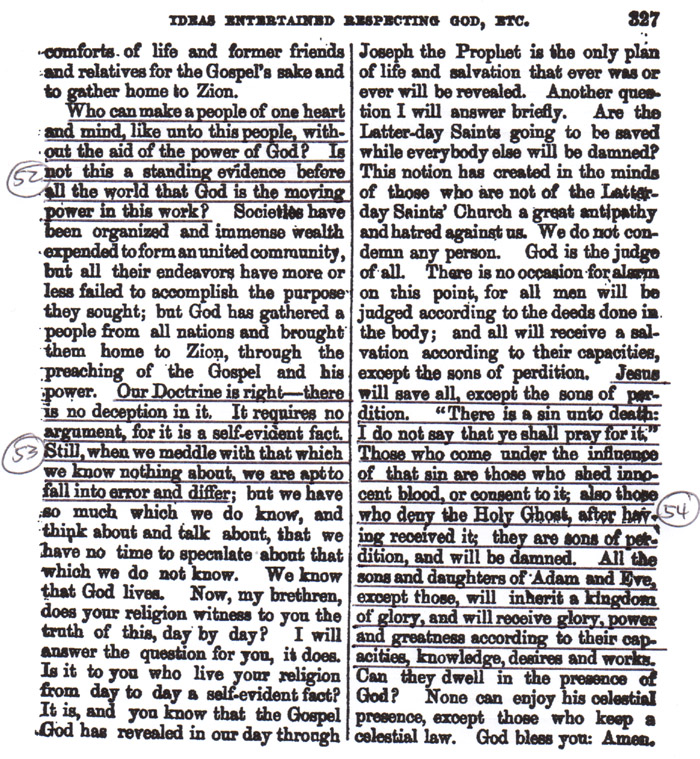 52) Christians will be witnesses of Jesus Christ not of a church based in Utah. 2 Corinthians 5:12-15 For we do not commend ourselves again to you, but give you opportunity to boast on our behalf, that you may have an answer for those who boast in appearance and not in heart. For if we are beside ourselves, it is for God; or if we are of sound mind, it is for you. For the love of Christ compels us, because we judge thus: that if One died for all, then all died; and He died for all, that those who live should live no longer for themselves, but for Him who died for them and rose again.
53) Mormon doctrine such as baptism for the dead through genealogical research are in error and in conflict with the Holy Bible. 1 Timothy 1:3-7 As I urged you when I went into Macedonia—remain in Ephesus that you may charge some that they teach no other doctrine, nor give heed to fables and endless genealogies, which cause disputes rather than godly edification which is in faith. Now the purpose of the commandment is love from a pure heart, from a good conscience, and from sincere faith, from which some, having strayed, have turned aside to idle talk, desiring to be teachers of the law, understanding neither what they say nor the things which they affirm.
54) Jesus Christ is the way, the truth, and eternal life. Do not believe the ideas of Brigham Young and his scribes. Matthew 7:13-15 "Enter by the narrow gate; for wide is the gate and broad is the way that leads to destruction, and there are many who go in by it. Because narrow is the gate and difficult is the way which leads to life, and there are few who find it. Beware of false prophets, who come to you in sheep's clothing, but inwardly they are ravenous wolves."