Mormon History
Interview with John D. Lee - 1874
Salt Lake Daily Herald – November 22, 1874

JOHN D. LEE.
______

Judge Spicer Interviews the
Notorious Individual.
______

An Accurate Pen Portrait of Lee Taken
in His Cell by Our Own Artist.
______

He is not the Ruffianly Desperado which he has
been Pictured, but an "Amiable, Agreeable Old
Gentleman." who plays a good game of Old Sledge.
______

PHRENOLOGICAL & PHYSIOLOGICAL
DESCRIPTION OF THE PRISONER.
______

(Special Correspondence of the Herald.)
______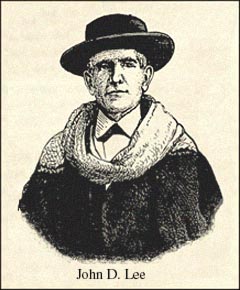 Beaver, Nov. 22, 1874.
To-day being Sunday, I improved it by visiting
JOHN D. LEE, AT HIS QUARTERS
in Camp Cameron. His room is a pleasant one, with only a stove, table and a few chairs for furniture; his bed being blankets and the floor.

I admit my astonishment on first seeing Mr. Lee. This astonishment was caused by reading the newspaper descriptions of Lee's personal appearance, and then beholding the original so different. Now allow me to drive my Faber over a pen, or rather,
PENCIL PICTURE OF THIS, NOW NOTED MAN.
He is five feet eight inches in height, weighs 175 pounds, is square built, with round, broad shoulders, full, deep chest, heavy body, with short, solid limbs. He has large bones, well covered with flesh, so that he is far from being gaunt, and at the same time is not corpulent nor even obese, but a well formed, solid, stout man. His hair is almost white, but was, before turning, of perhaps a sandy color; not a "strawberry blonde," but say brown. It is thin, short, and cut in style, with "fin pointers" over his ears; on top, it stands up, much after the style in which your particular friend, an ex-judge, used to wear his. His head is in exact proportion to his body, large, round and massive; but not such an one as I expected to see. His eyes are blue, not grey, but light, clear blue, of medium size, setting out full and prominent, but not remarkably so. His mouth is rather small, and his lips are in measure with it, neither thick nor thin, but with all, well formed and a pleasing part of his features. His nose is projecting and pointed, but well formed. His chin is small and delicate; his ears are large, with thin upper edges, leaning a little out or forward as if to listen; his eyebrows recede and point downwards; his neck is short and thick, setting firmly on his broad shoulders; his complexion has been florid, but is now somewhat faded by age and exposure, yet still retains much of its original gues; his face is round and broad, not long nor sharp; around his under jaw the flesh seems to fold, like it does in cases of "double chins," but this results from a superabundance of flesh and in consequence of age; his cheek bones are rather high and preminent, giving a breadth in appearance to the base of the brain. His cheeks are a little sunken, but obtain sufficient fullness, and are a glow with health. His general appearance is that of a good-natured old gentleman. He said he was sad to-day, yet when cheered up by a pleasant remark, his eyes shone with a laughing twinkle, and his mouth evidenced an amiable smile. His teeth are full and perfect, above and below; he talks with ease and smoothness; his voice is mild and even musical, and he is an amiable conversationalist -- nothing of the stern, fierce, selfish and cruel look about him that I expected from a man of his reputed character, but on the contrary he seems like a good-natured, kind-hearted, easy-going, pleasant-spoken old Pennsylvania farmer.
HIS PHRENOLOGICAL DEVELOPMENT
is still more remarkable for a man with such a diabolical reputation. His temperament is almost purely sanguine, giving him the endurance, mental and physical vigor that has kept him so blooming and robust, even at the age of 62 years. His perceptive organs are large, especially such as aid him in determining size, weight, distance and form; as also his bumps of causality, indivduality and memory. I remarked to him that he could guess close on the weight of a steer, to which he replied that he had seldom been beaten. His head rises from the bump of human nature, which is large, and endows him with his remarkable vivacity and good humor, and from his bump of benevolence, which is also very large, to the summit, where projects the bump of reverance, which is the most noticeable and
CROWNING FEATURE OF HIS CRANIUM.
I could not help remarking to him that great elevation on top of his head would naturally make him a religious fanatic. Starting again from his face and tracing the phrenological developments around his head, we find he has large alimentiveness; he is an extreme gormandizer. He is a "good liver," fond of good eating, and can be seduced by a good dinner much easier than by pictures or poetry.
HIS COMBATIVENESS AND DESTRUCTIVENESS
are positively moderate. One would expect them fearful in such a man as John D. Lee, but they are not. Rising from these bumps we find his acquisitiveness well developed, but not over much so; secretiveness is quite small, and sublimity still smaller. Now, again, we come to a very prominent development in his bump of amativeness, and still greater and very great protuberance in philoprogenitiveness. He is a man that loves his children and friends, loves pets -- horses, dogs, etc.; but prominently love his children. Then, again, we come towards the crown of the head, where we find firmness extremely large.
HE IS NO COWARD,
and not easily conquered or convinced. His self-esteem is not so large as his self-approbation, and with all it is far from being such a head, phrenologically, as we would expect to find on the shoulders of John D. Lee.
HIS HISTORY.
John D. Lee was born at Kaskaskia, Randolph county, Illinois, on the 6th day of September, 1812. His father was a descendant of the Lees of the revolution, and cousin of the Lees of Virginia, of whom Gen. R. E. Lee was one. His father learned the carpenter trade in Baltimore and went to Illinois, where he married a daughter of John Doyle, of Irish descent, who was then Indian agent, having been wounded in the Indian wars. John D. Lee was raised an orphan, as his mother died when he was only a year and a half old, and his father left at the age of eight years and went to Texas, and has never since been heard from. Upon the death of his mother he was given to nurse to a black woman, where he remained until he was eight years old. He was then given to his mother's sister, who had married a James Connor from Lexington, Ky., they then living ten miles north of Kaskaskia on the road to St. Louis.

During his childhood he was sent to school about eighteen months, but has since acquired a moderate education in the common English branches by his own efforts, studying nights and reading useful books during his leisure time. He studied grammar and some other branches after he commenced preaching, also read history and other valuable works. He was raised a farmer but did drive stage for a while.
HIS BOYHOOD.
His aunt, with whom he was then living, was rich. His uncle, her husband, was a gambler and had nothing. They quarreled and fought dreadfully but always gave all the beatings to "little John D." They abused him shamefully, sometimes knocking him down, leaving him on the ground insensible. He still has scars and dents on his head caused by their beatings. At 18 years of age he ran away from them, went to the Mississippi river and hired out as a deck hand on the steamboat Warrior, running from St. Louis to Galena. He related
AN INCIDENT OF HIS LIFE
as follows: "In passing over the rapids of the Mississippi I was detailed to work on the small boats to carry over the freight and passengers. The other men got drunk and I had to struggle hard to get the yawl up. The passengers in the small boat were a Mr. Boggess and wife. I was taken with the cholera, and for my efforts in their behalf they assumed charge of me and took me to Galena where I became his clerk and had the custody of his whole store. He had a grocery and provision store, a saloon and gambling room. Boggess was a gambler. I told them at the time of having cholera my whole history. I got $25 per month on the boat, but Boggess gave me $50."
HIS MARRIAGE.
At the age of 20 years, two years after going to Galena, he left and returned to Kaskaskia and followed gambling for two years. At teh age of 21 he married a Miss Agatha Ann Woolsey, a poor farmer's girl. Speaking of this match Lee said: "My uncle was poor, had married a rich wife, and they fought each other so desperately that I considered I would marry a poor girl."

After gambling for two years, seeing the wrong and injury of it, and the trouble it brought upon innocent people, he swore off and has never gambled since. By his first wife he had thirteen children, the last two being twins; ten are now alive. She died at New Harmony, Utah, six years ago. Soon after marrying he went to Vandalia, then the capital of Illinois, where he lived about four years, engaged in trading, having a small store; also in stock raising and farming, during which he acquired a nice farm of 160 acres, with good buildings; had 1,000 sheep, 200 cattle, horses, etc., and was comfortable and independent. He there became a good shot with a rifle, seldom equalled at any shooting match; and not one man in a hundred of crack shots can equal him now, old as he is.
HIS CONVERSION.
In the year 1836, one day when returning home through a dreadful snow storm, he met two men perishing with cold, their feet being already frost-bitten. It was on the open prairie, some distance from any house. He took them to the nearest neighbor's and had them cared for. They were Mormon missionaries. He says, "From them I first [heard] of the new religion, which they were preaching." It set him to thinking and searching the scriptures. It worked on his mind so that in 1838, two years afterwards, he went to Missouri where Jos. Smith was, to investigate the subject. On the 17th day of June 1838 he heard Sam. H. Smith, a brother of the prophet, preach, and was converted and baptized by Elder Daniel Cathcart, in Davis Co., Mo. His wife was also converted and baptized at the same time. He then took up his residence with the Mormons in Davis county; was with them when driven out of there as well as when they were expelled from Nauvoo.

He had a splendid house at Nauvoo, with 90 feet front, that would have cost $50,000 in Utah. It had twenty-seven rooms, all splendidly furnished, upon all of which he turned the key when he left and never got a cent for it. On the way to Council Bluffs he was contracting commissary for the camp.
HE CAME TO UTAH
the year after the pioneers -- in 1848. In Utah he has generally been a pioneer in the advance settlements. In Nauvoo he was a military man with the rank of major; also clerk and recorder of the Seventies. Then he learned the broadsword exercise and taught it, having 150 pupils. His several offices made him money and he got along well. Has been on missions about eight years preaching Mormonism, mostly in the south. At Nauvoo he had charge of the public works. In Utah he helped to locate Provo, Payson, Fillmore, Parowan, Cedar City, Washington, St. George and other places, and founded New Harmony himself. He has been one of the Seventies, a high councilor and an alderman; was also a member of the legislature for four years, and member of the constitutional convention from Washington county.
WAS A MAJOR IN UTAH.
He took his second wife, Nancy Bean, in 1845, by whom he had one child, when they separated, and she is now the wife of Z. B. Decker, at Parowan. He married his third wife about six months after, one Sarah C. Williams, by whom he has eleven children, and with whom he is now living.

His fourth wife is the Rachel of whom so much has been heard, by whom he has eight children. Her name was Rachel Andora Woolsey, a sister of his first wife.

Besides these he has eleven other wives, and three "sealed women," they being old and only sealed for support, one of them being the mother of Rachel, and another two sisters. He is the father of sixty-two children -- one for each year of his life, fifty-four of whom are now living (and gossip says there will soon be two more -- gay old gambolier!) I told that on the strength of this: I intended at the next election to vote for Beecher for President, and John D. Lee for vice-President, not withstanding Lee's eighteen wives, giving Beecher the first place on the ticket. He says with pride that he has taken no wives since the law against it of 1862.
EXCOMMUNICATED.
He was cut off from the church at the April conference, two years ago, he thinks unjustly and on account of the malicious aspersions cast upon him. He is active and strong, his eyes are good, and he still reads by candlelight without spectacles. He writes a fair hand, far better than I can, and plays a good game of old sledge. We played a set of three games, in which I beat only two points -- he plays a good game, very good indeed. (?) While at Council Bluffs he was sent to Santa Fe on a mission, to bring back the money from the Mormon Battalion boys to their wives. He returned with $7,000, having many narrow escapes from the Indians, and being shot through the hat, coat and pants. Many of the events of his life of interest I have not room to mention.
HE WILL PLEAD "NOT GUILTY."
His defense to the charge against him will not be guilty, and he believes the prosecution will be able to prove nothing against him. So confident is he of this, that he proposes to have no attorneys, but defend in person. He will be ready for trial at the next term, and will insist upon having it disposed of. He asserts that he can show his innocence, and says he has lived under the imputation and reproach of this crime long enough. Heretofore he has been fearful of persecution and fraud, and not of justice; now he is willing to submit his case to a jury made up entirely of non-Mormons.
HE WANTS THE SHADOW LIFTED.
He implicates no one, nor does he intimate that he can damage any one; but says he has been hunted and harrassed until he has been ruined in property, until his means are limited, having only about 150 horses left and a few wagons and some other effects, most of which are in Arizona. He says he loves his children and wants to be cleared of this accusation so as to provide support for them; that twenty-four of his children still depend upon him, the oldest of these being only 16 years of age, and for their sakes he wants his name free from the obolquy of the diabolism with which he is charged, and which has so long hung over him, while he has been waiting for the time to come when he could obtain a fair and impartial trial. He admits, inadvertently and thoughtlessly, having been in a slight degree an accessary before the fact to that great crime, but only in so slight a manner that no crime can be made out of it; and says that from this alone have all the grave charges been made against him for which he has so long suffered.

He seems confident, pleasant and amiable; glad to see friends and strangers, but complains bitterly of having shackles put on him, as it was his desire to be arrested, and he came freely and voluntarily when he was warned and could have escaped. SPICER.