BRIGHAM YOUNG UNIVERSITY (BYU) DANIEL PETERSON
Mormons and the Holy Trinity
Dan Peterson
Mormontimes.com
16 September 2010
Do Latter-day Saints believe in the Trinity? Virtually everybody who knows anything about Mormonism, believer or not, says no.
But that answer is wrong. Although Latter-day Saints tend to avoid the term "Trinity," some Mormon authorities have used it to describe their belief in a Godhead of three persons. Thus, for example, Brigham Young, speaking of "the Father of us all, and the God and Father of our Lord Jesus Christ" at the Salt Lake Tabernacle in 1871, asked: "Is he one? Yes. Is his trinity one? Yes."
Similarly, the second chapter of Elder James E. Talmage's authoritative 1890 book on "The Articles of Faith" is titled "God and the Holy Trinity."
Furthermore, uniquely Mormon scriptural texts assert the unity of Father, Son and Holy Ghost at least as strongly as the Bible does. An April 1830 revelation to Joseph Smith, for instance, affirms that they "are one God, infinite and eternal, without end" (Doctrine and Covenants 20:28). The Book of Mormon agrees, declaring (with an interesting singular verb) that "the Father, and … the Son, and … the Holy Ghost … is one God, without end" (2 Nephi 31:21; compare 3 Nephi 28:10).
The impressive testimony of the Three Witnesses to the Book of Mormon, published in the book since 1830, concludes by ascribing "honor … to the Father, and to the Son, and to the Holy Ghost, which is one God." "I am in the Father," says the Lord to Joseph Smith in an 1833 revelation, "and the Father in me, and the Father and I are one" (Doctrine and Covenants 93:3).
The question isn't really whether Mormons use the word "Trinity," nor whether they regard the Father, Son and Holy Ghost as "one." They have, and they do. The only real question is how they understand the divine unity.
Mormonism rejects the traditional Trinity of the Nicene Creed, but sees the Father, Son and Holy Ghost as perfectly unified in love and purpose. (Note: Cults will stress purpose over substance) There is not a hair's breadth of difference between them on any matter and certainly not with regard to their loving intention to save as many of the human family as are willing to be saved.
And this is true to the biblical data: It is precisely the same kind of unity that Jesus, in the famous "intercessory" or "high priestly" prayer recounted in John's gospel, sought for his disciples and their eventual converts — and precisely the same kind that he claimed for his Father and himself: He implored "that they all may be one; as thou, Father, art in me, and I in thee, that they also may be one in us … that they may be one, even as we are one: I in them, and thou in me" (John 17:21-23).
Fortunately, there are contemporary Christian theologians, both Catholic and Protestant, who are attending more carefully to the biblical roots of Trinitarian doctrine and pruning away the dead branches of outdated Greek metaphysics that have long damaged its health. Many of these identify themselves with what has come to be called the "social model of the Trinity" or, simply, "social Trinitarianism." According to this model, the Father, Son and Holy Ghost are perfectly unified in love and purpose, wholly transparent and open to one another, inseparable but distinct centers of consciousness and personality.
While this isn't quite the Latter-day Saint concept of a Godhead comprising three anthropomorphic beings, it's considerably closer than the model worked out, under the influence of ancient pagan Middle Platonic ideas that have long since dropped out of fashion everywhere but in creedal Christendom, by the delegates to the Council of Nicea. And, anyway, many if not most Christians already believe that one member of the Trinity — the resurrected Son — is embodied, retaining the body that rose from the tomb on the first Easter morning. So the distance between the Latter-day Saints and other Christians on the nature of the Trinity may be growing smaller.
Utah faith leaders weigh in on N.Y. mosque dispute
By Kristen Moulton
The Salt Lake Tribune
Aug 22, 2010

Muslims who want to build a mosque a couple of blocks from ground zero in Manhattan have the legal right to do so, but is it the right thing to do?

That's what Utahns of faith are asking as the controversy grows.

Daniel Peterson, a politically conservative Mormon who has studied Islam for 30 years at Brigham Young University and in the Middle East, says he is so fed up with "demagoguery" from the mosque's opponents that he is tempted to endorse the mosque.

And yet he, and several Utah faith leaders, separate the issue of religious freedom from another value held highly in a pluralistic society: respect.

"Of course they have a right to do it," says Peterson, professor of Islamic studies and Arabic at BYU.

But if the mosque's proponents refuse to heed the torrent of criticism that it's insensitive to build a mosque near where Muslim extremists killed thousands, Peterson adds, it could hurt the cause of moderate Muslims.

"I would come forward if I were the imam, and say, 'We've listened, we do not want to make enemies. We want to be good neighbors. We respect the feelings and the pain, so we're going to seek another site.'"

The Rev. Mike Pless, pastor of First Southern Baptist Church in Bountiful, likens the case to one familiar to Utahns: Street preachers who shout and shove signs at Mormons attending LDS general conferences in downtown Salt Lake City.

"Even though I have religious freedom as an American, does that give me the right to go down during conference and assault and insult people?" Pless asks. "It does not."
In the same way, a mosque would be a "desecration," says Pless, who opposes its proximity to ground zero.
Imam Muhammed S. Mehtar of the Islamic Society of Greater Salt Lake calls the mosque proposal "very insensitive."
"The wise thing would have been to consult Muslims and non-Muslims alike," he says. "It's a question of doing the right thing."
Monsignor Terence Moore, pastor of St. John the Baptist Catholic Church in Draper, says comments by political figures comparing Muslims to Nazis and blaming all Muslims for the acts of extremists responsible for the Sept. 11, 2001, attack on the World Trade Center do not help the debate.
Yet, he says, the mosque's proponents need to realize the sensitivity of those who lost loved ones at ground zero.
"We all have to understand that we live in a very diverse society," Moore says. "If we all stood on our legal rights on everything, we could be in great conflict all the time."
One of Utah's newest faith leaders sees the issue as a case of simple religious liberty.
Rabbi Ilana Schwartzman, who took over at Salt Lake City's Congregation Kol Ami in July, was working on 77th Street in Manhattan when the terrorists slammed jetliners into the twin towers. She remembers well the pain and horror. Still, she argues it would be wrong to prevent construction of a mosque near ground zero.
That Islamic terrorists killed thousands "does not give us the right to take away another group's rights and lives," she says. "I understand where the critics are coming from ... but if we can respond with our American sense of hope and love, that would be better for all of us."
Imam Shuaib-ud Din, of the Utah Islamic Center in Sandy, agrees — to a point — with those calling for respect.
But it is the mosque's neighbors whose opinions should count, he says, not the wider population of critics who discount the fact that Muslim America also suffered in the attacks.
"Our religion suffered and our image suffered. We were put back a decade and to top all that off, Muslims also died on that day," Din says. "A mosque is not out there to make a political statement. It is out to serve the needs of the Muslims and non-Muslims in the neighborhood. If they [mosque promoters] are isolated in this decision, they should find a place they are more welcome."
The Church of Jesus Christ of Latter-day Saints takes no position on the mosque proposal, but that hasn't stopped bloggers and other LDS scholars from calling on Mormon politicians such as Mitt Romney and Harry Reid to reverse their opposition to the mosque and remember their own church's history as a target of religious bigotry.
Stephen Prothero, a Boston University religion scholar, made the point on a CNN Belief blog Friday.
"Religious freedom and religious tolerance are useless when you're dealing with a popular religion," BYU's Peterson says. "It's precisely when you are dealing with an unpopular one that they come into play. Mormons ought to be very, very sensitive to the question of tolerance of a religious minority."
BYU Professor Defends Mo-ham-mad and Slams Christendom!
Book explores the life of Islam's founder
BYU author aims to educate Westerners
By Carrie A. Moore
Deseret Morning News
Aug. 11, 2007
As director of the Middle Eastern Texts Initiative at Brigham Young University, Daniel Peterson has overseen the translation of many documents from Arabic to English, providing Western scholars with a rich new library of research materials that were previously inaccessible.
Now he's written a book designed to help Western laymen understand the founder of Islam, free from the cynical characterizations that have grown up around Muhammad among some in Christianity and Judaism. That is according to Muslim scholars who have praised the book as "the best scholarly text on the prophet Muhammad written by a Christian."
"Muhammad: Prophet of God," published earlier this year by Eerdmans Publishing, provides a narrative of Muhammad's life that weaves his revelations, his inspiration and his personal relationships together in "a clear, fluid style that makes it suitable for both scholars and nonscholars," according to Khaleel Mohammed of San Diego State University.
Discussion about the book is particularly fitting this weekend, which is the Muslim holiday of Lailat Isra and Miraj, marking Muhammad's journey from Mecca to Jerusalem and his ascension into heaven.
Peterson said he decided the book was necessary because "the level of ignorance of people in the West about Islam is stunning." In his public lectures — particularly since 9/11 — he frequently asks whether Muhammad lived before or after Christ, and few are able to tell him.
Yet he finds the recent interest in Islam encouraging, as long as it's responsible. After 9/11, he said he visited Christian bookstores to see what kinds of books were being published about Islam and was largely dismayed at what he found, much of it the same type of hateful rhetoric that has traditionally been directed toward the LDS Church.
"Sometimes it was those same anti-Mormon people doing the writing, and it's just horrible stuff," he said, noting such books often outsell the reputable academic books on the subject.
For scholars who know anything about Islam, such books are "beneath their dignity to even respond to," he said. But such avoidance leads to acceptance, and that was something Peterson said he wasn't comfortable staying silent about. "I think it's a moral responsibility" to correct mischaracterizations. "If you deal in a field where there are public issues and you are silent when the misinformation is permeating the culture," that's irresponsible, he said.
He's collected from 30-40 books that provide blatant misinterpretation of Islam and is looking to counter those characterizations at every turn, he said.
Regarded by Muslims as the last in a series of biblical prophets, including Jesus, Muhammad is known as the "seal of the prophets" by most, he said, much like the wax seal on a letter that confirms the integrity of its contents so they won't be tampered with. In fact, the Muslim concept of a prophet "is not so different from the one that people would recognize in Utah."
Far from the religious fundamentalists that misconstrue and misinterpret the Quran — Islam's holy book of revelations to Muhammad — mainstream Muslims have always had much in common with both Jews and Christians, who are known as "people of the book" because they share the Bible as a foundational scripture.
Now he's garnering a reputation for defending a faith that's not his own, but Peterson said he's OK with that role. "I'm a very active Latter-day Saint, but I've found myself in this role of being a defender of Islam. I just think somebody has to do something."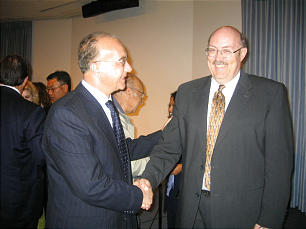 Author Daniel Peterson, right, meets with Yahia Abdul-Rahman, imam and former chairman of the Islamic Shura Council of Southern California.
WHO WANTS TO READ ABOUT THE LIFE OF MO-HAM-MAD?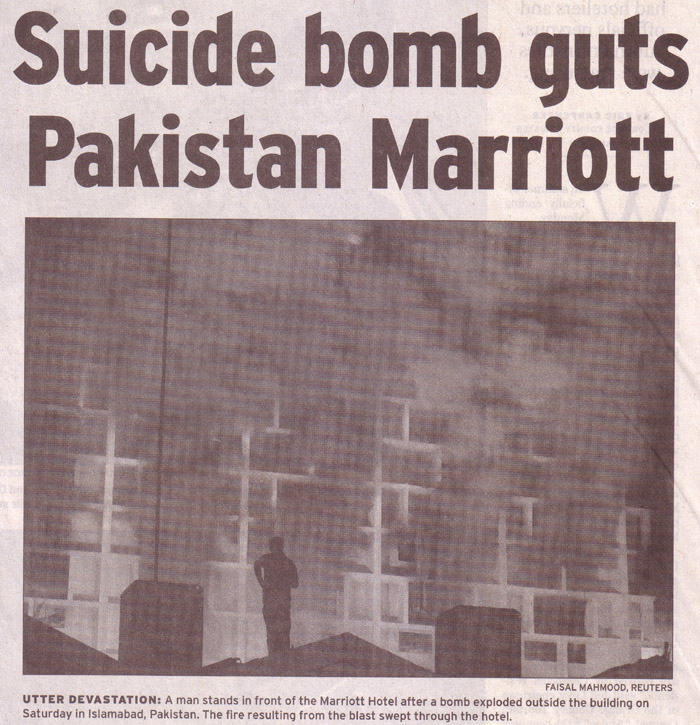 Will Brigham Young University professor Daniel Peterson apologize to Mormon Marriott and Orthodox Christians for his incorrect assumption that Islam is a peaceful religion?