MORMONISM, THE ISLAM OF AMERICA
Local Muslims, Mormons break fast
By NIYAZ PIRANI
THE ORANGE COUNTY REGISTER
Published: Sept. 3, 2010
MISSION VIEJO – Over plates of saffron-stained lamb shanks and couscous packed with raisins and chunks of sweet potato, area Muslims and Mormons broke fast on Thursday night.
Muslims worldwide are in the midst of Ramadan, the month where going without food or water from sunrise to sunset strengthens one's relationship, and subservience, to God, said Imam Yassir Fazaga, leader of the Orange County Islamic Foundation in Mission Viejo.
Fazaga, the leader of the mosque, and his congregants hosted the Mormons at the city's Muslim center to share iftar, the breaking of the fast, as a way to connect not through doctrine but through respect of spirituality.
"An opportunity to understand one another is always a win-win situation, especially for us Muslims nowadays where there is a lot of talk about us, a lot of stereotypes, mostly negative, about us," Fazaga said. "Ignorance breeds fear, and the more ignorant we are of one another, the more fearful we become of one another."
Mike Zundel, president of the Church of Jesus Christ of Latter-day Saints Mission Viejo Stake, said Mormons aren't much different than Muslims with regard to fasting. Traditionally, Mormons abstain from food and water on the first Sunday of each month and donate the cost of the day's food to charity.
About 25 members of the Stake attended Thursday.
"We were invited to come this evening, and we gladly accepted," Zundel said. "We're privileged to be here. We consider ourselves to be men and women of good will. We think these folks are the same, and we look forward to forging a strong relationship with them."
Leaders from both faiths explained the religious and traditional reasons for fasting. When the sun went down around 7:30, the Mormon men followed the Muslim men into the front of the mosque's carpeted prayer room to observe evening prayers.
Mormon women, all of whom donned head scarves before entering the prayer room, sat behind the Muslim women in the same room. The women were separated from the men by a sheer cloth which divided the room, a common practice meant to keep away distractions while prayers are being recited, a mosque member said.
"As a Latter-day Saint we're very devoted, and it's very obvious the Muslims have the same type of lifestyle and devotion," said David Lewis of Ladera Ranch.
"In their way, with their rituals and their prayers, they have the devotion that we also have," Lewis said. "That faith, or that belief, that takes you to action, that creates a desire to live a certain lifestyle...I think that's what's neat about being here and witnessing this."
Utah faith leaders weigh in on N.Y. mosque dispute

By Kristen Moulton
The Salt Lake Tribune
Aug 22, 2010

Muslims who want to build a mosque a couple of blocks from ground zero in Manhattan have the legal right to do so, but is it the right thing to do?

That's what Utahns of faith are asking as the controversy grows.

Daniel Peterson, a politically conservative Mormon who has studied Islam for 30 years at Brigham Young University and in the Middle East, says he is so fed up with "demagoguery" from the mosque's opponents that he is tempted to endorse the mosque.

And yet he, and several Utah faith leaders, separate the issue of religious freedom from another value held highly in a pluralistic society: respect.

"Of course they have a right to do it," says Peterson, professor of Islamic studies and Arabic at BYU.

But if the mosque's proponents refuse to heed the torrent of criticism that it's insensitive to build a mosque near where Muslim extremists killed thousands, Peterson adds, it could hurt the cause of moderate Muslims.

"I would come forward if I were the imam, and say, 'We've listened, we do not want to make enemies. We want to be good neighbors. We respect the feelings and the pain, so we're going to seek another site.'"

The Rev. Mike Pless, pastor of First Southern Baptist Church in Bountiful, likens the case to one familiar to Utahns: Street preachers who shout and shove signs at Mormons attending LDS general conferences in downtown Salt Lake City.

"Even though I have religious freedom as an American, does that give me the right to go down during conference and assault and insult people?" Pless asks. "It does not."
In the same way, a mosque would be a "desecration," says Pless, who opposes its proximity to ground zero.
Imam Muhammed S. Mehtar of the Islamic Society of Greater Salt Lake calls the mosque proposal "very insensitive."
"The wise thing would have been to consult Muslims and non-Muslims alike," he says. "It's a question of doing the right thing."
Monsignor Terence Moore, pastor of St. John the Baptist Catholic Church in Draper, says comments by political figures comparing Muslims to Nazis and blaming all Muslims for the acts of extremists responsible for the Sept. 11, 2001, attack on the World Trade Center do not help the debate.
Yet, he says, the mosque's proponents need to realize the sensitivity of those who lost loved ones at ground zero.
"We all have to understand that we live in a very diverse society," Moore says. "If we all stood on our legal rights on everything, we could be in great conflict all the time."
One of Utah's newest faith leaders sees the issue as a case of simple religious liberty.
Rabbi Ilana Schwartzman, who took over at Salt Lake City's Congregation Kol Ami in July, was working on 77th Street in Manhattan when the terrorists slammed jetliners into the twin towers. She remembers well the pain and horror. Still, she argues it would be wrong to prevent construction of a mosque near ground zero.
That Islamic terrorists killed thousands "does not give us the right to take away another group's rights and lives," she says. "I understand where the critics are coming from ... but if we can respond with our American sense of hope and love, that would be better for all of us."
Imam Shuaib-ud Din, of the Utah Islamic Center in Sandy, agrees — to a point — with those calling for respect.
But it is the mosque's neighbors whose opinions should count, he says, not the wider population of critics who discount the fact that Muslim America also suffered in the attacks.
"Our religion suffered and our image suffered. We were put back a decade and to top all that off, Muslims also died on that day," Din says. "A mosque is not out there to make a political statement. It is out to serve the needs of the Muslims and non-Muslims in the neighborhood. If they [mosque promoters] are isolated in this decision, they should find a place they are more welcome."
The Church of Jesus Christ of Latter-day Saints takes no position on the mosque proposal, but that hasn't stopped bloggers and other LDS scholars from calling on Mormon politicians such as Mitt Romney and Harry Reid to reverse their opposition to the mosque and remember their own church's history as a target of religious bigotry.
Stephen Prothero, a Boston University religion scholar, made the point on a CNN Belief blog Friday.
"Religious freedom and religious tolerance are useless when you're dealing with a popular religion," BYU's Peterson says. "It's precisely when you are dealing with an unpopular one that they come into play. Mormons ought to be very, very sensitive to the question of tolerance of a religious minority."
Muslim students find similarities with Mormons

SARA ISRAELSEN-HARTLEY
The Oklahoman
December 23, 2009

SALT LAKE CITY (AP) — He's been to LDS general conference and sacrament meeting, given a family home evening lesson and shared his beliefs during fast and testimony meeting.

But the one thing that still puzzles Talha Siddiqui, 19, a Muslim from Islamabad, Pakistan, is why Latter-day Saint students at Brigham Young University in Provo are so eager to get married.

"It's kind of funny how to an outsider everyone is talking about getting married," he said. "How can you all think about the same thing? That kind of felt a little weird for me. Other than that, things have been great."

Siddiqui is one of 10 Pakistani students studying at BYU, where he says he's been warmly welcomed.

"If I tell (someone) I'm not a Mormon, I'm Muslim from Pakistan, they generally have some questions to ask," he said. "Initially, they're surprised to hear that I've come totally from the other side of the world. But I don't think anyone has been mean to me."

Both Siddiqui and Sameer Ahmad, 20, who is originally from Lahore, Pakistan, came to BYU on the advice of friends and family members who had attended or visited.

They were impressed with the Marriott School of Management, the low tuition and the high moral standards.

But the unique Provo/Mormon culture has been a bit of an adjustment, even though Ahmad grew up in New York City.

"Back in New York City if you say 'hi' to someone, they assume you're selling them drugs," Ahmad said. "Over here, every other person (says hi). You have to get used to that. It's unusual in a nice way."

When Ahmad learned Siddiqui was coming to BYU, he contacted him, figuring "he might need some help."

"Two years ago I was in the same shoes," Ahmad said. "Utah is a really different place."

But since being here, they both said they're impressed with the similarities between the two cultures and religions.

As Muslims, Siddiqui and Ahmad shun alcohol, illicit drugs and pre-marital sex — the same values promoted in the BYU Honor Code.

The men also pray several times a day, focus on the family and stress the importance of religious study and repentance.

"Whenever I'm talking about the religions, I try to bring up similarities," Siddiqui said. "I think that's a good way of talking about religion."

And both men are happy to share their beliefs.

This semester, Siddiqui taught his friends and roommates about Islam during family home evening.

Last November, Ahmad won the BYU Religious Education Student Symposium with a paper he'd written during his Book of Mormon class comparing Mormonism and Islam.

"We emphasize the same teachings, the same set of beliefs, even though the way of participating (is different)," Ahmad said. "We're essentially asking for the same thing, asking God for guidance and for repentance. As long as we keep respecting those (common values) it builds mutual trust and is helpful in the long run."

Andrew Moulton, 19, Siddiqui's friend and roommate from Oregon, said this semester has been enlightening for him.

"I didn't know that our cultures were so similar," Moulton said. "As Americans we are taught to believe that Islam is a violent culture and stuff like that, but it's not. I think that was my initial surprise, (to learn) what wonderful people Muslims are."


Hatch says Muslims have his empathy

By Lee Davidson
Deseret News
Nov. 10, 2009

Sen. Orrin Hatch, R-Utah, told a national TV audience Monday that he empathizes with Muslims who are upset by the media's focus on the Islamic background of the alleged gunman in the Fort Hood mass shooting.

"We Mormons are used to that. If a Mormon makes a mistake, you can always count on his religion being mentioned," Hatch said on the "Imus in the Morning Show" on national radio and the Fox Business TV channel.

Hatch's comments came amid press scrutiny because the alleged Fort Hood shooter, Maj. Nidal Malik Hasan, attended the same Virginia mosque as two 9/11 terrorists when a radical imam preached there. That imam, Anwar al-Awlaki, who is on Yemen's most wanted list, called Hasan a "hero" on his Web site on Monday.

Hatch said the shooter probably acted as an individual and not as part of any Muslim terrorist group.

"I don't think all Islamic people in this country should be tarred by the fact that one guy goes off the rails," he said.

Hatch added, "I think we ought to be fair. There are many wonderful Islamic people in this country. One of the best is my old friend Muhammad Ali. He's a great, great person. You can't put everyone in that category because one guy goes nuts."

When Hatch said Mormons who do something wrong always have their religion mentioned, talk show host Don Imus, who has landed in controversy previously for insensitive comments, joked with Hatch by saying, "Yes, but it is your fault when some Mormon does it."

Hatch laughed, and said, "Well, of course. We've been beaten up in this country since the church was established. No question about it. That's why we're such a tough group of people."

Mormonism, the Islam of America
6 Apr 2004
I was pleased to hear that a group of Palestinian intellectuals recently urged their compatriots to practice restraint in response to Israel's assassination of Mr. Yassin. Restraint is a principle that could be better practiced on both sides of the fence.
Islam seems to often be misrepresented by a few groups of hell-bent extremists. The title of this letter comes from a 1912 publication written by a former superintendent of Baptist missions in Utah, which reminds us that Mormonism has also experienced a history of widespread misrepresentation. The book Mormonism: The Islam of America claims, "It is generally acknowledged that Mormonism is similar to Mohammedanism in its endorsement of the practice of polygamy, and its idea of heaven. Many other points of similarity between these systems have been noted by students, and the Book of Mormon has marked resemblance to the Koran. As all ancient religions have a modern equivalent, Mormonism can justly be claimed to be the modern form of Mohammedanism, and not incorrectly termed 'the Islam of America".
This letter attempts to provide needed insight for an LDS audience from various LDS leaders and prominent figures concerning the worldwide religion of Islam.
A statement from the First Presidency in 1978 declared, "The great religious leaders of the world such as Mohammed, Confucius, and the Reformers, as well as philosophers including Socrates, Plato, and others, received a portion of God's light. Moral truths were given to them by God to enlighten whole nations and to bring a higher level of understanding to individuals."
Spencer W. Kimball later said, "We have only begun our work with our Jewish brothers and sisters. You know the political burdens they and our Arab brothers and sisters bear. These are difficult times for them, and the world watches and waits and prays for peace. The only lasting peace that can come is through the gospel of Jesus Christ. We must take it to Jew and Arab, Lamanite and Gentile. We must take it everywhere to everyone. My brothers and sisters, there is much to do."
In the same talk, President Kimball asks, "Are we preparing adequately to teach 500 million of the world's Moslems? Is anyone learning to speak to the 130 million for whom Arabic is their native tongue?"
Howard W. Hunter: "The Church has an interest in all of Abraham's descendants, and we should remember that the history of the Arabs goes back to Abraham through his son Ishmael... Both the Jews and the Arabs are children of our Father. They are both children of promise, and as a church we do not take sides. We have a love for and an interest in each. The purpose of the gospel of Jesus Christ is to bring about love, unity, and brotherhood of the highest order." Howard W. Hunter also said, "We have members of the Church in the Muslim world. These are wonderful Saints, good members of the Church. They live in Iran, Egypt, Lebanon, Saudi Arabia, and other countries. Sometimes they are offended by members of the Church who give the impression that we favor only the aims of the Jews. The Church has an interest in all of Abraham's descendants, and we should remember that the history of the Arabs goes back to Abraham through his son Ishmael."
Howard W. Hunter added, "A cabinet minister of Egypt once told me that if a bridge is ever built between Christianity and Islam it must be built by the Mormon Church. In making inquiry as to the reason for his statement I was impressed by his recitation of the similarities and the common bonds of brotherhood."
George A. Smith said "...there was nothing in his [Muhammad's] religion to license iniquity or corruption; he preached the moral doctrines which the Savior taught... Now this man descended from Abraham and was no doubt raised up by God on purpose to scourge the world for their idolatry."
Parley P. Pratt wrote, "Mahometan doctrine was a standard raised against the most corrupt and abominable idolatry that ever perverted our earth, found in the creeds and worship of Christians, falsely so named.... In the Mahometan operations, in the hands of the descendants of Abraham and Ishmael, seem to have warded off...deception...and iniquity in some measure, so that it has not entirely overrun their country, morals, and institutions. Though Mahometan institutions are corrupt enough, and need reforming by the Gospel, I am inclined to think, upon the whole, leaving out the corruptions of men in high places among them, that they [the Muslims] have better morals and institutions than many Christian nations; and in many localities there have been high standards of morals...."
Arthur Henry King, "In the fifties, I lived for seven years in Islamic countries in Persia and Pakistan. Islam resembles Mormonism and Judaism in legislating for the organization of the whole community. The original social function of polygamy in Islam - that of providing status for spinsters and widows - helps an outsider to understand, sympathize with, and ultimately, as a member, accept the historical and eternal function of polygamy in the Latter-day Saint Church."
Parley P. Pratt continued: "[O]f worshipping the one true God under the name of Mahometanism, together with the moral precepts...I think they have exceeded in righteousness and truthfulness of religion, the idolatrous and corrupt church that has born the name of Christianity.... We would do well to look into the bearings of the history of nations, and the dealings of God with them, as impartially as we can, at all times, and cull out all the good there has been, is, or may be, and acknowledge the hand of God in all things, in his dealings with the nations as well as in other things."
I hope that we will study and follow their counsel and distinguish between extremism and truth.
Jeremy Palmer
Idaho Falls, Idaho
Muslims in Utah see little 9/11 backlash
Some do report incidents but say they are not the norm
By Deborah Bulkeley
Deseret Morning News
At first, James Michael Herrick didn't believe the 7-Eleven cashier who told him a plane had crashed into the World Trade Center. He thought she was joking.
But then after purchasing a cup of coffee and a hot dog on the morning of Sept. 11, 2001, Herrick returned home and turned on the the television.

"There it is, the other plane hit. It was for real," he said. "I started drinking about that time. ... I, probably like everyone else at that point, was in shock."

Herrick turned to alcohol, and after two days of drinking and watching nonstop coverage of the turmoil, Herrick, in a drunken daze, attempted to burn down the Curry in a Hurry restaurant on State Street.

Herrick's unsuccessful attempt to burn down the restaurant owned by a family of Pakistani immigrants came at a time of national backlash against Muslims. It was, perhaps, the most published case of an anti-Muslim offense in Utah, where cases of discrimination and crimes have occurred, but are scattered, according to the members of the Muslim community.

And he has since expressed remorse. During a parole hearing last year, Herrick asked the Board of Pardons and Parole to "Please accept my sincerest apology," for an action he called embarrassing and idiotic.

Two members of the family that owns Curry in a Hurry, Yassir Nisar and his father, Rana, say they have forgiven Herrick for the attack against them.

While those involved in the Curry in a Hurry case seem to have reconciled their differences, some members of the Muslim community say the climate here is different than it was before 9/11.

Muslims interviewed by the Deseret Morning News acknowledge Utah is safer for Muslims than some other parts of the country where mosques are still sometimes the targets of vandalism or worse. However, the Muslim and non-Muslim communities continue five years after the terror attacks to struggle to understand one another.
Reflecting back, Yassir Nisar says Herrick's arson attempt was shocking at the time. The family had lived in Salt Lake City since 1984 and were all U.S. citizens.

"We were just stunned that something like that actually happened in America," Yassir Nisar said. "We were dazed, looking for answers, then we got attacked, and we were totally confused."

The Nisars say the reaction after the attack on their restaurant showed the true community spirit here.

"Everyone came by," he said. "It wasn't just to eat food. They brought flowers, cookies, cards. People signed a petition of sorrow. That's what stuck out."

Herrick, who has been incarcerated since his 2001 arrest, will be released Sept. 12. He still has two years of federal parole ahead of him, after serving concurrent sentences on state charges of first-degree felony aggravated arson and a federal civil rights violation.

Recently, in an interview at the Utah State Prison in Bluffdale, Herrick, 36, said it's hard for him to understand why he lashed out the way he did, let alone explain it to a reporter. He said he had frequented the restaurant before and thought the owners were nice.

"I wasn't thinking about it for a while. I just kind of snapped on it," he said. "There really wasn't much thought to it, to be honest with you."

It was the only post-9/11 anti-Muslim hate crime reported by the Salt Lake Police Department.

Nationwide, in the week following Sept. 11 alone, the Council on American-Islamic Muslim Relations reported 350 cases of threats, harassment and violence targeting Muslims. Before the terror attacks the group said it received about 400 complaints a year.

The number of anti-Islamic hate crimes spike by more than 1,500 percent to 546 in 2001 over the prior year's 33 reported offenses, according to the Federal Bureau of Investigation's Uniform Crime Report.
Since then the number of anti-Islamic hate crimes has declined to 193 in 2004, the most recent year for which the federal statistics are available.

Even during the post-Sept. 11 backlash the number of crimes committed against Muslims remained less than half those committed against Jews, who remained the most targeted religious group. Some 1,117 anti-Jewish offenses were committed in 2001.

In Utah, many Muslims interviewed by the Deseret Morning News said the climate is generally tolerant. Still, most asked the News to print that theirs is a religion of peace, not of terrorism. The Nisars have noticed more people are curious about their religion, so they've printed up fliers explaining the basics of Islam.

Still, cases of discrimination are reported. Since Sept. 11, 2001, the Utah Labor Commission has filed 27 cases alleging Muslim religion as a basis for employment or housing discrimination. Of those, about 20 cases included specific references to 9/11, said Sherry Hayashi, commissioner of the Utah Labor Commission. That's still a small percentage of cases. Last year, the commission handled 758 charges.

"Certainly, the references have changed," Hayashi said. "There are more allegations of racial slurs, and the references to terrorists are new."

At the University of Utah's political science department, Hakan Yavuz says his Islam and politics class is always full, and that's new since Sept. 11, 2001.

While he appreciates the interest in Islam, the attitude of some students is worrisome, he says. Some students tell him they're enrolled "so they can know more about the enemy."

He said he hadn't heard that before the terrorist attacks. Yavuz sees a top-down process where government officials, including President Bush, and media reports following the terrorist attacks contributed to a "negation of Muslim identity and equating Islam with terrorism." Rather than getting better, Yavuz sees the situation getting worse.
"You constantly need to defend, you constantly have to say Islam is not Jihad," he said. "Muslims were framed as all terrorists. I think the media played an important role. It is a top-down socialization."

And, Yavuz said that many Muslims have a perception, in part fueled by post-Sept. 11 visa inquiries of male immigrants from Arab countries, of a "major fundamental rupture" taking place between the Muslim community and the government.

In some cases the fear is based on perception, not reality, but Yavuz said perception is everything.

"There is a siege mentality, not to react or engage in national politics, including inclusion in organizations," he said.

Imam Shuaib-ud Din of the Khadeeja mosque in West Valley City said he doesn't mind being singled out by security at the airport because it seems to make other passengers feel safer. When he travels with his family, he goes out of his way to show affection to make others more comfortable.

"What is almost hurtful to me is when other passengers feel uncomfortable because of my presence on the plane," he said. "If I reach into the overhead bin, the other passengers hold their breath."

Ud-Din said he has also received reports from some Muslims of possible discrimination when it comes to job applications. "Because of their name, they might not even be called for an interview," he said.

Still, he said, overall the dominant LDS community here seems to be tolerant of Muslims.

Eugenia Menis of South Salt Lake says the people who scoff at her choice to cover her head are in the minority, but "they stick in your memory.

"It's just a minority of people who give you bad looks. I've been flipped off a couple of times," she said. "I've had friends and relatives have people say things to them, but I haven't had that experience."

Menis, a native-born Utahn who converted to Islam 13 years ago, a few years after marrying a Palestinian immigrant, said at the time she worked as a corrections officer, and her co-workers immediately started treating her differently.

"They thought 'Am I going to be secure around her?"' Menis said. "It's really sad to make a generalization. ... If I were not covered, some people wouldn't go out of their way to smile and ask me how I'm doing," she said. "But there is a small group of people who contort their faces badly, like 'I hate you."'

Shahbaz Ahmad, 20, a civil engineering student at the University of Utah, was at Bingham High School in September 2001.

Before the attacks, he said, he was stereotyped less. He and other Muslims were called "terrorist" by some after the attacks. Some had questions about Islam for Ahmad, a native-born American whose parents are Pakistani immigrants.

"A majority of people tried to say they support the Muslim community," he said. "Some started second-guessing Muslims and Islam."

Zaid Albarzinji, a graduate student in economics at the University of Utah, said while some "ignorant people" attacked Muslims, the "true character of the American people shined" after Sept. 11.

After the terror attacks Albarzinji was among those publicly defending his faith. He said there is still a lot of hard work ahead in building understanding.

"There are a lot of wonderful rights in this country," he said. "Nothing is guaranteed. We have to work hard for it."
Book explores the life of Islam's founder
BYU author aims to educate Westerners
By Carrie A. Moore
Deseret Morning News
Aug. 11, 2007
As director of the Middle Eastern Texts Initiative at Brigham Young University, Daniel Peterson has overseen the translation of many documents from Arabic to English, providing Western scholars with a rich new library of research materials that were previously inaccessible.
Now he's written a book designed to help Western laymen understand the founder of Islam, free from the cynical characterizations that have grown up around Muhammad among some in Christianity and Judaism. That is according to Muslim scholars who have praised the book as "the best scholarly text on the prophet Muhammad written by a Christian."
"Muhammad: Prophet of God," published earlier this year by Eerdmans Publishing, provides a narrative of Muhammad's life that weaves his revelations, his inspiration and his personal relationships together in "a clear, fluid style that makes it suitable for both scholars and nonscholars," according to Khaleel Mohammed of San Diego State University.
Discussion about the book is particularly fitting this weekend, which is the Muslim holiday of Lailat Isra and Miraj, marking Muhammad's journey from Mecca to Jerusalem and his ascension into heaven.
Peterson said he decided the book was necessary because "the level of ignorance of people in the West about Islam is stunning." In his public lectures — particularly since 9/11 — he frequently asks whether Muhammad lived before or after Christ, and few are able to tell him.
Yet he finds the recent interest in Islam encouraging, as long as it's responsible. After 9/11, he said he visited Christian bookstores to see what kinds of books were being published about Islam and was largely dismayed at what he found, much of it the same type of hateful rhetoric that has traditionally been directed toward the LDS Church.
"Sometimes it was those same anti-Mormon people doing the writing, and it's just horrible stuff," he said, noting such books often outsell the reputable academic books on the subject.
For scholars who know anything about Islam, such books are "beneath their dignity to even respond to," he said. But such avoidance leads to acceptance, and that was something Peterson said he wasn't comfortable staying silent about. "I think it's a moral responsibility" to correct mischaracterizations. "If you deal in a field where there are public issues and you are silent when the misinformation is permeating the culture," that's irresponsible, he said.
He's collected from 30-40 books that provide blatant misinterpretation of Islam and is looking to counter those characterizations at every turn, he said.
Regarded by Muslims as the last in a series of biblical prophets, including Jesus, Muhammad is known as the "seal of the prophets" by most, he said, much like the wax seal on a letter that confirms the integrity of its contents so they won't be tampered with. In fact, the Muslim concept of a prophet "is not so different from the one that people would recognize in Utah."
Far from the religious fundamentalists that misconstrue and misinterpret the Quran — Islam's holy book of revelations to Muhammad — mainstream Muslims have always had much in common with both Jews and Christians, who are known as "people of the book" because they share the Bible as a foundational scripture.
Now he's garnering a reputation for defending a faith that's not his own, but Peterson said he's OK with that role. "I'm a very active Latter-day Saint, but I've found myself in this role of being a defender of Islam. I just think somebody has to do something."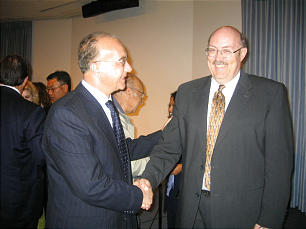 Author Daniel Peterson, right, meets with Yahia Abdul-Rahman, imam and former chairman of the Islamic Shura Council of Southern California.
WHO WANTS TO READ ABOUT THE LIFE OF MO-HAM-MAD?
U.S. Muslims and Mormons share deepening ties
The connection is based not on theology but on shared values and a sense of isolation from mainstream America.
By David Haldane,
Los Angeles Times
April 2, 2008
The Mormon Church has to be among the most outgoing on earth; in recent years its leaders have reached out to, among others, Latinos, Koreans, Catholics and Jews.

One of the most enthusiastic responses, however, has come from what some might consider a surprising source: U.S. Muslims.

"We are very aware of the history of Mormons as a group that was chastised in America," says Maher Hathout, a senior advisor to the Muslim Public Affairs Council in Los Angeles. "They can be a good model for any group that feels alienated."

Which perhaps explains an open-mosque day held last fall at the Islamic Center of Irvine. More than half the guests were Mormons.

"A Mormon living in an Islamic society would be very comfortable," said Steve Young, a member of the Church of Jesus Christ of Latter-day Saints attending the event.

The sentiment is echoed by Muslims. "When I go to a Mormon church I feel at ease," said Haitham Bundakji, former chairman of the Islamic Society of Orange County. "When I heard the president [of LDS] speak a few years ago, if I'd closed my eyes I'd have thought he was an imam."

Though the relationship has raised eyebrows and provided ammunition for critics of both religions, Mormons and Muslims have deepening ties in the United States.

What binds them has little to do with theology: Mormons venerate Jesus as interpreted by founder Joseph Smith, while Muslims view Muhammad as god's prophet. Based on shared values and a sense of isolation from mainstream America, the connection was intensified by 9/11 and cemented by the Southeast Asia tsunami. It is especially evident in Southern California, with large Mormons and Muslim populations.

The Mormon Church has become the biggest contributor to Buena Park-based Islamic Relief, touted by its administrators as the West's largest Muslim-based charity. Relief officials say the church has donated $20 million in goods and services since the 2004 tsunami, equal to about 20% of the charity's annual budget.

Brigham Young University in Utah, the church's major institution of higher learning, features what is thought to be one of the world's best programs for translating classic Islamic works from Arabic to English. Though created primarily for academic purposes, the results have impressed Muslims flattered by the close attention.

"It shows they have a keen interest in the Muslim world," said Levent Akbarut, a member of the Islamic Congregation of La Cañada-Flintridge.

And Mormons and Muslims say they often are co-hosts of educational and social programs at which, though some may be angling for long-term doctrinal influence, very little open proselytizing of each other seems to take place. "We have a very close and friendly relationship," said Keith Atkinson, West Coast LDS spokesman. Mormons "explain our faith to anyone who will listen" and "treat Muslims like anybody else," said Elder Dallin H. Oaks, a member of the Quorum of the 12 Apostles, one of the church's top governing bodies in Salt Lake City. But Oaks added that "we don't preach to people who would be disenfranchised" or likely offended by the effort.

Arnold H. Green, a history professor at BYU, has traced how early Mormons in the 19th century were hounded by accusations that church founder Smith was the American Muhammad. The first Mormons angrily denied any connection to the Muslim prophet but gradually accepted some comparisons, particularly that both religions were founded by post-Christian prophets with strong sectarian views. "As the church grew into a global faith," Green wrote in a 2001 essay, "its posture toward Islam became . . . more positive" until, today, "the two faiths have become associated in several ways, including Mormonism's being called the Islam of America."

Both religions strongly emphasize family. They tend toward patriarchy, believing in feminine modesty, chastity and virtue. And although Islam discourages dancing involving both sexes, Mormons report that church-sponsored "modesty proms" commonly draw Islamic youths.

Both faiths adhere to religion-based health codes, including prohibitions against alcohol, but Mormons and Muslims share something more: membership in quickly growing minority religions that many other Americans have sometimes viewed with suspicion and scorn.

"We both come from traditions where there has been persecution in the past and continues to be prejudice," said Steve Gilliland, LDS director of Muslim relations for Southern California. "That helps us Mormons identify with Muslims."

A recent national survey by the Pew Research Center for the People & the Press and the Pew Forum on Religion & Public Life found that although a thin majority of those polled expressed positive opinions of Muslims and Mormons, the number was significantly less than those favoring Roman Catholics or Jews.

More than half the respondents said they had little or no awareness of the precepts and practices of either faith. But 45% saw Islam as more likely than other religions to encourage violence, and 31% said that Mormons weren't Christian.

Armand L. Mauss, a Mormon and professor emeritus of sociology at Washington State University specializing in religious movements, said that unlike mainstream Christians and Jews, Muslims and Mormons "tend to make fairly stringent demands for religious conformity on their members." These practices, he said, include discouraging marriage outside the religion and observing dietary laws, such as the Mormon prohibition against tobacco, alcohol and caffeine.

But the clincher, according to Mauss, is that both communities "have been stung in recent years by the recurrence of scandals over which they have no control." For Muslims, the obvious example is 9/11.
For Mormons, Mauss says, the problem is polygamy, which, though rejected by the mainstream church more than a century ago, is still the first thing that occurs to many Americans when they think about the religion.

The relationship between the two religions has sometimes drawn ire.

Scattered throughout the Internet are numerous tracts, many by evangelical Christians, comparing the two religions in less-than-complimentary terms. "Modern Mohammedanism has its Mecca in Salt Lake," reads one. "Clearly the Koran was Joseph Smith's model, so closely followed as to exclude even the poor pretension of originality in his foul 'revelations.' "

In Southern California, the relationship between the two religions became closer after the Los Angeles riots in 1992, when the Mormon Church, hoping to promote diversity, invited several ethnic and religious groups to attend the opening of its new temple in San Diego. Muslims responded in higher numbers and with greater enthusiasm than most others.

The church later feted prominent Muslims in Salt Lake City.

"We were treated as dignitaries," said Shabbir Mansuri, founding director of the Muslim-based Institute on Religion and Civic Values in Fountain Valley, which encourages tolerance through research and education. "I met with the president of LDS and the governor of Utah. We were sitting in the front row of the Tabernacle. Mormons would give their right arms to be there."

The relationship deepened on Sept. 11, 2001. The first call Mansuri received that day came from Elder Oaks. "He was concerned and wanted to send us a very clear message that we were in their prayers," Mansuri recalls. "It was like having someone who loves and cares for you; not so much a Mormon reaching out to me as a fellow believer reaching out."

Oaks said he was primarily motivated by friendship. "I consider Shabbir Mansuri a brother," he said. "He's a good man who's doing good work. We try to be friendly to all people, and in the days after 9/11, lots of Muslims felt rejected."

In the months that followed, Mormons nationwide opened their churches to Islamic worshipers fearful of reprisals in their mosques. When Muslims needed a cannery to process the Bosnia-bound beef slaughtered for the annual Eid al-Adha observance, the Mormons offered theirs in Utah.

Following the tsunami that devastated many Islamic communities, the Mormon church, which has a history of contributing to a wide range of charities, began working closely with Islamic Relief. Though LDS had helped Muslims before -- providing 195 tons of powdered milk, hygiene kits, medical supplies and other provisions -- it had never previously worked with this major Islamic agency, or on such a scale.

And though the church continues to aid non-Muslim causes, only two of the six major disaster assistance efforts listed on its website since 2004 -- Hurricane Katrina and Africa measles vaccination campaigns -- did not primarily affect Islamic nations.

Locally, LDS helped the Islamic Society of Orange County's Al-Rahman Mosque in Garden Grove develop its library with a $15,000 donation. "Their beliefs are similar to ours," Robert Bremmer, a Mormon bishop, said at that facility's open-mosque day in 2005. "They have modest dress, and so do we. They believe in all the [Old Testament] prophets, as do we."

During Al-Rahman's most recent open house in August, attended by many Mormon elders and dignitaries, a tribute was paid to a deceased LDS official supportive of the mosque.

The effects of Muslim-Mormon interaction are showing in subtle ways too. Spending time with Mormons, Bundakji says, has inspired him to stop drinking coffee. "I thought they had a good idea," he says. "Now I don't drink caffeine and I don't have headaches anymore."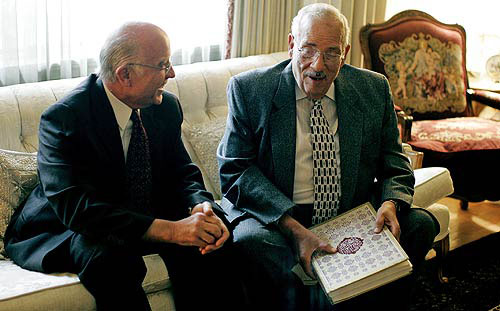 Steve Gilliland, a Mormon, left, listens as Maher Hathout, a Muslim, talks about the Koran in Hathout's home. Although of different religions, the two are close friends.
Attacks on Islam, Mormonism spring from the same dark well
By Eric Dursteler
Salt Lake Tribune
01/22/2008

As a Mormon and a historian, I have watched with a certain fascination the maelstrom which has raged around Mitt Romney's presidential candidacy.

While religion has been front and center throughout the campaign, Romney has assiduously avoided any substantive theological discussions of Mormonism's basic tenets, and generally his fellow candidates and the media have not delved too deeply into the doctrines and practices of his uniquely American religion.

The gloves came off, however, in an apoplectic broadside delivered by liberal pundit and television writer/producer Lawrence O'Donnell during a McLaughlin Group debate of Romney's "faith of my fathers" speech. O'Donnell derided Romney's religion as "based on the work of a lying, fraudulent criminal named Joseph Smith who was a racist, . . . a slavery champion, [and] the inventor of this ridiculous religion."

To O'Donnell's credit (or shame), he did not recant. Indeed, he expanded on his views in other forums. Of the Book of Mormon, he said "it's an insane document produced by a madman who was a criminal and a rapist," and he asserted that Mormonism "was founded by an alcoholic criminal named Joseph Smith who committed bank fraud and claimed God told him polygamy was cool after his first wife caught him having an affair with the maid."

While the historical and logical flaws of O'Donnell's contentions are obvious, I was intrigued by the language of the attack. In describing Joseph Smith as a criminal, a fraud and a rapist, O'Donnell was drawing on deeply-rooted themes and images which medieval Christians used in the age of the Crusades, and which were revived in the 19th century by critics of Mormonism.

In the Middle Ages, European contacts with Islam through crusade and commerce produced an expansive, almost obsessive, literature treating the faith's history, beliefs and practices. Much of this polemical literature focused on Muhammad as a means to disproving and discrediting Islam, and a fantastical and fabricated pseudo-biography was invented to enumerate the myriad personal flaws of the Prophet.

To this end, medieval writers such as Peter of Poitiers described Muhammad as a hypocrite, a liar, a sorcerer, a thief, a murderer and an adulterer. This latter charge was common, and authors made much of Muhammad's supposed libidinousness and lechery, evident to them in his own personal life and the Quran's validation of polygamy.

These medieval views of Muhammad and Islam enjoyed long shelf lives. Variations on the same old themes resurfaced following the 9/11 terrorist attacks in statements by conservative evangelical leaders who described Muhammad as "a robber and a brigand," a "demon-possessed pedophile," and Islam as "a very evil and wicked religion."

While the work of Edward Said and other scholars has familiarized modern readers with the historical distortions of Muhammad and Islam, the Mormon variation on this theme is much less well known. During the 19th century as Mormonism began to expand, American commentators dusted off the centuries-old rhetoric used against Islam and in similarly vituperative fashion equated the Mormon prophet, Joseph Smith, with the Muslim prophet, Muhammad. From the faith's earliest days, Smith was referred to as the "Yankee" or the "American" Muhammad, and newspaper editors included him in a long line of religious imposters, which included the Muslim prophet.

One of the earliest anti-Mormon works, Mormonism Unvailed, likened Smith to "the great prince of deceivers, Mohammed." A later tract attributed to the Mormon leader a laundry list of bad behavior: He was "a low, vulgar, lazy, worthless, profane character; addicted to strong drink, and accused of sheep-stealing." His alleged revelations on plural marriage were intended as "a cloak to cover . . . [his] vileness . . . [as a] holy seducer."

This last charge was particularly common, and here too writers drew explicit parallels between the Mormon and the Muslim prophets, especially after word of Mormon polygamy began circulating. One author wrote that Mormonism "bears in many respects a striking resemblance to Mahometanism, especially as to its sensual character." Another intimated that "both Joseph Smith and Mohammed used a word of God to settle their private needs and most intimate love affairs."

As with medieval Christians writing on Islam, for 19th century American commentators on Mormonism, among the most compelling ways to prove the falsehood of these new, competing faiths, was to expose their founders as frauds, imposters and moral degenerates.

The post-9/11 comments on Islam and O'Donnell's recent diatribe against Mormonism suggest that medieval modes of thought still resonate in contemporary religious dialogue. When the ill-informed, the provocateur, or simply those looking to boost ratings, they have a ready supply of well-worn, tried-and-proven polemical firebombs at their disposal to denigrate and marginalize individuals and communities that do not fit squarely into their intolerant models of society.
---
* ERIC DURSTELER is an associate professor of history at Brigham Young University.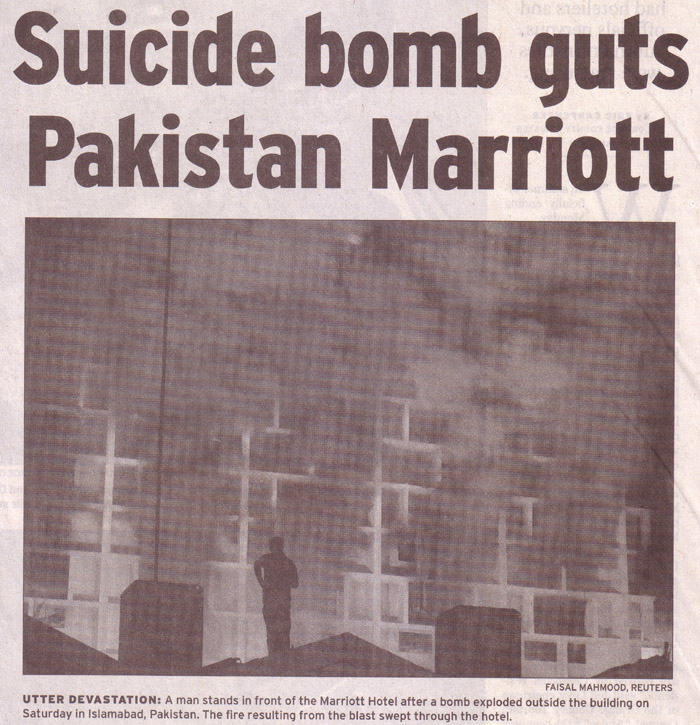 Will Brigham Young University professor Eric Dursteler apologize to Mormon Marriott and Orthodox Christians for his incorrect assumption that Islam is a peaceful religion?
Mormonism the Islam of America
President Of The US (R) - 2008 Primary Results
Precincts

Reporting

Mitt Romney (REP)

John Mccain (REP)

Ron Paul (REP)

Mike Huckabee (REP)

Rudy Giuliani (REP)

Fred Thompson (REP)

Alan Keyes (REP)

Duncan Hunter (REP)

Totals

2257

99.25%

2240

89.61%

255,398

5.36%

15,276

2.92%

8,311

1.42%

4,061

0.33%

930

0.2%

575

0.09%

252

0.07%

204

Beaver

11

11

745

48

22

16

1

0

2

1

Box Elder

49

48

6,466

386

133

101

20

24

5

6

Cache

83

83

11,814

417

349

116

17

21

14

4

Carbon

23

23

1,017

143

28

60

12

3

0

0

Daggett

3

3

140

25

6

3

3

1

0

0

Davis

220

220

32,411

1,775

682

419

74

54

20

22

Duchesne

25

25

1,837

109

43

20

7

3

5

2

Emery

12

12

1,363

118

22

49

6

8

2

4

Garfield

10

10

948

100

27

18

3

3

1

0

Grand

14

14

534

154

27

76

8

7

0

1

Iron

33

33

5,246

355

314

152

44

29

11

3

Juab

7

7

972

50

99

8

0

2

4

0

Kane

10

10

1,140

161

72

41

7

2

2

3

Millard

17

17

1,706

124

144

34

14

15

2

3

Morgan

13

13

1,307

62

21

9

4

4

0

0

Piute

5

5

305

30

17

23

1

0

0

0

Rich

4

4

334

14

3

0

1

3

0

0

Salt Lake

977

977

83,664

5,787

2,862

1,506

441

198

83

66

San Juan

20

20

1,023

142

18

33

10

4

1

1

Sanpete

17

17

3,028

164

181

41

5

10

4

2

Sevier

23

23

2,990

195

80

50

7

4

0

7

Summit

36

36

2,122

463

87

90

13

4

3

2

Tooele

58

42

5,116

427

153

144

31

17

10

14

Uintah

26

26

2,787

246

94

103

16

9

0

6

Utah

288

288

50,756

1,104

1,820

222

58

45

53

17

Wasatch

23

23

2,158

131

54

22

7

5

0

1

Washington

89

89

17,447

1,107

610

355

78

52

20

18

Wayne

7

7

496

44

9

4

0

4

0

1

Weber

154

154

15,526

1,395

334

346

42

44

10

20
Romney was Utah cash vacuum

By Thomas Burr
The Salt Lake Tribune
02/21/2008

Utahns donated more than $6 million to Mitt Romney's failed presidential campaign, including more than $800,000 just last month, new filings show.

Overall, Utahns forked over more than $7.5 million since January 2007 toward the presidential race. Romney, who has several ties to the state, including sharing his Mormon faith with most Utahns, scooped up nearly $9 of every $10 donated, according to reports filed with the Federal Election Commission.

Romney's haul shatters state fund-raising records in Utah, where under state campaign laws, a candidate can accept cash in any amount, including direct contributions from corporations.

Romney had to raise his $2,300 a person or less under federal rules, with corporate donations prohibited.

"I would say it is stunning," says Joe Hunter, chief of staff to Rep. Chris Cannon, R-Utah, and a Republican fund-raiser in Utah. "It's clearly an indication that Gov. Romney struck a chord with Utahns and as evidenced at every step of his campaign, that Utah was firmly in his corner."

That was made clear in the Feb. 5 primary, when Romney received 90 percent of the Utah GOP vote - a far larger percentage than in any other state.


Romney's campaign also drew out new donors who had never given to a political candidate before, Hunter says, and the challenge of the Republicans in Utah now is to keep those people active.

Democrats, too, brought in cash from Utah.

Sen. Hillary Clinton, D-N.Y., nabbed some $373,000 since January 2007, and Sen. Barack Obama was close behind, raising about $329,000, the FEC reports say. Obama convincingly defeated Clinton in the Utah primary.

Romney brought in more than their totals combined in one month, the latest reports show. In fact, Romney raised more in the month of January than he did in the last three months of 2007.

Of note in Romney's disclosure, the donation of $2,250 by Richard G. Scott, one of the LDS Church's Quorum of the Twelve.

About $300,000 of the January total, however, came in the form of general election contributions, which must be returned to the donor now that Romney has suspended his presidential campaign. Romney spokesman Kevin Madden says general election donations will likely be returned within 30 days.


Note: Islam promotes the combination of religion and state in contrast to western democracies that promote the separation of religion and state. Mormon attempts to combine their religion and politics is evidenced by history and current events such as the Republican primary of 2008 in the state of Utah. Mormons are not to be trusted.